September 11, 2016
Top LMS Industry Facts of 2016
The LMS Industry is rapidly growing and developing. As far back as 30 years ago, there were around 15 LMS vendors on the market; today the number exceeds 700. Isn't that amazing? We asked our partner, the vendor of JoomlaLMS Learning Management System, to create an infographic on interesting LMS Industry facts and statistics. We hope you will enjoy it.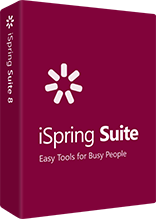 Fully-stocked eLearning authoring toolkit for PowerPoint. No training required to start!
You can learn more about LMS basics and organizing learning with an LMS.

The worth of the LMS market was measured at $2.5 bn in 2013, $7.8 bn in 2016 and, according to numerous predictions, the number will have grown to $15.72 bn by 2021. These figures indicate a considerable financial contribution to the distance education field, not to mention the huge potential of the e-Learning market.
LMSs (Learning Management Systems) are widely used in a variety of industries, but the leading one is Education (21%); then comes Technology (12%) and Manufacturing (9%). The number of governmental institutions using LMS software for training purposes remains small (2%).
Beginning in 2011, the growth rate of the e-Learning market amounted to 5.1% in North America, 6% in Western Europe, 8.2% in the Middle East, 14.6% in Latin America, 15.3% in Africa, 16.9% in Eastern Europe and 17.3% in Asia.
55% of all LMS installations are deployed in the cloud, and the other 45% are on-premise LMS solutions.
Top reasons why clients choose a cloud LMS:
Quicker deployment;
No technical resources are required;
Low initial investment;
Scalability.
Top reasons why clients choose an on-premise LMS:
Low costs in the long run;
Security restrictions for storing proprietary data (governmental organizations, banking sphere);
Full control of LMS software and data;
More customization opportunities.
Half of LMS buyers don't spend more than $5,000 on LMS implementation. Only 1% of all LMS implementation fees are at a cost of more than $50,000.
More than half of LMS acquirers implement their LMSs within 6 months, whereas another 24% of buyers need up to 1 year. For the rest of the LMS buyers, more than a year is necessary to get an LMS up and running.
Among the top LMS trends in 2016 are the following:
Personalization;
Cloud;
Video;
Social Sharing.
89% of LMS users access e-Learning courses via a desktop, 76% via a laptop, 25% via a tablet, and 19% via a smartphone.
The reasons for LMS acquisition are diverse, but the most common are the following:
General Training (24.81%);
Certification Training (22.90%);
Compliance Training (14,50%);
Onboarding (12.6%);
Customer Training (11.45%);
Selling Courses (9.16%);
Other (4.58%).
40% of LMS buyers report a 40% increase in revenue, 53% increase in productivity, 26% decrease in cost, and 16% decrease in turnover rate as the result of an LMS purchase.
Top LMS features used by LMS users include:
Assessment tools;
Learning Paths;
A typical LMS purchase scenario looks like this:
A potential buyer performs a search in Google or any other search engine;
Asks for recommendations and reads reviews;
Sends an RFP to several LMS vendors that s/he finds the most appropriate;
Analyzes the RFP data and schedules demos with the selected LMS providers;
Makes a final decision and purchases the LMS.
Among the top reasons why buyers are not satisfied with the chosen LMSs are:
Poor user experience (88%);
Poor administrative interface (74%);
Poor reporting (66%);
Lack of integrations (66%);
Lack of mobile capabilities (66%).
This infographic was created by Ilona Hetsevich.
She works for a project devoted to e-Learning software development, and writes based on her company's experience in the eLearning field. More information about available LMS features can be found at the JoomlaLMS website or social media platforms:
www.linkedin.com/company/joomlalms