July 21, 2023
Customer Training: Definition, Benefits, and Best Practices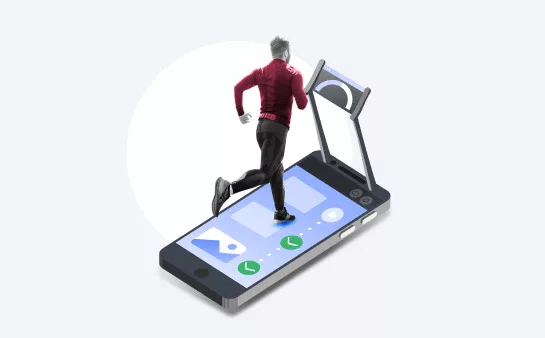 You know that "a-ha" moment when you figure out a problem that's been bugging you for days? Well, that's the feeling you want your customers to have as quickly as possible when using your product. The sooner they have that "a-ha" moment, the more likely they'll become loyal brand advocates.
The best way to give your customers that all-important lightbulb moment is through effective customer training. Training allows your business to demonstrate the value of your product at every step of the customer life cycle, which leads to significant benefits for both your consumers and your business. But what's the best way to optimize your customer training strategy? And how can you organize your initiatives for maximum benefits? We cover this and much more in our comprehensive guide. Keep reading to discover:
What Is Customer Training?
Customer training educates and empowers customers to use your product or service effectively. The goal is to help new customers develop the necessary knowledge and skills to master your product quickly and get maximum value from it. In doing so, users can overcome obstacles, build their confidence, and leverage your product's full set of features. This leads to enhanced satisfaction, customer loyalty, and adoption.
Customer training generally includes online courses, webinars, and interactive training materials (quizzes, step-by-step guides, videos, etc.). Content usually covers product features, best practices, tips and tricks, troubleshooting techniques, and instructions on how to optimize advanced features.
Benefits of Customer Training
Customer education impacts your business positively in a number of ways. This section explores 7 major advantages of implementing a successful customer training strategy.
Increased adoption rates: Reduces the learning curve and accelerates the time-to-value.
Enhanced customer satisfaction: Users feel more confident utilizing your product and can derive maximum benefit from it sooner.
Reduced customer support tickets: Customers have the tools to troubleshoot and solve common issues without contacting a customer support team. This saves time and effort for both parties.
Boosted customer loyalty: Enhanced customer satisfaction and product mastery inspire buyers to return to the company again and again and lead to higher customer retention rates.
Better overall experience: Investing in training showcases your commitment to your customers' success, fostering stronger customer relationships and trust. This can turn users into brand advocates, driving business growth.
Increased revenue potential: Customer training programs offer an opportunity to demonstrate additional products or services, boosting upselling and cross-selling efforts.
Scalability: Effective training can accelerate customer onboarding, allowing you to scale your efforts in line with business growth.
How to Create a Customer Training Program
According to Gallup data, increasing customer engagement can lead to 66% higher sales growth and a 25% increase in brand loyalty. However, despite these benefits, many businesses fall short when it comes to engaging their clients. The best remedy for this is to build impactful and engaging customer training programs.
What should a customer training program include?
Leading companies know that a customer-centric approach is the key to success, and that's the case for training consumers too. As such, your customer learning initiatives should be tailored to your audience's specific needs, preferences, and use cases.
While customizing your program is crucial, here are the fundamental components every organization should include in its customer training program.
Clearly defined learning goals and outcomes
A structured training plan that takes customers through the training in a logical manner, breaking down complex topics and integrating regular reviews
Engaging content that covers essential product knowledge and best practices: video tutorials, online courses, quizzes, virtual workshops, etc.
Assessments to test learners' knowledge and boost retention
Certifications to recognize learners' achievements and reward them for completing the program
Ongoing support channels, such as customer knowledge bases, customer service teams, and discussion forums (these should be updated regularly to reflect new product updates)
Feedback surveys that allow customers to share valuable insights into the impact of the training and their overall experience
Additional training resources such as refresher courses or advanced webinars, to promote continuous learning and support customers in honing their expertise further
Check out our in-depth article, How to Develop a Successful Employee Training Program, for a complete step-by-step guide.
How to Create Learning Content for Customer Training
Before you launch your customer education program, you'll need to create customer training materials. To do this, you'll need an authoring tool like iSpring Suite. It's a simple PowerPoint-based software that allows you to build online courses, quizzes, interactions, role-play simulations, and video tutorials in a snap.
Creating training content with iSpring Suite is extremely easy and fast. For, example, you can build this interaction in just a few minutes, as seen here: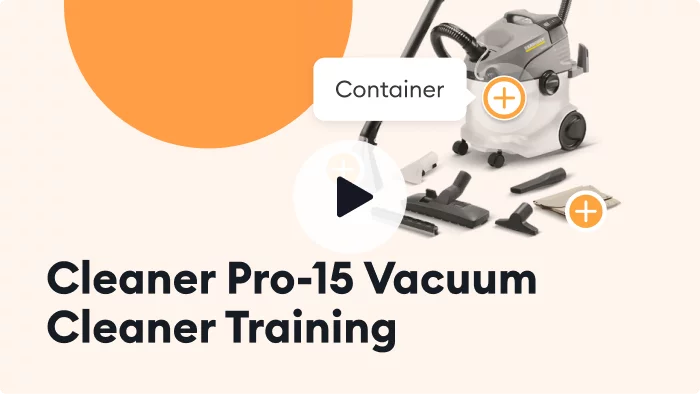 Opting for an all-rounder like iSpring Suite means you can use it not only as customer training software, but also leverage the tool for employee training scenarios, such as new hire onboarding, product knowledge training, sales training, or customer service training.
Fully-stocked eLearning authoring toolkit for PowerPoint. No training required to start!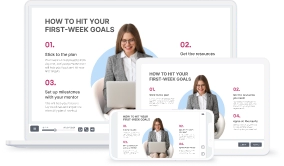 How to Organize Customer Training with an LMS
You can have the best customer training materials in the world, but if they are difficult to access, they're useless. That's where a user-friendly learning management system (LMS) comes in. LMSs provide a centralized platform where customers can easily access training content, track their progress, and pull up materials when needed.
For organizations, an LMS streamlines the process of creating, deploying, and monitoring customer education initiatives at scale. From automating communications and repetitive training management tasks to analyzing training data, it's the best way to organize customer training.
This section breaks down exactly how to train your customers using an LMS.
Step 1. Choose an LMS
The first step is to select the right LMS for your customer education program. The key to getting this right is doing your homework. After performing some initial research, create a cross-functional team and compile a list of essential features and functionalities that you require from the platform. To help you with this, we've put together a list of the fundamental features that any LMS for customer training should have.
A user-friendly interface that's easy for customers, trainers, and admins to navigate
Robust content management features to help you organize training materials and import existing content
Multi-format content support so you can incorporate videos, quizzes, interactions, and documents into your training programs
Advanced user management tools that allow you to segment and manage customers on the platform with ease
Powerful tracking and reporting capabilities so you can pull detailed insights into customer progress
Customization tools that let you tailor the platform to align with your brand identity for a cohesive customer experience
Mobile support so customers can access training on the go
A high level of support and training from the LMS vendor to help you create a positive experience for your customers
Download our Complete LMS Buyer's Guide for detailed advice on picking the right platform for your needs.
You can also check out a powerful out-of-the-box training delivery platform, iSpring Learn LMS. With rich customization features, you can configure the platform to suit your specific needs. Its straightforward interface allows customers and admins to get started with next to no training, and the mobile app means users can master your product on the go.
Automate corporate training and improve employee performance.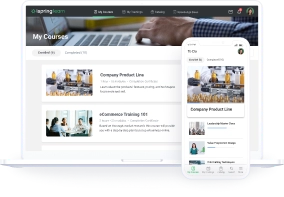 Step 2. Set up your LMS
The next step is to configure your LMS settings so the platform aligns with your organization's needs and expectations.
For example, in iSpring Learn, admin teams can configure user roles and learner permissions and create groups for specific customer segments. The localization feature means the platform can be used in your customers' local languages for a smoother learning experience.
Moreover, iSpring lets you assign a supervisor to these customer groups to monitor their progress. That way, supervisors can spot potential stumbling blocks early and make an informed decision on how to improve the training program.
In addition, building custom groups ensures that customers only have access to the training content that's relevant for their specific use case.
Step 3. Upload training content
Whether you created your content using an authoring tool or you plan to use existing materials, you need to import it all into your LMS. With iSpring Learn, you can upload a wide range of content types, including videos, training modules (SCORM files), PowerPoint presentations, and PDFs. Once you have uploaded the content, it's easy to organize it into courses.
iSpring Learn also allows you to build personalized learning pathways for specific customer segments. To do this, you must first create a learning path and then drag the relevant courses into the correct order. There's an option to set prerequisites to ensure that customers complete the content in a certain order. For instance, you can "lock" a certain course until customers have completed a previous one.
Step 4. Configure course settings
The next stage is to customize your course settings to reflect your requirements. With iSpring, you can tailor your courses in the following ways:
Enrollment options. Do you want to enroll customers automatically or enable self-enrollment?
Completion rules. Will the course be considered complete when customers pass the final assessment or complete all the modules?
Access permissions. Which customers can access this training course?
Schedule. Is this a self-paced course or will you set a completion deadline?
Requirements. Do customers need to complete a specific percentage of the course materials or achieve a certain score on the final quiz?
Step 5. Develop a communication plan
An LMS can streamline communication between your organization and your customers during the training process. To ensure that all communication regarding the training is seamless and consistent, you need to set up custom notifications in your LMS.
For instance, with iSpring, you can create standard notifications to invite or enroll customers in the training program, remind them of upcoming deadlines, or congratulate them on completing a course. This means you can create these notifications once and automate them to be sent out to customers at the appropriate time.
There are a few important factors to keep in mind during this process. First, LMS communications should align with your overall comms strategy. This ensures that your customers won't be inundated with notifications from different platforms or sources. Second, the communication should provide clear instructions on how customers can enroll or access the training.
Step 6. Set up additional resources
Customer education isn't a "one-and-done" activity, so you'll need to provide access to additional resources to promote continuous learning. LMSs like iSpring Learn allow you to create customer knowledge bases so learning can continue long after the onboarding process has been completed.
Centralizing all of these resources in your LMS gives customers a quick and easy way to access essential information. As a result, they can troubleshoot issues without relying on your customer service team.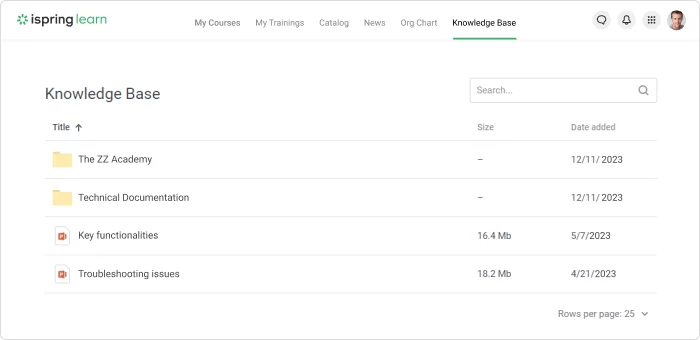 Step 7. Monitor results
Thanks to LMS analytics and reporting, you can easily track customer training activities and organize the data. This is essential for gauging learner performance and satisfaction, and provides insight into how the program is impacting business outcomes.
iSpring's analytics dashboard allows you to track key metrics, including:
Learner engagement
Course completion rates
Assessment scores
Learning track progress
By monitoring this data, you can pinpoint areas where customers need more support and refine your strategy accordingly.
FAQ on Customer Training
This section covers the most commonly asked questions about training your customers.
1. What is the purpose of customer training?
Customer training is aimed at equipping your clients with the knowledge and skills they need to use your product effectively and get maximum value from it.
2. Why is customer training important?
Customer training accelerates the learning curve, helping users transition from novices to experts in as little time as possible. This has a positive knock-on effect, enhancing customer satisfaction, optimizing the use of your product, reducing your support team's workload, and improving customer retention rates.
3. What are some customer training best practices?
For optimal results, we recommend following these best practices for providing customer training on products.
Understand your customers' needs, desired outcomes, and current skill levels by conducting surveys and feedback interviews. Then, use this information to identify knowledge gaps that your training program should fill.
Define clear learning objectives (3-5 objectives for each training module or lesson) to ensure that your customers have a structured and relevant learning experience.
Create engaging content. For instance, incorporating simulations, real-world examples, and hands-on, interactive exercises boosts learner engagement. This, in turn, helps customers retain critical knowledge.
Break complex topics down into bite-sized chunks to make them easier for customers to digest. This is also known as microlearning and is an excellent strategy for avoiding cognitive overload. Plus, it's much easier to update and reuse microlearning modules.
Offer just-in-time training that gives customers access to essential training resources at the point of need. A great example is providing step-by-step guides that customers can access quickly from a learning management system (LMS) mobile app.
Set clear success metrics and use LMS analytics and reporting to track the effectiveness of the training program. Valuable metrics to monitor include completion rates, assessment scores, and time spent on each training module.
Review the customer training program regularly, updating it to reflect customer feedback, product updates, and new industry trends.
Next Steps
Customer education is instrumental for the long-term success of your business. From building loyal customers and reducing churn rates to driving revenue growth, an effective customer training program can have a significant impact. However, getting it right can be challenging. Using a robust LMS takes much of the legwork out of organizing and delivering customer training. As a result, your teams can dedicate more time and resources to helping your customers thrive.
If you're looking for a full-featured LMS to power your customer training programs, sign up for a live demo of iSpring Learn today.