March 15, 2022
Automated Training – Free Up Your Team to Focus on More Meaningful Tasks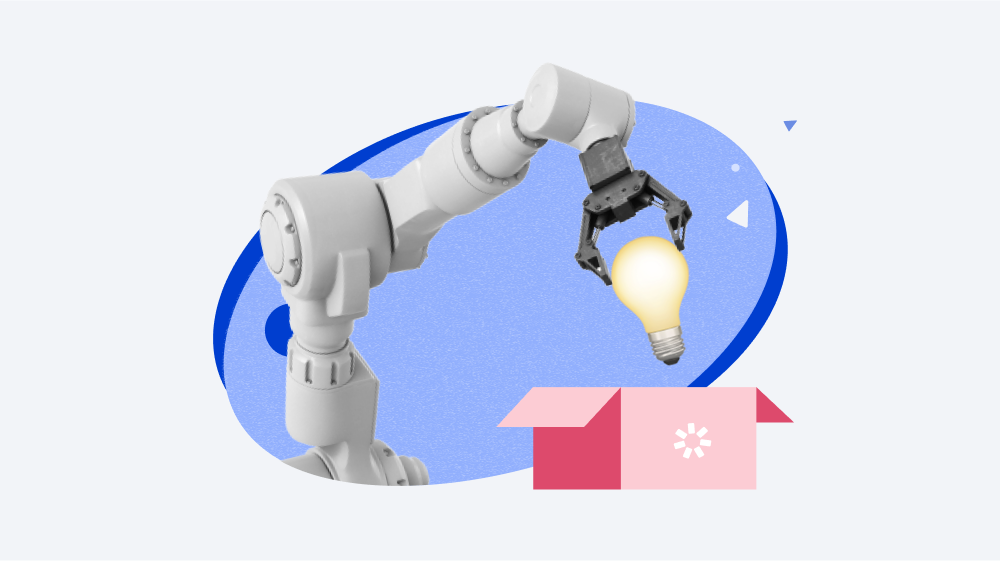 The word "automation" evokes a broad spectrum of emotions, depending on who you're talking to. At first glance, it might seem like an unscrupulous method for businesses to displace human employees. But that's not absolutely true. Since automation's inception, it has provided the corporate training world with immense and indispensable benefits – for both employer and employee.
Automated training manifests in many different ways. But, in essence, it provides a centralized repository for new and existing employees to not only access their training program, but to engage with it more intimately for an enhanced experience.
What Is Training Automation?
Media portrayals of automation can be likened to the usage of smart mobile apps that make your life easier. They enable you to control every aspect of your home with just a tap on your phone, even when you're not there. You can automate lighting and temperature control in your house, fish feeding in the aquarium, and even food orders, if you have a smart fridge. Thus, to truly grasp what "training automation" is, let's first clear away any misconceptions by defining "automation."
Automation is the action of making a business process or facility run "automatically" and more efficiently.
Therefore, by extension, automated training makes the employee training process more automatic and efficient. It implies that a part of the tasks that are usually performed manually by a person are now fulfilled by a program. Typically, it automates tedious and/or repetitive tasks in a highly scalable manner (especially from an administrative viewpoint!). This, in turn, creates space for training staff to focus on more meaningful tasks, such as defining learning objectives, course design, and high-quality content development. This process is often carried out online through a learning management system (LMS) – the bulk of an automation platform.
Also read: 
Benefits of Training Automation
We've already touched on some of the unique and tangible benefits of automated training systems. But those barely scratch the surface! The following list outlines the most common benefits of adopting training automation – for both the company and its employees. 
Eliminating repetitive tasks
Anything that's repetitive or formulaic can be automated. As a matter of fact – that's the point! Tasks of a repetitive yet seemingly thoughtless nature tend to be monotonous. Thus, to cope and keep productive, we often and unconsciously default to "autopilot," which increases the risk of human error considerably. 
These tedious types of tasks include backend processes like trainee enrollments, maintaining accurate training records (especially where "audits" and "compliance" are concerned), tracking user progress and results, as well as adding/removing employees, which can be further configured with auto-assign rules that group learners according to predefined criteria. 
Moreover, predictable communications, such as informing employees of required learning materials, or the total duration of a training course, are highly formulaic and thus easy to automate – especially via notification templates and triggers. While such communication is nonetheless important, wouldn't your L&D team be better off tending to training tasks that require higher-order thinking, such as successful program design? 
Streamlining the onboarding process
Any business that aims to grow will need a larger, possibly distributed workforce that needs to be brought up to speed on company processes, procedures, and any new roles. Now, imagine manually repeating this process for every group of new hires. The thought alone might suck the joy out of business growth. After all, your training staff are L&D, not data entry specialists. Fortunately, the onboarding process is very much in line with automating repetitive tasks. 
What if you only had to establish this process once, and simply "initiate" it with every batch of new onboards? Any LMS worth looking at will not only streamline this process for you, but deliver training materials to employees anywhere, at any time, to complete at a convenient time and place. 
Colossal time and cost savings
Businesses stand to reap colossal time and cost savings by opting for software automation training. But it's best to be strategic. For the most part, course design and development is a finite process that, thus, comes at a fixed cost. In this way, the most expensive aspect of company training – by far – is executing its ongoing delivery. In other words, you stand to save the most money when your automation efforts are focused on the training delivery process. 
Take conventional classes, where employees train face to face. Not only will you need to pay for the time and wages associated with human instruction, but taking employees away from their regular roles interrupts business operations – which are, in themselves, quite costly. Likewise, you wouldn't want to keep employees at work late to train after hours. In addition to employee fatigue and frustration, overtime hours – and the accompanying costs – add up quickly!
So, why not reduce the ongoing time, costs, and labor down to a one-time "training development" approach? That way, you can also completely automate ongoing training delivery – with a learning management system. 
LMSs enable training staff and trainees alike to "work smarter, not harder." By using centralized, automated training software, all that your employees will need in order to access training is a Wi-Fi connection. This ensures that learners can access training independent of time and space. As a result, training won't interfere with regular business operations, thus freeing up valuable time for role and expertise-related tasks. Consequently, learners will have the freedom and flexibility to complete training on their own time, at their own pace.
Providing a consistent and reliable learning experience
In addition to the demands of growing and/or increasingly distributed workforces, business policies and procedures are constantly evolving. For example, organizational developments are often beholden to government legislation and compliance requirements. Particularly in these situations, it is important to provide a consistent and reliable learning experience. 
Training automation, by way of an LMS, can minimize any internal risks associated with non-compliance. As well, it provides a much more reliable and efficient way of updating training as policies evolve. Because an LMS serves as a centralized repository for your training courses, everyone (admins and trainees alike) always works with the exact same materials. For example, if the US government makes changes to a data protection protocol, you'll only need to update your contents in one place – the same central spot where everyone else accesses them!
How to Automate Employee Training and Development 
Now that you have a solid idea of what automated training entails, alongside its many benefits, it's time to develop a "game plan" for implementation. In this section, we've provided a 6-step plan for automating employee training. 
Step 1. Design and develop training courses
Before you can automate your training, it must first exist. There are two directions to go here – outsource training development to some third parties or create online courses in-house. 
Here's the general process for designing and developing courses internally.
1. Develop learning goals by asking what you want to teach, and then further subdivide these goals into learning objectives by asking what actions you want trainees to achieve. 
2. Conduct research on your chosen subject, jot down notes, and develop an outline/roadmap for the course.
3. Flesh out your course outline by drafting corresponding content for each section. 
4. Select an authoring tool based on the kinds of courses you'd like to create. For example, will you be making training videos or slide-based courses? Perhaps, down the line, you hope to incorporate screencasts, dialogue simulations, or interactivity. In this way, it's important not to just think of current needs, but what might be necessary in the future.
All these considerations aside, you'll need to determine if your team is equipped with the technological know-how to professionally create these content types. Fortunately, there are many simple yet sophisticated tools that can handle these technological requirements.
If this is your first foray into the world of eLearning and ID, then iSpring Suite Max is a solid bet. It enables you to record professional training videos effortlessly, and output slide-based courses with media, innovative interactions, quizzes, and role-plays. Check out this demo course created with iSpring to see how it works: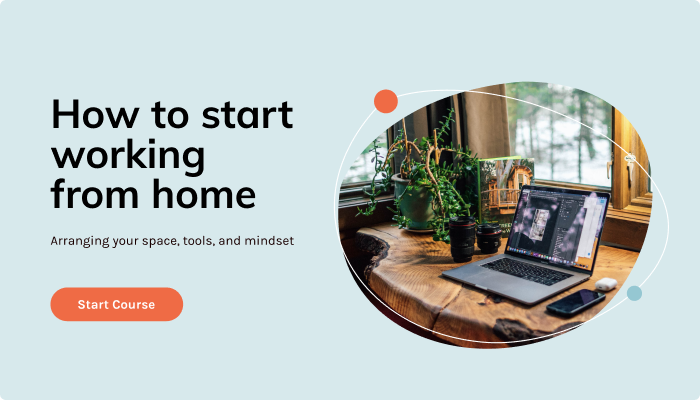 5. Develop your training materials using your selected authoring software. Some tools come with ready-made assets that can help you build courses in a matter of minutes. For example, iSpring Suite Max has an extensive library of characters, locations, and icons, as well as a large number of templates. So, to build a course, you simply need to arrange ready-to-go blocks and add your text and media.
To dive deeper into the course development process, read our comprehensive guide on how to create an online eLearning course. 
Step 2. Choose automated training software
As mentioned, LMSs constitute the bulk of an automated training system. And to compound matters, there's no shortage of them on the market. But before you start perusing the options, take a step back and determine what degree of automation is necessary to meet your business needs. Relevant factors include the nature of your training content, whether you're following a blended or asynchronous approach, as well as the company's size and rate of growth. After assessing your automation needs, you'll be able to sort the "must-haves" from the "maybes." For more details, check out our guide to choosing an LMS.
If you're looking for a simple yet effective solution that will let you automate any tedious, time-consuming tasks, you can check out iSpring Learn LMS. 
Step 3. Automate admin communications and HR processes
Now that you have an LMS, you can dive right into its automation features. The first, most intuitive step is to automate the most repetitive admin and HR tasks, such as managing training records. Not only do you free up valuable time for more meaningful, higher-order tasks, but you minimize human error when inputting trainee data, making it that much easier to track their progress, results, and notify them of important dates (e.g., qualification expiration). 
Let's see how the automation engine works using  iSpring Learn as an example. The LMS comes with the benefit of being able to mirror your corporate structure. iSpring's "departments" feature allows you to organize your employees into a tree-like hierarchy of departments and sub-departments. This makes it easy to designate admins per branch, assign one or several courses to one or multiple departments, and segment reporting. Likewise, you can set up custom "groups" within each department according to their employee roles, projects, etc. From there, automating enrollment is as simple as setting parameters, after which the system simply completes the task.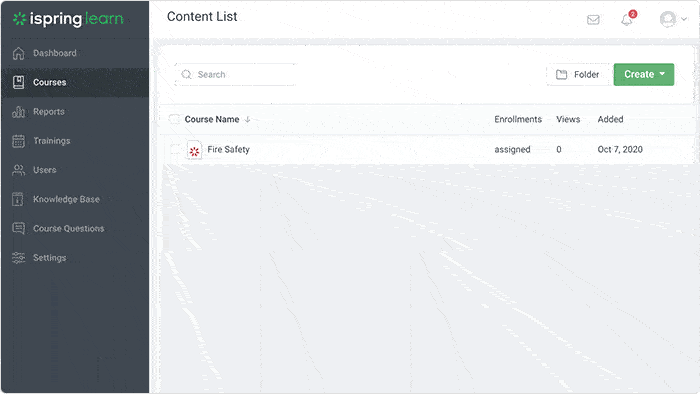 For example, if you've hired a large batch of new employees, then iSpring Learn can place them into a "new hires" group that auto-enrolls them into general orientation training. 
To take things a step further, whenever learners must retrain at a predefined frequency (e.g., annual safety training), iSpring Learn can automatically reenroll them at regular time intervals, enabling admins to effectively "set it and forget it." This is especially helpful with automating compliance or "refresher" training, which tends to occur at mandated intervals.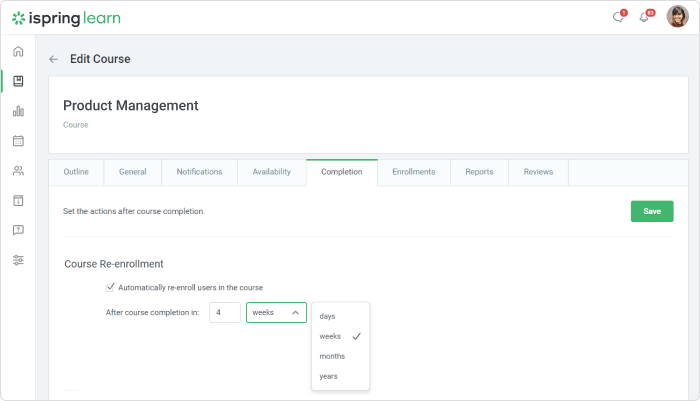 As well, these one-time and recurring enrollment features enable two other convenient capabilities – notification triggers and certifications. Whether sending personal email notifications for trainees who are overdue on an assignment, or a group- or department-wide reminder about an approaching course-completion deadline, the process is as simple as selecting or deselecting options from a comprehensive list of "notification events". 
And, last but not least, distributing completion certificates can be a tiresome task for HR/admin teams to tackle bare-handed. With self-paced courses, trainees are bound to complete training along different timelines. But instead of only issuing certificates per the course completion deadline, you can program parameters for all training activities that learners must complete before auto-issuing a custom or template-based certificate.
Step 4. Upload the content
Once you've set up the LMS for training automation, upload your learning materials to the platform. These might not only be eLearning courses created with an authoring tool, but any kind of content, including videos, PDFs and Word documents, and audio files. The most innovative LMSs have the so-called learning track feature that allows users to combine various content items in one compound course.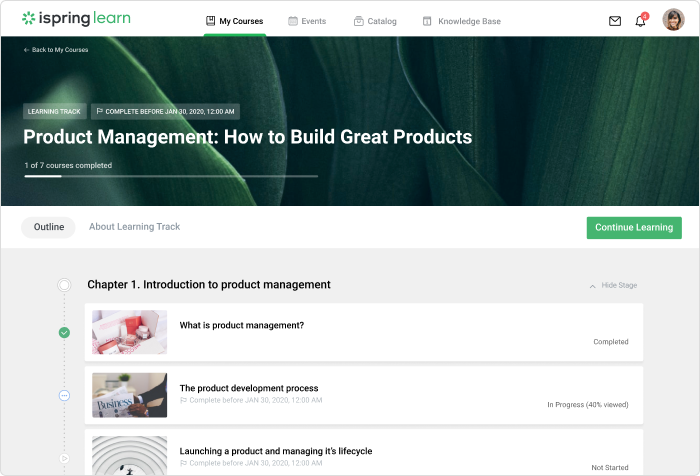 After you create a learning track in iSpring Learn, you can configure how your learners will complete the courses (you'll only need to do this once and all employees who will be enrolled in this track will learn the same way). You can create a strict schedule for when each course in a learning track will open, let your learners progress to the next course only after they've completed the previous one, or allow them to choose which course to view and in which order.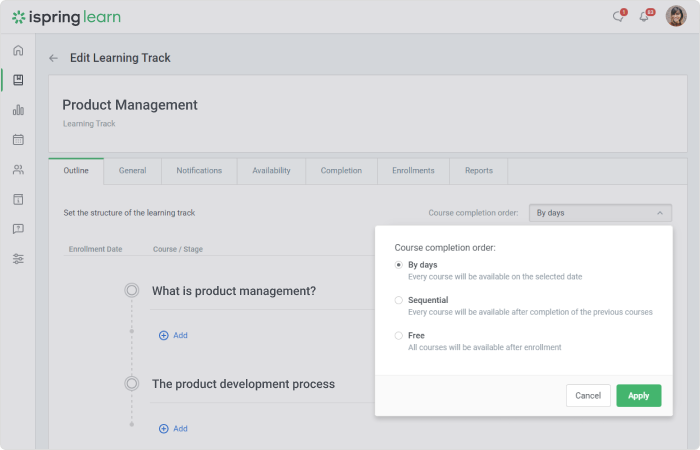 Step 5. Track trainee progress 
This step presupposes that trainees have already been enrolled and have begun training. Now it's time to start tracking learner progress and results. This is where your LMS' reporting and analytics features come in handy. Robust tracking and detailed analytics provide invaluable insights about trainee results and the effectiveness of your training approach. As a matter of fact, the robustness of an LMS' reporting system is often cited as the single most important consideration when selecting an LMS. 
To track trainee progress and results, iSpring Learn allows you to automatically generate a great number of reports: learner progress, course completion, assessment scores, and more. 
For example, this course progress report shows, at a glance, which courses you've uploaded, how many trainees are enrolled in each, and the number of trainees whose courses (itemized) are "in-progress" or have been completed.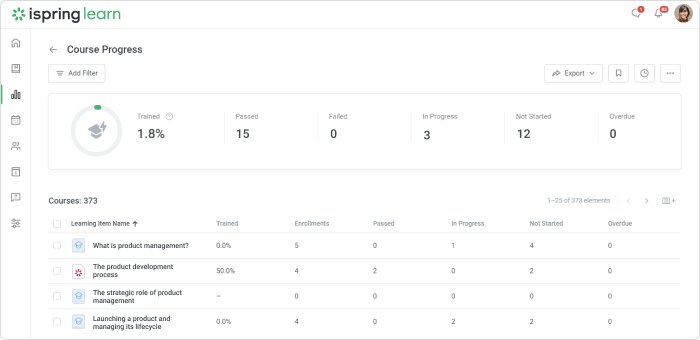 In iSpring, you can send reports to your colleagues' or employees' emails. It's even possible to automate this process by scheduling sending reports. You only need to set up who should receive which report once, and the recipients will receive a report even when you are away.
Step 6. Acknowledge Trainee Achievements
The previous 5 steps are largely logistical in nature – that is, they are focused on how to automate the development, management, delivery, and tracking of your training program. Here, you can get creative in determining how to best keep learners motivated, especially when training off-site. 
In fact, in the first iterations of a course's rollout, the reporting feature discussed in Step 5 can illuminate any rough patches within your training that can be smoothed over with some engaging enhancements. There are 3 things you need to bear in mind regarding the psychology of adult learners. They need:
To feel in control of their learning
Regular feedback to highlight weaknesses
To be recognized or "validated" for their achievements
If you'd feel lost trying to improve your training course without robust reporting and analytics, imagine the loss of control that learners would feel without any insight as to whether they're succeeding. That's why providing regular feedback – in whatever form – is imperative to keep them engaged. 
Modern LMSs allow users to incorporate game-playing elements – points, badges, leaderboards, and levels – that can serve as feedback and recognition tools. By awarding your trainees, you motivate them and inspire the spirit of competition. iSpring Learn offers all these gamification elements and more!
For example, if your training program entails a high volume of dense content, a clever automation strategy involves breaking them up into assignments, tests, and/or simulations, after which you can set a predefined number of points to award learners based on the complexity and/or completion of each activity. You can further automate the process by simply setting a fixed number of points to be awarded per assessment/course. 

In the same vein as "points," you can further automate badges. All you have to do is set the rules. For example, you can specify the number of points required to achieve a certain badge or "title," or define what needs to be completed (e.g., course, assignment, test) to achieve it. iSpring Learn not only comes with a wide selection of badges, but you can create your own with custom images!
Moreover, iSpring Learn can auto-assemble all the data from these points and badges into a leaderboard that shows trainees how they rank relative to the "competition" – that is, their colleagues.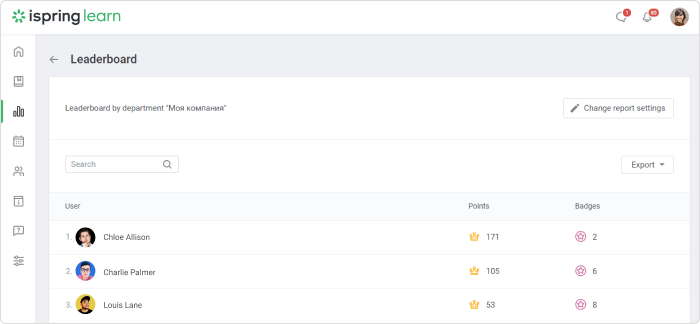 And last, but certainly not least, whether or not you're an accredited institution, you can't go wrong by automatically generating completion certificates. Just knowing that a certificate is waiting for you at the end of a training course is enough to keep most learners motivated from start to finish.
With iSpring Learn, you can work with customizable certificate templates that are automatically delivered upon a "course completion" event or trigger.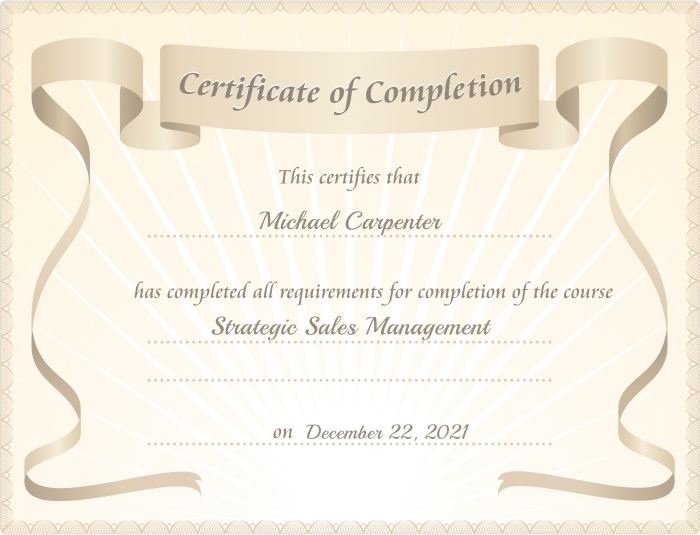 To Sum Up
Regardless of whether you're a small, medium, or large-sized organization, the potential time and cost savings of automated training are limitless. Rather than displacing human labor, training automation frees your hands to focus on meaningful, creative work that necessitates higher-order thinking. Thus, both the employer and employees stand to benefit immensely from such an invaluable investment. So why pass it up? Technically speaking, the most daunting part of implementing automation is simply finding the right software. 
Fortunately, we've given you a solid starting point to streamline and scale your business. Give iSpring Learn a go, credit card and commitment-free!