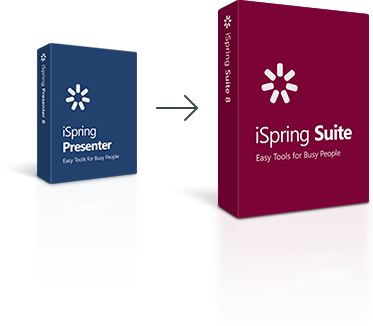 iSpring Presenter is now iSpring Suite
iSpring Suite 9 gives you all the beloved features of iSpring Presenter, plus a bunch of new powerful capabilities to build interactive presentations and training content.
iSpring Suite Key Features
iSpring Suite
Professional Quiz and Survey Maker
Make interactive assessments with no effort. Choose from 23 question types, and configure branching, flexible scoring, and testing rules.

---
iSpring Suite
Audio and Video Narrations
Engage your audience with video lectures and audio narrations. With iSpring Suite, you can import existing files or record them from scratch, and synchronize with slides in a built-in editor.

---
iSpring Suite
Screencasting
iSpring Suite allows you to record on-screen activity for video tutorials and visual presentations. Use screencasting for customer support and educational content.

---
iSpring Suite
Dialogue Simulations
iSpring Suite includes a smart component for making realistic simulations. Boost your learners' communication skills by creating true decision-based branching dialogues.

---
iSpring Suite
Interactions
iSpring contains four essential interactive modules. You can create handy directories, glossaries of terms, product catalogues, or step-by-step instructions.

---
iSpring Suite
Content Library
Forget about surfing the web in search of the right visuals. iSpring Suite provides you with a rich source of professional ready-made assets — everything is right there at your fingertips.

---
iSpring Suite
Mobile-friendly
e-Courses
You can rely on iSpring Suite when making courses for mLearning. Your courses will play back smoothly on any device, including tablets and smartphones.

---
iSpring Suite
Guaranteed LMS Compatibility
Courses created with iSpring meet all e-Learning standards: 100% SCORM 1.2, SCORM 2004, AICC, xAPI (Tin Can) and cmi5 support. 100+ LMS compatibility verified. If don't have an LMS yet, feel free to use iSpring Learn LMS and enjoy advanced reports and direct uploading.
---

iSpring Suite 9.7
Test-drive the full power of all iSpring authoring tools
in a fully integrated package!
Download for Free
Pricing