Easily share your iSpring content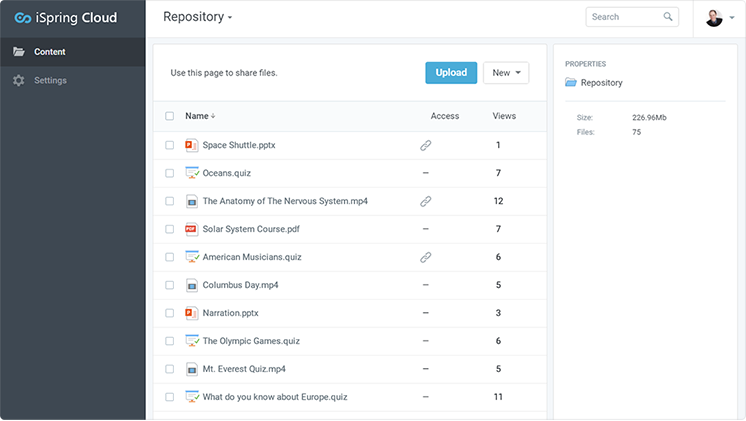 iSpring Cloud is the fastest and easiest way to post all your iSpring presentations and courses on the Internet.
Upload content directly from your iSpring
You can upload your courses, presentations, quizzes, interactions, and other iSpring content to the cloud directly from the iSpring program interface. Simply select the iSpring Cloud tab and click Publish. The content will be uploaded to your personal storage, and then you can easily share it.

Share your content right away
You can share a link to any separate file or an entire folder from your iSpring Cloud account with anyone. Shared content will play on any device, even with no iSpring or PowerPoint installed.

Copy a shortlink to your presentation and paste it anywhere, send it by email, or share it with your subscribers and friends on social networks directly from iSpring Cloud.
iSpring Cloud is the easiest way to embed your interactive iSpring content on a webpage or blog. Just copy the embed code and paste it into the HTML code of your webpage.
Shared content plays without iSpring or PowerPoint
When your viewers see your content, they won't have to install any extra applications. Everything plays beautifully in any browser, on any device.
Content plays perfectly on all devices
Thanks to the full support of HTML5, iSpring content plays back flawlessly on any device: desktops, laptops, tablets, and mobile phones.

Perfect for iSpring content and many other formats
Store not only presentations and courses created with iSpring, but also any other file: presentations, video, audio, text documents, and more. Simply upload them using the web interface, and share them as easy as you would iSpring content.
Free mobile apps for iOS and Android
---
Get Started with iSpring Cloud!
Create a free trial account on iSpring Cloud today, and find out how fast and easy it is to share all your iSpring content, and much more!
Sign Up Free
---
Like iSpring Cloud? Tell your friends!