February 7, 2023
The 15 Best Enterprise LMSs to Choose from in 2023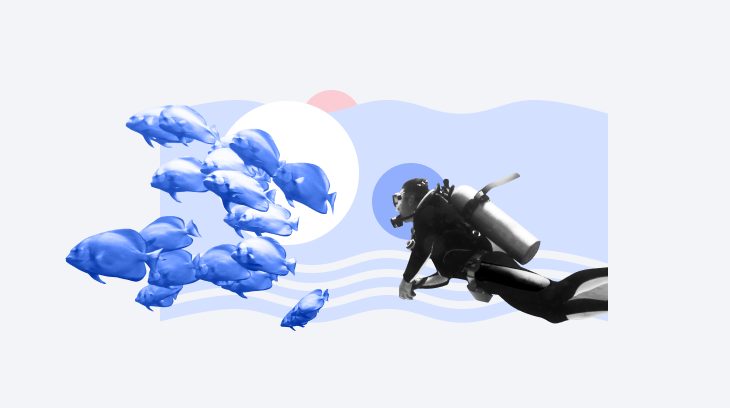 An Enterprise LMS is typically a full-featured learning management system that also includes features and capabilities which facilitate the training of different types of users, groups, or cohorts on a large scale.
In this article, we will list the top extended enterprise learning management systems, so you can evaluate your options and choose the best solution for your company. Let's begin by defining what an extended enterprise LMS is and the benefits it provides.
What Is an Extended Enterprise LMS?
A traditional learning platform usually focuses on the management and delivery of learning programs within a company. An enterprise LMS is a solution that is also used for educating nonemployees.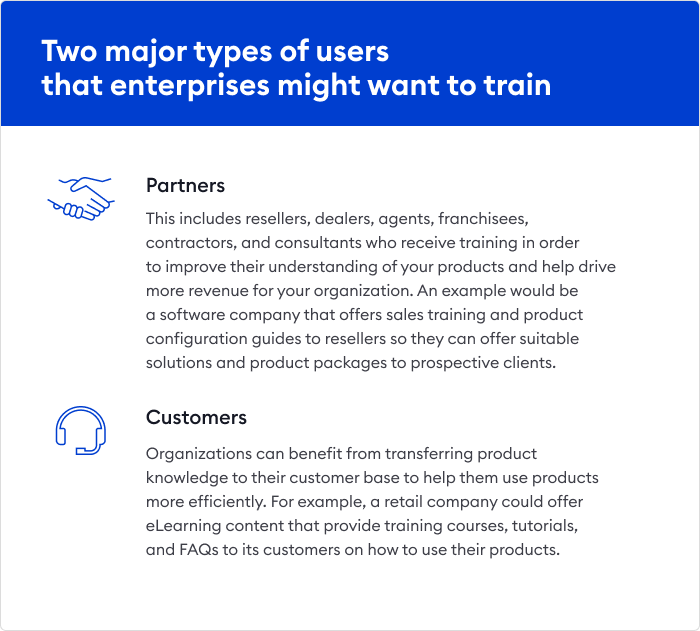 Benefits of an Extended Enterprise LMS 
An extended enterprise LMS is a perfect tool to provide your partners and customers with the knowledge and skills they need to be successful. Some key benefits of using such a platform include:
1. Elimination of redundancy
With an Enterprise LMS, you can instantly share new courses with different audiences and keep your training content up to date for all your learners. This can help to reduce manual edits, repetitive tasks, and day-to-day administration. It also saves time and energy, allowing you to focus on more critical business tasks.
2. Cost reduction
The in-person (offline) training of partners in different countries is almost impossible or at least extremely pricey because you need to pay for the professional trainers' transportation, accommodations, salary, etc. And you have to do this on a regular basis. An LMS allows your employees and partners to learn whenever they want to and wherever they are. 
3. Increased revenue
When you offer effective training to your partners, they will become familiar with your products, processes, and the benefits and unique selling points of your product offerings. This ensures they will be able to drive more sales and increase your revenue.
4. Improved customer loyalty and reduced churn
When your customers don't use your products to their full potential, they run the risk of losing their clients and the subscription services that they offer being canceled. To avoid this, you can offer product training to your customers. This will increase customer satisfaction and ensure client retention.
Learn more about the benefits of using LMS for recruiters, HR, sales managers and commercial directors.
Things to Keep in Mind When Choosing an Enterprise LMS
There are a number of factors that should be considered when selecting an enterprise LMS solution for your organization.
Questions to ask
Here are a few basic questions you may want to answer before you start:
| | |
| --- | --- |
| Area of concern | Questions to Consider |
| Financials | What is our current budget? |
| Ease of setup | Should an LMS be easy to set up and configure with no advanced technical help? |
| Goals | What goals do we want to achieve with learning? |
| Customization | How customizable should the LMS be? Do we need to brand the LMS with our company logo or be able to offer white labeling to partners? How easy is this to do? |
| eLearning standards | Is the LMS SCORM and/or xAPI compliant? Does it support the format(s) we want? |
| Certification | Is certification supported and implemented in a way that works for our organizational needs and compliance requirements? |
| Free trial | Does the vendor offer a free trial so the solution can be tested? |
After answering these questions, you may also wish to consider a deeper dive into the features that your organization requires so you don't waste your time researching online learning platforms that are simply missing one or more of the 'must have' functionalities.
Enterprise LMS features
Here are some feature sets you may want to consider and evaluate for their importance to your organization:
Functional Area
Features to Consider
Learning content management

Support for different content types (text, images, video, audio, animation, VR/AR/MR)
Multi-format content (Word, PowerPoint, PDF, HTML).
AI-driven content search
Support for eLearning standards (SCORM, HTML5, xAPI, etc.)
Automatic translation and localization
Course catalogs

Learning process management

Unlimited seats and multi-device access support
Enrolment process
Training activity tracking
Event scheduling (e.g., training sessions, certification)
Alerts and notifications for learners and trainers
Performance assessment
Creation, issuance, and management of course completion certificates
Compilation of learner feedback (polls, surveys)
Immersive learning (VR, AR, MR)
Mobile support

Reporting and analytics

Custom reports
Scheduled report delivery
Skill gap analysis
Dashboards

Extended LMS features

Multi-tenancy support (e.g., portals for customer, staff, and partner training)
AI-based personalized learning paths
Language support

Security and compliance

Multi-factor authentication and SSO
Permission levels
Auditable compliance reports
eLearning data backups
Data security compliance (GDPR, HIPAA)

Social and gamification features

Learning communities
Discussion boards, chats, and forums
Blogs and wikis
Social interactions with training content, e.g., likes, shares, and comments
Gamification (simulations, storytelling, leaderboards, badges)
One of the main selling points of Enterprise LMS Systems is the wealth of integration options that are available to connect with your other organizational systems. Some integrations you may want to review include:
| | |
| --- | --- |
| Integration Type | Description |
| CRM | Making training for sales teams, customers, and partners directly accessible from the customer relationship management system (CRM) via a separate tab or a separate page. |
| HRIS | Automated updating of Human Resources (HRIS) employee records based on trainees' learning history (e.g., assessments passed, quiz scores, courses finished, and certifications received) and adding new training based on those changes in HRIS (e.g., acquisition of a new pay grade). |
| eCommerce | Streamlined purchasing of third-party courses or sale of your own courses to individuals or partner organizations. |
| Collaboration and sharing | Examples: SharePoint, Office 365 apps like Microsoft Teams, and Zoom meetings. Convenient scheduling of training sessions inside the LMS, as well as streamlined trainee-trainer and trainee-trainee communication and file sharing. |
Now that you have considered the key questions and investigated which features and integrations you need, you can begin to compare Enterprise LMS platforms.
15 Top Enterprise LMS Solutions to Consider
We list each of the following LMSs with a brief description, what you can expect from it, the top 5 features, and which industry it's most suitable for.
Selection criteria
We reviewed each Enterprise LMS's strengths and weaknesses thoroughly, and collected data and reviews with a focus on:
Ease of use
Learner experience
Key features
Technical innovations
Customer support
1. iSpring Learn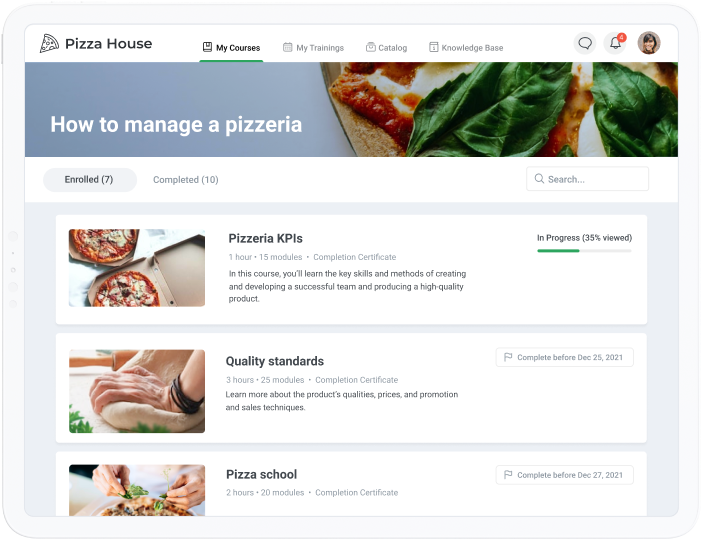 iSpring Learn is simple to set up and use, but is a very powerful LMS that allows you to focus on the important aspects of your learning programs immediately.
iSpring Learn comes with two authoring tools: a built-in tool for creating interactive longreads with knowledge checks and a powerful authoring tool, iSpring Suite, that allows you to create online courses, quizzes, video tutorials, and role-plays. These tools are included at no cost, so you can start building your course library immediately.
Besides, there are no additional options that you have to pay for in order to use, as every tool and feature is available with the standard subscription, so you don't need to worry about budgeting for additional functionality down the line as your enterprise grows.
It also allows the easy management of departments and teams, making setting up your enterprise structure hassle-free compared to many other platforms. The combination of Departments, Smart Groups, Flexible Assignments, and Automated Enrolment allows you to easily reflect your corporate structure, add rules, and assign training paths via job position and five more filtering options.
iSpring offers unprecedented attention to the quality of customer experience – from user-centric design to qualified technical support available 24/7.
Key features:
Bundled with a tier-1 authoring tool (iSpring Suite)
Great UX and usability for all skill levels
Flexible and easy enterprise structure setup
Seamless integration with Zoom and Microsoft Teams
Built-in PowerPoint integration via iSpring Suite
Excellent technical support
Free trial: Yes, 30 days
Pricing: Starts at $2.99 per user, per month for up to 50 users.
Best for: Organizations looking for a fast, feature-rich, 'one-stop shop' Enterprise LMS that works great on both desktop and mobile devices, with the ability to create learning courses quickly in a browser or via the integrated iSpring Suite authoring tool.
2. Absorb LMS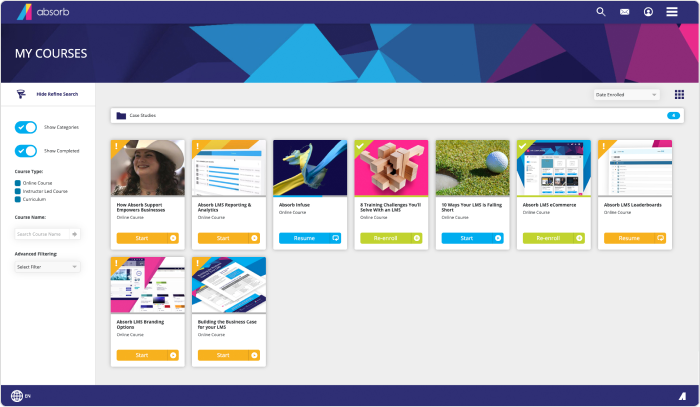 Absorb LMS offers organizations a single platform for compliance, sales, partner and customer training, employee onboarding and development, and the selling of commercial training.
One of Absorb's standout features is Absorb Infuse, which aims to offer deeply native learning experiences in the flow of work. It allows you to take any learner experience offered in the Absorb suite – such as a course catalog, eLearning content, or online collaboration tools – and embed them directly in your organizational native applications, like CRM systems.
With Absorb, it is possible to set up discreet training portals to deliver customized learning experiences to different cohorts, and you can customize the look, feel, and functionality of those portals.
Key features:
eCommerce module for selling online courses
Customized learning experiences for employees, partners, internal departments, customer groups, and geographic locations
Available in 25 languages
Powerful search function
Ability to rate courses in the comments section of each course
Free trial: Yes, unspecified period.
Pricing: Only available upon request
Best for: Absorb is a good fit for organizations that want to create customized, personalized, and highly relevant learning for users in the applications they are already working in, allowing training to fuse seamlessly into the flow of work.
3. Adobe Captivate Prime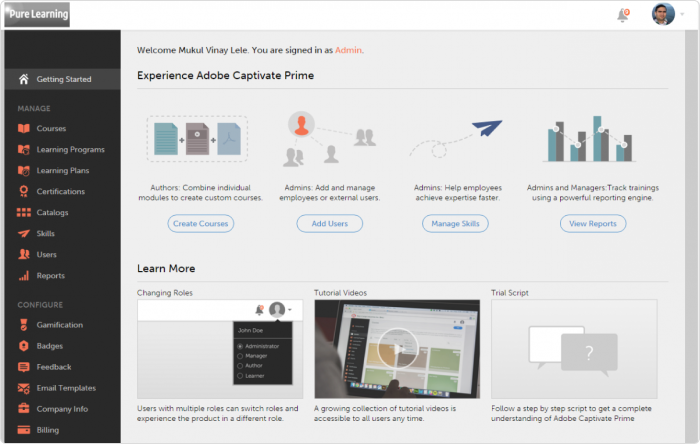 Adobe Captivate Prime allows you to create and deliver end-to-end training effectively across employees, customers, and partners. You can upgrade employee skills and drive the effectiveness of partner organizations by extending learning programs to external ecosystems.
The latest release of Prime introduces support for AI-based social learning and the ability to promote peer-to-peer learning with Automated Content Creation powered by Adobe Sensei.   Learners can share content and expertise with their peers on topic-based discussion boards.
A key feature of Adobe Captivate Prime is its integrated fluidic player. This allows learners to complete courses using SSO (Single Sign-On) with the learning data then automatically reported to Adobe Captivate Prime to save time setting up individual LMS accounts.
Creating and loading content is easy with the Captivate Prime Desktop App, which allows learners to easily record, edit, and post screen captures and webcam videos, as well as screen grabs and audio clips. Learners also have access to paid courses offered by established third-party content providers like Lynda, Harvard Mentor, and Get Abstract.
Key features:
Easy integration with enterprise apps like Zoom, Lynda, LinkedIn Learning, and Slack
Fast content delivery using Akamai edge servers
Quick Start Projects for creating mobile-ready projects
Experiential learning tools with virtual tours, training drills, and management scenarios
Adobe Connect Integration for integrating with other Adobe cloud applications
Free trial: Yes, 30 days.
Pricing: Starts at $4 per month per user.
Best for: Adobe Captivate Prime is a great enterprise solution if you're looking to offer partner training, employee skills development, sales enablement, customer education, and compliance training within an Adobe connect framework.
4. BrainCert Enterprise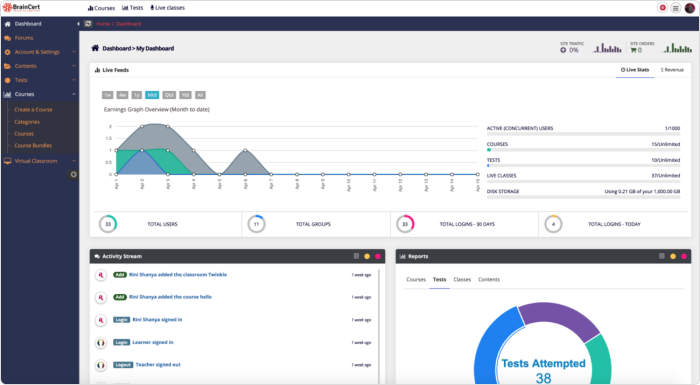 BrainCert is a unified LMS that integrates four core training platforms into one solution: a course platform, an online testing platform, an HTML5 virtual classroom, and a content management system.
It is the only enterprise LMS with an HTML5 Virtual Classroom that offers real-time collaboration within a unique classroom environment. The integrated testing platform covers skills measurement and adaptive testing, and offers advanced custom question types for assessment building.
Key features:
Virtual classroom for collaboration
Advanced testing features
eCommerce integration for the sale of training content 
Multilingual
One-on-one chat functionality
Free trial: Yes, free account with limited functionality.
Pricing: Starts from $119 per month for 50 users.
Best for: BrainCert is a good fit for organizations that not only need an LMS for course delivery but also want to make full use of HTML5 virtual classroom environments to offer interactive, real-time, instructor-led online training.
5. Cloud Academy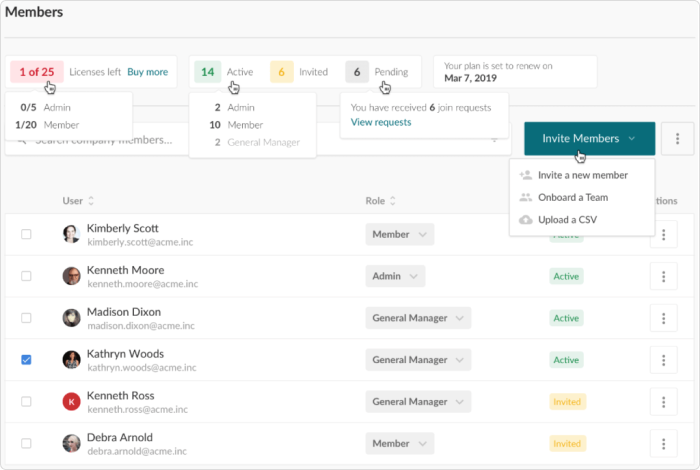 Cloud Academy positions itself as the enterprise training platform for the cloud. Larger organizations might use it to retain talent, accelerate R&D efforts, and maximize ROI.
Cloud Academy comes with access to 10,000 hours of technology training material created by leading industry experts. With Cloud Academy's hands-on labs, employees can start their journey to technical competence and then graduate to lab challenges – a feature that gives employees the opportunity to see how they react in a scenario that runs on real-world cloud infrastructure. You can also duplicate and customize lab sessions so your employees can train in an environment that mimics your own.
Enterprise certification programs are also offered, with customizable assessments and Cloud Academy's pre-built questions. This is ideal for launching programs that are tailored to your organization.
The Cloud Academy library includes over 15,000 assessment questions, as well as adaptive quizzes and exams.
Key features:
Cloud RosterTM, which helps users explore the latest skills that are in demand based on specific job roles
Cloud CatalogTM, which helps users look at trends and compare skills demand by technology
Role-specific training on leading clouds, methodologies needed to operate on and between clouds, and capabilities unlocked by the cloud
Highly specific and targeted learning
Mobile access (Cloud Academy App)
Free trial: Yes, 7 days, payment details required
Pricing: From $65 per user, per month
Best for: This is an ideal platform for large enterprises wanting to skill and upskill their employees in critical areas that will evolve over the years. 
6. Docebo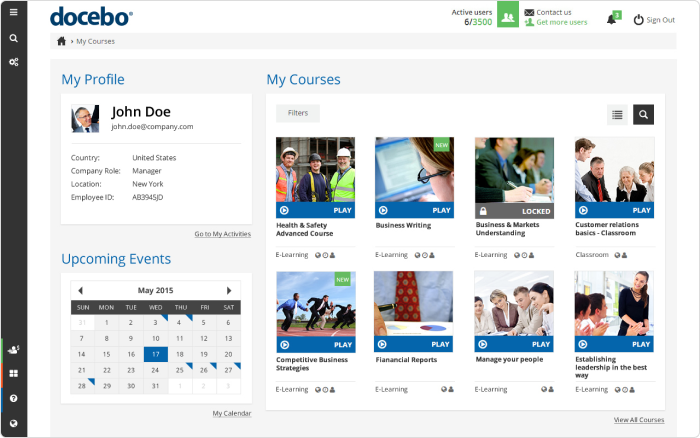 Docebo is a cloud learning platform that works via artificial intelligence. Such technology enables in-depth personalization for learners and automation for administrators. It is designed for employees, customers, and partners. It has a strong focus on social learning but also provides solutions for employee development and retention, sales enablement, partner training, and compliance training.
Docebo offers an array of products. For example, the Discover, Coach & Share product promotes social learning and encourages users to foster a strong sense of collaboration through knowledge-sharing. Learners can access information quickly, ask questions, and get answers from other learners and subject-matter experts.
A great feature of Discover, Coach & Share is its Artificial Intelligence that crawls each piece of user content and then compiles a list of learners who would receive the most benefit from engaging with it.
Other products include Extended Enterprise Learning for customers and partners, and Docebo Embed, which enables the customization and control of the customer learning experience from within their apps and systems.
Key features:
The ability to create custom playlists from a variety of learning content formats
A complete and robust API system for Docebo customers for integrations associated with managing user accounts, courses, training materials, and user enrollment
Access to over 20,000 eLearning courses from top content providers (LinkedIn Learning, Skilla, OpenSesame)
Gamification
Available in 40 languages
Free trial: Yes, 14 days.
Pricing: Only available upon request
Best for: Organizations looking for a modular Enterprise LMS that can be built out and added to over time.
7. LearnUpon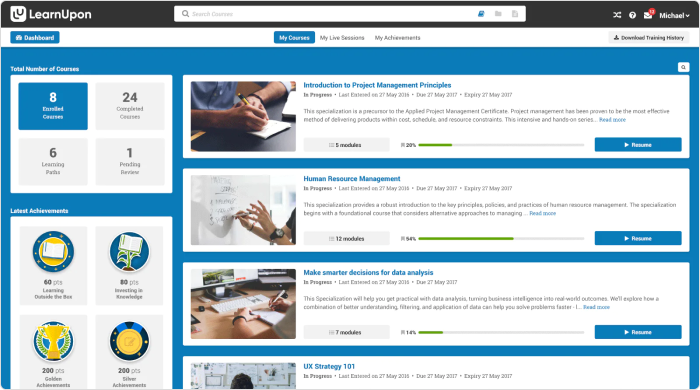 LearnUpon is an LMS built to efficiently manage, deliver, and track training to any audience, including customers, employees, and partners, and comes with many powerful features.
For example, you can easily create and deliver courses that are SCORM and xAPI compliant, and can also create different user roles and groups to make training more personalized, productive, and efficient.
Managers can oversee and report on their assigned learners, while instructors can build and manage courses, facilitate training, and provide learner feedback.
A feature of LearnUpon that stands out is the ability to train multiple audiences in a single system by using learning portals. This allows you to create a personal training experience for each audience, and because these portals function as mini LMSs, you can style and brand each of them any way you prefer.
Key features:
Ability to divide the LMS up into distinct "mini LMSs."
Ability to create branded storefronts to sell your courses
Autocorrected exams
Salesforce LMS integration
Certification with customizable certificates and automated recertification
Free trial: Yes, 30 days.
Pricing: From $699 per month for up to 50 users
Best for: LearnUpon is a good fit for organizations seeking to offer audience-specific LMS experiences, such as provisioning LMS portals with different feature sets for different types of partners.
8. Lessonly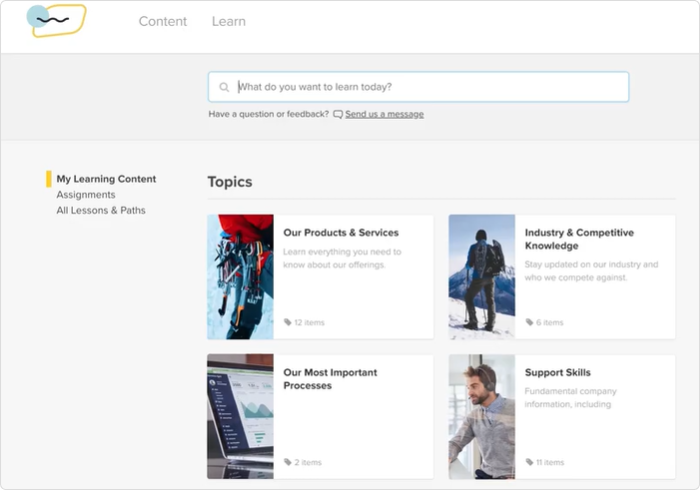 Lessonly is a SaaS-based LMS. It offers Practice, a product designed to help upskill teams and help them learn new competencies.
With Practice, teams can, for example, rehearse a presentation or customer interaction via video, simulate a client call, train on real-life scenarios behind the scenes, deal with sample customer requests, or practice writing effective business communications. By simulating real-life scenarios, teams can gain confidence and improve their skills in a safe-to-fail environment.
The key idea with Lessonly is to make training simple for your customer-facing staff.
Key features:
Ability to export lessons for offline use
Lessonly University, which contains pre-made content
Ability to create custom groups
Featured integrations, such as Salesforce, Zendesk, and Chrome
Video rehearsal training
Free trial: No, but free demo
Pricing: Only available upon request
Best for: Lessonly is ideal for enterprises that want to train their customer service and sales teams.
9. Looop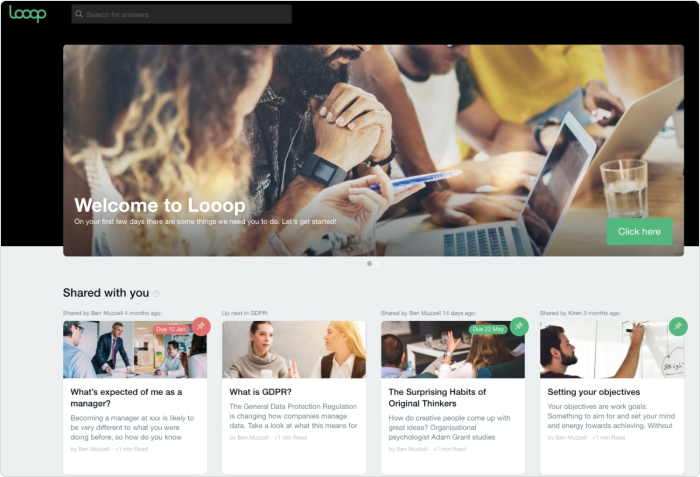 Looop is an extended enterprise LMS for internal and external training delivery.
Looop differentiates itself by addressing critical points of failure in an organization and then solving the related problems. This LMS emphasizes performance and ensures that the user is central to the learning experience.
While other platforms focus on adding to existing technology layers and offering a surplus of content to learners, Looop aims to have employees focus on job performance, which can be considered the ultimate metric for success.
This platform facilitates educational gap finding, so you can identify and provide the best resources, and leverage the integrated analytics to provide users exactly the training interventions they need when they need them.
You can also create content very quickly on the platform, and it's designed to be simple to set up and implement with no coding or HTML.
Key features:
Any employee can create their own resources
Resources are instantly accessible, searchable, and can be formatted for any mobile device
Ability to create sequences and structured learning pathways
Automation of employee communications
Target groups of learners with tailored messages and content
Free trial: No, but free demo
Pricing: From $299 per month for up to 50 users.
Best for: Looop is suitable for organizations looking to track, measure, and improve performance rather than focusing exclusively on 'learning.'
10. Pluralsight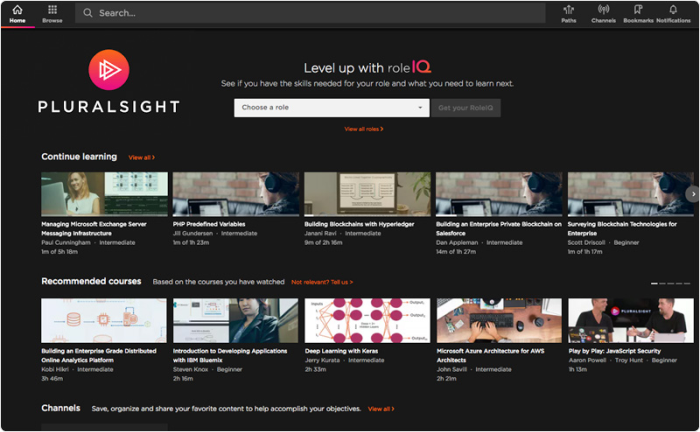 Defining itself as a 'technology skills platform,' Pluralsight is specifically designed to help corporate leaders and managers assess employees' technical abilities via skills assessments and analytics. This LMS aims to make it easy to maximize employee skills development in niche fields such as cloud computing, data, application design, mobile applications, and cyber-security. It offers access to over 7000 on-demand courses created by leading tech experts from around the world.
Pluralsight's products include Skills, which provides solutions for individual employee use, software development teams, information operations teams, and security departments.
Another module is Flow, which is an engineering intelligence platform. This provides product managers, leadership, and executives with deep visibility into software engineering teams with the aim of optimizing productivity.
One of the features of Pluralsight that stands out is the Iris module, which creates assessment algorithms and leverages data to personalize the learning journey of each user.
Key features:
Learning paths, channels, and bookmarks help learners stay organized and keep track of their progress
Suggests topics to learners based on results from quizzes
Role IQ, which helps individuals and teams identify skills gaps
Skill IQ (a free assessment of your skills in numerous fields and software applications)
Multilingual
Free trial: Yes, 10 days for individual plans only.
Pricing: From $399 per user, per year.
Best for: Large IT organizations looking to upskill their staff and partners.
11. ProProfs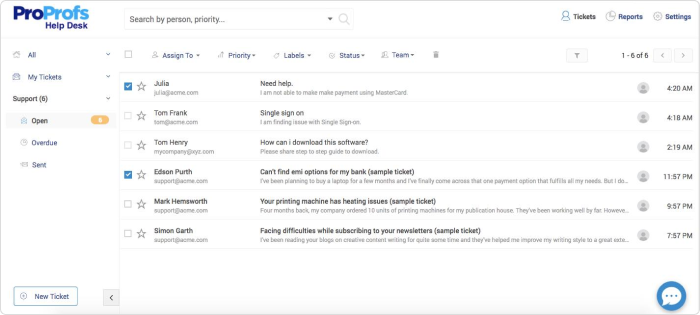 ProProfs is a cloud-based training and learning platform designed for users of all skill levels and all organizational use cases. It describes itself as the world's easiest platform for enterprise-grade training.
The LMS comes integrated with a global virtual classroom, making it easier to administer online training seamlessly. In addition, there is a suite of integrated tools for quizzes, surveys, knowledge base, collaboration, and project management to facilitate an entire training life cycle.
As a learner-focused LMS, ProProfs allows trainees to learn anytime, anywhere, and on any device. The tool is also easily customizable, meaning you can train individuals and groups just the way you want to.
Key features:
An end-to-end solution for creating, designing, sharing, and tracking online courses
A robust virtual classroom software
Learning paths 
Strong reporting and analytics engine
eCommerce for selling online courses
Free trial: Yes, 15 days.
Pricing: Starts from $3.50 per user, per month.
Best for: ProProfs is a good fit for organizations looking for an LMS that's easy to set up and use, and offers virtual classroom functionality.
12. SAP Litmos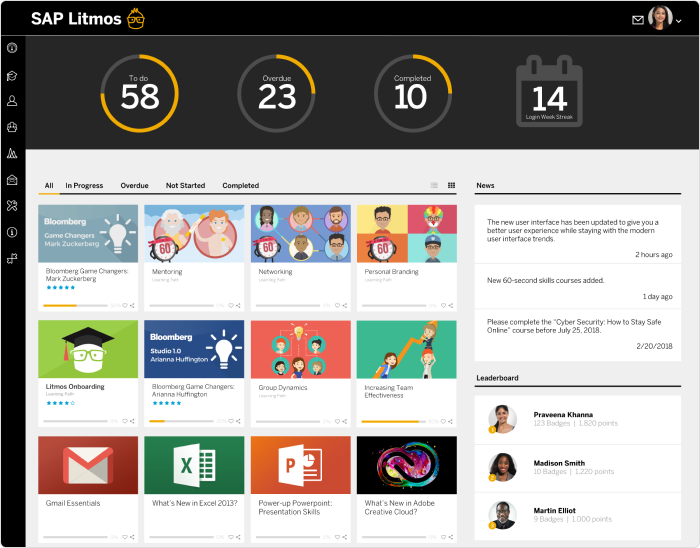 Litmos is a cloud-based enterprise learning management system for staff training, and industry and customer orientation in small enterprises. Its features include a virtual classroom and mobile learning, as well as integrated e-commerce and social features. It also offers add-on modules to extend functionality if required.
SAP Litmos is made up of several components, including a powerful LMS, an ecommerce platform, and a content-rich course catalog.
There is no limit placed on the number of users, and the platform comes with a user-friendly UI making it easy for any team to leverage.
The course catalog covers subject areas like operations training, freelancer training, contractor training, sales training, customer training, and supplier training. Its industry coverage is quite expansive, with specific content available for technology, not-for-profit, retail, hospitality, and healthcare industries.
Key features:
The instructor-led training module can be used to schedule both virtual and classroom-based learning
Ability to set up an online storefront with the Litmos-Shopify integration
Embedded content creation tools
Extensive course catalog
Customizable interface
Free trial: Yes, 14 days.
Pricing: Only available upon request.
Best for: This is an ideal solution for those in training departments, HR, safety and compliance, and sales managers, as the platform enables these teams to collaborate, author, and monitor web-based training courses.
13. Workramp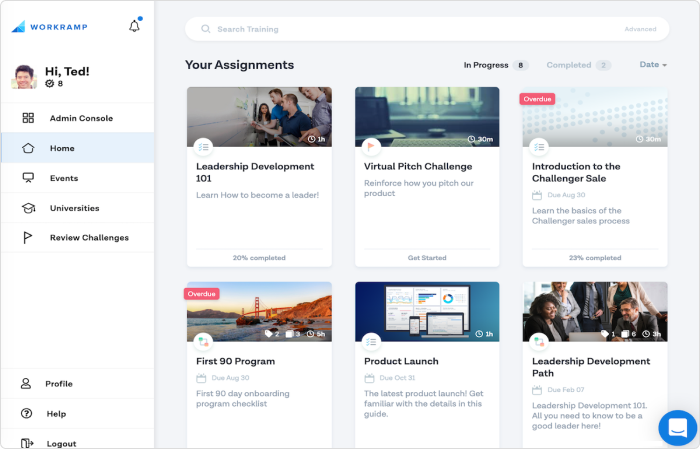 Workramp is a functionality-rich training platform that seeks to help sales and support teams. It aims to enable sales teams to drive more revenue by making use of training interventions like sales boot camps, buddy coaching, and peer-to-peer mentoring. It also offers the opportunity for sales staff to achieve certifications, either via recorded or in-person training.
With Workramp, you can offer real-time, context-based learning, and connect your training data to third-party platforms such as Salesforce Service Cloud to monitor your customer-facing teams.
In addition to the main focus of sales enablement, you can also provide your employees with access to a range of custom learning content and build and manage leadership development programs.
Key features:
Testing and certifications
Custom branding
Open APIs for custom integrations
The Workramp mobile application for learning on the go
Salesforce integration
Free trial: No, but free demo.
Pricing: Only available upon request.
Best for: Sales-focused organizations looking to train large sales teams using a blended approach.
14. 360Learning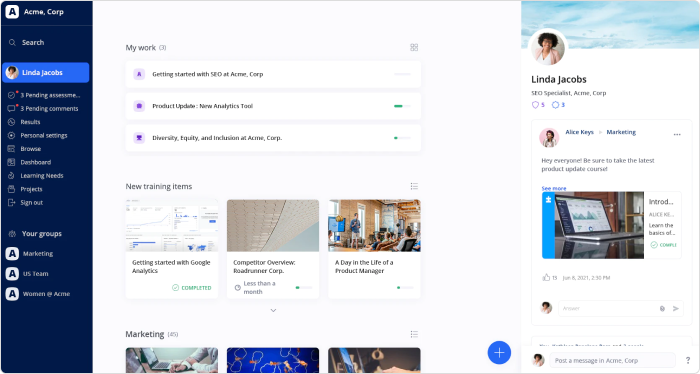 360Learning is a collaborative learning platform and takes a different approach to deliver employee training. It focuses on keeping up with fast-paced changes in organizations by ensuring that knowledge is shared quickly and effortlessly.
The aim of this platform is to facilitate 'bottom-up' learning in organizations by putting the power in the hands of in-house experts in the form of SMEs or employees.
This approach is designed to reduce the stress placed on individual trainers by allowing these experts to create, deliver, and optimize instructional courses themselves, leaving more time to focus on the learners themselves by identifying skill gaps, prioritizing learning initiatives, and monitoring course development and impact.
Some other features include creating your own sales boot camp and field training.
Key features:
Easy authoring tools and built-in feedback loops
Forums, reactions, and upvotes foster a culture of social learning
Makes use of assessments and peer reviews to ensure that content is always relevant
Learning analytics integration (Salesforce/your own HR system)
Free trial: Yes, 30 days.
Pricing: From $8 per user, per month.
Best for: Organizations wishing to leverage SMEs and other in-house expertise in order to improve training ROI.
15. SkyPrep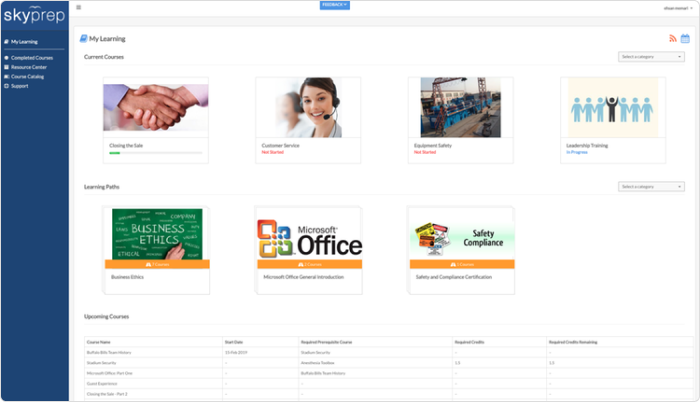 SkyPrep is a cloud-based LMS that helps organizations create, deliver, track, and optimize corporate training programs.
It has a sub-platform hierarchy that allows enterprises to have multiple discreet LMS platforms for different branches, brands, and clients. It also enables the provision of discreet training experiences to different groups of learners from a single account.
The platform supports multiple training functions, including onboarding, compliance training, selling courses, and virtual classrooms.
Key features:
Ability to manage multiple learning portals and sub-platforms
Advanced reporting and analytics
A content-rich in-app course builder
Automations, such as self-managed recurring training
Integrations, including Live Webinars and Social Login
Free trial: Yes, 14 days.
Pricing: From $299 per month.
Best for: Organizations that seek to focus on hierarchical training paths and offer individual experiences to different sets of learner cohorts.
When Is an Enterprise LMS the Right Choice?
We suggest opting for a custom enterprise LMS solution if you need to:
Develop the integrity and credibility of your brand to your employees, customers, and partners with custom branding.
Meet specific training needs of diverse learner groups, such as: adjust training to different learning styles (e.g., blended learning for employees and micro-learning for partners), or create personalized eLearning for training specific practical skills (e.g., repairing construction equipment, communicating with partners, using or promoting your product offerings).
Implement enhanced security (e.g., AI-driven security) if your enterprise is bound by newer compliance regulations like HIPAA or GDPR.
Why Is Customer Support Important for Enterprise Users?
Customer support and after-sales service are extra important for new enterprise LMS users. With the extended functionality of an enterprise platform, you may need to consider things like data integrations, adding large numbers of users, course setup, and more advanced reporting functions.
Even the most experienced LMS administrators need reliable support when switching to a new platform with more under the hood and avoid the potential for stalling training activities.
For this reason, excellent customer support is the only real solution, so consider making this a priority when researching which LMS is right for your organization and ensure that your vendor has a reputation for speedy and effective support, as is the case with iSpring Learn.
Summary
Choosing an enterprise LMS depends on your organization's needs and requirements. For some companies, training creation and learning experience are the most important factors, while others place more emphasis on attention to design or cloud hosting options. So, make sure that you do your due diligence. We hope this article has given you a good jumping-off point for considering your options.