January 13, 2022
Moodle vs BlackBoard – That is the Question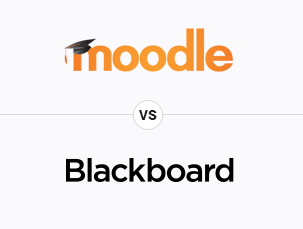 Even free LMSs like Moodle can require a significant IT investment, whereas premium LMSs like BlackBoard can end up paying for themselves in the long run. The numbers show a strong split between LMS choice depending on how limited a school's student body is (and thus their resources).
George Kroner, a former BlackBoard engineer, expresses surprise in "…seeing [Moodle] surpass Blackboard below the 2,500 FTE mark – I was actually kind of shocked to see that."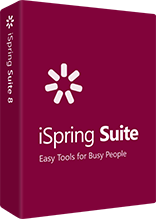 Fully-stocked eLearning authoring toolkit for PowerPoint. No training required to start!
When choosing an LMS, we face a question: what is better – a free open-source solution which requires further development, or an expensive product which is ready out of the box? This question reveals two general investment factors: initial price and future cost of ownership.
The market provides dozens of alternatives, but this article compares the two most popular solutions from each category: Moodle vs Blackboard. Regardless of the investment, a good LMS should be user-friendly, cost-effective, and suitable for the type of organization that uses it.
Which LMSs are colleges and universities already using, and which new LMSs are they choosing? According to LISTedTECH, BlackBoard and Moodle dominate the market for current LMS usage, and they are both competing with Canvas LMS for new implementations (based on 912 new implementations in the past 5 years).
Moodle is a powerful free solution, but tailoring it for your specific needs may require many hours of programming. BlackBoard is fully loaded, but expensive. Let's compare:
Moodle
Moodle is open-source software using the "freemium" payment model, which means that you get the basic elements for free, but must pay for extra options. According to recent surveys, it is one of the most popular LMSs, mostly used by institutions with between 1,000 and 2,000 full-time students.
One of the main disadvantages of this system is that it's very difficult to set up and fine tune. There are lots of companies that can help to set up the system and customize it, but their services are rather costly. Moodle is perfectly suited for common educational goals, but to implement it, a company should have at least one qualified IT specialist, plus a separate server and hardware. Moodle is free up front, but extra expenses may amount to $10,000/year, not including IT department salaries.
The main features of Moodle:
Grade management
Student roster / attendance management
Assessment implementation
Discussion forums
Lesson planner
Collaboration management
File exchange
Internal messaging, live chat, wikis
Moodle offers special modules for creating courses (moodlerooms) which can be used in situ or migrated to another LMS. The main problem of this system is that it requires extra time and effort – up to 18-24 months – to customize and implement. If you can afford such time-consuming activities without any harm to your business, then Moodle is a great solution for your company.
Here are a couple of reviews from Capterra which reflect the pros and cons of using Moodle:
Moodle is a nice alternative for those that are looking for a full-featured Learning Management System with a relatively low cost. It is often referred to as the free Learning Management System but it is free like a puppy where it comes with a lot of hidden costs such as maintenance, support, etc.. If you're going to go with Moodle. I would recommend finding a trusted hosting provider such as Moodlerooms to help with all of those hidden costs. If so, you can have a cheaper alternative to some of the others that are out there, have a lot of functionality, and don't have to worry about any of the behind the scenes stuff. The other benefit is you have access to a massive amount of documentation, how-to videos, and the community to help with anything you can imagine.
The best and worst thing about Moodle is it's complexity – there are so many features and settings that you can make Moodle do and look like whatever you want, but it can be a bit overwhelming for a teacher new to using an LMS. However, the support community – both instructional and technical – is very responsive and helpful. Being open source, Moodle is continually being upgraded and integrates with many other digital tools. No other LMS compares to Moodle.
Moodle is a great LMS but since it's open-source, you have got to figure out many things. Even though the moodle.org forums are well maintained, it's not always easy to get support on very specific questions. It's a great tool if you have a great IT Support in place but if you are only a teacher, it's not easy to administrate the LMS only by yourself.
I like the immense possibilities in terms of delivering content and providing interactive materials but it's not user-friendly and require long navigation.
A great tool but could be improved.
Overall, Moodle is a free and popular LMS, but it often requires customization, which can be very costly and time-consuming. One of its strong points is the active online learning communities and collaboration activities (Blackboard is deficient in this department).
Blackboard
BlackBoard is an industry-leading LMS, comprehensive and flexible, but expensive. Detailed pricing information is not publicly available, but the cost depends on how many licenses you need. It has lots of schools on board already and is considered to be a great value for the money, especially for large institutions with a lot of resources.
BlackBoard excels in course creation; an instructor can upload and manage all the materials s/he needs. However, if extra training or implementation services are required, it may be difficult to find and hire a qualified BlackBoard specialist.
The main features of Blackboard:
Custom branding, fields and functionality
Exam engine
Multiple delivery formats
Administrative reporting
Course catalog
Data import/export
Grading
Individual plans
Student portal
Goal setting
Skills tracking
The system lacks collaboration features and doesn't excel in email integration, but offers self-paced instruction methods and resource management.
Here are a couple of reviews from Capterra which reflect the pros and cons of using BlackBoard:
I used blackboard as an online central hub for each class during my first couple years at the University of Mary Washington. Blackboard provided each teacher the ability to create diverse classes through their use of online tools such as blogs, online collaboration, and easy communication between professors, classmates, and participants in other classes of the same subject. These tools that Blackboard provided could have created an amazing classroom experience at home. However, blackboard was so complicated to use and had so many bugs that it became more of a hassle than a tool to be utilized. Posted materials would disappear or be locked out of nowhere. Blogs would stop refreshing. One time, a professors whole page was reset to blank over night. These things would always be quickly fixed but annoying nonetheless.
Blackboard puts differently formatted information – pdf, simple data, hyperlinks, etc. – in one spot, but it can be more user friendly. The tools sections, in particular, is so full that it makes looking for the most basic thing a chore. Why, for example, are grades in the tools section? Emailing all members of a class is not prohibitively complicated, accessing course materials is not hard (though they tend to be organized in ascending order from the first thing posted to the last, which is annoying because typically a student would be looking for the latest course material first and not last), and all of the most necessary links – except for grades – are conveniently located on the side bar.
I used blackboard as a student at Georgetown. Professors differed in how the used the program – some would post a syllabus and forget about it, while others would post everything from grades to homework to multimedia and made ample use of features like the discussion board. Overall, I found it useful. Blackboard streamlined communication between me, my professors, and my classmates. I think Blackboard does feature a lot of "noise", in the sense that it offers many tools both I and my professors never had a purpose for.
Overall, Blackboard is perfect for educational institutions, but it is very expensive, takes a lot of time to sort all the software out, and is not convenient for businesses.
| | | |
| --- | --- | --- |
|   | Moodle | Blackboard |
| Payment model | Freemium (open source) | Proprietary |
| Course assignment | Activity list on a single page | Weekly activities tab |
| Managing content | Automatic content management. | Manual. You have to change settings every time. |
| Features/Plugins | Limited options, you have to create new plugins and develop them | Extra features are included in the price |
| Product/vendor model | Many supporting companies and vendors | Only one company to work with |
| Help options | Forums, Knowledge Base | Forms, Knowledge Base + Live Tech Support |
| Mobile friendly | | Free Blackboard Mobile app |
| Market share (2015) | 22.98% | 34.22% |
You can also have a look at BlackBoard vs Moodle comparisons on G2Crowd and eLearning Roadmap.
If you are looking for a multifunctional LMS, you can choose from the two above, but watch out for extra expenses for their customization and maintenance.
In choosing the right LMS for you, we recommend you write a checklist of all your requirements. Give Moodle a try, have a look at a demo version of BlackBoard, and check if they fit your list. Tick the points if they are covered, and cross them out if they are not. Then you'll have an idea of which system fits you better.
How to launch e-Learning faster?
If you are new to LMSs, it can be rather difficult to choose the best solution. A good strategy is to try an easy and affordable system and see which LMS features you need to meet your specific goals and build a complete learning experience. Try iSpring Learn – an easy-to-use platform for teaching students online.
This cloud-based platform requires no installation. Once you create your account, you can immediately start developing your learning environment. iSpring Learn LMS collects detailed statistics on all aspects of the learning process and provides a powerful set of reports, so you can always track learners' performance and analyze training effectiveness.
iSpring Learn will help you build a complete learning experience in no time while saving your budget. You can invite and register any number of students and pay only for active users who actually take courses and assignments.
With this no-headache platform, you will discover which LMS features are essential for your learning process and which you can easily do without. Maybe you will decide on Moodle or BlackBoard, or continue teaching your students with iSpring Learn.
Start your free 30-day trial and explore all iSpring Learn features
Conclusion
If you need a powerful system and have the resources to pay for it, you can choose BlackBoard. If your budget is limited, but your ambitions are still high, get Moodle. And make sure that the e-Learning authoring tool that you use is perfectly compatible with your LMS.