December 7, 2022
The Top 9 Must-have LMS Features for 2023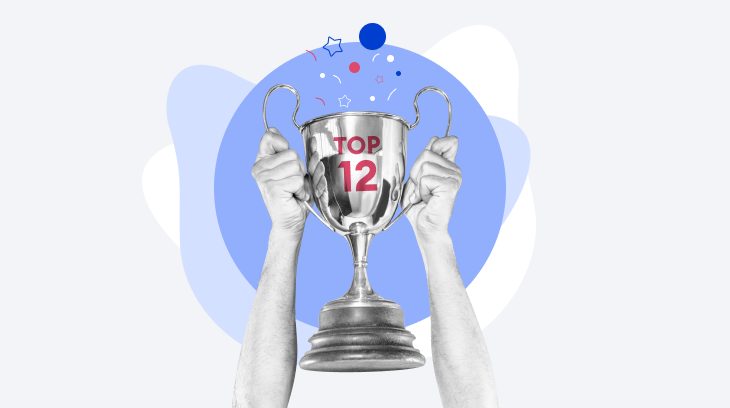 Benjamin Franklin once said: "For the best return on your money, pour your purse into your head." Granted, he probably wasn't talking about modern-day corporate training, but the sentiment still stands. Continuous employee training is the best way to drive business results.
If your organization is serious about fostering a learning culture, you're going to need an LMS. With so many options out there, the best way to pick one is to define the LMS features that meet your training goals and find a solution that has them all.
This article explores the top features a solid learning platform should include. But first, we'll look at what an LMS is and the different types of systems that are available.
What Is an LMS?
A learning management system (LMS) is a digital platform used for creating, delivering, and tracking training activities. LMSs come with a range of features that automate training management tasks, help to streamline learning, and evaluate training results.
An LMS commonly gives learners easy access to training materials, such as online courses, videos, and digital job aids. Moreover, managers and trainers can usually host virtual training sessions, enroll staff in different learning paths, and monitor training performance in the organization.
Types of LMSs
Think of an LMS like you would a pair of shoes. Not every platform is going to fit. And even if the shoes fit, they might not be the right pair for the occasion. What we're getting at here is that even if the tool in question is a fantastic product, it may not match up with your company's needs.
Put simply, different types of LMSs are better suited to certain organizations or users. With that in mind, it's important to get to know the different options available before picking one.
Let's explore the common types of LMSs on the market.
Small and medium-sized business (SMB) vs. enterprise
The size of your organization will significantly impact the type of LMS you opt for. While at first glance the LMS features are the same, there are some crucial differences.
For instance, common features of a learning management system for SMBs include reliability, a user-friendly interface, and a quick setup. Employees in SMBs tend to wear many hats, so the LMS needs to be accessible for all staff and easy to integrate without the support of an in-house tech team. In most cases, SMBs don't have the resources (or necessity) to implement advanced, high-tech LMSs.
On the other hand, enterprises usually look for an LMS with a little more power. This type of organization needs to deliver training at scale: to employees, customers, partners, and distributors.
Large enterprises with 500+ members often have a dispersed workforce and rely heavily on a corporate LMS. As such, they need a highly customizable platform with advanced learning management system features, such as user segmentation, rich user management features, and strong automation capabilities.
Open-source vs. commercial
Open-source LMSs are 'free' to use, whereas you have to pay to use a commercial one. You'll find a range of great free LMSs that are ideal for organizations on a tight budget, such as startups and non-profits. Open-source platforms are also an excellent way to test-drive an LMS before forking out for one.
However, you'll need to have an internal team of developers and software engineers to install, host, and maintain open-source LMSs. This can be time consuming and divert valuable resources away from the business.
Moreover, many open-source learning platforms were designed with academic education in mind. As a result, they lack some critical LMS functions for corporate training, such as compliance features and comprehensive reporting.
Even though you have to pay for a license or a subscription to use a commercial LMS, they can actually be more cost-effective than an open-source option. As a paying customer, you have access to product training and technical support. Thus, you don't need to dedicate a tech team to maintaining the LMS.
Commercial LMS capabilities are much more robust and aligned with corporate training needs. For example, they have options for single sign-on (SSO), certification, and customizable user roles to protect your organization's security.
Hosted vs. cloud-based (Saas)
A hosted LMS is installed on your organization's servers and maintained by an in-house team. Cloud-based LMSs, on the other hand, are web based.
While hosted LMSs are quickly becoming a thing of the past, there are some advantages. Since installed learning systems can only be used on your organization's server, they're very secure and can be accessed offline. Because of this, some organizations opt for a hosted LMS to comply with industry regulations.
On the downside, they tend to be clunkier than their cloud-based counterparts and less flexible. They're also costlier to run, as they require in-house IT experts to install, manage, and upgrade.
Cloud-based LMSs are flexible, allowing learners to access training from anywhere. In terms of LMS implementation and maintenance, they're much easier to manage internally. Your LMS vendor will do all the heavy lifting, regularly rolling out global software updates and maintenance.
Generally speaking, unless your organization has specific security needs or network requirements, a cloud-based LMS is the way to go. It's more modern, flexible, affordable, and future proof.
The Top 9 Must-have LMS Features and Bells and Whistles
There are a few basic functions that all LMSs should have. They should be able to build training programs, assign learners, and generate reports when a training program has been completed. But, aside from these fairly standard capabilities, there is a plethora of LMS features to choose from.
Not all organizations need the same set of capabilities. To help you stay focused on the features that matter for your needs, keep these questions in mind:
Do these features align with our training requirements?
Will these features streamline the learning process in our organization?
We've compiled a comprehensive list of learning management system features to help you prioritize the ones that add real value to your organization.
User management
These are the features that automate time-consuming admin tasks and make your life easier.
1. Customizable user roles
Different types of users in your organization will require different permissions in the LMS. For example, general users only need access to training courses, while instructors need the ability to upload learning materials and monitor the results of the training.
User roles clearly define what each type of role can and cannot do in the platform. As a result, finding an LMS that offers customizable user roles is recommendable. Let's see a real-life example.
iSpring Learn LMS has six standard user roles:
Account Owner
Account Administrator
Department Administrator
Course Author
Learner
Supervisor
Besides the standard roles, you can create roles with individual limitations and permissions. For example, you can add a new System Administrator role and permit users assigned to this role to view the list of users.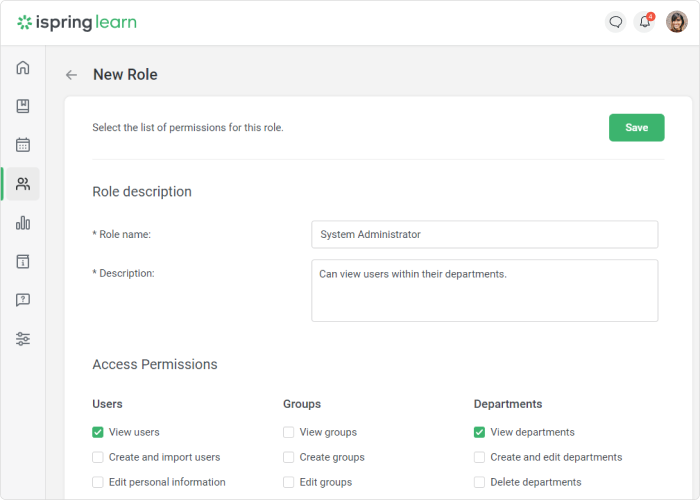 2. Management of groups and departments
The learning platform should allow you to re-create the structure of your company and sort all employees into the departments and teams where they belong, as well as create new groups and add users to them. This makes it much easier to assign, manage, and track training.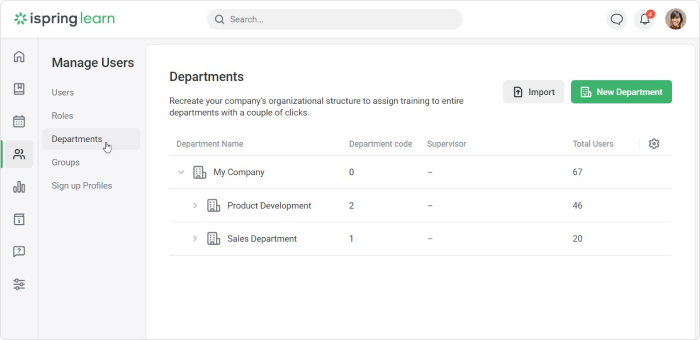 It's also important for an LMS to help you automate tasks such as enrolling learners in training based on their job role or level and extracting segmented reports to check the activity of a specific organizational group (managers, new hires, etc.). This saves time that is otherwise spent on menial tasks.
3. Notifications and reminders
As most HR and L&D teams know, you sometimes have to give employees a gentle nudge to complete training. This is particularly the case when it comes to mandatory training. An LMS that offers automated notifications and reminders will save you a significant amount of time (and effort) by following up with employees who haven't completed training yet.
You should be able to customize your messages, add the learner's name and the course name, and set your LMS to automatically send them on a specific date. For instance, you might want to trigger a reminder notification to be sent to all employees who haven't completed compliance training a week after the set deadline: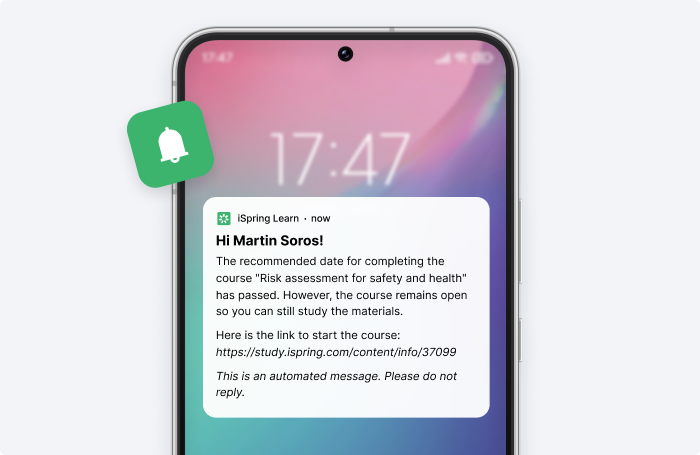 4. Reports and analytics
Being one of the most valuable LMS functionalities, reporting tells you how users are performing. A great LMS gives you the option to customize reports. That way, you can use the data to analyze how an individual or team is performing, the results of a training course, or an overview of training as a whole. Without LMS reports, it's very difficult to see the impact of your training program accurately.
Many LMSs have tools that automatically schedule reports, saving you time and effort. This makes it much easier to share important training data with stakeholders in the business. In addition, LMS reports offer deep insight into what types of training content resonate with learners and fill urgent knowledge gaps.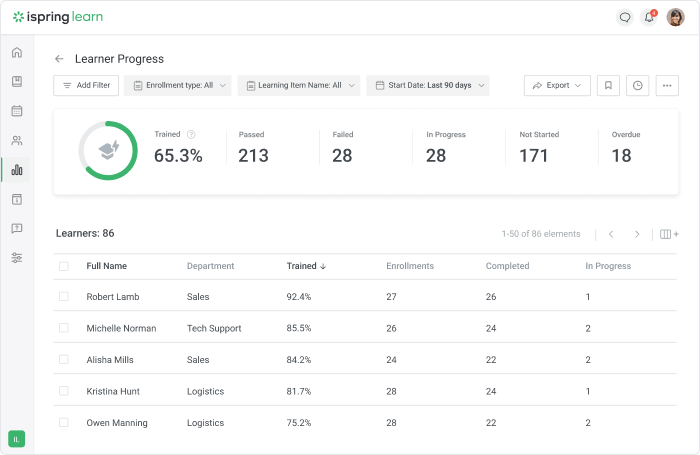 5. Branding
Whether you're delivering employee training or customer education, your LMS has to reflect your brand. You'll therefore need to choose an LMS with strong customization features. This will allow you to add your brand colors, logo, and style to the LMS.
Bear in mind that, just like your website and office space, your LMS tells users a lot about your company. So, ensure that you select one with a clean and modern interface and plenty of options to make it your own.
Automate corporate training and improve employee performance.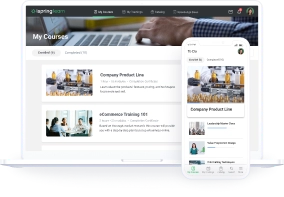 For some businesses, white labeling that removes all references to the LMS vendor, including in the URL, can be a critical tool. While not an essential feature for all organizations, it could be important if you plan to have your clients use your LMS.
6. Single sign-on (SSO)
We know what it's like trying to remember all the different password combinations for each system, app, or platform. SSO centralizes this process. Rather than typing your credentials in each time you enter an application, with SSO you only have to do it once. This cuts down time spent resetting passwords and increases the chances of employees entering the LMS and doing their training.
SSO is more than just convenient; it also improves security and reduces IT workload. IT teams spend less time resetting passwords, and learners only have one set of credentials to remember. This can improve security and protect sensitive data.
Content management
These LMS features make it easy to manage training materials.
7. Course management tools
Your LMS should make it quick and easy to deliver training programs to learners. Therefore, it's best to pick an LMS that supports multiple content formats (video, audio, presentations, SCORM files, etc.) and has unlimited storage space.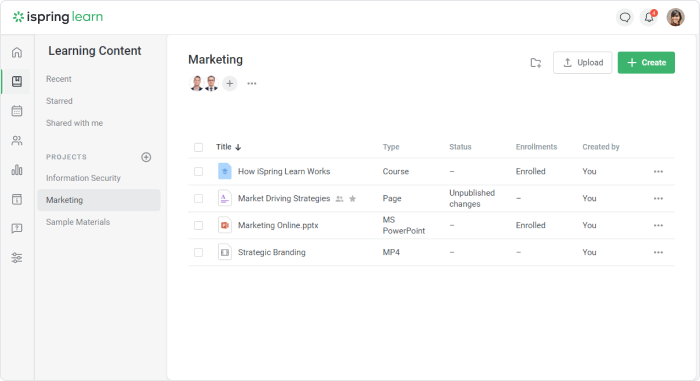 Your LMS should also have an intuitive interface that makes it easy to create training materials and organize them into courses, learning tracks, and catalogs. Features such as drag and drop will speed up course management admin, leaving you more time to dedicate to the stuff that matters.
8. Learning tracks
Learning tracks allow you to structure training activities into a sequenced path. Then, you enroll learners in the learning track and they'll have to complete each training module in the set order. This ensures that learners cover all of the material in the correct order and don't skip any important steps. Alternatively, you can allow learners to move through the learning track in the order of their choice — they just need to complete a certain number of training modules from the track.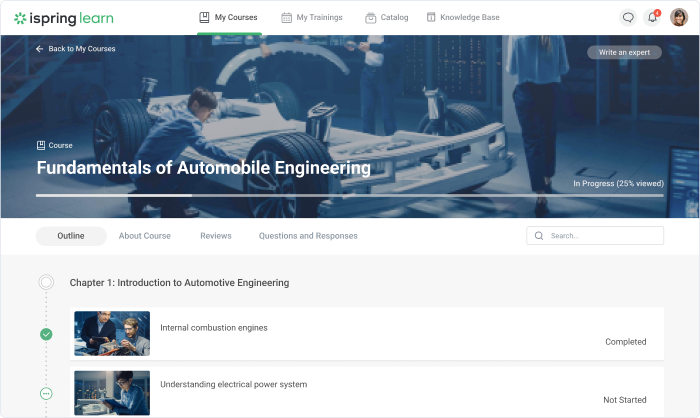 Learning tracks are a straightforward way to present training to learners. What's more, they save the L&D team's time. You can simply enroll users in the learning track once, rather than manually enrolling them in each training course.
9. Course creation tool
If you plan to create training courses in-house, you'll need a course authoring tool. Some LMSs come with built-in tools that allow you to build simple courses right in the platform. However, if you want to create professional-grade courses, it's best to opt for an LMS with an integrated authoring tool.
By having an LMS and an authoring tool from a single vendor, you can avoid issues with tracking statistics, cut licensing fees, and prevent compatibility issues. Plus, it saves time and money. Authors in your organization won't have to get their heads around two separate tools, thereby speeding up the onboarding and creation process.
For example, iSpring Learn LMS is integrated with a powerful eLearning authoring tool, iSpring Suite. From video lectures to quizzes and interactive presentations, it comes with a wide range of features (and a full content library) allowing you to design any type of training scenario.
Here's an example of an onboarding course created with iSpring Suite.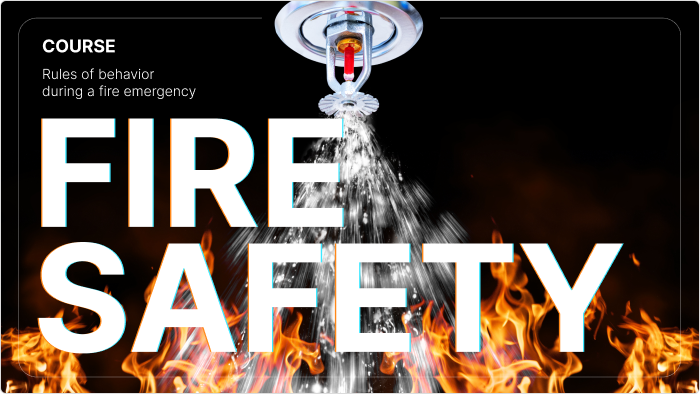 Bells and whistles
These are the 'don't need, but nice to have' features.
Video confeerencing integration
Blended learning is a popular approach in many organizations because it combines in-person classroom learning with online training. Nowadays, more and more trainers are using web-conferencing tools to carry out the instructor-led portion of the training. This creates more flexibility for learners without losing that personal touch.
If you plan to run blended learning programs, consider an LMS that integrates with video conferencing tools. This ensures that training is seamless for learners and makes it easier for L&D teams to schedule and manage virtual training sessions directly in the LMS. Opting for a tool that employees are already familiar with, like Zoom or MS Teams, will streamline the process even more.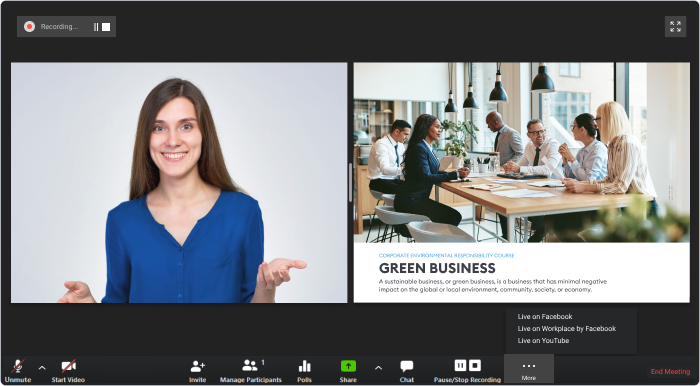 Gamification
While it's not an essential LMS feature, gamifying your training program is a fantastic way to win learners over (no pun intended). Gamification elements, such as badges, points, and leaderboards, set important milestones for learners and keep them motivated. They're also a great way to recognize employees' achievements.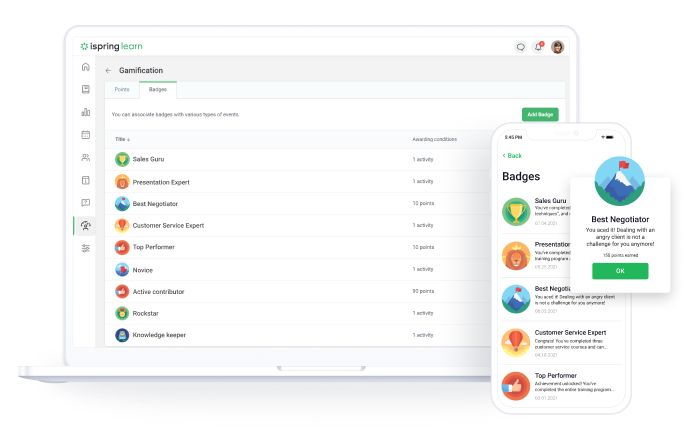 Multilingual interface
If your organization needs to deliver training across multiple locations, a multilingual interface will prove very useful. While localizing your training programs requires time and effort, localizing the LMS interface can be a quick process if your platform supports the languages you need.
By picking an LMS that supports multiple languages, you ensure that your audience has access to their learning platform in their native languages. This significantly increases adoption and improves engagement rates.
FAQ
Here are some of the most frequently asked questions about choosing an LMS.
What are the benefits of an LMS?
There are many. Here are some of the most significant ones:
#1 Cost-effective – Despite an initial investment, LMSs significantly cut training costs. Delivering training online reduces the amount spent on traveling, instructor fees, and accommodation expenses.
#2 Flexible – Using an LMS gives employees access to the training anytime, anywhere. An LMS supports both self-paced and instructor-led training, allowing your organization to offer employees flexible training options.
#3 Reduced workload – LMSs dramatically reduce the workload for L&D teams by automating time-consuming training management tasks, such as enrolling employees in training and sending reminders. As such, L&D teams have more time to focus on strategy and innovation. Moreover, instructors only have to create training once and then upload their online course or recording.
#4 Trackable – One of the best LMS functionalities is its ability to pull data and create detailed reports. This allows L&D, HR, and management teams to carefully track training activities and results and measure training ROI. Also, many organizations are legally required to deliver employee compliance training and keep up-to-date records. LMS reports automate this process and ensure your organization is up to scratch with its legal obligations.
How does an LMS improve learning?
We all learn differently. An LMS brings stale training to life by incorporating interactive activities, quizzes, and scenario-based role-plays. This caters to different learner types, boosting engagement and retention. As a result, learners achieve better results and are more motivated for future training programs. Gamification features help to boost learner engagement further and foster a culture of learning.
How should you go about choosing an LMS?
There's a lot to consider when picking an LMS for your business. We recommend following this easy four-step process:
#1 Research: Gather research from reliable sources and get to know what LMSs are available. This gives you a chance to learn the lingo and familiarize yourself with common terms and concepts. Once you have a good idea of what's possible and the standard features of a learning management system, move on to stage two.
#2 Write a Request for Proposal (RFP): Rather than get sucked into the many sales pitches that gush over the amazing features of LMS, think about your needs. The best way to do this is by writing an LMS RFP that outlines all of your requirements (and the extras that would be great but aren't essential).
#3 Create a shortlist and test-drive them: Use your research and RFP to shortlist 3-5 LMSs. These should all align with your organizational needs, culture, budget, and current skill set. Next, request demos and get to know how each LMS works. Ask a small group of testers to try out the platform and give their feedback.
#4 Make your decision: Using the feedback, create a document to track the learning management system functions for each option, how well it performs, and any pain points you find. Present your findings to all relevant stakeholders and agree on the best LMS for your organization.
The Bottom Line
We hope this article will help you choose an LMS with all the features and functionality your organization needs.
If you're on the hunt for a simple yet powerful LMS, why not try iSpring Learn? With comprehensive reporting, robust customization capabilities, and great content authoring capabilities, it's suitable for any training scenario.
Sign up for a free demo and our experts will show you how to handle your specific project task with iSpring Learn.