June 29, 2022
12 Benefits of an LMS For Recruiters, HR, Sales and Commercial Directors—Expert Opinion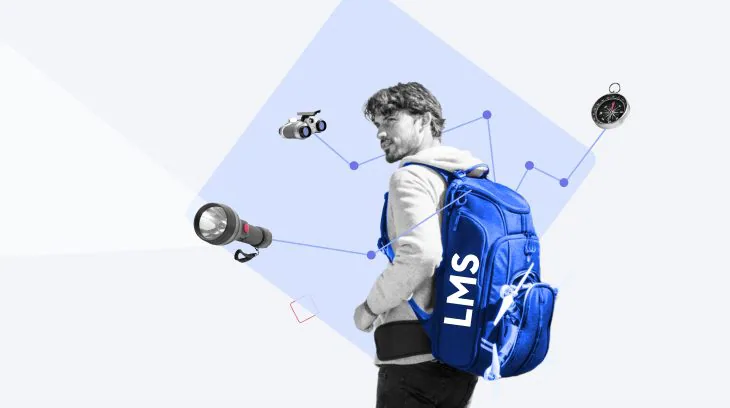 A learning management system (LMS) is an online platform that enables you to streamline your corporate training, identify your team's strengths and weaknesses, and then address them to take your business to the next level.
Michael Keller, eLearning Officer at iSpring, states that an LMS is a must-have for any company and is particularly useful for recruiters, HR directors, and sales and commercial directors. We asked him why, and he outlined twelve benefits of a learning management system, based on his expertise and our customers' experience. Check them out!
About Michael Keller
| | |
| --- | --- |
| Michael Keller, eLearning Officer at iSpring | Michael Keller has been helping our customers develop an engaging online learning environment for over fifteen years. Under his guidance, 556 companies in the Large Enterprise and SMB sectors have reached their business goals by helping their teams grow with eLearning. |
3 Benefits of an LMS for a Recruiter
Staff recruitment is a sort of a funnel. A recruiter posts vacancies, collects applications, filters job candidates, conducts job interviews, and finally introduces new hires to the company. Their goal is to fill vacant positions with the specialists who are the best match. So their productiveness is measured by several figures, and these two are the most essential:
Every recruiter has a recruitment plan that they need to complete. For example, if a company needs twenty new employees, a recruiter should close at least twenty new hires.
The quality of recruitment
Did new hires finish their probationary period? How many of them stayed in the company? If you hire twenty new employees, but soon ten of them leave, it is a lose-lose situation that businesses want to avoid.
The recruitment process requires a significant investment. In some cases, hiring an employee costs businesses two to three times more than their monthly salary. To make the hiring worthwhile, an employee should reach performance goals in the shortest possible time, from two to four weeks. But if they choose to leave…well, that's a really sad story.
The recruiter's main challenge
The main issue recruiters want to solve is low effectiveness and efficiency. This includes the issue of new hires leaving the company after only a month or two, hiring the wrong candidates, and failing to reach the performance goals in the shortest time.
Here are a few reasons why this might happen:
There's chaos within the company, and employees leave for places with better-organized processes (they may also leave a negative review on the internet advising others not to go to your company, thus damaging your HR brand and the recruitment process).
New employees are trained by department managers who lack the time and energy to do this properly.
Supervisors don't know human psychology and focus only on a candidate's hard skills during the job interview. That's why they sometimes select people who may provoke conflicts in the team or hinder work processes.
The company doesn't prepare new employees to complete needed tasks right away.
How an LMS can help
With an LMS, you can solve all knowledge-related recruiting issues and better organize the recruiting process. Think of it as adding a few more stages to your recruiting funnel that will help you select the candidates with greater precision (and save everyone time and money along the way).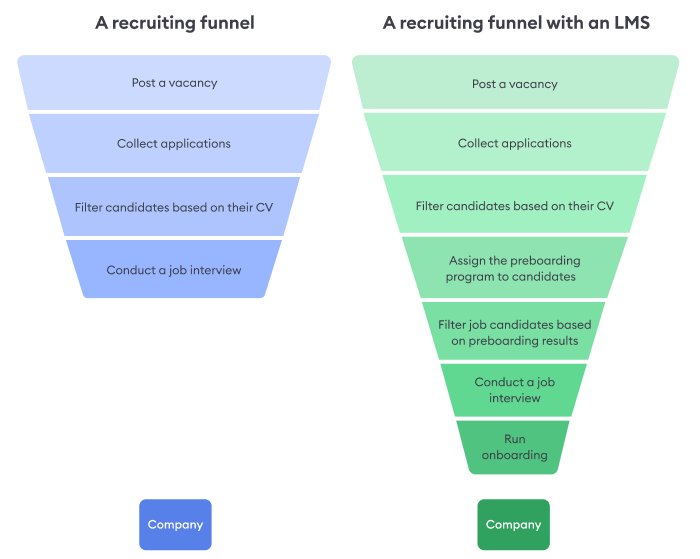 Let's take a closer look at the main advantages of an LMS for a recruiter:
1. Streamline onboarding
An LMS lets you run effective onboarding (along with other training programs) online, involving only the minimum number of employees or even no employees at all. This means that highly qualified employees, such as supervisors and department managers, can spend time on new hires only when it's really necessary and thus continue focusing on their essential duties.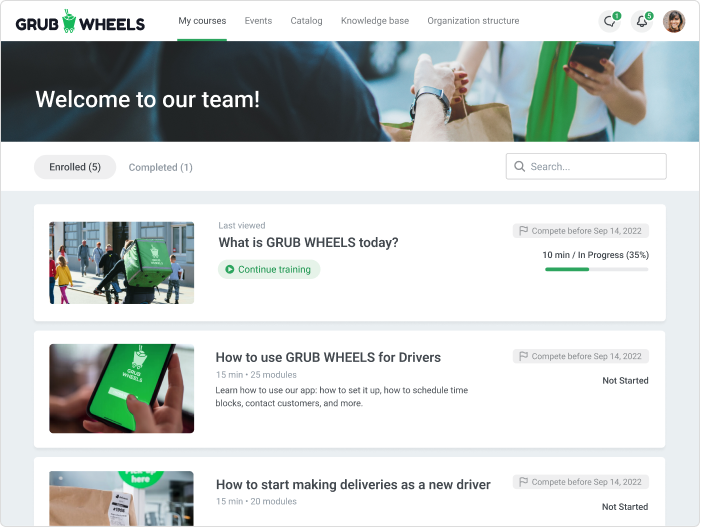 So an LMS can easily solve this feeling of chaos and lack of instruction that new hires may have. Simply upload all the resources that will be useful for your new employees to your LMS and share them whenever needed. Some LMS platforms—iSpring Learn for example—also allow you to automate this and other tedious processes: set the parameters in your LMS, and it will automatically assign the required training materials to employees.
2. Boost the effectiveness of recruiting with preboarding
Preboarding is a lot like onboarding, except it takes place before you hire candidates. This approach is highly effective for at least two reasons:
New hires start working from the very first day
In some cases, you can assign your candidates all the basic training materials about the company culture, values, instructions, and so on. This will save them time in their early days and allow them to start working on tasks immediately. And it will save the business money—a classic win-win.
You can filter candidates based on their training results
If a candidate ignores the assigned training content, a recruiter can take this into account; this might be a wake-up call that you need to go separate ways. You can also assign them tests on professional knowledge and filter the candidates based on their results.
3. Improve your KPI by training supervisors to interview candidates
A common issue recruiters face during their work is the incompetency of supervisors and department managers in HR. For example, let's say a person is the manager of the IT department. He's excellent at coding and managing the workflow. But he doesn't know much about human psychology, what he should ask during a job interview (besides questions about hard skills and job experience), what to pay attention to, and so forth. So he takes a candidate with solid professional skills without noticing that they have some communication issues that may damage the entire team.
An LMS lets recruiters quickly solve this issue by assigning all supervisors a short training program, a guide, or a list of best practices on the HR basics.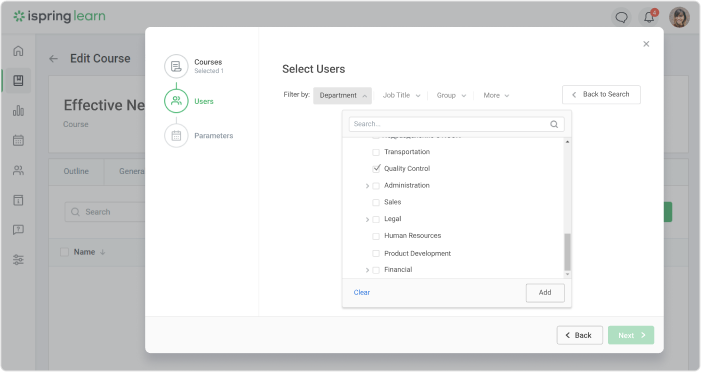 You can train them to read between the lines of a candidate's CV and identify their strengths and weaknesses—the knowledge that will enable them to see through people and select candidates based on several aspects, not only hard skills. To check how well they remember, you can add a quick online quiz. Your LMS will show you who completed the program and how successfully, so you can know for sure who is ready to conduct job interviews professionally and select the candidates that'll fit the company (and improve your KPI).
Book a free live demo to see how an LMS can be helpful to you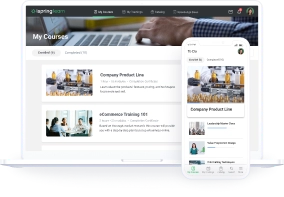 4 Benefits of an LMS for an HR Director
The Human Resource director operates on a strategic level, ensuring legal compliance and implementation of the company's mission and talent strategy. Though online corporate training isn't a panacea for all HR misfortunes, it can be an excellent solution for many of them. Let's first enumerate some of HR's main activities and then see how an LMS can help improve them.
The main challenges of an HR director
HR professionals at different companies can name different aspects of their work that they find most challenging. Their answers can also vary from year to year: this year, they find it most difficult to engage their workforce; next year, they might say working with remote employees is the biggest challenge. We'll focus on constant HR activities that don't change in significance over time:
Keep the turnover rate at the acceptable level
Hire best-fit professionals at the cost that the business can afford
Make sure employees work long and most productively for the salary they're offered
Develop the bonus and salary systems, motivational mechanism, and more
Ensure that the required competencies are achieved for the company to compete in the market
Running effective corporate training is also a big challenge for HR directors. But at the moment, the reality is that not all HR professionals know much about this subject, not to mention the online format of corporate training.
How an LMS can help
An LMS can be a complex solution for businesses and organizations of any size. It lets you gather all the best practices in one place, distribute them quickly, streamline the entire process, and obtain a clear picture of your team's qualifications and competencies in just a day. With an LMS, you can accomplish the following:
1. Decrease the cost of hiring and improve the HR brand
Neglecting to run onboarding is the first indication that your recruiting isn't as effective as it could be. We've covered this aspect in the section about recruiters. Here let's just mention that an LMS with onboarding and preboarding programs can cut the cost of hiring by up to two to three times and boost its quality.
Another fascinating element of it is that by simply getting your basic hiring processes in order with an LMS, you can also improve the HR brand of your company. When job candidates come to work for the company, they feel they're being cared for. They don't get thrown into the unknown without instruction in what they should do and how they should do it; instead, they can immediately log into the LMS and discover useful materials that help them work effectively right away.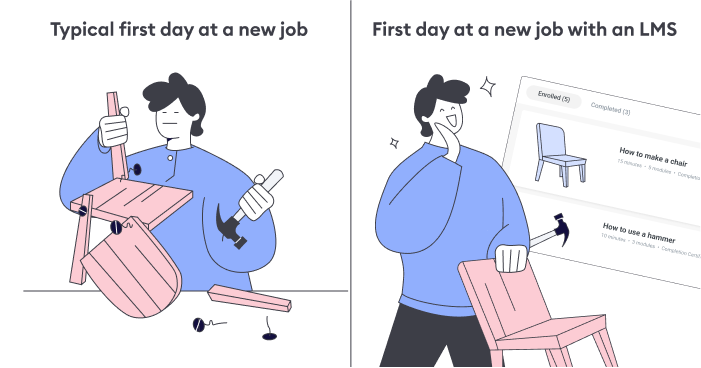 As a result, a worker sees that the company does its best to help them get on track and not make silly mistakes in their first days. They write positive reviews on the internet and tell their friends about you, and your HR brand can only benefit.
2. Gather the company's best practices and distribute them quickly
An LMS is your company's knowledge base. Suppose one of your departments shows better results than the rest or has some valuable experience you'd like them to share with others. In that case, you can pack all of it into training programs, upload them to your LMS, and assign them to employees from other departments. As a result, your entire organization will achieve the best rates and aim for new heights.

Or imagine that you have an extremely experienced and skillful professional in your central department, and you want their colleagues to learn from them. What will you do? You can move the trainer from one office to another, or conduct weekly webinars. These are decent options, but it would be easier, cheaper, and more convenient to create engaging online courses and assign them to employees whenever needed. That also guarantees that valuable expertise and best practices stay in the company even if this person leaves.
3. Know your team's precise qualifications
An LMS lets you conduct a regular assessment of your employees. The test results let you see the areas of improvement that will formulate your training needs. They will also show your employees' strengths, so you can decide to promote them or offer a more suitable role. Training metrics can also be linked to your bonus system so that you can fill this blind spot with objective data.
4. Assess soft skills much more conveniently and productively
You can evaluate hard skills through quizzes, but the only way to assess soft skills is to keep an eye on an employee's performance. The most effective method is to conduct a 360-degree performance appraisal review—to survey everyone who interacts with a particular employee about their soft skills. This evaluation method has proved very productive but is still conducted by many US companies via mail, making the entire process resource intensive and time-consuming (we're talking months!).
Some LMSs, like iSpring Learn, come with a built-in 360-degree feedback assessment module. They let you streamline this process and complete it within a day, giving you an illustrative competency radar chart for each employee that clearly shows their strengths and weaknesses.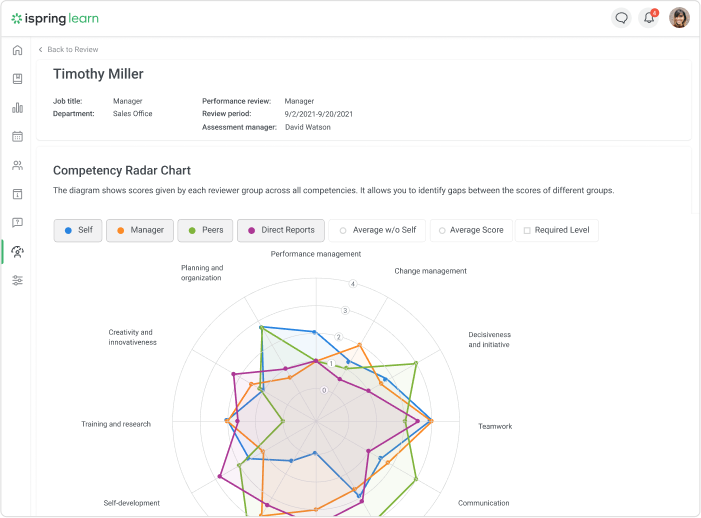 Based on the results, you can easily see your company's skills and plan activities to develop the lacking competencies. For example, you see that your marketing department shows low results on creative thinking. You can conduct twenty training sessions that'll help them develop this competency. But without an LMS, you will never know whether the competencies stayed in the company or employees only had fun and forgot everything after a few days.
Due to a powerful reporting engine, an LMS can show you clearly how effective the activities were. It provides you with comprehensive reports so that you (and business executives) can see the competencies the teams had some time ago, what activities you ran to address the issue, and how this worked out.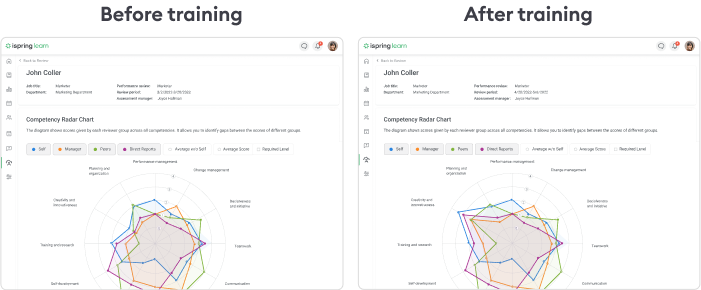 5 Benefits of an LMS for Commercial and Sales Directors
The final role we'll look at is a commercial director in a smaller company and a sales director in a larger company. Their functions are similar, as they are both responsible for designing plans to meet business targets and developing customer relationships.
The main challenges of commercial and sales directors
Depending on the specifics of a particular company, the main challenges of a commercial director or a sales director may vary. But here are the most common challenges for the majority of companies:
Minimize the negative effect of the turnover process
Make sure all salespeople know standard procedures
Increase conversion rates of sales teams
Run efficient marketing campaigns
Scale the business
How an LMS can help
Commercial and sales directors can discover lots of LMS benefits that can help them overcome the most common challenges.
1. Maintain quality performance during the turnover process
Many companies have a high employee turnover rate—which is fine, but it often affects the overall performance. For example, new salespeople may lack the skills to land enough deals, or they may even use overly aggressive approaches that can damage your company's brand. Salespeople are the face of the company, so it's vital to ensure that they interact appropriately with customers.
An LMS can help you with this. With a streamlined adaptation process and an onboarding program, new sales or customer service department hires can master their communication skills in a risk-free environment. Instead of practicing with real customers, they can train in interactive role-plays based on real-life cases: impatient customers, dissatisfied customers, angry customers, and other common role-playing scenarios for customer service and sales. See how this exercise can look: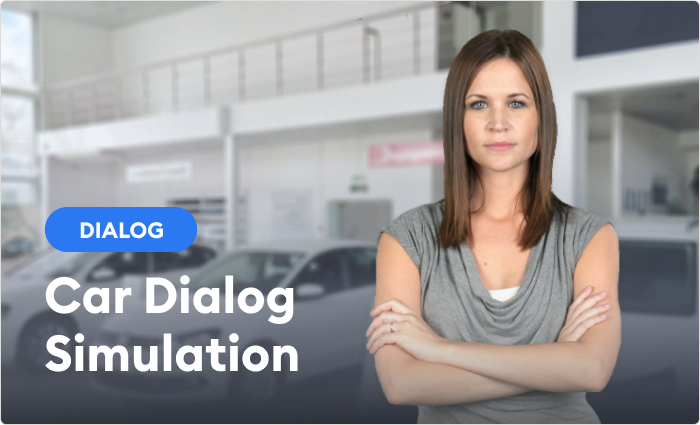 If you're working in retail, you can also, for example, create an interactive exercise about working with a cash register or a product showcase simulation. You can monitor the employees' progress in the LMS and know with more certainty when someone is ready to begin working. This way, even during a turnover process, you'll always have only competent employees in their respective roles.
Design interactive role-plays for sales and customer service training in a few clicks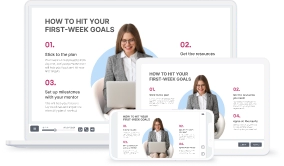 2. Test salespeople's skills and knowledge, and link the results to their salary
Most companies pay salespeople on a piecework basis: a fixed amount plus a bonus. You can determine the amount of this bonus based on the results of the quarterly attestation. So you go to your LMS and assign the test to all salespeople and see how well they know standard procedures, the details of the loyalty program, product qualities, and so on—the essential information they must know to work productively. Your quiz might look like this: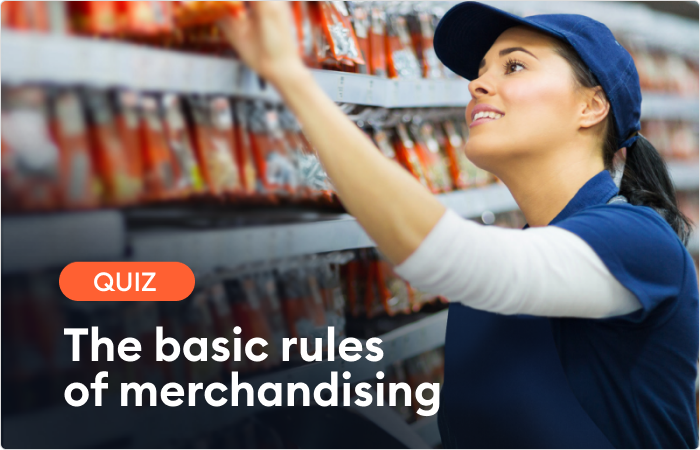 A person who passes the test receives their bonus in the total amount. If not, you can cut the bonus for this period, thus motivating them to train on the essentials.
3. Distribute the best sales practices
Salespeople are similar to one another. They are all humans, they sell company products, and they even follow the same procedures. But somehow, they all get different results. This difference is in the details. The best salespeople do something that makes them more productive than other employees. A company must note these details and train other employees to implement them.
One of our clients gathered a research team that observed the sales department with the highest conversion rate. They kept an eye on the salespeople, wrote down everything they did, and then packed it into online courses with interactive role-plays and assigned them to employees from other sales departments. As a result, they managed to land more deals and substantially increased the company's overall revenue.
An LMS, then, is a great helper in increasing the revenue by distributing the best practices to all the departments. And you don't have to drive across the entire country, move trainers from one office to another, or check employees manually. You can glance at the LMS dashboard and see which people completed the course and how well.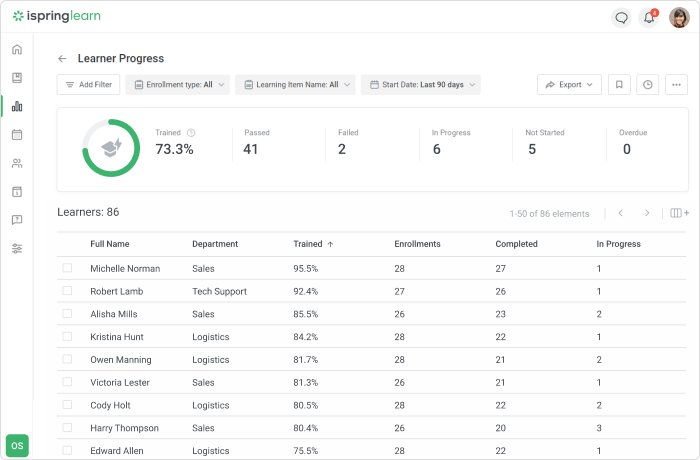 4. Increase sales conversion rates by notifying salespeople about marketing campaigns
Businesses expend a lot of resources on marketing campaigns: banners, advertising via various channels, videos, and more. Of course, they expect these campaigns to work out as best they can. But here's the issue: if salespeople don't understand all the details of the campaign offer, then they won't feel comfortable offering the deal to the customers.
Marketers can quickly prepare the comprehensive training program on the campaign's offer right in an LMS and add a knowledge check to see how well salespeople know the terms. This way, marketers are sure that the campaign will work out 100% on the sales aspect, and the salespeople themselves will be able to increase their conversion rate by offering customers an appealing deal.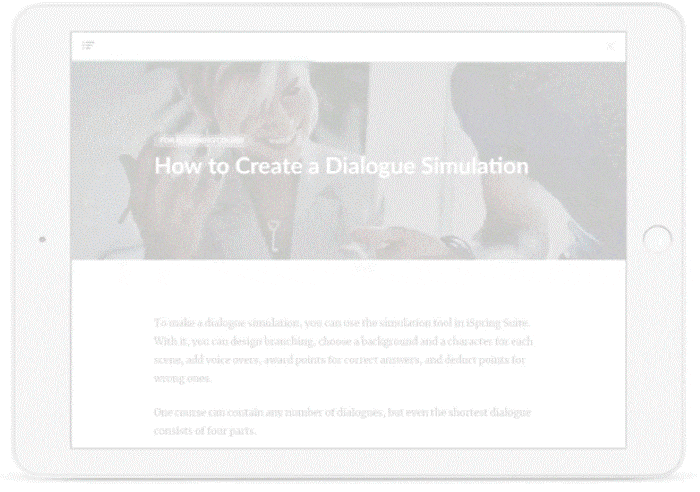 5. Scale your business by training customers and partners
If you sell advanced software or care about your LTV rate, then you need to train your customers and partners in how to use your product. If clients can't implement your solutions to their companies, your reputation and your customers' satisfaction will suffer. And if partners don't know your product well enough, then they won't be able to sell it in the most effective way.
Without an LMS, there's only one solution to this issue: send your team to customers and distributors. That's extremely costly and might compromise the whole deal. If, for example, you participate in a tender with your product, you face a desperate situation. If you add travel expenses to your offer, you will no longer be able to compete with your rivals; if you don't add them, you'll have to pay them yourself and thus make the deal much less beneficial (if there's any benefit at all).
However, an LMS lets you solve this issue easily. You develop your product training only once, upload it to the LMS, and then simply give your customers or partners access to the courses. Even if you update your product and some training materials become outdated, you can easily change those blocks with new information. This is much cheaper than redesigning and reprinting brochures every time.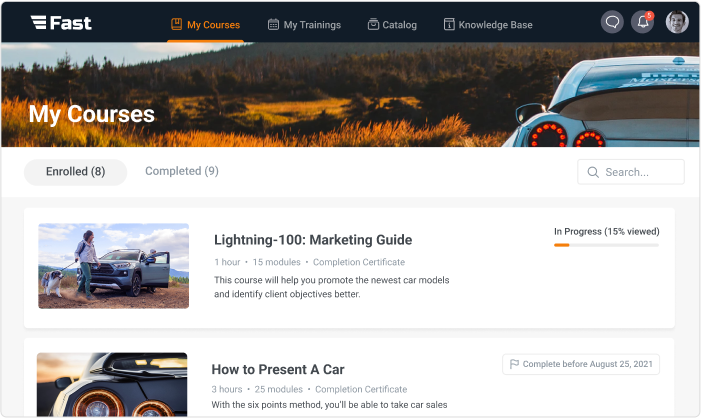 For example, Triad Unlimited's customers are potentially saving over $200,000, thanks to their online training powered by iSpring Learn LMS and iSpring Suite. You can read this case study and many others in our blogs.
In Summary
Used intelligently, an LMS is an extremely helpful tool for companies to overcome multiple challenges in various aspects of their business. It saves you time and money, improves your recruiting process and HR brand, gathers the company's best practices in one place and distributes them quickly, enabling you to know the qualifications and competencies of your employees. In other words, an LMS truly empowers you to take your business to the next level.
If you want to know more about how an LMS can be useful in your context, schedule a free live demo, and we'll be happy to share even more insights with you!