One sure way to enhance a PowerPoint presentation is to add web objects to it. To display an HTML document within another, the iframe (short for inline frame) tag is used. However, you don't need to know HTML to insert web objects into your presentation.
While PowerPoint itself doesn't support inserting a live website, it is still possible to do it using the right PowerPoint add-in. In this article we will demonstrate how to embed an iframe in 3 easy steps.
Three Simple Steps to Insert an iFrame
Go to the website you wish to add to your presentation. Copy the URL (web address) of the desired web page. If you only want to insert a certain element of the web page, then find its embed code.
To insert an element of a web page to your presentation, select and copy the URL from the embed code.
Most popular video hosting sites provide users with embed codes for uploaded videos. See how easy it is to add a Vimeo video to your presentation.
2. Download iSpring Converter Pro for free. This software will enhance your PowerPoint presentations in a number of different ways that are not limited to incorporating live navigable web pages only. Feel free to add other elements to your PowerPoint presentation, such as YouTube videos, presenter info and other external resources.
3. Open PowerPoint and click the iSpring Converter Pro 9 tab on the PowerPoint ribbon. Choose the Web Object button on the iSpring Converter toolbar.


In the open window, paste the copied URL to insert the chosen element. To add the whole web page instead, insert its address. Once you've done that, you can click the Preview button to check if the entered address is correct.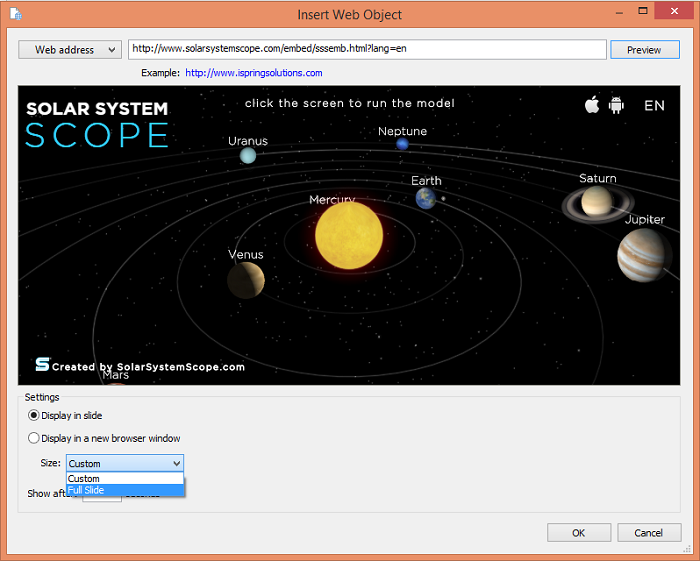 If you would like to display web objects even without an Internet connection available, first download them to your computer, and then insert them by choosing Local Path in the drop-down list in the upper-left corner.
Note: you can choose between a full slide or a custom size for your web object, thus combining it with other information or web objects within one slide.
4. In order to playback web objects, convert your presentation to HTML5. You don't need to download any 3rd-party tools, because you can do it right in iSpring Converter Pro.
Click the

Publish

button on the iSpring Converter Pro toolbar.
In the Publish Presentation window, choose the My Computer option.
Type the name of your presentation in the

Project name

field.
Select a future destination of the file in the Folder field
Choose

HTML5

format in Output Options menu
When the publishing process is complete, a new window that shows a preview of your presentation will open.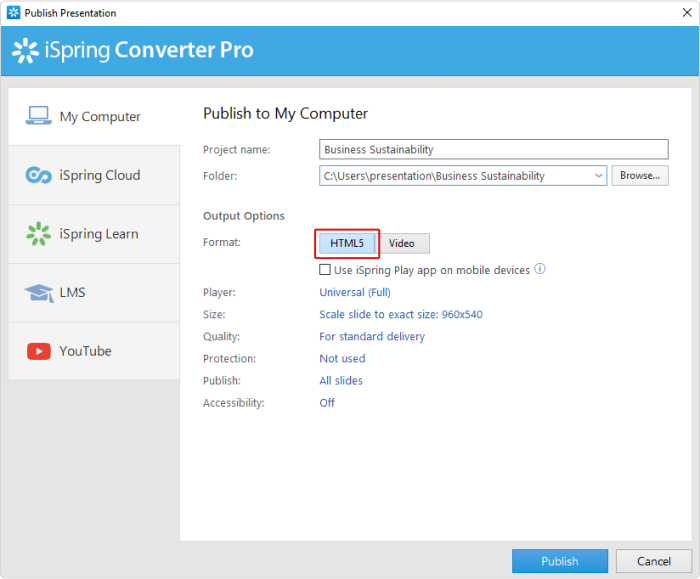 To easily share your materials and get real-time statistics on the number of views, publish the presentation to iSpring Cloud. The shared content will play flawlessly on any device, even with no iSpring or PowerPoint installed.
Present Live
Of course, you could simply make a screenshot of a website, and insert it into a presentation as an image. However, there's a risk that by the time you demonstrate your screenshots, they are already out of date. By incorporating live navigable web objects instead, you make sure your materials will never lose their relevance, significance and interactivity. Using live web pages also means you won't have to edit your presentation every time the content of your website changes, as you would do with screenshots.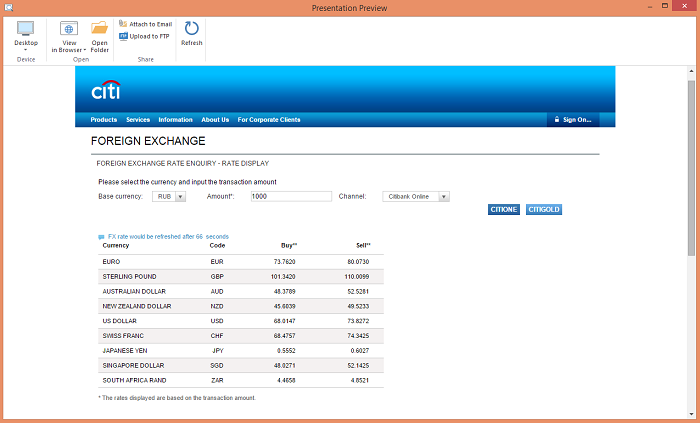 Another simple, but rather plain way to add a web object is to create a link to the webpage and make a browser open it. But why interrupt the flow of your presentation when you can keep it fluid and natural by displaying a web object right on your slide?
Conclusion
PowerPoint presentations can be greatly enriched with various web objects. Whether you want to insert a whole web page or just a single element, the ultimate iSpring Converter Pro 9 will let you do it in a snap. This advanced PowerPoint add-in will let you go far beyond PowerPoint by enhancing presentations with multimedia and converting them to online formats for perfect playback on any device.
iSpring Converter
Convert presentations to HTML5 with all effects and transitions preserved