April 11, 2022
How To Record PowerPoint Presentation With Audio: 2 Easy Methods Explained Step by Step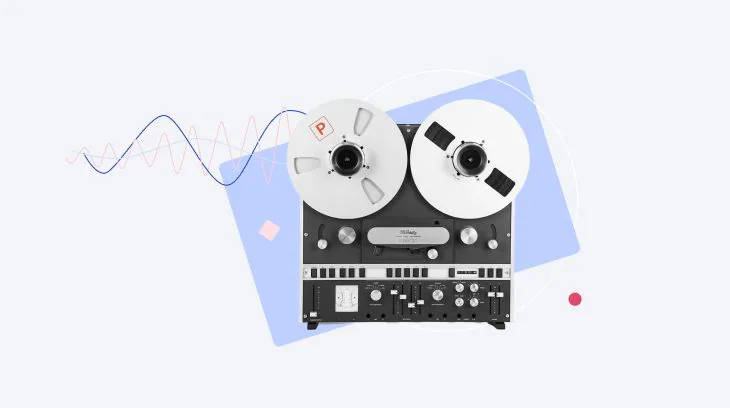 We're all accustomed to the live presentation format with a lecturer and the projection of their presentation at the front of the room. However, nowadays, such live events have become quite rare. But fortunately, we can recreate this format by including narrations in PowerPoint presentations. Moreover, there are multiple ways to do this.
The first and most obvious solution is to use MS PowerPoint by itself. This tool allows you to record presentations with audio and export them as videos. It might not be the best option in some cases, but it's still a viable solution.
Another way to record PPT presentations with narration is to use iSpring Suite Max. This tool allows you to:
Make interactive presentations
Viewers will be able to interact with your presentation, follow links, navigate through slides, and more.
Receive activity statistics
You'll be able to upload your presentation to your learning management system (LMS) and track how many people have viewed your presentation, who didn't finish it (and on which slide they left), and more.
Use advanced recording and editing options
You'll have an easy-to-use editor that will help you remove noise, add effects, and otherwise edit your recording.
There'll be no need to record your own voice to add narration to your presentation – just convert the text of your speech to a lifelike machine voice-over.
Create online quizzes, video lectures, and dialogue simulations
The tool also offers many other content development features that can be useful.
In this article, we'll show you how to record PPT presentations with narration, both in MS PowerPoint and iSpring Suite Max step by step. Let's get started.
How to Record Presentations with Narration in PowerPoint
Open your PowerPoint presentation.
2. Go to the Slide Show tab and click Record Slide Show.

3. Choose Record from Beginning if you want to start right from the beginning of a presentation. Select Record from Current Slide if you want to record from a specific slide or wish to rerecord a particular slide.

4. By default, PowerPoint records both camera and audio. If you don't need a video in your presentation, turn it off by clicking on the camera button. That way, the tool will only record your microphone.

5. Click on the Record button to start recording. PowerPoint will count 3 seconds for you to get ready.

6. Record your narration for a particular slide or the entire presentation. Use directional arrow buttons to switch slides. You might want to make a one-second break when you go to the next slide, so nothing gets cut out. When you finish, click on Stop.

7. Save the file as a PowerPoint presentation to make sure all changes have been saved. Then go to the File menu and click on Export. Select Create a Video.
For Mac users: You will be directed to the settings menu right after you click Export.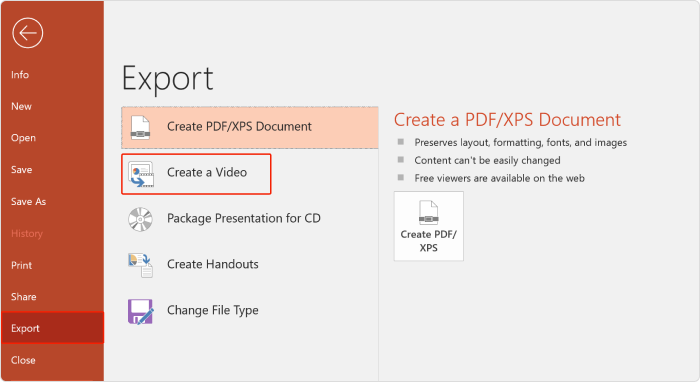 8. Set the desired video quality. Select Use Recorded Timings and Narrations. Then, click Create Video.
For Mac users: You can select the needed video format at this point. Once you've set the parameters, click Export.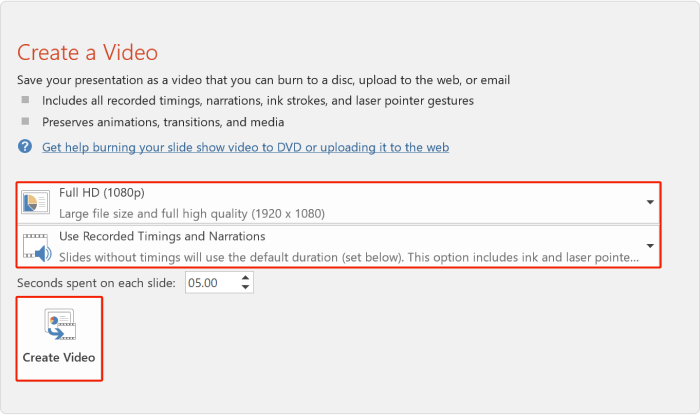 9. Select the video format and the location where you want to save your video presentation with narration. Click Save.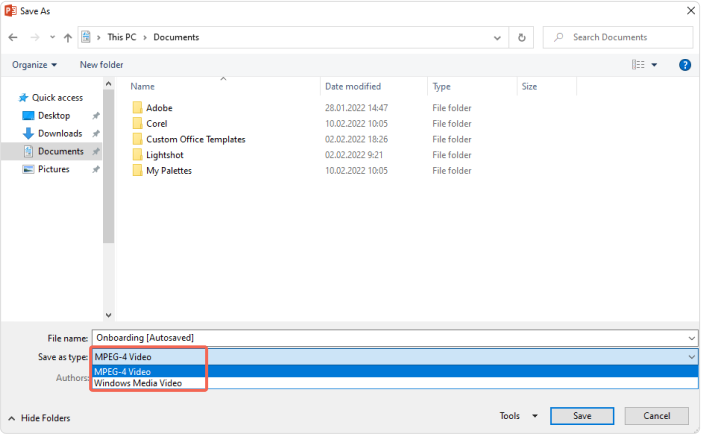 Congratulations! Once the exportation process is complete, your video will be ready.
How to Record PPT Presentations with Narration in iSpring Suite Max
As mentioned above, MS PowerPoint allows you to export presentations with narration in a video format. Also, PowerPoint does not offer any audio editing options, so it'll be quite a challenge to get good quality sound without unnecessary breaks, volume differences, and other casualties of an unedited recording.
If you're looking for high-quality content, you need a more advanced tool like iSpring Suite Max. It works as a PowerPoint add-in and is extremely easy to use. iSpring Suite Max offers many audio recording and editing options. For example, with this tool, you can synchronize narration with slide animations, remove background noise, and even create voice-overs without ever recording your own voice – by converting text to lifelike machine-generated speech.
Here's a step-by-step guide on how to record presentations with narration in iSpring Suite Max:
Step 1
Download a free 14-day iSpring Suite Max trial and install it on your computer.
Step 2
Open your PowerPoint presentation and go to the iSpring Suite tab.

Step 3
The next step will vary depending on your needs. The tool offers 3 options:
Create a simple recording with preset parameters like noise removal and volume options
Record audio that synchronizes with slide and animation timings
Let's take a closer look at each of these.
Create a simple recording
Follow this guide if you don't have any animations or effects in your presentation and just want to add high-quality narration to your presentation.
1. Click on Record Audio.

Use the intuitive menu and record your narration.
Please note that you can apply some settings prior to recording. For example, you can set noise removal and volume, which will make your narration more comprehensible and easier to edit. Click on Options to set the desired parameters.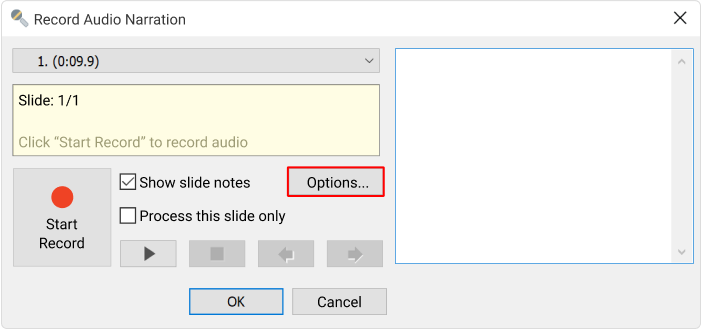 Once your recording is ready, click OK to save it.
Synchronize audio with animations
Follow this guide if you have animations in your presentations and want them to appear at specific points during your speech.
1. Click Manage Narration.

2. Click Record Audio.

3. Now, you can start recording, save, or cancel the changes you've made, and preview your presentation. When you click Start Record, that button will change to Next Slide or Next Animation, offering you an easy transition between slides – as though you were delivering the lecture live on a projector. Each of your live clicks will automatically preserve those specific timings for slides and animations.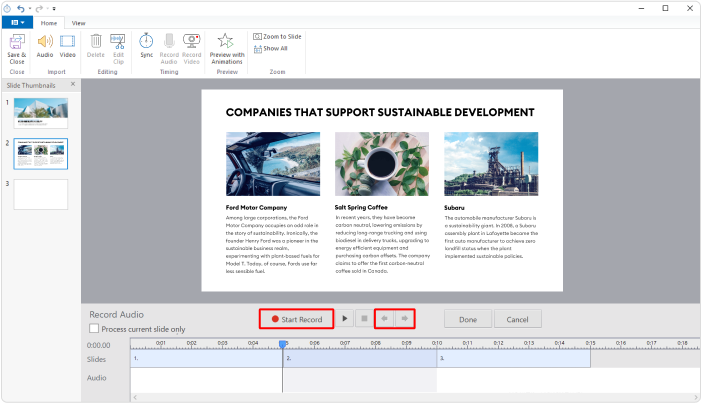 Click Save & Close to save your recording.
Convert text to speech
Follow this guide if you don't want to record your own voice but need a narration for your presentation.
Click Manage Narration on the iSpring Suite Max toolbar.
2. Click the Audio button and choose Text to Speech.
3. Select the language, speaker, and type of voice.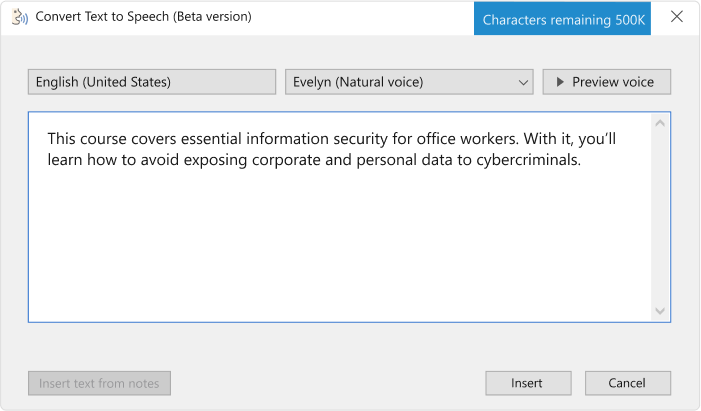 4. Add the text that you wish to convert, and click the Insert button. Then you'll be able to choose when to start playing narration: right after you open the slide or later.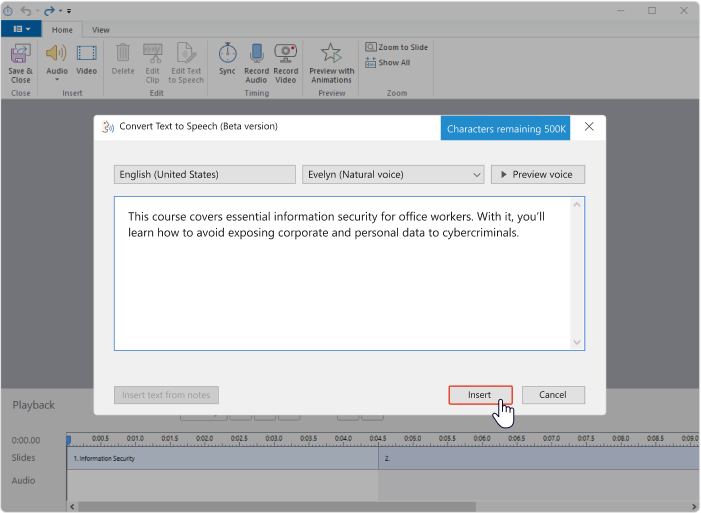 Click Save & Close to save your recording.
Step 4
No matter what option you selected earlier, by now you have an audio recording. Your next step is to export your presentation. Click Publish on the iSpring Suite toolbar.

Step 5
Select where you want to publish your presentation and in which format. You can either publish it as a video or in one of the online formats. Select:
Video – if you want to upload your presentation to YouTube.
SCORM or xAPI – if you want to upload your presentation to an LMS and track learner progress as they study your presentation.
HTML5 – if you want to upload your presentation to a website.
Then click Publish.

Congratulations! Your presentation with narration is ready.
---
Recording PowerPoint presentations with narrations and audio is pretty easy if you follow our guide. And your recording will sound great and synchronize with your animations perfectly if you use iSpring Suite Max. The tool also allows you to:
Create complex online courses
Build engaging online quizzes
Create interactive dialogue simulations
Record video lectures
Collaborate with your colleagues on simple courses and quizzes right in a browser
Use over 81,000 ready-made eLearning assets (templates, backgrounds, characters, and icons)
Feel free to download a free 14-day iSpring Suite Max trial and start designing engaging learning content right away!
Good luck!
Useful Resources