August 20, 2023
How to Record and Add Narration to a PowerPoint Slides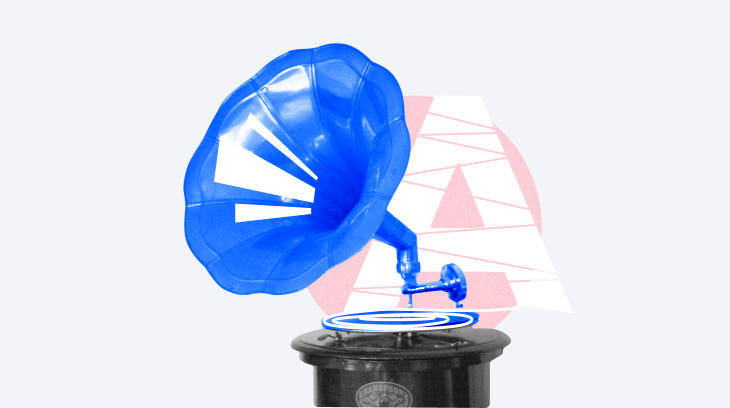 Let's say you want to share the learning material on the slides with your employees. Do you think static images and text will have an appropriate impact on your learners? Probably not. And what about adding audio or video narration to PowerPoint presentations? This will obviously boost your learners' engagement and likely improve their learning results. Audio and video narrations will help you turn a plain set of slides into a standalone course that's ideal for self-study.
From this article you will learn:
To work with audio and video narrations, we'll use the iSpring Suite authoring toolkit, which can be integrated with any version of PowerPoint and works as an add-in. The tool combines slides and a presenter video in a customizable player and converts your video presentations to online mobile-friendly formats.
With iSpring Suite, you can add one or more audio/video narration to your PowerPoint presentation. Two options are available:
Add one audio/video narration for each slide.
Import one or more audio/video narration that will play over several slides.
Whichever option you choose, this step-by-step guide will show you how to accomplish this.
How to Record an Audio Narration for PowerPoint
The first step toward a successful audio recording is making sure your microphone is properly connected to your PC. after you check this, you're ready to start.
Watch this video or skip to the article if you prefer reading.
1. Download iSpring Suite for free →
2. Open the PowerPoint presentation that you want to enhance with narration. On the PowerPoint toolbar, click the iSpring Suite tab.

3. Click the Record Audio button at the top-left corner of the menu bar to record a voice-over.

On the open Record panel, choose the slide that you want to synchronize with the narration.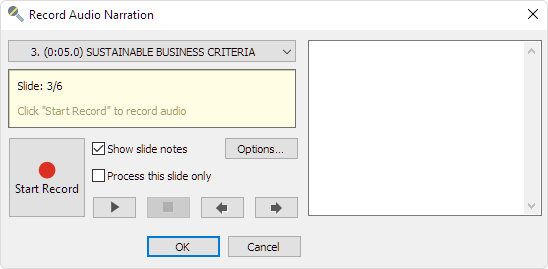 The Narration Recorder in iSpring Suite contains built-in slide notes where you can paste the script of your voice-over. It's also possible to record the audio for a single slide. To do that, check the Process this slide only box
Now click the Start Record button. While you're recording your voice, the presentation will be playing, which means you can synchronize your narration with slides and animations on the fly. Whenever there's an effect on your slide, the Start Record button will be replaced with the Next Slide/Next Animation/Skip Transition buttons, which you can click at the appropriate moments.
You can pause the recording at any time and then continue recording again. Once you're done, click Stop and then OK.
How to Record a Video Narration for PowerPoint
Before recording a video narration, we recommend you read this article about how to create presenter-style training videos. It explains in detail how to make an effective video presentation that will truly engage your audience.
Now that you're ready to continue, watch this video on how to record a video narration or skip to the article.
Once again, go to the iSpring Suite toolbar, and this time, click the Record Video button.

You'll see that the functional design of the video editor is very similar to that of the audio editor.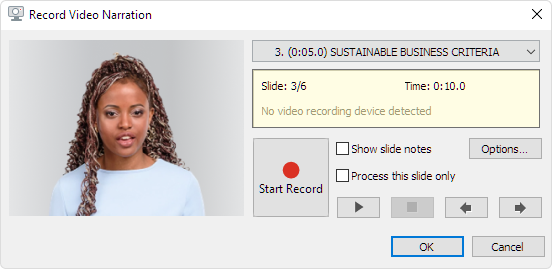 You can use the slide notes on the right to paste the script of your video narration. To record video for a single slide, select the Process this slide only checkbox. When you're ready, click Start Recording. The presentation will start playing.
To synchronize it with your animation and transition effects, click the Next Slide/Next Animation/Skip Transition buttons that will replace the Start Record button every time there's an effect in your presentation.
Once you're done recording, click Stop and then OK.
How to Add a Pre-recorded Narration to PowerPoint
1. To import a previously recorded audio file, click the Manage Narration button on the iSpring Suite ribbon.

2. In the Narration Editor, you'll see a second-by-second timeline of slides and audio, and will be able to adjust slide timings. If you want your audio or video to start at a particular moment of the presentation, place your cursor at that point of the timeline.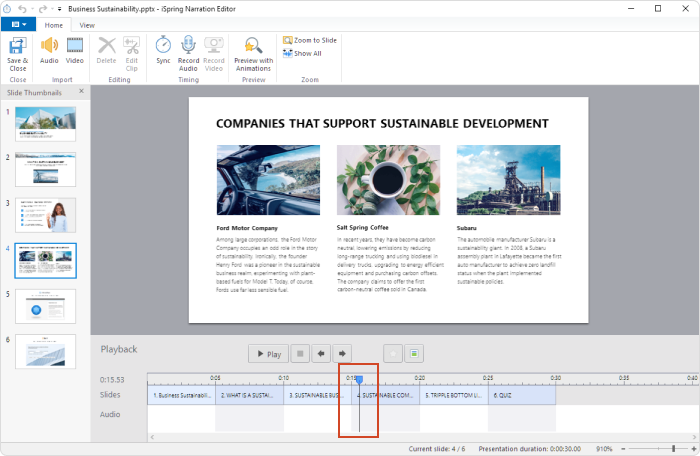 To import an audio file, click Audio on the Narration Editor ribbon and choose the file(s) you wish to add. To import a video file, click the Video button on the Narration Editor ribbon. iSpring Suite supports the following audio and video formats: WAV, MP3, WMA, AVI, WMV, MPG, MP4, and MKV.

3. In the Import Audio/Import Video window, specify whether the file(s) should be inserted at the current cursor position or at the beginning of the selected slide. Note that with iSpring Suite, you don't necessarily have to synchronize the duration of slides and audio/video. To let the program automatically adjust each slide duration to the duration of the narration, select the Adjust slide duration option as shown in the screenshot below.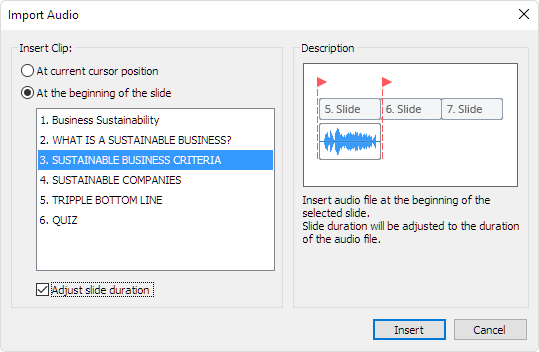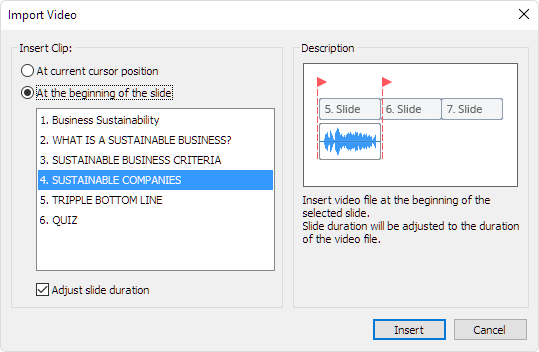 If you've added more than one file, they will be imported in alphabetical order. All the imported files are automatically saved in the presentation resource folder so they won't get lost, even if you move the presentation to another folder or computer.
How to Edit a Narration in PowerPoint
Once you've inserted a narration, you can edit it directly in iSpring Suite to make it just right.
1. The main part of the Narration Editor is the timeline that shows the sequence of inserted clips and the slides of your presentation. When working with the timeline, you can adjust its scale to make all slides fit it without scrolling. A quick way to zoom in to and out of your timeline is to use the Zoom to Slide and Show All options on the editor's ribbon.

2. To adjust the duration of slides, move their borders. If you want to move a slide border without changing the positions of the other borders, drag a slide border while holding the Shift button on the keyboard.
3. To delete one of the inserted clips, select it on the timeline and press the Delete key on your keyboard.
4. To replace the current clip with another one, right-click on the clip on the timeline and choose the Change Audio/Video Clip option from the drop-down list.

5. To delete a specific portion of your narration, click and drag to select that part and press the Delete button.

6. iSpring Suite has a built-in Audio/Video Editor that allows you to add silence, trim clips, remove noise, or use fade effects — all of which can be applied to both audio and video files, with the exception of adding silence. To access the Audio/Video Editor, select the desired clip on the timeline and click the Edit Clip button on the toolbar.

7. To insert silence into a portion of your audio narration, place the cursor at the beginning of the portion you wish to mute, then click the Silence button on the ribbon. Specify the duration of the silence and click OK.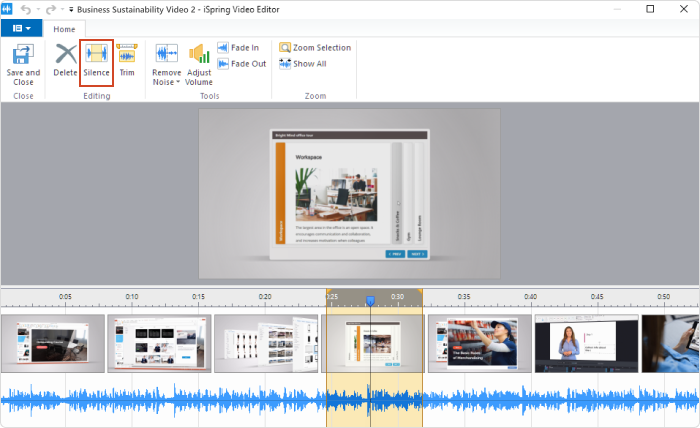 8. Narrators will often place an extra second or two of silence at the beginning and/or end of a narration. If the silent portions seem unnaturally long, you can easily trim them off. To do this, select the part of your audio/video narration that you want to keep, and then click the Trim button on the toolbar. The sections of your audio/video clip that are outside the selected area will be removed.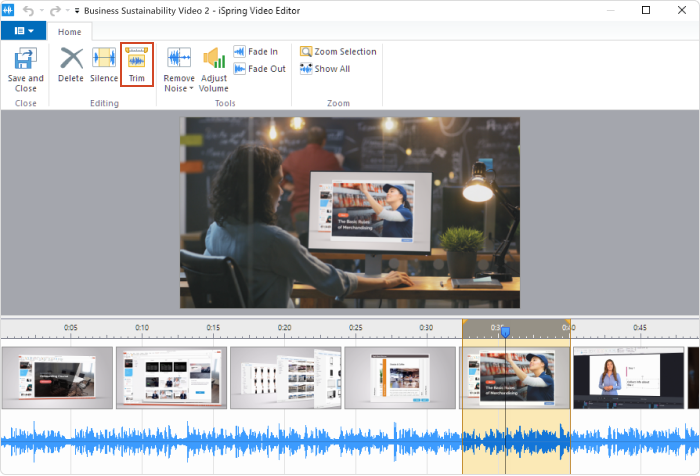 9. If you notice background noise in your audio or video narration, you can easily get rid of it using the relevant option in iSpring Suite. Select the noisy part of your narration, click Remove Noise on the toolbar, and in the open window, confirm this by clicking Remove Noise.

10. If the audio or video you inserted is too quiet or too loud, no problem! Click the Adjust Volume button on the toolbar and increase or decrease the clip's volume in the open window.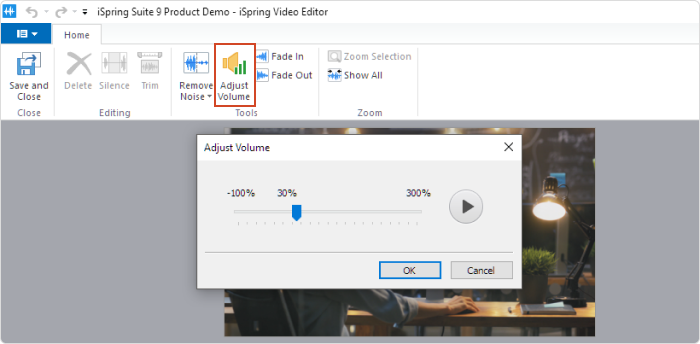 11. To create a seamless transition from one part of your narration to another, set fade effects. Select the part of your clip that you wish to fade and then click the Fade In / Fade Out buttons on the toolbar.

FAQ
1. Can I record video and audio narrations right in PowerPoint, with no additional software?
Microsoft PowerPoint allows you to record narration and export the entire presentation as an MP4 video. To use this option on Windows, you need to go to the Slide Show tab and click Record Slide Show. Then select Record from Current Slide or Record from Beginning, depending on your needs, and start recording.

After that, you'll be in full-screen mode. You'll notice that a few tools appear. You turn on the webcam by clicking the Speaker icon and record a video of yourself or just record your voice. Once you finish recording the voice-over, hit the Escape key. Save your recording as a regular PowerPoint and then export it as a video.
2. Should I record a narration using the built-in PowerPoint recorder?
While the PowerPoint's narration recorder will work in a pinch, you'll save a lot of time and hassle by using an additional tool like iSpring Suite. Besides, it will let you edit your audio/video so the sound/look is of professional quality.
3. What tools do I need to record a voice-over for PowerPoint?
You just need a decent microphone and a quiet place, free from distracting sounds, to ensure your recording sounds great. If you're going to record a video narration, you'll also need a webcam.
To Sum Up
Audio and video narrations definitely help breathe life into your PowerPoint slides. In fact, silent presentations, no matter how beautiful or engaging, take a back seat to narrated presentations that actually explain the course material as it is being shown.
In this guide, we used iSpring Suite to add narration to PowerPoint slides. Besides allowing you to add multimedia, it also enables you to enhance PPT presentations with online quizzes, role-plays, and other interactive content.
To explore the capabilities of iSpring Suite and see how it all works, download a free 14-day trial.
Further Readings