February 10, 2022
10 PowerPoint Tips to Make Your Slides More Effective
Written by: Ferry Pereboom | PPT Solutions | Professional PowerPoint Company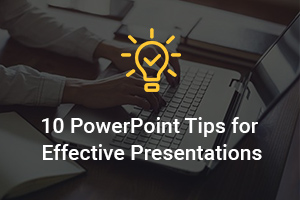 The design of your PowerPoint presentation is often underestimated. Everyone knows the saying, 'a picture is worth a thousand words', however in PowerPoint-land it seems to be quite the contrary. 'A thousand words are worth a picture' seems a more fitting slogan. Slides are filled to the brim with text, which the presenter literally reads out loud. This is the reason why PowerPoint has a dusty and static image. A missed opportunity!
A well designed PowerPoint can help deliver your message to the audience. That is why we have gathered 10 PowerPoint design tips below to help you steer your presentation in the right direction.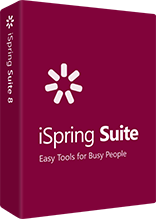 Fully-stocked eLearning authoring toolkit for PowerPoint. No training required to start!
1. Keep it short and to the point
One of the most important things to remember is that PowerPoint is a tool to support your story. Avoid putting the literal text on the screen. Instead, try and shorten your bullets and keep it to the point. This causes your audience to focus on you instead of the slides on the screen.

2. Choose the right font
Try and pick a classic font instead of a creative one. Picking the wrong font can easily cause your text to be unreadable for your audience. Besides that, if the computer you are presenting on does not have the font you used installed, PowerPoint will replace it with a random one. Verdana, Calibri and Helvetica, for example, are all safe choices. These fonts are available on all computers.

3. Size matters
Picking the right font size can be difficult. On the one hand your audience needs to be able to read whatever you put on the screen. On the other hand you don't want your text to dominate the space on your slide. For headers the minimum is around 20pt, while for the body you have a minimum of 18pt. With these sizes you can be assured your text will be legible in every situation. This goes for laptops, computers, tablets, TVs and beamers.

4. Contrast
Besides the looks and size of your font, it is important to take contrast into account. If you're using text on a photo, make sure that your font is readable by either placing a border or casting a shadow around it.

5. Relevance and quality are key
Usually your text is supported by a low-quality image. We often see that when people are talking about a car, the first picture on Google images is picked. This results in inconsistency because some images tend to be illustrations and drawings, making your presentation look unprofessional or even childish. Make sure you select high quality images that support your message.

6. Screenshots or diagrams? Make use of mock-ups!
Diagrams, schemes and screenshots are usually not beneficial to your presentation. They make boring slides with too much information and detail, although the information is usually quite important to your story. A quick fix for these slides is to combine the diagram, scheme or screenshot with an image. These can easily be combined with an image of an iPad, laptop, beamer or computer.

7. Showing data on your slide? Visualize these as much as possible!
Whenever your presentation contains a lot of data, it might be easier to communicate this data by using visuals instead of just using text. Graphs might give you the results you are looking for. PowerPoint offers a wide variety of 'donut-graphs', which are ideal for making comparisons.
For example, pick the donut-graph to show your percentages in the middle of the graph. This way your audience immediately knows what you mean.

8. Simplify your tables as much as possible
Tables are usually crammed with information and numbers. This causes the slide to look crowded and chaotic. In this case it is important to visualize the tables as simple as possible. Delete unnecessary outlines, colours and borders. 'Keep it simple' and 'less is more' are key phrases to take in mind whilst designing tables.

9. Minimize the variety of transitions
After creating a PowerPoint presentation people usually conclude that the presentation comes off as boring or static. At this point they start to use to use transitions. Different transitions are then used to 'breathe life' into the presentation. However, this is not the way to do it. PowerPoint offers the most diverse transitions, which are usually experienced as distracting and childish. A simple 'fade' effect to go from slide to slide is more than enough. Again, the phrase 'less is more' is applicable.
10. Solely use basic colouring
Colours are often used to give the slide some 'flair'. When picking colours it is important to define your audience and the purpose of the presentation. It's good to use vibrant colours in a presentation for a primary school. However, when in a formal setting, you will have to define your colours based on your target audience.

Do you have any PowerPoint design tips of your own? Share them with us below!
About the Author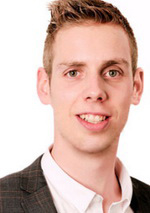 Ferry is co-founder of PPT Solutions, a design agency from The Netherlands.
The company specializes in developing inspiring PowerPoint presentations. PPT Solutions has approx. 600 clients, 21 PowerPoint specialists and delivers work in about twelve countries around the globe. Ferry is mainly responsible for helping existing and new clients overcome their presentation challenges.
Please check the website www.pptsolutions.nl for more information about professional PowerPoints.