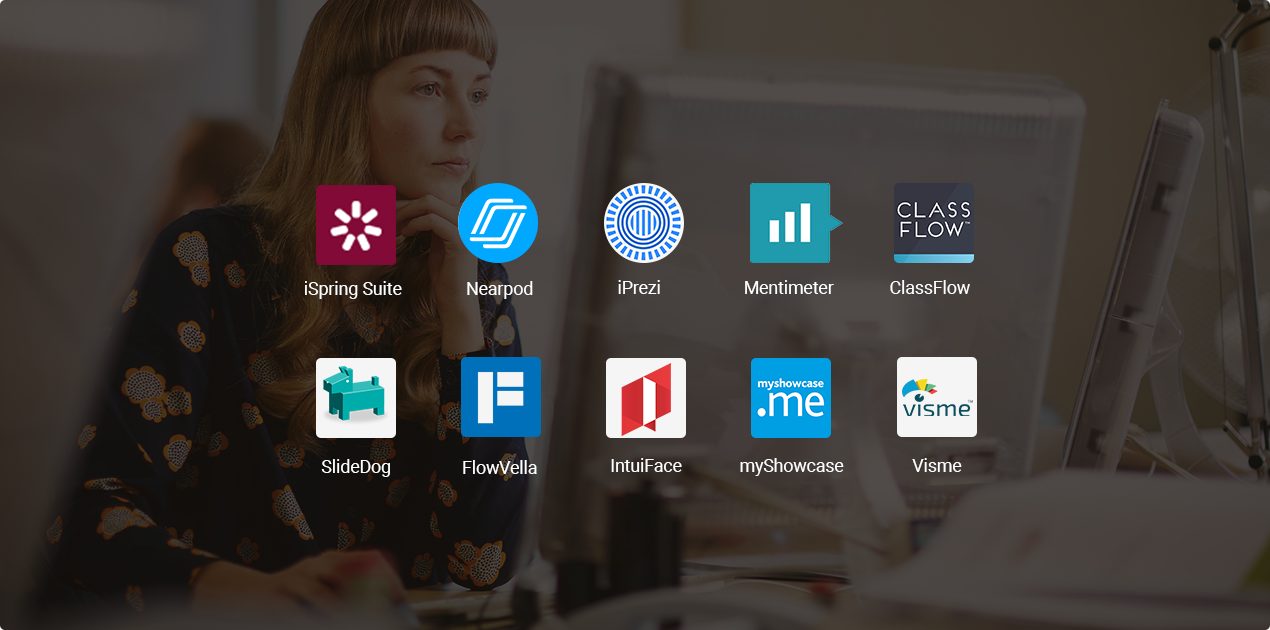 Why do we make presentations? The purpose can be learning, promotion, or spreading great ideas. But let's face it: in the internet age, interactive content has beaten traditional presentations. To stand out from the crowd, you need to create content that establishes close relationships between you and your audience. Below is an overview of ten interactive presentation software tools which can help you easily create and deliver captivating interactive content.
Comparison Chart
Software
The output
Perfect for…

1. iSpring Suite

$970/year

Interactive mobile-ready course that can be published online or uploaded to a learning management system.

Business teams who want to create interactive courses for eLearning fast and easy.

2. Nearpod

Free basic version for classes of up to 30 students.

Advanced plans range from $120/year for 50 students to $349/year for 75 students.

An online lesson.

K-12 teachers who want to turn existing lessons into interactive ones including VR lessons.

Suitable for distance learning.

3. Prezi

Pricing plans range from $5/month to $59/month.

Web-ready presentation in HTML5.

Business and educational teams who need to create memorable presentations for customers, present, and analyze the results.

4. Mentimeter

Free basic version.

The advanced plans range from $7.99/month per user to $19.99/month per user (billed annually).

Web-ready presentation in the form of voting. You can share a survey and its results with an audience as short links or embed code.

Academic and business speakers who would like to organize real-time voting in their live and online presentations.

5. ClassFlow

Free basic version.

Paid version for enterprise features.

An educational platform where you can create your lessons or get pre-made lessons in the marketplace, invite students, and track results.

Educators who want to create interactive touch-based lessons and gamify students' experience.

6. SlideDog

Free version which you can use no more than 15 minutes at a time.

Pro plan charged $99/year or $49 for 14-days.

A playlist saved on your computer. All the formats are combined and played one by one.

Speakers and presenters who want to combine PowerPoint presentations, PDF files, Prezi presentations, movie clips, web pages, and more into one playlist.

7. FlowVella

Free trial version for four presentations up to ten slides.

Advanced plans range from $10/month to $20/month billed annually.

An interactive mobile-ready presentation that can be shared or embedded as well as work in a kiosk mode.

Sales reps and conference exhibitors who need their presentations to feel like interactive apps, and who need to attract customers to their booth and keep them interested.

8. IntuiFace

Pricing plans range from €50 to €150 per month per concurrent user.

Apps that allow the audience to interact with them using mobile devices, interactive walls, and any multi-touch displays.

Those who need to create multi-touch apps, digital signages, or corporate presentations for trade shows, conferences, or exhibitions.

9. myShowcase

Free for personal use.

$3/user annually for academics and charity.

$4.50/user annually for government and profit use.

Interactive online resumes, commercial offers, books, or presentations.

For individuals, educators and employers to curate evidence of capability and competency.

10. Visme

Individual plan charged from $14 to $25 per month.

Presentations, infographics, reports, interactive demos, ad banners and visual resumes. The output can be published online, or downloaded as a document or an image.

Those who need to beautifully present information, reports, and create visualization for their content.
1. iSpring Suite 9.7: "eLearning Authoring Supercharger"
Rating: 4.8/5 – 254 reviews (G2 Crowd)
iSpring Suite is designed as a powerful eLearning authoring tool for corporate training needs. This software allows you to create interactive e-courses, assessments, dialogue simulations, screencasts, and video lectures, and make them available online. You can use an existing PowerPoint presentation or build one from scratch.
To make your learning content more visual, you can create interactions. There's an option to build them yourself or use a set of iSpring Suite ready-made templates to present your material in the form of a glossary, FAQ, timeline, catalog, and more.
Usage
You don't need to be a technical person to use iSpring Suite. Once the program is installed, you will see the iSpring Suite tab right on the PowerPoint ribbon, which provides quick access to all the features of the tool. For example, you can record a screencast without leaving PowerPoint, and synchronize it with the slides.
Output
This tool will allow you to quickly create e-courses right in your PowerPoint that will work on any desktop, laptop, and mobile platform. You can publish them online in HTML5, or upload to a learning management system, as the tool supports all eLearning standards: SCORM 1.2/2004, AICC, cmi5, and xAPI (Tin Can).
Perfect for
iSpring Suite is perfect for small and medium businesses, as well as enterprise companies that deal with employees, partners, and customer trainings. It also can be used by teachers, trainers, and instructional designers from the academic sector.
2. Nearpod: "Empowering Teachers, Inspiring Students"
Rating: 4.6/5 – 35 reviews (G2 Crowd)
Nearpod allows teachers to create online lessons, synchronize lessons across their students' devices, and monitor the results. Students use Nearpod to study content and to participate in assessment and collaboration activities. You have a choice either to control the presentation flow, or let students experience presentations at their own pace.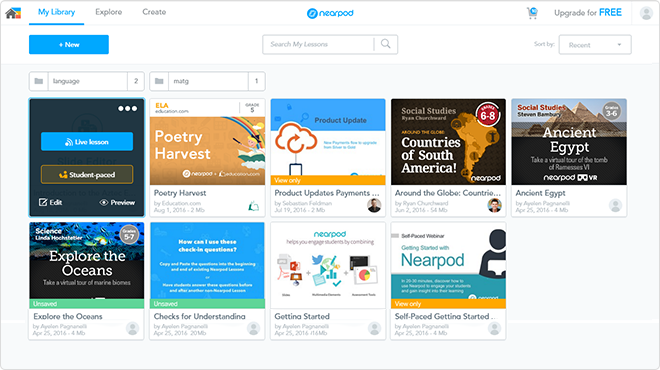 Usage
At first, teachers log in to the Nearpod website, upload their existing materials and add interactive activities: embed videos, polls, quizzes, or memory tests. When a lesson is to begin, teachers share content with their students by sending out a special access code via email, shortlink or social media. When the students get it, they enter the code to join the lesson and take part in the activities.
Output
Live lessons or student-paced online lessons. Students can join your Nearpod lesson by entering the code that you've generated and sent them.
Perfect for
Nearpod is used by schools and school districts as well as college and university classrooms. Since all the Nearpod content is available online, it's suitable for distance learning as well.
3. Prezi: "The Most Dynamic and Engaging Presentations Ever"
Rating: 4.2/5 – 4,306 reviews (G2 Crowd)
Prezi is a tool for making lively presentations. The main difference between presentations in Prezi and traditional presentations is that Prezi applies a dynamic visualization that brings motion to the slides.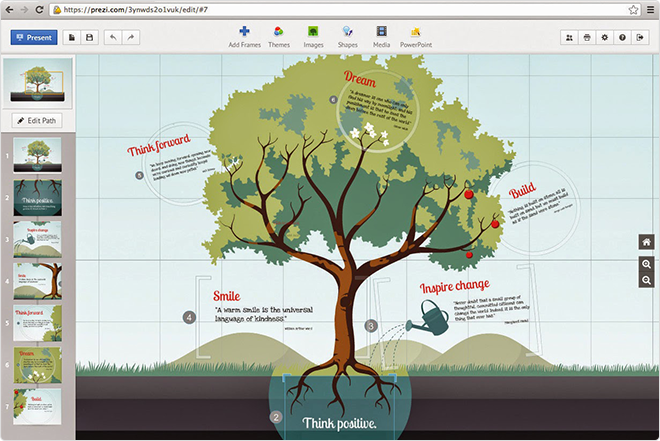 Usage
To begin, you choose from a library of pre-designed templates or a blank canvas and create your presentation structure, which is rather similar to a mind map. Each section is used to cover a certain topic and can be divided into subsections by zooming and panning.
Output
You will get a web-ready presentation, each section of which will be easily accessible in any order while presenting with a click or tap. That's what's called a "conversational" presentation style, which Prezi strongly advocates. You can share your project online or download an EXE file and copy it to a flash drive.
Perfect for
Prezi offers interesting features for business use, as you can not only create a captivating presentation, but also track who views it and what they're interested in. It can be useful for marketing and sales teams. Prezi can also be of use to anyone without any design skills who needs an easy tool to make good-looking presentations.
4. Mentimeter: "Everybody is Heard"
Rating: 4.6/5 – 25 reviews (G2 Crowd)
With Mentimeter, you can create interactive presentations with real-time voting. The audience feels more involved in the presentations, as they can give their input using a mobile phone or any other device.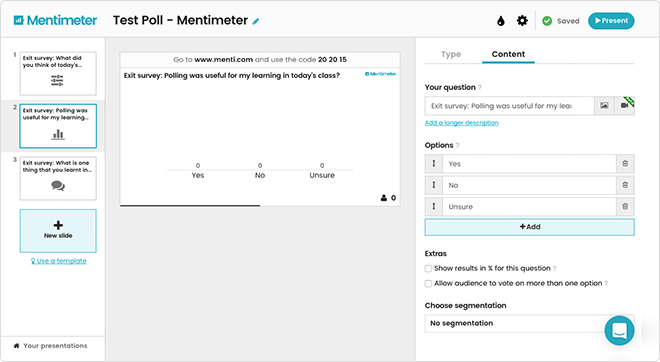 Usage
To get started with Mentimeter, you don't need to download or install anything. It's a cloud solution, so simply sign up and create a presentation with the questions you would like to ask. You can use different types of interactions: quizzes, scales, image choice, reactions, and more. When it's ready, you simply share a link with the audience.
Output
An online real-time poll. The presenter provides all the participants with a unique code (generated by Mentimeter), that they insert at www.menti.com to be able to vote. The results can be viewed in real-time on the screen and in an attractive layout.
Perfect for
In conclusion, Mentimeter is a good tool for business meetings, school classes, and lectures at universities. It's perfect for groups of 20 people or more. As one of Mentimer's users says: "It's most valuable when it spurs a discussion around the results."
5. ClassFlow: "Teaching With a Modern Touch"
Rating: 4/5 – 9 reviews (Common Sense)
ClassFlow is an interactive teaching platform for schools. It allows teachers to display students' work and other content on a projector or touchboards, get real time feedback on assessments, and track student behavior.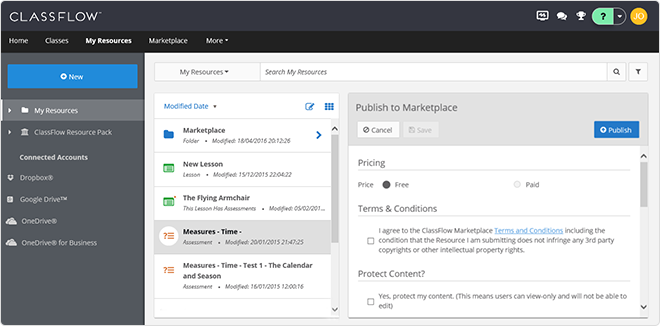 Usage
Once an account has been created, teachers can build lessons, create tests, and manage their classes. Lessons in ClassFlow are card-based, which is similar to PowerPoint slides. As for learning activities, they may include tests, flashcards, different interactive widgets, and more. When lessons are ready, you can invite students to join using their devices. You can also create assignments, which are tasks that are sent to students to complete as their homework.
Output
Students can view and study lessons in the form of in-class presentations, on their own devices, or as a combination of the two. Teachers can track and analyze real-time statistics, as well as apply a reward badge system.
Perfect for
ClassFlow is great for connected and blended learning. Those educators who want to enhance their classes, create interactive touch-based lessons and gamify students' experience will get the most of this tool.
6. SlideDog: "Freedom to Present"
Rating: 4.2/5 – 12 reviews (G2 Crowd)
SlideDog creates a smooth presentation playlist combining all kinds of media, and seamlessly delivers it to an audience. Once the playlist is created, the content plays back as one file.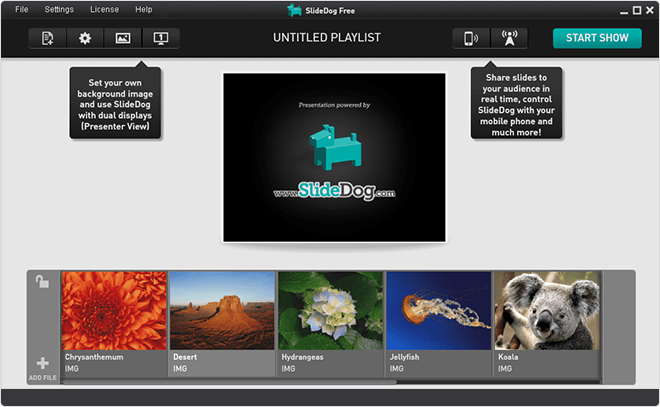 Usage
To get started, drag files into a playlist pane to set the necessary playback order. These can be PowerPoint presentations, PDF files, webpages, Prezi files, and YouTube clips. You can also add some interactions to your presentations; for example, insert questionnaires or chat with an audience.
Output
When you are ready, press the start button to begin the presentation. All files will be shown in their original format. For example, Prezi files can be zoomed and webpages can be navigated. SlideDog also has a Remote app to control playback from a smartphone, tablet, or another computer.
Perfect for
Speakers and presenters who are looking for an internet-delivered solution for seamless switching between different speakers' materials for an event. It's good for those who are in charge of meetings, conferences, and other events, and use multiple formats of media.
7. FlowVella: "Create iPad Application Easy"
Rating: 4.75/5 – 4 reviews (GetApp)
FlowVella is a tool for sales. It allows you to create mobile-first presentations on your iPad, share them, and get alerts and insights on your presentation leads.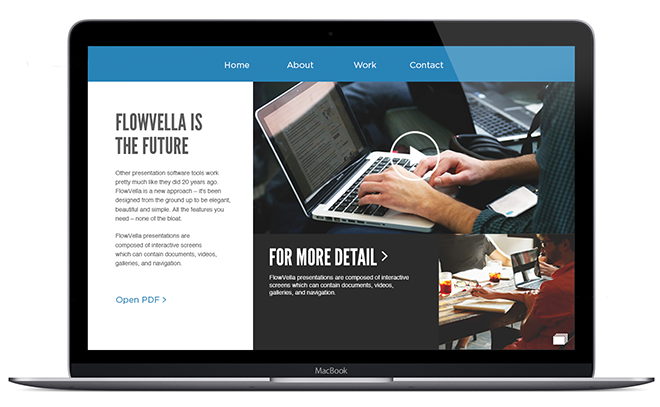 Usage
To get started, download the FlowVella app for iPad from the App Store, then choose an appropriate template, or start creating a presentation from scratch. You can combine text, images, recorded video, and links into one interactive conversation. All the created projects are saved on your device. To share your presentation with others, you can upload it online, or send a link.
Output
As a result, you get interactive mobile online presentations with the feel of a mobile app. The output supports smart gestures, so viewers will be able to tap, swipe, and zoom objects. Plus, you can also demonstrate it without an internet connection using AirPlay.
Perfect for
FlowVella will be of use to conference exhibitors who need their presentations to arrange iPad-based kiosks for events. It can be also useful for sales reps to reach their customers.
8. IntuiFace: "Create amazing multi-touch applications"
Rating: 4.5/5 – 9 reviews (Capterra)
Intuiface is a program for creating and sharing an interactive and connected digital experience that you can use at trade shows, conferences, or exhibitions. It converts all your media into interactive content for mobile devices and multi-touch displays.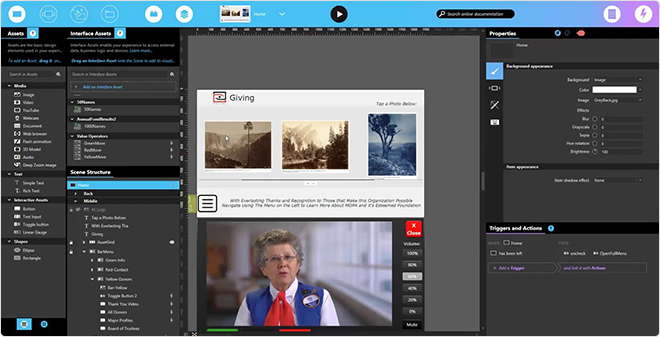 Usage
Intuiface has a bit of a learning curve. You can start from a blank canvas, import from PowerPoint, or use pre-built templates for making video walls, drawing pads, interactive maps, and more. The easiest way to create your first project is to begin with a template, drag and drop media files on the scene, and click play to try interacting with the project. Advanced users will like the capability of adding triggered actions.
Output
Since Intuiface supports HTML5, your project will be available on any display. All graphic content is automatically responsive to tap, swipe, pinch and other common touch screen gestures. IntuiFace can communicate with either a storage account or your own company's Amazon S3 or FTP site. Plus, you can also share projects with a link.
Perfect for
Look for the Intuiface platform when you want to create a "wow effect" on a multi-touch screen in order to draw attention to an exhibition booth. This tool is good at creating experiences for digital signage, information or point of sale kiosks, event presentations, and curated exhibits.
9. myShowcase: "All your great work and achievements in one place"
Rating: 5/5 – 16 reviews (Capterra)
myShowcase is a system for creating online portfolios and interactive albums with personal achievements.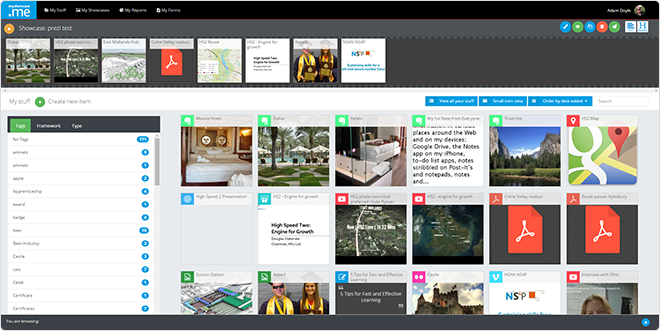 Usage
myShowcase has a quite simple and intuitive interface. Once you've signed in, you need to add some content to My Stuff. This might be text, images, videos, badges, or different imported files like Google Maps, Sketchfab models, and more. Your next step is to create a showcase by dragging and dropping files to the showcase pane. When it's done, you can publish your project onto any showboard you have access to, or send via email.
Output
An online collection of your knowledge and skills.
Perfect for
myShowcase will help individuals, employees, and students to make creative resumes, get hired, and share their projects with the world. Employers can find it useful to see their teams' real experiences, and use that information in corporate training.
10. Visme: "Translate boring data into beautiful visuals"
Rating: 4.6/5 – 42 reviews (G2 Crowd)
Visme is a web-based tool for presentation and visualization of data. It helps to make content compelling by transforming it into visually appealing presentations and infographics. With Visme, you can create presentations, infographics, charts, reports and ad banners for websites, blogs, and social media.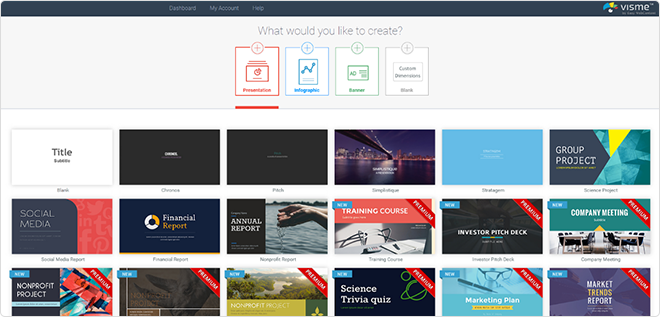 Usage
To begin with, you need to choose between Visme's four project types: Presentations, Infographics, Banner, and Custom project. For every project type, there's a vast collection of pre-made templates you can choose from and customize. There's also an option to animate objects if you like. When everything is ready, you can share a project via links, embed to a site or blog, or download as a picture or PDF document.
Output
Beautiful web-ready presentations, infographics and banner ads created quickly and easily.
Perfect for
Educators, presenters, communicators, and all those people who need to share their ideas. It's also good for team work, as you can organize the project data into folders and provide role-based permissions.
We hope that these ten popular interactive presentation tools will provide you with a solution for the sort of task you're dealing with. If you need to create professional-looking courses containing slides, scenarios, screencasts, and assessments without spending time on training, start with an iSpring Suite 14-day trial and explore all its features right now.