August 11, 2023
50+ Best Computer-Based Training Software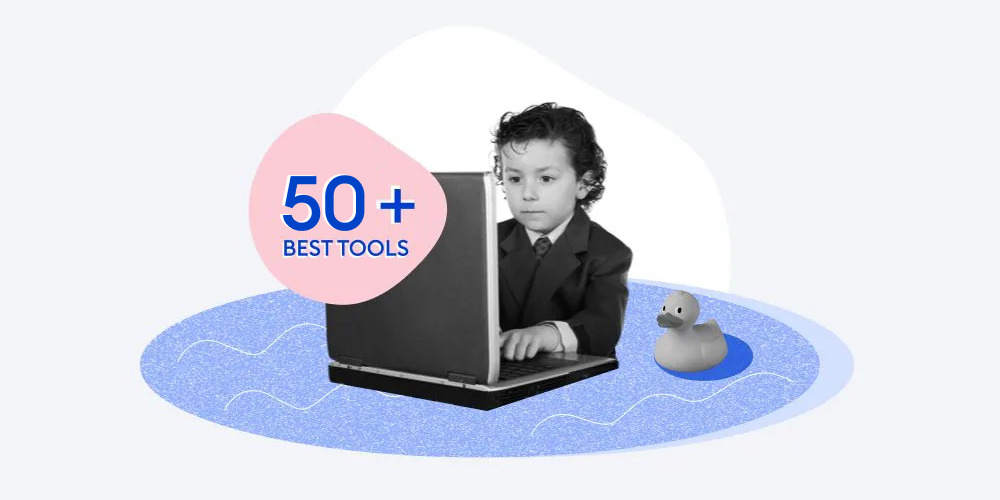 Do you want to move all of your employee learning process online or just transform part of it into eLearning? Either way, there are plenty of online training tools today that allow organizations to bring their employee training out of the classroom. The major task of such computer-based training (CBT) software is to upload or create learning materials and complement their delivery. We've put together a guide to help you choose appropriate computer-based training software, so you can make the most of their capacities.
We've performed in-depth research to compile the best 50+ computer-based training programs and have divided them into eight categories, from LMSs and microlearning platforms to additional communication and planning tools that will also be of great use. Feel free to share our examples of computer-based training software on social media or bookmark this article to come back later.
LMSs with an Authoring Tool
A learning management system (LMS) is a web-based software platform that allows you to upload, manage and distribute learning materials to users. If you're planning to create eLearning content in-house, you'll need an LMS with a built-in/integrated tool for developing e-courses.
It can be a simple editor for making essential quizzes and courses, or a full-fledged tools for instructional designers that enables them to build high-quality 'sticky' content. What to choose is up to you. Here, we offer a brief overview of 18 LMSs that include an authoring option.
1. iSpring Learn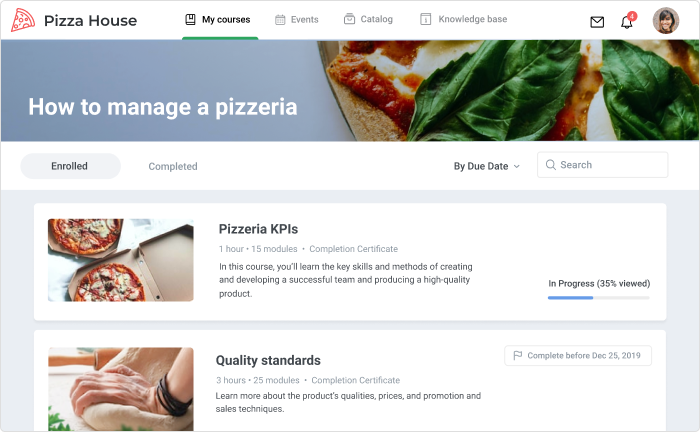 iSpring Learn is a straightforward cloud-based LMS. You can start employee training immediately after registration. In iSpring Learn, you can upload an unlimited number of training materials: presentations, text documents, video and audio files, as well as SCORM-courses.You can assign the content to your learners and keep track of how well your employees are doing.
iSpring Learn is integrated with an authoring toolkit that allows you to build multi-device interactive courses, quizzes, and conversation simulations, and publish them right to the LMS. It also integrates with video-conferencing software.
2. iSpring Market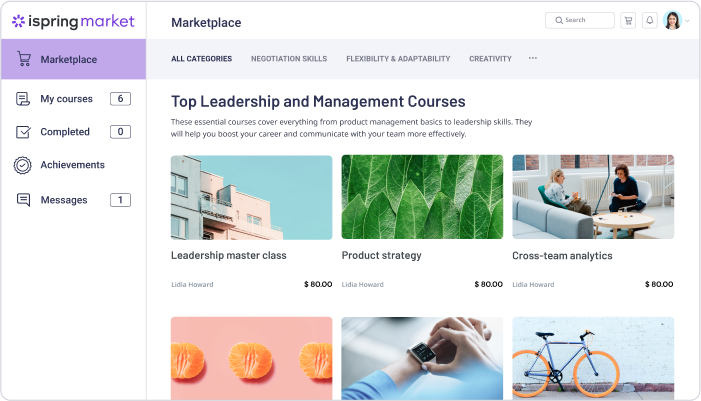 iSpring Market is an easy-to-use platform to sell training courses online. With iSpring Market, you upload your courses, video lectures, SCORM packages, and other training content to your personal online marketplace, where people can explore and purchase them. In addition to selling your existing materials, you can build your own step-by-step courses, create training programs, assessments, award certificates, and track learning performance.
On the marketplace, you can give a detailed description of each course, sort courses by categories, highlight featured materials, and offer coupons and free courses. The platform supports online payment systems such as Stripe, PayPal, and Authorize.net, and 30 international currencies.
3. Lessonly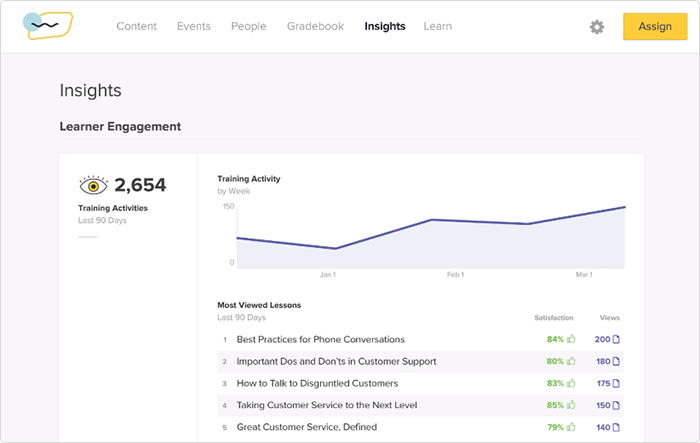 Lessonly (now part of Seismic) is a training system designed mainly for sales teams, customer support teams, and human resources staff. It has all the capabilities for providing employee training including content creation. You can create custom lessons by combining text, images, videos, documents, quiz questions, and SCORM. It also has a built-in tool for webcam and screen recording.
4. Tovuti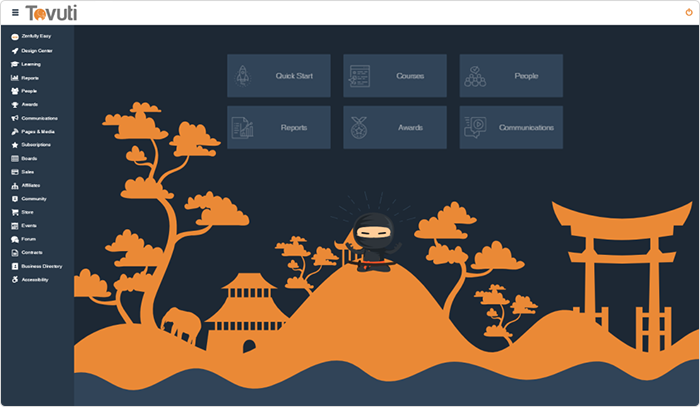 Tovuti is a computer-based training tool that allows you to build your own online training site and add the learning content there. The platform has robust authoring capabilities that offer more than 50 different types of training activities and assignments (from interactive video and memory games to clickable images and drag-and-drop quizzes) that can be used to build e-courses. You can also upload your own videos, PowerPoint presentations, PDFs, SCORM files, and much more. The look of the site is fully customizable.
5. LearningStone
LearningStone is a computer-based training software with an easy-to-use course editor, storage, calendaring, and a social wall. The built-in content creation tool has a unique block system that allows you to make a timeline. There's a separate block for different tasks — a survey, an assignment, a text, a calendar event, a video, a document, or even scheduled messages.
6. Thought Industries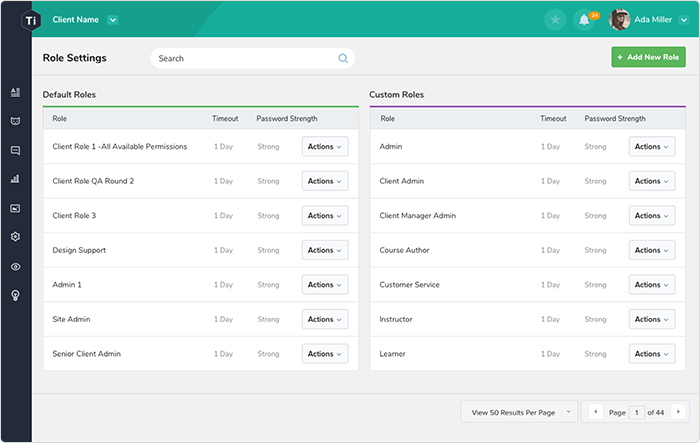 Thought Industries offers two computer-based training programs for delivering training: the Learning Business Platform for employee training, and the Customer Learning Platform for training software and tech customers. Both platforms have an integrated authoring suite for creating courses and assessments. To enhance the learning experience, you can upload the existing content including SCORM courses.
7. SyberWorks Training Center
SyberWorks Training Center (STC) is an online learning management system (LMS)/document management system (DMS) that has all the necessary options for managing and tracking all types of training, from face-to-face learning to courses that learners can take at their own pace. STC includes tools for testing and contains optional electronic quizzes to test comprehension or enhance learners' knowledge retention. All tests and documents can be signed and verified with an electronic signature.
8. WizIQ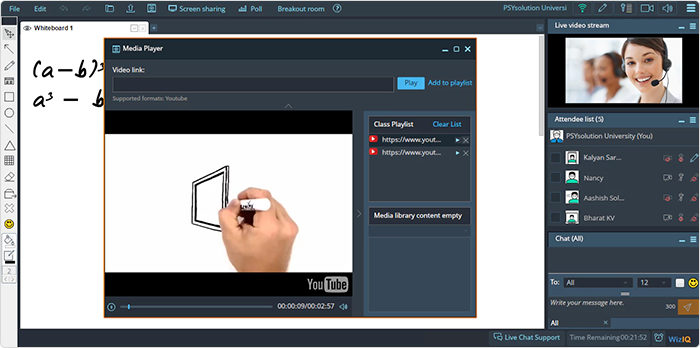 WizIQ is a learning management system and virtual classroom software. It offers a comprehensive set of features to deliver both self-paced courses and synchronous collaborative learning online. In addition to standard LMS features, WizIQ has such options as video conferencing, automated server-side recording, and an interactive online whiteboard. You can create your own courses by uploading and combining different kinds of learning materials. To assess your learners' progress and boost knowledge retention, you can create online tests right in the platform.
9. EthosCE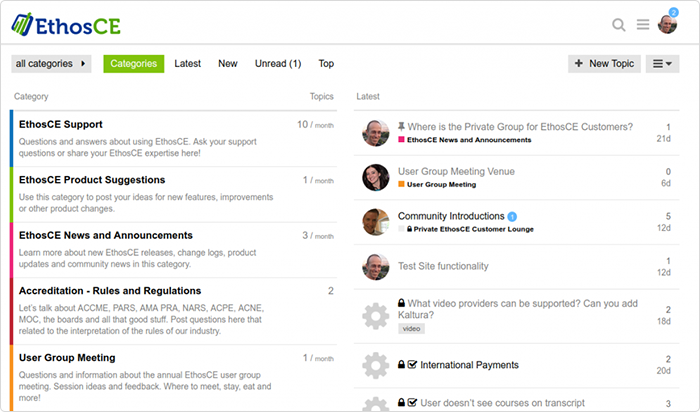 EthosCE is a full-featured LMS designed to deliver computer-based training in nursing, pharmacy, and other medical professions. With its authoring features, you can easily build multimedia courses with online quizzes to assess learners at any time during the course, including pre- and post-test assessments. For each course or even full programs in various disciplines, you can apply credits (CE, CME, CNE, and others), which later will be automatically combined with the credits stored in ACCME web services.
10. Trainual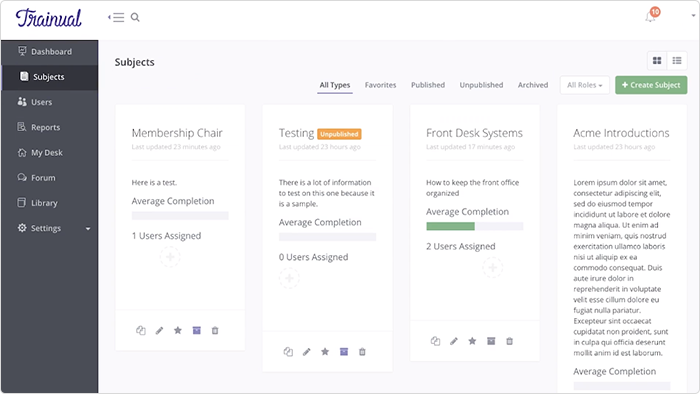 Trainual is an essential learning management system for automating employee onboarding and computer-based training. It doesn't support SCORM and other eLearning formats, but allows you to create longreads with embedded images and videos, as well as make tests with multiple-choice questions. There's a library option in Trainual that lets you keep all useful documents in one place. Users can request access to the files they need, and an administrator can approve or deny access.
11. Coassemble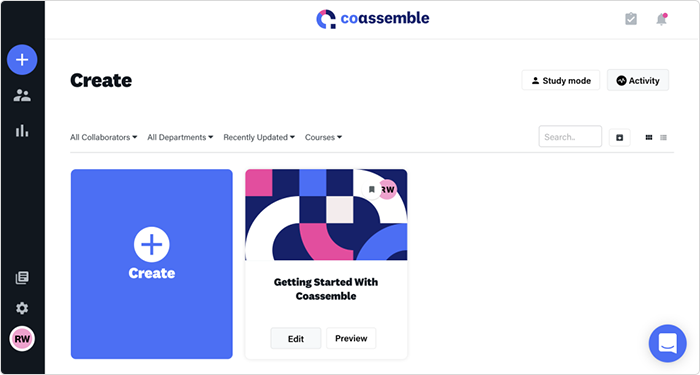 Coassemble is an easy-to-master platform that combines an LMS and course creation tools and is great for mobile learning. It provides 40+ interactive and customizable templates with a drag-and-drop function for quick creation of e-courses. You can add eLearning videos, images, charts, and other multimedia elements, as well as add tests and quizzes. All templates are mobile-responsive, which means users can access all the materials from their mobile devices without sacrificing the quality of any added media. You can also import existing SCORM files.
12. CourseGenius
CourseGenius is a complete computer-based training solution that lets you create, sell, deliver and track online courses. With the drag-and-drop course builder, you can create eLearning content with interactions, videos, pictures, and more. To enhance the learning experience, you can build simple quizzes for better knowledge retention or add features such as certificates and surveys.
13. Academy of Mine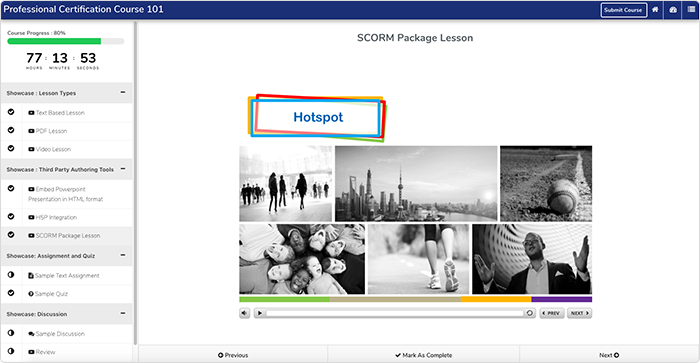 Academy of Mine is a fully customizable computer-based training software mostly focused on e-commerce. Users can customize almost any aspect of their Academy of Mine site and create a unique learning platform or online shop that matches their industry, theme, or branding. It has a unique course builder that allows you to create text-based lessons and video lessons, as well as SCORM and Tin Can courses.
14. Schoox
Schoox is a talent development and training platform with easy-to-use tools for knowledge sharing, course creation, and collaboration. You can create courses out of any type of content: docs, PDFs, PPTs, videos, SCORM, xAPI, YouTube, Vimeo, SlideShare, and more. With the course builder, you can also create tests and provide knowledge checks for your employees. The platform has a content curation option that allows learners to create and share their own content and learn from their peers as well. Schoox collaborates with many content providers, so you can buy courses on almost any topic you need right on their website.
15. SmartUp
SmartUp is a knowledge sharing platform with a simple built-in content creation tool. It allows you to create longreads by uploading and combining content in a range of formats, such as text, videos, infographics, and pictures. You can enhance your employees' learning experience with quizzes and tests.
16. Axis LMS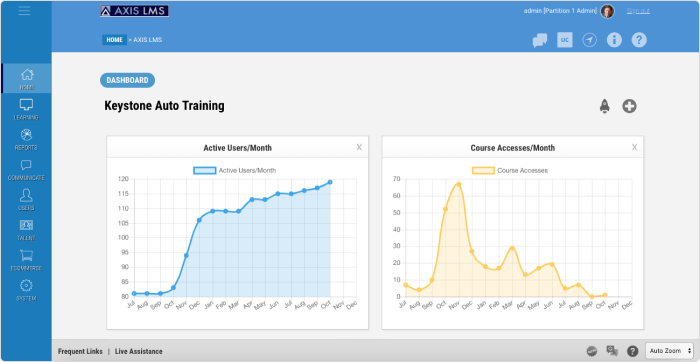 Axis LMS is a tailored solution for the business needs of different industries and various use cases. It has a built-in course builder which is quite simple for beginner content creators. With its drag-and-drop functionality, they can combine PowerPoint presentations, videos, images and more, and Axis LMS turns them into learning activities inside the course. You can also create surveys and quizzes and upload pre-packaged SCORM content.
17. eloomi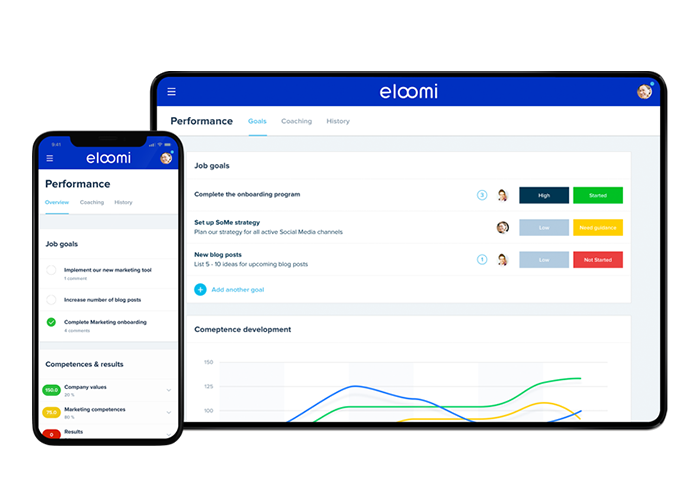 eloomi is a learning management system and performance management platform that is designed to simplify employee training, onboarding, skill development, and achievement of performance goals. eloomi's authoring features allow you to create eLearning courses. With the course builder, you can blend different types of content to create a unique learning experience. eloomi's performance management options enable you to evaluate and rate employees' performance, give feedback, and provide coaching sessions.
18. Intuto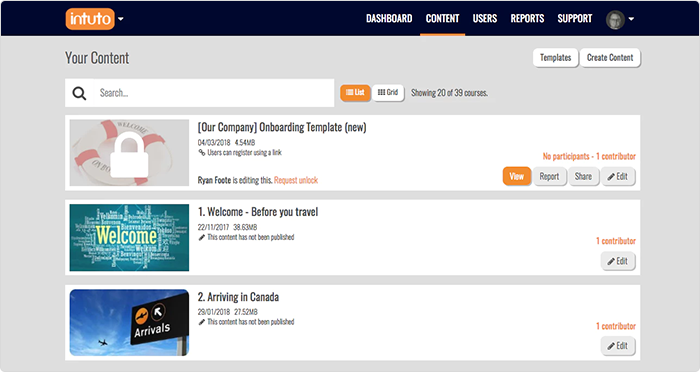 Intuto is a computer-based training platform that combines the options of administration and course authoring. With the built-in templates, you can craft e-courses, make quizzes for assessing learner understanding, and create custom-branded certificates to issue to staff after they complete training courses. Training can be carried out in public or private.
We've made it easier to select the right LMS among such a great variety of corporate learning platforms. Read our complete guide on how to choose an LMS.
LMSs with a Course Library
If you're going to train your employees but have limited time or human resources, it may be reasonable to buy an LMS with an integrated course library. Some platforms have libraries containing hundreds or even thousands of ready-made courses on different topics.
Specialized LMSs designed to meet the needs of a particular industry or professional area typically offer much fewer eLearning courses, limited to those corresponding to their LMS niche. We've compiled 9 learning platforms integrated with course libraries. Take a look to find the one you need!
19. BizLibrary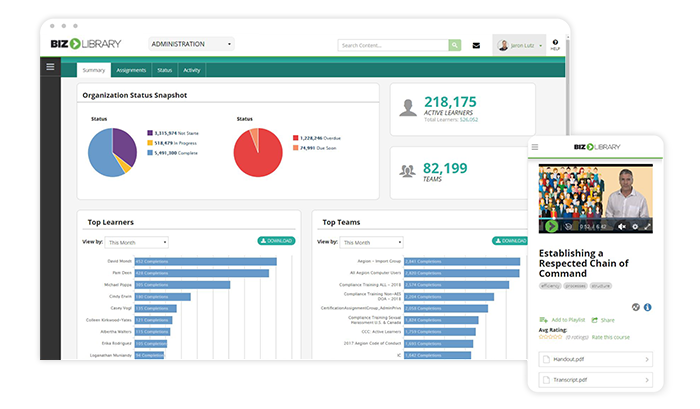 BizLibrary is an online learning management system designed to help companies improve and manage workplace training. It has all the standard LMS features, like managing learners and content and reporting. It also has an integrated video library that contains more than 7,000 lessons covering every business training topic, including communication skills, leadership and management, sales and customer service, compliance training, desktop computer skills, and more.
20. Business Training TV
Business Training TV is an online training platform focused on video-based learning. It has an extensive library of video courses on human resources, health, well-being, safety and leadership. You can also publish your own videos, slides, and text documents to the system, add quiz questions and combine all that into courses specific to your needs. The platform also supports SCORM-content.
21. Coggno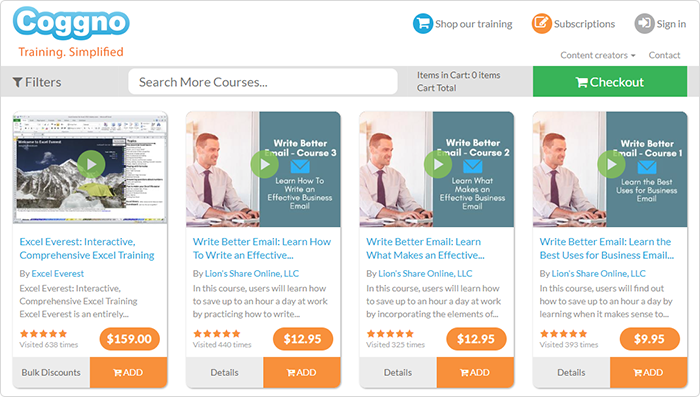 Coggno is an employee learning platform with a massive collection of eLearning courses. You can choose from thousands of courses in the Coggno catalog on different topics. The platform allows you to assign courses to your team from your desk and keep track of their progress. Your employees can also sign up for eLearning content they want to view on their own.
22. Teachlr Organizations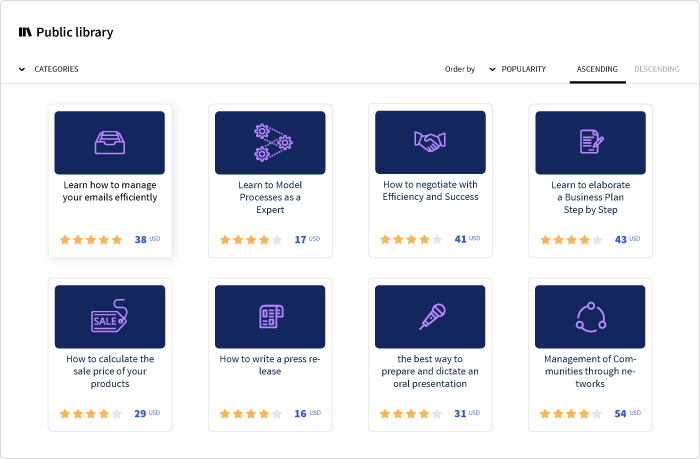 Teachlr Organizations is a cloud-based e-course authoring and learning management platform. It has a content catalog with 600+ courses made by experts from around the world. There are courses on various topics including design, languages, marketing, music, and programming. Along with importing the content from the catalog, you can also create simple courses on your own.
23. WorkWize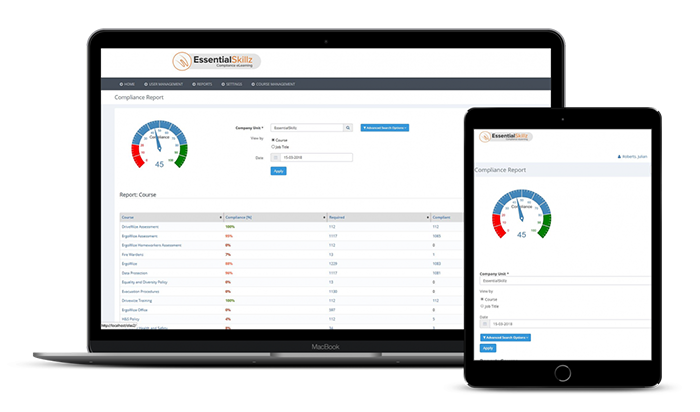 WorkWize is a powerful compliance-focused LMS designed to help training administrators and HR managers take compliance to the next level. It has a rapid authoring tool for creating unlimited SCORM courses from scratch or customizing any of the 40 ready-made courses available in the library. In addition to the eLearning options, WorkWize has features to identify non-compliant teams, individuals or offices, plus; document sign-off/distribution for rolling out documents and proving acceptance and understanding.
24. Crunchtime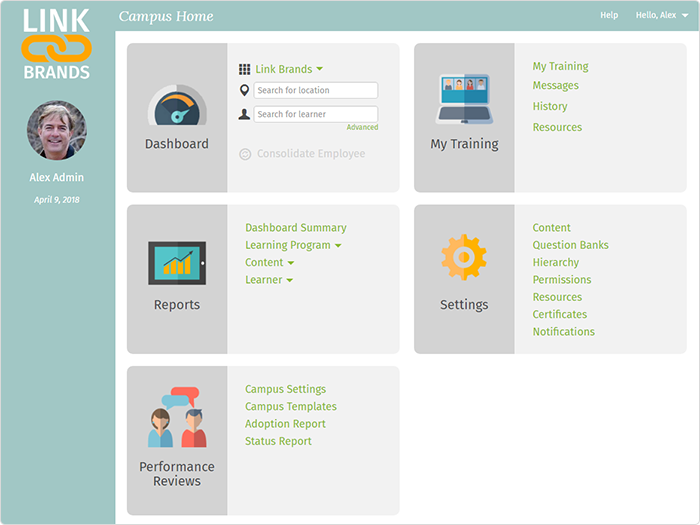 Crunchtime is an online training platform for restaurants and hotels that provides an employee development solution for staff working in the hospitality industry. You can't create courses on the platform, but there's a library that offers a wide range of ready-made training courses. You can use the existing content as is or have it customized to meet your needs and reflect your company's branding.
25. Relias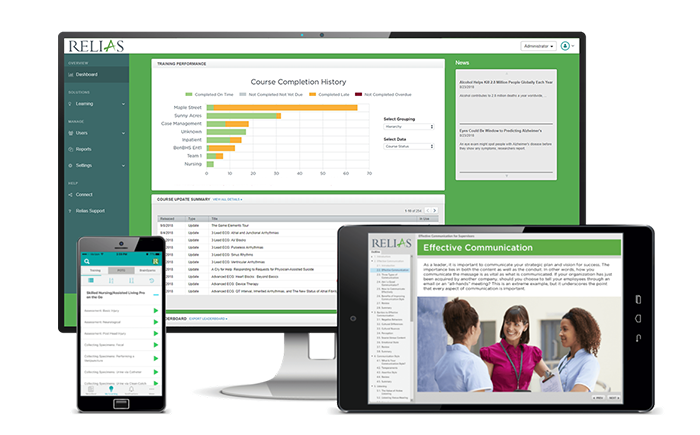 Relias is a healthcare LMS that helps hospitals and other medical organizations better conduct computer-based training. The strong points of this platform are the webinar features that allow you to provide online CE training sessions (e.g., an online training seminar), and the library containing 5,000+ training courses. Relias even offers interactive videos on topics such as safety and ethics, among others. The LMS also has tools for easily transforming existing training documents into eLearning courses and creating custom courses from scratch.
26. Convergence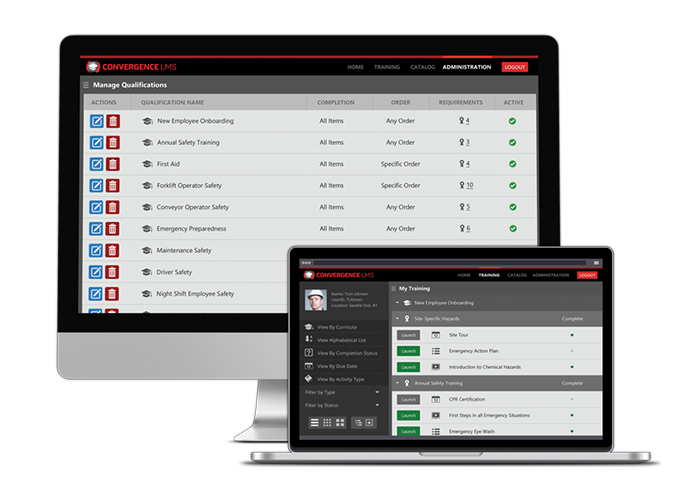 Convergence is an LMS designed specifically for the needs of industrial and manufacturing facilities. You can upload existing SCORM or AICC courses, videos, text documents, SharePoint resources, and links, or create simple courses, quizzes, surveys, and task lists right in the system. Plus, the LMS offers a wide variety of ready-made eLearning courses on industrial maintenance, transportation safety, mining safety, and more.
27. Skillcast
Skillcast is an LMS built to help businesses deliver mandatory and optional compliance training to their employees. The platform offers off-the-shelf as well as bespoke solutions that allow users to either choose courses from the existing library or create custom content. The library includes ready-made courses on different topics, such as data protection, common health and safety hazards, risk management, anti-money laundering, and insurance. To build custom courses, users can either modify the existing modules or use the built-in content creation tool to build new courses.
Online Virtual Classrooms
If an LMS is more focused on self-paced learning, a virtual classroom training tool provides greater opportunities for group training. In this case, it serves as a computer-based learning tool that helps you create an environment in which participants can communicate, view and discuss presentations and instructional videos, and engage with other learning resources, all in an online setting.
It's very similar to traditional instructor-led training, where there's at least one educator and the lesson is conducted in real time. The difference is that users are connected through the Internet and can participate from anywhere in the world. If this is what you were looking for, see our list of virtual classrooms.
28. LearnCube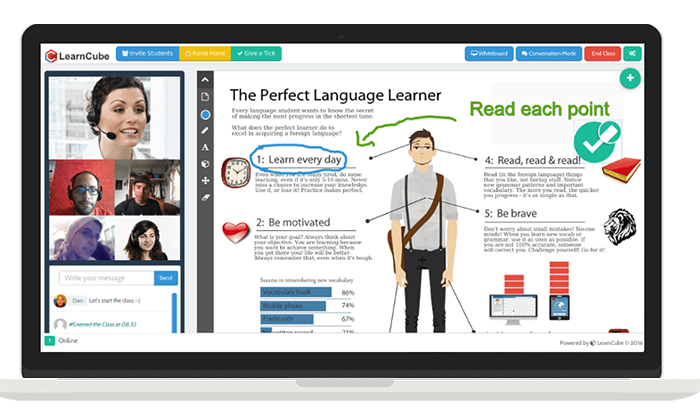 LearnCube Virtual Classroom is a computer-based training software that offers live video and audio support, various classroom training and communication tools, class scheduling, and media sharing. During online classes, educators can interact with learners via video and text chat, use a whiteboard for explaining the learning material, and share content including PDFs, audio files, videos, and online quizzes and tests.
29. VEDAMO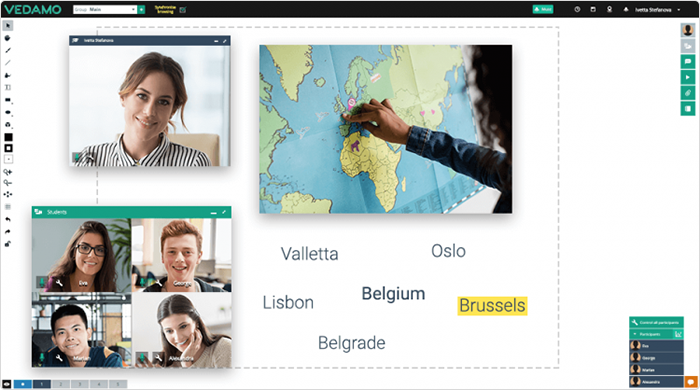 VEDAMO is a full-fledged eLearning solution that combines a synchronous training tool and the functionality of an LMS. With its virtual classroom, you can create an unlimited number of live interactive online sessions and work simultaneously with up to 25 learners per session. The LMS provides you with an easy-to-use solution to create and deliver your courses and manage your learners. With the built-in course editor, you can build simple courses with quizzes.
30. BrainCert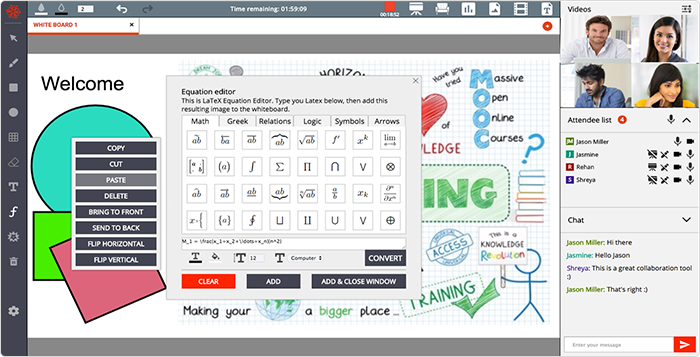 BrainCert is a cloud-based solution that comes with all the features necessary for seamless synchronous and asynchronous collaboration between a presenter and learners. They include video conference in HD, a responsive whiteboard, moderation capabilities, screen sharing, session recording playback, class scheduler, and many more. You can customize the tool's theme and colors by using the color picker tool.
Intranet Portals
An intranet portal is a private network that is usually implemented to improve collaboration and engagement within a company. Typical intranet functionality includes document management, company information distribution, admin automation, and communication. You can also use such portals as computer-based learning tools. They allow you to upload learning content to help your staff develop skills and stay up to date.
We've collected a short list of the best intranets with a training delivery option that will help you find a solution that best suits your exact training needs.
31. GreenOrbit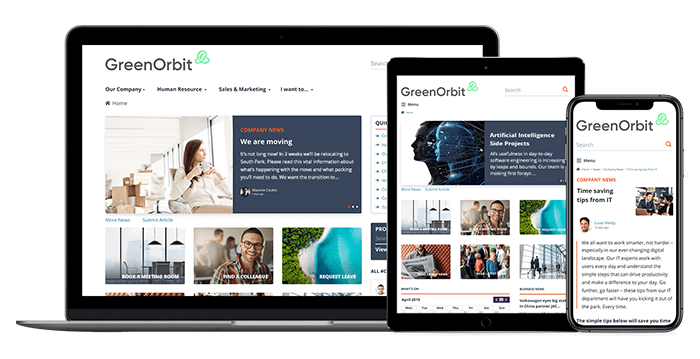 GreenOrbit (by Knosys) is a cloud-based intranet solution aimed at empowering the digital workplace. It has a complete set of intranet features like document management, staff profile, and onboarding. You can also use the platform for computer-based training. GreenOrbit CMS makes it easy to create, organize, and publish learning content. To create the content, you can use built-in templates and easily drag and drop components onto a page: text, images, videos, calendars, maps, and more.
32. eXo Platform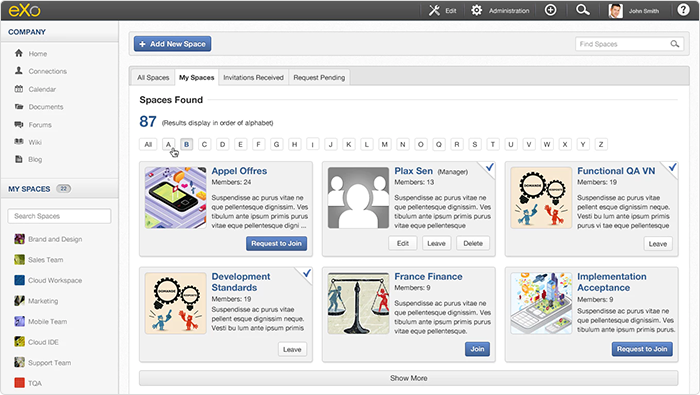 eXo Platform is open-source digital workplace software that includes a number of collaboration, communication, employee reward, and knowledge management features. It gives employees access to a company's knowledge base that consists of documents. You can let your employees learn compliance documents and other training materials in all popular online formats. The platform also has an enterprise wikis option. Employees can use wiki pages to write and share reports, guidelines, manuals, and more.
33. Honey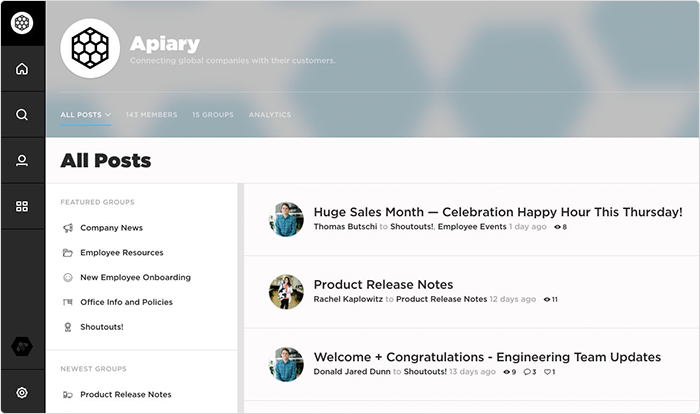 Honey intranet gives employees a central location to find all the company information and resources they need. The platform makes it easy to organize, share, and access beautiful embedded learning content and rich media. The content can include text, links, images, files, code files, surveys, and rich media.
34. ShortPoint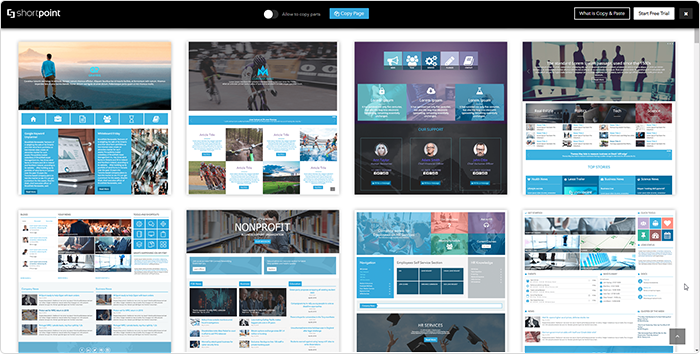 ShortPoint allows you to build fully customizable beautiful intranet sites, portals, and business website pages. You can upload your training materials in PPT, Excel, Word, and PDF formats, as well as embed training videos from YouTube and Vimeo. You can also create date lists to organize face-to-face training, webinars, and other training activities in one place.
Microlearning Platforms
A microlearning platform is a lifesaver for some trainers as it breaks information down into easily absorbed bite-sized chunks. Such a platform typically has fast and easy-to-use content creation features integrated into the LMS. Here, you'll find brief descriptions of 6 microlearning platforms which will help you discover and narrow down your choices for a microlearning tool that is right for your company.
35. EduMe
EduMe is a learning platform designed for mobile learning. It allows you to create microlearning training modules: you can use the templates to build engaging courses consisting of text, images, links, quizzes, and videos. You can also use the card format to send updates on campaigns, products, and learning opportunities to your learners.
36. TalentCards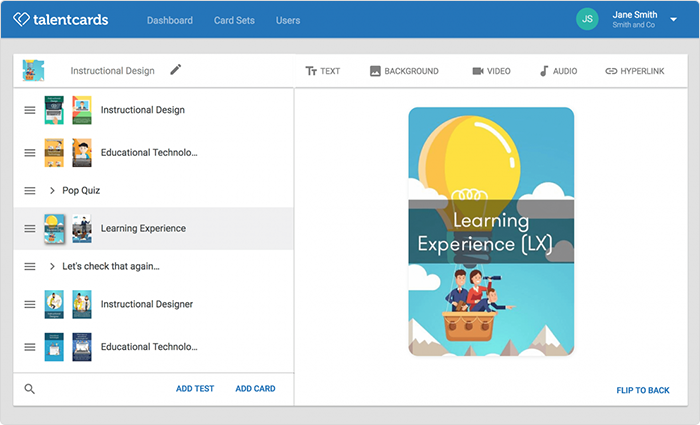 TalentCards is a microlearning solution that lets you shrink your training material into easy-to-follow cards. You can create card sets and fill them with text, images, audio, links, and videos. To assess your learners' performance, you can enhance the cards with multiple-choice tests. The solution has a leaderboard option that will help you gamify the training experience to encourage healthy competition among learners.
37. Oplift Engage
Oplift Engage lets your staff gain knowledge through microlearning courses. You can deliver the learning content in small chunks and add questions and tasks to assess your employees' skills. For successfully completed courses and quizzes, you can award your learners with Oplift's "Achievements." All the materials are stored in the knowledge base, which gives staff the ability to quickly search for anything they need to know at any time: the latest company news, product information, how-tos, and videos.
38. Learner Mobile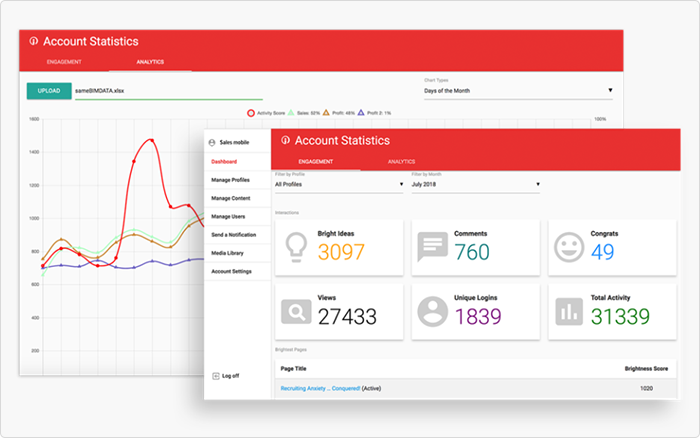 Learner Mobile is a versatile microlearning platform that allows you to create bite-sized computer-based content in a flash. With the ready-to-go templates, you can quickly build courses with videos, images, and quizzes, or upload existing SCORM courses. The platform has a crowdsourcing algorithm that analyzes the users' interaction with the content and pushes the best items to the top.
39. EdApp
EdApp is a microlearning LMS with an integrated authoring tool. Its microlearning is delivered via mobile devices, but works on desktops as well. EdApp's authoring tool provides you with a library of fully interactive templates. You just need to apply your branding and author your templates to construct lessons. You can create microcourses with your own videos, text, images, and quizzes that include different types of questions and assessments. The content can be integrated directly with EdApp's cloud delivery system or exported to SCORM.
40. Axonify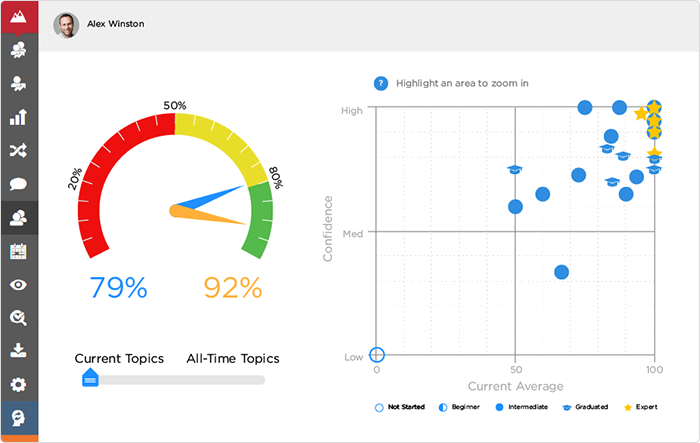 Axonify is a computer-based training software that provides tools and services to help create results-oriented microlearning. It supports a variety of content including video uploads, YouTube, Vimeo, third-party hyperlinks, images, and text. You can also create tests and quizzes and reuse existing SCORM or xAPI modules. The platform also integrates with a library of ready-to-go video courses, and has a team of instructional designers who create customized content for clients.
Video Training Tools
There are plenty of reasons to employ video for online learning. It makes material visual and easier to comprehend, thanks to combining audio recordings and images. Being the most popular medium for consuming and sharing information today, video needs to be recorded, streamed, and stored properly. Here are the video tools that make training effective.
41. Hippo Video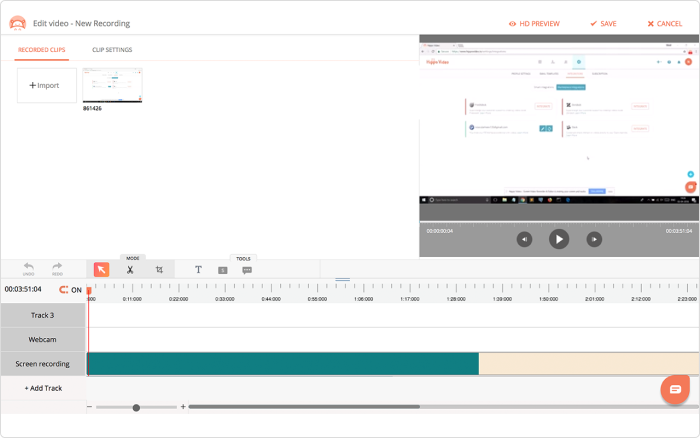 Hippo Video is an exceptionally handy computer-based training software as it works as a Chrome extension. You can record, edit, and share videos right from the browser directly to Google Drive, YouTube, Vimeo, or Google Classroom. Hippo Video can make a learning video portal with video notes to review and assignments to do. You can also import videos from other video hosting platforms such as YouTube and Khan Academy.
42. Cincopa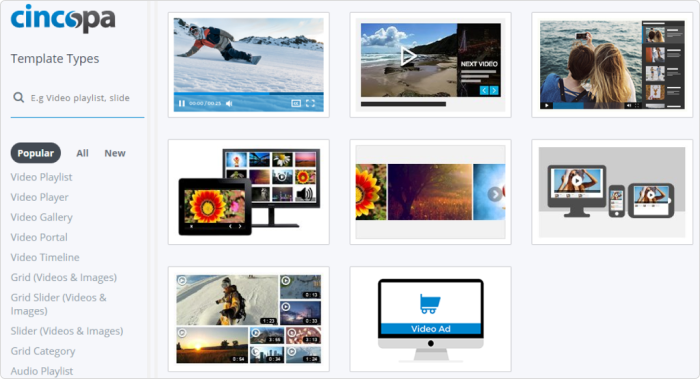 Cincopa is a media hosting platform where you can store, edit and share video content, but their solutions go beyond just video hosting. Thanks to API integration, you can make video applications and your corporate over-the-top media platform (OTT). With Cincopa's Video Portal, you can also start your own private YouTube Channel, create bite-sized videos, or make an internal mini-LMS. Integration to an LMS, video quizzes, and learner video submission are also at hand.
43. Kaltura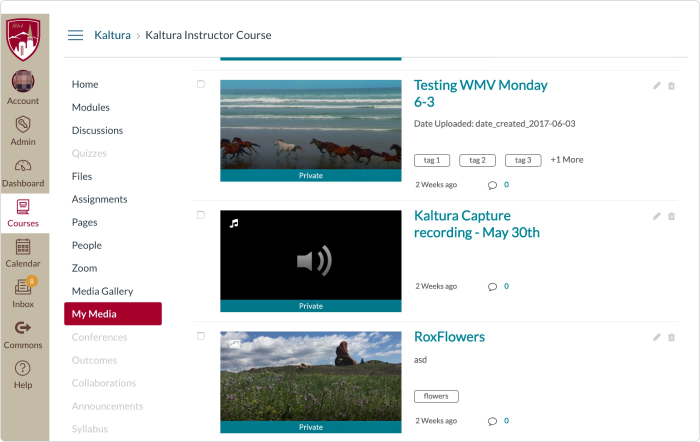 Kaltura MediaSpace Video Portal is a single open source platform for all video-oriented workflows. With its built-in Interactive Video Paths, you can create interactive videos with alternative scenarios, and your trainees will choose what happens next, thereby selecting their own learning experiences. Kaltura MediaSpace Video Portal is also highly helpful for webinars and creating online real-time collaboration spaces where an interactive whiteboard, shared meeting notes, chat room, translations, and a shared content playlist are provided.
Project Management and Planning Tools
Project management software and planning tools have become a must among small and medium enterprises. They range from conventional calendars in MS Outlook to advanced productivity methods such as Gantt charts and a Kanban card system. Below, we show you how familiar project management tools can be helpful for training needs.
44. Asana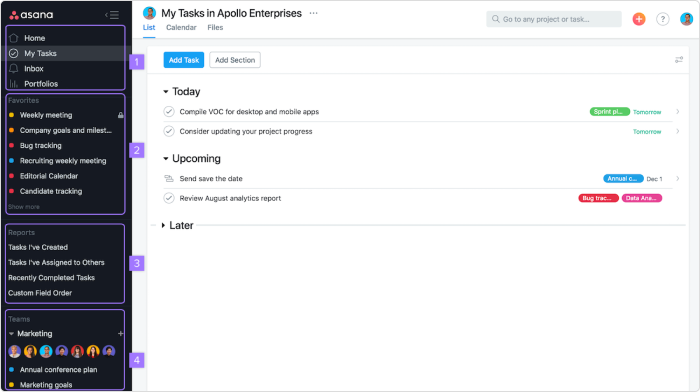 Asana is a well-equipped toolkit to plan and manage team projects and tasks in the way you prefer. With Asana, tracking, commenting, and accessing tasks across an entire enterprise are easy and clear. It is equally relevant for holding training and running courses. Asana not only helps you set deadlines, but also to never miss them. Here you can create special workspaces for team groups, extracurricular activities, and task forces. Inside a workspace, you can place various projects, choose project members, assign tasks, and make appointments.
45. Monday.com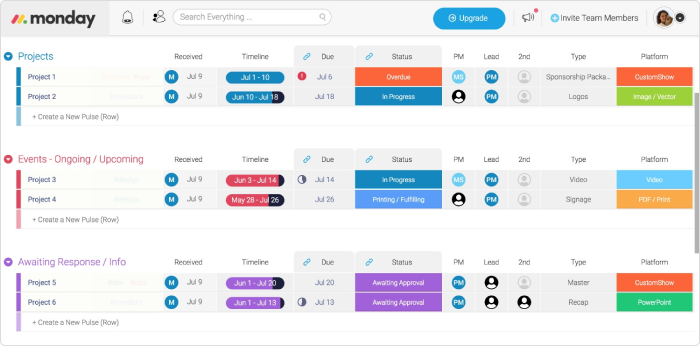 Monday.com is another work operating system to enhance your project management. It features a color scheme for managing tasks and is based on templates that make it a visualization tool. Monday.com can provide you with an agile readymade template for the onboarding process and serve as an efficient knowledge base library board. There you can organize workplace articles clearly by grouping them and getting the entire picture, set checklists, and your employees will definitely appreciate the useful search bar and board filter.
46. Trello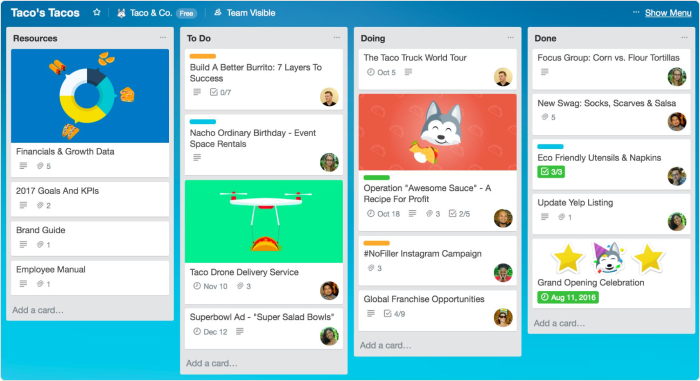 Trello is well known for its cards based on the Kanban system of planning and 'pipelines' that gather these card columns in a line. You can streamline onboarding in your enterprise with this tool by creating an "onboarding pipeline" board! Trello suggests the New Hire Onboarding sample as a base where you can arrange all the useful information in one place, write answers to typical first-day questions, give tasks to complete in the first week, and provide a company directory board or 'who's who' list.
47. Flock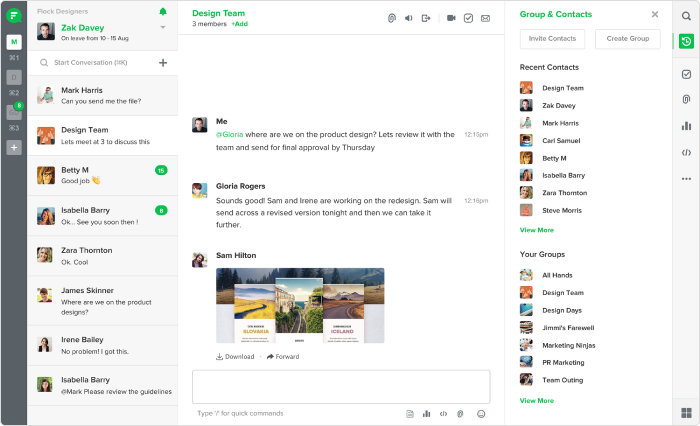 Flock is an interactive cross-functional dashboard that incorporates productivity tools to monitor progress and provides a built-in messenger. With Flock, you can make a personal dashboard for your employee, create and share important docs such as the employee handbook or L&D calendar, schedule video sessions, book boardrooms, and support your recruits with a thematic message channel to answer their questions.
48. Wrike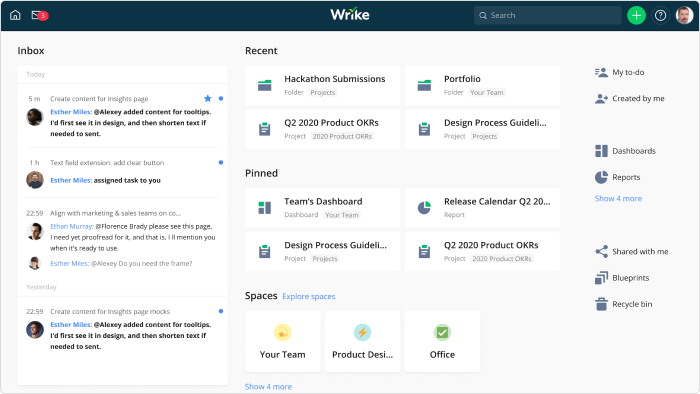 Wrike is an online project management platform that employs personal workspaces for each employee. Switching between your personal and team dashboards, you can track workflows, ongoing tasks, and complex projects in the task groups you belong to. Wrike is well known for making online onboarding smooth to set up and conduct. It provides the employee onboarding template that you can customize to fit your needs and education purposes. A good idea is to add to-do checklists and set 30-60-90-day objectives for your trainees to achieve.
Communication Tools
What are the tools to replace rigid corporate emails? How to break down silos? Especially when it comes to videoconferencing, the challenges of the pandemic created new opportunities and set higher standards for the quality of enterprise communication tools. Here are the solutions that have proved the most helpful in both communication and eLearning.
49. Zoho Cliq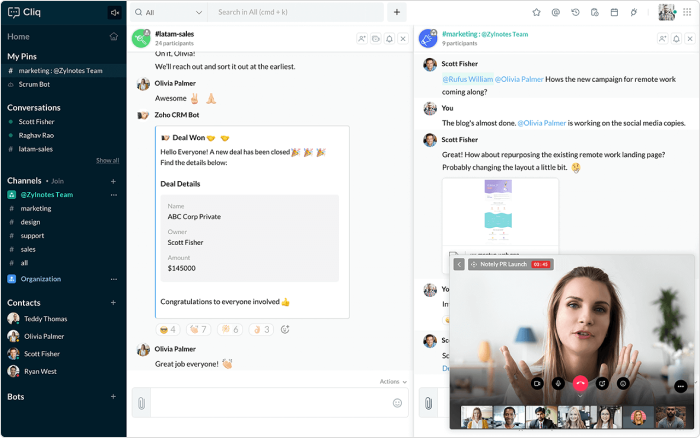 Zoho Cliq is a business communication software with instant messaging and much more. Well-structured conversations are accompanied by instant virtual meetings, hassle-free video calls, and whiteboard sharing. To engage trainees in discussions or check assignments, there are easy-to-create polls in chats and chatbots that you can adjust to your goals.
50. Rocket Chat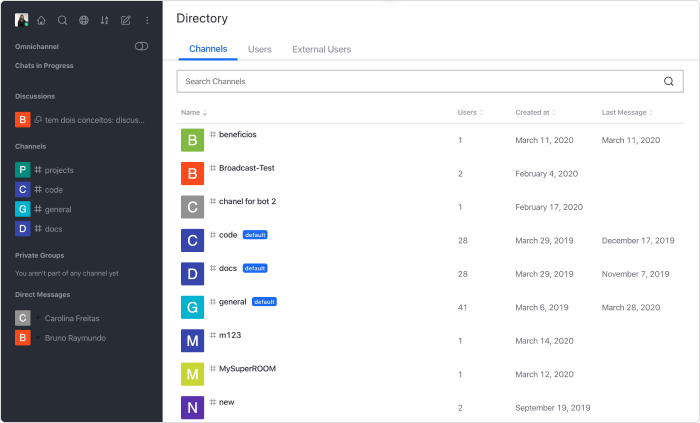 Rocket Chat is a booming open source tool for corporate communication. In Rocket Chat, you can create your own chat server, add teammates, organize chat rooms, and exchange all types of files. Every chat here offers an unlimited history of messages and files shared; you can also add a topic for discussion within the chat, or create a special place for tutoring, a discussion channel for work and study groups. Another feature is the ability to conduct virtual conferences for large groups
51. Slack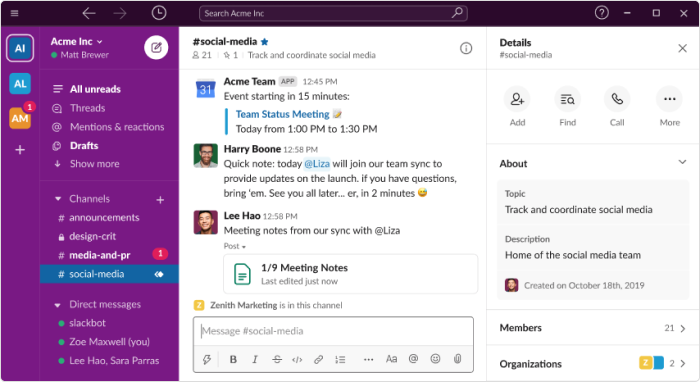 Slack also uses channels as an effective, streamlined learning space and a searchable archive. Thematic or class-based channels can be public and private, and you can connect with multiple organizations right from your channel. Slack is integrated with many popular tools, including Zoom and WebEx.
52. Workplace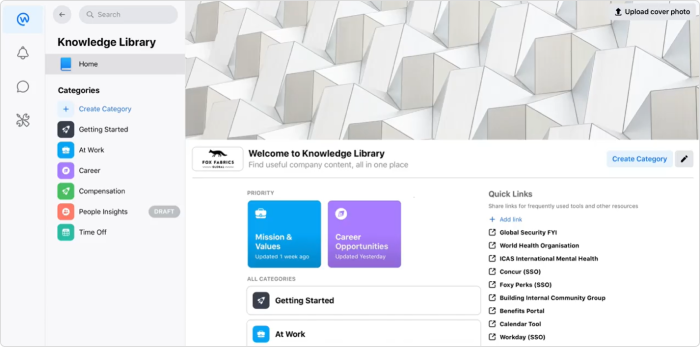 Workplace, offered by Meta (formerly Facebook), provides a collective knowledge base for an enterprise. It is always at hand near your chat threads, group posts, and live videos, and is a familiar tool for creating and organizing static content. You can spread up-to-date information in Groups and use the built-in Q&A feature when conducting streamed town hall meetings.
53. WebEx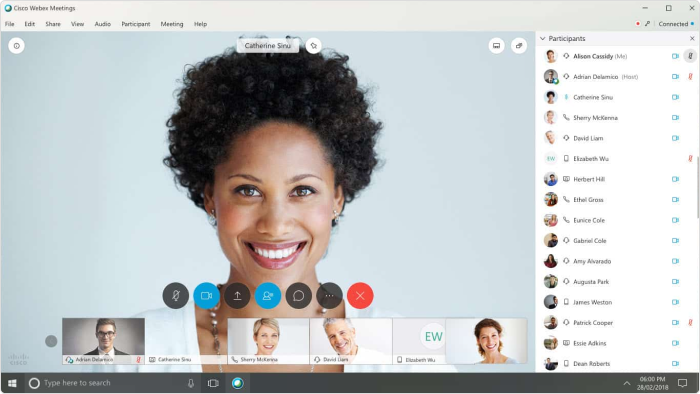 WebEx is computer-based training software for videoconferencing, online meetings, and screen sharing with up to 1,000 participants allowed. It works as a web, desktop, and mobile application, and integrates easily with Dropbox, Canvas, and Google Drive. Cisco Webex Training is a full-fledged cloud service developed specifically for online training methods. For example, it offers versatile video templates for your breakout work, brainstorming sessions, or quick catch-up sessions, and the built-in eCommerce tool allows you to charge for live or on-demand sessions.
54. GoToMeeting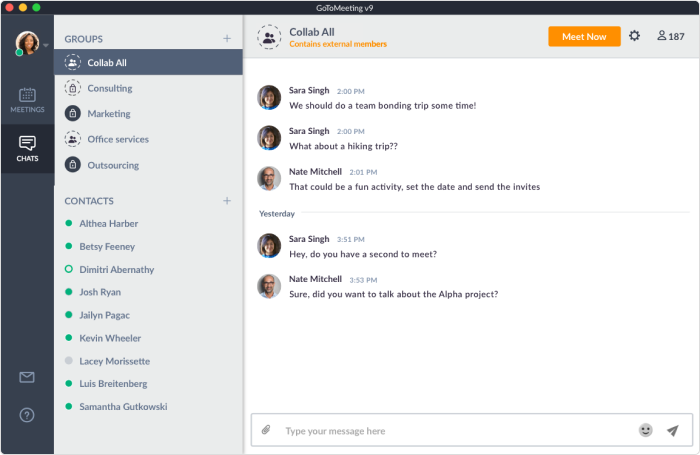 GoToMeeting is a set of tools that are well integrated with Office 365. Among them there's GoToTraining. With its help, you can start a secure web conference instantly with a voice command and even shift to it from your business chat anytime. While conferencing, an instructor can draw and highlight over screen share content in real-time, put the whiteboard over a video, and conduct breakout sessions to work in groups. After a meeting, a transcription will be available to search through and share effortlessly.
Finding the Best Computer-Based Training (CBT) Software
Of course, it might be challenging for you to choose the proper computer-based training software right away. So, here's a brief takeaway to make the choice between computer-based training tools easier for you:
If you're looking for a self-paced learning project and want to create content in-house, an LMS with an authoring tool will be a perfect fit. If you don't have the time or labor resources to make content on your own, an LMS with a built-in or integrated course library will probably be a better pick to launch a computer-based training program quickly.
Do you want to go virtual with traditional face-to-face training? See what Virtual Classrooms have in store. If your employees sabotage training or claim they're short of time for learning, provide them with easy portions of information by leveraging a microlearning platform.
In case you're planning to train your employees with the help of video, focus on video training tools. And don't forget about project management tools to keep things in order and communication software to ensure a good connection between students and an instructor.
Please let us know which computer-based training tools and software you like the most and the ways you use them for corporate training in the comment section below.
The Best Computer-Based Training Tools
To make your choice even easier, we've analyzed all the platforms and tools and highlighted the best computer-based training tools in each category. See our favorites:
| | | |
| --- | --- | --- |
| LMS with an authoring tool | iSpring Learn | The platform has powerful functionality, yet is easy to use, so it's a real pleasure to leverage it for any corporate training program. It comes with a built-in authoring tool for building simple courses and quizzes and is integrated with a robust authoring toolkit — iSpring Suite — that is a perfect choice if you need to create professional online courses. |
| LMS with a course library | BizLibrary | This LMS is a fine choice if you need ready-made learning content to start the training process right away. It comes with a huge collection of courses on various subjects, from business skills to HR compliance and industry-specific topics. |
| Online virtual classroom | VEDAMO | The platform has all the necessary functionality for conducting live online classes for up to 50 learners per session. It also serves as an LMS that allows you to manage your courses and learners. |
| Intranet portal | GreenOrbit | The software provides a complete set of intranet tools — group chats, forms, polls, onboarding, calendars, etc. It also enables you to publish company news and create learning content with preset templates. |
| Microlearning platform | EdApp | This microlearning platform is a good fit if you want to create simple microcourses and deliver them directly to learners' mobile phones. EdApp's reporting and analytics tools give you all the insights into how employees are learning. |
| Video training tool | Kaltura | Kaltura is a robust video training tool that allows you to create interactive videos with alternative scenarios. Your trainees can choose what happens next, thereby selecting their own learning pathways. |
| Project management and planning tool | Trello | This is an amazing tool that allows you to manage projects, organize tasks, and build team spirit — all in one place. It can also be a great help in training employees; for example, you can create "onboarding pipeline" boards for your new hires. |
| Communication tool | Slack | Slack is of great use for exchanging messages with coworkers. But it can be also leveraged as an effective, streamlined learning space and a searchable archive. |
FAQ on Computer-Based Training
What is CBT?
Computer-based training (CBT) is any course of instruction that is provided with the help of a computer. It can be synchronous when all learners meet in a single virtual classroom or asynchronous when each one is learning on a computer individually, at their own pace. A CBT course can be delivered via specific software installed on a single computer, over the Internet as web-based training, or through a corporate or educational intranet.
What is the difference between computer-based training and web-based training?
Web-based training (WBT) can be considered a type of computer-based training. Its peculiarity is that learning is delivered through web-based technologies. Most companies are opting for WBT because of a number of benefits.
Flexibility of learning: Learners can access training from any place at any time.
Accessibility on multiple platforms: Learners can study materials on any computer and even on their mobile phones.
Effective learning and retention: Training programs can easily be customized and tailored to a specific trainee, which makes them learner-centric and ensures better understanding and engagement.
What is the main objective of computer-based training?
As with any kind of training, regardless of the training methods it uses, CBT is aimed at helping learners gain necessary knowledge and skills. However, unlike traditional training, it allows you to launch a training program using computer technologies.
Conclusion
Computer-based training methods are a current trend that is unlikely to ever dissapear. This list does not include all computer-based programs, as there are many other training tools out there. We've tried to include the most worthwhile ones for you.
Please let us know which computer-based tools and software you like the most and the ways you use them for corporate training programs in the comment section below.