February 7, 2023
17 Microlearning Software Tools to Level Up Employee Training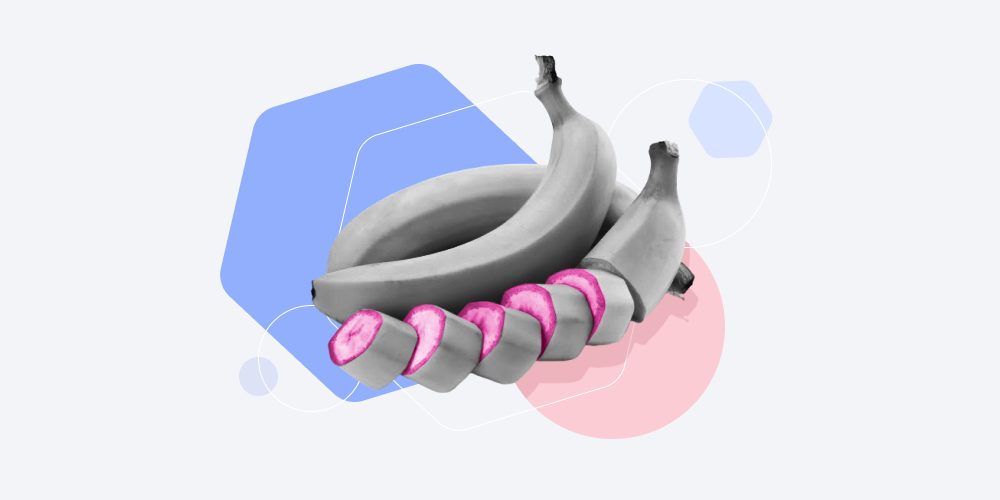 Are you considering using microlearning for employee training? Good call! Microlearning
is known for its short seat time and high efficacy and is loved both by trainees and trainers. But how do you know which microlearning software
will offer the biggest bang for your buck?
We have compiled 17 essential microlearning tools to improve your training experience. Check out our reviews and see which one suits you best.
1. iSpring Learn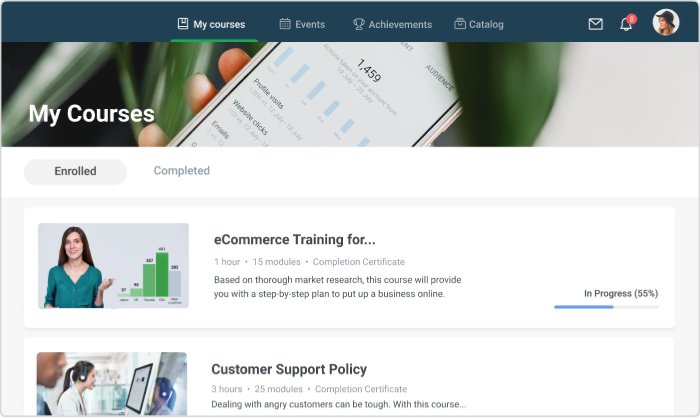 iSpring Learn is a microlearning platform that allows you to streamline
and automate workplace training. It has a built-in authoring tool that can be used to create responsive microlearning courses with knowledge
checks that work perfectly on smartphones and desktop. You can also upload ready-made SCORM-courses, PPT slides, videos, and other learning
materials to the platform, share them with employees in just a few clicks and then keep track of how your learners view the content. iSpring Learn
has a native app for iOS/Android that allows users to learn anytime and anywhere, even offline.
Pricing: Starts at $2.99 per learner for 50 learners/month. With more users, the price is reduced.
2. iSpring Page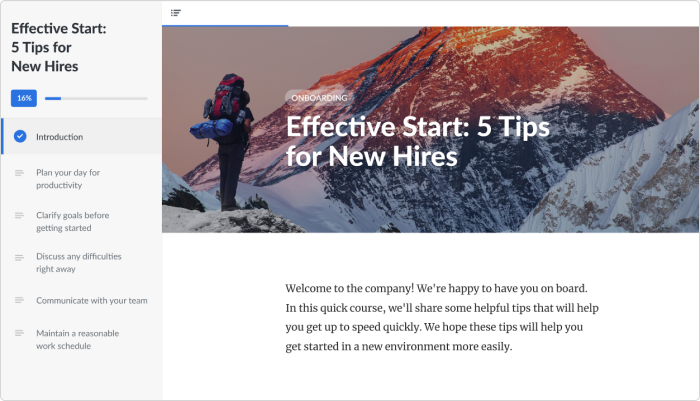 iSpring Page is a cloud authoring tool for microcourses. With Page, you can create
courses the same way you write a post on Facebook – simply type (or paste) in texts, add images and video, and click Publish. If you have
teammates working on the course along with you, you can share the content with your cocreators so they can edit text and customize the course
design. The tool allows you to publish content to SCORM or xAPI to upload it to an LMS and deliver to learners easily. Courses play
perfectly on all devices: smartphones, tablets, and laptops.
Pricing: $97 per author/year
3. EduMe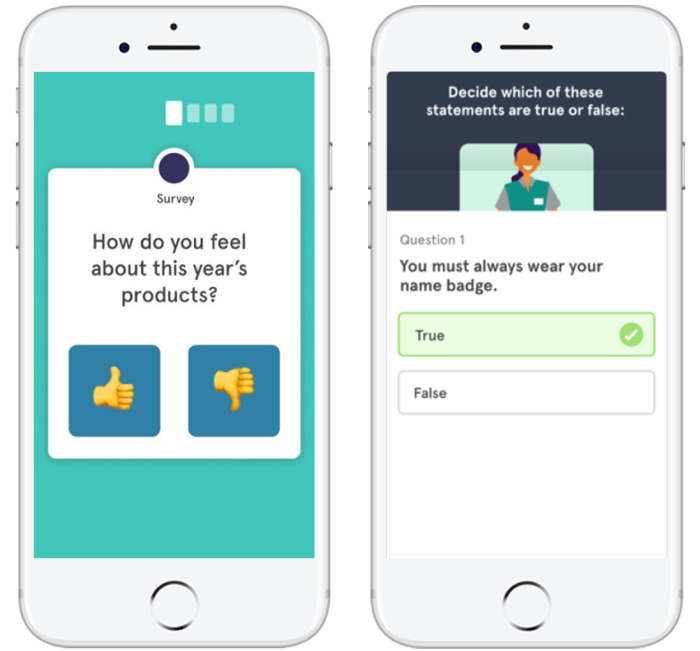 EduMe is a mobile-based solution that combines training and communication.
It has an easy-to-use content creation tool that allows you to build microlearning courses, quizzes, and surveys quickly. You can deliver EduMe
courses right to any of your employees' devices and monitor how they're progressing. The platform also includes a message authoring
tool that lets you easily create breaking news on products, campaigns, and learning opportunities and send them to your colleagues straight away
or schedule them for another time.
Pricing: Upon request
4. mLevel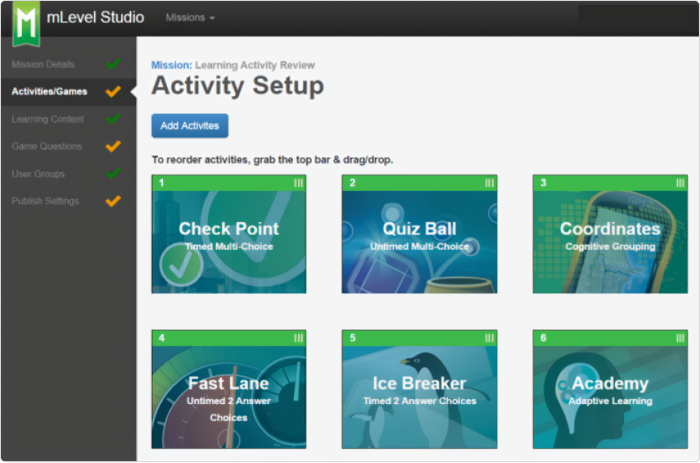 mLevel is a microlearning and gamification software that makes it
easy to build and share game-based learning activities. The authoring tool is completely templated – you can create games, flashcards,
simulations, role-plays, and more with no coding. The platform also supports gamification – it allows for stars, badges, and leaderboards,
to ignite employees' competitive spirit. To check how well your team members are learning, you can generate reports that let you drill down
into individual learners and user groups and see data by course, topic, or question.
Pricing: Upon request
5. Learner Mobile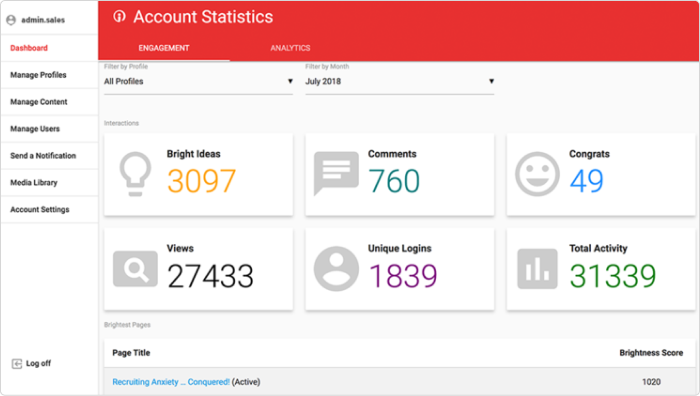 Learner Mobile is a user-friendly platform that is focused on
snappy learning content creation and delivery right to employees' mobiles. With ready-made templates, you can craft bite-sized lessons with
videos and images and build engaging quizzes. Plus, you can import SCORM courses and keep track of your learners' activity and results. The
platform also has a flexible 'up-to-you' award functionality that applauds employees for their achievements. Peers can also
congratulate each other for a job well done.
Pricing: Starts at $1500 per month for up to 500 users
6. EdApp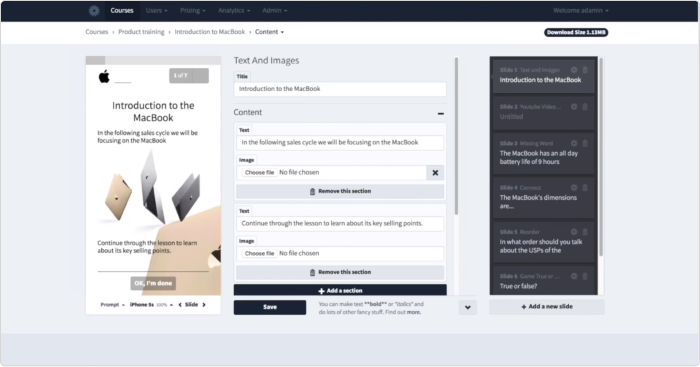 EdApp poses itself as a mobile-first LMS but it also works perfectly
on desktop. You can design engaging microlearning lessons with its cloud-based authoring tool. To do this, you simply need to choose the
responsive template that suits your learning needs and populate it with content: videos, texts, and images. You can export the content to SCORM or
integrate it with EdApp's cloud delivery system. If you're an international multilingual company, you may benefit from EdApp's
cloud translation feature that lets you get a course translated within seconds.
Pricing: Starts at $3.95 per user/month. There's a free version for those who contribute all their courseware to the EdApp
content library.
7. Oplift Engage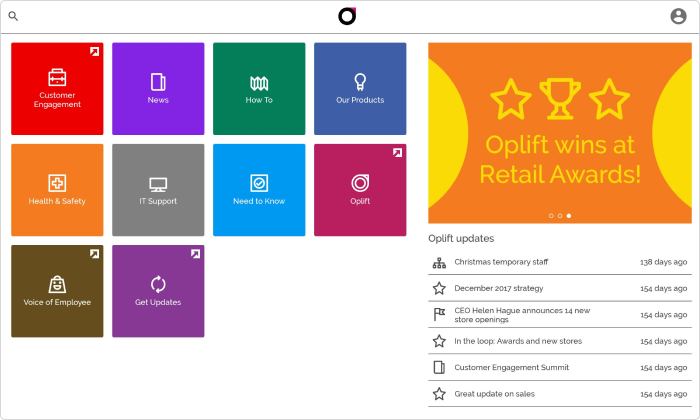 Oplift Engage is an online platform that combines microlearning, a
knowledge base, and employee recognition tools. You can cut the learning content up into small units and add assignments to assess your employees'
knowledge. After your team members complete a course, you can award learners with virtual achievements to encourage them to succeed even further.
All training materials are stored in the knowledge base, so everything they need to know is always at their fingertips.
Pricing: Upon request
8. Grovo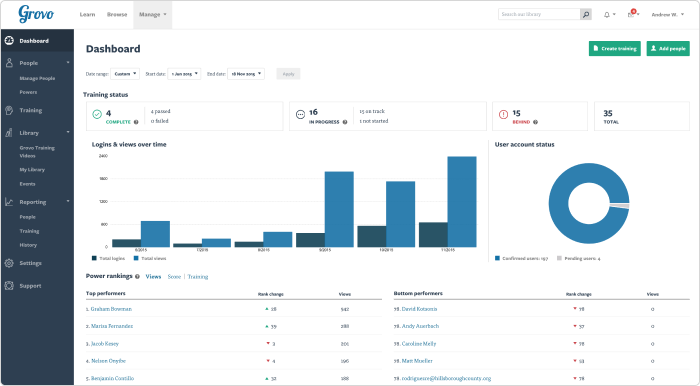 Grovo makes it easy to find,
create, and deliver microlearning experiences. It has an extensive microlearning library that offers 2500+ lessons on demand on business,
compliance, personal development, and other timely topics. You can take them as they are, off the shelf, tailor them to your needs, or build new
courses from scratch using ready-to-go templates. You can also upload SCORM courses and PPT presentations and export Grovo content to AICC to port
it to another LMS.
Pricing: Upon request
9. OttoLearn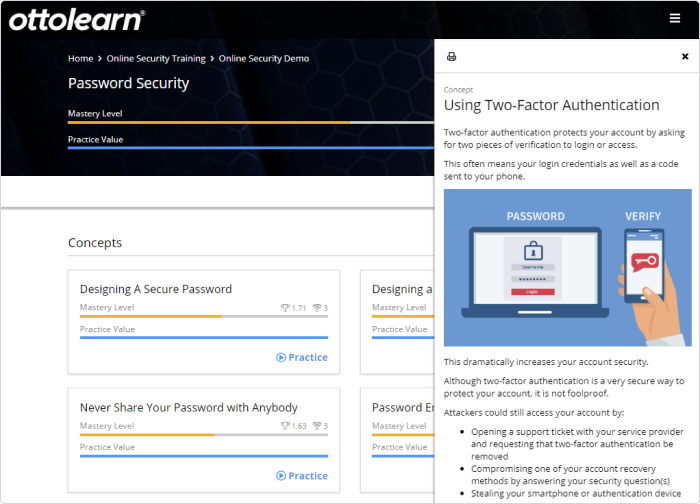 OttoLearn represents itself as an agile microlearning platform. It
delivers bite-sized content to learners paired with knowledge cards for performance support. The platform promotes adapted training, which means
you can assign your employees Mastery Goals for specific knowledge areas, and OttoLearn will continuously modify the training plan to adjust to
the performance of each learner. Everyday users are prompted to take part in Mastery Moments™ that involve them in a 2-minute set of
activities created to identify and fill knowledge gaps.
Pricing: There are two types of pricing plans. User-based plans (that depend on the total number of users) start at $100 for up to
50 users. Usage-based plans (that depend on the total usage across an unlimited number of users) start at $100 for 10,000 activities.
10. Surge9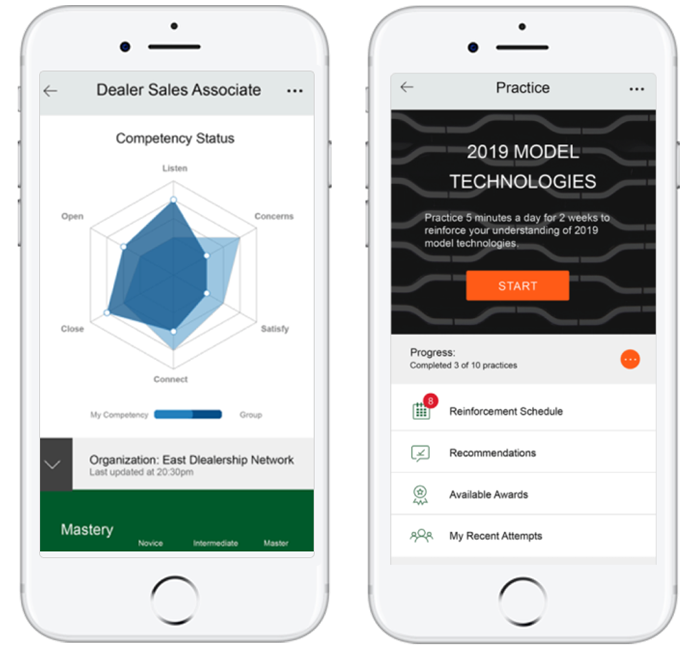 Surge9 is an online tool that combines software architecture, advanced
analytics, artificial intelligence, and easy content authoring to deliver microlearning programs to audiences. It provides a variety of content
formats like microcourses, flashcards, daily practices, and questions. To boost employee engagement, you can also use comprehensive coaching,
learning reinforcement, and gamification options. The Surge9 AI engine is designed to track each employee's retention and assemble
personalized practices to improve their long-term mastery.
Pricing: Upon request
11. Master-O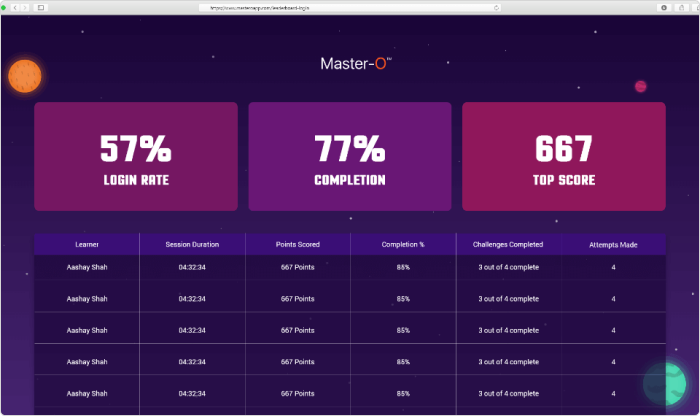 Master-O is a mobile solution built specifically to make learning
engaging and effortless. It is focused on creating learning content as Microskills. You can take your existing PowerPoint presentations, SCORM or
xAPI courses and reimagine them through game design. Master-O comes with a built-in library that contains 47 Microskills on customer service,
sales, personal effectiveness, and leadership development. All the learning content is blended with behavioral psychology and game design.
Pricing: Upon request
12. Oust Labs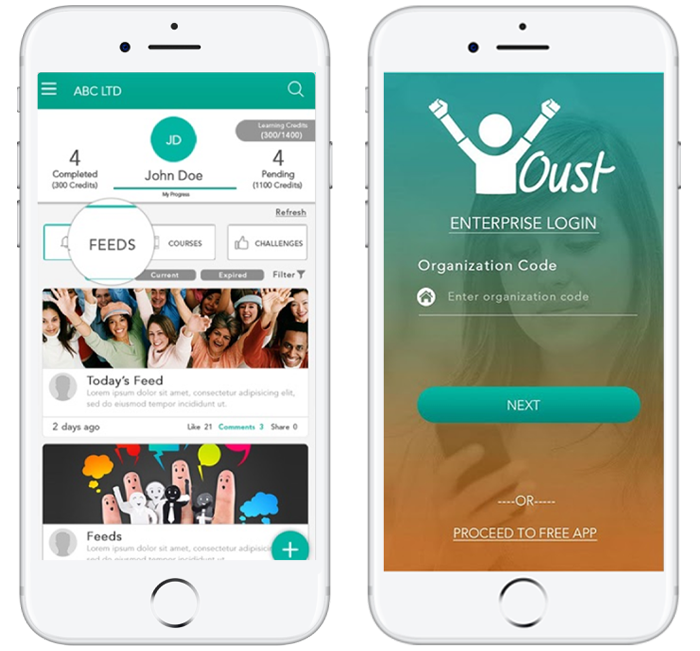 Oust Labs is a mobile-first microlearning platform designed to help
employers train their staff in an engaging way. It consists of a web app, mobile apps for both Android and iOS, and an authoring platform for
creating learning content. Oust allows you to deliver voluminous content in the form of short gamified microcourses. The entire learning process
on the platform is built around principles of gamification. Learners earn coins and badges that can be exchanged for gifts or cash.
Pricing: Upon request
13. ShotClasses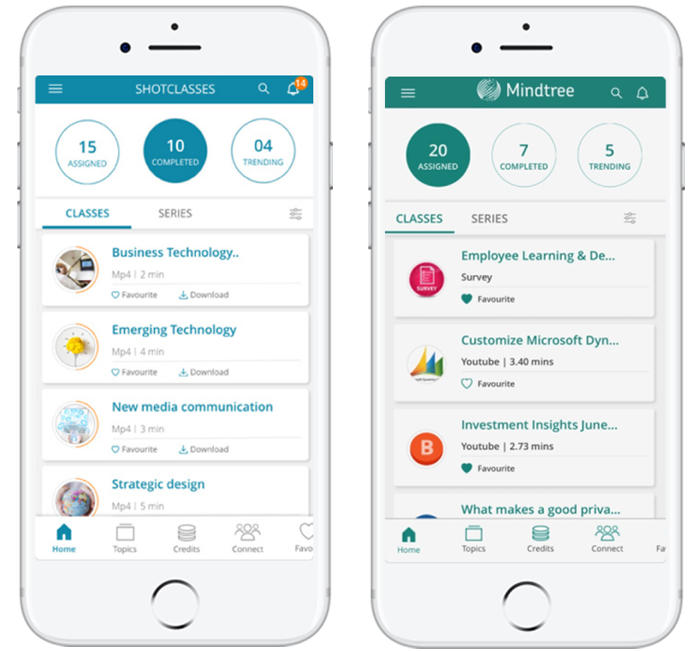 ShotClasses
is another mobile microlearning platform that reimagines enterprise learning and communication. It allows you to quickly create micro lessons from
PPT presentations, PDF files, SCORM content, and YouTube videos, build quizzes for knowledge checks, and collect employees' feedback on
training for potential improvements. Learners can view content with a click of a button on their smartphones. ShotClasses makes the learning
process even more engaging by using leaderboards and providing learners with the ability to share user-generated content.
Pricing: Upon request
14. ConveYour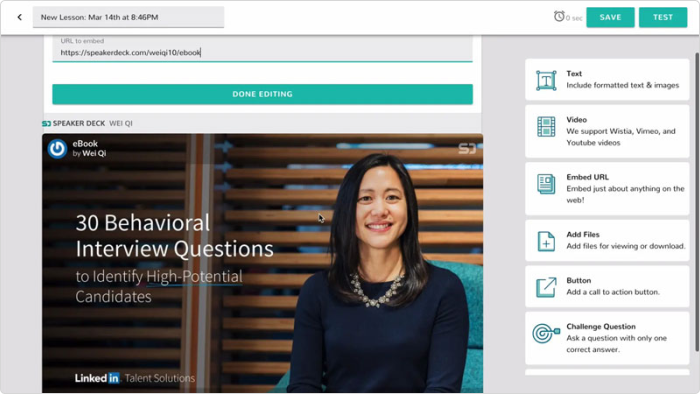 ConveYour is a fully customizable microlearning software made
specifically to train field/sales professionals. You don't need any technical background to create personalized, branded training. With a
simple drag-and-drop interface, you can easily repurpose existing learning materials and transform them into microlearning modules or craft
adaptive microcourses from scratch, automatically drip feed content to your team at the right time and measure your employees' performance.
Pricing: Upon request
15. TalentCards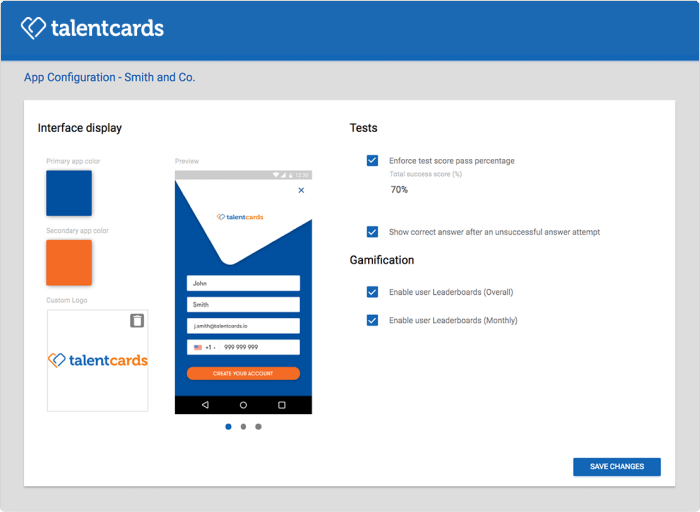 TalentCards is designed to communicate information in small,
memorable units. It enables you to create easy-to-follow learning cards that your employees can study on their mobiles whenever they want,
wherever they are. You can extend the card sets with multiple-choice tests to check your learners' knowledge and then track their activity,
progress, and completion with simple comprehensive reports. TalentCards combines training with gaming – it encourages users to compete for
points, boosting their engagement.
Pricing: Starts at $49.00 per month for up to 50 learners. There's also a free version for up to 5 users.
16. SparkLearn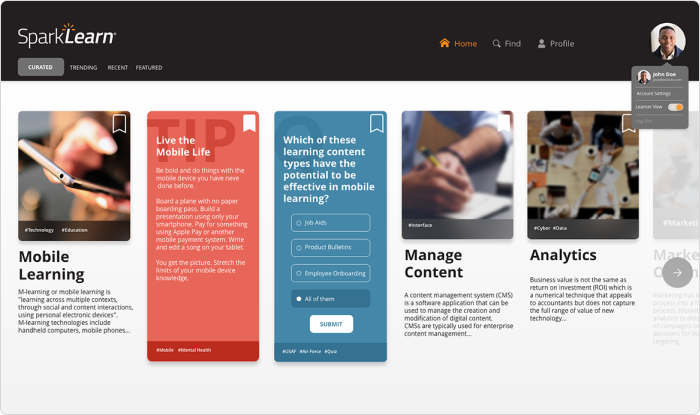 SparkLearn is designed to efficiently manage, deliver, and
measure microlearning content for companies. It consists of a flexible content management system that enables you to deliver learning resources
easily and an intuitive mobile app for viewing content. You can upload existing eLearning courses and add rich media and documents for your
learner audience's quick access. The platform supports most analytics platforms and integrates with all xAPI LMS and LRS platforms.
Pricing: Upon request
17. InTeach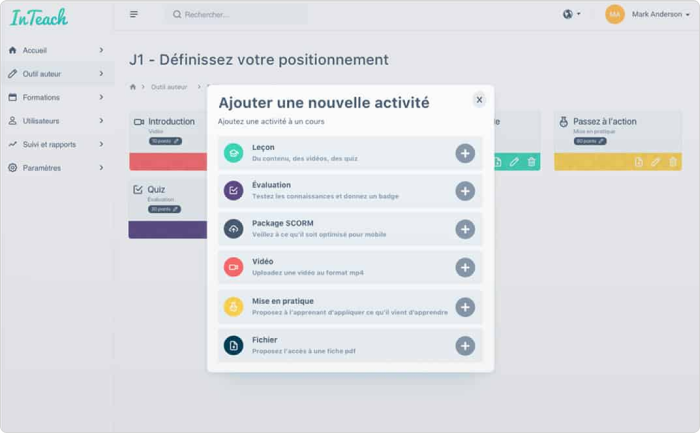 InTeach is a mobile learning platform specifically created
for microlearning. It provides all the necessary tools to infuse life into training and gamify the content. You can build microcourses, assign
them to your staff, and measure the results of your training with advanced reports. You can also increase learner engagement through gamification
and social learning. Chat, wall, comments, likes, challenges, points, and badges are some of the motivating engines that InTeach provides.
Pricing: Upon request
To Sum Up
As you can see, many of the platforms covered in this article are very similar to each other, although some have outstanding features. We hope this
overview has given you some inspiration for choosing the microlearning software tool that might be right for your business. If you have any
suggestions or know of other great solutions for delivering bite-sized learning, please feel free to add them in the comment section below.