May 21, 2022
Web-Based Training for Employees: What, Why, and How?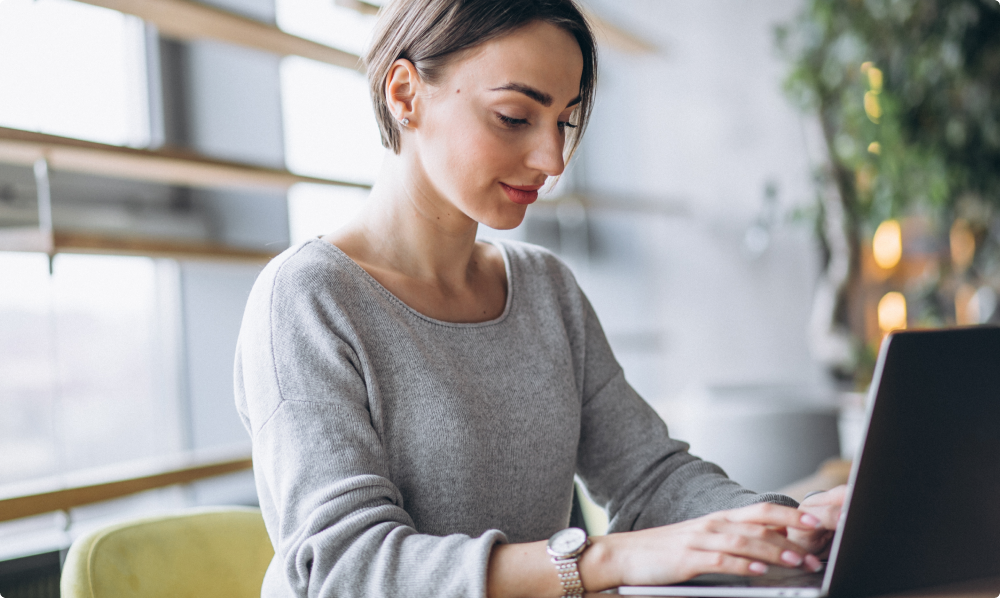 Do you want to bring your employees up to speed on new products? Do you need to educate your colleagues on how to work with new equipment? Or are you going to get started with new hire onboarding in your company? Employee training and development can be costly and difficult to organize and manage. However, continuous improvement is inseparable from any successful business. For these reasons, it's no wonder that web-based training is taking workplaces by storm!
Change is difficult and often met with resistance. If you're seriously considering a shift from in-person to web-based training for your company, you might be intimidated by all the unknowns and uncertainties. In this article, we're going to eliminate any confusion you might have about:
What Is Web-Based Training?
Web-based training (WBT) is any form of training that is delivered online. Other terms include internet-based training (IBT), eLearning, and distance education. WBT allows for unparalleled flexibility – anyone, anywhere, at any time, can access your course content or training programs. Learning occurs independently of time and space. As a result, WBT is one of the most convenient, cost-effective, and flexible methods of training available, especially for large, multinational companies. 
Types of web-based training
There are three main types of web-based training:
1. Synchronous web-based training is most closely related to in-person training – they're both instructor-led and involve real-time interactions with learners. However, with synchronous web-based training, while the instructor and learners need to be online at the same time, teaching and learning occur in different places. Synchronous learning includes online tutoring, lectures, peer meetings, webinars, and teleconferencing. Training can be delivered to one or more learners at a time who may or may not be in different places.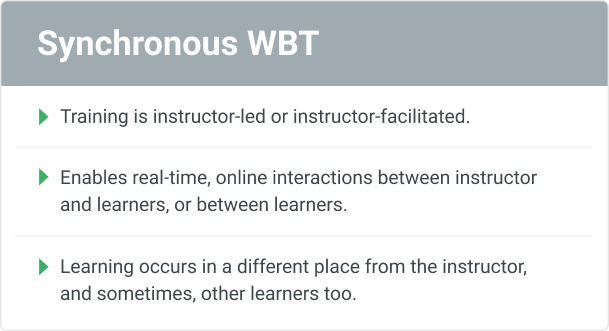 2. Asynchronous web-based training is standard in the eLearning realm, as it affords the most flexibility. As the content is purely digital, learners can progress through training programs at their own pace and convenience. There is no "real-time" element to asynchronous training, which comes in many formats, such as eLearning courses, video tutorials, screencasts, readings, pre-recorded webinars, or some combination thereof.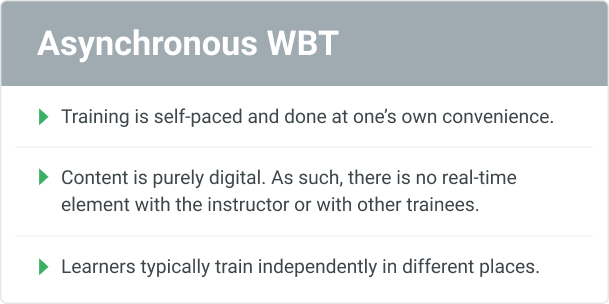 3. Blended web-based training combines elements of both synchronous and asynchronous learning. For example, the first half of a course for massage therapists might contain theoretical knowledge, such as anatomy and physiology, while the second half might contain hands-on elements that require learners to physically demonstrate their technique. In this case, they can learn about anatomy and physiology asynchronously while synchronously demonstrating their hands-on skills to an instructor either online or face-to-face.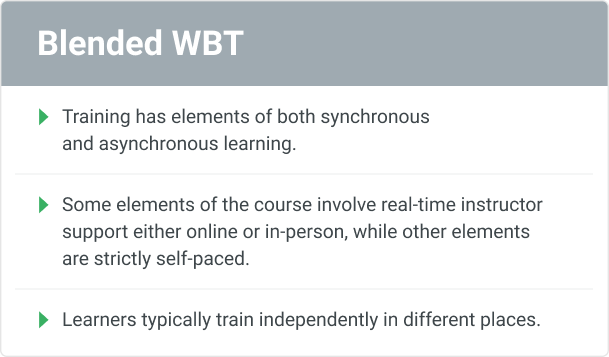 Benefits of Web-Based Training
Companies that embrace web-based training reap the best of both worlds. They substantially reduce costs while simultaneously maximizing their employees' learning potential. Let's focus more on some of these benefits.   
Flexibility
As mentioned, one of the greatest benefits of web-based training is that it is supremely flexible. Your employees – no matter where they're stationed – have the luxury of learning at their own pace. Whether they're hoping to put in long 5-hour sessions once a week, or bursts of one-hour session five times a week, they can mold the training however needed to fit it into their schedules. Moreover, employees can maximize their learning potential by training in their ideal environment(s). 
Cost-effectiveness
Not only do you eliminate disruptions to your employee's personal lives – making them more motivated and cooperative in the learning process – but you also eliminate disruptions to regular business operations. Long gone are the days in which you'd have to shut down business operations once a year for annual training seminars. No more footing the bill for employee travel costs and time. What's more, WBT can easily be recycled, repurposed, or updated for new onboarding and future training programs.
"IBM offers five times the content it did prior to eLearning at one-third of the cost and saves $200 million annually, according to Brandon Hall from research of eLearning practices at IBM."

Luther Tai (2008 cited Verespej 2001)
Higher learning potential
Everyone has their own learning style. Some learn best by reading, while others work best with visual media, such as videos and infographics. Nonetheless, most people don't fit into one learning style – most people learn best when presented with a variety of multimedia. This way, your brain can embed information via different sensory channels, such as sight, hearing, and even touch. This multi-channel embedding reinforces their learning. 
The learner-centered approach of WBT heightens interactivity and thus draws learners in. Most notably with asynchronous WBT, your employees will have the time to ponder and reflect on the questions and activities posed in training in greater depth. 
A general rule, based on the psychology behind learning behaviors, is that adults are extra motivated when they feel in control of their training.
"According to Dale Carnegie, companies with engaged employees outperform those without by up to 202%."

–  Rhett Power Head coach, Power Coaching and Consulting
Effective across all disciplines
Whatever field, discipline, or industry you work in, where there's a business, there's much to be learned. While certain industries lend themselves to more hands-on training, such as construction and manufacturing, the right web-based training software will enable you to incorporate simulations and branched scenarios to bridge any hands-on knowledge gaps. Technology, coupled with the type of web-based training you choose (e.g., blended), opens the door to all kinds of training possibilities. 
Now that we've established the many advantages of WBT, are you convinced of its merits yet? If so, keep reading!
"40% of Fortune 500 companies use eLearning for professional development with over 72% of American organizations believing eLearning gives them a competitive advantage."
How to Develop Web-Based Training
Follow these 7 steps to create powerful and engaging web-based training for your workplace. 
Step 1. Set learning goals
To give your training program focus and direction, you first need to define a goal. What business challenges is your company facing? Which ones can be solved with training? What specific learning objectives or outcomes do you hope to achieve? 
When setting learning goals for your company and learning objectives for the trainees, make sure that the goals are Specific, Measurable, Achievable, Relevant, and Time-Bound. That way, it will be easier to track and analyze your progress. 
Step 2. Understand your audience
By observing and understanding your employees' needs, you'll be able to design training that seamlessly integrates into their routines and enhances the learning experience. Put in the time and research to assess your employees' existing knowledge base, technological savviness, and how the training will help them fulfill their roles. 
The more you understand your audience, the more you can tailor the training program to their unique needs. The last thing you want is a course that's too easy, too difficult, or worst of all… irrelevant.
Step 3. Build an effective team
Now that you've established your learning goals, audience profile, and learning objectives, you'll need a team to help you with the implementation process. Key players on a learning and development (L&D) team include:
Stakeholders. They visualize and initiate the project, and therefore, are involved in the web-based training development process every step of the way, making critical decisions to ensure the project stays on course. As such, they usually hold positions of authority, such as department managers, training managers, and even CEOs. 
Project managers. They focus more on the logistics of web-based training. They look at the project from a systemic viewpoint and plan the process from beginning to end, breaking it down into milestones and assigning the deliverables to relevant team members. They're not involved in the actual web-based training development; rather, their hands are tied with keeping the team on-track while minimizing costs, maximizing benefits, and reducing the risk of failure. 
Subject matter experts (SMEs). These knowledge specialists draft or provide raw content for your course developers (i.e., instructional designers). As their knowledge and skills are highly specialized, instructional designers often call upon them for their expertise or clarification. 
Instructional designers (IDs). IDs are the architects of learning experiences, and thus, have a wide array of decisions to make about how the course will be delivered. Being well-versed in adult learning and course design theories, they help determine the learning goals, create the training materials, and develop the course. 
LMS administrators. LMS admins come into the picture post-training development. At this point, the training program has already been delivered to the employees, and the admin's role is to assign them their respective courses. Their role also entails adding new users and tracking trainee results. LMS admins might also liaise between technology experts and project managers to resolve any technical issues. 
Step 4. Select Web-Based Training Software
To launch web-based training, you need specific software. There are two absolute essentials – web-based training authoring tools and learning management systems.
Web-based training authoring tools
WBT authoring tools are software programs that enable you to create multimedia-rich eLearning courses that are easy to distribute over the web. However, not all authoring tools are made equal. Some are powerful content creators yet terribly complex and convoluted, while others are laughably simplistic yet painfully low in functionality. 
With iSpring Suite's authoring toolkit, you can have your cake and eat it too. Because iSpring Suite is a PowerPoint-based toolkit, you won't need any training to navigate the software. You can easily convert your PowerPoint presentations into highly-interactive eLearning courses, or build courses with quizzes, screencasts, dialogue simulations, and interactions from scratch. 
See how a course created with iSpring Suite looks: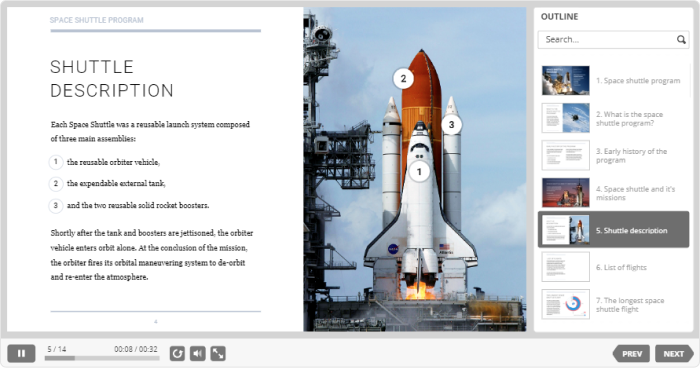 Learning management system (LMS) 
An LMS helps automate different aspects of the training process and allows you to distribute training courses to your employees across multiple devices. You can add employees, assign courses to them, and track employee progress. But there are literally hundreds upon hundreds of LMSes on the market. So, how do you choose the right one?
It all comes down to features and functionality. Ask yourself the following questions:
Does it support synchronous and/or blended learning?
Is the LMS mobile responsive so learners can flawlessly access the content across multiple platforms/devices?
Will my employees be able to do their training offline?
Is this LMS capable of "playing nicely" with my content?
Is it SCORM-compliant?
Does it have 24/7 live technical support?
With iSpring Learn, the answer to all of the above is yes. And because it is SCORM-compliant – one of the most widely-used technical standards in the industry – it works with almost every authoring tool on the market.
Also read: 
To learn more about how to choose a learning platform, read our LMS selection guide and guide on how to create an LMS RFP.
Step 5. Create the right content 
Do you have pre-existing content from older training programs that you'd like to revamp or repurpose for web-based training? Or will your SME and instructional designer need to develop it from scratch? Regardless, creating the right content involves separating what's necessary from what's irrelevant or superfluous. 
This section of the article describes how to create high-quality eLearning courses.
1. Gather and structure the content
Let's say you have defined a topic for your e-course and know what your employees should be able to do when they complete this course. At this stage, you should decide what components you need to include to tell the story of your course. For example, do you need any images, graphics, charts, audio, video, software simulations, etc.?
2. Create a storyboard
Before moving onto course authoring, everything needs to be mapped out onto a storyboard. A storyboard is a rough outline of how the text, visuals, and other elements of each slide or frame will be arranged. It is the architectural blueprint of the course and contains details such as audio, on-screen text, graphics, and navigation suggestions. 
Storyboards are invaluable for learning and development teams because they:
Help devise a clear plan for project management;
Place everything in sequence and paint a bigger picture;
Ensure that everyone's working towards the same vision; and
Show previous and current revisions and suggestions.
When the whole team is on the same page, it minimizes delays, misunderstandings, and keeps the team on a forward trajectory.  
3. Build an eLearning course
Once the storyboard has been approved, it's time to execute the instructions laid out in the storyboard using an authoring tool. Depending on the extent of the multimedia used, you might need to coordinate with a video producer, a graphic designer, and a voice-over artist to keep the whole team efficient, productive, and on-schedule. But that's not really necessary. For example, with iSpring Suite, you can make professional videos and record high-quality narrations even without having special skills.
4. Add assessments
Assessments are an important interactive feature of any training program. First, it allows learners to keep track of their progress and motivates them to work harder. Second, it helps you to evaluate the efficacy of your training program. 
WBT enables you to deliver knowledge checks online with automated grading and feedback. And, depending on the web-based training authoring tool you choose, you can gain access to a wide selection of quiz types. For example, iSpring Suite's authoring toolkit contains a QuizMaker feature that gives you 14 quiz types for the ultimate flexibility:
To delve deeper into the course creation process, read our guide on how to make online eLearning courses.
Step 6. Test quality assurance
Few things damp a learning experience more than navigating a counterintuitive and frustrating user interface. To ensure optimal user experience, you'll need to evaluate aspects of your training program such as its ease of navigation and clarity of instruction. If your aim is to close knowledge and skill gaps, then these operational elements should be so transparent that it's second nature to a first-time audience. 
Determine all the possible learning paths a trainee might take and follow each one while logging any errors and reporting to the appropriate personnel. Keep repeating this quality assurance process until you've documented and fixed all known errors. As you'll be delivering the course via an LMS, we recommend that you go through a two-tier evaluation process. In other words, conduct an evaluation before and after the course has been integrated into an LMS, as both stages can present distinct challenges. 
Web-Based Training Best Practices
Do you have existing training materials that you'd like to adapt to the web? Can you think of any current business problems that can be improved upon with training? In this section, we'll describe 6 common cases for web-based training.
Onboarding. New employees have the widest knowledge gaps to fill. However, WBT can quickly bring them up to speed, thus reducing the costs associated with turnovers, retraining, and lower productivity.
Also read: Remote Employee Onboarding
The Bottom Line
We hope this article has answered most of your questions about web-based training. If you still have any questions, please add them in the comments below and we'll be glad to help you find an answer.
What's next? It's time to get your feet wet – commitment-free – by subscribing to the iSpring Learn LMS free trial and downloading the iSpring Suite demo version!