June 20, 2023
The 7 Best Employee Training Software to Empower Your Workforce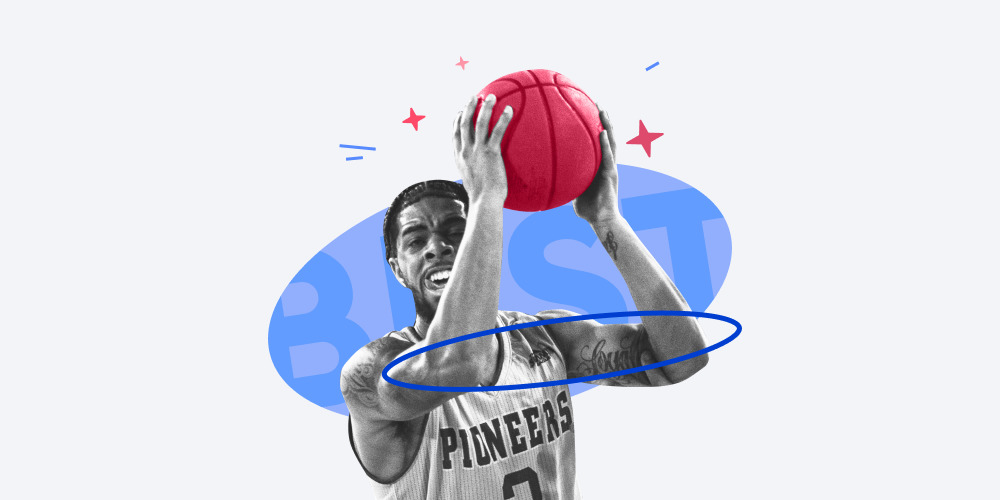 In a rapidly evolving business landscape, nurturing an adaptable and skilled workforce is crucial to maintaining a competitive edge. Yet, the transformation from an average employee to a top performer isn't magic — it's the result of comprehensive, efficient, and continuous training.
The foundation of such training often lies in leveraging effective digital employee training software. We've performed extensive research to help you find the best solutions for organizing employee development and foster a culture of continuous learning in your organization. Keep reading!
The 7 Best Employee Training Software to Consider in 2023
This list includes different award-winning online training tools, from learning management systems to digital adoption platforms and course libraries. Click on any tool that grabs your attention, or continue reading to get the scoop on each one.
A quick overview of all the employee training software

| | | |
| --- | --- | --- |
| Tool | Best for | Rating out of 5 (from G2) |
| 1. iSpring Learn | All corporate training scenarios from new hire onboarding and product training to sales and compliance training | 4.6 |
| 2. TalentLMS | Training various audiences and selling online learning courses under one roof | 4.6 |
| 3. LearnUpon | Blended employee training programs and training various audiences | 4.6 |
| 4. Whatfix | Digital onboarding and new employee adaptation | 4.6 |
| 5. Docebo | Long-term learning programs or training over 300 employees on a daily basis | 4.4 |
| 6. Litmos | Compliance training | 4.2 |
| 7. Skillsoft | Ready-made courses for personal and professional development | 4.2 |
1. iSpring Learn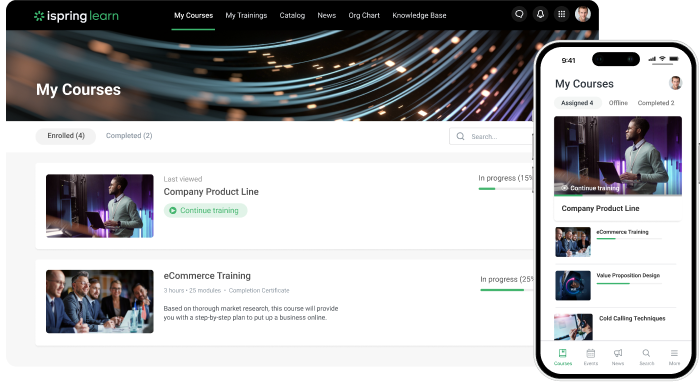 iSpring Learn is a cloud-based learning management system that takes the top spot in our ranking. Behind the minimalist, intuitive interface is robust functionality that allows you to implement any training scenario, from new employee onboarding to compliance training.
You can deliver standalone courses or merge them into a comprehensive employee training program. Assign online courses to all employees, or group them by location, job role, or department for more targeted learning. The platform handles all routine tasks: notifies employees of new courses, reminds them of deadlines and upcoming events, and even reassigns courses over time as needed.
What sets this platform apart from many of its competitors is its strong interactive content creation capabilities. It comes bundled with iSpring Suite, the best training module software that lets you create interactive courses, quizzes, role-plays, or even record professional video lectures and upload them to the LMS seamlessly.
Pros:
Well-designed, intuitive user interface
Real-time analytics and over 20 reports on the training progress of entire teams or individuals
Structured, easy-to-follow learning tracks
The opportunity to build courses directly on the platform or with a bundled authoring toolkit
Native mobile apps for iOS and Android
Excellent Customer support 24/7 via phone, chat, or email
Cons:
A 50 GB limit for content storage in the Start plan
No xAPI, PENS, or LTI support
Why we picked it
iSpring Learn is a complete training solution for both creating professional eLearning content and effective employee training management. Thus, it provides everything you might need from an LMS.
Pricing
Cost will depend on the type of subscription you choose and the number of active users. The Start plan includes the core LMS features and costs $2.29/user per month (per 300 active users). The Business plan comes with advanced features (a corporate newsfeed, an interactive organizational chart, a 360-degree feedback assessment, and API for custom integrations) and costs $3.14/user per month.
A free 30-day trial and a live personalized demo are available.
Best for
With flexible pricing options, iSpring Learn is a great learning management system for small businesses looking for an intuitive LMS that works seamlessly across desktop and mobile devices and is easy to set up.
On the other hand, enterprises can benefit from its rich features that go beyond LMS functionality, such as the opportunity to track employee performance, share announcements in a corporate newsfeed, and reflect company structure in an organizational chart.
2. TalentLMS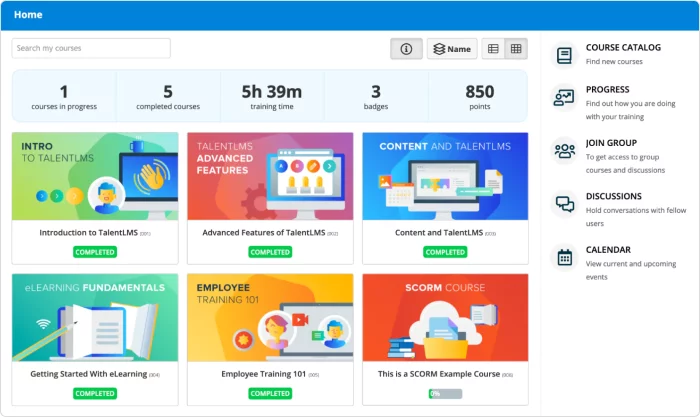 TalentLMS is an online employee training software designed with simplicity and usability in mind.
One of its key features is branches, which allow you to create and customize independent training portals to serve different audiences and train internal teams, franchisees, or partners separately. Within branches, you can organize online courses into categories, such as HR or marketing, and group learners together based on any criteria. This learning platform also allows you to hide courses and make them visible only when you specifically assign them to learners.
This employee training software values human interaction. Instructors and administrators can create discussion boards, similar to public forums, to encourage debate among employees. They can also send messages to the entire branch, a group, or a specific employee. Moreover, the system lets you create instructor-led sessions (both online and offline) as an integral part of a course and conduct webinars using a built-in video conferencing tool.
Pros:
SSO using Google, Facebook, and LinkedIn accounts
Content creation: tests, surveys, audio/video recording from a browser, document converter
Reports in the form of visually appealing infographics
eCommerce
Cons:
Live chat support only in the Premium plan
No security watermarks when uploading videos or PPT files from your computer
Why we picked it
Branches provided by this employee training system are really great because they help deliver training for various departments, locations, or teams within a single portal. In turn, built-in social learning tools, such as discussion forums and personal messaging, facilitate better peer-to-peer communication and collaboration.
Pricing
TalentLMS offers four types of subscriptions and the option to pay for all registered users or only active ones. If you pay annually and for active users, you can choose from these plans:
Starter (up to 40 users, basic plan with core LMS features) — $69/month
Basic (up to 100 users; includes SSO support and a custom domain) — $149/month
Plus (up to 500 users; includes custom reports) — $279/month
Premium (up to 1,000 users; includes a live chat support and a dedicated account manager) — $459/month.
The vendor also offers a free plan limited to 5 users and 10 courses.
Best for
TalentLMS is great for all employee training scenarios and is a perfect fit for organizations that want to launch internal and external training programs or even sell their online learning courses — all under one roof.
3. LearnUpon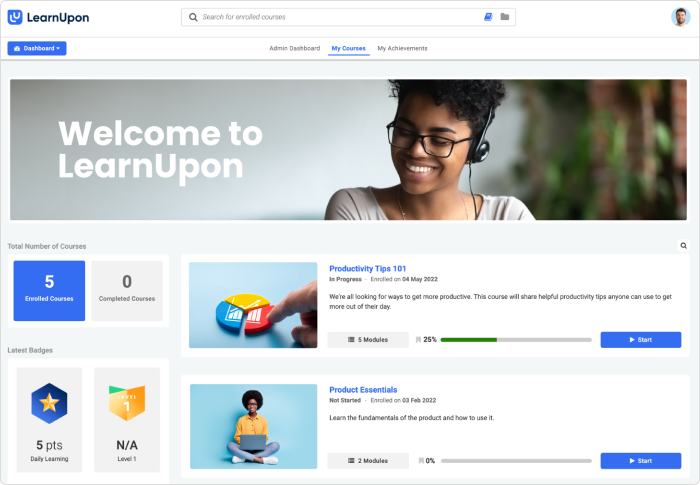 LearnUpon is a robust online training delivery software for enterprises. Like TalentLMS, it allows you to create independent portals to train various audiences.
You can make online courses mandatory with automated enrollment based on user groups or give learners more autonomy by allowing employees to browse the course catalog and self-enroll. The platform also allows you to combine courses in learning paths in a specific sequence or at random.
LearnUpon is great if you use a blended learning approach. It integrates with Zoom, GoToWebinar, and Adobe Connect, making it easy to schedule and manage live instructor-led training sessions. Learners' attendance is recorded in the webinar tool and transmitted back to the LMS, so you can report on live sessions just like a standard employee training program.
Pros:
Unlimited learning portals
Many ways to add users: bulk upload with email, auto-import from your HRIS or CRM, and self-registration
The opportunity to schedule reports and apply date ranges
Multiple content formats, the opportunity to add captions to videos and prevent learners from skipping them
Cons:
Different languages aren't available in the basic subscription plan
White labeling is only available in the Premium and Enterprise subscriptions
Why we picked it
LearnUpon stood out for its intuitive interface and ease of use, allowing for quick and seamless course creation and management. Additionally, its extensive integrations with popular tools like CRM and HR systems allow for seamless data synchronization and streamlined employee training workflows.
Pricing
The vendor offers three types of subscription:
Essential (50-150 users) with core features
Premium (150-300 users) with multiple languages, webinar integrations, SSO, and API
Enterprise (300+ users) with white labeling and Salesforce integration
You'll need to contact the vendor to get pricing details. A live demo is available.
Best for
LearnUpon is a great choice for enterprises that deliver employee training programs in a blended format or look for a single solution for training employees, partners, and customers on a single platform.
4. Whatfix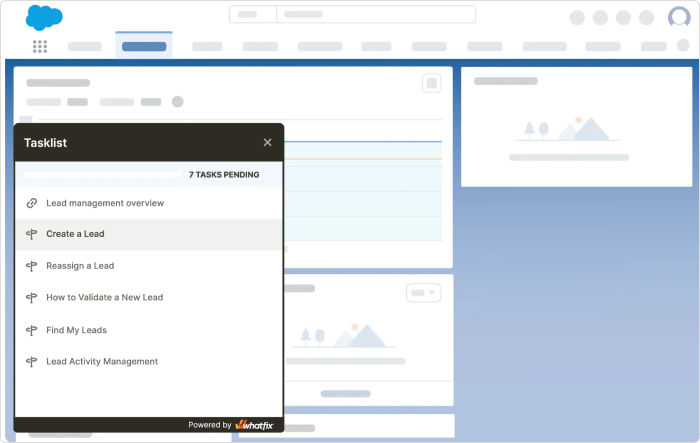 Whatfix is a digital adoption platform (DAP) that allows organizations to create in-app, contextual training modules without any coding knowledge, which helps employees master software programs by themselves.
You can create interactive flows and guided tours within the apps, and show accurate navigation through smart tips, beacons, and customizable pop-ups. It's also easy to create a self-help block consisting of text documents, web links, and other content formats that will appear on the appropriate page.
With Whatfix, you can not only streamline software adoption but also create task lists and provide new hires with a roadmap of what they need to learn. The ability to track user behavior in the applications and monitor progress makes this tool a great solution for new employee onboarding and product knowledge training in IT organizations.
Pros:
Works in web, desktop, and mobile apps
In-app code-free content creation
Analytics allowing you to track employee training metrics
The opportunity to create contextual guidance segmented for specific user roles
Cons:
The tool can be somewhat complex — some key features aren't as easy to use as they seem when one signs up
Whatfix is probably not well suited for larger web apps that present users with multiple options to accomplish the task at hand.
Why we picked it
Whatfix caught our attention with its approach to employee training through interactive and contextual on-screen guidance. In a digital workspace where employees spend a significant portion of their time navigating various applications, Whatfix can become extremely handy.
Pricing
Whatfix does not publish its prices. They use a custom pricing model based on the specific needs and size of the organization. You can contact the vendor to get a quote.
A free trial and a live demo are available.
Best for
Whatfix is a great tool for onboarding new employees in enterprises where day-to-day operations are powered by multiple software applications.
5. Docebo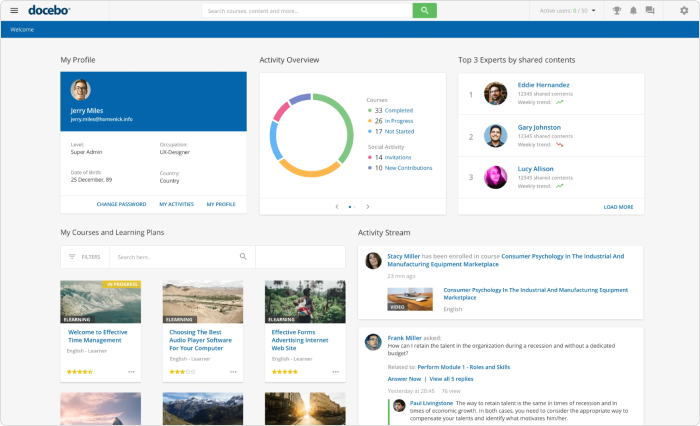 Docebo presents a multi-product suite of tools designed to cover the entire employee learning lifecycle, from content and course creation, management, and delivery to learning impact measurement.
This training and development platform provides a catalog of thousands of ready-to-use skills and roles. It also uses AI technology to make employee learning more personalized. The AI assistant identifies and tags specific skills within your training content, automatically matches them to your employees' roles, and assigns learning paths that are tailored to their individual needs.
Docebo places a strong emphasis on social learning. It can serve as your corporate social media, where internal experts can share meaningful content by attaching web links, uploading files from a computer, or recording screencasts. Employees, in turn, can ask questions and learn from each other in the workflow.
Pros:
Convenient drag-and-drop interface that allows one to move blocks (widgets) and customize the learners' portal view
Unlimited cloud storage in all plans
Over 400 native integrations
eCommerce
Cons:
The interface sometimes is a bit clunky and not very intuitive, especially in the mobile app
Too many different modules, so it's not always clear which features come standard and which are available for an extra fee
Why we picked it
It impressed us as one of the best online training software with its powerful learning management system that offers advanced features such as AI-driven recommendations, gamification elements, and integrations with popular business tools.
Pricing
With Docebo, you can only pay for active users. They don't publish their pricing details, so you'll need to talk to their manager to get a specific quote.
A live demo is available.
Best for
This is a highly customizable solution that can be a perfect fit for enterprises with needs that exceed the functionality of a standard LMS. You may wish to consider this solution if you run a long-term training program or train more than 300 employees on a daily basis.
6. Litmos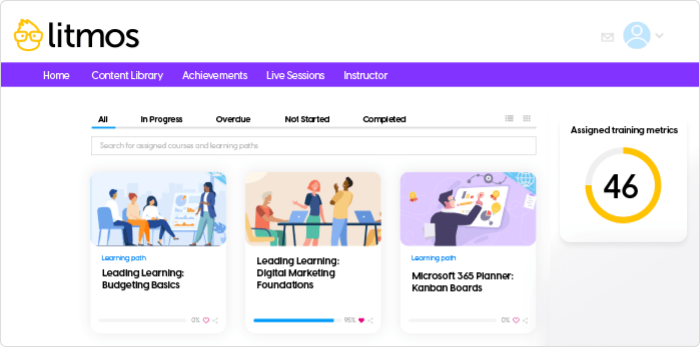 Litmos is a cloud-based employee training platform with a user-friendly interface and an eye-catching UI.
You can create SCORM courses, quizzes, and surveys directly on the platform. Besides web-based employee training, it supports instructor-led sessions that can be scheduled in the built-in calendar. We found the video assessments feature interesting. Learners can record and upload videos of themselves delivering communications such as sales pitches. Then, the videos are assessed by AI on the basis of keywords (that should or shouldn't be used) and the rate of speech.
Litmos also offers a comprehensive learning content library of over 2,000 training courses on a variety of topics, from finance and sustainability to customer service and online social presence. The library also includes compliance collections for the US, UK, Australia, and New Zealand.
Pros:
Ready-made video courses for personal and professional development with supplemental materials such as workbooks and handouts
New courses are added to the library every month
Supports 35 languages in each plan
Native mobile apps for iOS and Android
Cons:
Not possible to create custom user roles
Technical support isn't always prompt
Why we picked it
Litmos stands out due to its user-friendly design and robust feature set, including eCommerce functionality and multi-language support. Its versatility enables a tailored learning experience that is conducive to both self-paced learning and instructor-led sessions, making it an excellent choice for diverse workplace environments.
Pricing
You can subscribe to the Litmos LMS and the Litmos Training Courses independently of each other, or choose the combination of them. To get a quote, you'll need to contact the vendor.
A free 14-day trial is available.
Best for
Litmos is best suited for companies that look for highly intuitive software with off-the-shelf courses for employee training and development. It will also be handy for conducting compliance training in the US, UK, Australia, and New Zealand.
7. Skillsoft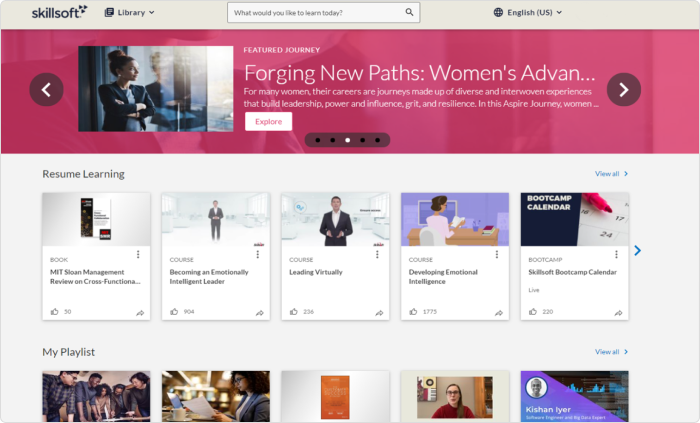 Skillsoft is an online learning platform that is known for its extensive library of ready-made courses for continuous learning and employee development.
You can integrate this content library into your LMS or deliver training through Skillsoft Percipio. This is an AI-powered LMS that offers over 17,000 customizable role- and skill-based paths called career journeys. With this platform, employees can choose what they want to learn from various in-demand topics, including leadership and business skills, tech proficiency, and more.
Skillsoft Percipio also features Embedded Learning Synchronized Assistant (ELSA) — a browser plug-in that provides employees with quick access to the LMS. It allows them to highlight words in their messengers or browsers, search relevant content in the LMS and learn throughout the workday, directly in their natural workflow.
Pros:
Ready-made courses developed by industry leaders, subject matter experts, and renowned authors
Executive dashboard with real-time data on the number of content launches, learning hours, and completions
Content format for different learning styles: users can initially choose from "watch," "listen," or "read"
Many learning programs are aligned with the compliance requirements or various professional certification exams, particularly in areas like IT and project management.
Cons:
Compliance training is available in the Enterprise plan only
Only 5 GB are available for your own training content in the Team plan
Some courses may be a bit outdated and boring
Why we picked it
Skillsoft impresses with its course library and the opportunity to choose from ready-made learning paths that provide employees with a personalized learning experience tailored to their specific career goals and growth objectives.
Pricing
There are three types of subscription:
Individual — from $199 per year
Team (with tracking features, reports, and dashboards) — $419/user per year
Enterprise (with personalized learning paths and advanced reporting) — upon request
A free 30-day trial is available.
Best for
Skillsoft is a great option for enterprises looking for a platform with ready-made content. It's also a good solution for organizations in heavily regulated industries that want to ensure that employees meet ethical, legal, and other professional obligations.
How Should You Choose Employee Training Software?
There's no one-size-fits-all solution, so choosing the right employee online training software can be a bit tricky. Every business has its own unique needs and requirements, but here are some key steps to help you make the right choice:
Identify your training needs
Are you focusing on onboarding, compliance training, skill improvement, or a mix of these? Keep in mind that certain platforms are more specialized, like those tailored for onboarding.
Determine your audience
Consider your employees' learning styles, tech-savviness, and work arrangements — are they primarily office based or remote? This will help you find the most effective content formats and preferred training devices and engage employees in their learning journey.
Estimate your budget
For small businesses, cost considerations are particularly important. You may prefer to avoid enterprise-oriented platforms or solutions with inflexible pricing plans that include unnecessary features and cannot be customized. This step will help you narrow down options to training software that offer the right balance of affordability and essential features.
Explore the options
Don't rush into a purchasing decision. Most vendors offer free trials and provide live demonstrations to showcase their functionality and discuss your case. Take advantage of these opportunities to test multiple options and compare their key features, user experience, and suitability for your organization.
Once you've gone through these steps, you'll be equipped to make an informed decision and choose software that effectively supports your training objectives, enhances employee engagement, and maximizes the return on your investment.
FAQ on Employee Training Software
Here you'll find some of the most common questions on training software for employees:
Is online training software the same as a learning management system?
These terms are related, but not exactly the same. Employee learning software is a more general term that can include any type of software used in training that may not have the full range of management and tracking features that a learning management system (LMS) does. While all LMSs are types of employee training software, not all online training software can be considered a full LMS.
What should I look for when choosing an online employee training platform?
Here are some factors to consider when choosing from employee training systems:
Usability. The platforms should provide intuitive training management features and facilitate easy course creation. In this way, employees won't have to spend hours learning how to navigate the software.
Functionality. This covers a range of key features, such as the opportunity to create learning paths, store training materials in the knowledge base, or integrate the platform with other softwares in your toolbox. Some platforms can also feature built-in authoring tools.
Reporting and analytics. These features help create detailed, real-time reports on individual or team progress and allow you to make informed decisions about training effectiveness.
Mobile accessibility. It's better to use training software that's accessible on tablets and smartphones. This makes learning more flexible and lets employees acquire knowledge and train skills anytime and anywhere.
Training automation. This refers to the system's ability to streamline training management without constant manual effort, which allows HR specialists to save time for more important tasks. Key features might include the automatic assignment of learning modules, scheduling of training, due date reminders, and automated grading systems.
What is the difference between users and active users when it comes to pricing models?
"User" typically refers to any individual who has an account or access to the online training software, even if they only log in once a month or even less frequently. The definition of an "active user" can vary, but it often means someone who has logged in or interacted with the software within a certain timeframe, such as the previous month.
For pricing models, this distinction can be important. Some online training systems charge based on the total number of users, while others only charge for active ones. The latter model can potentially save companies money if they have many users who only need to use the software occasionally.
Also read:
Conclusion
Now you're equipped with the knowledge and insights you'll need to pick the best employee training software for your team.
If you're ready to explore options, consider starting with iSpring Learn. Sign up for a live, personalized demo to see the platform in action and decide if it's right for your business needs.