October 20, 2023
The Best Training Module Software: Take Your Pick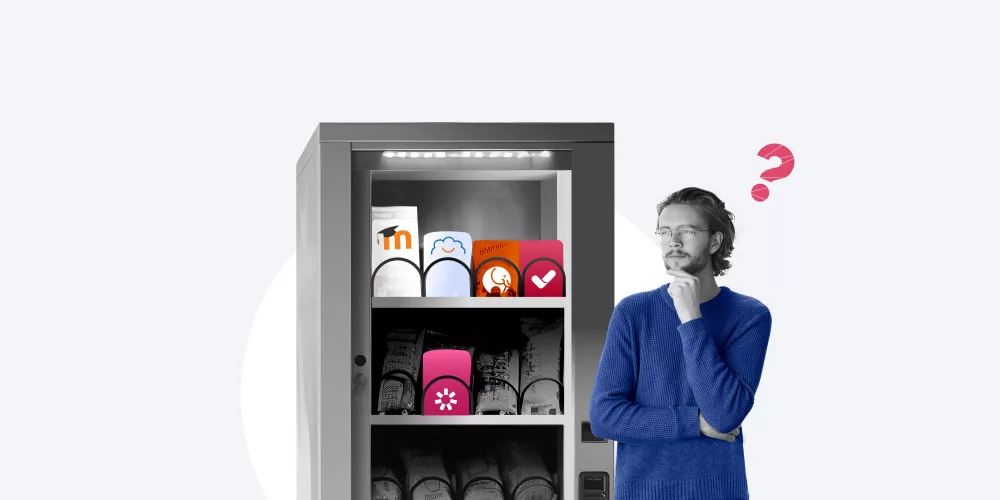 The demand for interactive training modules and online courses has surged significantly. Companies, educational institutions, and organizations are actively seeking user-friendly and customizable training module software. These tools help you create engaging presentations and training programs, ensuring continuous skill development and improvement for employees.
With many options available online, you might have a hard time deciding which is the right option for your needs. And that's why we've created a list of the best employee training software for online learning.
Overview
FAQ on the Best Training Module Software
iSpring Suite
iSpring Suite is the best training module software for those who need to create high-quality interactive training courses quickly, even if they have no prior knowledge of or experience with course development.
Use interactive training methods by incorporating this course creation tool into your PowerPoint presentations. By integrating iSpring Suite's features, such as Content Library, with its extensive collection of over 89,000 professional templates, characters, locations, icons, and buttons, you can enhance your training materials to make them more engaging.
iSpring Suite also allows you to establish a shared online space where you and your team can store your training materials.
Its PowerPoint-based software has easy-to-use features that allow content creators to develop effective training modules, craft training slides, add voiceovers, design quizzes, and share courses online. Here is an example of an online training course created with iSpring Suite: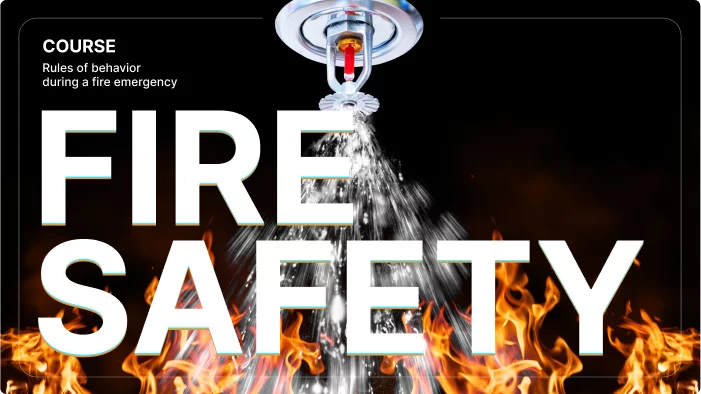 Integrated seamlessly with PowerPoint, iSpring Suite leverages all the traditional PPT elements like transitions, buttons, links, SmartArt objects, styles, and animations, ensuring that your final course maintains the original look of your PowerPoint presentation template.
PROS
iSpring Suite has a quiz maker tool that allows you to create beautifully designed quizzes and surveys.

Personalized feedback can be used in quizzes. You can add your comments for correct and incorrect answers. You can also use pictures, formulas, and audio to explain things clearly.

Thousands of high-quality images are available to enhance the design of your online course. It also lets you add a voiceover to your PowerPoint or Google slides. You can edit text, make brief lessons, and add videos with ease.

Gamification elements and interactive content like videos, custom characters, and quizzes can be included. These features create a competitive yet fun learning environment.

A free trial version of the software is available.
CONS
It is not compatible with the Mac OS. However, if you have a licensed copy of Microsoft Windows installed on your Mac, you can launch iSpring Suite on your computer.

If you're looking for more advanced authoring capabilities, you might want to check other training module software.
PRICING
A free trial version is available

Starting price: $770.00 per year
MOODLE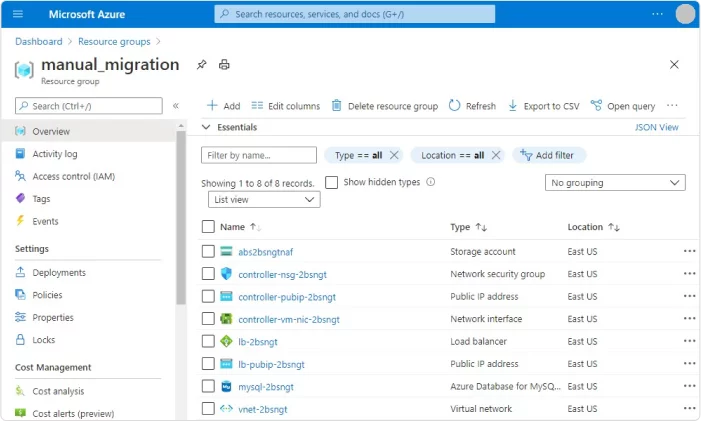 Moodle is a free online training platform. It is designed to facilitate effective online learning by providing a secure, integrated system for creating personalized learning environments. This free online learning software has grown into a powerful platform since its launch in 2000 and has hundreds of thousands of users worldwide, including teachers, students, and corporate trainers.
Moodle has a wide range of collaborative tools that make the eLearning experience interactive and engaging. There are discussion forums, wikis, and group activities that enable learners to work together on projects.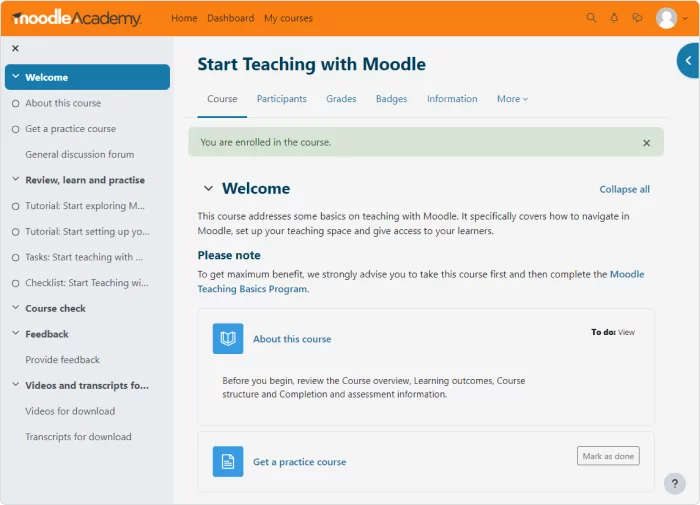 PROS
Moodle is open-source software, meaning it's free to use without licensing costs.

You can customize the training module software to your specific requirements with themes, plug-ins, and a variety of other activities.

This free training software for employees provides a mobile app for a better experience.
CONS
While it is highly customizable, the extensive features can be overwhelming for new users.

Official customer support from Moodle may be limited for free users, leading to longer response times for critical issues.

The graphical interface is very basic compared to other tools.
PRICING
Starter: $120 per year

Mini: $210 per year

Small: $380 per year

Medium: $890 per year
TalentLMS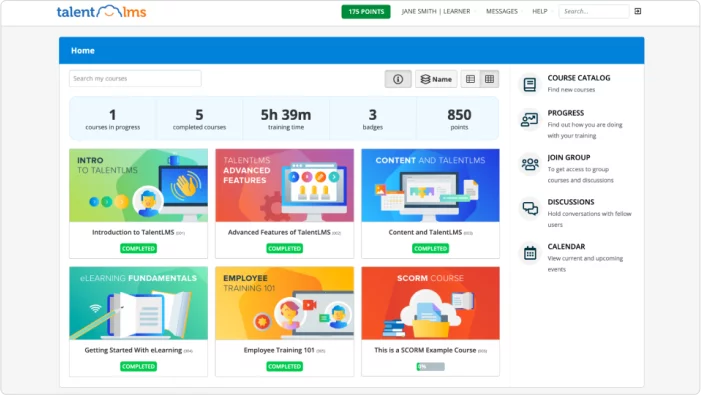 TalentLMS is a cloud-based learning management system (LMS) built for businesses of all sizes. Customers often use this platform to onboard new employees for skill training, corporate training, and more. You can also use this learning module creator to train different external audiences with the same account.
Any business owner can benefit from the features of this training software for employees. From blended learning to well-structured training presentation templates, what you get is an all-in-one tool.
This online training software has a video conferencing feature that will come in handy if instructor-led training is something you're interested in. It's highly customizable for various needs. You can also sell your online courses via the platform.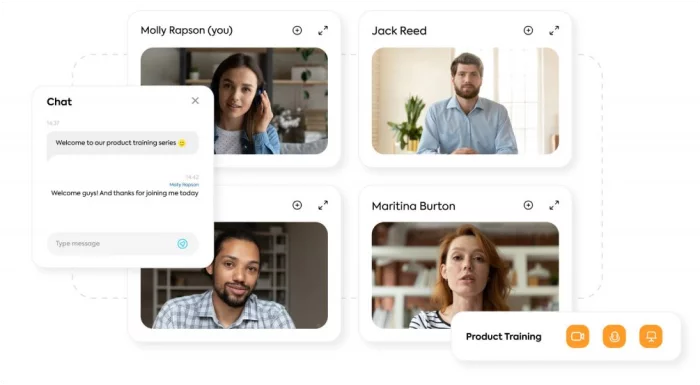 TalentLMS offers many integrations. You can take advantage of its direct integration with WordPress, Salesforce, and GoToMeeting to offer your employees an effective training presentation.
PROS
TalentLMS lets you add content from PowerPoint, PDFs, SCORM, xAPI, and videos.

It provides free video tutorials.

The interface is highly customizable, allowing for personalized user experiences.
CONS
Its user interface can seem overwhelming.

The pricing is based on the number of users, not the number of courses or learners. This means that if you have a very large organization, the cost can escalate quickly.

Basic plans do not include automation features.
PRICING
Free version

Starter: starts at $69.00 per month

Basic: starts at $279.00 per month

Premium: starts at $459.00 per month
IsEazy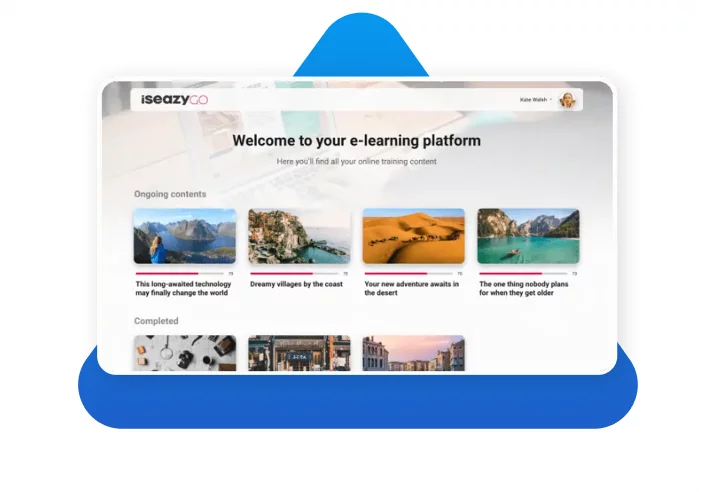 IsEazy is a cloud-based authoring tool designed to allow the creation of interactive training modules in a streamlined and easy way. IsEasy makes you feel like you're in control of the online courses you're creating.
With this online training module creator, you can not only create interactive courses easily and quickly, but also modify, delete, and move items around without any hassle. IsEazy was designed in the SaaS mode so that any professional can create fully responsive training materials for interactive learning, even with no technical knowledge.
The IsEazy LMS offers a versatile platform for building seamless training modules. It features an API integration, data export/import, visualization, and document comparison. It also supports video courses, class management, and SCORM standards.
PROS
 It allows multiple users to work on a course at the same time. 

There are over 20 types of multimedia and interactive elements available to boost engagement and motivate students: videos, infographics, quizzes, and more.

IsEasy can be accessed on a variety of devices. Select the distribution option that suits your needs best and share your learning courses on smartphones, tablets, and/or PCs.
CONS
Custom integrations are not free.
PRICING
IsEazy offers two pricing plans:
$69,00 per user/month

$200,00 per user/month
TOVUTI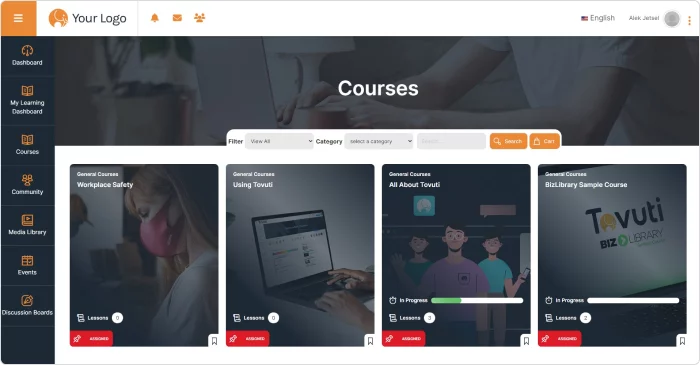 Tovuti is one of the best interactive training software that helps businesses and teams teach and sell engaging courses. As an online module creator, Tovuti is built with a wide range of features for interactive online learning, such as training course creation, progress tracking, support for different kinds of course delivery, and a built-in media and course library.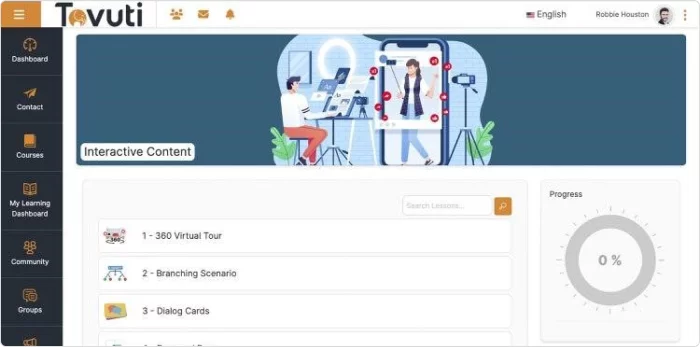 Tovuti also provides users with a platform where businesses, teams, and freelancers can monetize, manage, or purchase course content.
The software is very easy to use. Functions and features include many interactive learning materials: online course templates, multimedia integration, drag-and-drop functionality, and much more.
PROS
Tovuti provides more than 40 types of interactive elements, supporting various formats like PDFs, PowerPoint, and SCORM files.

It provides an extensive media library for training courses.

Tovuti connects with over 30 apps, including content libraries and communication tools. You can also integrate other applications through Zapier and Tovuti's open API.
CONS
Some users have mentioned that the reporting and analytics features could be improved. 

Although Tovuti allows white-label branding and customization, it's not as flexible as some other LMS platforms.

Users might find it a bit limiting when trying to create specific content and the learning experience they have in mind.
PRICING
Up to 50 users: $775 per month

Up to 250 users: $945 per month

Up to 500 users: $1,325 per month

Up to 1,500 users: $1,925 per month
FAQ on the Best Training Module Software
Here are answers to the most popular questions about creating interactive training modules.
What features should a business look for in training management software?
Good interactive training module software should offer features like:
Content creation and management tools

Customizable branding for online learning

Mobile accessibility

Integration with other systems

Scalability

Security and compliance features
Can training management software be used for a virtual training session?
Yes, there is online training module software available that's excellent for effective training and can be used for virtual training sessions, such as webinars and online classrooms.
These tools come packaged with features for real-time and recorded virtual staff training. They also offer features to engage learners, including chats, discussion forums, practical exercises, and gamification elements.
How to choose the best training module software?
Here are some things that can help you choose the best software to create online training modules:
Check for compatibility. When picking a training software platform, make sure it fits with your current workflow and can be used easily by your team. It should integrate well with your existing tools.

Test it thoroughly with free trials and/or demos. See if it helps your employees learn the necessary training skills. Also, check if the software aligns with your goals by looking at the metrics it provides.

Analyze your audience. Think about your employees' preferences, learning styles, backgrounds, and goals when choosing employee training software. Take into consideration whether they are new or experienced, or if they're managers or executives. Choose training software that fits their needs and comfort levels best.

Have clear goals and objectives. When selecting employee training software, know exactly what you want to achieve. Consider employees' roles, learning styles, how much training they need, and what skill gaps need to be filled.

Have a list of must-have LMS features. Focus on what your employees need, what challenges you're facing, and your budget. Examine the data to find gaps in your training strategy and pick the tool that has all the key features that meet your requirements.

The right software

can enhance employee communication, leadership, presentation skills, and more. This will make your business more successful.
What else to consider when choosing learning module software?
Here are some things to take into consideration:
Budget.

Employee training costs can cost a sizeable chunk of a company's budget. Larger companies spend millions each year, while smaller businesses spend thousands. The price of training module development software varies based on its features and the number of users. You can pay per employee, per course, or a flat monthly or annual fee. Remember, if you select a cheaper option, you might compromise on features. Investing more can get you better software, leading to better outcomes for your employees and the company.

Ease of use.

Training software is meant to simplify employee training, not complicate it. If the software is difficult to use, employees might lose interest and enthusiasm, leading to lower learner engagement rates. If you want to see more active participants and an increase in employee retention, it's extremely important to find online training module software that's easy to use.

Course surveys.

To know how well your online course works, ask the people who took it. Employee surveys and feedback can help you improve your training and see how engaged your employees are. You can use a separate survey tool or the same system you use to track your training.
Final Thoughts
Choosing the right authoring tool, like iSpring Suite, is the first step toward boosting employee performance. While implementing training can be a lot of work, it's a worthwhile investment because the positive outcomes will benefit your organization for years to come. To get started with the best training module software, book a free demo with iSpring Suite to see how it works firsthand.