April 21, 2023
The 11 Best HR Tools for Streamlining Your Workflow in 2023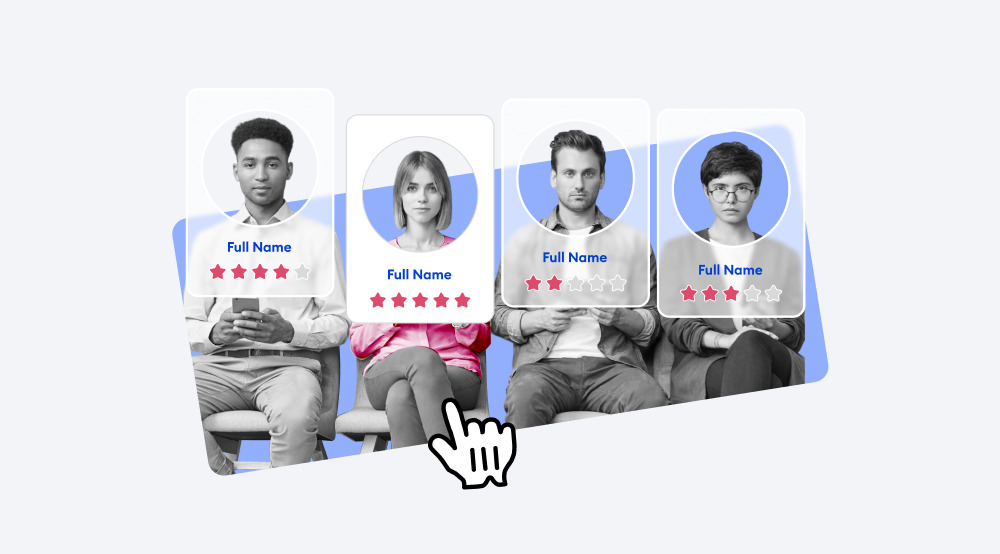 Managing HR operations in today's dynamic workplace can be a daunting and time-consuming process. Fortunately, many digital platforms have proven to be extremely efficient in helping HR teams streamline their workflow and maximize productivity.
To help you choose the best solution, we've compiled a list of game-changing HR tools, covering everything from recruitment and corporate training to employee evaluation and performance reviews. So, buckle up and get ready to revolutionize the way you manage and develop your workforce!
The Top 6 Features To Consider When Choosing an HR Tool
Based on your company's specific requirements, you can focus on the following sought-after features that HR tools offer:
An overview of the features that HR tools typically provide

| | |
| --- | --- |
| Feature | Overview |
| Employee Training and Development | Helps manage employee training and development programs, including creating and delivering training materials, tracking progress, and managing certifications |
| New Employee Onboarding | Designed to streamline and automate the process of integrating new employees into a company |
| Recruitment and Hiring | Нelps HR professionals post job openings, screen resumes, manage candidate communication, and track recruitment metrics |
| Performance Management | Helps HR professionals simplify employee performance tracking, set goals, provide continuous feedback, and create development plans |
| Employee Engagement and Recognition | Designed to recognize and reward employee contributions and achievements, including managing employee recognition programs and gathering feedback to increase their engagement level |
| Payroll | Helps manage employee compensation, track hours worked, and administer benefits and taxes |
The 11 Best HR Software to Consider in 2023
This table gives you a quick overview of all the tools on our list. Read on to explore each solution in more detail and decide which one best suits your business needs.
A quick overview of all the HR tools in this article

| | | | |
| --- | --- | --- | --- |
| Tool | Best for | Starting price | Free trial / demo |
| 1. iSpring Learn | Employee training and onboarding | $2.99/user per month for up to 50 active users | 30-day trial + a live personalized demo |
| 2. Leapsome | Employee performance management | $8/user per month | No trial, a live demo only |
| 3. Deel | Global payroll and talent management | $49 | A free plan + a live demo |
| 4. Workable | Recruitment and hiring | $129/month | 15-day trial + a live demo |
| 5. Trainual | Managing SOPs and new hire onboarding | $99/month for 10 seats | 7-day trial |
| 6. Bonusly | Employee recognition | $2.70/user per month | Free trial + a live demo |
| 7. TalentLyft | Recruitment | $40.83/month for 2 active jobs | 14-day trial + a live demo |
| 8. Gusto | Managing payroll for US-based employees | $40/month | 30-day trial |
| 9. Zoho People | All-in-one solution | $1.25/user per month | 30-day trial |
| 10. Bit.AI | Document collaboration | $8/user per month | Offers a free plan |
| 11. Vantage Circle | Employee engagement and recognition | $200/month for up to 1,000 employees | No trial, a live demo only |
1. iSpring Learn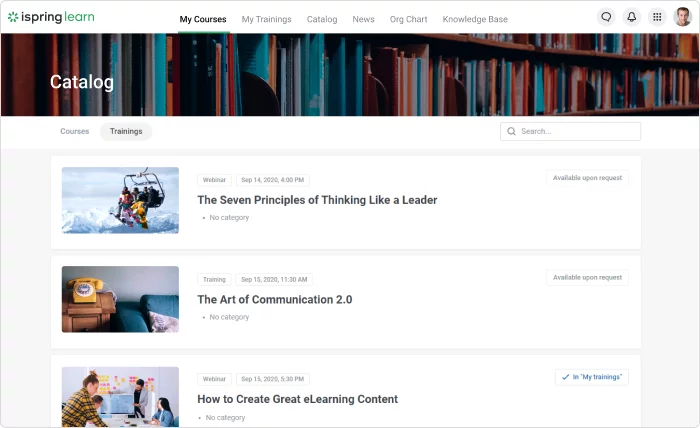 iSpring Learn is a learning management system with great capabilities for creating and delivering various training programs, from onboarding new hires to compliance training.
In addition to creating standalone courses, iSpring Learn allows you to combine them into learning tracks to create a cohesive and sequential onboarding process or to provide individual development programs for a specific department, group, or a particular employee.
The platform can also help HR administrators implement blended programs. You can schedule offline meetings and online sessions in a single built-in calendar. The system will automatically send out invitations to learners and remind them of their upcoming meetings.
Besides great training capabilities, iSpring Learn offers a 360-degree module for conducting employee evaluation surveys. Additionally, the platform provides an interactive organizational chart that displays the company structure with clarity. To keep employees on the same page, you can create a knowledge base and a corporate news feed directly on the platform.
Standout features:
Content authoring. It has built-in tools for creating page-like courses and quizzes in a snap, and comes bundled with the iSpring Suite authoring toolkit for creating advanced online courses with quizzes, role-plays, interactions, and instructional videos.
Training automation. The platform takes care of all routine tasks: assigns courses to learners, reassigns training according to a preset schedule, and sends out notifications and reminders.
In-depth analytics. You'll get full control over learners' progress with more than 20 types of clear and detailed reports.
Mobile learning. The LMS comes with free mobile apps for iOS and Android, making training more flexible and convenient for employees.
Pricing
There are two types of subscription: Business and Enterprise.
The costs depend on the number of active users and available functionality. The Business plan comes with fewer features and costs $2.29/user per month for up to 300 users. The Enterprise plan provides more features, including 360-degree assessment, corporate portal, and API, and costs $3.14/user per month for up to 300 active users. Billed annually.
A free 30-day trial is available.
Best for
iSpring Learn perfectly suits businesses of all sizes that need an intuitive yet comprehensive platform with great authoring capabilities to onboard, train, and develop their workforce.
Automate corporate training and improve employee performance.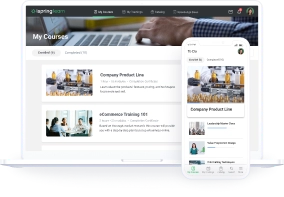 2. Leapsome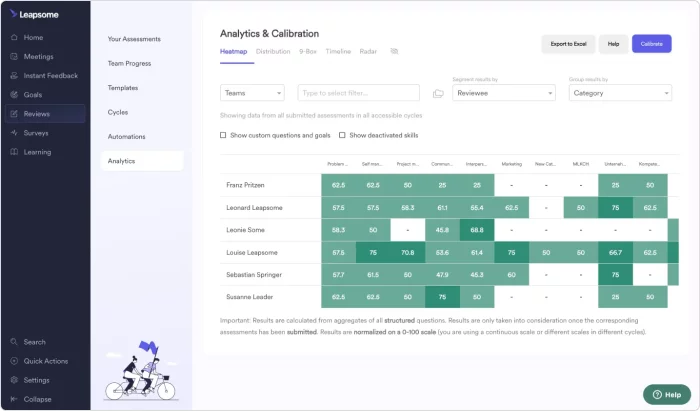 Leapsome presents itself as an all-in-one human capital management software that closes the gaps between performance management, employee engagement, and learning. The platform is modular, allowing organizations to choose only the functionality they need.
The Perform module empowers an HR professional to assess and manage employee performance using pre-designed templates and frameworks. The platform is good for conducting comprehensive 360-degree appraisals since it allows you to automate review cycles and link developmental goals to specific skills, providing employees with clear and measurable objectives to strive toward.
The Engage module allows you to conduct eNPS surveys or create custom questionnaires using pre-designed question templates developed by psychologists. Leapsome also enables users to have anonymous conversations with respondents to gain honest insights into their specific responses.
With the Learn module, HR professionals can deliver personalized training programs to employees and give them access to ready-made courses from Leapsome's learning partners.
Standout features:
OKR management. In addition to basic goal tracking, you can connect individual, team, and company goals into a goal tree to highlight interdependencies. Your colleagues can leave comments on goals to provide context or discuss progress.
Skills matrix. HR staff can visualize a skills matrix for each job role and level. This gives employees a clear understanding of what they should develop to reach the next level of seniority.
Sentiment analysis in surveys. Leapsome's Natural Language Processing and Machine Learning technologies analyze and score the sentiment of written responses to open-ended questions.
Employee recognition. You can celebrate wins and recognize the great work of team members by sending them praise in a public feed.
Pricing
The vendor offers modular pricing starting at $8/user per month. To get pricing details or custom quotes, you need to contact the vendor.
Best for
Leapsome is a great HR solution for small and midsize businesses and large enterprises looking for flexible software that allows them to choose the set of tools needed to manage and improve employee performance, engagement, or development opportunities.
3. Deel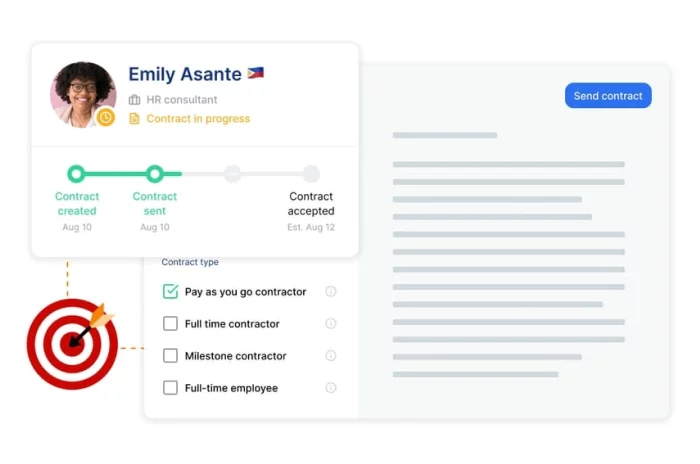 Deel is a global payroll and workforce management software that helps companies hire and manage remote workers and contractors.
With Deel, you can hire talent from over 100 countries, even if you don't have an entity there. The platform localizes all the data you need to onboard a new employee from minimum wage to country-specific documents. It also automates the process of creating, signing, and storing employment contracts.
This robust payroll software takes care of local taxes, withholdings, and benefits in over 90 countries, providing your employees with direct deposit in their local currency and paychecks on payday.
With Deel, you can ensure that you're accurately tracking days off, public holidays and complying with local laws when letting employees go. It automatically calculates the final payment according to the termination date, the country's labor laws and the days off taken.
Standout features:
Integrations. Deel offers over 15 integrations with the most popular human resource management systems and accounting systems, as well as an open API for integrating with existing HR tools seamlessly.
Free toolset. The vendor provides additional tools to help calculate the cost of a potential international hire, research salaries for roles in 120 countries, and compare local laws and employer costs.
Corporate portal. You can filter your workforce by team, status, or country, and view your organizational charts and employees' personal profiles.
Customer support. Available 24/7 directly from the platform, it claims to answer customer questions in less than 5 minutes.
Pricing
Deel offers two types of paid subscription: the Contractors plan (for hiring contractors) starts at $49, while the EOR Employees plan (for hiring full-time employees through Deel-owned entities) starts at $599. The vendor also provides the entirely free Direct Employees plan (for onboarding and running payroll for employees hired through your own entities).
Best for
Deel is a great option for handling payroll for international teams since it ensures compliance with local labor laws. It is also a good solution for HR managers in SMBs, as it offers free modules for document management, employee profiles, and organizational charts for companies with fewer than 200 employees.
4. Workable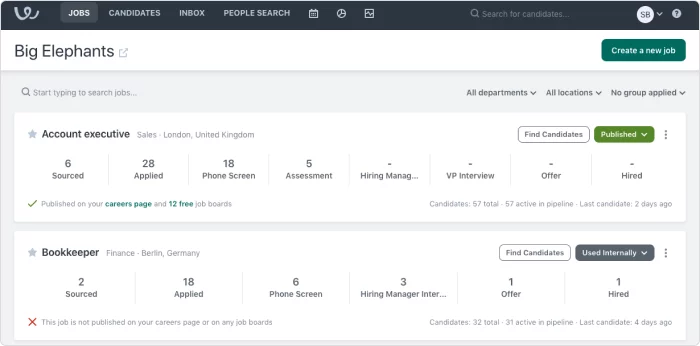 Workable is a cloud-based recruiting software that helps companies manage the entire hiring process from job posting to candidate screening.
When you submit a job offer, the tool automatically posts it to over 200 job sites. At the heart of Workable's sourcing methods is AI technology, which finds the most promising candidates according to the skills and experience required, and also helps you re-engage with those who have applied in the past. As applications come in, it conveniently collects all of them into a single pipeline.
To reveal top candidates without a single phone call, you can use one-way interviewing directly on the platform, with questions suggested by AI. The tool also offers four cognitive tests and a personality test to help you make hiring decisions.
If you work in a team, you can set different roles to define which hiring tasks your colleagues should perform, and set permissions to ensure your team members have the right level of access to get the job done.
Standout features:
Fair evaluation. You can set the software to perform anonymized screening and hide the candidate's name, location, and phone number. Or create an interview kit and scorecards to ensure that every candidate is asked the same questions and responses are evaluated via a consistent rating scale.
Convenient and transparent referral program. Workable notifies employees of new openings automatically and provides them with unique referral links. To fill a new job from within, an HR manager can create internal applications and automatically notify employees about new job openings.
Automation. It's easy to schedule automated emails, set up triggers for each stage of the hiring process, and allow candidates to self-schedule interviews.
Mobile hiring app. With the mobile app, your team can review candidates, approve applications, and read emails – whether they're in the office or on the road.
Pricing
The platform is available in three subscriptions: Paygo, Standard, and Premier.
The Paygo plan is intended for occasional hiring and allows you to pay per job. The price starts at $129/month. The Standard plan is designed for businesses with consistent hiring and costs $299/month. The Premier subscription offers top-tier service and costs $599/month.
A free 15-day trial is available.
Best for
Workable is a great solution for companies looking for an all-in-one talent acquisition software that will help manage the entire hiring process, from writing job descriptions to sending offer letters.
5. Trainual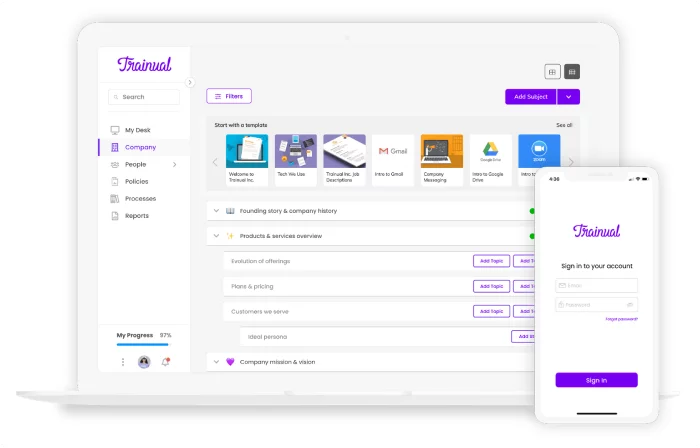 Trainual is a centralized platform that helps small and medium-sized businesses create and manage their standard operating procedures (SOPs).
You can build step-by-step training modules with media embedded from external sources, and use hundreds of templates to create easy-to-understand documents, such as sales follow-up procedures or remote working policies.
The platform allows you to organize your content into collections based on departments, teams, or locations and test employees' knowledge to ensure that everyone is up to date with the latest procedures.
Trainual also visualizes the company's structure perfectly and helps create in-depth employee profiles with job titles, teams, or some custom information. This makes it easy to find out who's who and what their responsibilities are.
Standout features:
Quick embeds. You can embed different content in your documents, including PDFs, GIFs, videos, and more from over 700 sources.
New employee orientation. Trainual makes it easy to store all information about a company, including its mission, vision, values, and the company's culture or founding story.
Built-in screen recorder. You can capture your screen and record a tutorial without leaving the platform.
Easy tracking. You can assign specific training modules to individuals or teams and track their progress in real time. You can also set due dates and reminders to ensure that everyone completes their training on time.
Pricing
Trainual has two subscription types: Train and Scale. The Train plan costs $99/month for 10 seats, while the Scale subscription expands the Train plan's features (allows you to set due dates for training manuals, offer premium integrations with other HR systems, custom domain, and more) and costs $199/month for 20 seats. Additional seats can be purchased for $3 and $4, respectively.
A free 7-day trial is available.
Best for
Trainual is beneficial for SMBs looking for a centralized platform to keep all those important need-to-know items and workplace rules in a guided, organized, and digital manner.
6. Bonusly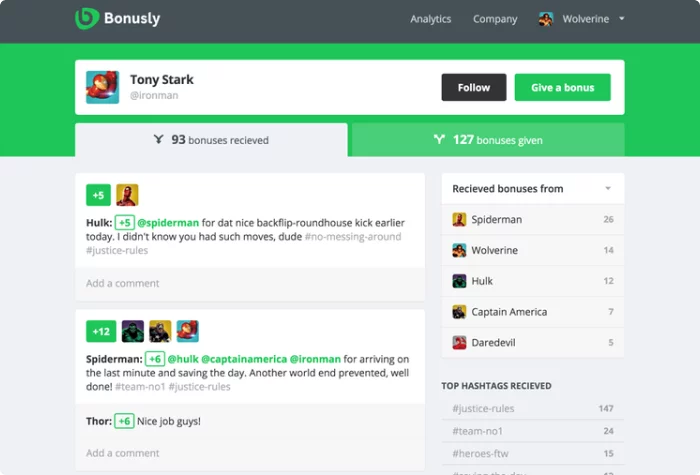 Bonusly is an engaging HR platform that allows employees to reward their peers, subordinates and supervisors, helping every team member feel valued.
It offers a points-based system, where employees or teams can earn points for their contributions and achievements, such as completing a project on time, going above and beyond their role, or helping a colleague. The rewards appear in a public feed so everyone can see the important work being done across the team.
These points can then be redeemed for real-world rewards, such as gift cards from world-renowned brands, cash, or unique company rewards like lunch with the CEO, or company merchandise.
Standout features:
Natural reward. Employees can give a bonus in a natural and social way by attaching GIFs, images, links, and emojis to make rewarding more engaging and personal.
Custom rewards. You can create any rewards that are unique to your organization to form a tailored experience for your teams.
Robust HR analytics. This HR software provides detailed reports on recognition trends in your organization so you can find out where employees are excelling and identify those who might be disengaged and at risk of leaving.
Integrations. It integrates perfectly with many HRIS systems, Slack, MS Teams, and other tools, making it easy to give and receive recognition within the tools your employees already use every day.
Pricing
Bonusly offers three subscription options: Core (for small teams getting started with recognition), Pro (with more features and advanced reporting), and Custom (for mid-sized companies and enterprises).
The Core plan costs $2.70/user per month, while the Pro plan is $4.50/user per month. Billed annually. To get pricing details of the Custom plan, you'll need to contact the vendor.
A free trial is available.
Best for
Bonusly is a good software for a human resources department in companies of all sizes seeking a user-friendly digital platform to promote employee engagement and recognition, and foster a culture of appreciation.
7. TalentLyft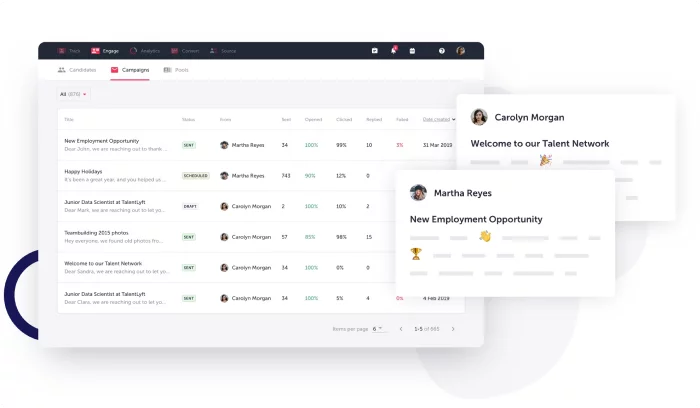 TalentLyft is a cloud-based talent acquisition software platform that provides a range of tools and features designed to help an HR professional manage the entire recruitment process, from job posting and candidate sourcing to applicant tracking and candidate communication.
The platform provides omni-channel candidate sourcing across over 1,200 job boards, social media, such as Twitter and Facebook, professional networks, such as LinkedIn and referral programs. You can also engage candidates by creating a customizable career portal with eye-catching, pre-designed templates, host career events, post information about company culture, benefits, and job opportunities, and track each candidate as they move through your hiring pipeline.
TalentLyft provides you with a Talent CRM database where you can add qualified prospects, create talent pools with similar skills or experience, apply filters, such as interests, location, or reason for disqualification, and send personalized bulk emails.
Standout features:
Automation. You can assign tasks to yourself or your team members and get reminders not to miss the right moment to engage with a candidate. The tool allows you to send interview invitations individually or in bulk, let candidates book open slots themselves, and view scheduled interviews in your iCal, Outlook, or Gmail calendar.
In-depth hiring metrics. Hiring managers can receive daily, weekly, or monthly reports to analyze where the best candidates are coming from, how candidates are interacting with your career site, how your talent pools are growing, and more.
Integrations. You can easily integrate with marketing or analytics tools like Google Analytics or LinkedIn Insights to track your career site analytics or connect TalentLyft to any tool in your toolbox via API.
Data security. GDPR compliance ensures that your candidate's personal information and your processes are well-protected.
Pricing
There are two subscription plans: Starter and Pro. The price depends on the number of active jobs. For example, Starter costs $124.17 per month, while Pro costs $249.17 per month for 10 active jobs.
A free 14-day trial is available.
Best for
TalentLyft is best for SMBs looking for simple and affordable recruitment software that includes applicant tracking, recruitment marketing, sourcing, and Talent CRM.
8. Gusto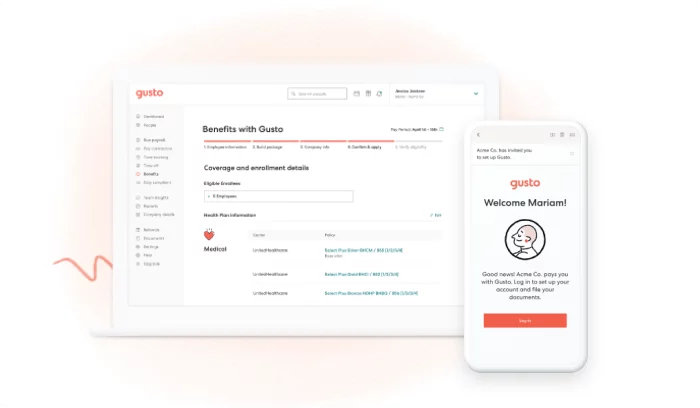 Gusto is a cloud-based human resources software designed to help small and medium-sized businesses manage the administrative tasks associated with payroll processing, employee benefits administration, compliance management, and employee onboarding and offboarding.
With Gusto, the HR department saves time calculating hours, rates, taxes, and deductions. The system tracks employee time and attendance, including when they clock in, clock out, and work overtime with mobile geolocation, and synchronizes it all with payroll.
Gusto can be particularly useful for American companies. It automatically files all the local, state, and federal tax forms on your company's behalf and calculates payroll taxes, even if your employees work in different states. The tool also identifies tax credits that you may not have known your company was eligible to receive.
Standout features:
Employee self-service. Gusto provides a self-service portal for employees to request time off, access their pay stubs and tax forms, and view benefit information from their smartphone or tablet.
Basic hiring and onboarding tool. You can post jobs, automatically track and manage applications, e-sign, and store hiring documents.
Contractor payments. Gusto can process payments for independent contractors in over 120 countries, making it easier for businesses to manage their payments to both employees and freelancers.
Compliance assistance. The platform offers compliance assistance and monitoring to help businesses stay compliant with federal and state employment regulations, thereby reducing the risk of legal issues.
Pricing
There are three subscription types: Simple, Plus, and Premium. The Simple plan provides basic payroll capabilities and costs $40/month. The Plus plan comes with advanced features, such as time tracking and team management tools, and costs $60/month. For Premium plan details, you'll need to contact the vendor.
A free 30-day trial is available.
Best for
Gusto software is a good option for SMBs looking for an all-in-one platform to manage their HR and primary payroll needs. This tool will be ideal for US-based employees since it is perfectly tailored to the American tax system.
9. Zoho People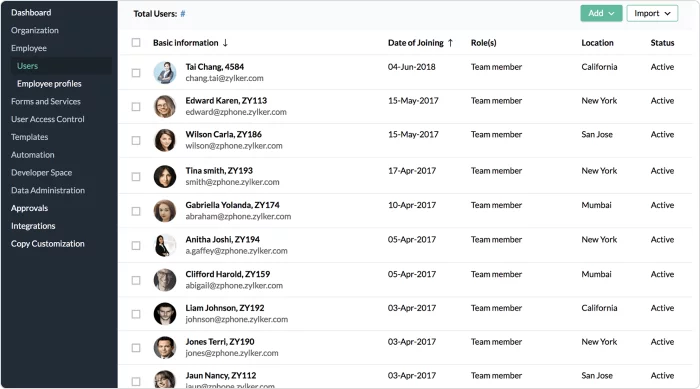 Zoho People is one of a complete set of tools developed by the Zoho Corporation. It is a cloud-based HR tool designed to simplify core HR functions, track employees' time and attendance, monitor performance, and deliver training programs.
With Zoho People, you can manage your workforce regardless of its size: divide your company into business units, locations, departments, or roles, provide employees with self-service options, such as requesting time off, and create a Q&A section to avoid spending time answering frequently asked questions over and over.
Its time and attendance tracking system allows employees to clock in from anywhere via the web or mobile devices, with IP and location-based restrictions.
The performance management module allows HR staff to align departmental objectives with personal goals, conduct 360-degree feedback assessments, monthly or quarterly personal reviews, and get visualized reports on employee skills.
Zoho People also offers LMS functionality. You can create online or blended training programs tailored to a specific employee, department, or even location.
Standout features:
In-depth reports. The platform provides pre-built and custom reports at both macro and micro levels, visualizing data for each HR process.
Employee recognition system. Zoho People is integrated with XoxoDay, which enables effortless rewards and recognition.
Built-in AI assistant. It's designed to help employees request time off, clock in and out, and get reliable answers to questions that would be posed to an HR manager.
Employee engagement surveys. With Zoho People, you can conduct eNPS surveys or custom annual surveys to measure employee satisfaction.
Pricing
Zoho People offers 4 subscription types: Essential HR for $1.25 (with core HR features), Professional for $2, Premium for $3, and Enterprise for $4.5/user per month. Billed annually. There is also a People Plus subscription for enterprises, which combines many tools offered by the vendor, including Zoho Recruit and Zoho Payroll.
A free 30-day trial is available.
Best for
Zoho People is a complete HR management software that can help companies of all sizes automate and streamline their core HR processes and track employee development programs.
10. Bit.AI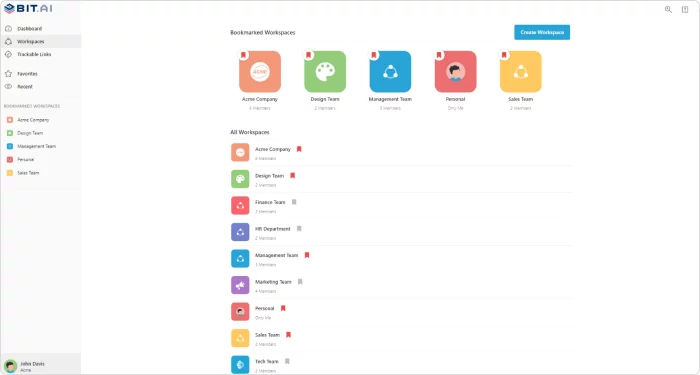 Bit.AI is a workplace and document collaboration platform that provides a robust alternative to Google Docs and Word documents.
The platform offers over 90 templates and themes to quickly create visually appealing HR documents, including offer letters, job descriptions, employee handbooks, and page-like training content. The editor allows you to customize docs as you prefer: change formatting, add quotes, display visual link previews, insert math equations, insert code blocks, and more.
You can invite colleagues to collaborate in real time, stay coordinated with mentions and real-time notifications, and post comments like you would in Google Docs. You can also interlink created docs to build a corporate wiki, organize new hire candidates' information, generate HR reports, or publish benefit updates.
Standout features:
Content division. You can divide your workspace into unlimited folders and subfolders to create separate storage for different departments or projects.
Advanced sharing. You can share Bit docs via trackable links, protect them with a password and an expiration date, export files to your device, or embed them in any website or blog.
Smart search. You can search across workspaces, folders, documents, or the text that's inside them.
Rich integrations. You can embed your content from over 100 third-party tools, including Trello, Miro, Figma, GitHub, SurveyMonkey, or social media, and make it come alive.
Pricing
Bit.AI offers a free plan with some limitations and two paid subscription types: Pro and Business. Pro costs $8/user per month, while Business costs $15/user per month. The vendor also provides education, non-profit, and startup discounts.
Best for
Bit.AI can be very handy for HR departments in creating and easily sharing visually appealing documents on a single platform.
11. Vantage Circle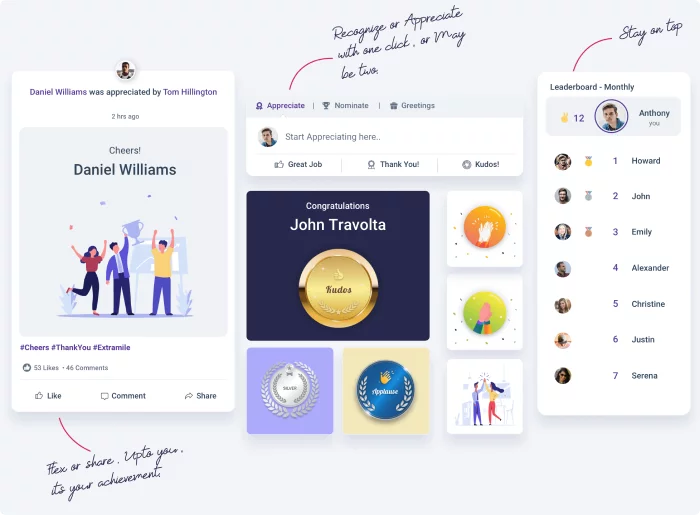 Vantage Circle is a suite of tools designed to improve employee engagement, well-being, and measure satisfaction.
The platform features an interactive, real-time social feed where employees can reward colleagues with badges and redeemable points, and encourage excellence with a gamified leaderboard. They can then redeem their points for gift cards from global retailers such as Apple and Amazon.
Using the tool, it's not only easy to engage employees in corporate events and common activities, but to also measure their job satisfaction. On the Vantage Circle platform, the HR team can conduct customizable eNPS surveys at regular intervals and communicate with respondents in anonymous chats.
Standout features:
An intuitive dashboard. The HR department can get a bird's-eye view of the overall recognition programs, including award distribution stats and the top awards given. They can also use the dashboard to publish all company-wide announcements to a corporate newsfeed.
Exclusive discounts. The Vantage Circle platform helps increase employee engagement with exclusive discounts from a wide range of brands across categories such as travel, electronics, or dining.
Integrated Amazon Store. Vantage Circle partners with the Amazon Store, allowing employees to redeem reward points directly for Amazon merchandise.
Integrations. The platform integrates with popular HRIS, such as Bamboo HR or Zoho People, and many social tools, including Slack, MS Teams, and Fresh Teams.
Pricing
There are three subscription types: Grow, Transform (which comes with advanced workforce analytics, a manager dashboard, and two additional modules), and Enterprise (with custom integrations, 15 available languages, and a dedicated account manager). The prices start at $200/month for up to 1,000 employees. For further details, you'll need to contact the vendor.
Best for
Vantage Circle is best suited for HR teams that want to engage employees and measure their satisfaction on a single platform.
FAQ on HR processes
Here are some commonly asked questions about HR tools.
1. What are HR tools?
HR tools are software applications or platforms designed to help HR staff manage the entire employee life cycle.
Most HR software, such as Bamboo HR or Zoho People, offer an all-in-one solution that covers many aspects of human resources management, including talent acquisition, performance management, payroll, benefits administration, time and attendance, and more. Such platforms can be useful for companies looking for a complete and integrated approach to managing their people.
At the same time, there is a wide range of software that focuses on a specific aspect of HR management, such as recruitment with applicant tracking systems or performance monitoring. These can be more specialized and offer greater flexibility for specific business needs.
2. Why use HR software?
HR software offers many benefits to organizations. Here are the most obvious ones:
Increased efficiency. They automate many manual HR tasks, such as employee records management, benefits management, and payroll processing. It helps the HR team save time and devote more energy and creativity to tasks that require their skills and expertise.
Improved accuracy and compliance. They help eliminate errors and inaccuracies that can result from manual HR tasks, ensuring that employee data is up to date, accurate, and easily accessible. This also reduces the risk of non-compliance with labor laws, which can result in costly fines and penalties.
Better decision-making. They provide real-time HR data and analytics that help make informed decisions about recruitment, retention, and employee development. This leads to the better alignment of HR strategies with organizational goals and, subsequently, improved business outcomes.
3. Can HR software solutions replace an HR professional?
No. HR management tools are designed to automate and streamline HR processes, but they still require human oversight of engagement or training metrics. An HR professional is still needed to interpret data, make strategic decisions, and manage employee relationships.
Conclusion
We hope these tools will help you streamline your HR processes, improve employee engagement, and drive success in your organization. We're always interested to hear about our readers' experiences. If you have any ideas or feedback to share, please leave a comment below.
If you're specifically looking for HR software with a focus on employee training and development, sign up for a live personalized demo of iSpring Learn. Our experts will guide you through the platform's capabilities and show how it can help you create a culture of continuous learning and growth in your organization.