December 21, 2020
Top 8 eLearning Simulation Software for Creating Hands-on Experiences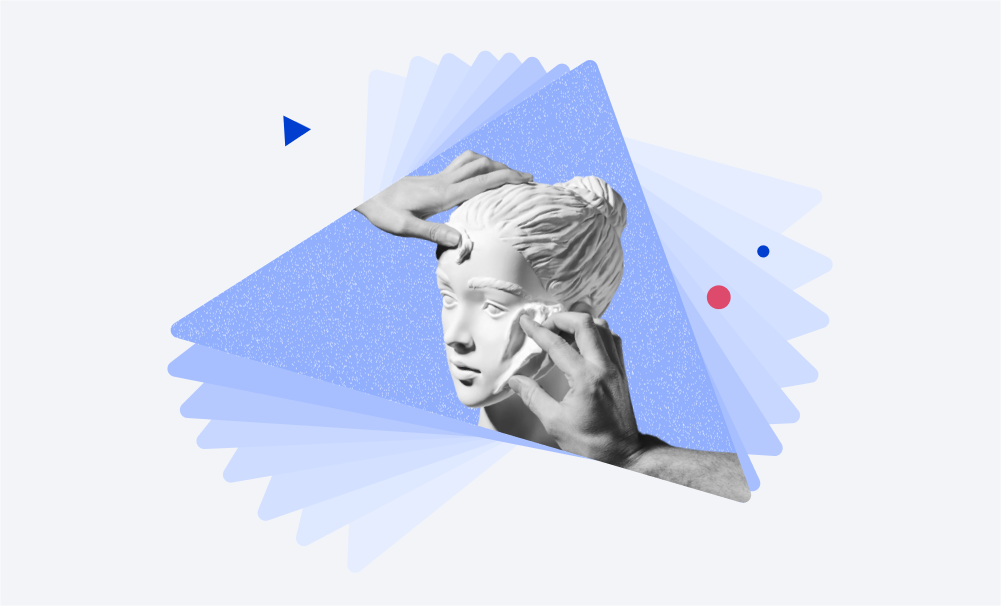 Let's imagine the following situation. Your factory has purchased new, innovative equipment and now your primary task is to train the production staff (for the record, over a hundred workers!) to operate this new machinery. Or let's say you are a call center that needs to train all the agents on how to communicate with customers correctly. How will you complete this quest? Will you host face-to-face training sessions for all your staff (but think how much time it will take)? Or maybe you will email a PDF manual with detailed instructions to your employees (but are you sure they will work it out)?
The most effective way to conduct training is to let your learners 'do' instead of telling them 'how to do.' And with modern technology, you don't even need to hire mentors who will take your employees under their wing. You can provide your learners with hands-on experience through simulation-based eLearning.
In this post, we'll cover three main types of simulations that can be created for different training needs and take a look at various eLearning simulation software designed for these purposes.
Dialogue Simulation Software
A dialogue simulation is an interactive role-playing game that imitates a real-life conversation with a customer, a colleague, or another person. It is an effective way of training sales professionals, customer service agents, and other people whose jobs require good communication skills. With a dialogue sim, they can master their communication skills in a safe environment – without the risk of wrecking a deal or ruining relationships with a client. In each dialogue, learners are required to handle real-time challenges: establish contact with a potential customer, present a product correctly, or overcome a client's objections.
The main part of a conversation simulation is a branching scenario, where every response is supposed to have a consequence. It's just like in real life – say something offensive and you'll receive a response of equal rudeness, but be polite and diplomatic and your interlocutor will open up to you.
Now, let's have a look at three software solutions that will let you create engaging dialogue sims.
1. iSpring Suite Max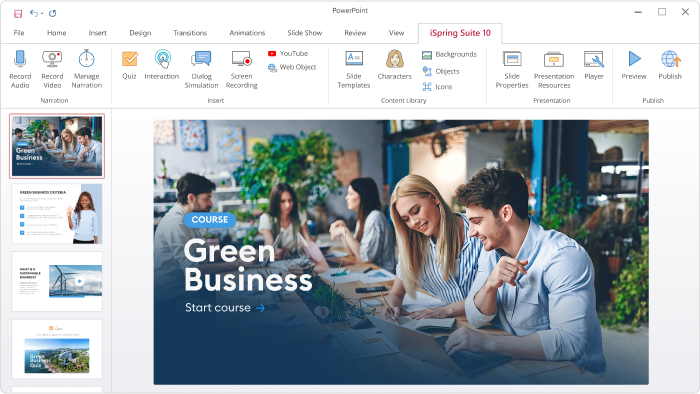 iSpring Suite Max is a complete toolkit for authoring eLearning content. It allows you to create slide-based courses, quizzes, video tutorials, short interactive modules, and conversation simulations. When building a dialogue sim, you can arrange all the questions and answers in a tree structure that makes even the most complex branching scenarios clear, and manipulate them with a single mouse click.
To make the conversation even more realistic, you can add characters and locations. You can choose from among your own pictures and photos or use the iSpring Content Library that includes more than 68,000 eLearning assets. This is a great collection of characters of different ages, ethnic groups, and professions, and a huge set of backgrounds suitable for various training scenarios. To add even more credibility, you can use a voiceover, which can be recorded right in iSpring Suite Max.
The tool allows you to assign points for responses and, after a learner goes through a dialogue, shows the final score – how well they performed.
Check out this demo to get a better idea of what a dialogue sim created with iSpring looks like.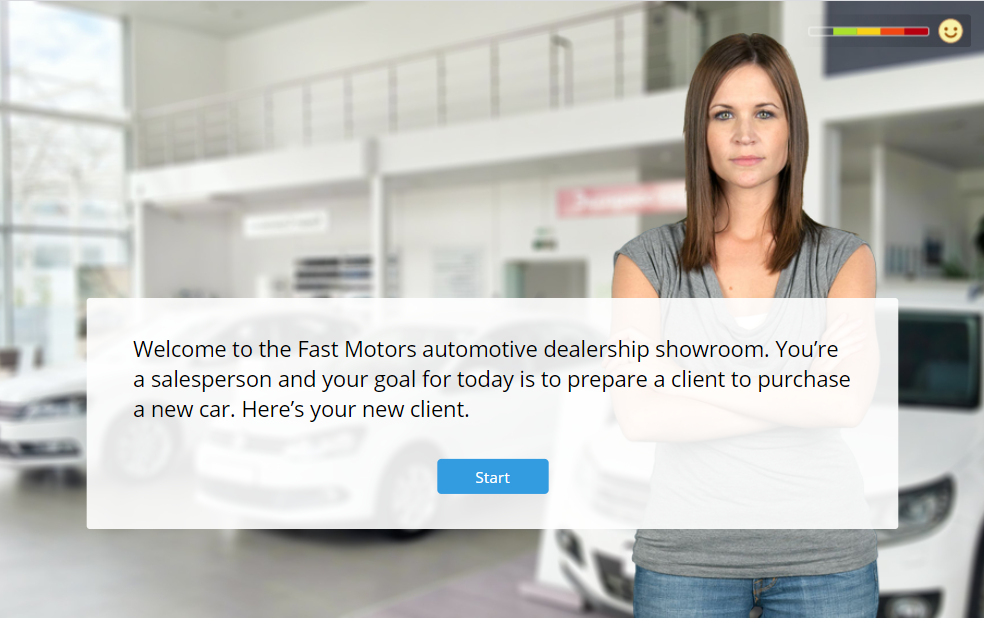 Learn how to create a dialogue simulation with iSpring →
Pricing: $970 per year. This includes the iSpring Suite Max authoring toolkit for building courses, quizzes, dialogue simulations and videos, Content Library, online space for collaboration and authoring, live priority support via phone and chat, and all updates.
2. BranchTrack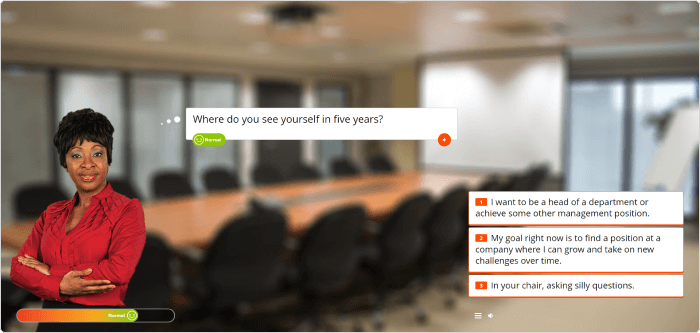 BranchTrack is an online tool for creating digital sims. Like iSpring, it has a simple interface and allows you to build tree-like branching scenarios by dragging and dropping the scenes. The tool also includes an image library – you can choose between dozens of ready-made characters and environments or add your own photos. You can also attach your existing training materials – various files, images and videos – to include them in scenarios.
BranchTrack has an analytical system that collects and interprets data on how your learners behave within scenarios so you can track learners' results. It also comes with an online mobile-friendly platform where you can store all your simulations and share them with your learners.
Pricing: Compared to iSpring Suite Max, that lets you build an unlimited number of dialogue sims, courses, quizzes, and other learning content for only $970 per year, BranchTrack allows you to make only 10 scenarios for $999 per year.
3. Articulate 360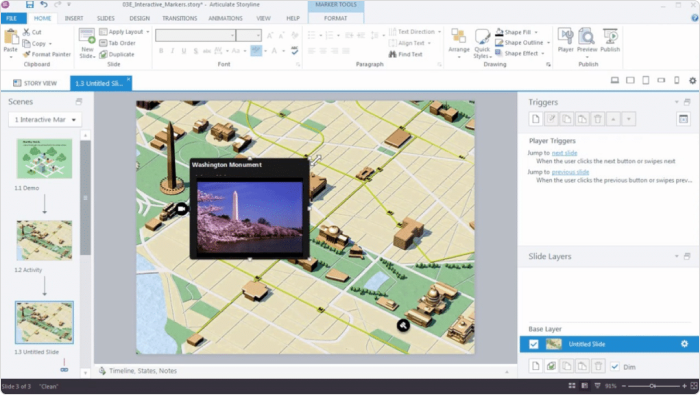 Articulate 360 is a complex software that comprises nine tools, three of which are used for course creation: Storyline 360, Rise 360, and Studio 360. Here we're talking about Rise, a web-based tool for creating simple courses. It allows you to assemble custom lessons by combining different learning blocks. One of them is a scenario block designed specifically for creating responsive branching scenarios and role-plays.
To build a conversation simulation, you need to create scenes and add dialogue, responses, and feedback. To make it even faster for you, Articulate also offers Content Library 360, with ready-to-go characters and backgrounds. However, unlike iSpring or BranchTrack, Rise doesn't provide a branching view that reflects the structure of a dialogue – there's no visual map of how everything connects. So, if you have complex branching, it might not be the handiest tool to use, since it's too easy to get mixed up in the scene connections. Besides, a simulation created with Rise can only be used as an educative tool, not as an assessment with a passing score.
Pricing: The plan for businesses, which includes collaboration options, priority support, and unlimited storage, costs $1,299/year. The plan for individuals costs $999/year.
Articulate 360 vs. Adobe Captivate 2019 vs. iSpring Suite →
Software Simulation Tools
A software simulation is a model of your software that lets you demonstrate its key features and operations. This is a great way to quickly teach your employees how to use a new app or explain to your customers how everything works in your program if you're a software developer.
There are lots of tools in the market that allow you to record screencasts that demonstrate a series of steps and even add visual hints for each step so learners can easily repeat the actions. However, only a few of them let you build software simulations that allow learners to practice those steps. Let's take a detailed look at some of these tools.
4. Adobe Captivate 2019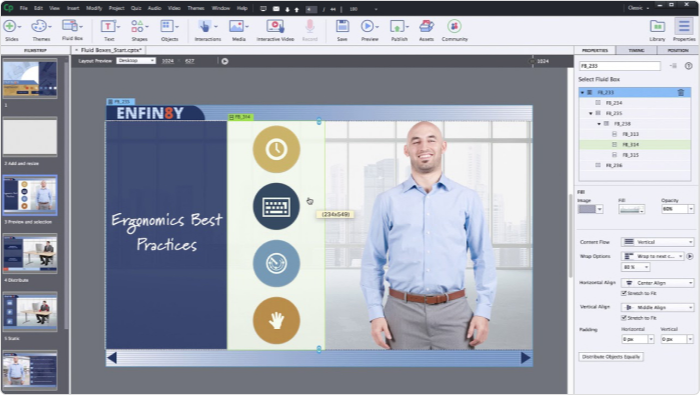 Adobe Captivate is an authoring software with plenty of robust features. It can be used to create quality courses with high levels of interactivity and customization. It's most suited for experienced professional course developers who tend to program their own training interactions, rather than using ready-made templates or even creating complex VR interactions. However, the tool for building software simulations that is included in the Adobe Captivate suite is quite simple to use and can be leveraged even by newbies.
With Adobe Captivate, you can record software simulations in three modes in a single recording session by capturing all on-screen actions, including mouse movements, system audio, and keyboard activity:
Demo: It can be used to demonstrate a software's procedures. Learners are not required to perform any action.
Training: This mode allows learners to perform the steps of the procedure shown in the simulation, but with guidance at every step.
Assessment: This is used to test learners' understanding of the procedure. You can set scores and user attempt options.
Pricing: $33.99/month or $1,299.00 (Perpetual License)
5. Atomi ActivePresenter 8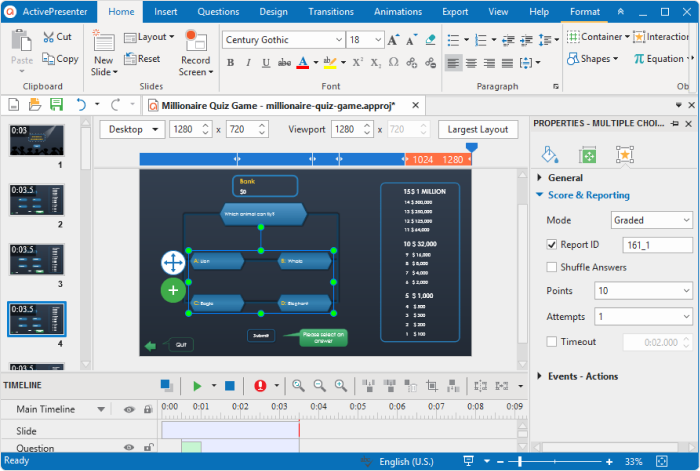 ActivePresenter is an all-in-one screen recorder and eLearning authoring software. It has a wide range of tools, including an audio and video editor, a quiz builder, and a software simulation maker. It allows you to create interactive courses with different learning scenarios that depend on learners' actions. However, building interactions can seem quite a daunting and time-consuming process because you need to insert buttons and any other kinds of objects you want, in order to add interactivity to and then assign actions to each of them, which needs to be done manually.
Still, Active Presenter is quite a capable solution, especially in terms of creating software simulations. You can record any app on the screen and save the process as a slide-based project. Like Adobe Captivate, ActivePresenter offers you a few modes. It lets you publish your sims separately to Demonstration, Tutorial, Practice, and Test lessons, but you can't combine modes in one lesson like first showing a demo and then allowing the learner to practice.
Pricing: The standard plan costs $199/license, but doesn't include such important options as HTML5 export, responsive design, interactions, and quizzes. The advanced Pro plan costs $399/license.
Behavioral Simulation Software
Behavioral simulations are somewhat similar to dialogue sims. They also can imitate real-life situations and let learners practice their skills in a safe environment. Behavioral sims are often serious games that look like real video games, with characters and branching scenarios, but are used for learning rather than entertainment. However, they can also be produced as virtual reality (VR) or augmented reality (AR) simulators.
Such simulations are leveraged by various industries, including defense, scientific exploration, healthcare, emergency management, engineering, and city planning. For example, there are serious games that are used in the training and recruitment of soldiers, and there are VR simulations that are designed for training doctors.
Now, let's explore some tools that allow you to create engaging behavioral simulations.
6. ITyStudio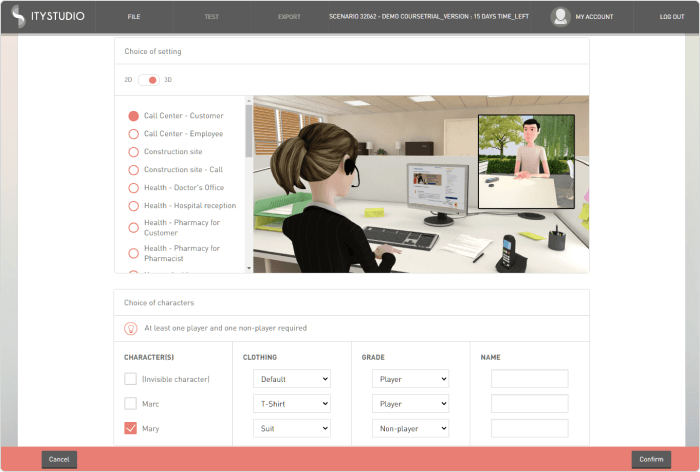 ITyStudio is an authoring tool for creating serious games and 2D and 3D behavioral simulations that don't require programming or design skills. The vendor claims that the only technical skills a user should have are drag-and-drop and right-click.
The software comes with a built-in library of ready-made 2D and 3D characters, and settings that make the sims look extremely realistic. But unlike dialogue simulations, learners can interact not only with characters, but also with objects and maps that move them forward to another scene of a simulation.
To make the content authoring process easier, ITyStudio allows you to display your creations in the form of scenario trees. It also provides a flexible scoring system for assessing different skills, such as empathy, engagement, and listening. You can set the evaluation criteria on your own as well as giving feedback to your learners so they have an understanding of which skills they have mastered and which areas they need to improve in.
Pricing: The vendor offers two subscription plans: ITyStudio , for $35/month or $350/year, and ITyStudio Full Pack, for $1,790/year. The latter includes classroom training and 5 hours of instructional hotline.
7. Uptale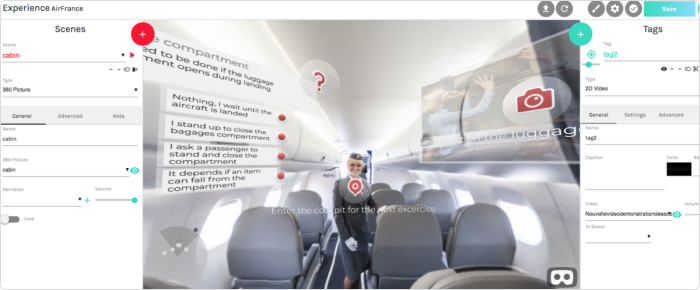 Uptale is an immersive learning solution for creating, sharing, and tracking training modules in 360° and in Virtual Reality. It allows you to create software simulations in a matter of hours without writing a single line of code. To build a sim, you need to shoot your 360° videos and photos and upload them to the platform, along with other media you want to use, set up the built-in interactions (there are over 40 interaction combinations), and publish it to the appropriate format, like SCORM or xAPI.
Uptale has a robust analytics and reporting engine. You can track your learners' performance either from its native dashboard or through your LMS. The system enables you to get an overview of your learners' scores and results, as well as advanced data like their behaviors, voice recognition, and analysis. Simulations created with Uptale are compatible with all devices: VR headsets, computers, tablets, and smartphones.
Pricing: On request
8. Vuforia Enterprise AR Suite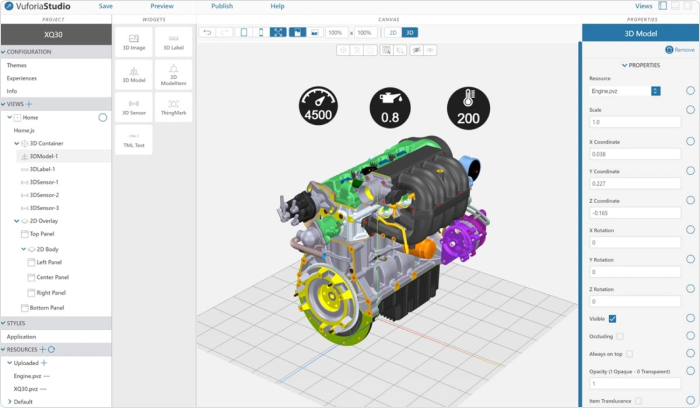 Vuforia Enterprise AR Suite is a platform for augmented reality application development. It includes a complete set of tools:
A computer vision software for creating custom AR apps
An AR authoring tool that leverages existing 3D and IoT data for content developers
A capture tool for creating step-by-step instructions
An AR collaboration tool that allows experts to annotate in a shared workspace for remote assistance
Altogether, they allow you to build and deliver AR simulations for manufacturing, service, sales, and marketing. The authoring software has a drag-and-drop interface that makes it possible for you to create AR sims without the need for coding skills but, of course, you need to invest some time and effort in training.
Simulations designed with the Vuforia Enterprise AR Suite can be deployed to the cloud or on premise, and accessed from smartphones, tablets, or wearable devices via a single viewer app – Vuforia View.
Pricing: The Basic plan costs $42 per month, and the Basic plan with the included cloud database is $99 per month. To learn the price of the Pro plan, you'll need to contact the Vuforia Sales Team.
To Sum Up
eLearning simulations are an effective way of training that prepares employees for on-the-job tasks they are likely to face. Whether you want your staff to learn how to deal with a customer, handle equipment, or interact with software, simulations will provide your learners all the possibilities for practicing and will let you reduce overall training time and cost.
We hope this blog will help you choose the right eLearning simulation software that will fit your teams' needs perfectly.
Have you already integrated simulations into your training program? If so, what results or improvements have you achieved? Please tell us in the article comments section.