September 14, 2015
Best Free Online Plagiarism Checkers for Teachers and Educators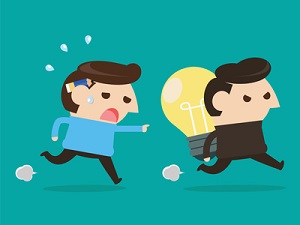 Plagiarism detection software gives teachers access to a world-wide database of information when it comes to finding plagiarists, and the similarity reports they generate help students understand the importance of citing references. Here is a list of the top 7 free online plagiarism checkers (and three paid ones) for teachers and educators to use with their students to help stamp out plagiarism.
1. Unicheck
Created specially for educators and students, Unicheck plagiarism checker (earlier known as Unplag) can scan papers against the Internet, open-access and private educational databases in real-time. This plagiarism detection software can be easily integrated into major learning management systems (Google Classroom, Canvas, Moodle, etc.).
Unicheck provides user-friendly, interactive and detailed similarity reports with extensive functionality: highlighting text matches in the checked file, indicating wrong formatting and styling mistakes, comparing submissions against sources in side-by-side mode, sharing feedback with students, etc.
This plagiarism checker is completely safe to use as all personal data are encrypted and protected in accordance with FERPA (the US) and GDPR (Europe).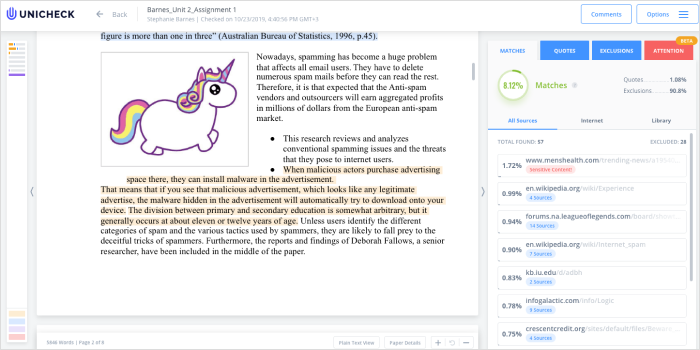 Pros
An average speed of plagiarism checks takes not more than 24 sec per document
Unicheck offers a 3-week trial period for educators and up to 6 months for academic institutions
The users can get instant support that is available 24/7 via call, chat, or contact form
Cons
Similarity checks become available once the Unicheck account is funded
You can check different file formats including .odt, .pdf, .doc, .docx, .txt, .rtf, and .html without changes in document formatting and see originality and similarity percentage after each scan is completed. The prices for the Unicheck subscription plans vary from $4,99 per year to $9,97 per month.
2. PlagScan
PlagScan allows you to compare documents against its own database, freely accessible Web sources and non-public scientific content from cooperating publishers and researchers. You can also use PlagScan to cross-check documents against each other.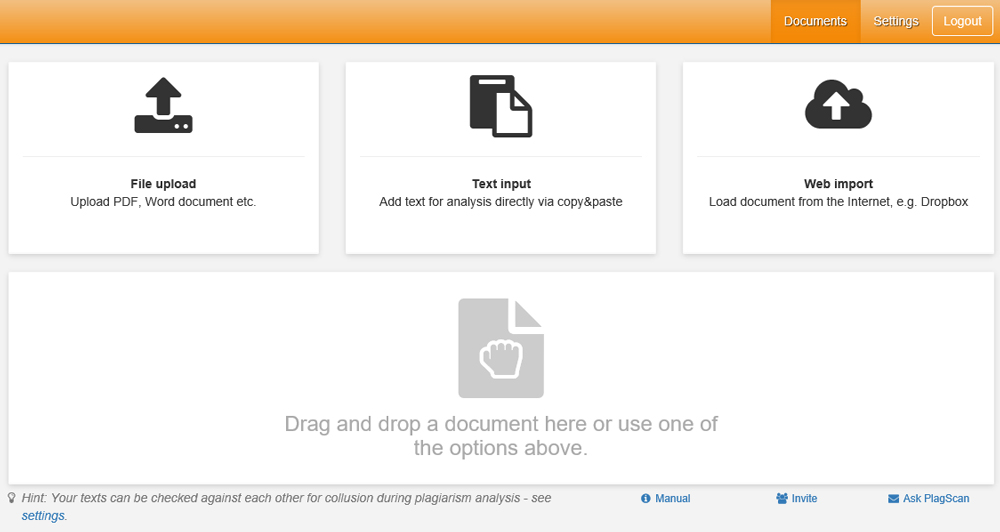 Pros
PlagScan offers:
a service tailored to teachers and post-secondary institutions
detailed guidelines and advice for avoiding plagiarism, right on the homepage
a comprehensive plagiarism detection service without the need to download and install additional software
Cons
The site's limitations are:
the free trial allows you to check up to 2,000 words
report generation may take a while during peak hours
Here's what you get out of the paid services
unlimited online storage time
variable plans based on size of student body
no limit on size or number of plagiarism checks
PlagScan offers different plans (single user, school, university, company, enterprise) with different functionalities and features. Individual accounts start from $5.99, while schools pay $1.00 per student per year (minimum $500.00 charge).
3. Plagiarisma
Copy and paste, upload, or type the text you suspect has been plagiarized into Plagiarisma's software and it performs a Google search for your terms, listing the sites containing matching text.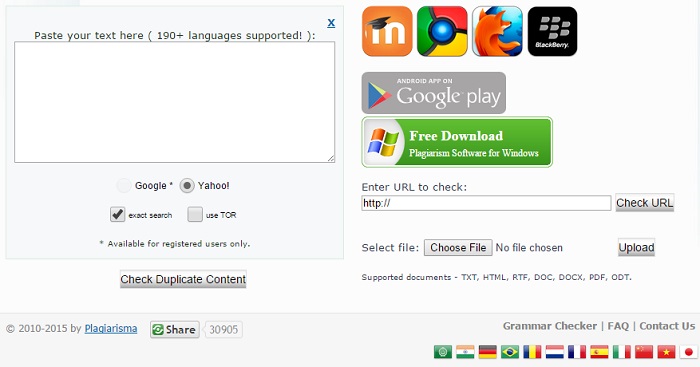 Pros
The site offers a number of useful tools, such as:
a variety of ways to input files
a built-in spellchecker
the ability to search website content from a URL
Cons
Introduce students to Plagiarisma with caution as it has a number of features that would seem to support plagiarism, rather than facilitate finding it, like:
an article rewriter (the results of which aren't always totally coherent)
a similarity checker, which checks your rewrite against the original
the report it generates is for exact matches only
Here's what you get out of the paid services
unlimited searches
shared accounts at a discount price (useful for a whole department or school opt ins)
a variety of plans ranging from 3 days to 6 months in duration
Accounts range from $5.00 a day (100 searches) to $50.00 USD for 6 months.
4. Plagiarism Software
Plagiarism Software parses input text into "sentences" of about 10 words in length, and determines if each phrase is unique or plagiarized.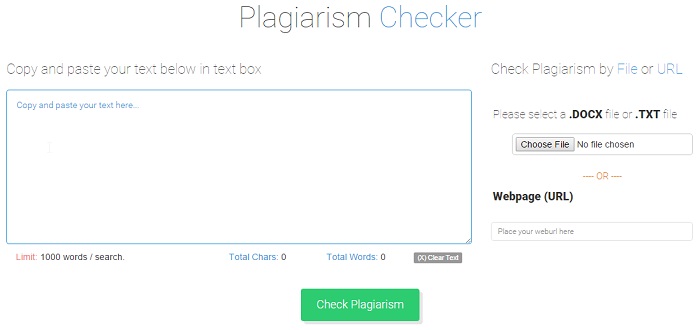 Pros
Besides its divide-and-conquer search method, Plagiarism Software offers:
quick results
multiple options for inputting text
an intuitive interface
Cons
There aren't many cons, but:
you are limited to 1,000 words per search
you cannot execute more than 1 search without first creating an account
Here's what you get out of the paid services
monthly payments, so no long-term contracts
unlimited scans, but you are still limited to 1,000 words per search
Plans range from $10.00 to $50.00 USD per month.
5. Plagium
Use Plagium for a quick search comparing student text to documents on the web, in the news, or on social media.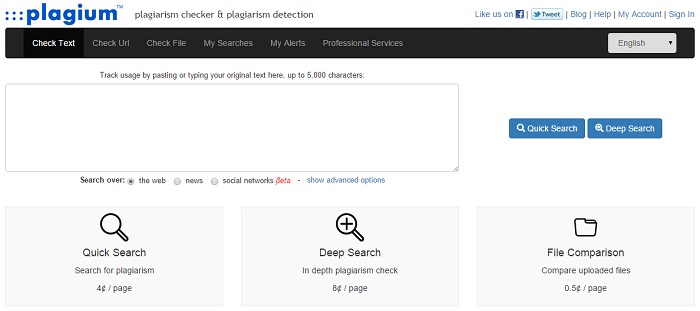 Pros
Generating an originality report is quick and easy, with the added benefit of:
clear instructions and explanation of the site's functionality
the ability to check up to 5,000 words at a time
Cons
Though Plagium is user-friendly, it has a few significant cons, like you:
can copy and paste documents, but must must pay to upload files
are severely limited with respect to free features
Here's what you get out of the paid services
inexpensive charge by the character
loads of additional features including printed reports and detailed online reports
Services range in price from $0.005 to $0.08 USD per 1,000 characters, depending on if you choose web search or deep search, and whether you copy and paste text or upload files.
6. Quetext
Quetext offers free plagiarism detection software without a paid option.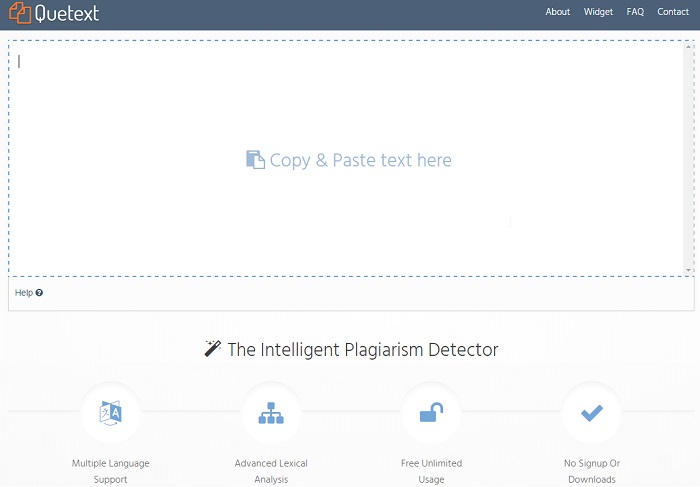 Pros
Quetext has an easy to use interface. In addition, they:
claim to be able to find plagiarism, even when the text is re-written
have a widget which you can install on your website, which is great for teachers with class web pages, or those using online courseware similar to Moodle.
provide free, unlimited usage, without having to create an account to do so.
Cons
Quetext is limited in that it:
allows only copy and paste uploads
did not live up to its claim of finding plagiarism in re-written text, finding only exact matches in my sample text, and not the re-written sentence
Quetext does not offer paid services.
7. Paper Rater
Paper Rater offers free analysis of unlimited documents for teachers, educators, and students.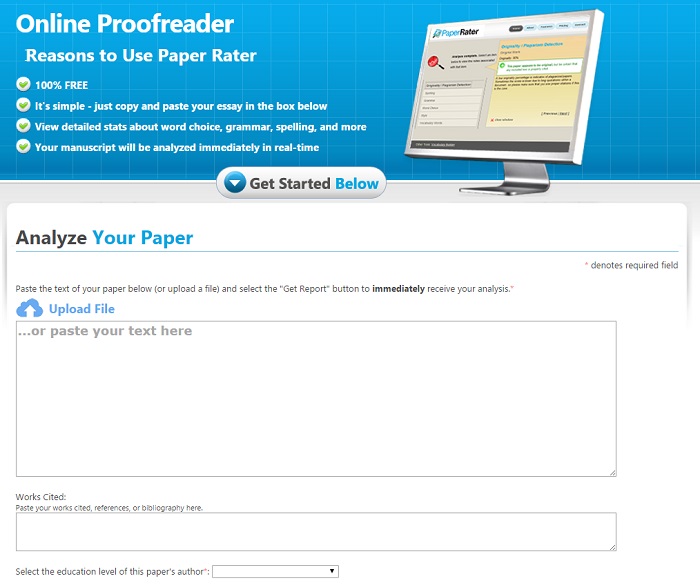 Pros
Not only does Paper Rater offer real-time plagiarism detection for both teachers and students, but it offers a host of other useful tools, including:
spelling and grammar checks
word choice and style analysis
vocabulary appropriateness, given grade level of author
the option for a printable report
Cons
There is only one:
you cannot save your plagiarism reports
Here's what you get out of the paid services
the ability to upload files for plagiarism detection (only copy and paste allowed for free)
an ad-free interface
Paper Rater claims faster processing and enhanced plagiarism detection with a premium, paid account
A premium account at Paper Rater is $7.95 USD per month per user, if you pay annually.
8. PlagTracker
PlagTracker allows you to carry out unlimited plagiarism checks for free and produces a comprehensive list of links to web sites where it may have found duplicate content.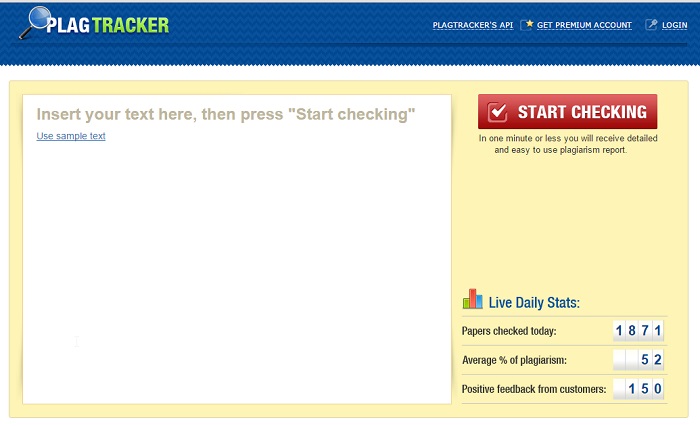 Pros
PlagTracker's interface is intuitive and:
allows you to check an unlimited amount of documents for free, up to 5,000 words at a time
generates a report quickly
Cons
Though it passes muster as a first line of defense, PlagTracker:
marked unique text as plagiarized on numerous occasions
marked the same text as unique on one report and plagiarized on the next
Here's what you get out of the paid services
checking documents against a larger database
the ability to exclude sources from your report
grammar check included
A premium subscription is $14.99 USD per month.
Free sites are great for a quick and dirty plagiarism check, but if you want to do some serious detection, you might choose to subscribe to a paid service. Here are 3 paid sites to consider:
9. Check For Plagiarism
Whether you are a teacher, educator, student or researcher, Check For Plagiarism has a plan for you.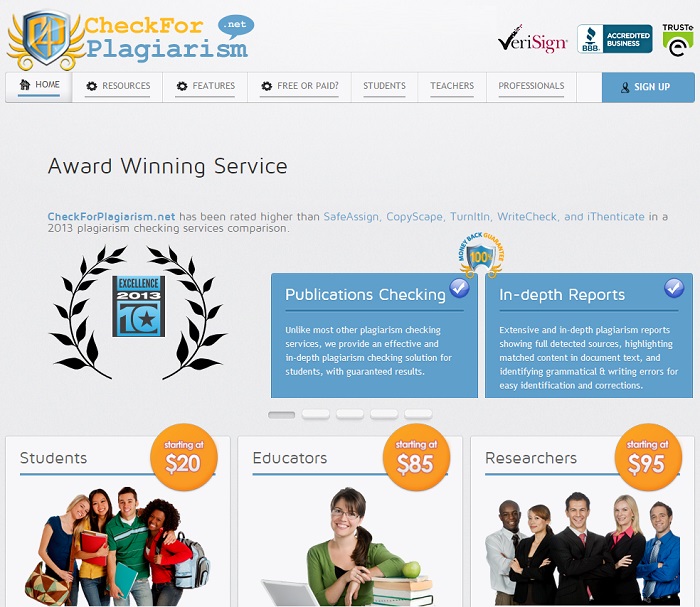 Pros
Check For Plagiarism seems to be incredibly dynamic, accepting files in over 100 languages and file formats, in addition to:
multiple free user accounts for teachers and students at no extra cost
software that checks student work against journals, articles, and books
easy to read, interactive reports
Cons
On the surface, Check For Plagiarism seems like a great option, but:
trial accounts cannot be made without providing personal information
on-site pricing is ambiguous, making it hard to tell if the site is cost effective
Accounts begin at $20.00 USD for students, $85.00 for educators, and $95.00 for researchers.
10. Grammarly
Grammarly bills itself as the best plagiarism and grammar checker out there. Though it will give you an itemized list of problems it found for free, you have to create a paid account to see the report.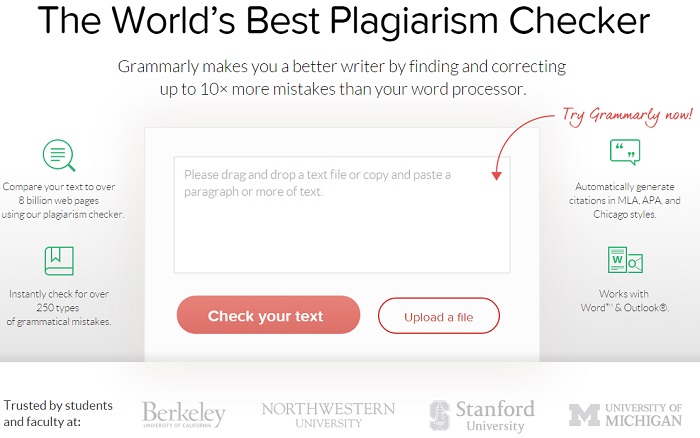 Pros
Grammarly claims to detect and correct more than 10 times the grammatical errors of your word processor, as well as:
compare your text to the content of billions of web pages
create citations for you in multiple styles
allow you to upload both copy and pasted text and files for testing
Cons
The one cause for concern is:
you cannot do a thorough test for free prior to purchasing a subscription
Grammarly plans begin at $37.95 but decrease with quarterly or annual plans.
11. TurnItIn
A popular paid service for teachers, students and educators, TurnItIn saves all uploaded files to a database which is used in the site's document comparison algorithm.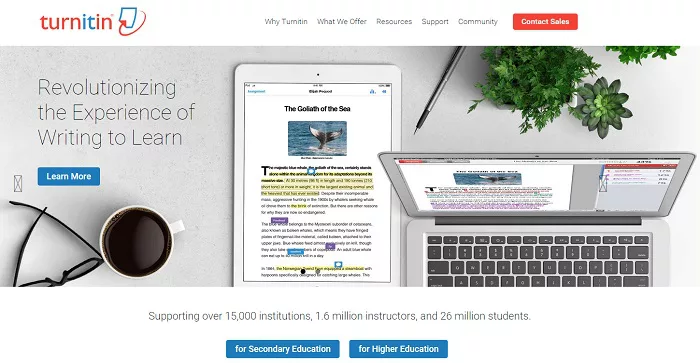 Pros
In addition to providing teacher tools to support paperless classroom environments, TurnItIn:
lets students upload multiple files, multiple times
produces a comprehensive report with links to existing web sites from within the interface
connects teachers of students submitting plagiarized papers
Cons
The cons are few, but include:
an awkward interface with respect to other features offered (such as online assignment evaluation and peer editing)
Potential clients are asked to use the online form to contact TurnItIn to discuss pricing and plans.
Conclusion
Plagiarism detection software for teachers and educators is a must in today's classrooms, not only to identify plagiarism, but to help teach students avoidance tactics. Be sure to test software for accuracy and ease of use before selecting the one that's right for your needs.
Read this article to find out how iSpring e-Learning authoring software can protect your e-courses from plagiarism.
Do you have a favorite plagiarism checker that's not on this list? Tell us about it in the comments below!