February 16, 2023
The 8 Best Online Plagiarism Checkers for Teachers and Students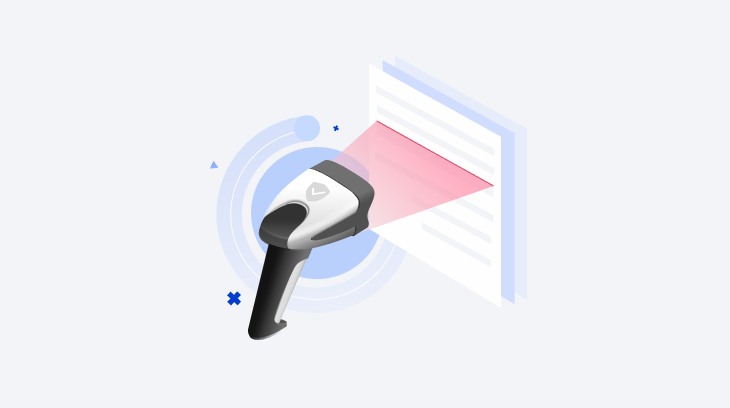 Whether you're a student or a teacher, you've probably had to check a text for plagiarism at least once. Fortunately, there are plenty of impressive tools that provide detailed reports on all matches. The best plagiarism checkers go further and find links to the original texts, help with the creation of citations, and even provide tips on language improvement.
Read this article to learn about the 8 best plagiarism checkers for teachers, both free and paid, so you can choose the best option for your needs on any budget.
The
Best Plagiarism Checkers:
How We Tested
To compile this list, we analyzed different aspects of plagiarism checkers, including character limits and the number of checks per month available for free solutions. We evaluated the interface's usability and what other features the tool offers besides plagiarism checking per se. Among other things, we studied their capabilities to integrate with other software, such as learning management systems (LMSs), CRMs, and communication tools.
The 4
Best Free Plagiarism Checkers
Here's a quick overview of some free plagiarism checkers:
Free plagiarism checkers feature comparison

| | | | | |
| --- | --- | --- | --- | --- |
| Tool | Formats supported | Limitations | Downloadable reports | Other features |
| 1. PapersOwl | Paste text or upload pdf files | Up to 10,000 characters at a time | No | Supports over 150 languages |
| 2. Check Plagiarism | Paste text or upload doc, docx, txt, and pdf files | Up to 1,000 words at a time | No | You can exclude some sources so they will be ignored |
| 3. Paper Rater | Can only paste text | Up to 5 pages at a time and 10 searches per month | No | Provides grammar, punctuation, and spell-check |
| 4. Search Engine Reports | Paste text or upload text documents | 1,000 words at a time | Yes | Suggests synonyms to increase the percentage of originality |
1. PapersOwl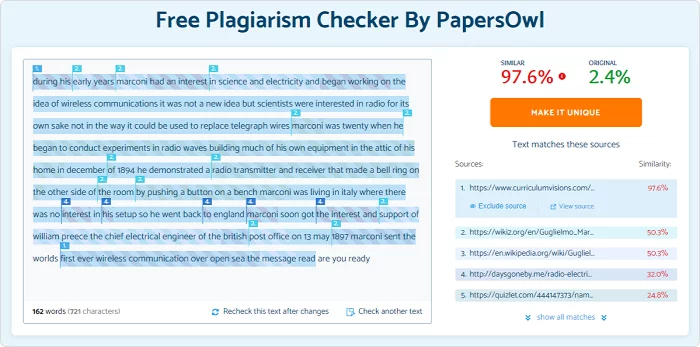 PapersOwl is an easy-to-use and entirely free plagiarism checker with a well-designed interface. It's also really fast: just paste the text and the tool will scan and compare it with a mass of online content. It allows you to upload and check text documents as well. Once complete, the tool shows the percentage of plagiarized work and highlights the overlaps that were found.
Allows you to check up to 10,000 characters at a time
Live chat support 24/7
Checks pdf and text documents
Over 150 languages are supported
You can't download reports
Important: PapersOwl doesn't have a paid plan, but they do provide a service to improve your texts, so you can order the paper to be edited, for example, to get rid of plagiarism.
2. Check Plagiarism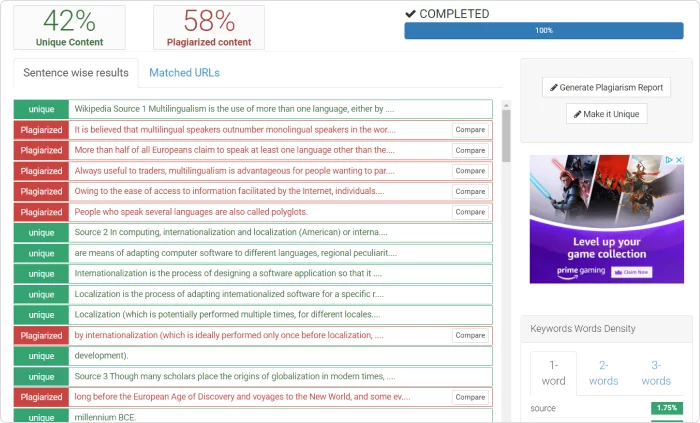 Check Plagiarism uses advanced AI algorithms to check pasted text or uploaded text documents. It supports 12 languages and allows you to check up to 1,000 words at a time. You can exclude some URLs so they will be ignored while checking, and the text copied from them will be marked as unique content.
The vendor also provides a free grammar checker and a summarizer tool.
Doesn't save your text in the database, so it's safe
Checks text documents in doc, docx, txt, and pdf formats
Allows you to compare two texts or documents for dublicate content
You can't download reports
Important: You can purchase a weekly, monthly, semi-annual, or annual plan — $7, $20, $100, and $135 respectively. A premium subscription expands the number of words that can be checked at once and allows you to perform more search queries. It works twice as fast and more accurately than the free version with no captchas or ads.
3. Paper Rater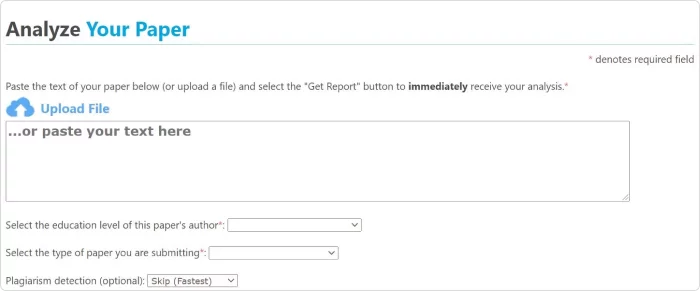 Paper Rater is an all-in-one tool for improving writing. It doesn't just check your paper for plagiarism, but also detects grammar, punctuation, and spelling errors. After checking, the tool assigns your text an automated score and gives helpful tips for improving your writing.
There's no need to sign up, log in, or download the tool to check the text
Automated scoring, grammar check, and writing suggestions
Has an option for a printable report
You can't upload the text as a document but can only type it in or paste it
You can check up to 5 pages at a time and up to 10 times per month
Important: A premium account at Paper Rater is $11.21 per month or $71.55 per year. It offers faster checks without ads and allows you to upload text files. You can check up to 20 pages at a time and perform 25 checks per month.
4. Search Engine Reports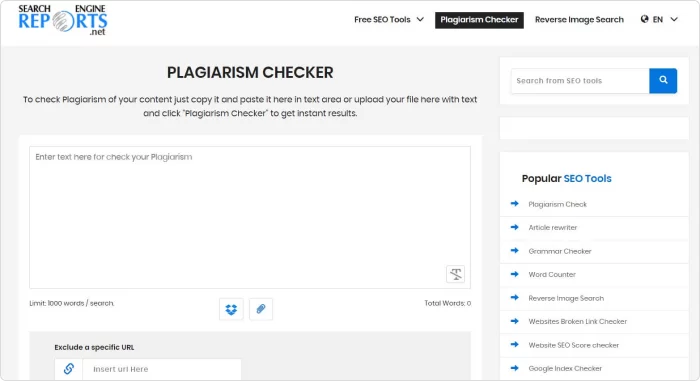 Using Search Engine Reports plagiarism checker, you can check pasted text or uploaded documents. The tool evaluates each sentence separately and concludes whether it is original or not. The plagiarized text is highlighted in red.
You can exclude up to 5 URLs, so the content copied from those addresses will not be counted.
Helps you rephrase plagiarized content y suggesting synonyms
Will check up to 1,000 words at a time
Allows you to download reports
Overcrowded interface with lots of distracting animations and ads
Important: Paid plans provide priority support, more comprehensive searches, and no ads. It also allows you to check more words per search with more accurate results.
The 4 Best Paid Plagiarism Checkers
Check out this quick comparison of paid solutions. In the table, we did not include the basic features of plagiarism checkers, such as the ability to upload text files and download reports. We focused on the features that the free solutions usually don't provide:
Paid plagiarism checkers feature comparison

| | | | |
| --- | --- | --- | --- |
| Tool | Type | Integrations | Other features |
| 5. Unicheck | Available in an LMS, as a standalone solution, or via API | Canva, Moodle, Blackboard, Google Classroom, Populi, Schoology, and more | Skips common phrases and allows you to exclude some sources |
| 6. Quetext | A single account for a standalone tool and a Google Chrome extension | No | Identifies disguised plagiarism, generates citations in MLA, APA, and Chicago style formats |
| 7. Scribbr | Standalone web-based tool | No | Allows you to compare different papers against each other |
| 8. Grammarly | All-in-one tool for perfect writing: desktop application (Windows, macOS), web version, browser extensions, add-ins for Google Docs, Medium, Twitter, and more | Slack, Notion, Salesforce, and more | Checks grammar, spelling, and helps with more complex stylistic issues |
5. Unicheck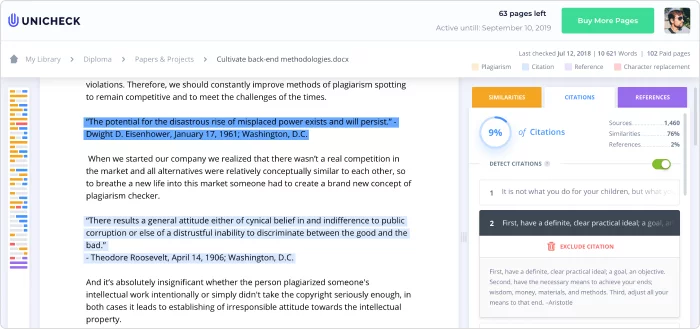 Unicheck is a powerful plagiarism prevention tool for education, business, and personal use. It displays only meaningful matches and skips common phrases. Unicheck even reveals digital trickery and flags suspicious text formatting.
If needed, you can exclude previous papers, bibliographies, self-plagiarism, or quotes to get relevant results. Institutions are allowed to create their own private text bases for future checking.
Unicheck doesn't store checked texts but saves all the reports so you can review them when necessary.
Customizable search settings
All text formats are supported, including doc, docx, xls, ppt, html, Apple Pages, Google Docs, zip, and others
Has integrations with Canva, Moodle, Blackboard, Google Classroom, and other learning mannagement systems
Doesn't offer options for improving the text
Pricing: The price depends on the number of pages and varies from $5 to $600. The vendor provides an online calculator on their website.
6. Quetext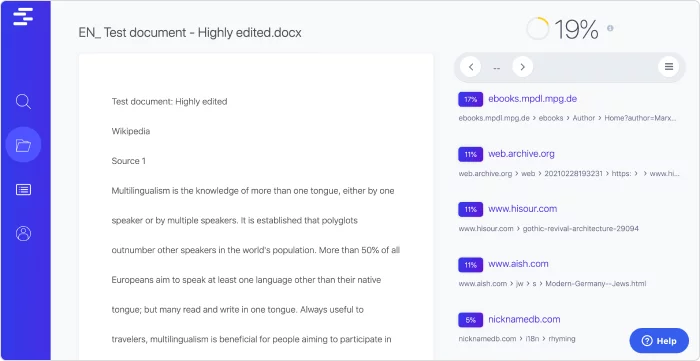 Quetext claims to be a robust plagiarism checker for teachers, students, and content writers. It uses Deep Search Technology that can spot near-exact and fuzzy matches in which plagiarism is disguised. Depending on your plan, it allows you to upload 5-100 files at once and offers custom URL exclusion.
Thanks to Color Grade technology, you can find plagiarism snippets quickly. If needed, Quetext can help you with citations. You just fill in all the necessary data about the source, and the tool will cite it in your bibliography.
Has a Google Chrome browser extension
Checks from 100,000 to 500,000 words at once, depending on the plan
Has a citation generator
Spell and grammar check
Doesn't have a paraphrasing tool to help you remove plagiarism
Pricing: Quetext has a free plan with a limit of checking up to 500 words per month and offers 3 paid plans ranging from $14.99 to $74.99 per month (or from $179.99 to $899.99 annually).
7. Scribbr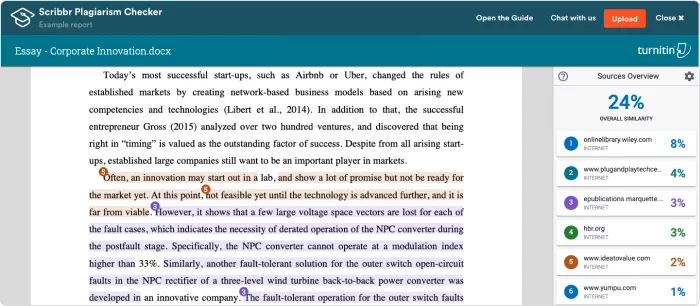 Scribbr claims to be the most accurate plagiarism checker on the market. It detects everything from total matches to synonym swapping.
To use Scribbr, you upload an MS Word document or a pdf and pay for the number of words that are checked. The tool compares your text to billions of web pages, books, articles, and other documents. It then provides a report with all the similarities highlighted and matched to their sources and gives a plagiarism score.
Apart from checking among web sources, you can upload previous assignments or a classmate's paper to catch all the similarities.
Has access to a full range of source types, including open- and restricted-access journal articles and theses
Live chat support
You can download reports in pdf
Offers a free paraphrasing tool
You need to pay for each check separately
Pricing: The price varies depending on the size of the text, ranging from $19.95 for up to 7,499 words to $39 for over 50,000 words. There are no subscriptions, so users need to pay per check.
8. Grammarly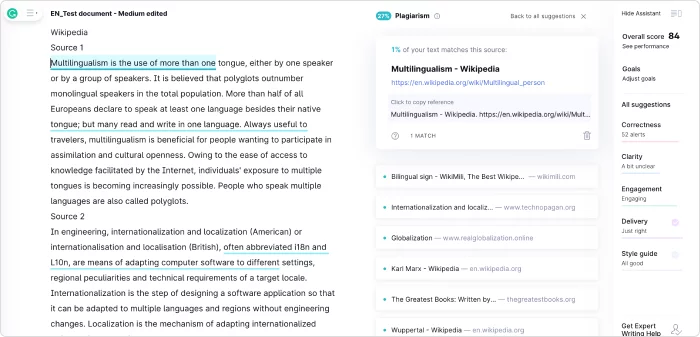 Grammarly provides a plagiarism checker tool just as a part of the powerful writing software. It offers advanced feedback on grammar and spelling as well as more complex stylistic issues including word choice, tone, conciseness, and more. It has a web version, a desktop application (Windows and macOS), mobile app, and also browser extensions that provide real-time writing suggestions on Gmail, Google Docs, Twitter, and LinkedIn.
It flags specific sentences and provides reference information about the source, calculates an overall originality score, and offers corrections. It also highlights passages that require citations and gives you the links you need to credit your sources properly.
Offers clarity, vocaulary, and tone improvements
Provides auto-citations
Completelly safe
An all-in-one tool, so you should pay for the full package, even if you only need a plagiarism checker
Pricing: Grammarly offers two plans: Premium for individuals and Business for teams. The price starts at $12 per month. Educational institutions can get special discounts.
The Best Plagiarism Checkers FAQs
Check out the most common questions on plagiarism checkers:
What does plagiarism mean?
Plagiarism means using another person's ideas or work and presenting it as your own. If you copy text from another source, you should include a reference to the author.
What is a plagiarism checker?
A plagiarism checker is a text-matching tool that scans your text for plagiarized or duplicate content. It compares your content with billions of existing texts on the Internet and shows a plagiarism percentage.
What percentage of plagiarism is acceptable?
There are no clear-cut rules on what degree of plagiarism is acceptable in an academic environment. Each educational institution has its own standards. Usually, a text similarity of over 15-20% is considered a high percentage of plagiarism.
Are plagiarism checkers safe?
Some plagiarism checkers store the scanned content and thus aren't completely safe. But the most widely used solutions comply with the FERPA and GDPR privacy policies, so they are completely secure.
Conclusion
Copying someone else's work can have serious consequences: it damages your reputation and reduces the value of your work, as well as your academic success. Plagiarism is not always intentional, but even if it is accidental, the damage done will not be any less serious.
Plagiarism checkers are a must-have in an academic environment. They help teachers check students' papers and instill respect in them toward the intellectual work of others.
We hope our review will help you choose the best option. If you know of any other good plagiarism checkers, feel free to share them with us in the comment section below!