April 3, 2023
Learning Paths: Pave the Way to Success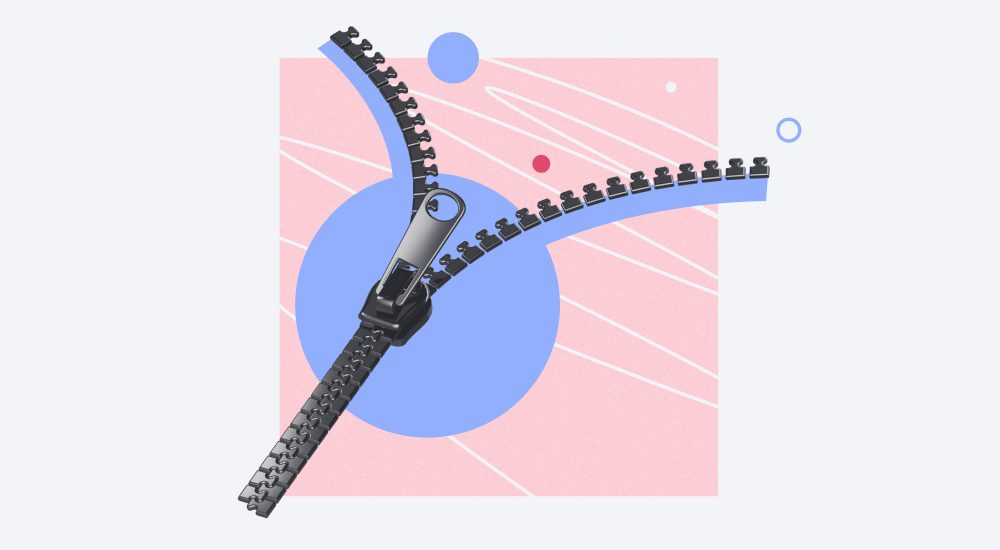 Imagine that you need to build a house. Where will you start? You can buy flooring material, hire builders, choose wallpaper, and then decide how many rooms you want. These haphazard actions will most likely not let you succeed. It's much more effective to make a plan and sequentially write out your steps: lay the foundation, raise the walls, make a roof, install windows, etc.
The same is true with employee training. Let's assume you want to onboard your new employees and reduce the time needed for them to achieve full productivity. There's so much to tell them: the company's history, its products, corporate values, working conditions, and more. You can dump this information onto new hires all at once, but they will acquire hardly any of it because learning should be carried out step by step. That is what learning paths allow you to do.
In this article, we'll walk you through the entire process of developing a learning path.
What Is a Learning Path?
A learning path, also known as a learning pathway or a learning track, is a route that learners take through a training program. It allows you to take a set of courses and weave them together into a cohesive learning journey, breaking the learning process down into manageable chunks. It looks much like a roadmap,  with milestones that lead to the intended learning goals.
The Learning Paths Methodology is particularly well suited for corporate training because it allows organizations to onboard new employees and provide targeted and personalized learning experiences for existing employees.
Also read: The 11 Best HR Tools for Streamlining Your Workflow in 2023
Look at the picture below. There are chaotic courses on the left that give no idea of where to start or what order to go in. And there is a series of courses on the right that create a linear flow of what someone needs to learn. Which way of training would a learner prefer? The answer seems obvious.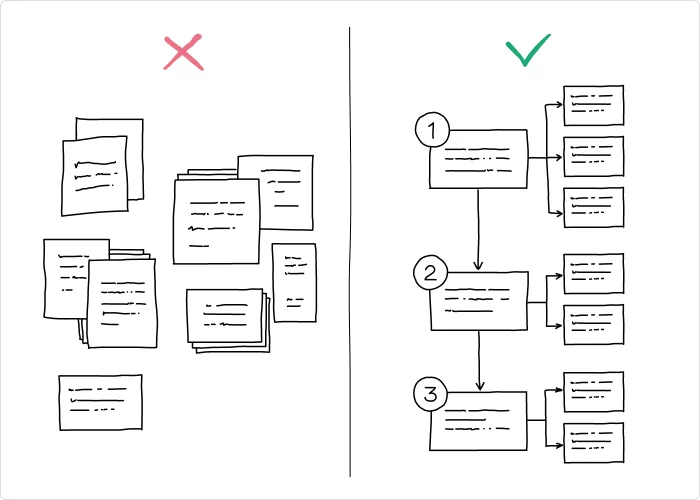 Why Use Learning Paths?
The best thing about the learning path is that it can take a training program from confusing to constructive. More specifically, it allows you to:
Create a more structured training program. Instead of assigning a bunch of separate courses that are tough to organize and navigate, you can design a smart and straightforward path. Furthermore, you're able to control both the order in which courses are assigned and the timeframes within which they are available.
Achieve goals faster. A learning path always has a goal broken down into smaller ones that are achieved by completing a specific course or module. It gives the learners a clear understanding of the steps they need to take to reach the ultimate goal.
Save time. You can enroll learners in each of the courses individually, but it's inconvenient and time-consuming. So, you can go another way and set up a learning path once and let your learners follow this route on their own. After finishing one course, they'll be enrolled automatically in the next one, and so on, until they complete the entire training path.
How to Create a Learning Path
If the prospect of what you can reach with learning paths seems inspiring to you, read our comprehensive guide on how to create them step by step.
Step 1. Conduct an in-depth analysis
This is a very important stage that will affect all the others that follow. You need to clearly understand:
Your target audience. Clearly define who you are going to train: newbies from different departments, the sales team, or managers and team leaders.
Current competency level and learning gaps. Think about your audience's strengths and what they are currently lacking. It will help you decide what kind of content the training program should include. For example, it may appear that newly-appointed managers lack the skills necessary to organize teamwork or communicate effectively.
Learning goals. Define the main goal of the entire learning path based on your audience's knowledge and skill gaps. Then divide it into smaller objectives. Your learning goals should clearly define what your audience needs to know and be able to do once they complete the training. Here is what all this might look like if you're aiming to develop new managers into powerful leaders:
Step 2. Create milestones
The human brain is designed to remember information better when it is organized and divided into smaller pieces. Let's take the structure of this article as an example. Does the linear flow and division into sections help you perceive information better or make it more complicated?
If your training doesn't follow a logical order, the learners will have to make a greater effort to organize it in their heads. So, you need to keep the objectives in mind and divide the learning path into corresponding courses and lessons.
The milestones should be interconnected and ordered in relation to each other. Arrange the courses from the simple to the more complex. The result should be a logical sequence of learning topics, as in the example below:
Clearly defined milestones make the learning journey smooth and enjoyable. 
Step 3. Prepare the learning content
Now that you've made the necessary preparations, gather all the learning activities together. You probably already have some video lectures, guides, podcasts, and documents. If not, or there's not enough content to meet your training goals, create it.
You can buy off-the-shelf courses on the web, outsource training development to some third parties, or build courses in-house. Fortunately, there are some authoring tools, like iSpring Suite, that allow you to create interactive courses — even if you have no design or tech skills. In iSpring Suite, you can make slide-based courses, quizzes, role-play simulations, and videos in a familiar PowerPoint environment. Here is but a fraction of what you can create in iSpring Suite.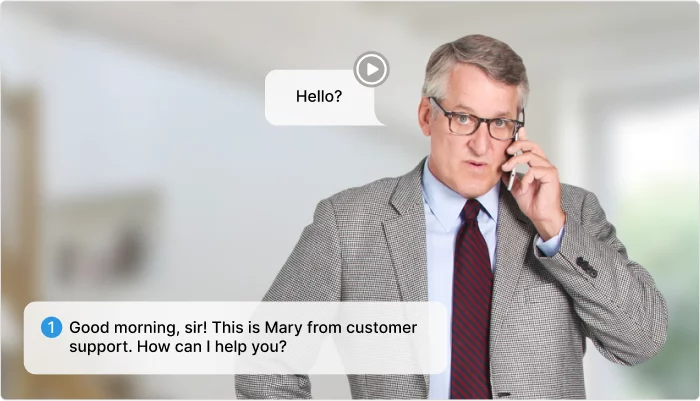 Step 4. Build a learning path in your LMS
When you have all the necessary content, connect all these files, guides, videos lectures, and assessments to the corresponding courses in your LMS.
A learning management system (LMS) is an online platform that enables you to create, deliver, and monitor online training in a single place. With an corporate LMS, you can create a learning path, assign it to your learners and keep your finger on the pulse of their progress by receiving detailed reports. 
Let's look at how learning paths are set up in the iSpring Learn LMS.
In iSpring Learn, a learning path is called a learning track. It allows you to combine a series of courses that might consist of interactive modules, manuals, assessments, and other content into a single straight line.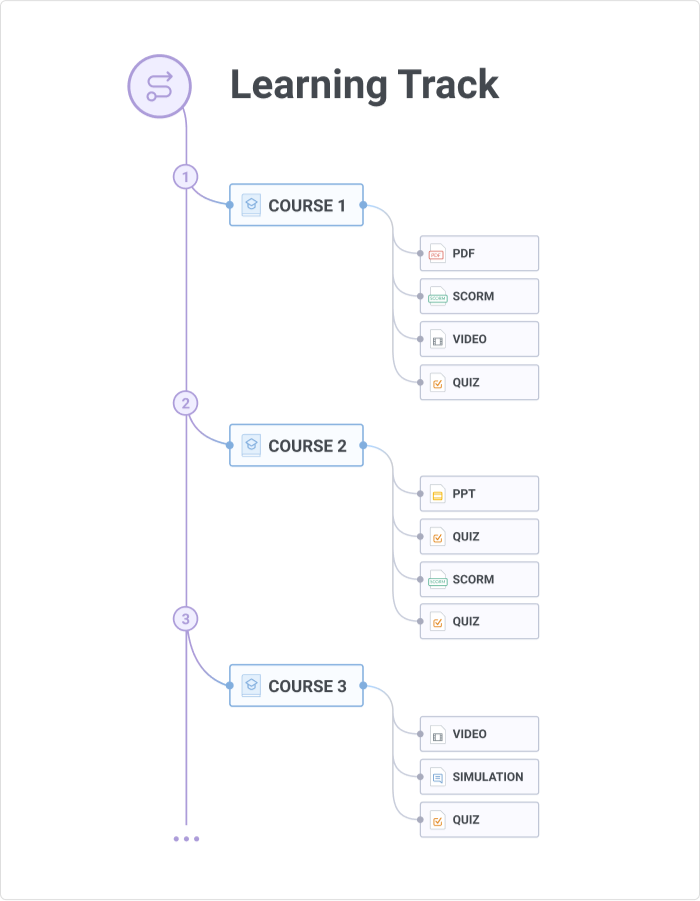 There are three ways that users can progress through learning tracks in iSpring Learn:
A scheduled learning track. If you want to keep your learners from scrolling through the entire path, in an effort to finish it quickly, make a clear schedule of which day each course in your pathway will open.
A sequenced learning track. This helps to control the order in which learners take the courses. Yet compared to a scheduled one, they will automatically be given access to the next course immediately after completing the previous one, and not on a specific day.
A track with free course order. Sometimes the order isn't important — then you can make all the courses within the learning pathway available at once so the learners can decide in which order it is most convenient to take them.
Bite-sized pieces of content combined into training paths can be easily delivered via mobile devices. The iSpring Learn mobile app makes it possible to pass through learning paths anytime and anywhere, even when offline.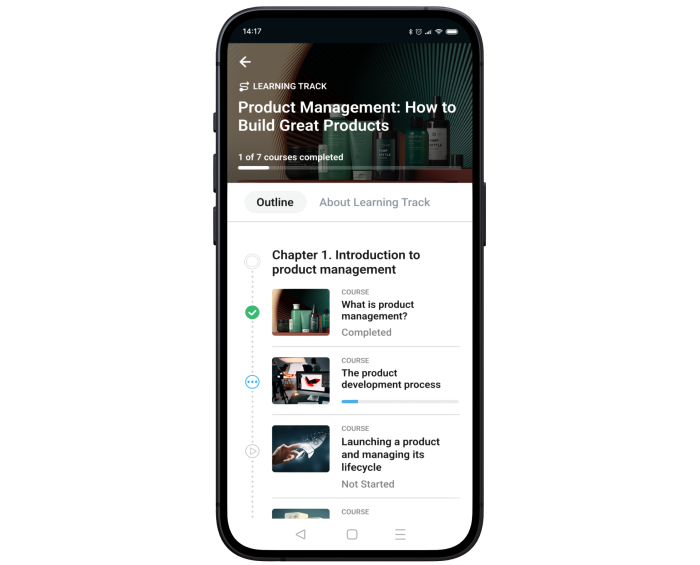 One of the biggest challenges with learning paths is how to make them flow and remain engaging. In iSpring Learn, it's easy to recognize learners' achievements and motivate them to succeed even more. For example, your employees can earn points and badges when they view courses and successfully complete tests, simulations, and assignments, and check their own progress and that of their peers on leaderboards. All this will help you encourage a culture of healthy competition among colleagues.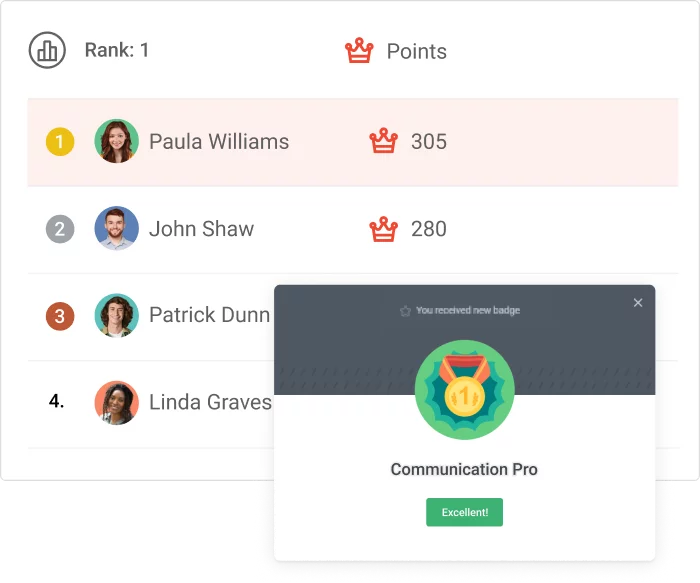 You can also set the LMS to award your students with a certificate of completion when they complete a learning path in order to increase their engagement with the training.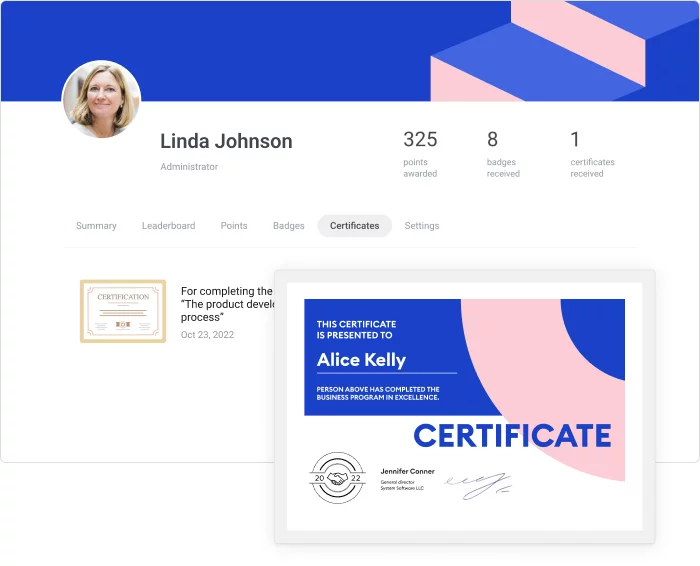 To go into greater detail on how to create learning paths in iSpring Learn step by step, read our article on learning tracks.
Automate corporate training and improve employee performance.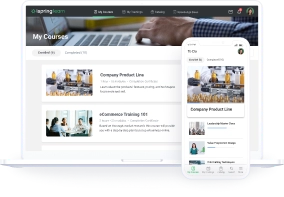 Step 5. Evaluate the progress
After you've created a learning path and implemented it in your LMS, don't forget to check progress. Use assessment to find out if the educational path was useful and helped your learners achieve the desired goals. iSpring provides comprehensively detailed statistics on every content item and learner so you can quickly assess the learner's progress – even on multiple learning paths. This information will also help you reveal the most popular content or learners' challenges.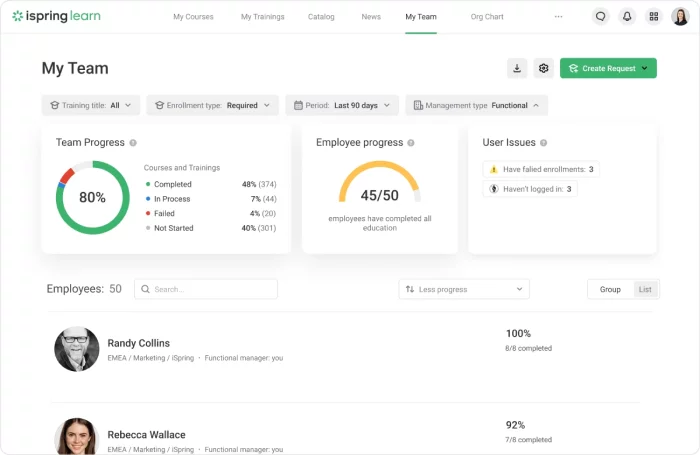 Collect feedback from learners to improve the educational path and make the learning journey even smoother.
FAQ on Learning Paths
Here you will find answers to the most commonly asked questions about learning pathways.
What is the difference between a learning path and a course?
Whereas a course gives you focused knowledge on a particular topic, a learning path consists of different courses and is thus more comprehensive. Since learning pathways are more holistic and coherent, users tend to spend more time completing them compared to separate courses.
Why is a learning path important?
A learning path is a guide with a series of courses that fosters greater understanding and proficiency in relevant topics. The main value of the learning path for employees is that they clearly comprehend what is required of them to succeed in their job role and achieve growth.
What is a personalized learning path?
A customized or personalized learning path is a unique roadmap that helps master a certain employee's proficiency to fill knowledge gaps and succeed in their job and get promoted. By offering personalized learning paths, you can motivate employees to take control of their development and chart their own path to achieving their goals.
Wrap Up Your Training Program
When creating employee training programs for your employees, the best way to deliver new information comprehensively is to combine courses into a single training pathway.
You can do this easily with an LMS that will also let you automate many training management processes and provide up-to-date and systematic data on learners' progress. If you haven't decided on an LMS yet, why not sign up for the iSpring Learn demo?