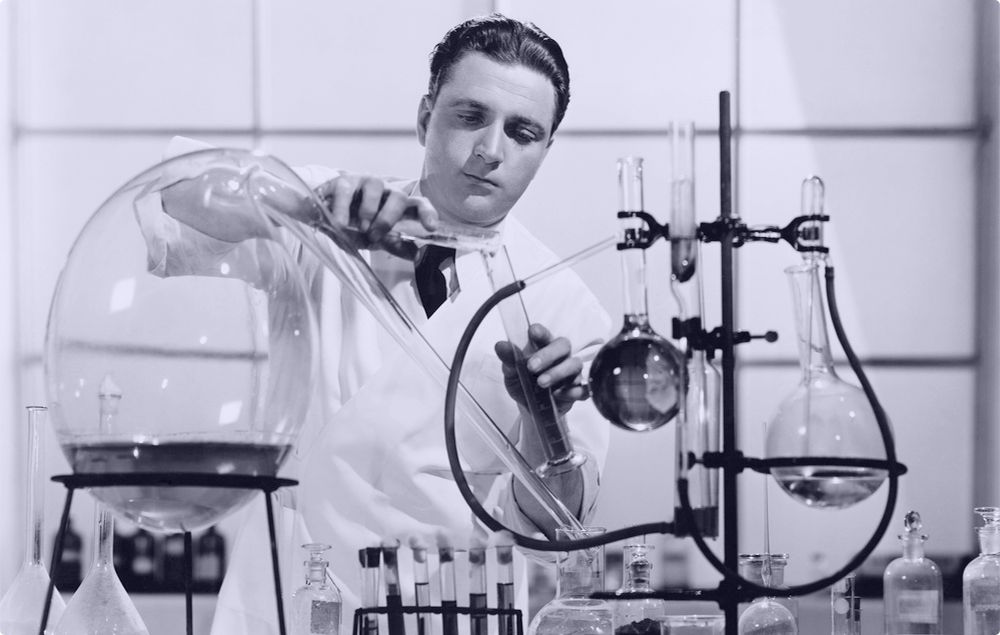 The question of whether blended learning is effective concerns training professionals as much as other people wonder if blended scotch is good. Just like with scotch, the answer depends on the balance. So what is blended learning, what do we blend, and why has it been drawing so much attention in the past 10 years?
What Is Blended Learning?
Blended learning is an approach to learning that combines brick-and-mortar instructor-led training and online learning activities. Unlike full-fledged eLearning, the online part of the training doesn't replace face-to-face training with a teacher; teachers incorporate technology to enhance the learning experience and broaden understanding of certain topics. For example, they can share a link to a video and offer students to watch it at home, email their review to a teacher, and then discuss it in class.
Here are some more examples of how it works:
A couple of examples of how to blend

| | | |
| --- | --- | --- |
| Activity | Face-to-face approach | To make it blended… |
| Learners work in groups on projects. | Learners meet in a classroom to collaborate and contribute to the project. | Learners use channels in messengers, online communities, and task managers to plan their work and control the flow. They also use file-sharing services (e.g. Google Docs) to collaborate and share feedback on the project. |
| Learners practice conversation in a foreign language in pairs or small groups. | Learners are divided into groups during a lesson and talk about a particular topic. | In addition to classroom discussions, learners use online services for text and voice chat (e.g. Discord). |
| Assessment. | Learners write essays and take mid-term tests and final exams. | Learners' progress is evaluated by their activity statistics; they take online quizzes and tests, submit digital items, and take part in peer reviews. |
However, it would be a mistake to say that blended learning is just live training complemented with some additional online resources.
Why to Blend?
Over the last few years, the rapid development of technology has caused an increase in eLearning practices across multiple areas. We've been seeing more and more learning content going online and becoming available anytime and anywhere from any type of device.
For employees, however, digitalization offers greater opportunities not only to study on the go and 24/7 — let's be honest, this feature is mostly appreciated by employers — but to upskill in a user-friendly environment when they feel the need. Such a learning platform full of relevant information which is always at their fingertips encourages the self-starter in people: they feel control over their learning and acquire self-organizing skills.
On the other hand, businesses still have a couple of good reasons to conduct at least part of training offline. In blended learning, learners choose the time and place for self-study, but the pace is regulated by an instructor and a schedule of classroom activities.
Plus, for a truly transformational learning experience, there must be an opportunity to physically step away from everyday work, unplug, and update the skillset. A well-arranged offline session is a chance to meet internal and external experts, embrace cutting edge practices, experience corporate culture, and network with colleagues.
Seamless integration of offline and online is crucial for enhancement of learning outcomes.
Danone Academy Case Study
Danone is a world-leading food company with over 105,000 employees in 55 countries. To allow employees to be more competent and effective in their work, they launched the "One Learning A Day" program, which multiplied learning opportunities for each Danoner.
This program consists of 4 aspects:
On-the-job learning: includes conversations with team leaders, coaching, mentoring, and access to on-the-go digital learning resources.
Classroom training: internal and external training and workshops.
eLearning: e-courses, virtual classes, and serious games at Danone Campus 2.0, an internal learning platform.
Networking: face-to-face at marketplaces and campuses, and virtually within the Danone social network, communities, and learning platform.
Nowadays, the online learning platform has 69,000 unique visitors, and the average training time per employee is 27 hours per year.
Blended Learning Models for Corporate Training
At this moment you may be thinking, "Okay, I'm convinced. Let's put blended learning in practice at my company." But the most difficult thing about launching blended learning is that the technique is extremely flexible. The variety of strategies, tools, and the balance of everything will likely make even experienced learning professionals feel overwhelmed and confused.
We'd like to highlight four models which we see as the most suitable for corporate use: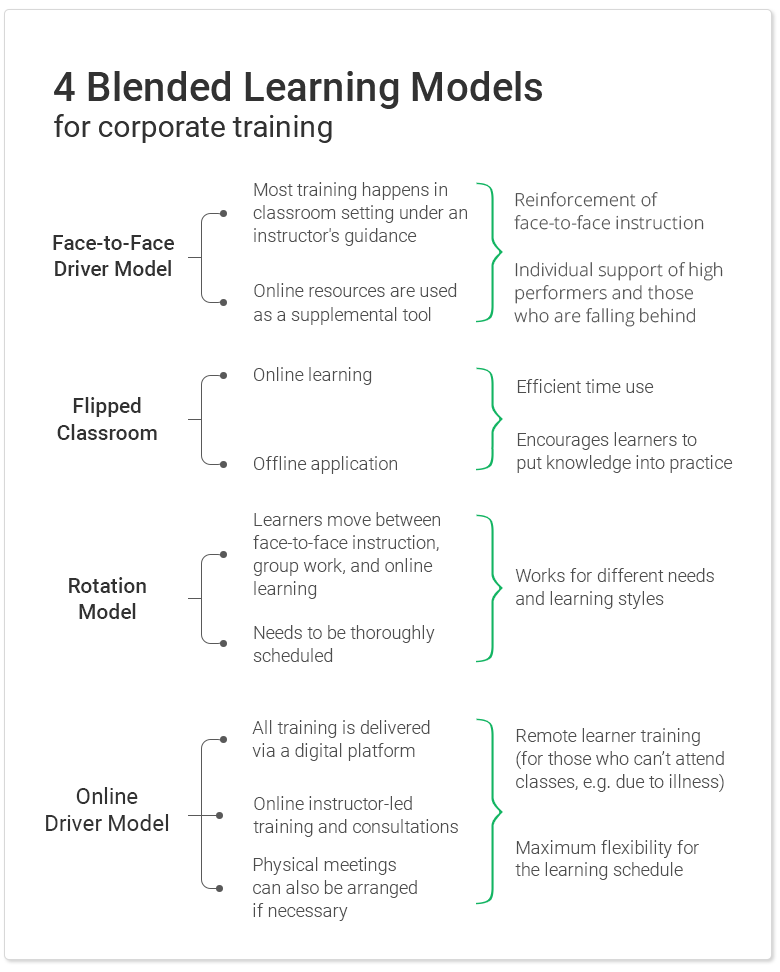 1. Face-to-face driver model
This model is the closest to traditional classroom training. This approach usually means that not everyone in the class will take additional online training, as it mainly targets the individual needs of those learners who are struggling or would like to go above and beyond.
2. Online driver model
This model is in direct opposition to brick-and-mortar studying, as it completely relies on digital delivery of the training. It combines both synchronous training (live webinars, peer-to-peer training sessions, etc.) and asynchronous training (self-paced study of e-courses). With the online driver model, there's usually no need for live face-to-face meetings, but they also can be arranged when necessary.
3. Rotation model
This model involves breaking a group of learners into smaller units to perform different types of tasks at different stages in turns. It allows learners with different types of learning styles to get the maximum benefit from the training.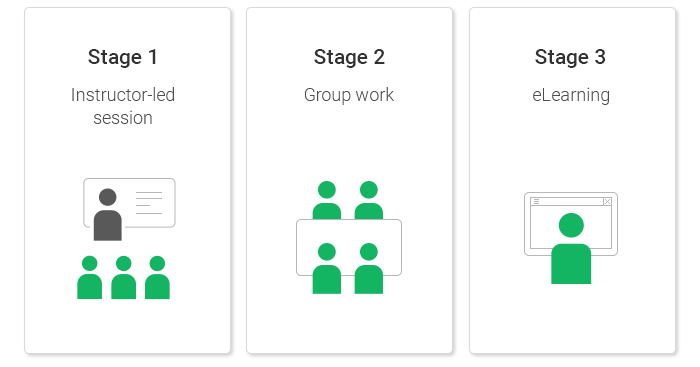 4. Flipped classroom
The motto of this model is "online learning, offline application." In the case of a flipped classroom, lectures and practical homework elements are reversed. Learners study new content at home before the class, and in-class time is devoted to active learning and applying the newly learned skills. It can be done in the form of discussions, case studies, or project work. The instructors' task is to guide the learners by answering questions and supporting them in the application of course concepts.
Intel case study
Intel is a high-tech semiconductor manufacturer that utilizes thousands of manufacturing technicians to operate and maintain its factories. The initial 12-day course required for Intel's technicians took 16 days of tool downtime. They managed to convert it into a blended solution that resulted in a reduction of technicians' time away from the factory and the resulting production tool downtime by 60%, as well as an ROI of 157%.
The plan consisted of three steps:
Step 1: Web-based training
A standalone interactive e-course with text, media, and simulations. This step provides learners with a basic knowledge of equipment components.
Step 2: Instructor-led training
A traditional classroom course taught by an instructor that provides learners with the advanced knowledge and critical skills needed for operating the equipment.  
Step 3: Managed Preventive Maintenance
Six months of hands-on on-the-job training to get used to troubleshooting and train psychomotor skills.
What Tools Does It Take to Blend?
The last thing anyone needs to do is start using technology right off the bat, just for the sake of using technology. Blended learning doesn't work this way. However, if you're at the start of your project, you'll likely need at least some of these tools.
1. Cloud learning platform
Learning management systems (LMSs) are used to house training materials, deliver them to learners, and generate reports that help you to see if training is successful. Some LMSs can only provide learners with assigned e-courses (so-called asynchronous learning); other solutions are capable of conducting live online training sessions, like webinars for example. If you're new to eLearning, there are three rules of thumb when choosing an LMS:
Choose ease of use above the rest.

The more intuitive a solution is, the more likely it will be adopted by instructors and employees, and the faster you'll be able to start.

Choose a solution that allows you to start small. That's why we strongly advise you to go with a cloud LMS. At the beginning, it's better to go with an LMS that doesn't require too many upfront investments such as hiring technicians to configure it, paying for setup training, or buying expensive additional modules to be able to use it properly.
Choose a solution that provides your learners with a mobile app. 

Being able to study on any device is crucial for the success of a blended learning project.
iSpring Learn LMS is an example of an LMS that corresponds to the criteria mentioned above. It takes just a couple of clicks to create your learning platform, upload training content, and add learners. You'll have access to all the features the LMS offers and only pay for active users. Plus, there are free native mobile apps for iOS and Android that allow your learners to study when and where they want to.
If you'd like to know more details about choosing the right solution, you can also find a comprehensive 5-step guide on the iSpring blog and download a ready-made checklist, which includes all the essential requirements.
2. Collection of learning assets
This topic deserves another article, so just keep in mind that content is king, and you'll need to put in some effort to create a collection of learning materials that effectively complements the live training.
The good news is that you can leverage what you already have. For example, with the iSpring Suite authoring toolkit, you can easily turn existing presentations into e-courses with quizzes and other interactive elements.
The bad news is that you'll still have to spend some time making an inventory and figuring out what's possible to revamp and reuse, and what you'll need to create from scratch. It's convenient to do this with a mind map, a method used to visually organize information.
3. Authoring tool
For effective blended learning, it's essential to have an authoring tool. Given the flexible and customizable nature of blended learning, the tool should enable you to quickly create and update digital learning items with quizzes, video, and interactive simulations without adding too much extra work.
Here are the four most popular eLearning authoring tools on the market:
iSpring Suite

Articulate 360

Adobe Captivate

Lectora Inspire
iSpring Suite is a powerful PowerPoint add-in, while the others are standalone solutions. Each of them has their own strong points; you can learn more about them from this detailed authoring tool comparison on the iSpring blog. In short, we'd recommend you give each of them a try during the free trial period and choose the one which is the easiest to use, as the ability to quickly create learning content is probably one of the most essential parts of blended learning.
You may also need some equipment in addition to a computer to create online courses. In the iSpring Suite toolkit, for instance, there are tools for recording video lessons, screencasts, and audio narrations, so you'll need a webcam (if you're not obsessed with high quality, a built-in one will do) and a microphone.
4. Collaboration tools
Working, communicating, and networking with others accelerate the sharing of good practices and fosters a culture of collaboration. Blended learning allows learners to cooperate beyond the classroom.  
There are plenty of free services that will help you build a strong learning community. Here are just a few ideas on what you can use.
5. Social networks
Facebook. Create groups on Facebook to facilitate work on group projects, plus initiate discussions and encourage informal communication.
Twitter. Exchange short instant messages, run real-time Q&A sessions, post links and multimedia, share feedback, and make announcements.
Pinterest. Create and share moodboards and visual ideas.
6. Collaboration tools
Google Docs, Spreadsheets & Presentations. It's just like MS Office, but enables a group of people to work collectively on a single document, exchange comments, edit, and see change history.
Trello. This is an online project management tool based on Kanban cards. With its help, it's easy to coordinate everyone's work and track the statuses of tasks.
7. Chats
Discord. This web service is positioned as a voice and text chat tool for gamers, but it is also great for conducting online real-time training sessions for groups of learners as well as peer-to-peer consultations.
Telegram. This is a messenger that allows you to create public and private channels (you write, others read) or groups (everyone can write). In Telegram, you can also use special bots to create polls or add reaction buttons.
Bottom Line
When we talk about digitalization, one of the first examples that comes up is either Amazon or Uber, where online technology changed the market. At the same time, these online services are strongly tied to the users' offline experience. So is blended learning; it requires you to find a delicate balance between classroom training and eLearning.
Corporate training has come a long way from apprentice workshops to corporate universities. Still, there's no way to know for certain a priori whether offline training, online training, or a mix of both will be effective in your case. Effective training is and has always been learner-centered; whatever strategy you choose, you can't go wrong by putting your learners above everything else and then optimizing the rest as you go along.