April 6, 2023
Knowledge Sharing in the Workplace: The Secrets of Success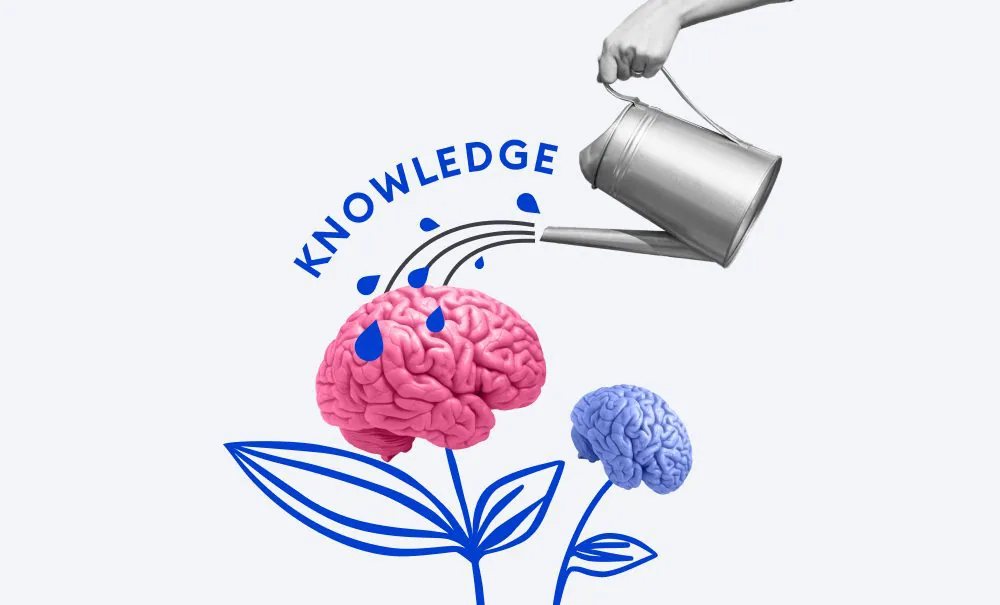 As an employer, you've probably wondered more than once how you can equip employees with the knowledge they need to excel in their roles and stay competitive. Budgets, busy schedules, and a lack of human resources can make this challenging, but knowledge sharing could be the answer. You know what they say; sharing is caring. And this is undoubtedly the case when it comes to workplace learning.
This guide explores how knowledge sharing can drive progress in your company and help your teams grow. We'll cover:
What is knowledge sharing?
Why does it matter?
How to implement knowledge sharing in the workplace
How to enhance knowledge sharing with iSpring
What Is Knowledge Sharing?
Knowledge sharing is the transfer of information and skills from one employee to another. In the workplace, this can take the form of informal training resources, formal employee education programs, online communities and knowledge bases, and mentoring.
Why Is Knowledge Sharing Important in the Workplace?
The professional landscape is constantly evolving, and businesses have to keep up. As such, organizations must ensure their employees have the skills and knowledge to adapt to changing markets and thrive in the future.
Knowledge sharing allows this to happen by ingraining learning in the company culture and employees' daily lives. This prepares them to succeed in their roles and creates a sense of community and trust in the business.
Benefits of knowledge sharing
Here, we look at its key benefits in the workplace. Sharing knowledge:
Retains key knowledge, preventing it from leaving the business when someone exits the company.
Creates a continuous learning culture that empowers staff to connect and learn from each other, fostering a sense of community.
Drives performance by ensuring employees have the skills and know-how to perform well, achieve their goals, and make fewer errors. This leads to increased productivity, an enhanced customer experience, and higher revenue.
Boosts employee engagement by giving them the information they need to excel and remove barriers. At the same time, you demonstrate your commitment to their development, making them happier and more engaged.
Increases efficiency by streamlining organizational learning processes and making relevant knowledge accessible to everyone. Employees waste less time searching for information, and managers reduce the time spent answering the same questions over and over.
Reduces training costs by decreasing the need for formal training programs, which are more expensive and time-consuming to run. Instead, employees participate in informal training by sharing their expertise and knowledge.
6 Ways to Encourage Knowledge Sharing in the Workplace
Now that we've seen the main advantages of knowledge sharing in organizations, let's explore how to encourage it in the workplace. Here are six actionable strategies that are sure to help you promote and improve knowledge sharing in your company.
1. Promote a learning culture
The first strategy is to cultivate an environment that encourages and rewards employees for learning.
Embedding learning in the daily lives of employees and making it part of your company's values makes it much easier to introduce a knowledge-sharing strategy. Employees will already be familiar with the benefits of sharing knowledge with others and have the tools and skills to do so successfully.
The best method to build a learning culture in your business is to provide diverse learning opportunities: formal training programs, mentoring initiatives, etc. We've recapped the best ways to promote a learning and knowledge-sharing culture in the infographic below.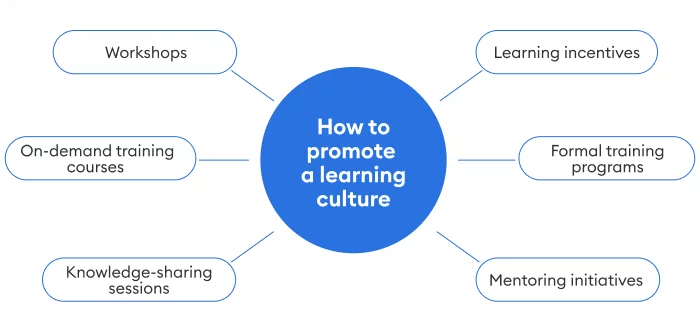 Also read: Mentorship Program: All You Should to Know in 2023 [Expert Insights]
2. Create cross-functional opportunities
Sharing knowledge with colleagues in different departments is extremely beneficial for several reasons. First, it breaks down silos and gives teams insights into how other business functions operate, which can improve efficiency and collaboration. It also allows staff to work with people who have different backgrounds, skills, and perspectives, thereby improving performance, innovation, and problem-solving.
Here are some ways to encourage knowledge sharing between teams:
Create cross-functional teams to work on specific projects
Conduct regular workshops and training sessions for employees in different areas of the business
Hold cross-functional team-building activities and social events like weekly roundups to share what staff members have learned
Encourage job rotations so employees can work on projects and roles outside of their department
Introduce cross-functional processes to encourage greater collaboration
3. Lead by example
Strengthening a knowledge-sharing culture and expertise is a top-down process, so be prepared to lead by example. Start by encouraging leaders and subject matter experts (SMEs) to hold knowledge-sharing initiatives. Doing this will gradually introduce the concept to employees and make it part of your corporate culture.
Identify in-house experts and ask them to host virtual Q&A sessions to share valuable knowledge with the entire organization. For example, let the head of product development conduct a knowledge-sharing session for the marketing or sales teams. This will allow them to develop more comprehensive product knowledge and understand the why behind certain features.
4. Formalize knowledge-sharing processes
Knowledge sharing is only effective when all employees are aware of and take part in the process. In other words, you will need to have a formal knowledge management and sharing process in place. Begin by implementing official processes, procedures, and policies that outline the what, why, and how.
Next, spread the word. Making all employees aware of the processes, expectations, and results will encourage more participation across the business. For example, host virtual Q&A sessions, post updates on corporate collaboration tools, and roll out training on the knowledge-sharing process and relevant best practices.
Identifying knowledge-sharing champions within the company can help spread the word and inspire action too.
5. Use the right tools
Sharing knowledge is about breaking down silos, so the first step is creating a centralized platform for knowledge transfer. Delivering knowledge online is the most effective approach because it ensures transparency and gives all staff members 24/7 access to information.
Common knowledge-sharing tools include an intranet, a social media platform, and a knowledge management system. However, a learning management system (LMS) is one of the most common solutions. A robust LMS has all the necessary tools to build, deliver, and track online training as well as create employee knowledge bases within the platform. Here's why a lot of businesses use an LMS: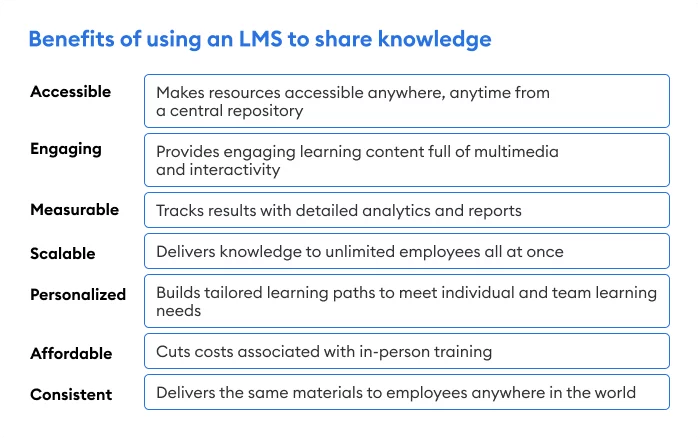 Also read: 12 LMS Benefits For Recruiters, HR, Sales and Commercial Directors—Expert Opinion
6. Celebrate every win
Changing mindsets and behaviors takes time, but one of the best ways to facilitate knowledge sharing in your business is to celebrate the small wins along the way. Celebrating successes and recognizing staff members who participate in the process reinforces the importance of the initiative and its impact on the company.
Use your existing corporate tools to show some appreciation. One way to achieve this is by publicly praising participative employees and sharing success stories. Setting up a peer-to-peer recognition system is another highly effective way to encourage employees to recognize colleagues who are making large contributions.
How to Improve Knowledge Sharing With iSpring Tools
We've already explained how important it is to use the right tools for knowledge transfer. Now it's time to look at ways to improve the process using iSpring software. But before we do, take a look at what iSpring has to offer for effective knowledge sharing:
A brief overview of the main iSpring tools and their use cases

| | | |
| --- | --- | --- |
| Tool | What is it? | How can I use it for knowledge sharing? |
| iSpring Learn | Robust learning management system | Deliver training, build knowledge bases with guides and resources, and manage synchronous knowledge-sharing sessions |
| iSpring Suite | Full-featured eLearning authoring toolkit | Create knowledge-sharing resources like online courses, quizzes, role-plays, and microlearning modules |
Build engaging knowledge-sharing resources
iSpring empowers you to build engaging and intentional knowledge-sharing resources that resonate with employees. From comprehensive training courses to short microlearning modules, you can create impactful learning materials with no previous design experience. As a result, you ensure that critical information is captured and shared throughout the organization.
Here are some examples of the knowledge resources you can make using iSpring Suite:
The types of knowledge-sharing resources that can be created with iSpring Suite

| | |
| --- | --- |
| Content type | Best for |
| Online courses | Presenting more complex information in an engaging and dynamic format (think compliance, onboarding, or product knowledge) |
| Microlearning modules | Delivering short bursts of targeted information, like a quick interactive timeline or a step-by-step activity |
| Instructional videos | Explaining complex concepts or showing learners how to perform a manual task |
| Online quizzes | Reviewing key information in an engaging and fun way |
| Role-play simulations | Practicing communication skills in a risk-free environment that simulates real-life workplace scenarios |
Create a central knowledge hub
Not all knowledge is shared in a structured training setting. In fact, a large part of on-the-job learning happens informally. For example, an employee encounters a problem and has to search for the solution. iSpring helps you leverage the power of informal knowledge sharing by creating a centralized place where employees can seek answers on their own.
This is achieved by creating knowledge bases within iSpring Learn. HR, L&D, and management teams can share digital resources (how-to guides, policies and procedures, video tutorials, and other relevant information) in the knowledge base. Having all this information in a single knowledge-sharing system makes it easier to manage and keep everything up to date.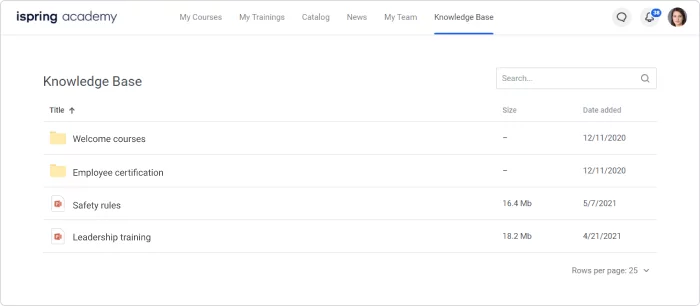 iSpring's intuitive interface makes it easy for employees to search and access critical information at the point of need. Plus, the user-friendly mobile app means they can access knowledge from any device.
Also read: The 11 Best HR Tools for Streamlining Your Workflow in 2023
As well as asynchronous learning, iSpring Learn allows you to manage synchronous knowledge-sharing sessions with ease. Teams can set up virtual sessions within the LMS and manage all training tasks from one place. This reduces L&D workloads and streamlines the process, improving knowledge sharing in the company.
Incentivize employees
We've already discussed the importance of celebrating every win and rewarding employees for contributing to knowledge sharing. Using iSpring Learn's gamification features, you can build a rewards system that incentivizes the staff.
iSpring Learn allows you to easily award points, badges, and certificates, and create a leaderboard. You can reward the employees who are most active on the LMS or who have interacted with the most knowledge-sharing resources. For example, employees with the most points can earn a bonus, extra vacation days, or other prizes.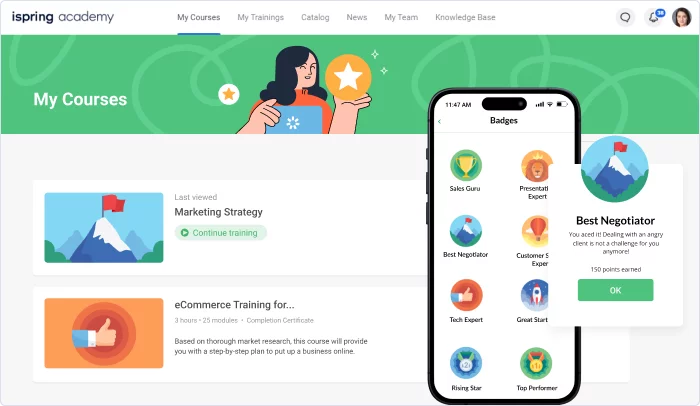 Measure impact
The key to improving the transfer of knowledge in your enterprise is to measure the results. Knowing what's working (and what isn't) gives you valuable insight into the best way to proceed. iSpring's comprehensive LMS reporting enables you to monitor knowledge-sharing activities across the company closely.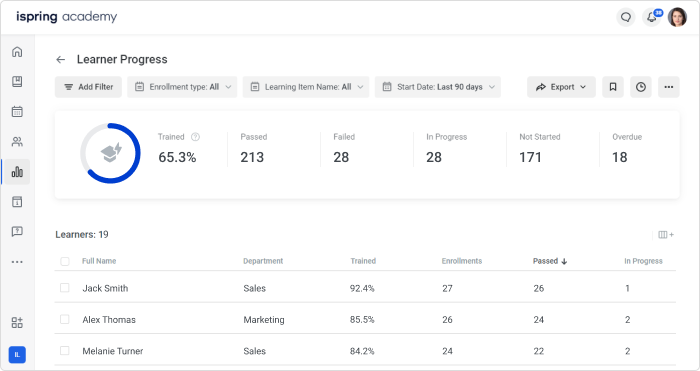 With iSpring's robust analytics, you can track the following success metrics closely:
Course completion rates – Track which users have completed which courses. This can indicate which knowledge-sharing resources are popular and which are not sufficiently engaging (i.e., have low completion rates).
Quiz results – Get a feel for how well employees have understood the training content and identify knowledge gaps.
User engagement – Check how often employees log in to the LMS, how much time they spend using it, and who is most active. This is a good indicator of how much they're using the knowledge-sharing resources.
FAQ
Here we answer the most commonly asked questions about knowledge sharing.
What is the difference between knowledge transfer and knowledge sharing
Knowledge sharing is the process of exchanging information between people and teams. This can be explicit knowledge (documents, procedures, policies, etc.) or tacit (experience-based) knowledge, which is typically transmitted informally. Knowledge transfer, on the other hand, is a structured business strategy that is put in place by the business to gather, store, and circulate collective knowledge efficiently.
Download a knowledge transfer plan template →
How can organizations ensure that online knowledge sharing is executed securely?
As mentioned, sharing knowledge online is a cost-effective and flexible solution. And thanks to access controls, encryption, secure authentication, and audit trails, it's also a safer way to share confidential information.
That said, it's important that the correct measures are taken to ensure that important data remains secure. Here are some best practices to follow:
Use a secure learning platform with two-factor authentication
Opt for an LMS with rich user management features so you can set up access controls that ensure only authorized employees can access certain information
Provide employees with training and guidance on how to share knowledge safely
Conduct regular audits to ensure your platform remains confidential and secure
Wrapping up
We hope this guide has provided you with some actionable ideas to enhance knowledge-sharing practices in your organization. Would you like to see first-hand how iSpring Learn can facilitate and improve knowledge-sharing processes in your company? Sign up for a free demo today. And if you'd like to create impactful learning resources for your knowledge-sharing initiatives, take iSpring Suite for a spin now with a full-featured 14-day trial.