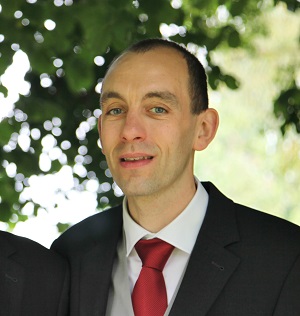 We're pleased to share another successful case study with you, this time about a senior trainer who needed to combine two projects into one via Single Source Publishing. As their initial authoring tool, Dimitri Roman and his team chose PowerPoint, satisfied with its capabilities for producing richly interactive training content. But then they faced the problem of sharing that carefully prepared module on multiple platforms.
Having used iSpring in the past, Dimitri knew about the extremely high quality of publishing to online format, and was eager to test out the latest version for use in his current project. Here is the success story shared by Dimitri:
Case Study
My name is Dimitri Roman, I am a senior trainer at a Security Company and I have been using iSpring since November 2013.
Challenge
In May 2013 I got a request from the R&D center to build an interactive e-Learning module on the integration process of a new product. Less than a week after the initial request, we received a request from the Technical Account Management team, to develop a presentation on the flows of that same product.
After analyzing the objectives from both teams, we came to the conclusion that they requested the same training material, but just in a different output format. Seeing the limited amount of resources we have at the training department, a new development approach was needed: Single Source Publishing. Building everything in only one tool and maintaining one source was the only way to accelerate the development and any future maintenance cycles.
PowerPoint would be a good source for a presentation. However, could PowerPoint deliver an interactive e-Learning module?
After some research, we found a positive answer in the use of techniques like Actions, Hyperlinks, Triggered Animations, Templates, Custom Shows and Narration.
At the end of our PowerPoint Development in September 2013, we encountered our last roadblock – how to get this PowerPoint online? Now we were hitting rock bottom, as we could not find any tool that supported all the features of PowerPoint (and yes, we tested them all).
Solution
I remembered iSpring, as I used iSpring Free more than 6 years ago at my previous company.
So we first tried out iSpring Free to see what PowerPoint Features were supported and I was immediately satisfied with the result, because iSpring does a 1 to 1 conversion. With support for techniques like Actions, Hyperlinks, Triggered Animations, Templates, Custom Shows, Narration, and not to forget a correct output of Vector Graphics (as all our presentations are mainly vector art).
The Result
After our successful tests with iSpring Free we acquired a license of iSpring Pro as it can publish to different devices at the same time. The output of Flash has always been flawless, but the HTML 5.0 can behave a little bit buggy, surely on the advanced features. Therefore, when we contact support to address these browser incompatibilities, they always find a way to fix the issues in the next service update of the tool.
I would recommend iSpring for all who want to start Single Source Publishing in PowerPoint. iSpring is the only tool that does a true 1 to 1 conversion without the need to tweak additional settings in the tool itself. iSpring is, in that sense, more than just a conversion tool; it enabled us to continue our single source publishing strategy, saving us a lot of time and money.
Conclusion
Dimitri was successfully able to achieve his goals with iSpring Pro, publishing all his course material from a single source (PowerPoint) into a cross-platform format (Flash + HTML5) capable of sharing on any device over the Web. It's interesting to note the difficulties encountered at that time (Late 2013) with HTML5, partly since the technology itself had not yet been officially completed. As of the publication of this blog post, the HTML5 specification has been finalized, and HTML5 output from iSpring looks great on all browsers and platforms.
After another successful case study, trying iSpring is sounding like a better and better option all the time!
Have an iSpring success story to share? Don't hesitate to leave a comment below, or contact us to have it featured on our blog!