June 8, 2021
Triad Unlimited: "With iSpring, our customers are potentially saving over 200,000 USD"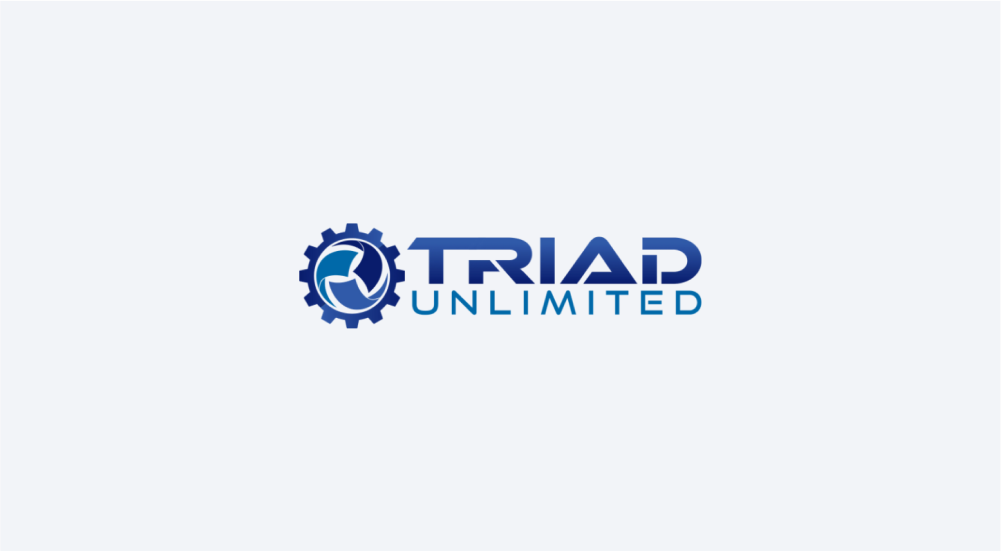 Triad Unlimited is an asset management solutions organization that offers a framework of management systems to help companies optimize asset management and improve business processes.
The company is using iSpring to train 191 customers and staff members to implement and use the systems in the most effective way possible. Remote training with iSpring is potentially saving each Triad Unlimited customer over 200,000 USD, when compared to traditional classroom training.
Dave Potter, Director of Training and Development at Triad Unlimited, shared how iSpring helps present technical training in an interesting and meaningful way, while saving time and money.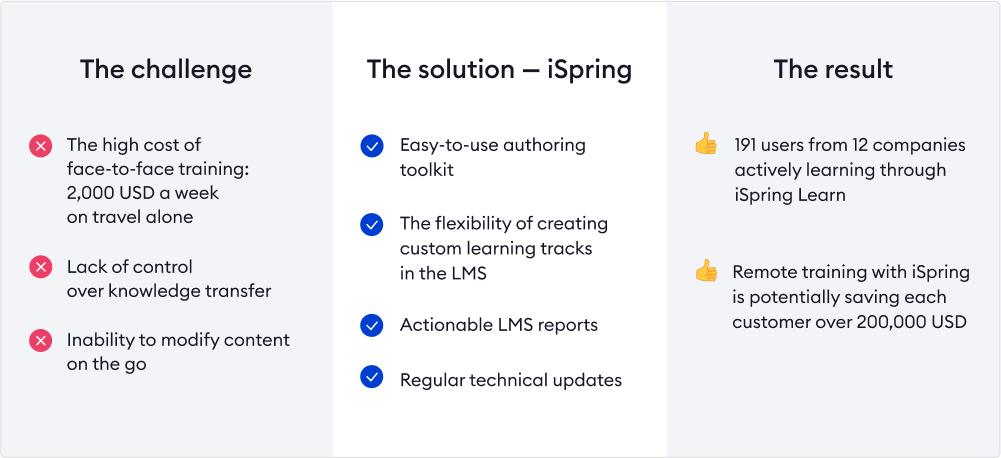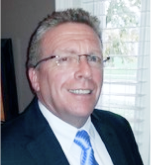 Triad Unlimited Background
Triad Unlimited's area of expertise is physical asset management. We work with companies that manage physical assets and want to improve their processes to get the best total cost of ownership.
We developed a framework of processes that are divided into six areas called Management Systems. All our processes are aligned with the governing body ISO 55000: Asset Management.
We help our customers adapt and implement these Management Systems in their companies to optimize their asset management operations.
Among other services, we offer training that is built around the six Management Systems. The training goal is to enable customers to implement our processes and successfully move toward changing the way they do business.
The Challenge: Effectively Training, Assessing, and Tracking 190 People across Multiple Locations
Prior to iSpring, we were using face-to-face training. I would travel from location to location giving the same slide-based training sessions based on PowerPoint presentations.
This face-to-face approach had a number of drawbacks:
Training cost. With face-to-face training, my travel expenses alone would be about 2,000 USD a week. These costs, as well as other training expenses, would be charged to the client.
Lack of control over knowledge transfer. I wasn't present at each location long enough to see if anything was actually learned during the training. I didn't use pre- and post-training quizzes to verify knowledge transfer.
Inability to modify content on the go. With a tight traveling schedule, I didn't have an opportunity to improve and adapt content to learners' needs while on the go.
The Solution: Training Clients and Internal Staff Online with iSpring
We decided to adopt distance learning because it provided a more cost-effective and manageable mechanism for knowledge transfer. iSpring gave us the functionality and flexibility we were looking for.
At the moment, there are seven introductory overview courses posted on our iSpring Learn portal and a number of individual learning tracks. Each course outlines a certain Asset Management System. The courses are combined into different learning tracks based on the training needs of each particular customer/learner.
We use the materials on iSpring Learn in three different ways:
Training internal employees
Even though each of our internal employees has a primary area of expertise, we cross-train them on all of the Management Systems. They have to progress through all seven courses within a certain amount of time and pass all the quizzes. They also have to take courses in a fixed order.
Training customers
When a client is in the process of implementing our frameworks, they usually identify staff members that they want to have trained and send us their email addresses so we can give them access to training.
They also identify the learning scope that meets their needs. I always recommend that they select the learning track and take all of the courses to get full exposure, but sometimes they select just one or two individual courses.
As the customers' employees are learning, I typically track their progress and report it to their manager every week. The idea behind this tracking is to make sure they are learning the material effectively and are ready to implement our processes for their purpose.
Marketing purposes
Another way that we're using our online courses is to market our services. Our introductory courses are available on our course catalog, so people who are interested in our training can access them easily online.
We also publish overview videos on YouTube to describe the intent of each of our Management System Functions and offer more information about our service offerings.​
We typically do this for our prospective customers' executive leadership so they can get a sense of how our training is presented.
The Benefits of Using iSpring for Online Training
Having worked with iSpring for over a year now, we've identified a number of benefits that make online training not just possible, but effective and high potential for our company.
Easy-to-use authoring toolkit
I develop all content in PowerPoint and finalize it using iSpring's authoring toolkit, iSpring Suite. I really appreciate the advanced eLearning capabilities that Suite provides:
Narrations
75% of what I do with iSpring Suite is recording and managing the narrations. I record the narration in my workplace using a webcam and an external microphone. I love the ability to edit the narration on one slide instead of having to revise the entire presentation.
Quizzes
Every course includes a pre-quiz that is meant to engage the learner in the training, and a final quiz — to verify the transfer of knowledge. What I love about iSpring's quiz editor is that there are many question types available.
I try to use different types of questions to make quizzes more interesting. For example, I'm receiving a lot of good feedback on the matching question type.
The flexibility of training in the LMS
With iSpring Learn, we can build as many individual learning tracks as we need quickly. Adding courses and content items to a learning track takes just a couple of clicks, which makes the process of building a training program truly flexible.
Actionable LMS reports
The ability to track progress is very important for us, and with iSpring, we can track the progress of every learner and identify those who need encouragement.
Regular technical updates
iSpring software is very dynamic. We really appreciate the fact that products are constantly being updated. Sometimes we think about some nice-to-have feature, and in a couple of days, there's an announcement that this feature has been implemented.
For example, I was thinking about a more precise calculation of learner progress to be able to forecast customer completion timelines. This feature was released shortly thereafter. And this is just one of many examples.
Results Achieved with iSpring
There are 191 users from 12 companies that are using our training platform to progress through the necessary training so they can implement our framework processes.
We estimate that remote learning is saving our customers approximately 10,000 USD per weekly delivery mission, and an entire course delivery on average takes about three weeks, depending on the number of participants per session.
A customer who wants all seven courses would therefore potentially save over 200,000 USD over the entire delivery mission with iSpring relative to face-to-face traditional classroom presentation.