iSpring is bustling with activity these days in preparation for the next eLearning Guild event, mLearnCon 2015 in Austin, TX. We'll be waiting at booth # 301 with the following attractions: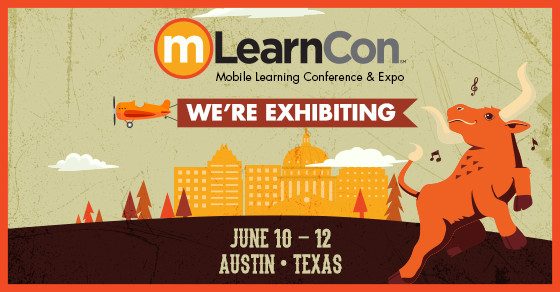 Multi-purpose iPad app for online and offline learning – for trainers and learners
iSpring's flagship authoring tool – iSpring Suite 7.1 enhanced with a built-in Cloud sharing service and direct publishing to YouTube
Full-featured PowerPoint and e-course viewers – mobile apps for iOS and Android devices
Demos by independent consultant Mark Simon "How to use PowerPoint to move away from PowerPoint" (check schedule at the booth)
Gifts from iSpring at a value of over $700
ATTN iSpring Customers: we're offering a FREE UPGRADE to iSpring 8.0. Simply leave a video testimonial and get your license upgraded right after the official release!
We're especially excited to show the capabilities of our new and improved mobile apps, iSpring Viewer and iSpring Cloud App.
iSpring Viewer
iSpring Viewer has been around on the
App Store for a while, but we're pleased to announce that full Android support is now available on
Google Play. That means full reproduction of all PowerPoint effects in crystal-clear quality for all your presentations, courses and quizzes in fullscreen mode from a content library with an instantly accessible favorites list. Plus, Experience API (Tin Can) courses will collect all statistics even when offline, and sync when the device connects to the Internet. Mobile learning has never been so easy!
iSpring Present App for iSpring Cloud Hosting Platform
This is the new kid on the block in the iSpring App neighborhood, so give him a warm welcome!
iSpring Cloud App (formerly iSpring Present) is the companion app to
iSpring Cloud, the brand-new hosting and sharing platform which automatically converts your PowerPoint presentations, video, audio, and documents into mobile-ready format for perfect playback on iPads.
iSpring Cloud is here to share your content via short link, email, or social media; access everything from a convenient content library or elegant, customizable carousel mode; playback presentations in 100% fullscreen mode, even when offline! Explore this in-depth research from iSpring:
compare the iSpring Cloud app with the top PowerPoint viewer apps for iPad — Microsoft PowerPoint, SlideShark by BrainShark and LinkedIn's SlideShare!
…And more!
Of course, these mobile apps are just the tip of the iceberg when it comes to iSpring's arsenal of professional e-Learning software. We're excited to show you the latest developments available with our 7.1 authoring tool version, including
PowerPoint-to-video conversion and direct-to-YouTube publishing for playback on any mobile device to a potential audience of over 1 billion YouTube users.
Stop by Booth # 301 to check out Mark's demos and get your free gifts!