If you're a novice instructional designer who is looking for the right authoring tool, chances are you've come across Adobe Captivate, one of the biggest players in the industry. But its popularity doesn't guarantee that it will meet your specific authoring needs. Or you may have already tried Captivate, but it wasn't quite your cup of tea because of the complexity of the user interface.
In this article, we'll look at iSpring Suite. It's an Adobe Captivate alternative that has established a reputation as a powerful, yet easy-to-use, authoring toolkit. We will also see what areas both tools are good at, to facilitate your making the best choice.
Adobe Captivate Review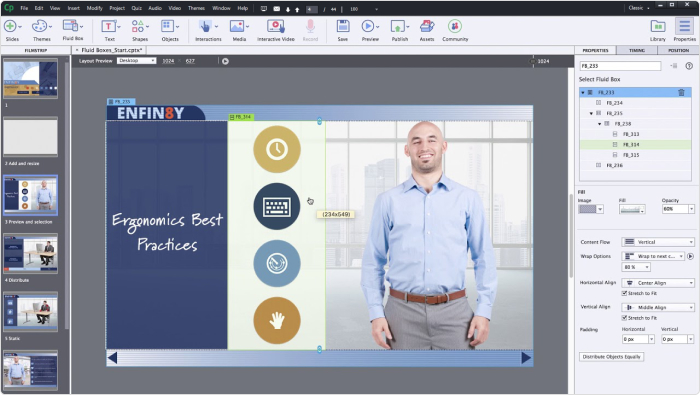 Initially developed as a screen capturing application, Adobe Captivate has evolved into authoring software with plenty of robust features and can be used to create high-quality learning courses. Unlike most of its alternatives, it provides great customization options. With the "advanced actions" feature, instructional designers can control how different objects interact with each other and how learners can interact with the objects. For instance, you can ask learners to enter their date of birth at the beginning of a course and then display content based on their age group.
Adobe Captivate also boasts some unique features like a VR-content builder and the Adobe PhoneGap tool that can export your course to a mobile app for iOS/Android. But despite its powerful features, the software has a traditional linear style design that can prove to be a hurdle.
Let's take a closer look at the pros and cons of Adobe Captivate:
Advanced Actions allows building unique learning interactions with a degree of programming skills
Includes a dedicated software simulation tool
Supports 360 images and videos, which allows the creation of VR eLearning
The Fluid Boxes tool lets you control how your courses will look on mobile, down to the smallest detail
The Responsive Project feature can be used to create truly responsive slide-based content
You can publish courses as iOS/Android apps
Provides access to an asset store with ready-to-go-slides and Adobe Stock images
Has a macOS version
Clunky and unintuitive User Interface
Steep learning curve
User reviews indicate that it's buggy and slow at times, sometimes crashing unexpectedly
It's reported that SCORM content published with Captivate doesn't always work properly in popular LMSs
Poorly designed templates in the content library
Many customers complain about poor technical support that is outsourced to a third-party call center
Creating responsive projects can be tedious, since you have to design for desktop, tablet, and smartphone separately
Doesn't preserve all animations and timings when you import PowerPoint presentations to it
When should you choose Captivate?
It would be smarter to choose Captivate if you:
Are an experienced instructional designer that tends to program your own learning interactions rather than using a library of built-in ones
Need to be able to create assessments based on software simulations
Need the ability to use 360° images/video in your courses and create VR interactions
Why Might iSpring Suite Be a Better Choice?
While some tools like Adobe's are "feature creatures" that offer bloated functionality at the expense of being accessible to new users, other products strive to make it easier for newbies to create professional-looking content. iSpring Suite is in the latter category as it doesn't require months of training before you can launch your first learning course. Initial training only takes about 2-3 hours, after which you will be up and running.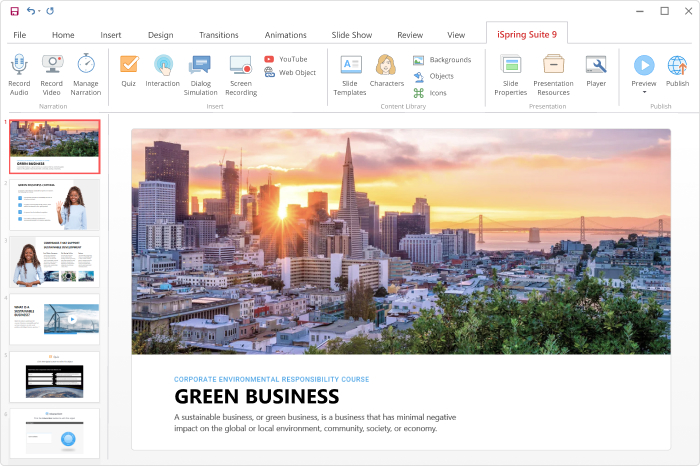 iSpring Suite is an authoring toolkit tailored to create eLearning courses easily and rapidly. It is integrated into PowerPoint, so you can leverage and repurpose existing presentations. Besides, this integration means that those who have created PPT decks will be able to pick it up and immediately start authoring.
With iSpring, you can create great-looking courses that include interactive quizzes, interactions, and conversation simulations. A quiz maker, a dialog simulation builder, a narration tool, and all the other built-in iSpring components are easy to navigate and follow the same design principles. So, once you get a hang of one, there will be no problem with the others.
Let's take a deeper dive into iSpring Suite's strengths and weaknesses:
Easy to get started with, no previous experience in instructional design required
Perfectly integrates with PowerPoint, supports all animations and triggers
Provides a quality content library with thousands of visual assets, from slide templates to characters and backgrounds in HD
Has a built-in dialog simulation tool that can help your trainees boost their verbal skills (content sample)
Tested for compatibility with 156 LMSs
Great learning experience on any desktop or mobile device, thanks to a state-of-the-art HTML5 optimization
Experienced in-house technical support
Published courses are Section-508 compatible
Doesn't do software simulations or VR
Course customization possibilities are limited, with no trigger or variable support
Requires MS Office
No Mac version
When should you choose iSpring Suite?
Favor iSpring Suite over Adobe Captivate if you:
Need an easy to use, yet powerful, eLearning tool that can help you produce good-quality content in days, not months
Have an instructional designer on your team that doesn't have previous experience with authoring software, so you'd rather choose a shorter learning curve over greater technical complexity
Need to be sure that all your content loads fast and plays extremely well on any device possible, not just on a desktop
Need a tool that supports Section 508 but doesn't require you to create a separate version of your course to make it compliant; able to rearrange the content, be it slides, quiz or interaction, to make them accessible for people with disabilities in one click
Have an LMS and want to be sure that your content works like clockwork and reports statistics correctly 100% of the time
Feature Comparison
Check out this comprehensive feature list to see how both tools compare head to head:
Adobe Captivate (2019 release)
iSpring Suite Full Service
Record audio and video narration
+
+
Screen capture and webcam recording
+
+
Advanced video editing tool
+
+
Chroma key effects for video
+
–
Content library with visual assets (design templates, characters, backgrounds, etc.)
+
+
Access to a stock library with images, video and audio
+
–
PDF/PPT/DOCX to SCORM converter
–
+
Software simulation tool
+
–
Learning interaction types
12
14
Quiz question types
7
12
Survey question types
8
14
Supports drag-and-drop quiz question type
–
+
Dialog simulation tool
–
+
Creating HTML5 content that can be viewed on all modern devices
+
+
Cloud-based storage for projects, allowing easy online sharing of your content and collaboration with colleagues
–
+
Importing PowerPoint presentations
+
+
Supports all PowerPoint animations, triggers, and slide transitions
–
+
OS support
Windows/Mac
Windows
Price (per author)
$33.99/month ($407.88/year)
$970/year
What's included with the subscription

Adobe Captivate
Access to the Content Library and Adobe Stock
Technical support
All updates

iSpring Suite
Access to the Content Library
iSpring Cloud (online storage for review and collaboration)
Live priority support via phone and chat
All updates
To Sum Up
Every software has its niche and use cases are there for a reason. Choosing the product that fits your needs makes its flaws vanish and its advantages shine brighter than the competitors'. Know what your resources and requirements are and you will always make the right choice.
If you want to produce eLearning courses right out of the gate, with no prior training or reading support forums, start with an iSpring Suite free 14-day trial and explore all of its features now.