June 11, 2022
5 Best Ways to Track Employee Training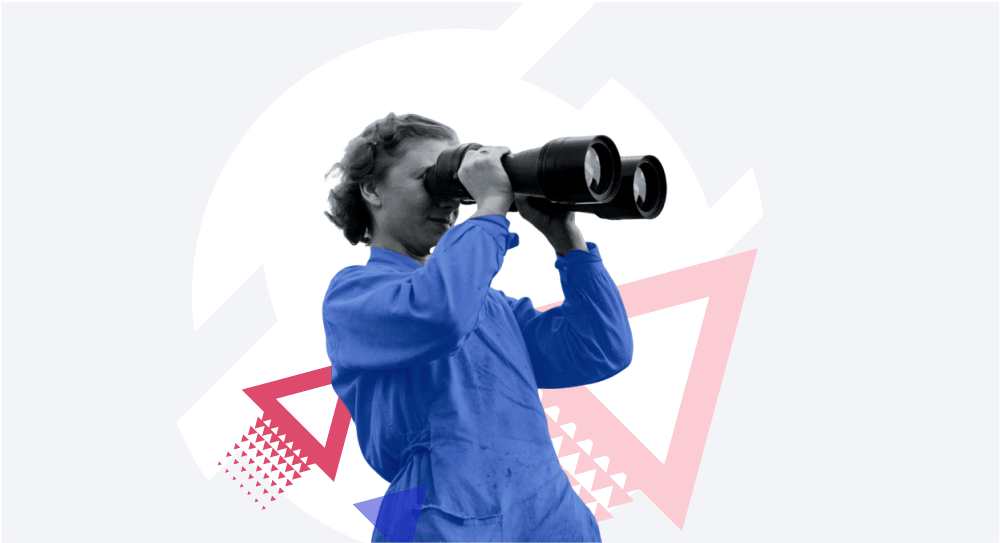 Everyone in L&D loves to teach. Chunking complex subjects into small steps, turning tricky into easy, using those cool charts… Who really looks forward to monitoring all that? Okay, some of us like tracking, but most people would rather have this chore done for them. There IS a solution that can do this, and even more, for you.
There are three main reasons why someone would need to track their employee training:
You're trying to analyze statistics (how many people were trained, what the average score is, who took a certain course, etc.) and track the progress of your learners.
You need to decide whether your corporate training program is a good investment by calculating ROI and obtaining some hard numbers.
You'd like to make sure that all employees have received obligatory compliance training, and you need to have a training log to prove it, if necessary.
You're at the beginning of creating a learning culture and need a simple tool just to somehow document what's going on.
The reason why you have decided to keep an eye on employee training will define your requirements. Knowing what exactly you'll need to do will help you choose an optimal solution.
Anyway, here is our shortlist of the ways to track employee training.
1. Learning Management System (LMS) – the Easiest Way to Track Employee Training
An LMS is a digital learning hub. It is a place where you can upload all the training materials, manage content, and assign it to learners. It also collects various statistics on the training process and can automatically create the necessary reports for you. In short, using an LMS is the easiest and most adequate solution for monitoring training nowadays.
How does it help to track training?
1) Automatization of repetitive tasks. An LMS automates daunting routine tasks such as gathering and processing statistics or grading.
Even if your team is small, say, you only have 30 learners, you still have to spend time finding out who needs training or who failed a test, fill in the current data, and regularly check their compliance statuses. You'll also have to stay focused while doing this manual work to avoid blunders.
For an LMS, those are a matter of seconds. This means you don't have to spend hours on creating reports manually in spreadsheets with hundreds of columns, as well as not having to deal with paper trails.
2) Extensive data analysis. Also, an LMS allows you to analyze in detail how learners interact with the content, how they're progressing, and how each content item uploaded to the system performs. For instance, with the iSpring Learn LMS, you can:
Go from overall progress to detailed statistics on a particular course or learner (or even how many seconds someone spent watching a certain slide, should you want to).
Find out how users did on their assignments.
Track attendance of events.
Apply filters and customize report columns to distill the information that is important to you, and more.  
3) Keeping training records. It doesn't matter how many learners you have — 5 or 5,000 — with an LMS, you can monitor their progress in real-time. The LMS also documents every past training you held, which is especially important in terms of compliance issues.
2. Training Management System (TMS) – Advanced Administrative Functionality
A TMS is a specialized type of software for managing training processes for instructor-led training, which is mostly used by enterprises. Unlike LMSs that are learner-centric, TMSs target administrators and organizational activities that happen before any class takes place. In general, it can be compared with a CRM system. 
The basic features of a TMS may include:
Managing session plans
Budgeting
Logistics and resource management
Booking management
Creating reports for business intelligence
3. Excel and Google Spreadsheets – Low-Cost Workarounds
Deploying a full-fledged learning portal can cost a pretty penny, so not every company can afford it right away. Some have to wait for the next financial year to try to get the budget; others just would like to start small to better see their requirements for a tracking system. But everyone has something in common — the need to start doing it right now. What can you do then?
Well, don't panic. Good old spreadsheets are a surefire way to get plenty of things done. You can choose either Microsoft Excel or Google Spreadsheets, either of which you're likely to already have. The functionality of the two programs is similar. While Excel is supposed to be more powerful, Google Spreadsheets provides collaboration capabilities. If you have more than one person who will record training logs, we'd advise choosing the second option.
We've also created a training tracker spreadsheets template for you to use as a starting point. This template consists of three tabs:
Training log (serves as a makeshift dashboard).
Courses (a list of the training activities or courses).
Learners (well, a list of learners).
Every time you have a training session, you'll need to manually enter data into the table. Plus, there are some sorting filters, so you can at least quickly see who has already taken a certain course and who hasn't. Feel free to save it to your disk and customize as much as you wish.
What to Track – Training Metrics and KPIs
We've discussed 'How' to track; now it's time to turn to the 'What.' Even more than it was with the tracking tools, there's no one-size-fits-all set for training KPIs. Here are three basic metrics you could probably start from, though, even if you don't have any employee training software yet.
1. Training completion rate
This metric shows how many learners have taken a course or studied your training content. There are two reasons to track it:
Compliance. For mandatory compliance training, you'll need a 100% completion rate by a certain deadline. It's very important to get your employees trained and make sure that everyone is marked as compliant to provide a better work environment and minimize risks for the company.
Engagement. High completion rates for non-mandatory training demonstrate that the content is relevant for learners. If engagement is low, then you'll need to find out why the course was abandoned. Maybe learners' motivation for training is low, the content is not qualitative enough, or, perhaps, learners simply don't know there's training.
If necessary, you can also break an overall completion rate into segments, such as training completion rate per department or job. This will help to quickly identify which group is lagging behind and prevent potential problems with non-compliance.
2. Pass/fail rate
This metric mostly refers to tests and quizzes and indicates whether your learners managed to successfully finish their training or not.
This one can be tricky. It seems like a good sign when all the learners pass the test at the first attempt, meaning they were well-prepared. On the other hand, it can also indicate that the test was just too easy, which makes it useless. On the contrary, a sudden rash of 'fails' may signal that something's wrong and requires your attention. In any case, we'd advise viewing this metric on a long distance. 
3. Post-event survey results
This metric is for instructional designers, trainers, and facilitators. It allows you to get feedback from users about the training they've taken, and thus you'll be able to improve it.
For the basic surveys, you can use Google Forms, a free service for building polls. 
A more advanced yet easy-to-use solution is iSpring QuizMaker. This helps you create interactive tests, quizzes, and surveys with custom scoring and branching in no time. Also, tests created with iSpring QuizMaker can be published in eLearning formats, such as SCORM, AICC, cmi5, and xAPI, so you can upload them to your LMS (should you use it) and easily gather all the assessment statistics.
These were the basic metrics that can be measured even if you only use spreadsheets. Of course, having an LMS makes the process much easier and provides access to advanced data and reports.
Here in iSpring blog, we have a couple of more detailed blog posts here on measuring training effectiveness:
---
Now, it's your turn
Tracking your employee training is necessary to make sure that the staff is up to date. It can save you a headache in any compliance-related issues. It can teach you to make better learning after all. 
Why not start right now? 
Start by creating your first learning portal with iSpring Learn to see how an LMS works in practice. It's free to try and doesn't require your credit card number or anything. But if you want to, you could also leave your contact details, so someone from the iSpring team can reach you to learn more about your business, goals, and help you get to know the platform.
If you aren't ready to do this yet, that's absolutely fine. Just let us know if the article was useful or if you have any questions in the comments below.