Employee training is critical for businesses to remain competitive. It is also necessary to
make sure staff is up-to-date with advances in industry and technology;
build community within the ranks;
improve performance;
support employee autonomy;
increase employee retention.
By tracking employee training, employers will be aware of the qualifications and certificates possessed by their personnel. This will allow employers to better focus their workforce, provide efficient training, and increase employee productivity.
Here are 5 of the best ways to track employee training:
1. Create a Paper Trail
It may seem a little old fashioned, but a good way to track employee training is by creating a paper trail. To do this, start a file for each employee as s/he is hired. Inside the file, store:
a copy of the employee's resume
copies of certificates and degrees earned before hiring
copies of additional certificates as earned
a log sheet used to track additional training sessions by the employee
copies of testing materials from in-house training sessions
The records that make up the paper trail can make excellent visual aids to be used during employee performance appraisals. They may also be used to carry out gap-analyses in order to streamline and personalize employee training in the future.
2. Observation
When delivering training through live classroom sessions, observation of staff performance and interaction is the best way to track training success. In a face-to-face training session, gaps in past training are made obvious as training progresses. These gaps may be addressed on the fly, or in future training sessions. When observing to track training, facilitators can:
monitor employee engagement and participation as training progresses
track employee interaction with role plays in simulations of on-the-job situations
track training success by keeping notes in the form of checklists or anecdotes
watch for gaps in training for future reference
Observation of employees must be ongoing in order to ensure training is effective. Signs that indicate successful training include:
changes observed in employee behavior, such as an increase in sales
positive employee interaction (in the case of compliance training)
an increase in employee retention rates over time.
3. Testing
Another way to track employee training is with the administration of tests. Testing takes place at three points in employee training:
diagnostic testing takes place before a training session in order to gauge existing employee knowledge
formative testing takes place during the training to help keep employees engaged throughout
summative testing takes place after training to collect data on employee understanding
Types of testing questions can include (but are not limited to):
multiple choice
true/false
short answer
matching
fill-in-the-blanks
Alternate tasks and questions should be a built-in part of the testing phase to give second chances for incorrect answers. Tests may be administered using paper and pencil or by creating digital and online modules for training and testing using a Learning Management System (LMS) like iSpring Learn, which makes it easier to implement branching scenarios to personalize training. LMSs also compile and analyze results, streamlining the process to make it more efficient.
4. Surveys/Polls
Surveys and polls are carried out as a part of the planning stage to assess employee interest and needs prior to training. They are also completed at the end of training sessions to track employee success and satisfaction with the training. Polls and surveys differ from tests in that they are:
shorter
they often rely on a scale
answers are not open-ended, though they may contain short answer questions
Polling employees after training can reveal training effectiveness, as well as help set future training goals. Surveys and polls may be conducted using paper and pencil, or digitally using software like iSpring Suite. As is the case with online testing, using web tools to create and author polls and surveys is a quicker and more efficient way to compile, analyze, and track results.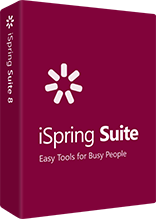 Fully-stocked eLearning authoring toolkit for PowerPoint. No training required to start!
5. Training Software and Learning Management Systems
All of the above methods may be combined if a business chooses to use training course software and an LMS to administer, personalize, and track training. Using an authoring tool like iSpring Suite, training modules are created with
static text and graphics
video lectures
simulated conversations and interactions
checks for understanding to ensure goals are met
Using an LMS, employees may still be tested before, during, and at the end of modules, via a variety of methods including multiple choice, true/false, short answer, matching, and fill-in-the-blank questions, with some noticeable differences:
branching techniques for remedial and enriched training are a part of the module to better personalize each employee's training
progress through modules is tracked as they are completed
the number of interactive assessments completed is tracked
results are automatically tracked
Interactive content can be created using an authoring tool, such as iSpring Suite. Though iSpring Suite is compatible with most LMSs, it is ideal when paired with its companion LMS, iSpring Learn. iSpring Learn has a number of built-in features that make it ideal for tracking employee training, such as keeping track of quiz statistics and user scores in detailed reports. When combined, iSpring Suite and iSpring Learn form a powerhouse for employee training and tracking, ideal for supporting increased productivity in the workforce.
Conclusion
Though there are many ways to track employee learning, the most efficient way by far is through the use of digital training materials. iSpring Suite allows you to create interactive, PowerPoint-based courses which may be imported into most LMSs. When used in tandem, iSpring Suite and iSpring Learn, a cloud-based and customizable learning portal, are ideal for tracking employee training. Together, the software facilitates the observation, testing, polling and management of your workforce's training, and helps you support your company's success!
iSpring Learn
Automate training projects from onboarding to sales enablement.