January 21, 2022
The Big 5 Learning Delivery Methods for Companies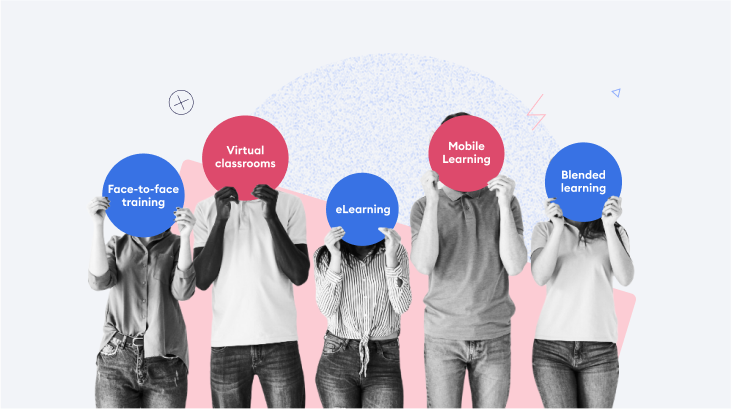 It's 2022, and with a new year comes a new reality for people and businesses. We've gone through lockdowns and remote work, and now every company is establishing its own ways to organize employee work.
Training delivery methods keep changing, and you may discover that it's time to revise your approach to corporate training. That's why we've written this article. Please read it to learn about the five major learning delivery methods, their pros and cons, and which one will best suit your company's purposes. Here we go!
Contents:
5 Learning delivery methods: the comparison table
What is Learning Delivery?
Learning delivery is the means by which you communicate knowledge to learners. This implies that you need to use certain technologies, resources, and facilities to deliver the intended learning experience and meet specific goals. Learning delivery has its own methods, and these are the five of them: face-to-face training, virtual classrooms, online learning, blended learning, and mobile learning. Let's look at each of them in greater detail.
Face-to-face Training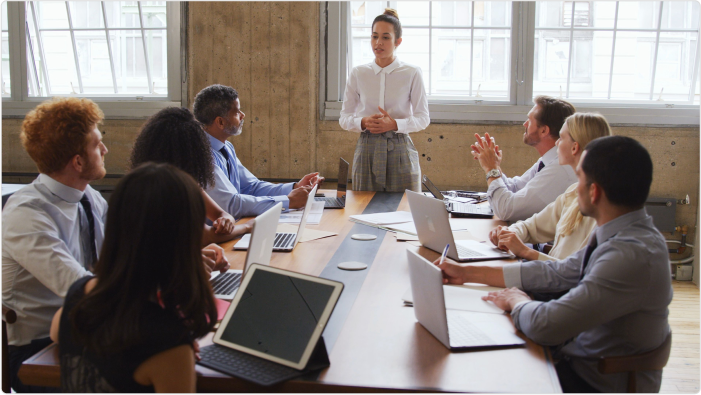 This is an oldie but goodie. Face-to-face (F2F) training is the environment we all first experienced: we meet a teacher/trainer/instructor in the classroom and learn from that person. In the corporate sphere, face-to-face training may come as mentoring, coaching, hands-on workshops, on-the-job training with a supervisor, or group seminars. All of these share two things in common: they're instructor-led, and they require the physical presence of all participants.
Benefits:
Intensive. F2F training is great for training a relatively small group of people in a certain topic or skill within a limited time frame.
Human touch. Trainers can recognize individual needs and help unleash employee potential. They feel the mood of a group and know how to manage it.
Role modeling. Trainers or instructors can be role models who show employees how to perform certain actions — and they, in turn, look up to them.
Pitfalls:
Unscalable. F2F has capacity constraints, so it can't reach everyone. It's also hard to replicate and achieve the same level of consistency for each training session.
Subjective. Training largely depends on the personality of the instructor or trainer. Even the same trainer may perform differently, depending on the circumstances. For instance, they may get tired at the end of a trip and forget to deliver some portion of the knowledge. Also, identical material can be presented differently by different trainers.
Costly. F2F adds extra expenses for trainers' salaries, printed handouts, classroom rental, and travel and accommodation expenses.
How to use face-to-face training effectively:
Face-to-face sessions can have a part to play in your corporate training, but they should not be your only solution. For example, you can choose face-to-face training for jobs that demand precision, accuracy, or working with sophisticated equipment. This way, you'll be able to observe how learners perform required actions and share your hands-on experience to help them.
If you have to use face-to-face training because of the pandemic, opt for well-known video conferencing tools and take your training online. Schedule Skype or Zoom sessions with learners, or consider giving them talking-head video lectures on webinar platforms. And this brings us to our next training delivery method.
Virtual Classrooms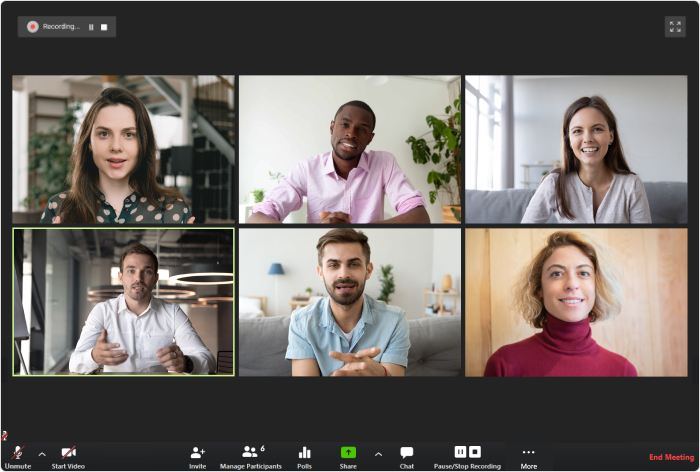 A virtual classroom, or virtual instructor-led training, allows you and your learners to meet online in a designated video call session to share interactive learning activities with them, enabling all learners to actively participate in the training process.
You can show a presentation to the learners, for example, then split them into breakout rooms and give them a group task, and finally, come back together and discuss the results. Learners can join your virtual classroom regardless of where they are in the world and participate simultaneously.
Benefits:
Familiar approach. We're already used to video conferencing, so your learners won't have to adapt to it.
The feedback loop. You can see how learners are doing in real time, ask their opinions, discuss ideas, and answer their questions, just as if you're all in the same room. This gives you the opportunity to correct their mistakes right away and keep them motivated.
Sense of community. You share the same experience and meet at the same time and virtual place to collaborate and learn together. This makes people feel connected to others.
Pitfalls:
Tech backup. The internet connection can be unstable, cameras or speakers can act up, or something else can go wrong. You have to be ready for the unexpected. You need to prepare technical instructions for learners and yourself, find a tech assistant to maintain your sessions, or seek tech support from software providers.
Communication gaps. Though learners and instructors can see and hear one another on video, technical issues and lack of physical proximity still result in a loss of context and nuance. Some people say it feels like teaching in a void. Thus, it takes more effort from the instructor to hold everyone's attention.
Distractions at home. Life happens: if instructors and learners don't have a designated room for learning, then they can be easily distracted by their family, pets, urgent job tasks, smartphone notifications, etc. The different time zones of the various participants can also affect the quality of training.
How to use virtual classrooms effectively:
Since you and your learners aren't present in the same physical location, it can be challenging for you to catch the moment when people's minds start wandering. We recommend coming up with brief discussions, quick polls, or quizzes to engage students – and the more the better. Virtual classroom software, webinar platforms, and Zoom have features for creating breakout rooms and conducting polls, so you won't need any extra tools for this.
When planning the training sessions, you might find that notifying people and tracking who attends classes requires too much effort. If that's the case, then consider using an LMS that supports synchronous learning, so you can keep virtual classroom training under control. That's where iSpring Learn LMS comes in handy.
Also read: 12 LMS Benefits For Recruiters, HR, Sales and Commercial Directors
helps you schedule training sessions through the built-in calendar, setting automatic reminders that are sent to the instructors and their learners. Thanks to its integration with Zoom, the LMS automatically invites learners to their Zoom meetings, shows you who has registered for the classes or who has declined the invitation, and prepares the list of attendees after each session. Thus, planning and managing virtual classroom training is no longer an issue.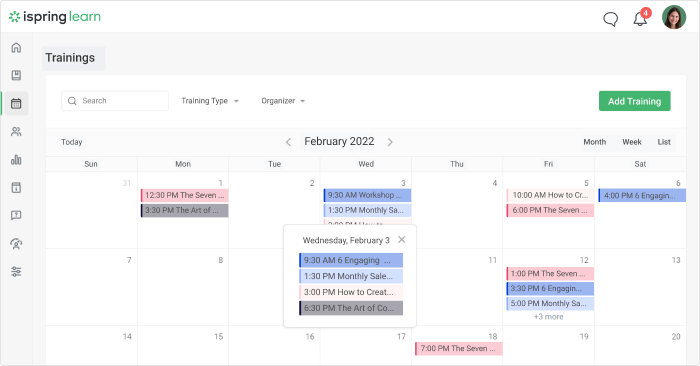 Next, you'll learn how much easier all of this can be with online learning and LMSs. Keep reading!
eLearning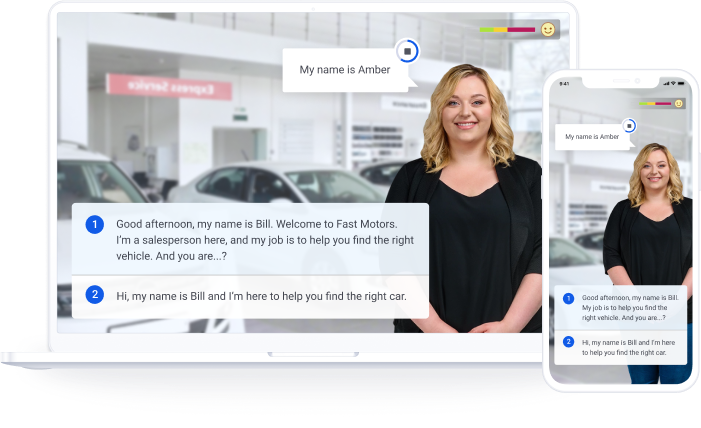 , or online learning delivery method, refers to using digital devices and content for training. The most common content types of eLearning are slide-based courses, interactive quizzes, video courses and tutorials, screencasts, simulations, podcasts, and e-books. Learners can access these materials on their PCs, laptops, tablets, and mobile devices.
Benefits:
Accessible. Learners can take courses or watch video tutorials wherever they are. Since eLearning has no barriers, it's particularly helpful for remote teams.
Self-paced. You can let students decide on the pace or sequence of their learning and the amount of material they cover at any given time.
Tracking options. You can see detailed data on how learners progress through courses: their scores, time spent, attempts, common mistakes, etc.
Better engagement. You can make interactive courses and simulations with characters and multimedia, or explore VR or augmented reality technologies. All of this can help entice learners, keep their attention, and make learning an enjoyable experience.
Replicable. You can reproduce training by using the same materials over and over, and you can easily revise them as needed.
Pitfalls:
Technically demanding. Employees who are not tech-savvy may be reluctant to adapt to eLearning technologies.
Needs specific software. For online training, you need authoring software to create courses and quizzes, and an LMS to deliver training to your employees.
Little contact with instructors. Learners can't reach out to instructors immediately and receive quick feedback.
How to use eLearning effectively:
Online courses help you scale training in your company and avoid the expenses associated with face-to-face training. With online training, no matter how big your audience is and how far away they work from your headquarters, you can perform a great number of tasks:
Also read: Remote Employee Onboarding
To create and deliver content for all these training tasks, you will need:
An authoring tool to create online courses, quizzes, dialogue simulations, etc.
An LMS, where your learners will study course materials, allowing you to track their training progress.
Course creation may seem complicated, especially if you're new to this. But in fact, you can use existing slides and materials and build professional courses right in PowerPoint. Choose iSpring Suite to create courses with multimedia and interactivities just as you usually prepare PPT slides. This tool is PowerPoint-based, so you already know how to use it.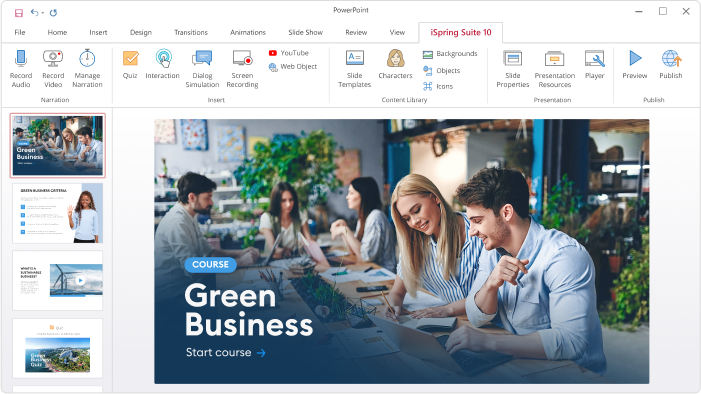 If you want to make your course truly engaging, you can add fourteen types of interactive quizzes and role-plays to your course, and record and edit video lectures and screencasts — all with a single tool, and in no time at all.
Also read: The Ultimate Guide to Lecture Capture
Here's what a course made with iSpring Suite looks like: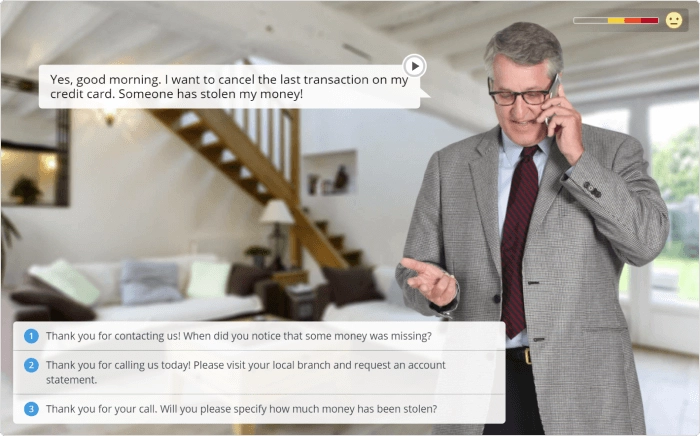 You can make professional looking courses like this, too, and you don't have to search for the media assets. iSpring Suite includes a content library where you can find suitable characters, objects, backgrounds, and more to illustrate your ideas.
With iSpring Suite, you can publish courses to an LMS with zero fuss. Use an LMS like iSpring Learn to administer the training process, enroll learners, assign materials, and track learner progress.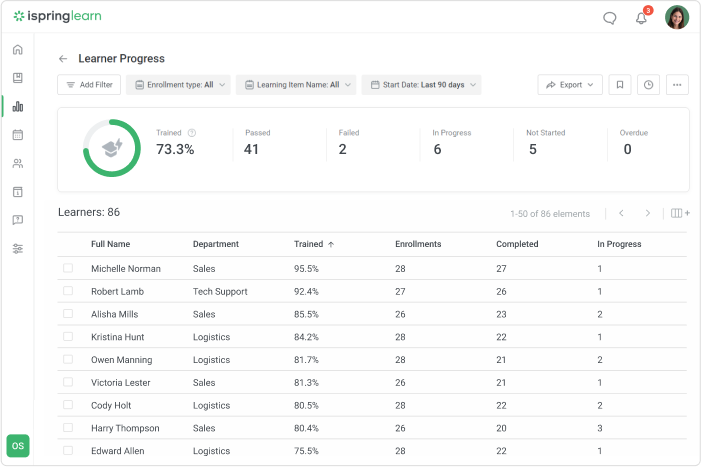 The system collects statistics on how individual learners or an entire staff take courses and quizzes, and will provide you with clear reports on scoring, attempts, mistakes, time spent, etc.
As a technology-based sphere, eLearning can't help but exploit new ways of communication and become usable on new kinds of devices. Now learners can access online training materials not only in their browsers but also via mobile apps. This changes the way people perceive training and interact with content, and it constitutes a whole new method: mobile learning.
Mobile Learning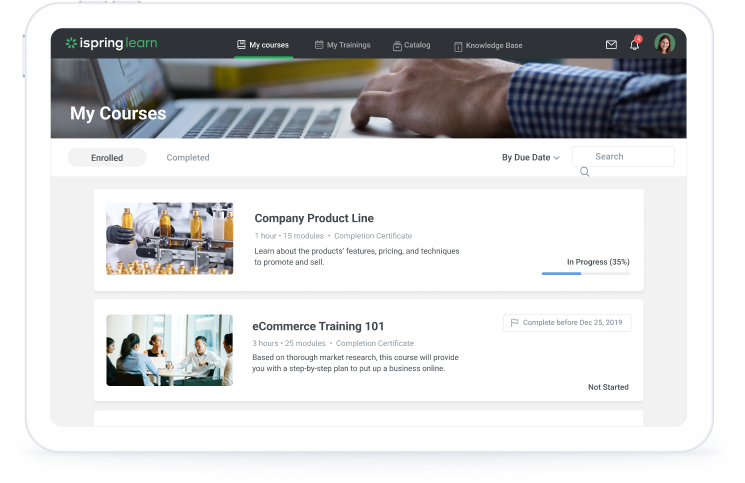 Also known as m-Learning, this is a specific approach that employs mobile, portable devices to deliver online training content to learners. As with eLearning, the content is digital, but you need to convert it into HTML5 format, deliver it in smaller portions, and ensure that it adjusts properly to various screen sizes. Only then will your online course or quiz be fully mobile ready.
Benefits:
Convenient. Mobile learning content is designed to be task-oriented and bite-sized, so learners can easily find what they need just in time.
Engaging. You can stay in touch via social media, prompt learners to leave comments, post their thoughts and videos, and interact with the content together.
Future-oriented. Since every smartphone is a personal mass medium, we won't be giving up mobile devices in the foreseeable future.
Pitfalls:
Distractive. Sometimes we can't stop scrolling the feed or checking the device every time a notification beeps. These distractions can interfere with the training process and decrease its effectiveness.
Needs reliable devices. If smartphones don't have decent storage and processing capacities, they won't be able to unleash the full potential of mobile learning.
Requires a stable internet connection. Signal strength and stability of connection are important for a smooth training experience.
How to use mobile learning effectively:
Implement it to embrace your learners' mobility. Employees who don't work in the office setting and are always on the go also need access to training and learning. Mobile learning is just what they need. Prepare business memos, instructions, and short refresher courses for sales reps, account managers, auditors, and others. They'll find these materials useful for quick reference on their smartphones.
That's how the Oticon company used m-Learning to train their account managers in the US. As one of the leading companies in the global hearing aid industry, Oticon needs highly trained account managers in every country where they have a presence. To consistently deliver the same message to everyone, including itinerant and dispersed employees, the company chose the iSpring Learn mobile app.
In the app, learners can study courses wherever they are — even during their frequent business trips. Oticon field teams find the off-line version of the app particularly convenient, because they can download any of the 300 courses in advance and study during their flights. They can brush up on product features and industry regulations anytime and stay in the loop on any updates.
For customer service and other training courses that require hands-on experience and assistance, Oticon combines self-paced mobile learning and a face-to-face approach. And that brings us to the next method of learning delivery: blended learning.
Blended Learning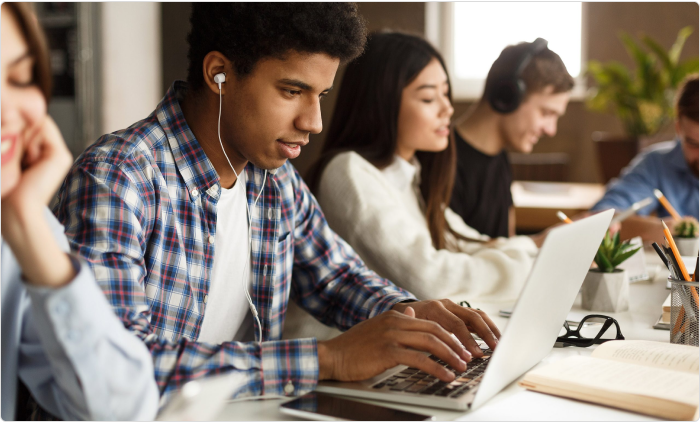 Blended learning is an approach that mixes the formats of classroom and online learning. It gives your learners online access to learning materials to study at their own pace, but it also includes meetings for discussions, group tasks, or mentoring sessions.
Also read: Mentorship Program: All You Should to Know in 2023
When implementing blended learning in your class, you maintain control over schedules and pace, and students can learn synchronously. But you also reserve some activities and content for online asynchronous learning and independent study.
Benefits:
Cumulative. You can have the best of both worlds: keep the human touch of face-to-face training, while also enjoying the flexibility of online learning.
Agile. You can come to terms with the pandemic reality and reduce the time people spend together during face-to-face training.
Comprehensive. Blended learning addresses various learning styles and needs, which is why it can be a good fit for various learners. There is a range of blended learning models, so you can choose the one that most suits your organization.
Pitfalls:
Tech reliant. Blended learning requires a strong IT infrastructure and the deployment of certain software.
Unstable. Your learners may not have stable and high connectivity or be technically ready to take part in webinars or download recordings.
How to use blended learning effectively:
Consider using blended learning for situations in which you need to maintain some degree of live training. It's particularly relevant for training topics that demand a hands-on approach or guidance from the instructor. For example, you can prompt client-facing departments to study a basic course on customer service principles online, and then practice communication skills during face-to-face training sessions.
You can also use blended learning for effective training on multifaceted topics, as the Drone Class success story demonstrates. This company from the Netherlands provides drone license courses and piloting training to various customers, from individuals to organizations. Since drones now can be used in many spheres, learners may have very different knowledge and require diverse types of training.
To address this challenge, Drone Class organizes classroom training sessions to introduce learners to the basics, and then invites them to continue in iSpring Learn. In the LMS, soon-to-be drone operators deepen their knowledge with online courses and take quizzes that comply with the ensuing licensure exam. Classroom activities and online training together help to prepare well-educated drone pilots for a wide range of projects.
5 Learning Delivery Methods: The Comparison Table
To help you summarize this information and determine the training method that best suits your company, we've compared them in the table below.
A comparison of the five main learning delivery methods
eLearning
Face-to-face training
Virtual classrooms
Blended learning
m-Learning
Driver

Online courses and quizzes

Video tutorials

Dialogue simulations

In-person, instructor-led training in a physical setting
In-person, instructor-led training in a virtual space

Face-to-face sessions

Online learning

Mobile learners

Portable devices

Main task
Provide unified, consistent, replicable training across an organization
Share hands-on experience and exchange ideas
Keep the lively nature of F2F training, but make it available to remote participants
Bridge the necessary instructor-led training and more scalable online learning
Make learning accessible anywhere and anytime, even on the go
Main challenge
Maintain engagement
Scale training
Hold attention and maintain engagement
Needs both technologies and instructors
Fight distractions caused by smartphones
Facilities needed

Authoring software

Learning management system (LMS)

Dedicated training venue

Printed materials

Whiteboard

Transport and accommodation for participants

Video Conferencing tools

Virtual classroom software

Authoring software

LMS

Webinar platform

Video conferencing tools

Training venues

Smartphones or tablets
FAQs
Here are some frequently asked questions about learning delivery methods.
What is learning delivery?
Learning delivery is a systematic process of communicating knowledge to learners based on a particular set of technologies, activities, and social practices.
What are learning delivery methods?
Learning delivery methods are the main 5 ways of organizing learning experiences using specific technology and facilities. They include face-to-face training, online learning, virtual classrooms, blended learning, and mobile learning.
What is the most popular learning delivery method?
According to the 2021 Training Industry Report, blended learning accounts for 43% of overall training hours. Given that 56% of companies plan to combine classroom training with remote learning in 2022, blended learning appears to be the most popular training delivery method.
Conclusion
Every training delivery method we've discussed above has its own purpose and area of application. None of them is a panacea, but they can all yield great results when properly implemented. It's wise not to settle for face-to-face training only, but to try new approaches and even combine them! This will help you address each method's potential bottlenecks and train employees more efficiently.
Which learning delivery method do you prefer, and why? Share your thoughts in the comment section!