June 2, 2023
How to Create a High-Impact Learning and Development (L&D) Strategy
Top organizations know that when they invest in employee learning programs, the business is compensated (ROI) through staff members' time, effort, and referrals. And that's precisely why an effective learning and development (L&D) strategy is the cornerstone of retaining a skilled and engaged workforce.
This guide covers everything you need to know about building and implementing a learning and development strategy. You'll discover:
What Is a Learning and Development Strategy?
​​A Learning and Development (L&D) strategy is a framework that outlines how a company will support employees' professional growth. It's a detailed plan that guides the organization in providing meaningful learning opportunities. An effective L&D strategy helps achieve learning goals by clearly defining objectives and methods. As such, it helps organizations make better-informed decisions on training priorities and resource allocation for maximum impact.
A solid L&D strategy should consider employees' current skills, knowledge, and areas for improvement. It should also ensure that learning opportunities align with employee needs and the overall business strategy.
Why Is It Important to Have a Learning and Development Strategy?
Having a corporate learning and development strategy garners enormous benefits for employees and employers alike. Here are six of the most important advantages you can expect to enjoy.
Enhances employee engagement and retention rates
Ensures that the organization stays competitive and agile
Facilitates succession planning and professional development for better business performance
Improves efficiency and productivity, increasing the ROI of learning initiatives
Addresses urgent skill gaps, boosting organizational performance
Fosters a learning culture, promoting collaboration and ownership
Corporate L&D Strategy Success Stories
Success looks different for every organization, but researching real-world examples of learning and development strategies can be a useful exercise. We've gathered three examples of organizations that have leveraged L&D strategies to transform organizational learning and drive results.
Each example covers a different use case with one thing in common — all of these organizations transformed their training model from in-person to digital.
Employee onboarding
Transforming to a digital training model can reap significant rewards for your employee onboarding process. From standardizing the process to accelerating the time required to reach productivity to improving engagement.
Central One Federal Credit Union, a not-for-profit credit union based in Central Massachusetts
Read the full story

| | | |
| --- | --- | --- |
| Challenge | Solution | Result |
| Two years ago, the organization didn't have a training department. That meant each department had to conduct its own, mostly in-person sessions. This posed several challenges. Not only was it difficult to schedule, but the content was not engaging, and there was a lack of consistency. | Central One switched from in-person to online training using iSpring Learn LMS. It now delivers 80% of learning through the LMS, making training more consistent and convenient to schedule. | Central One reduced onboarding time from 6 or 8 weeks to 4 weeks. |
Sales training
Your sales team does a lot of the heavy lifting in your organization, so proper training is a must. Moving sales training online as part of an L&D strategy can improve outcomes significantly, providing a more flexible and scalable learning delivery method. What's more, sales staff can access critical information from anywhere thanks to mobile learning.
Suzuki Australia, a subsidiary of the Japanese automotive firm Suzuki Motor Corporation
Read the full story

| | | |
| --- | --- | --- |
| Challenge | Solution | Results |
| Prior to the COVID-19 pandemic, Suzuki Australia trained dealership sales and technical staff in person. This was costly, time-consuming, and ineffective. So, it began to look for ways to move training online and create engaging materials that encourage learner accountability. | Thanks to a recommendation, the training team first purchased iSpring Suite to convert PowerPoint to an online-friendly format. Then, as a natural extension, it decided to invest in the iSpring Learn LMS to deliver training programs and track results. | The business recorded a 100% completion rate for all Suzuki Dealership employees, including the sales team and technicians. |
Compliance training
Our next L&D strategy example showcases how moving compliance training online can increase participation, drive behavior change, and improve tracking and monitoring capabilities. All this leads to a safer, more compliant workplace.
Forever Direct, the regional distribution center of Forever Living Products, the largest producer and distributor of aloe vera products worldwide
Read the full story

| | | |
| --- | --- | --- |
| Challenge | Solution | Results |
| Forever Direct is responsible for the safety of 350 employees and external suppliers entering its facility. Therefore, raising safety awareness is a must. It previously conducted in-person employee safety training but found it had limited consistency, interactivity, and accuracy. Plus, it was cost-ineffective and time-consuming to run. | The company decided to make learning and development programs more efficient and effective by moving them online. After much research, it chose iSpring, thanks to its robust reporting capabilities, user-friendly interface, and comprehensive security qualifications. | The number of accidents in its warehouse decreased by 50%. |
How to Create an Effective Learning and Development Strategy
Understanding why you need an L&D strategy framework is only half the battle. The next step is to build and execute one. While this may seem daunting, it's much more straightforward than it would appear to be when you break it down into manageable steps.
Follow our step-by-step guide on how to create a learning and development program that works.
Step 1. Identify organizational goals
Phase one is to identify the organization's short and long-term goals. Once they are identified, you need to determine how L&D initiatives can contribute to reaching those goals.
Here's an example: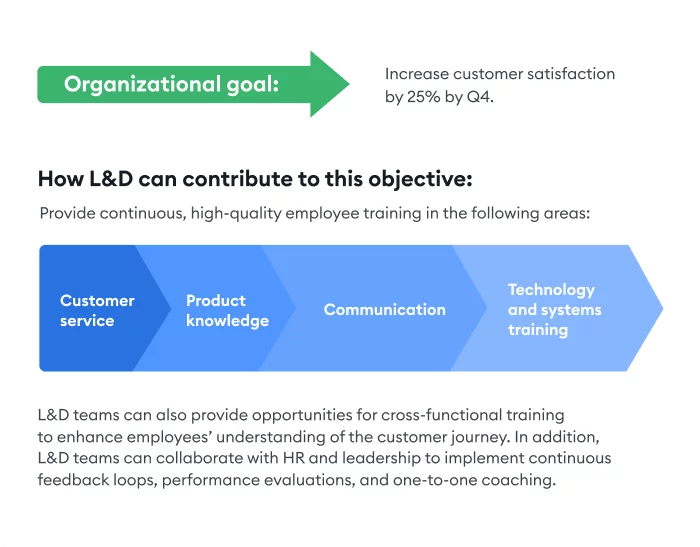 Step 2. Conduct a training needs analysis
Next, you need to assess employees' current skill levels to identify specific areas where L&D interventions are needed (skill gaps).
Follow these steps to conduct a thorough skills gap analysis:
Clarify the purpose and goal of the analysis. What do you want to achieve?
Define the scope of the analysis. What is your target audience – a specific department, role, or the entire organization?
Conduct surveys and interviews to collect data.
Analyze the data to pinpoint skill gaps, challenges, or behavior patterns. This will help you determine training needs.
Prioritize training needs based on urgency, feasibility, and alignment with business goals.
Don't go it alone! Download our comprehensive training needs analysis template.
Step 3. Create a training plan
Now that you have a clear understanding of the most pressing training needs, it's time to develop an action plan. This training plan should outline the steps, timelines, stakeholders, and resources needed to implement L&D initiatives. As such, it should be achievable and aligned with broader company goals.
Follow these steps to create your training plan:
Set clear and measurable learning objectives based on the defined training needs. Make sure they align with organizational objectives. For example, reduce customer complaints related to product knowledge by 15% by Q1 2024.
Define your target audience for each training program, considering their roles, skill levels, and needs.
Determine training methods for each initiative based on the objectives, audience, and resources available. For instance, online courses, role-plays, or on-the-job training.
Establish a training timeline and schedule.
Assign resources for each training initiative. What training materials and technology do you need? Do you need support from SMEs?
Determine evaluation methods to assess the effectiveness of each training program. This might entail conducting pre and post-training assessments, as well as feedback surveys.
To go into greater detail, check out our guide on how to create an employee training plan and download a ready-made training plan template to get your training process started off on the right foot.
Step 4. Develop engaging training content
You're now ready to create training materials tailored to the specific needs of your audience. The easiest way to cater to varying learner preferences is to incorporate a variety of elements into training, such as simulations, case studies, and quizzes.
If you're conducting your training online, you'll need a content authoring tool to create your interactive eLearning materials, such as iSpring Suite. It's a high-powered authoring tool with a simple-to-use interface to build world-class learning resources in minutes. With a wide range of templates and a fully stocked character library, you can create custom materials for any training scenario.
Here are some examples of the types of content you can make using iSpring.
Online courses
Interactive eLearning modules can combine text, images, and video for an immersive experience.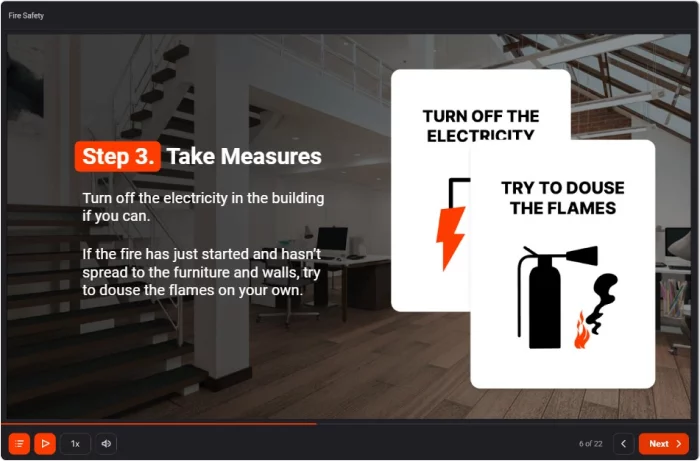 Role-plays
Real-world simulations empower employees to practice in a risk-free environment so they can build their communication skills.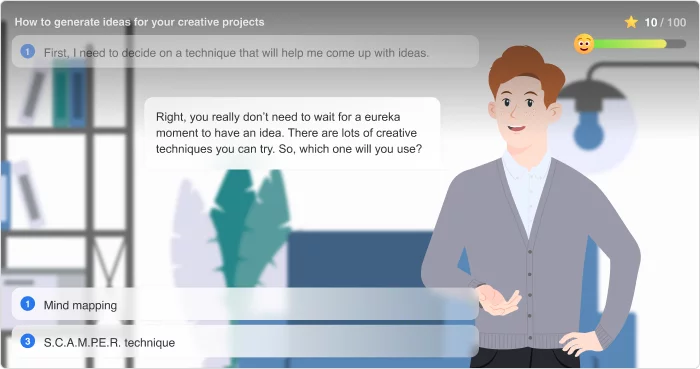 Quizzes
Interactive online assessments can test learners' knowledge in an engaging way, allowing L&D teams to easily spot knowledge gaps and areas for improvement.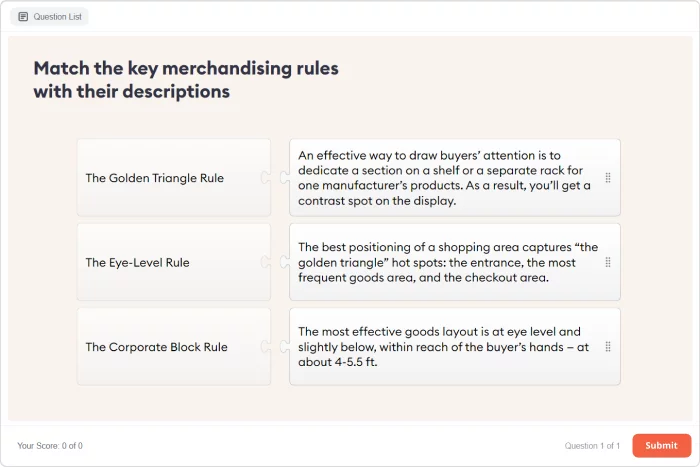 Training videos
Engaging and informative videos usually feature an instructor explaining a topic and incorporate visual aids, slides, audio, and animation to reinforce learning.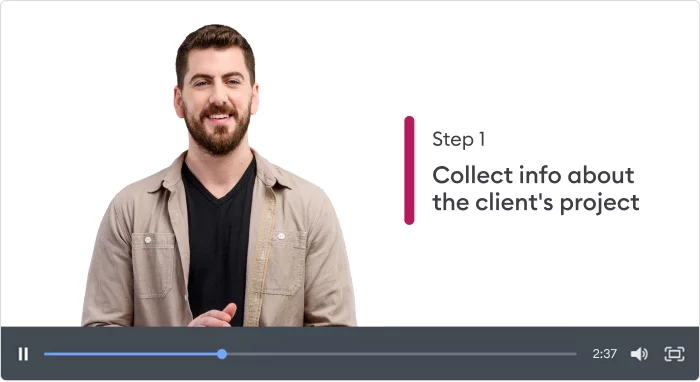 Interactions
Short, targeted pieces of eLearning content can serve as a standalone training program or be expanded upon. These are particularly effective for engaging busy learners and reinforcing key points.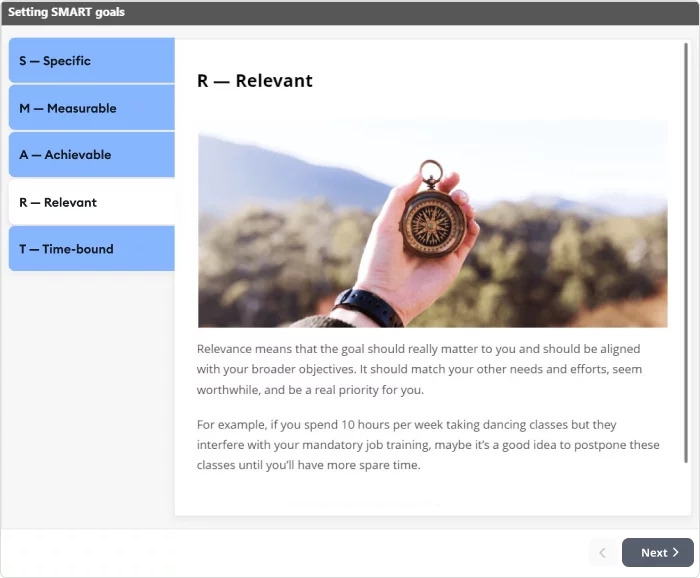 With a diverse range of interactions and features, you can build custom online courses to meet any training scenario.
Fully-stocked eLearning authoring toolkit for PowerPoint. No training required to start!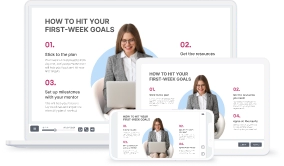 Step 5. Test training content
After you've finished the creation process, it's important to test your content thoroughly. After all, there's a lot to consider. Start by assembling a test group, selecting people with different experiences, knowledge levels, and points of view. This will ensure you get well-rounded feedback from a wide range of learner types.
Next, ask the test group to complete the training and respond to a survey. For a full picture, ask questions about the following:
User experience: Was it easy to navigate?
Training material: Is it clear? Is it accurate? What's missing?
Functionality: Do the interactive elements work correctly?
Relevance: Did they find the training relevant to their roles?
Accessibility: Is the training accessible for learners with different needs?
Gather all the feedback from your test group and determine which tweaks you need to make. Remember, you may not be able to make all the suggested changes right away due to time and budget restraints. In this case, check out your business priorities and start by making the most urgent changes, while storing the rest away for the next iteration.
Step 6. Deliver training
After you've made all the needed tweaks and changes, you're ready to launch the training. If you're delivering it online, you'll need to upload the training materials to your corporate LMS. Once uploaded, you can manage all aspects of the training, such as enrolling users and setting deadlines.
For example, iSpring Learn enables admins to quickly and easily upload content, organize training into personalized learning paths, and enroll learners in training with just a few clicks.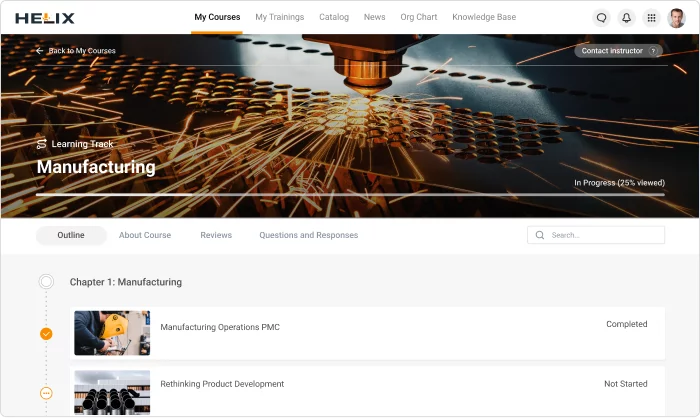 Automated notifications, deadlines, and reports allow busy L&D teams to put the training management process on autopilot.
Step 7. Measure training results
As soon as employees begin taking the training, you can start tracking and monitoring the progress of the L&D initiatives. You can do this in a number of ways:
Collect learner feedback
Measure outcomes against set goals
Analyze the data gleaned by the LMS
Compare key performance indicators before and after the L&D initiatives are implemented
In an ideal world, you would combine all of these methods to have a full picture of training impact. However, collecting learner feedback and performance data requires time. Fortunately, LMS analytics can give you immediate insights into the success of the training.
iSpring's robust LMS reporting capabilities enable stakeholders to pull essential training data and visualize impact at both a macro and micro level. For example, the Learner Progress report gives a high-level overview of all the learners and departments in your company.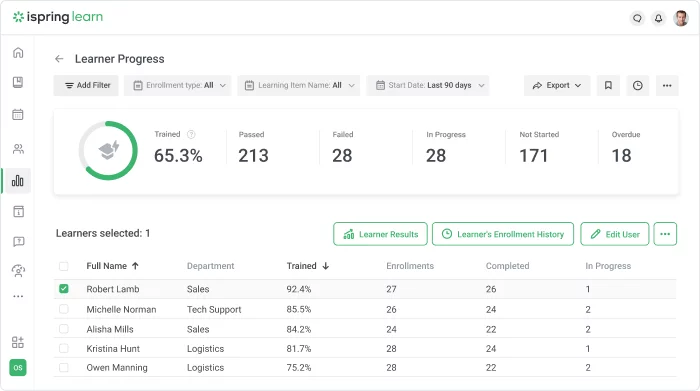 Alternatively, the Learner Results report gives detailed information on an individual employee's progress and performance.
Learning and Development Strategy Template
To help you streamline the process of developing an L&D strategy, we've created a learning and development strategy template. Download it to start planning your training journey today.
Download the free customizable L&D strategy template
FAQ
This section answers the most commonly asked questions about building and implementing a learning and development framework.
What are some common obstacles encountered when implementing a learning strategy roadmap?
You might come up against some roadblocks when building a strategic learning plan. These typically include:
A lack of buy-in from senior leadership
Budget constraints and inadequate resources
A disconnect between L&D strategies and business objectives
Difficulty evaluating the effectiveness of learning and development initiatives
Resistance to change across the business
What should you consider when selecting a platform to support L&D initiatives?
When choosing learning and development tools to power your organization's L&D strategy, you should ask the following questions:
Does the platform support our current training needs?
Is this solution scalable and flexible enough to accommodate our future needs?
Is it user-friendly?
Does it integrate with existing systems in our tech stack?
Can it track and report on learning outcomes effectively?
What level of support and assistance does the platform vendor provide?
Does it have relevant security and data privacy policies to comply with industry regulations?
What Comes Next?
A detailed L&D strategy enables your organization to support employee growth and drive business results. It provides a clear roadmap of where you are, where you're going, and how you'll get there. This results in better learning outcomes and a more engaged and productive workforce.
That said, creating an effective game plan is not without its challenges. Low adoption rates, limited budgets, and difficulty measuring ROI are just some of the obstacles L&D teams face. Fortunately, moving training online and enlisting the help of a robust LMS can solve many of these issues. An LMS provides a cost-effective, flexible, and engaging way to deliver training initiatives and execute your L&D strategy. Moreover, powerful analytics make it easy for you to measure ROI and showcase the impact of your efforts.
Do you want to leverage an LMS to build a high-performing L&D strategy? Request a demo of the iSpring Learn LMS today. We'll be happy to show you how the platform will address your training needs.