July 12, 2021
Customer Service Skills Training – How to Run It Online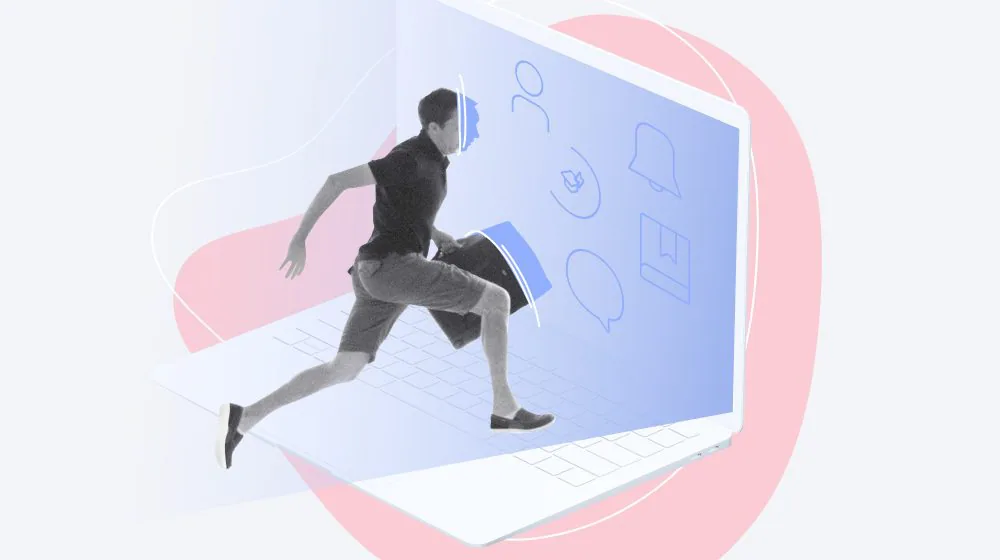 The quality of the customer service your company provides will have a direct impact on how successful your business becomes. And that's exactly why customer service skills training is so vital.
If you intend to train your employees on how to deal with customers and need some tips on how to plan out, create, and distribute your training, then look no further. This article covers all the essential information you'll need to launch an effective and engaging learning experience.
Table of Contents
What Is Customer Service Training?
Customer service skills training is intended to improve customer support, experience, and consequent satisfaction. Great training is ongoing and revolves around developing skills, competencies, and tools that will help employees provide clients with a rich customer journey.
This type of training can be delivered in person, through eLearning, or using a blended approach. It usually includes:
Customer interaction training (e.g., dealing with an angry customer, reframing in a negotiation, building trust)
Training on market-specific communication style and language policy
Technical training (e.g., using different software and tools of the trade)
Industry-specific training (e.g., training on white labels or ancillaries if you work in the travel industry)
Why Is Customer Service Training Important?
According to a report by Salesforce Research, 57% of consumers surveyed stop buying from a company if a competitor offers a better experience.
If a business wants to retain existing customers and attract new ones, they must train employees to make every client interaction a positive one.
In this section, we'll delve into why customer service training matters and what value it adds to an organization.
More training equals higher job satisfaction and leads to customer satisfaction
Research performed by ClearCompany indicates that 68% of employees rate their organization's training and development policy as the most important. This shows that when a business invests time and money in training their staff, the employees are likely to feel more satisfied with their jobs. This is especially important in customer service because satisfied employees lead to happier
customers.
Customer support teams need cross-channel expertise
The way we shop is changing, and with that customer expectations are changing as well. Perhaps one of the biggest changes is in communication. Customers are no longer satisfied to receive customer support only by phone or email. Nowadays they want, or should we say expect, to receive customer support across multiple channels such as live chat, WhatsApp, and social media. Employers need to train their staff on using these new channels and coach them through all the other changes that occur in their work. This is why constant training and upskilling are needed. Excellent support experiences build customer loyalty.
It costs a business five times more to attract new customers than to nurture existing ones, so never underestimate the importance of retaining existing customers and maintaining their loyalty.
Studies by Hubspot research found that 93% of customers are more likely to become repeat buyers if they've had a great customer service experience. Besides, having happy, loyal customers has another competitive advantage: lower-cost marketing. Now more than ever, people trust online reviews and word of mouth above any advertising or marketing campaign, and the way to a customer's heart is through a great customer experience.
Most people remember feelings, not facts
When it comes to customer experience, most people remember how they felt more than the exact details of a transaction. Positive or negative interaction with customer service can stay with people for a long time.
In fact, if you think of an experience you've had as a shopper that really stood out, it's probably because of fantastic or terrible customer service rather than a great offer or marketing campaign. This explains why excellent training in this area is key for organizations.
Who Needs Customer Service Training?
Considering that 73% of customers remain loyal to a brand because of friendly customer service representatives, so the more employees who undertake the training, the better.
Think of all the staff in your organization who deal with clients every day. They are the real face of your business and it will be judged based on these employees' manners and behaviors. Let's get a little more specific. Below are just a few examples of professions or sectors where customer service training is fundamental.
Retail customer service training
As the world of eCommerce continues to boom, physical stores are forced to compete. While they often can't keep up with prices or even convenience, they can capitalize on their strongest asset – great customer experiences.
The goal for this training in the retail sector is to coach staff to add so much value in terms of experience, product knowledge, and rapport that the shopper actually buys in-store instead of trying in-store and buying online for less.
Hospitality customer service training
In hospitality, customer service training plays a huge role in the hotel's continued success. For most people, staying at a hotel is a relatively rare occurrence and a luxury. Many people associate hotels with vacations and are willing to splash out a bit more to guarantee a great experience.
Since it is a higher ticket purchase, shoppers are more likely to do some research before booking a hotel. This might include reading online reviews or asking around for recommendations.
Aviation customer service training
While some people may choose the cheapest flight option available, others will indulge in a more expensive flight if they know that the airline in question offers better service, especially on long-haul flights.
Flying can be nerve-wracking for a lot of flyers, so the need for a well-trained customer service team is greater. When stress levels are heightened, a negative customer experience can escalate and cause bigger issues. Unlike a shop or hotel, staff can't simply ask a customer to leave. The need to handle issues professionally is essential.
Healthcare customer service training
Healthcare is just as much a consumer-focused service as other service industries. Dealing with health issues is stressful and the last thing patients need are complications arising from poor communication with the staff.
Customer service training can cover a variety of topics, a few of which are effective communication, improved listening skills, identifying and addressing patient needs, telephone etiquette, working across all generations, conflict resolution, and respectfulness.
How to Train Employees on Customer Service Online
The landscape of customer service skills training has changed in recent years with a huge shift towards online training. But why?
Flexibility. Online training removes the need for employees to be in the same place, offering flexibility around where employees can learn, when they can learn, what devices and methods of learning they have access to, and how they consume their online training modules.
Mobile devices. Did you know that the average American now checks their phone 96 times a day? That's roughly once every ten minutes. According to global tech company Asurion, this number has risen by 20% in the past two years and this trend looks set to continue. As we rely on our mobile phones more and more, the demand for training on our mobile devices increases.
Since the future is digital, let's take a look at the steps needed to launch online customer service training successfully.
Step 1: Develop a customer service training implementation plan
Every great digital learning project begins with an implementation plan. When creating your plan, you'll need to consider who your audience is, their needs, and the issue they need to solve. Check out our article on training needs assessment, and use this information as a jumping-off point.
Next up is assessing the project scope and making sure that your organization is prepared. Readiness can be divided into two parts: content readiness and technological readiness.
Content readiness
If you already have some training content, decide if it is ready to be transformed into an eLearning course. To do this, consider these questions:
Is your current content aligned with the training objectives?
How well is your existing content organized? Does it have a clear outline and learning objectives?
Will you need to customize, create or curate content? How much content is ready to go or easily transferable?
How often do you expect to have to make changes to the content?
Technological readiness
Once your content is ready, you'll need to turn your attention to technological readiness. Do you have the tools and software you need to launch your eLearning program? There are two fundamental tools to consider here:
Content authoring tool
Learning delivery platform
Content authoring tool
Learning management system (LMS)

A content authoring tool is the software you'll use to build your
courses. When you're shopping around for the perfect tool for your organization, keep these questions in mind:

Is it user friendly? Look for a tool with an intuitive interface so you can cross-train more
authors within your organization and roll out your training as quickly as possible.
Does it allow me to create the type of content I want to create? Think about what your
training would benefit from and choose a tool that delivers. For example, for customer service training you'll probably
want an authoring tool that you can create simulations and interactive quizzes with.
Can I create training that works on different devices? Consider your audience and how they
will consume the training. If mobile learning is important, make sure your authoring tool is responsive
Can I make changes quickly? You'll inevitably have to make updates to your training.
Pick an authoring tool that allows you to make updates easily.
Do I need to localize my content? If you need to localize your training, take this into
consideration when choosing your tool. You don't necessarily need to choose a tool with a multi-language feature, you
can go for a tool that allows you to author content in just a few minutes.

An LMS is the platform that houses your training modules and tracks
learner progress. Choosing the right LMS is essential for a great learner experience. Ask yourself the following questions before
you choose an LMS:

Is it user friendly? It's important to choose an intuitive LMS that is easy to use for
both learners, training professionals, and administrators.
Can I track the progress of courses easily? Think about the data you'll need from your
LMS to measure the success of your training. The essentials should include completion status (passed/failed), learner
progress, and assignment results.
Does it let me host ILT sessions? If you're going to provide blended learning, your LMS
should support virtual training sessions and initiatives (e.g., managing web meeting schedules, monitoring attendance and
performance).
Is there in-built gamification? When it comes to engagement and retention, gamification is a
winner. Choose an LMS that offers badges, leaderboards, or contests to add some fun to your training.
Step 2: Create learning objectives and plot your course
Now that you've chosen your content authoring tool and LMS, next up is defining the purpose of your course. Start off by answering the question: "What specific skills or knowledge should your customer service agents have after completing the training?"
After your general goal is clear, it's time to divide your goal into separate learning objectives. This will make creating your course outline much easier in the long run as it creates a clear structure to follow and ensures that all training content within the course is relevant. Remember the golden rule: one objective per training module. Let's look at an example of this type of goal setting.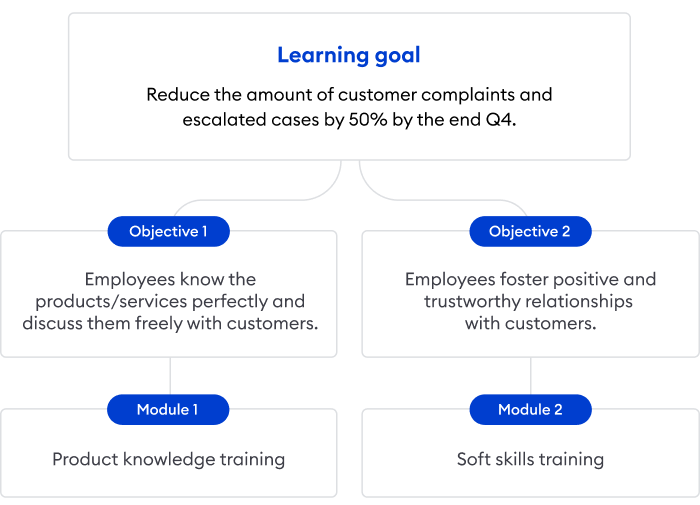 If the objectives you have are still quite broad, you can split them further into more specific ones. Defining smaller objectives helps in several
ways:
It forces you to think about and pinpoint customers' actual needs
It's easier to measure if you have accomplished your objectives and how successful your training is—for example by seeing a downward trend in support requests on that topic
It allows you to prioritize which objective you should tackle first and how much time should be dedicated to each one
For example, let's divide our Objective 2 "Employees foster positive and trustworthy relationships with customers." into relevant sub-objectives and the Soft skills training module into corresponding submodules: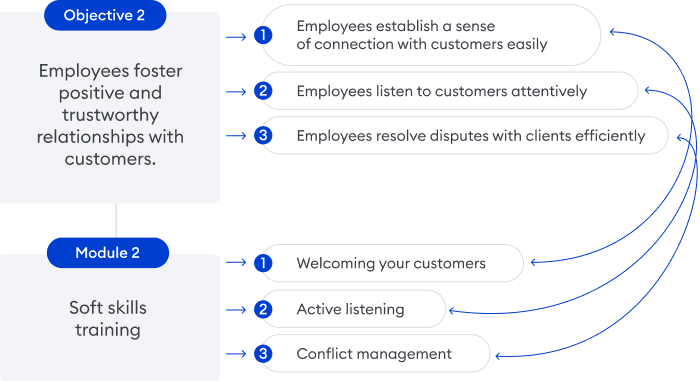 Step 3: Create your eLearning course
When you have an outline, you can go on to the course development stage. With the right authoring software, the possibilities for creation are endless. If you want to build courses fast and hassle free, try iSpring Suite. This is a user-friendly authoring toolkit that will let you create online courses, online quizzes, video tutorials, role-play scenarios, and interactive activities right in PowerPoint.
When it comes to creating customer service training, there are three core content types that are incredibly effective:
Dialogue simulations
Scenario-based learning such as conversation simulations is engaging, relevant, and an immersive way to practice in a controlled environment. These simulations imitate a real conversation with a customer and help employees master communication skills without any risk of damaging relations with a client.
This dialogue sim about how to deal with an angry customer is a perfect example of how fun and effective scenario-based learning can be. Repetition
is key for retention and the feedback works like an in-built coach to give learners on-the-spot correction.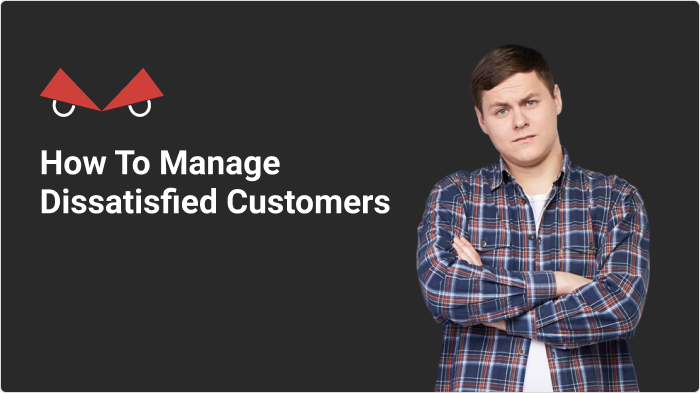 Visually appealing slide-based courses
You're familiar with the KISS acronym that stands for "keep it simple, stupid." Using a simple slide-based format that learners are familiar with allows them to focus on the content rather than confusing navigation.
To avoid distracting learners, follow some graphic design best practices.
Don't overcrowd slides, use your brand colors, font, and logo, keep images consistent in style and size, and use negative space to draw the eye to the key information.
Check out this refreshing example of a slide-based course about reframing in negotiation created with iSpring Suite.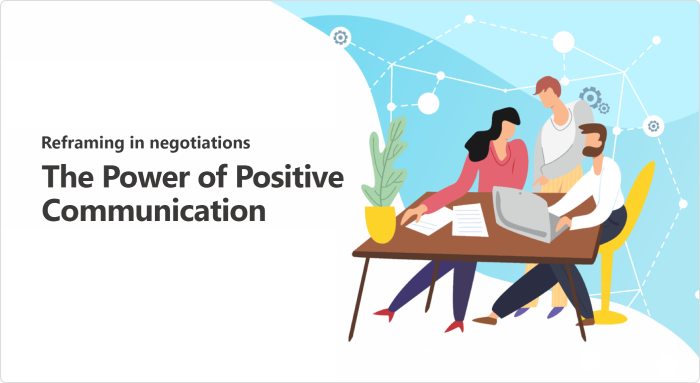 Quizzes and assessments
Adding a quiz is a surefire way to encourage learners to pay attention and assimilate the content. When we know we're going to be tested on something, we tend to pay more attention. It also helps training professionals see how their employees understand the material.
This quiz on how to create trust with a spokesperson is not only fun, but it's also effective for retaining key information.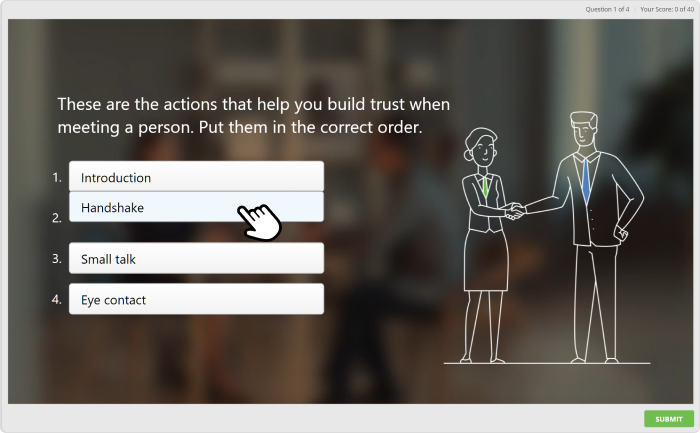 To get more details about the course development process, check out our guide
on how to create an eLearning course.
Step 4: Get learner feedback
Implementing a digital training program is an iterative process. Expect and embrace it. Continuous feedback is the best way to perfect your training, making sure that it's relevant, experiential, and effective.
It's a great idea to start the feedback cycle before your course launches. Share it with a community of authors, subject matter experts, and other stakeholders to collect their feedback and make any necessary tweaks before the rollout. You get bonus points if you involve customers in the feedback process by running polls, surveys, or focus groups to make sure you're on the right track.
Once the course is launched, use evaluation surveys to collect feedback from learners. This lets you test the initial success of your training and gain insight into what's working and what needs improvement.
It's important to ask the right questions in your survey. Here are some tried and true examples:
Did the training content meet your expectations?
How would you rate on a scale from 1 to 5 the quality of the training?
Did you learn something useful?
Did you find the content engaging?
Would you recommend the course to your colleagues?
What could have been improved?
You can usually create your survey directly in the authoring tool. For example, in iSpring Suite, you can use Likert Scale questions to evaluate learner satisfaction. Depending on the answer you expect, you can also use numeric,
short answer, and multiple-choice questions. For in-depth personal feedback, you can even include an essay question.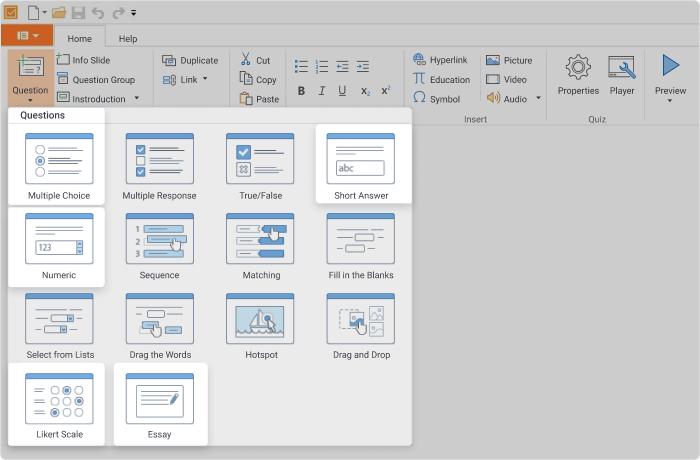 Step 5: Measure results
Learning analytics are incredibly valuable for L&D professionals. They allow for continuous mining for both quick and in-depth insights into how the training is performing.
Modern LMSs have built-in analytics dashboards that, when coupled with more qualitative feedback (such as evaluation surveys) give a good indication of the effectiveness of your course.
Use your LMS to gauge how effective your training methods and learning content are by looking for at least these important metrics:
Learner progress. This report will show you a comprehensive picture of training in your company or customer service department: how many courses have been completed, how many are overdue, etc.
Learner results. It will let you learn how each user performs. Assessment scores accompanied by the number of attempts, time spent, and other useful details will give you empirical insight into trainee comprehension.
Customer Service Training Tips for Engagement
When it comes to self-driven learning, the biggest risk is that learners will turn off. Keeping them engaged in your eLearning doesn't have to be difficult. Check out these handy tips for boosting learner engagement.
1. Add multimedia to your training
Videos are a great way to keep learners engaged. Since the majority of the workforce are now millennials who are well-versed in video content, video is a top engager.
In this video tutorial, David Brownlee, one of the most viewed customer service, marketing, and sales trainers, reveals his seven secret tips for
producing good customer service.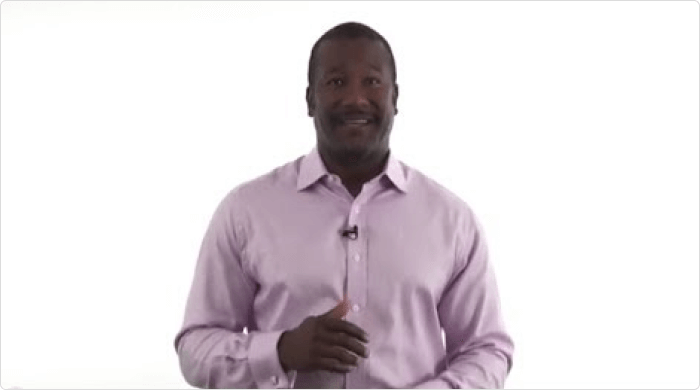 You can even create your own similar instructional videos. Tools like iSpring Suite allow you to record videos both from your screen and webcam. To learn more, read our post on how to create video tutorials.
With interactive video creation tools, you can go even further. Interactive videos can also include quizzes, gamified content, clickable menus, and
interactive storylines that let them choose their own adventure.
This demo from the Allianz Group perfectly showcases the power of interactive video. It's a creative way to experience a day in the life of a newly hired manager at the Allianz Group.
This type of video is a great alternative to customer service training icebreakers that are often included with in-person training.
2. Connect training to real life
Research by Forbes reveals that almost half of employees don't consider their current internal training relevant to their daily responsibilities. Relevant learning means that the course content resonates with learners and builds skills that they need for their day-to-day work.
As you create each piece of your training, circle back to relevance. What's the point of each piece of content? How does it link to employees' daily tasks? Will it help them perform their day-to-day work faster and better?
When training customer service staff, behavioral training is key. If your staff needs to work on their conflict resolution skills, they will need a controlled environment to practice in. As we already mentioned, you can achieve this by using dialogue simulations.
3. Harness the power of microlearning
Microlearning provides bite-sized learning 'chunks' that focus on a specific topic and take between 1 and 15 minutes to complete. The average worker has just 20 minutes per week to dedicate to training, making microlearning a powerful way to promote continuous learning. Bite-sized content can increase information retention by 20%, making microlearning the key to maximizing training time and effectiveness.
The short nuggets of specific information offer a flexible way to consume on-the-job training at the point of need. Add mobile learning to this equation and employees have no excuse to not upskill – no matter how busy they are.
With the iSpring Suite authoring tool, you can create microlearning modules quickly, with no fuss. This product demo training is a perfect example
of the power of microlearning courses.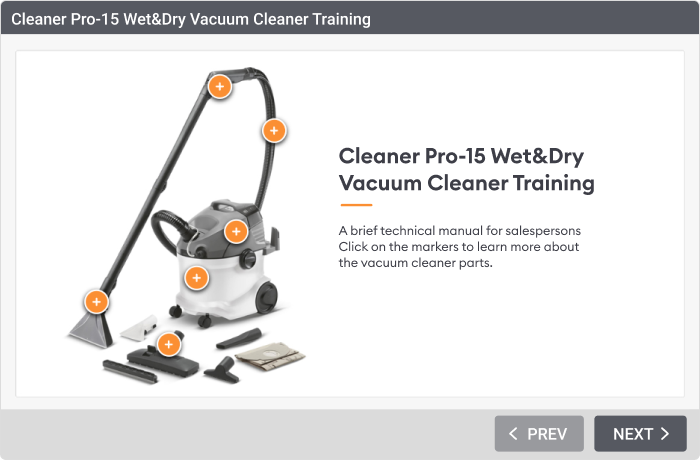 4. Win big with gamification
Gamification engages and boosts learners' motivation by using game
mechanics like points, leaderboards, and badges.
Domino's is one gamification success story. As a giant in the fast food industry, Domino's had a very specific training need – to onboard new staff as quickly and effectively as possible, while maintaining its high quality and fast pace.
So they created the Pizza Maker course, a gamified training program that includes simulations to engage, assess, and reward employees. Its success
was in large part due to using game mechanics to encourage employees to beat past scores and constantly improve.
The learning objective was to get new employees to master the menu more quickly and decrease onboarding time, while maintaining high-quality
service. The result was a huge success.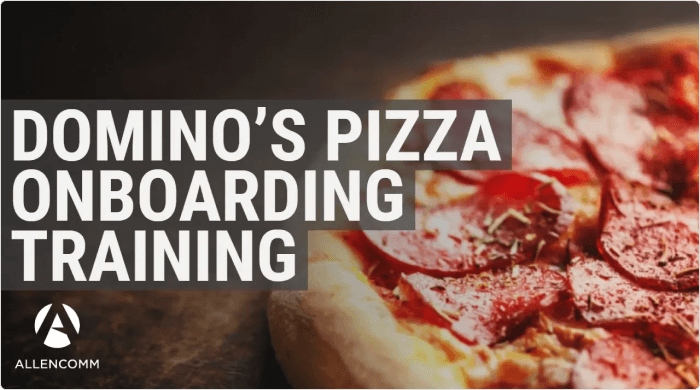 5. Learn through storytelling
Another great tip for learner engagement is using storytelling. One of the most effective ways of doing this is through video simulations of real-life scenarios where learners have to apply knowledge.
This type of learning experience is perfect for putting theory into practice and developing soft skills. A powerful example of this is the '2100' game (check out the trailer).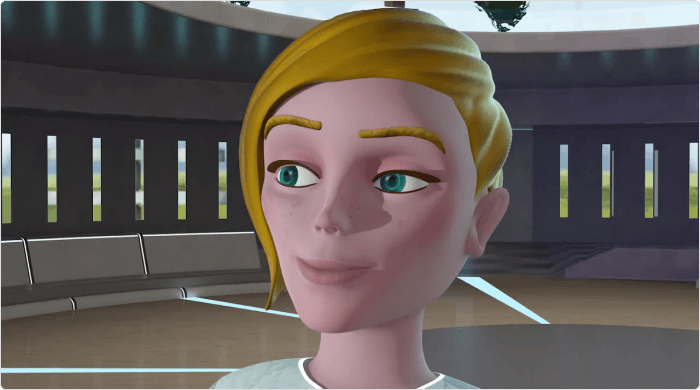 It's a futuristic adventure that tells the story of a student traveling forward in time to move up from the bottom rung of a company all the way to CEO. Your success depends on how well-developed your customer service skills are. The game recreates up to 27 "real" situations to work on a total of 17 skills.
Final Thoughts