Published
May 18, 2022
|
Updated on
July 19, 2022
What Is eLearning? Definition, Examples, and QuickStart Guide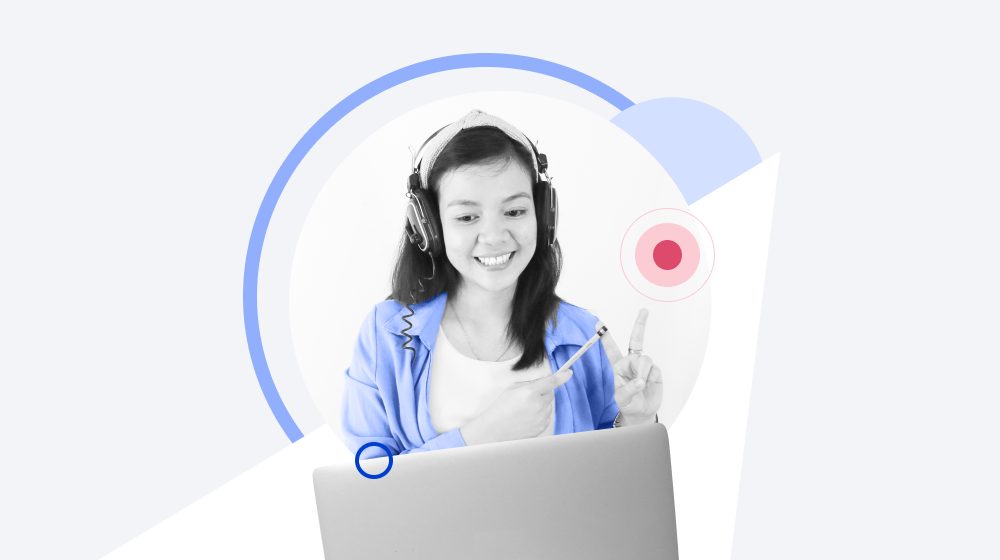 From snail-mail correspondence courses to comprehensive digital training, distance learning has come a long way and has now reached its prime as eLearning. Today, it's no longer a novelty but a booming industry. According to statistics from Ambient Insight, the global eLearning market will continue to grow by 5% yearly, and in time will replace offline formats.
eLearning continues to gain ground in the corporate sector. Businesses implement it to develop their staff, streamline their processes, and extend their reach.
So what is eLearning in a real-world context and why is it so attractive? Let's have a look.
What Is eLearning?
Today, when people say "eLearning", they're referring to training on any digital device. Watching an educational video, reading an interesting article, or taking a quiz — all that is eLearning.
Comparing eLearning to traditional education methods is like comparing e-book formats to paper books. Just like digital texts can't replace the authenticity of a real book, eLearning can't replace full-scale education. However, it is always available as long as you have your digital device with you, and thus, it's more convenient.
Convenience is one of the main reasons people love eLearning. Another reason is that you can customize your learning experience with other novelties, like augmented reality and virtual reality (people love new technologies!). For example, with VR courses, warehouse and construction site workers receive corporate safety training, and medical students learn how to locate bones and blood vessels.
We use eLearning daily to develop ourselves as individuals. We read articles, watch YouTube videos, and play games to exercise our brains on our smartphones. Businesses, from small startups to enterprises, also utilize eLearning to train employees and help with internal processes. But wouldn't you like to know how it all started?
The History of eLearning
The term eLearning was coined by US learning guru Elliott Masie in November 1999, when he delivered his speech at the TechLearn Conference: "eLearning is the use of network technology to design, deliver, select, administer, and extend learning."
In 2000, eLearning was revolutionized as a technology with the release of OLAT, the first open-source learning management system. That year also saw the release of the first version of SCORM, a standard that enables users to package content and distribute it within an LMS.
In the early 2000s, mobile devices became more and more prevalent, and took the form of smartphones and tablets. They were no longer used just to make calls: people watched videos, read books, and played games on their phones. That prompted cellular companies to improve mobile connectivity, a race that continues to this day.
Mobile devices are now a popular choice to access eLearning, both for businesses and general education.
Want to know more about the history of eLearning? Check out this timeline:

Benefits of eLearning for Businesses
Today, many companies, from large enterprises to small startups, use eLearning to manage their employees' development: upgrade their qualifications, teach them new skills, or retrain them for new positions.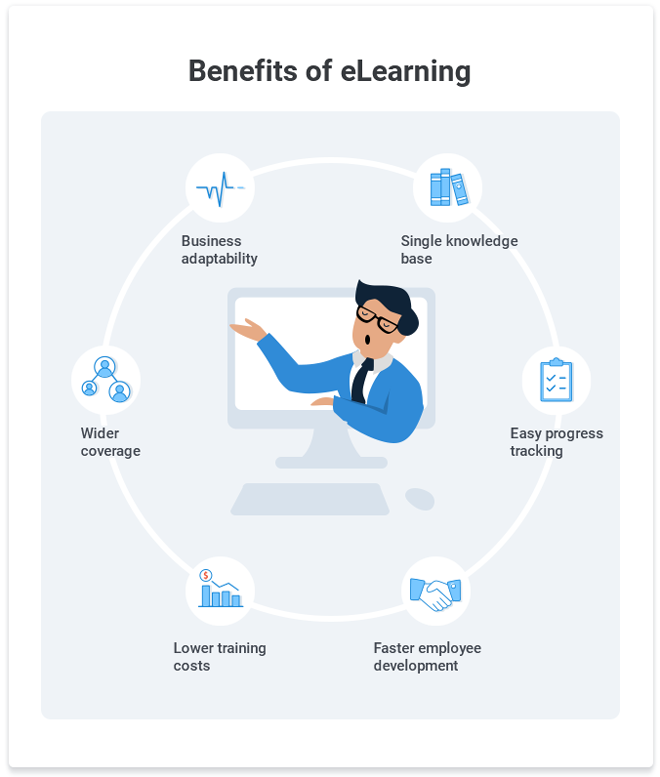 eLearning is a great boon to businesses because it provides:
Lower training costs
With eLearning, you don't have to spend a fortune hosting seminars, renting hotel rooms, and covering travel expenses. You can simply develop an online course and share it with your employees.
Wider coverage
Distance learning has no barriers. You can train hundreds of employees in dozens of offices across the world in a uniform fashion. Employees don't need to spend time attending classroom lectures. All they need is a digital device and Internet access.
Single knowledge base
All the learning material is stored in one place, i.e., an LMS. Employees can log in to the LMS at a convenient time from any device, find the course they need, and refresh their memory.
Faster employee development
Traditional training can be rather slow because it depends on the business trainers' working hours. An LMS is available anytime, making it possible for your employees to study whenever they feel like: when commuting, during their lunch break, or at home.
Easy progress tracking
Your business trainers don't need to hold in-class training and go over every single paper in person. Most LMSs have analytics, which show each student's progress in graphs and reports.
Business adaptability
eLearning helps employees keep up with the company's rhythm and solve problems in real time. Need to introduce a new product to the sales team? Create a course and deliver it instantly to thousands of employees.
Businesses use eLearning to help with the following:
Employee Training. This is the main reason why companies implement eLearning. Digital courses are more efficient at employee training because they provide an ongoing and easy-to-use learning solution.
Moxa, Inc. wanted to train marketing teams around the globe. Before they adopted eLearning, they had to schedule costly flights for face-to-face meetings. By transitioning to digital format, they cut costs, freed up time, and increased training efficiency. They now provide consistent, high-quality training to all their employees.
Read on →
Compliance Training. Compliance training is mandatory for almost any business. The goal is to inform new employees about company policies, for example those involving safety and personal conduct. Compliance training is much easier to deliver with an LMS, especially if you need to implement immediate changes to your policy.
Employee Involvement. eLearning engages employees with interactive courses, creative design, and game-like elements. The latter is specifically aimed at keeping learners' interest peaked with awards and ratings.
New-Hire Retention. The onboarding process for new staff members can be perplexing, especially if you have a big company. You can make things easier by introducing the company and its key figures step-by-step with digital courses. This will also free up time for your HR team.
L'Oreal has developed the Fit Culture App, a gamified app to onboard new employees around the world. New hires learn about the company culture through videos, quizzes, games, and real-life missions. As they progress, they learn insider facts and stories about L'Oreal, and earn points.
Learn how to build strong onboarding process from square one →
Client and Partner Development. With digital courses, you can teach your partners and clients about what you do, be it products or services. People like innovation, but are often suspicious about things they don't know. Use courses and presentations to explain how your service works and why it's good. That will make them feel safe and get them on board quicker.

Product Promotion. Brands and retail companies always have new products to present. You can use eLearning to teach your sales teams about new additions, and help new employees learn the products quicker. As a result, you get more sales.
So, how exactly do businesses achieve these goals with eLearning? A quality digital course is more than just a sequence of slides. The content you present needs to be engaging, informative, and interactive.
eLearning Content Types
At iSpring, we've analyzed thousands of client cases and determined that the efficacy of an eLearning course depends on the content. The more relevant, engaging, and interactive your course is, the higher its efficacy. There are lots of content types to choose from; below, we've listed the main ones you should consider:
Digital Courses
Simple digital courses are often presented as slides with information and media (video, audio, and pictures). Modern authoring tools allow you to make the slides more diverse with quizzes, simulations, and screencasts. The key here is to make the whole experience memorable and easy to go through. We recommend using this content ratio: 60% media and 40% text.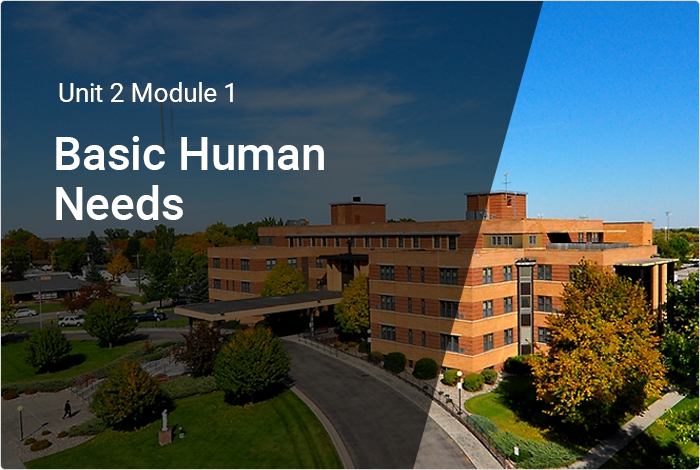 Quizzes
Just like traditional school tests, digital quizzes help test how much your employees have learned from a lesson. Modern authoring tools allow you to create fun and interactive tests, with branching, audio and video questions, drag-and-drop elements, and more.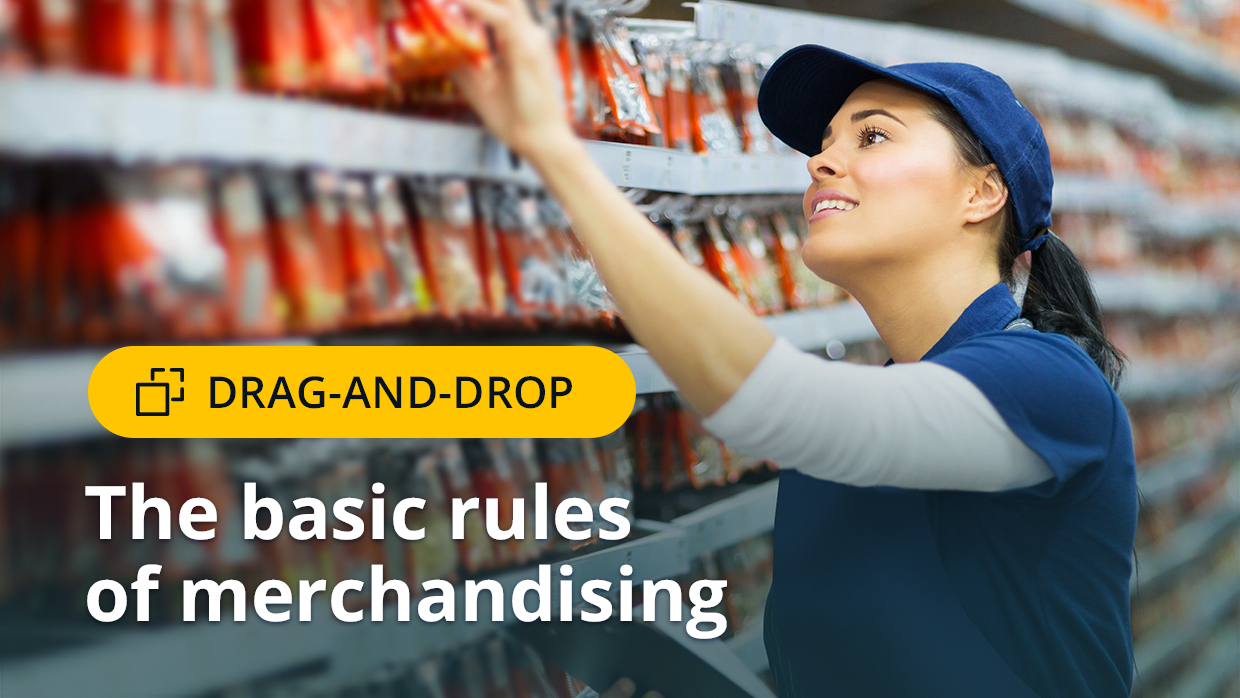 Webinars
A webinar is an online lecture, often recorded with a webcam. The speaker's desktop serves as a blackboard where they can show slides and videos.
This format has two benefits. The first is that you can broadcast to thousands of employees at once, and second, your viewers can ask questions and receive answers in real time.
Video Courses
Video courses make education visually compelling. This format is fun and can be used for any topic; you just need to choose how you want to present it. A video course can be an interactive course with pop-up questions and game elements, or a simple informative video.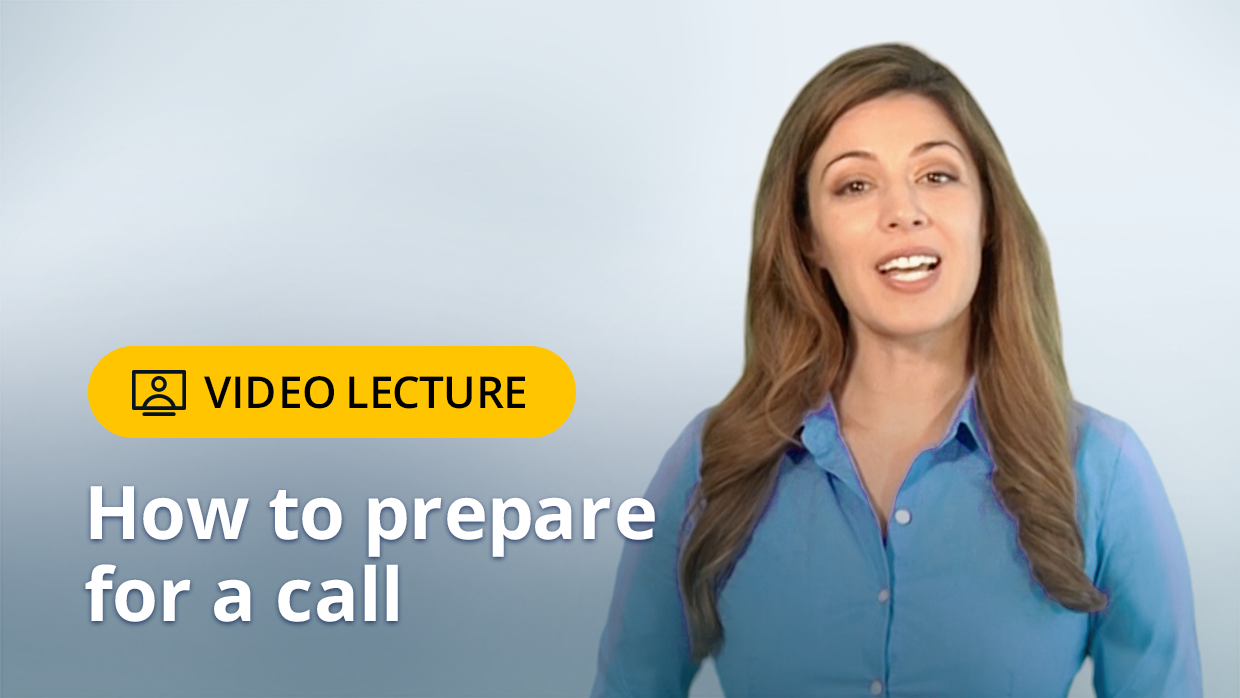 YouTube utilizes this simple and engaging format not only to provide entertainment but also to educate. When you watch a cooking show or a tech review, you're engaging in eLearning.
Screencasts
Screen recordings can help you show people how to operate specific software. For example, if you need to introduce your employees to a CRM, demonstrate to them how the software works with a screencast.
Talking-Head Video
Simply put, this is a video that involves a person talking to the camera. The goal is to engage the listener with a captivating story. This could be a success story, an interview with an expert, or a product showcase.
eBooks and Articles
Many LMSs have catalogues where companies store books, longreads, case studies, and other articles. Together, these materials make up a strong knowledge base that employees can access at any time during their training.
Conversation Simulations
Simulations help employees train their skills. They simulate a possible scenario the learner may encounter at work. It could be a dialogue with a client in retail, or an engine failure simulation at a plant. The main benefit here is that the learner can complete the task safely in a virtual environment without risking potential real-world problems.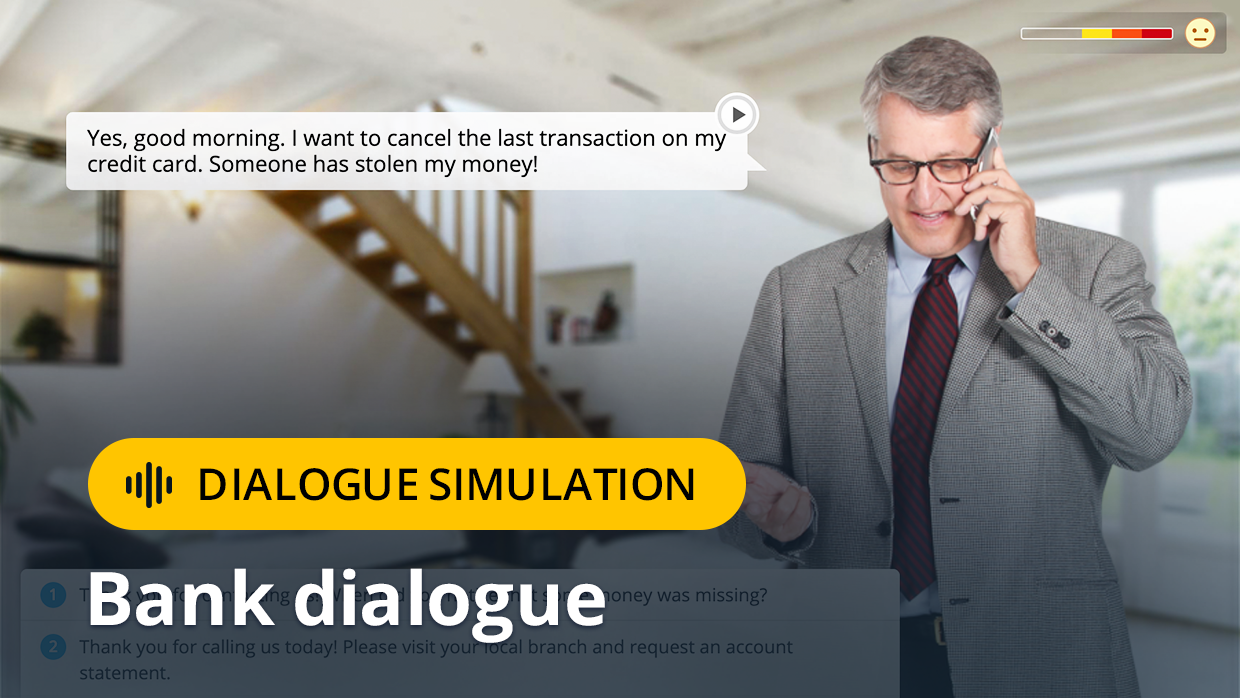 VR Simulations
Perhaps the most effective (and expensive) form that eLearning takes is VR programs. They allow the user to become immerses in a virtual experience for safe trial and error.
Here's how AVIETRA trains their cabin crew:
Mailing list
According to a poll we conducted, 60% of businesses use mailing lists; however, this format is not suited for every solution. You can teach business correspondence or SEO basics, but you should stay clear of complex mail lessons.
The disadvantage is that when you use mailout, you lose control. You can't track how many people read the mail from top to bottom and what they learned from it.
Podcasts
Podcasts are very convenient. You can listen to them while jogging or while driving a car instead of listening to the radio. Podcasts are often long and therefore need to be catchy and compelling, so the listener doesn't fall asleep to the sweet sounds of your informative lullaby.
Also read: → Best eLearning examples
Launch eLearning in 9 Steps
eLearning implementation will require financing, design, and teamwork. Full preparation can take from a week to a year, depending on the project's scale. Here, we've highlighted 9 steps for your eLearning roadmap: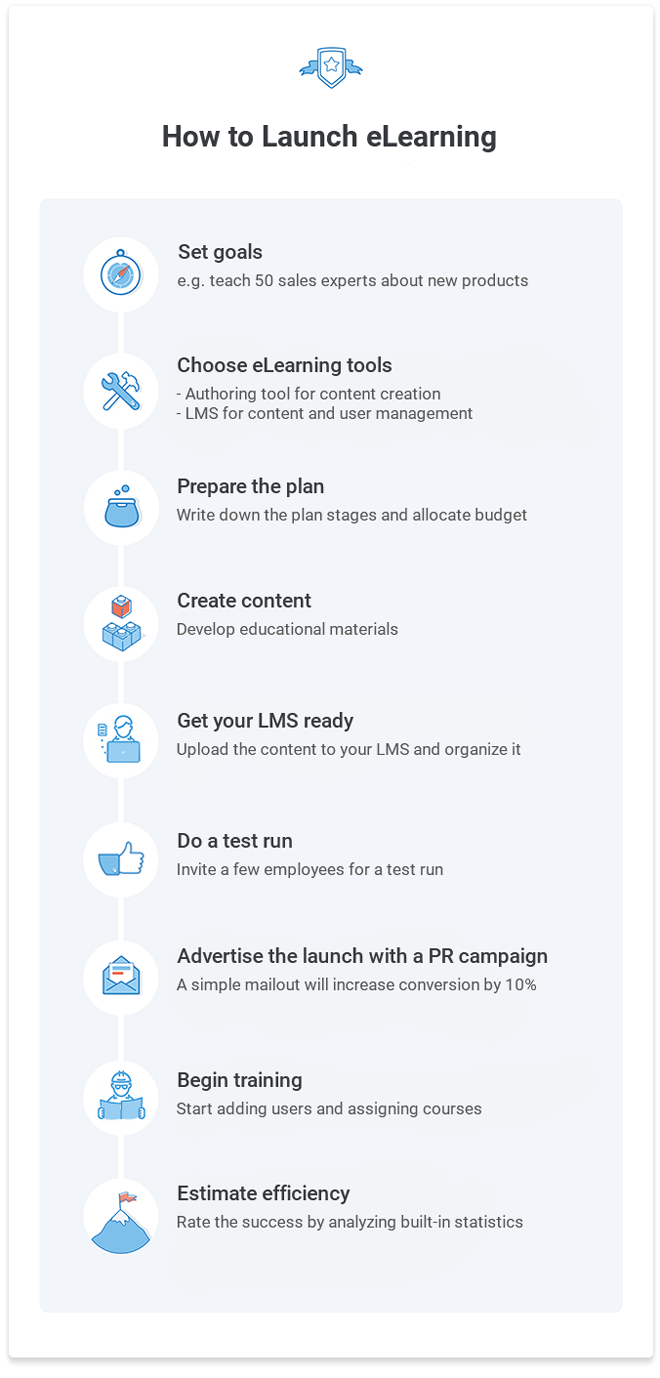 Set goals. Think about why you want to launch eLearning and what it will help you achieve. The bigger the goal is, the more complex the implementation strategy. For example, if you want to train a new sales team, you may settle for product training courses and soft-skills training. However, if you want to raise the overall qualification level across your entire company, you will need to prepare individual learning programs for each team.
Choose eLearning tools. If you have short-term projects or want to implement something simple, like mailouts, you don't really need complex elearning platforms. However, if you want to create a developing learning environment, you need to consider researching eLearning software: an LMS and an authoring tool.
An authoring tool allows you to create eLearning content, like video courses, interactions, quizzes, and more. In some cases, the authoring tool is optional because you can buy canned content; for example, ready-made courses on general topics like workplace safety. However, if you're going to teach anything specific, you'll need to prepare bespoke content in-house.
Today, there are dozens of authoring tools on the market. Here's a handy guide to help you pick one. It also lists 14 main criteria you should use to help you choose the best eLearning software.
LMS stands for Learning Management System. An LMS stores all the information about your company's training: employees, courses, assignments, statistics, schedules, etc.
Here are the 35 main questions you should ask your LMS vendor.
Prepare a plan. Write down a plan in stages and allocate a budget for each one: choose an LMS, create a dedicated team to manage the system (admins, business trainers), and decide whether you will buy the learning content or develop it yourself.
Create content. After setting up, start developing educational materials for your employees. You don't need anything complex and fancy in the beginning — start simple.
If you don't know how to begin, try 9 Steps to Help You Design an eLearning Course.
Get your LMS ready. Once your content is ready, upload it to the LMS and organize it: add folders, combine courses into learning paths, etc. Make sure all the courses run and report progress correctly.
Do a test run. When the system is ready, invite a few employees for a pilot run. The goal here is to monitor everything and get feedback, so you can refine the training program before the final launch.
Advertise the launch with a PR campaign. Your employees need to know about your new learning solution. A simple corporate mailout will increase the conversion rate by 10%.
Begin training. Invite your employees to the LMS and assign courses. This is the beginning of the training process. After your employees log in, they should see the assigned courses and start viewing them.
Estimate efficiency. To rate the success of the eLearning, use built-in statistics and gather employee feedback.
Conclusion
So, in the end, what is eLearning? It's a method of gaining knowledge and skills that is steadily becoming the new standard in corporate training and education. Researchers from Oregon University proved that digital learning is more effective than traditional education methods.