June 9, 2023
What Is eLearning?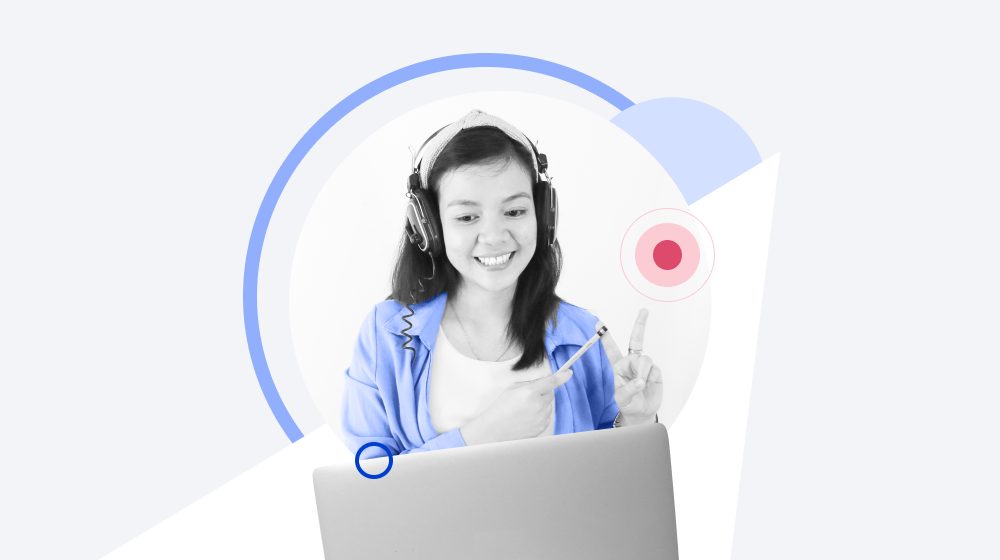 From snail-mail correspondence courses to comprehensive digital training, distance learning has come a long way and has now reached its prime as eLearning. Today, it's no longer a novelty but a booming industry. According to statistics from Ambient Insight, the global eLearning market will continue to grow by 5% yearly, and in time will replace offline formats.
eLearning continues to gain ground in the corporate sector. Businesses implement it to develop their staff, streamline their processes, and extend their reach.
So what is eLearning in a real-world context and why is it so attractive? Let's have a look.
What Is eLearning?
eLearning (e-learning, electronic learning) is a type of online education, training, and knowledge sharing that is conducted over the Internet. It can be utilized in various settings, such as academic education, corporate training, continuing professional development, and skill development courses.
The growth of eLearning has been facilitated by the widespread adoption of computers and internet technology, and was further accelerated by the COVID-19 pandemic, which led to a surge in demand for online learning solutions. But would you like to know where it all started?
The History of eLearning
The term eLearning was coined by US learning guru Elliott Masie in November 1999, when he delivered his speech at the TechLearn Conference: "eLearning is the use of network technology to design, deliver, select, administer, and extend learning."
In 2000, eLearning was revolutionized as a technology with the release of OLAT, the first open-source learning management system. That year also saw the release of the first version of SCORM, a standard that enables users to package content and distribute it within an LMS.
In the early 2000s, mobile devices became more and more prevalent, and took the form of smartphones and tablets. They were no longer used just to make calls: people watched videos (in terms of learning, this involved pre-recorded lecture content), read books, and played games on their phones. That prompted cellular companies to improve mobile connectivity, a race that continues to this day.
Mobile devices are now a popular choice to access eLearning, both for businesses and general education.
Want to know more about the history of online learning? Check out this timeline:

Benefits of eLearning for Businesses
Today, many companies, from large enterprises to small startups, use eLearning to manage their employees' training and development: upgrade their qualifications, teach them new knowledge and new skills, or retrain them for new positions. By seamlessly integrating traditional learning methods (such as in-person classes) and training sessions with digital tools, many companies implement blended learning. But let's get back to eLearning: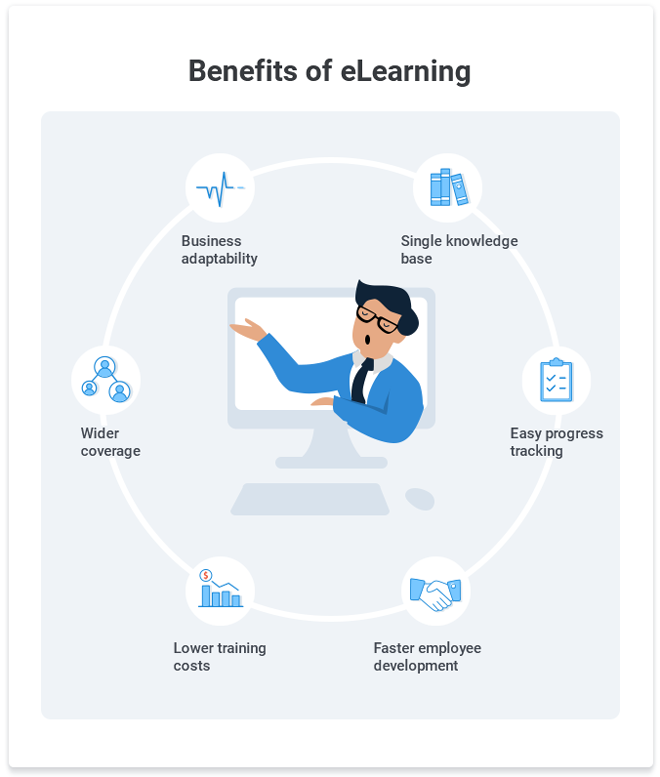 Online learning is a great boon to businesses because it provides:
Lower training costs
With eLearning, you don't have to spend a fortune hosting seminars, renting hotel rooms, and covering travel expenses. You can simply develop online learning courses and share it with your employees who, in turn, can access them through digital devices.
Wider coverage
Distance training has no barriers. You can train hundreds of employees in dozens of offices across the world in a uniform fashion. Employees don't need to spend time attending classroom lectures. All they need are electronic devices and a stable Internet connection.
Single knowledge base
All the learning material is stored in one place, i.e., an LMS. Employees can log in to the LMS at a convenient time from any device and access the knowledge base, find the course they need, and refresh their memory.
Also read: 12 LMS Benefits For Recruiters, HR, Sales and Commercial Directors—Expert Opinion
Faster employee development
Traditional training can be rather slow because it depends on the business trainers' working hours. An LMS is available anytime, making it possible for your employees to study at their own pace and whenever they wish: when commuting, during their lunch break, or at home.
Easy progress tracking
Your business trainers don't need to hold in-class training and go over every single paper in person. Most learning management systems have analytics, which show each student's progress in graphs and reports.
Business adaptability
Online learning helps employees keep up with the company's rhythm and solve problems in real time. Need to introduce a new product to the sales team? Create a structured course and deliver it instantly to thousands of employees.
Businesses use eLearning to help with the following:
Employee Training. This is the main reason why companies implement online learning. Online courses are more efficient in various employee training scenarios, from product knowledge to compliance training because they provide an ongoing and easy-to-use learning solution. In our previous article, we shared the case study of Moxa Inc and how they increased employee training efficiency with eLearning.
Employee Involvement. eLearning engages employees with interactive tasks, courses, creative design, and game-like elements. The latter is specifically aimed at keeping learners' interest peaked with awards and ratings.
New-Hire Retention. The onboarding process for new staff members can be perplexing, especially if you have a big company and plenty of knowledge and skills that a newbie has to acquire to get a thorough understanding of their job role. You can make things easier by introducing the company and its key figures step by step with online courses. This will also free up time for your HR team.
Client and Partner Training. With digital courses, you can teach your partners and clients about what you do, be it products or services. People like innovation, but are often suspicious about things they don't know. Use digital courses and presentations to explain how your service works and why it's good. That will make them feel safe and get them on board quicker.
So, how exactly do businesses achieve these goals with eLearning? A quality digital course is more than just a sequence of slides. The content you present needs to be engaging, informative, and, most of all, include interactive elements.
Also read: Remote Employee Onboarding
eLearning Content Types
At iSpring, we've analyzed thousands of client cases and determined that the efficacy of an online learning course depends on the content. The more relevant, engaging, and interactive your course is, the higher its efficacy. There are lots of eLearning content types to choose from, including:
Slide-based courses
Quizzes
Webinars
Talking-head videos
eBooks
Simulations
Podcasts
Each of them has its own strengths and is suited to different kinds of learning goals. When choosing the right content type for your eLearning course, it's important to keep your audience and learning objectives in mind.
How to Launch eLearning in 9 Steps
eLearning implementation will require financing, design, and teamwork. Full preparation can take from a week to a year, depending on the project's scale. Here, we've highlighted 9 steps that will help you implement eLearning or at least allow you to switch to blended learning format effortlessly: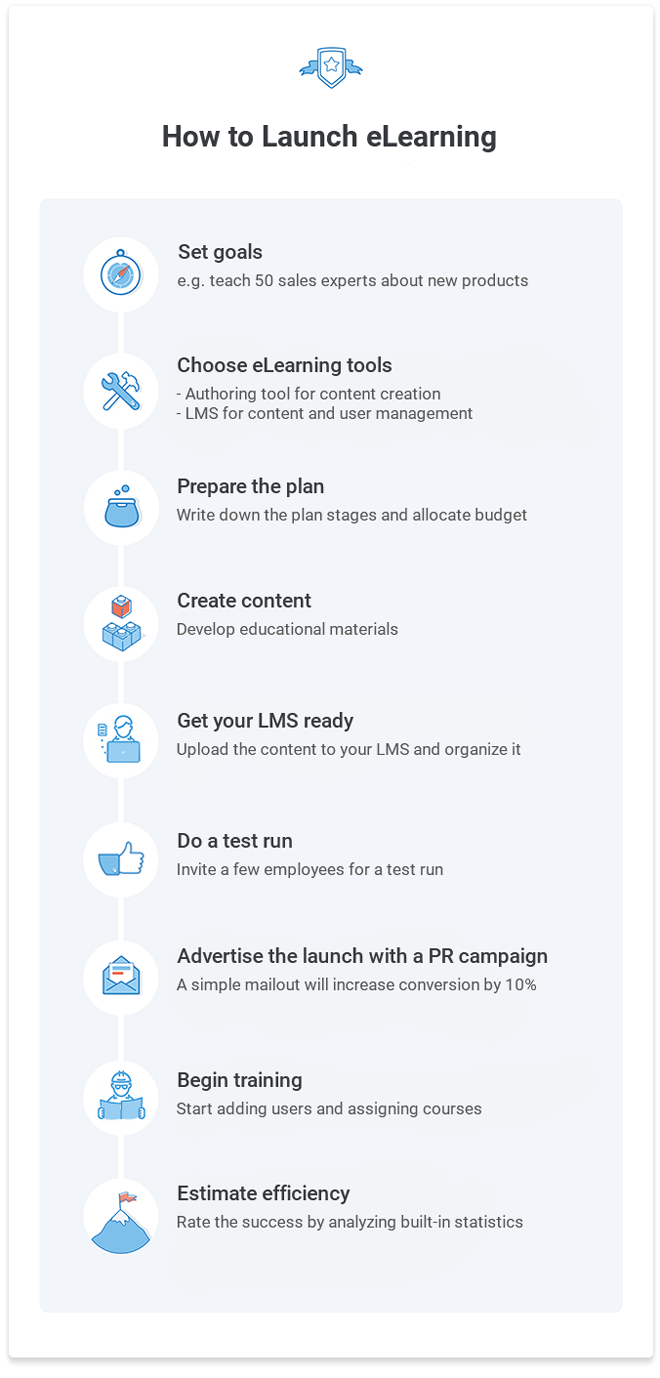 Step 1. Set training goals
Think about why you want to launch eLearning and what it will help you achieve. The bigger the goal is, the more complex the implementation strategy. For example, if you want to develop the sales skills of your sales reps, you may settle for product training courses and soft-skills training. However, if you want to raise the overall qualification level across your entire company, you will need to prepare individual training programs for each team.
Step 2. Choose eLearning tools
If you have short-term projects or want to implement something simple, like mailouts, you don't really need complex eLearning platforms. However, if you want to create a developing learning environment, you need to consider researching eLearning software: an LMS and an authoring tool.
An authoring tool allows you to create eLearning content like video courses, interactions, quizzes, and more. In some cases, the authoring tool is optional because you can buy canned content; for example, ready-made courses on general topics like workplace safety. However, if you're going to teach anything specific, you'll need to prepare bespoke content in-house.
Today, there are dozens of authoring tools on the market. Here's a handy guide to help you pick one. It also lists 14 main criteria you should use to help you choose the best eLearning software.
LMS stands for Learning Management System. This software application stores all the information about your company's online training: employees, courses, assignments, statistics, schedules, etc.
Here are the 35 main questions you should ask your LMS vendor.
Step 3. Prepare a plan
Write down a plan in stages and allocate a budget for each one: choose an LMS, create a dedicated team to manage the system (admins, business trainers), and decide whether you will buy the eLearning content or develop it yourself.
Step 4. Create learning materials
After setting up, start developing training content (educational material) for your employees. You don't need anything complex and fancy in the beginning — start simple.
If you don't know how to begin, try 9 Steps to Help You Design an eLearning Course.
Step 5. Get your LMS ready
Once your content is ready, upload it to the LMS and organize it: add folders, combine courses into learning paths, etc. Make sure all the courses run and report progress correctly.
Step 6. Do a test run
When the system is ready, invite a few employees for a pilot run. The goal here is to monitor everything and get feedback, so you can refine the online training program before the final launch.
Step 7. Advertise the launch with a PR campaign
Your employees need to know about your new training solution. A simple corporate mailout will increase the conversion rate by 10%.
Step 8. Begin training
Invite your employees to the LMS and assign eLearning courses. This is the beginning of the online training process. After your employees log in, they should see the assigned courses and start viewing them.
Step 9. Estimate training efficiency
To rate the success of the eLearning, use built-in statistics and gather employee feedback.
FAQ on eLearning
What is the difference between eLearning and mobile learning?
eLearning refers to online learning experiences that can be accessed through computers or laptops, offering a wide range of multimedia resources and interactive activities. On the other hand, mobile learning specifically focuses on delivering learning content through mobile devices like smartphones and tablets. mLearning allows learners to access educational materials on the go, thus making learning more flexible and convenient.
What is the difference between asynchronous eLearning and synchronous eLearning?
In synchronous eLearning, interaction happens in real time. Instructors and learners are online and interacting at the same time through live webinars, real-time discussion boards, and instant messaging that support learning. It allows for immediate feedback during the training exercise.
​​On the other hand, asynchronous eLearning allows learners to complete their practical training at their own pace, without real-time interaction with instructors or peers. Content is pre-prepared and can be accessed anytime, anywhere, via eLearning platforms.
Conclusion
To sum up, eLearning, commonly referring to a learning experience delivered electronically, is a transformative approach that encapsulates a variety of methods and brings the power of remote learning to your fingertips, allowing for a flexible and comfortable learning environment.
We hope this article has provided essential information that will allow you to implement eLearning in your organization.