February 11, 2022
Refresher Training: Keep Your Staff Fresh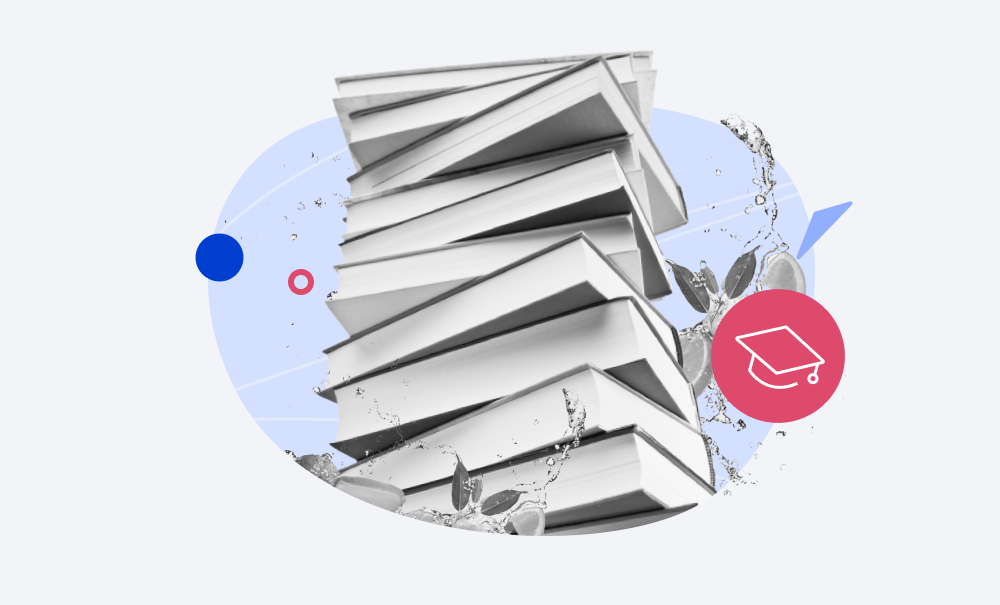 Whether you are a trainer or a trainee, a fact that many of us have observed from personal experience is that what we learn fades over time. The human brain is very efficient at offloading information we don't 'need' – in other words, information that we don't use on a regular basis. So we need to find ways to let our brains know that the information we have stored is still relevant.
What this means in a learning and development context is that most employees need to review important concepts now and again. And this is where refresher training comes into play. A refresher training course is designed to take learners back to basics so they can review fundamentals they may have forgotten or upskill on new information they may be unaware of.
In this article, we take a deep dive into refresher training and look at why your workplace might need it, the benefits, and how to design and deliver an effective refresher training program.
What Is Refresher Training?
Refresher training is retraining in a subject you previously trained in to refresh your memory and make sure your knowledge is up to date.
Refresher training can be applied to almost any type of training program or intervention, but is frequently used in compliance and safety training where there are often specific requirements for annual or periodic retraining. It can help to keep important knowledge fresh in employees' minds and reinforce and embed more complex organizational procedures and processes.
Why Is Refresher Training So Important?
Ignoring knowledge gaps in areas such as policies and procedures, for example, can lead to expensive mistakes for your business, possible miscommunication, or even, in the case of missing safety knowledge – physical injuries. So, conducting retraining to refresh knowledge and cover new topics in the workplace is essential.
Besides, learners themselves often report being unable to retain key learning points after a training session concludes, and being unable to recall these concepts when they are needed. And this is not surprising. It's important to factor in the "forgetting curve" which is basically the fact that employees forget what they learn in training sessions quickly. It is estimated that employees forget:
50% of what they learn within one hour
80% of what they learn after two days
90% of what they learn after 31 days
Here's what the forgetting curve looks like for a single learning event.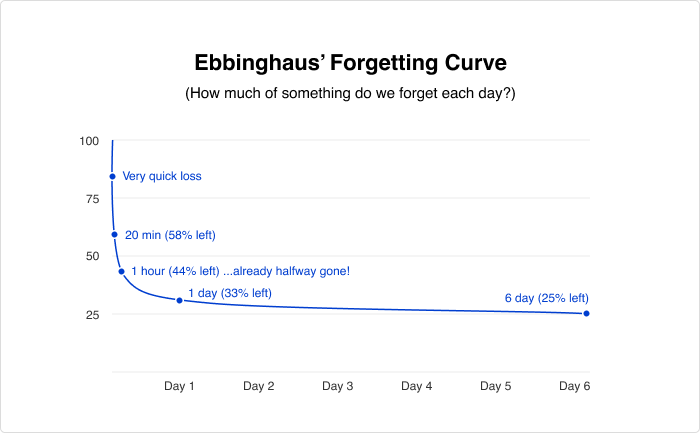 Employee refresher course training can reduce the impact of the forgetting curve on an organization's time, resources, and ultimately the bottom line.
Benefits of Refresher Training
Refresher training for employees can benefit an organization in several ways. Some direct advantages include:
Increased efficiency
Reduced mistakes
Fostering a culture of continuous learning
Creating parity in employee knowledge
Promoting excellence
Keeping employees safe in the workplace
Achieving compliance
Helping to identify training needs and skills gaps
Increased employee confidence
Increased employee retention (less turnover/churn)
Increased awareness of new products, trends, and marketplace information
Signs Your Workplace Needs Refresher Training
As with all other training interventions, you will need to do some analysis before deciding if a refresher training program would be a benefit to your organization or not. To start you off, here are five key indicators that could show that refresher training is a good idea.
1. Repeated mistakes
Perhaps you have noticed common errors in reports or communications that occur repeatedly. If those documents are being sent to or communicated to external stakeholders, then this should be setting off alarm bells. Or maybe you started to notice that products on the manufacturing line aren't being assembled properly, or are passing through QC inspections, but aren't meeting your company's quality standards? Mistakes happen in every industry, but if you see that the same mistakes are being made repeatedly by multiple employees, this is a strong indicator that refresher training is needed.
2. Technology updates are not understood or used
If your organization uses technology that is updated from time to time, you may notice that it is consistently being used improperly, not at all, or that is being underutilized and employees are not making use of its new features. This is likely because you aren't giving refresher training on how to use the tech each time it's updated. This is equally true for machines and systems used in manufacturing, healthcare, construction, and almost any other type of industry you can name.
3. New and renewed policies and procedures are not followed
You may start seeing mistakes every time that renewed policies are published and may indicate the need to send out refresher material a few times before employees latch on to the new policies. This is especially applicable to the healthcare sector, where new policies are often pushed out weekly in response to incidents, and in conjunction with authorities like the CDC and the WHO.
4. Productivity decreases and employee churn increases
This is the nightmare metric that no organization wants to see. If employees are not confident in their abilities to perform a task or are not sure what is expected of them in terms of KPIs or targets, they'll stop being productive. If the situation remains unresolved, employees may start to quit in sizable numbers. If you notice that employees' work output is waning, or the quality of their work is lower, it's probably a great time to provide refresher employee training on key tasks and performance metrics.
5. Increase in workplace accidents and safety incidents
If a high number of workplace-related injuries are occurring in your organization, refresher safety training may be required. For example, when employees forget proper safety protocols to follow when operating machinery or forget how to operate machinery effectively, more accidents and injuries occur. Another example would be an increase in the number of slip and fall-related injuries, or more employees or customers being logged as going to the emergency room. In many cases, refresher training in workplace health and safety is mandated by OSHA if policies or procedures change or new work tasks are introduced, as with the Bloodborne Pathogens Standard, and it is the employer's sole responsibility to provide this retraining to remain compliant.
6. Customer satisfaction rates plummeting
If you identify a trend of customers raising legitimate complaints or concerns, it might be time to develop some refresher training. This is critically important for customer service roles and sales reps, as well as employees who work in order fulfillment roles.
It goes without saying that, if at all possible, you should not wait until you see the signs mentioned above to implement your refresher training – a proactive approach to continuous learning always pays dividends and will save a lot of time and money in the long run.
Refresher Training Methods
So you have identified a need for refresher training at your organization, but what's next? The next logical step is to choose a training method, or combination of methods, to deliver your refresher training to your employees. Here are the main methods you can consider.
1. Face-to-face/classroom training
This is traditional classroom-style training delivered by an instructor. The main benefits of this method are interactivity between instructor and trainees and the ability to ask questions and tailor the structure of a course depending on the group being taught. The disadvantages are the expense, logistics, and the potential health implications in the current global pandemic.
2. Virtual classroom
This is classroom style training is delivered by an instructor, but virtually, using web conferencing software. The main benefits of this method are that it maintains the interactivity between instructor and trainees, plus it allows employees to attend remotely from home or any other location. Depending on the software used, the trainer may have access to additional interactive elements such as whiteboarding, surveys, and on-screen drawing that can help spice up the sessions and retain engagement. The disadvantages are possible technical issues and the fact the training still has to be scheduled – it is synchronous training.
Learn how to create a virtual classroom that works →
2. Online courses (eLearning)
Online courses have gained a great deal of popularity, especially over the last 6 months, and with good reason. There are huge benefits to selecting eLearning as the primary method of delivering your refresher training. With the right tools, content creation is quick and can be updated frequently with little effort. It's easy to deliver self-paced training at a scale ranging from a handful of employees to 10,000, and it is also easy to track results to measure the effectiveness of your program and, ultimately, your refresher training's ROI.
3. Microlearning
While microlearning can be considered online training, it probably deserves a mention of its own, as it can be a particularly effective method of delivering refresher training to employees 'on the job' via bite-size pieces of content that don't require them to take time off from the machine room or shop floor. It is definitely not suitable for everything, but is certainly worth considering as part of a blended solution.
4. Hands-on training
You're probably already familiar with this refresher training method whereby employees are trained directly at their job site as they perform their work. This method of retraining is especially suited to manufacturing and industry roles that involve the operation of machinery. The disadvantages of hands-on training are mainly the costs involved in both employee and trainer time.
5. Blended learning
This simply implies any combination of the above, possibly mixed with other training methods like coaching or employee shadowing. Most refresher training ultimately ends up being a blended learning solution, often with the major component being online training. The key advantages of a blended approach are flexibility in both content and scheduling.
6. Job aids
Job aids are quick one or two-page guides that address a specific function or task. They can be great as part of a course as they reinforce new or altered systems and processes until the employee has embedded and retained the knowledge. Job aids may be used to supplement online training or any of the other methods we've discussed.
Traditionally, job aids were either printed documents or digital PDFs. But these days, there are several easy ways to create digital job aids you can include in your refresher training. For example, you can transform any Word documents, PPT presentations, or PDF files into digital flipbooks in a couple of clicks.
How to Conduct Refresher Training Online
In this section, we'll break down the exact steps you need to take to create, build, and deliver a refresher course. We'll focus on the online training method, as it is the most current, popular, cost-effective, and arguably the most effective method to deliver refresher training.
In most ways, online refresher training is similar to any other online course, but there are a few extra factors you should concentrate on if you want your ongoing training to be truly successful.
Before we dig in, it's also helpful to have some key aims for your refresher course. It's great to aim for a course that:
is designed to be short, crisp, and to the point
is deliverable via mobile and other devices
contains a brief recap of the crucial points in a course
supplements existing content with new information
With that in mind, here are the steps to follow so your learners get the most from your refresher course.
1. Define who needs training and how often
The first things to establish are the purpose of your refresher training and how often you plan to run it. The approach that many organizations adopt is to run refresher training on an annual basis and vary the content that is covered annually. In this model, one year the focus could be on customer service, the following year on security practices, and so on. The frequency is determined by the needs of the organization, but annual refresher training is a good base point to start from. Alternatively, you may decide that different groups of employees need training in one subject, but not in another.
Your key task in this stage is to create a refresher training plan to ascertain what material is important enough to be included in the refresher course, and set a timetable that ensures you will cover it at intervals that are appropriate to your employees and organization.
This is often referred to as "training needs analysis." The more precisely you define the knowledge gaps, the more accurate, shorter, and useful the refresher training will be. Check here for a deep dive into how to conduct a training needs assessment.
2. Review existing training material and select new content
As this is refresher training, then chances are you will have a set of base materials that need to be reviewed to decide what is to be included, what is no longer relevant, and what additional material needs to be added.
If the material still appears to be current content wise, you can start to plan how that can be created as an online course, and what images, interactions, and other elements could be used. By doing this, you are creating an eLearning storyboard that will map out exactly how the content in your course will be presented and leave no room for error when it comes time to develop the online course.
If you don't have existing materials, you'll need to build your content from scratch by using research, subject matter experts, and other tools available to you. Include only precise, need-to-know information, whether it is a refresher on a product or an update on a safety compliance training module.
If you decide to use scenario-based training, write new scenarios every year so your learners can't repeat the same answer from the previous year.
3. Create learning materials
Now it's time to actually develop your online course. For this, you will need an eLearning authoring tool. There are many options on the market, so you will need to research which one will suit you best. If you have no prior experience in content development and want to build professional-looking courses fast, you can try the iSpring Suite Max authoring toolkit – it's easy to use, even for newbies. Here are some of the common types of content you can create with it.
Slides
The fastest way to create your course is often to base it on the existing materials you have in PowerPoint. With iSpring, you can import existing slide content, together with all transitions and animations, and turn it into a course.
See how easy it is to convert your PowerPoint presentation into an online course:
Quizzes
You will probably want some way to check that your trainees have retained the knowledge presented in your refresher course, so it's a good idea to include some quizzes, matching activities, or assessments in your course.
iSpring Suite Max has a powerful built-in quiz maker that offers 14 different types of questions, including interactive sequence questions, hotspot quizzes, and fill-in-the-blanks. You can use branching scenarios and feedback slides to help employees reinforce their knowledge, as well as randomizing questions and answers and setting scoring rules.
iSpring Suite has ready-made question templates, so assembling a course will take you very little time:
Here's what a quiz created with iSpring looks like: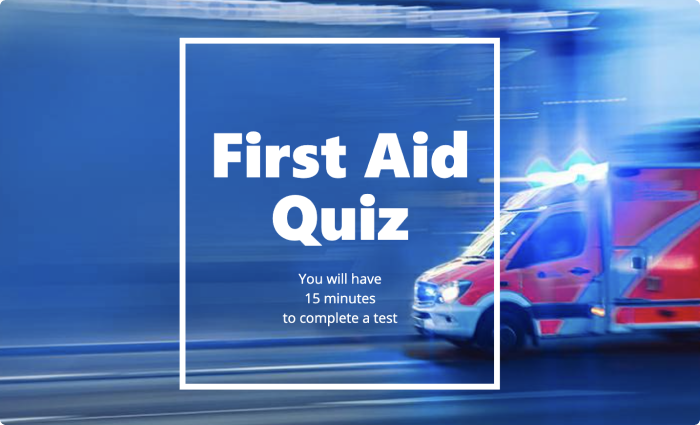 iSpring also has a drag-and-drop question builder, so you can create activities for your trainees to sort items – to see if they understand the basic steps of a new process, for example: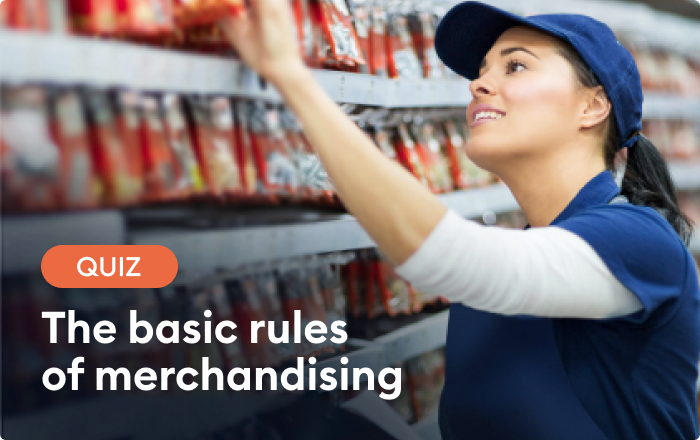 Dialogue simulations
Dialogue simulations are a great way to refresh employees on updated customer service flows. It allows them to practice dealing with customers or clients in a risk-free way and improve their communication skills.
iSpring Suite Max makes creating dialogue simulations very simple without needing to use any code or advanced skills. To make your sims more realistic, you can add different backgrounds, characters, and narration for each scene from the built-in collection of assets – which is perfect for creating quick refresher training.
Here's a demo of a conversation simulation created with iSpring: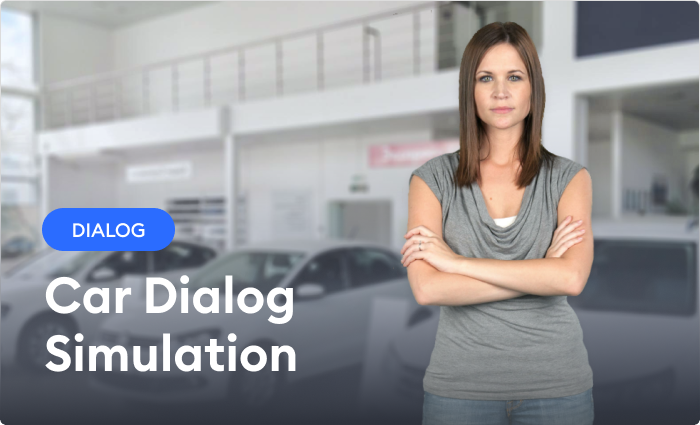 Video
Video is often preferred by trainees as it's engaging and quick to consume. It is an especially great solution if you need to create content that demonstrates step-by-step procedures.
Also, a training video can be created very quickly with iSpring's built-in video studio. It allows you to make high-quality videos by recording your screen, webcam, and audio and then edit the clips all inside a single platform.
Here's an example of a video tutorial made with iSpring: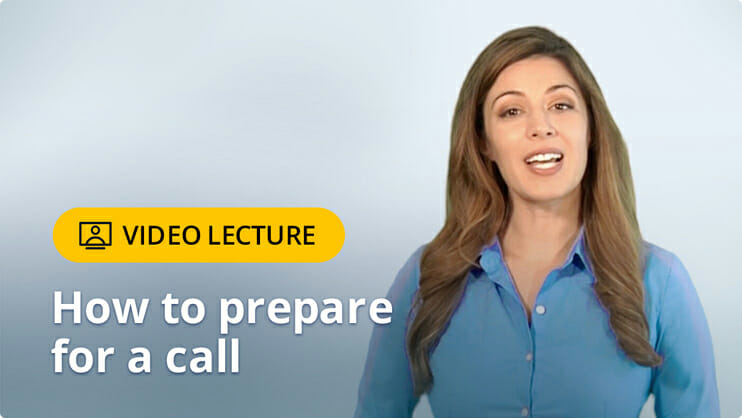 Microlearning modules
If you need to provide some important information ASAP, i.e., inform about a new product and its features so sales reps can demonstrate it to their customers correctly, you can assemble a microcourse quickly. Your employees will digest it easily during an off moment and be able to put the knowledge into practice immediately.
iSpring Suite Max has a cloud-based tool that enables you to create interactive microcourses the same way you write a post on social media or in a note-taking app. You simply need to type in (or copy) texts and add images and videos.
To measure the effectiveness of the training, you can add a quiz with three types of questions: multiple-choice, multiple response, and short answer.
Here is an example of what you can build with iSpring right in your browser: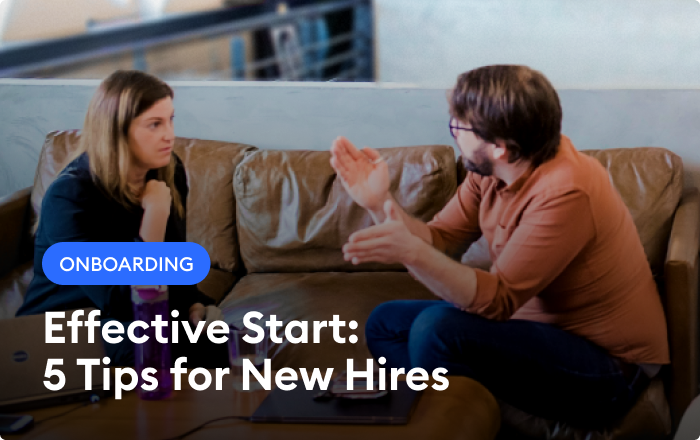 4. Communicate with your learners
Now that your materials are prepared, it's time to think about communication and engagement with your learners. Nothing saps motivation like the words "mandatory training." It may be a given that the training is mandatory for compliance reasons, but it can also be something your employees are taking because they believe it's important, valuable, and will improve the way they do their jobs.
So, don't wait until the first day of training to communicate the purpose behind the refresher training. Your organization may have a change manager and a communications method that covers all of that, but if not, even a short series of emails to prep the trainees and encourage good expectations will go a long way.
If you provide solid reasoning and address how the training will benefit learners as well as the company, you will encourage buy-in from the employees.
5. Schedule your course
The timing of your refresher training course is important. If you are about to launch sweeping organizational changes or an innovative and complicated new product, then it is probably not the right time to run refresher training. Your employees will retain information best if they are not overloaded, so avoid extra stress by scheduling your refresher training during downtime.
We mentioned the forgetting curve earlier in the article, and according to this, you should try to schedule training as close to any compliance deadline or major business initiative as possible to ensure that retention and enthusiasm are at their peak.
6. Deliver learning materials
The simplest way to do this is usually via a learning management system, which will allow you to automate many of the steps required for a successful training delivery – for example, scheduling, sending out invites, registering trainees, and providing results.
If you still don't have an LMS, you can try iSpring Learn. It's an easy-to-use system that allows you to get your courses online and delivered in just a few clicks. Plus, it has recurring enrollment features that will help you make refresher training absolutely automated. Instead of enrolling users in a course manually each time, you can set up automatic course re-enrollments that repeat at specific intervals and then just track the results – which employees have started and finished a course, what scores they got, and more.
7. Ask for feedback
Don't forget to be proactive in asking your learners what worked, what didn't, and what they would like to see in future refresher courses. Perhaps there was something they wanted to learn more about that wasn't covered in the course? Or perhaps some of the information in the course surprised them. Did they find the course useful, or were they frustrated by the way it was delivered? This feedback is critical, as you can use it to improve next year's course.
Final Thoughts
This wraps up our look at employee refresher training. Have you created refresher training for your organization? Or maybe you are considering it? If so, we would love to hear your thoughts on how you developed and implemented it and whether it was successful in the comments below.