A month ago, the long-awaited iSpring Suite 7.1 and iSpring Cloud were unleashed on the e-Learning world… and that world will never be the same again.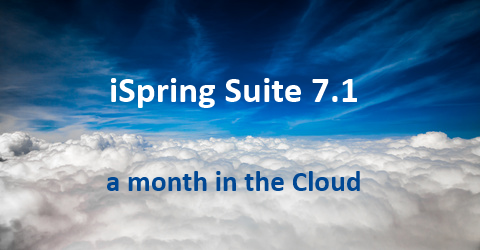 Why did we name this release "The Next Great Leap in e-Learning" — and mLearning?
In one word: sharing.
iSpring Suite 7.1 has been enhanced with two brand-new sharing solutions. So, how do these new breakthroughs make sharing easier than ever before? Let's have a peek:
Want to share content instantly on any device without the hassle of managing a website? This is your solution.
Anything from a simple presentation to a full-fledged rich-media course with quizzes, interactions, and characters can be published directly to the Cloud in one click from the PowerPoint interface.
Once it's in your content library, you can copy the link, share it on social media, attach it to an email, or get the embed code to put it on your website.
Plus, you can track statistics on views, and your content will always be secure.
Most importantly, iSpring Cloud is fully-functional from the get-go: you may upload 100 content items on any plan.
Multi-upload? It works! Just sign up with Cloud and get all features for free!
If you need more, just ask us — the sky's the limit!
PowerPoint-to-Video/YouTube
PowerPoint is aptly named: it's a powerful solution, not only for creating deeply interactive, clickable content, but also for designing richly detailed automated presentations with eye-catching animations and transitions. In those cases, the best format for sharing is simple video. With iSpring Suite 7.1, you now have the golden opportunity, not only to flawlessly convert PowerPoint to a video file, but also to publish it immediately — in a single click — to YouTube. Need we mention that it's the world's largest video sharing service? With upwards of a billion users and climbing, a wider audience is already within your grasp.
There are way too many possibilities to discuss in a simple blog post, so go ahead and take a tour of iSpring Suite – What's New in Edition 7.1 to see just how far you can go!