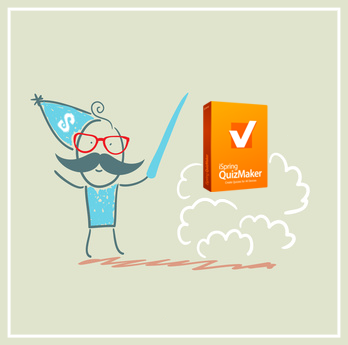 We've just completed an update to iSpring QuizMaker which greatly enhances your sharing capabilities. Now, you can publish your quizzes directly to iSpring Cloud hosting and sharing platform with a single click from the QuizMaker interface!
What's iSpring Cloud?
iSpring Cloud is your perfect solution for sharing content on any device fast and easy, with crystal-clear quality. You can instantly distribute your presentations and quizzes via shortlink, email, and social media, or even embed them on a website or blog. It has some built-in tracking features which are great for presentations, but you can also use QuizMaker's built-in reporting capabilities to send detailed results to email or a server.
Quizzes on iPad
iSpring Cloud comes with a free mobile app for viewing content on iPad from a beautiful carousel interface or an intuitive content library. iSpring Present mobile app now perfectly supports quiz playback on iPad from your secure cloud hosting service. You and your users can now access quizzes by saving them right on the device for viewing anytime, anywhere.
Blast Off!
Want to check out this great new functionality? Download the latest version of iSpring QuizMaker and start publishing now!