June 23, 2022
Fast-Moving Consumer Goods (FMCG) Training: How to Run It Online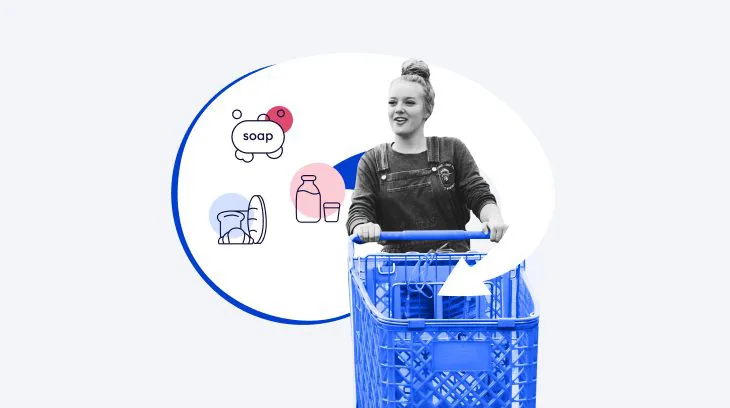 Did you know that the global fast-moving consumer goods (FMCG) market is projected to be worth $15.4 trillion by 2025? It's an industry that moves at lightning speed and continuously adapts to global trends and challenges. With a constant stream of new product launches, a dynamic market, and large multinational infrastructures, L&D teams face tough challenges when it comes to FMCG training. 
In this article, we explore the challenges that L&D teams encounter in the FMCG industry and how eLearning can be the key to overcoming them. We'll also provide a complete guide on how to train employees online.
L&D Challenges in the FMCG Industry 
Working in such a dynamic industry is exciting and rewarding, but it isn't without its difficulties, especially for L&D teams. Let's look at four common challenges training teams face and why eLearning is the best solution for each one.  
Challenge #1: It's a fast-paced industry
Things change constantly in the FMCG industry, so L&D teams must act quickly to stay on top of these changes and update all training content at the speed of light. Between new product releases, changes to industry standards, and regular updates, it's almost impossible to maintain this pace with face-to-face training sessions.
How to address it:
eLearning training approaches such as microlearning and just-in-time training (JITT) empower L&D teams to provide the necessary training precisely when it is needed. eLearning software not only enables FMCG training professionals to create targeted training in a snap, but also facilitates live updates. 
Challenge #2: L&D teams have limited resources
A lack of human resources and training budget is a common issue that most teams face. Unfortunately, L&D teams often find their budgets are among the first to be cut during difficult times. What's more, they are expected to wear many hats. The nature of training makes it trickier for L&D teams to show their value tangibly – in the way that sales or marketing teams can, for example. But that doesn't mean they aren't making a big difference in terms of business results. 
For instance, FMCG sales training is vital to ensure that sales remain high. The results of this training have a direct impact on the bottom line. To maintain their high training standards, L&D teams must learn to accomplish a lot with a little.
How to address it:
This can be tackled by implementing a corporate learning management system (LMS). An LMS enables L&D teams to automate a wide range of time-consuming training management tasks, including enrolling learners in courses, setting deadlines, and reminding learners when they need to retrain. Training professionals can save precious time by no longer having to organize schedules and contact learners manually. 
What's more, an LMS has powerful analytics and reporting features that provide L&D teams with valuable data. This saves hours of time otherwise spent on extracting data and drawing up reports for stakeholders and leadership teams. It also provides L&D teams and management with tangible data on the effectiveness of the training and its business impact.
In terms of dealing with the budget constraints that L&D teams face, an LMS can serve to reduce training costs dramatically. By moving FMCG training online, L&D teams realize huge savings on travel expenses, meals, accommodations, instructor fees, venue costs, and other training expenditures. 
To learn more about how an LMS works, check out this video: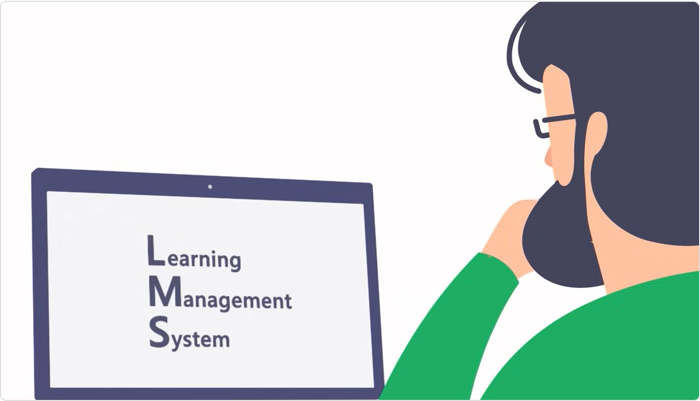 Challenge #3: Dispersed, multilingual workforces
The nature of the FMCG industry means that most companies in the sector have a global workforce. Training a dispersed workforce in person is a logistical nightmare. Travel costs alone can eat up the entire training budget, not to mention the time and resources needed to coordinate this. And then what happens if learners miss part of the training? Catching up on missed information is difficult to track. This can result in skills gaps or extra costs due to employees having to repeat training.
Moreover, a global workforce tends to be multilingual. This means that training needs to be localized into all of the languages used in the company. However, L&D teams simply don't have the resources or time to manage huge localization projects on top of their daily tasks. 
How to address it:
The first step is to move FMCG training online. In doing so, L&D teams can reduce the time and resources spent on organizing face-to-face training sessions around the globe. Additionally, employees never miss out on training, plugging skills gaps and boosting overall training outcomes. 
Now let's examine the next part of the puzzle. How can training be localized? The answer lies in choosing the right eLearning tools. The best content authoring tools and LMSs offer localization features. This means that your L&D team can provide employees with consistently excellent localized content, translate the learning portal into other languages to suit your audience, and assign a language version to every organization. 
Challenge #4: Implementing a scalable training model
Conventional face-to-face training has its limitations when it comes to scalability. Since the training needs to be available to staff in a number of time zones and countries, and many FMCG companies tend to grow constantly, L&D teams often don't have rough resources to manage, deliver, and update training at the rate that's needed. 
How to address it:
eLearning offers a flexible training model that's scalable and cost-effective. With eLearning courses, employees can access training anywhere in the world, at a time that suits them. This means that more employees can be trained simultaneously. 
Moreover, high-quality eLearning platforms often come with a mobile app. This further breaks down training barriers and empowers employees to access the materials they need on any device when and where they need them. 
All in all, eLearning allows L&D teams to tackle the major challenges that come with such a rapidly developing industry – and scale for the future in the process. 
Use Cases for FMCG eLearning
Now let's have a look at how real companies working in the FMCG sector use eLearning and what results they have achieved. We've put together 4 inspirational use cases for eLearning that demonstrate the value it can add to your business.
1. Increase training effectiveness and learning success 
Let's face it, the most important outcome in any training program is the successful transfer of knowledge. This is especially true in fast-moving industries such as FMCG, where employees have to learn a lot in a short amount of time. 
eLearning has proven to be an extremely powerful training solution for several reasons. Immediate feedback, bite-sized learning modules, consistency, and a medley of learning methods are just a few of the success factors at play. In fact, research shows that eLearning boosts learner retention by as much as 25% to 60%. This high level of engagement leads to increased training success.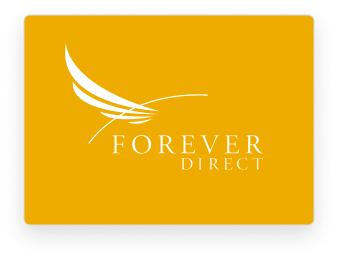 Forever Living Products is the world's largest grower, producer, and distributor of aloe vera products. Its regional distribution center, Forever Direct, distributes products to 90 countries across Europe, the Middle East, and Africa. Thus, health and safety training is essential. 
The company provides training to 350 employees and external suppliers. It previously conducted all H&S training in person. However, the learning material lacked consistency and interactivity, and the overall effectiveness of the training was quite low. After going online, Forever Direct managed to make training much more efficient and effective. As a result, they have reduced accidents by 50%.
2. Provide employee compliance training
As mentioned, many FMCG companies have a highly distributed workforce. Employees also tend to work in settings where there is a higher risk of workplace hazards, such as warehouses and factories, and have to meet strict compliance standards and regulations. To maintain these safety standards, organizations must provide their staff with up-to-date compliance training. 
With eLearning, employees can take training in any time zone and on any device. What's more, companies can use LMS reporting to keep detailed records demonstrating that all mandatory compliance training has been carried out.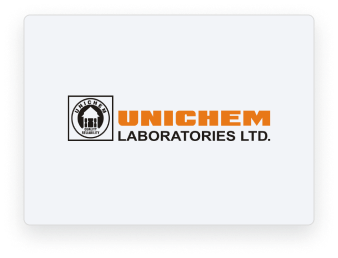 Unichem Laboratories Ltd. is one of India's largest and longest-running pharmaceutical companies. Operating both domestically and overseas, it must remain compliant with national and international pharmaceutical standards and regulations. This entails ensuring that all 3,200 employees across 6 locations take mandatory compliance training. 
Using the iSpring Suite authoring toolkit, the company has converted over 900 standard operating procedures into digital courses, which allowed them to train its 3,200 employees more quickly and cost-effectively.
3. Train distributors and indirect employees
It's common for large global organizations to work with sales representatives who are employed by distribution companies. Most indirect employees don't have access to internal employee training.
However, with an LMS, organizations can provide indirect employees and distributors with relevant training content without breaching GDPR regulations. They can set up the LMS to give indirect employees limited access to specific content and customize it for different distributors or suppliers. As such, they receive the knowledge and skills they need to excel in their role and boost business results.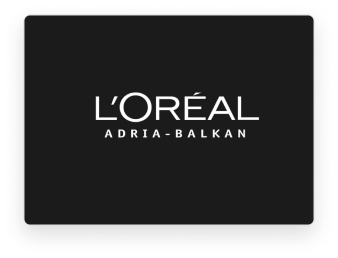 L'Oréal Adria-Balkan is a regional subsidiary of L'Oréal, the largest cosmetics and personal care company in the world.  
L'Oréal's global training framework, the Global Learn-Share-Act program, is only accessible to direct employees. This was an issue, since many of the brand's sales representatives are not employed directly by L'Oréal but by a distributor. 
With iSpring Learn LMS, the company was able to provide indirect employees with access to crucial training. It currently trains 100 active users across 7 countries and has rolled out 548 courses. Using iSpring's features, it has improved training content and created learning paths to build catalogs according to each language. And they now have a 100% response rate for active users.
4. Cut training costs
Since most large international consumer goods companies operate across multiple locations worldwide, in-person training sessions are expensive and labor-intensive to run. Besides, L&D teams have to spend enormous amounts of time carrying out manual training management tasks for face-to-face sessions. 
eLearning can significantly reduce training costs and offer an efficacious and cost-effective way to roll FMCG training out to a global workforce.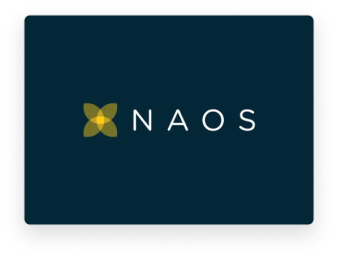 NAOS is one of the world's top 50 beauty companies. It operates in over 130 countries and has 48 affiliates. With a growing workforce of 3,000+ employees, providing in-person training was extremely costly for NAOS. Before switching to eLearning, it used an instructor-led training model running in-person training sessions in groups of 15-20 employees. 
Using iSpring Suite, NAOS was able to launch its first online training program within three months. It trained 113 employees across the globe and launched 5 learning tracks for two of its brands. As well as rolling out training quickly to meet the demands of the business, NAOS noticed another significant benefit. Since starting to use iSpring, it has cut training expenses down to a quarter of their previous cost.
How to Launch eLearning for FMCG
We've seen how eLearning can solve many of the challenges that L&D teams in the FMCG industry face, so now let's answer the million-dollar question: How can L&D teams successfully roll out eLearning? Our walkthrough below will illustrate the key steps you need to take to launch eLearning for maximum results with minimal hassle.
Step 1. Define learning goals 
What do all big achievements have in common? They start with a goal. The same is true with eLearning. The very first step in launching an FMCG training course is to consider the why. Why are you launching this training program? What do you hope to achieve?
Take time to define clear learning goals. Keep in mind that those goals will become your North star as you build the training. Refer back to them regularly and keep them simple. We recommend using the SMART goal-setting framework. It's a powerful way to define clear, measurable objectives and a concise roadmap to reach them. 
SMART goals should be:
Specific – The goal defines the specific skills the learner will obtain from the training
Measurable – There is a clear way to measure whether the learner has assimilated the knowledge
Achievable – The desired outcome is realistic for the learner
Relevant – The training material focuses on the job essential skills that employees need
Timely – The goal has a defined deadline to work toward
Step 2. Map out a training program 
Next, you'll need to outline a training program. It doesn't have to be detailed. You can start by simply listing each learning need you have developed and how you plan to address it. Also, decide on the content types you're going to use in your training. 
Example of an FMCG training program:
Step 3. Create learning content
Once you have a definitive outline of the training content you need to build, the creation process begins. To create eLearning content, you'll need a course authoring toolkit. If you have no experience building online courses, it's better to opt for easy-to-use software like iSpring Suite. 
With iSpring, you can quickly build eLearning courses complete with role-plays, interactive activities, videos, and quizzes. What's more, there is a wide selection of templates to create FMCG training content in a matter of minutes. All you need to do is customize the templates with text, images, and your company branding.
Let's look at some of the examples of learning content you can create with iSpring Suite:
Onboarding
eLearning onboarding courses can make the induction process smoother and less stressful. By providing new starts with a range of microlearning courses, the business can empower them to find answers to frequently asked questions quickly on their own. 
For example, using iSpring Suite, you can build short FAQ micro-courses so employees can find the answers to burning questions in just one click: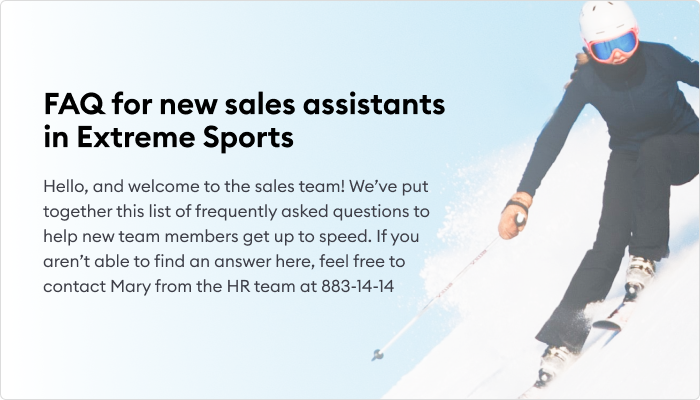 iSpring can also be used to build interactive tours of the office, warehouse, or other facilities to guide new hires during orientation: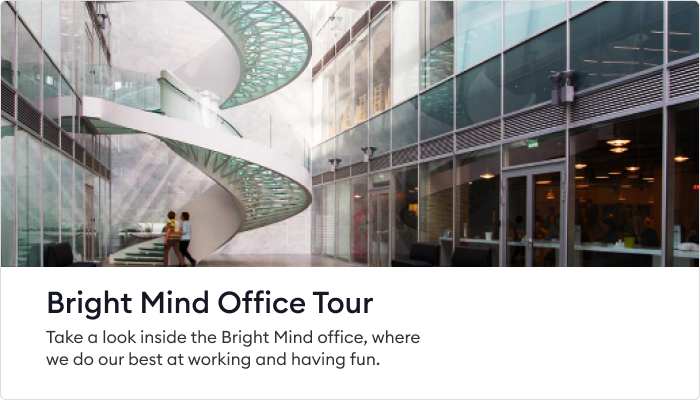 Getting to know the company's history is another core part of an effective induction training package. With eLearning authoring tools like iSpring, you can create interactive timelines quickly to showcase important events in the brand's history.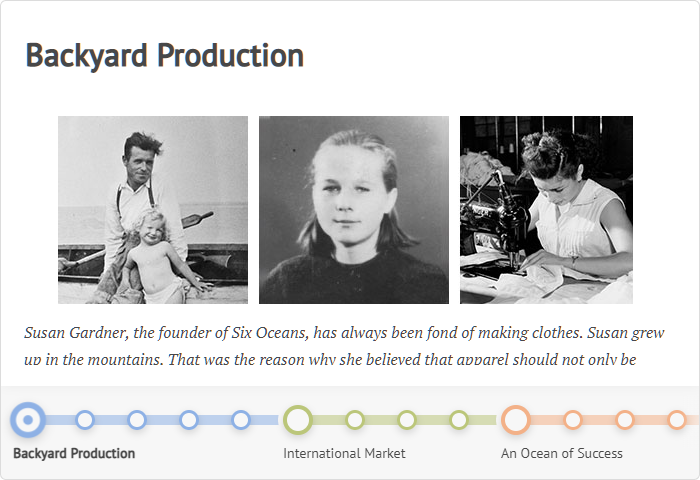 Customer service training
Many job roles in the FMCG industry are customer facing. As a result, customer service training is an important tool that gives employees insight into the client experience before they work directly with them. One of the biggest skills employees need to hone is their ability to communicate.
Role-plays are a fantastic way to build employees' communication skills. Scenario-based learning creates a safe environment for employees to learn and make mistakes without damaging the brand's reputation. This also boosts their confidence. Just like a trainee pilot on a flight simulator, it allows them to ''get some hours under their belts." 
To create a role-play using iSpring, you simply need to select a background and character from the built-in content library. Then, add your dialogue and a voice-over if desired. Learners will select an answer and, depending on the answer they choose, will be directed to the next stage of the simulation. Feedback pops up at each step so learners know if they're on track.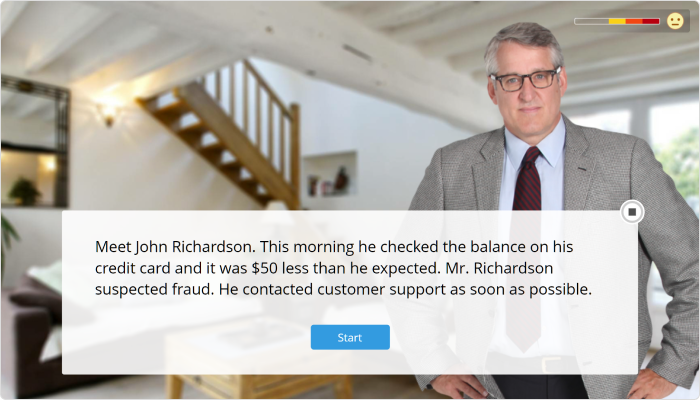 Product training
The FMCG sector has a great amount of focus on product training. Sales professionals and marketers need to have expert knowledge of goods to perform their work effectively. A good way to provide information about products is through an online course. 
With iSpring Suite, you can create courses that can be enhanced with interactive elements, videos, and quizzes that serve to keep learners engaged and help them retain information better.
Another great way to train employees on products is with online catalogs. iSpring Suite allows you to create interactive catalogs in a matter of minutes. You just need to add pictures and text to a template, and the catalog is ready to go. 
Refresher training
In such a fast-paced industry, it's common for employees to need to refresh their skills from time to time. Refresher training for the FMCG sector can be accomplished in several ways. One of the best ways to identify skill deficiencies is with an interactive quiz.
With iSpring Suite, you can make use of 14 question templates to make a carefully crafted quiz in minutes. To add variety and reduce learner burnout, you can choose from a wide array of question types. If you really want to test employees' skills and reduce cheating, you have the option to randomize questions and hide feedback if desired.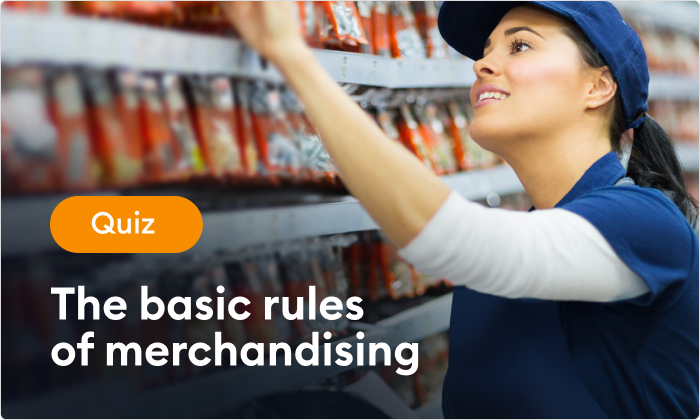 Step 4. Deliver FMCG training
After you create training content, your next step is to provide it to your staff. With a user-friendly LMS like iSpring Learn, you can deliver essential FMCG training to employees all over the world. iSpring's mobile app breaks down training barriers, allowing employees to access training anywhere, anytime, on any device.
Managing training tasks in a rapidly changing industry is no easy feat. With iSpring Learn, L&D teams can automate tasks such as enrolling employees, assigning courses, and sending deadline reminders. As a result, the training process becomes much less time-consuming and tedious. L&D professionals can also use iSpring's powerful analytics feature to extract detailed training reports to share with stakeholders and management teams.
As the landscape of the workplace continues to change, the demand for eLearning tools with localization features is increasing. This is particularly true for multinational companies who need to offer training in multiple languages. iSpring Learn LMS is available in 18 languages and allows you to set up different languages for the user portals of different affiliates.
Step 5. Test drive your training
You wouldn't buy a car without taking it for a spin first, would you? It works the same way with eLearning. No matter how meticulous you are, we always recommend running a pilot project before you launch. Select a small test group for the pilot program from different backgrounds and gather their feedback. 
Bear in mind that when it comes to eLearning, there are many factors to consider. Here are the main elements you should consider:
LMS сheck
Content сheck

Before launch, make sure you have:

Set up your organization structure and assigned user roles
Created user groups for different training tasks
Assigned and trained LMS administrators in the organization
Set up notifications
Correctly uploaded training content in the correct catalog
Created any relevant learning paths
Checked that the LMS is tracking user progress correctly
Assigned certificates, badges, or points to the course

Before launch, be sure to check that:

The content is clear
Nothing is missing
All the elements of the content are playing correctly 
You have proofread the content for mistakes
The content matches the learning objectives
The content is the desired length
Step 6. Kick off your first training module
Launch day has arrived! You'll need to invite employees to the LMS and assign the FMCG training courses to them. This can be done in just a few clicks. Once that part of the process is completed, employees just need to log into the LMS and start learning.
Step 8. Measure training results
One of the biggest perks of eLearning is that you can mine valuable data. As employees take the training, you'll need to start measuring its success. This is done via the LMS reporting feature. For example, with iSpring Learn, you can pull LMS reports to analyze different training metrics with ease. 
The data extracted from the reports will provide invaluable insight into employee engagement and performance. We recommend paying close attention to the overall completion rate of your training. High completion rates indicate that employees are aware of the training (an important first step) and found it engaging enough to complete.
Another great indicator of success is the overall pass rate of the training. High pass rates signal that the training content is the correct level for employees and has served to plug the intended skills gap.
Analyzing these key metrics will show you how your training is performing and where it needs to be improved.
Also read: → Best Training Management Software
Final Thoughts
eLearning is a great approach to modern workplace learning, particularly in the fast-paced world of FMCG training. Online L&D programs are effective,, engaging, and flexible for both learners and employers. It can be used as a stand-alone training solution for FMCG training, or as part of a blended learning model. 
Do you want to create FMCG training content for your employees? Start building captivating courses right away with a 14-day free trial of iSpring Suite. If you want a user-friendly LMS with powerful analytics, request an iSpring Learn free trial today!