March 17, 2022
The Best 10 eLearning Authoring Tools & Software: Top Picks for 2022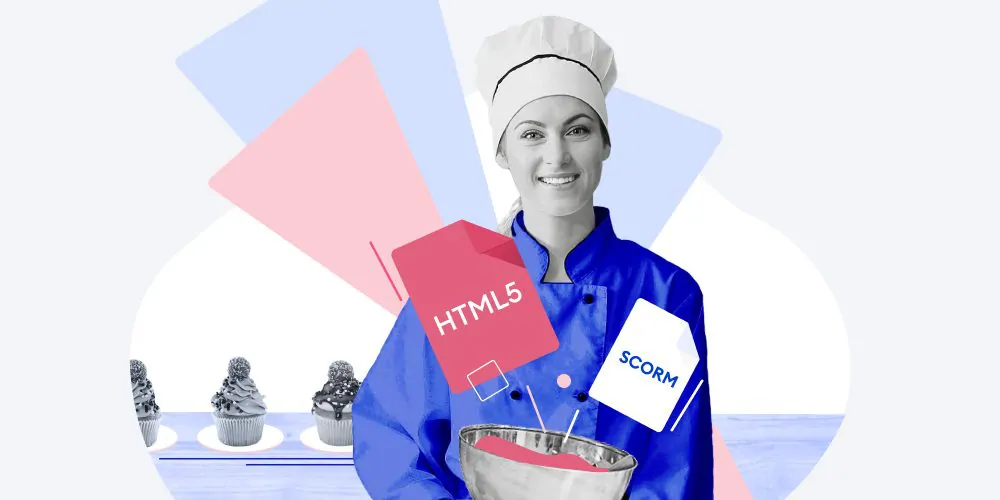 In this article, we'll break down the 10 best eLearning authoring tools. We will analyze the main selling points of content authoring tools and compare pricing to help you make an informed purchase decision. If you're limited on time but need to choose software right away, proceed directly to the reviews of the authoring solutions by clicking on the name of the tool you want to learn about, or read the entire article.
What Is an eLearning Authoring Tool?
An eLearning authoring tool is software that's used to build eLearning content from smaller pieces of information: texts, images, audio recordings, and videos. In addition to helping you "glue" various media together into entire eLearning courses, they have some unique features that can only be used for training. For example, some eLearning authoring tools allow you to create software simulations, and others let you build quizzes.
All this content needs to be packaged in a format that can be easily distributed via the Internet and that learners can open with a minimum of installed software – preferably just a web browser. Back in the 2000s, it was Flash. Today, modern authoring tools for eLearning enable you to create HTML5 content.
What to Consider When Choosing the Best eLearning Authoring Tool
There's a vast selection of authoring software on the market, with most of these tools being built with a particular type of client in mind. Before you decide on one of these eLearning development software, you should clear up some things:
What types of training content can be useful in your case? Interactive video lessons, software simulations, quizzes, or all of these? Imagine what sort of eLearning you'd like to provide to learners, depending on their professional duties.
How well does the content authoring software work with mobile devices? You need to be clear about your learners' habits. Mature audiences would probably be fine taking their training on a desktop, but how about zoomers and even younger generations? Most 20ish-year-olds can't imagine their lives without peeking into their smartphones at least once an hour, so their eLearning should work the same way – 100% mobile compatible. And though most authoring tools allow you to create responsive eLearning content, some of them require building different versions for desktop, tablet, and smartphone that definitely consumes a lot of time.
What is your annual eLearning budget? Don't choose eLearning tools and technologies based on price. More expensive doesn't translate to handier in the eLearning world. Similarly, grabbing the cheapest option just because it's cheap is a bad idea. A really low price for an authoring software is often a sign that there might be hidden fees for functionality you need the most.
Do you have a learning management system (LMS) where all training stats can be recorded? If you're an advocate of continuous learning and regularly provide your employees with new courses, you're likely to see the results of your training. There should be an LMS where your content sends all stats from all training sessions. Plus, the course creation software of your choice should have impeccable compatibility with your LMS.
Desktop vs. Cloud-Based vs. Open-Source Authoring Tools
Deployment is an important point to consider when selecting eLearning authoring software. Below is a quick overview of deployment strategies for various course creation tools, as well as their peculiarities that you should know about before making your purchase decision.
Desktop authoring tools
eLearning tools that are installed on your computer usually have a more extensive feature set and more customization options. Another reason that makes this type of eLearning software preferable for many organizations is security – the company itself is in charge of the services and data protection protocols. Besides, it doesn't require a steady internet connection to work with such a tool.
Cloud-based authoring tools
The main advantage of web-based authoring tools is that they're accessible anytime, anywhere. This is especially important for those who need to create eLearning content from different locations. Designers, content creators, and SMEs can all collaborate remotely. You also don't need to worry about lost content, because everything is backed up in the cloud.
Open-source authoring tools
This type of eLearning design software is typically available for users at no cost and allows them to modify every aspect of the program based on L&D needs. But they're usually not very user friendly. Furthermore, you need some tech expertise and even coding skills to make needed changes in such learning and development software.
10 eLearning Authoring Tools to Consider
Now let's take a detailed look at 10 top-performing eLearning authoring tools on the market in 2022. But before we get into the details, check out this handy comparison table to get an overall picture of what to expect from each solution.
eLearning Authoring Tools Comparison Chart

| | | | | |
| --- | --- | --- | --- | --- |
| Authoring tool | Type of solution | Learning curve | Collaboration capabilities | Publishing options |
| 1. iSpring Suite | Content authoring suite | Low | Yes | HTML5, Video, SCORM (1.2, 2004), xAPi/Tincan, AICC, cmi5, HTML5 |
| 2. Adobe Captivate | Standalone authoring tool | High | No | HTML5, SWF, SCORM (1.2, 2004), AICC, xAPI, Exe |
| 3. Articulate Storyline 360 | Content authoring suite | Medium | No | HTML5, Video, SCORM (1.2, 2004), xAPi/Tincan, AICC, cmi5, MP4, Exe |
| 4. Articulate Rise 360 | Web-based authoring tool | Low | Yes | HTML5, PDF, AICC, SCORM, xAPI, cmi5 |
| 5. Camtasia | Video authoring software | Medium | No | SCORM (1.2, 2004) |
| 6. Coassemble | Online training platform | Low | No | SCORM, Online link, xAPI |
| 7. Lectora Online | Web-based authoring tool | High | Yes | ReviewLink, HTML5, Tin Can |
| 8. Elucidat | Web-based authoring tool | Medium | Yes | SCORM, Online link, API integration |
| 9. Gomo | Web-based authoring tool | Low | Yes | SCORM (1.2, 2004), xAPI |
| 10. H5P | Open-source authoring tool | Low | No | Link in iframe, LTI |
1. iSpring Suite Max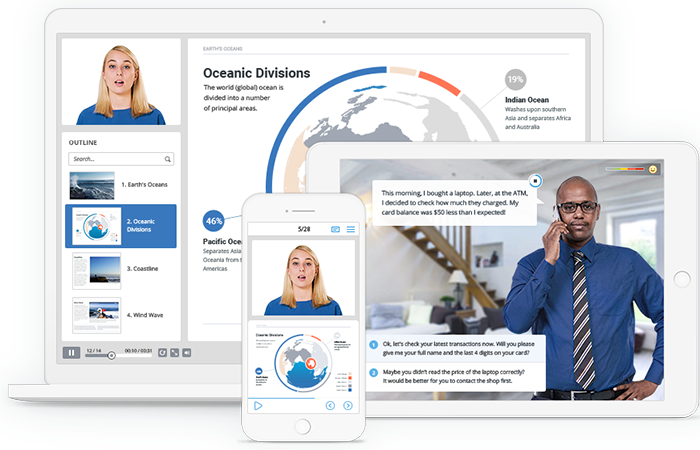 iSpring Suite Max is a full-featured eLearning solution focused on making rapid content development easy and intuitive. A major plus with iSpring is that the core authoring tool works as a PowerPoint add-in, which makes for a familiar WYSIWIG interface that's very easy to use. You can start with an existing PowerPoint presentation and enhance it with more sophisticated eLearning content.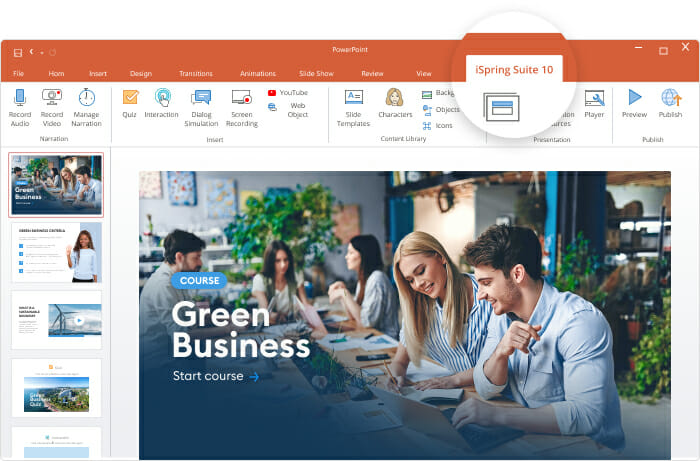 iSpring Suite Max takes a modularized approach to the user interface, with special tabs for different types of training tasks. There's a quiz maker for assessments, a video and audio editor for creating video lectures and screencasts, and a conversation simulation tool for building dialogue simulations with branching. Creating interactions is made simple with a whole set of ready-made templates for creating glossaries, catalogs, timelines, references, and FAQs.

The workflow puts the focus firmly on content development and dispenses with the manual configuration of complex interactive elements and coding variables. To create beautiful courses even faster, there's a content library full of high-quality images of location backgrounds, icons, controls, and characters.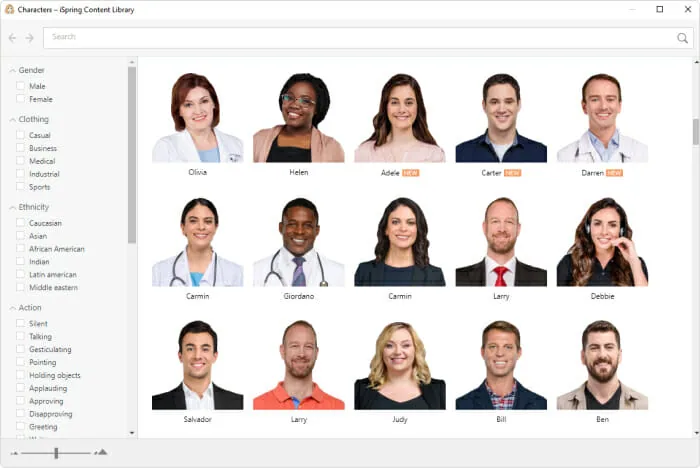 Another important thing is that iSpring Suite Max comes with iSpring Space, an online space for teamwork on eLearning projects. You can build your course, and all other authors from your team will be able to review the content or edit texts, add knowledge checks, and polish the course look and feel in a single place.
There's also a built-in authoring tool for making eLearning content right in a browser. You can create a course the same way you write a post on social media. Just type in (or copy) texts and add images and video. Then add quizzes to check how your learners understand the material. That's it!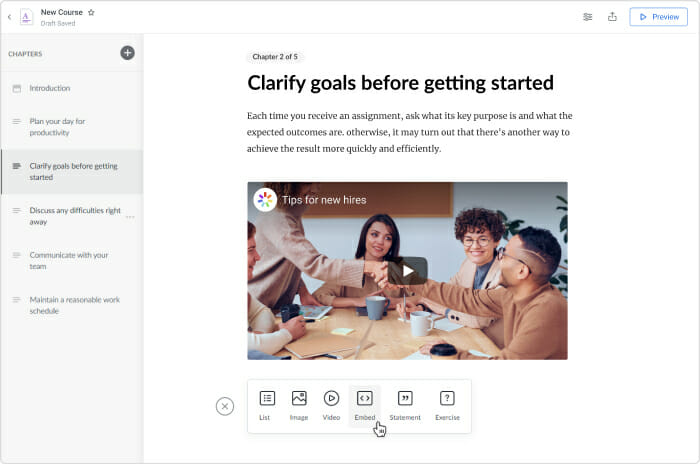 Learning curve
iSpring's seamless integration with PowerPoint means that most people will be able to pick it up and immediately get authoring. The familiar interface and streamlined workflow make for a gentle learning curve that allows the user to explore other modules and features at their own pace.
Fortunately, ease of use doesn't mean you can only create simple interactions and traditional slide-based courses – there's a lot of flexibility to add more complex scenarios and interactives.
Assessments
With iSpring Suite Max, it's extremely easy to create graded quizzes, surveys, and quick knowledge checks that can be included between course slides. There are over a dozen question types, from the ubiquitous multiple-choice to the engaging drag-and-drop.
Interactions
Separate from the quiz editor, iSpring Visuals is centered on building learning interactions. What's best about this component of the tool is that you don't need to start from scratch – just pick one of the interaction templates like Timeline or Accordion and fill it in with your data.
Video and audio editor
This features a fully functional video editor, enough to merge several videos with transitions and captions into one MP4 file and insert it into a course.
Conversation simulations
iSpring has a special tool that allows you to build realistic conversation simulations that will help your learners master their communication skills. This is a must have for sales and customer service training.
Mobile learning
With all its components supporting HTML5, iSpring-published content is 100% mobile ready. Unlike with some other course creation tools, you don't need to build separate content versions for desktop and mobile. The software automatically adapts your content to all display sizes, saving you time and your nerves.
Publishing options
Ability to use an existing PPT presentation as a starting point for a course
Simple familiar interface for building courses quickly
Built-in dialogue simulator with branching conversation scenarios
Professional video studio for recording and editing screencasts and webcam footage
Robust tool for creating interactive quizzes and surveys
Perfect playback on all devices
Text-to-speech function
Ability to turn PPT presentations into SCORM courses
Ability to convert Word and PDF documents into interactive SCORM flipbooks
Professional grade content library with 68,000 assets, including templates, characters, backgrounds, and icons
Cloud service for fast content sharing and collaboration
XLIFF Translation support for fast course localization
PowerPoint needs to be installed for iSpring Suite to work
Doesn't support closed captioning (CC) for video and audio narration
No software simulation support
Only works in Windows
Best for
iSpring Suite Max is a fast eLearning development tool, and a great pick for PowerPoint users looking to take the leap into a full-fledged content authoring tool.
It's also worth choosing if you're searching for the easiest and fastest way to move existing instructions, manuals, and textbooks online. If you already have PPT presentations, you can turn them into e-courses in just a couple of clicks.
You can also publish your Word and PDF documents to eLearning formats quickly and efficiently. The result will be interactive e-books with a realistic page flip effect. When you want to get more creative and add quizzes, dialogue simulations, and interactives, there's plenty of power under the hood.
Pricing
$970 (Annual license)
2. Adobe Captivate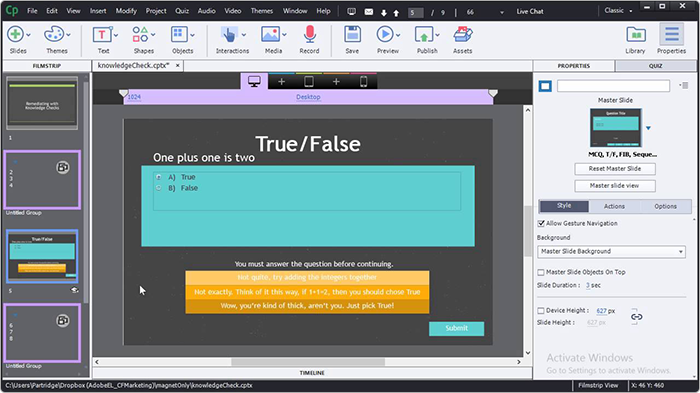 Adobe Captivate is a powerful authoring tool that's well suited for general eLearning development such as creating slide presentations or quizzes and developing complex interactive courses. Also, it's traditionally a preferred choice for developing software simulations with the help of effects, triggers, and slide settings. This allows for a lot of versatility in creating realistic simulations and presenting them to users in different modes, ex.: see it, try it, do it.
A standout feature of the latest 2019 Captivate release is the ability to create Virtual Reality projects and make interactive videos and studio-quality HD videos by simultaneously recording webcam and on-screen content and adding interactive elements. The wide range of interactions is another strong point of this toolkit. You can make eLearning fun with drag-and-drop, puzzles, games, and other interactive activities.
Learning curve
Captivate is known to have a fairly steep learning curve for new users, and in past releases, a rather confusing workflow that relies on a lot of separate windows to select variables and triggers, and perform other functions.
To create really great eLearning in Captivate, you need to spend a lot of time getting to know its functions, so it may not be the best choice as a first-time software for eLearning design. It's perfect for creating more technical simulation-based training.
Assessments
Having fewer question templates than its competitors, Captivate offers a unique type of assessment in the form of software simulation. This feature might be indispensable if your training program is based on computer software.
Interactions
It has 19 learning interaction templates including games like "Jigsaw Puzzle" and "Who wants to be a millionaire?" They might look a bit sloppy and prove to be hard to configure, but the diversity here is truly impressive.
Video and audio editor
Adobe Captivate has a built-in editor that can help you put together a video tutorial with transitions and various effects like zoom and pan. The best part is that when you record yourself from a webcam, you can use the "green screen" feature to replace the background of your video on the fly.
Conversation simulations
There's no special tool for building conversation simulations or character-driven dialogues in Adobe Captivate, so if these are a big part of your training design, it may not be the best pick.
Mobile learning
Captivate suggests an interesting workflow to those who consider mobile compatibility their top priority. The tool lets you break up your slide contents into the so-called "fluid boxes" that can change their size and positioning based on what device the course is being viewed on. This, in theory, gives you total control over the look and feel of your content on all possible devices – including smartphones.
Publishing options
HTML5
eLearning formats: SCORM, AICC, and xAPI.
Flash (with an option for creating lessons in the EXE format)
Extensive variables and branching that allow creative customization
360-degree (VR) capability to embed virtual reality into your eLearning
True responsive screen display on all devices, viewable as you create the training
Asset library including templates, people, headshots, and full-body shots
Ability to generate text-to-speech (TTS) voiceovers automatically
'Green screen' feature where you can insert your own background
Mobile-specific development tools such as geolocation tagging
Complex software simulation recording options
Has a version for Mac
Unintuitive user interface
Requires you to put in a lot of hours to learn how to use it
Customers report that Captivate can get buggy and crash in Windows
Designing responsive content is difficult, since you have to create separate versions for desktop, tablet, and smartphone
Imported PowerPoint presentations don't preserve all their animations after being converted with Captivate
Technical support outsourced to a call center
Best for
Adobe Captivate is professional eLearning software, less easy and intuitive, but more powerful than its competitors. It's best suited for experienced eLearning developers who are comfortable working with variables and some coding to make the magic happen.
In contrast to some vendors that offer an LMS or hosting solution as part of the package, if you want to host the courses that you author directly via Captivate, you'll need to purchase the PRIME package, which is more expensive and probably not suitable for small organizations with less than 100 employees.
Pricing
$33.99/month or $1,299.00 (Perpetual License)
3. Articulate Storyline 360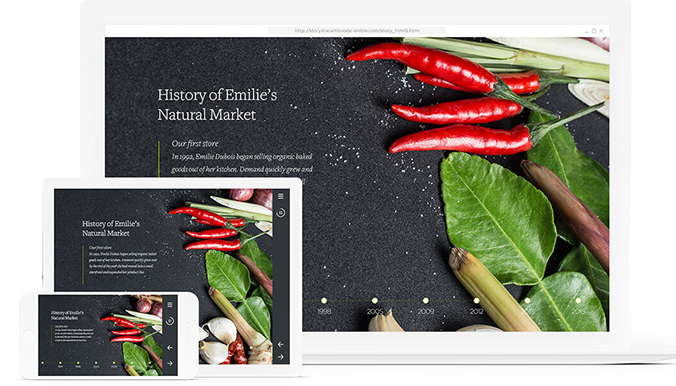 Articulate Storyline is the flagship desktop authoring tool by Articulate. It comes bundled with a few other applications like Rise and Review when you purchase an Articulate 360 subscription.
Storyline is popular in the instructional design community since its advanced features like triggers and layers allow creators to go above and beyond in producing customized training content. However, for a newbie, it would pose a serious challenge to get to grips with Storyline – there aren't many built-in interaction templates, so one would have to spend time learning how to create them from scratch.
With Storyline comes the Articulate Content Library – a collection of course templates, backgrounds, characters, buttons, and icons. It includes a rather small portion of visual assets created specifically for instructional design, at the same time providing access to a vast collection of stock images.
Learning curve
Storyline is right in the middle between iSpring and Adobe in terms of its learning curve: it's not as easy to pick up and start as the former, although it's not as complicated as the latter, and you can begin producing decent looking courses in a relatively short amount of time.
Assessments
Articulate QuizMaker offers users the standard multiple response, fill-in-the-blank, hotspot, and a few more question types that can be inserted into a quiz as well as into a survey.
Interactions
Articulate Studio, Storyline's predecessor that comes bundled with it, has a selection of interaction templates that you can insert into your course. There you can find things like FAQ and Checklist. If you'd like to use one of them in Storyline, you need to import them from a Studio project. Otherwise, you'll have to build your interaction from scratch or download one of the community-provided templates.
Video and audio editor
Storyline includes a simple video editor that lets you do transitions from one recorded take to another, add captions, and save the output to your course. However, it's not half as advanced and useful as what Captivate and iSpring have to offer in terms of video editing.
Conversation simulations
The abovementioned Articulate Studio includes a "Conversation" interaction template that can be used to create dialogue simulations. However, it can only be used as an educational tool, not as a rated assessment.
Mobile learning
Courses published with Storyline are fully mobile-compatible. Also, Articulate has its own mobile app that can download and play published content offline.
Publishing options
HTML5
eLearning formats: SCORM, AICC, xAPI, and cmi5
Similar to the PowerPoint interface of Storyline 360, but with greater opportunities for customizing the content
Allows you to build complex interactions by utilizing features like object states, triggers, and layers
Screen recorder for making screencast captures and simple editing
Content library with access to stock images
Outputs responsive mobile-ready courses
Can import PowerPoint slides
Free mobile app for playing courses offline
Not the most user-friendly interface
Has a rather steep learning curve
Interaction templates sometimes don't work properly
Screen recording functionality is basic compared to other solutions
Can be heavy on computer resources
No Mac version
Best for
Articulate Storyline is best suited for experienced instructional designers who need more leverage over the content they produce. This can be achieved by utilizing the advanced features like triggers and layers that Storyline provides.
Since Storyline comes with several desktop and web authoring tools aimed at making it easier for teams to collaborate on eLearning projects, it would be a good fit for collectives. The drawback is that most individual developers and small organizations won't need all of these tools, but will still have to purchase the entire set just to get Storyline.
Price
$1,299/year (for teams) or $999 (for individuals)
Also read: → Adobe Captivate vs Articulate Storyline 3 vs iSpring Suite
4. Articulate Rise 360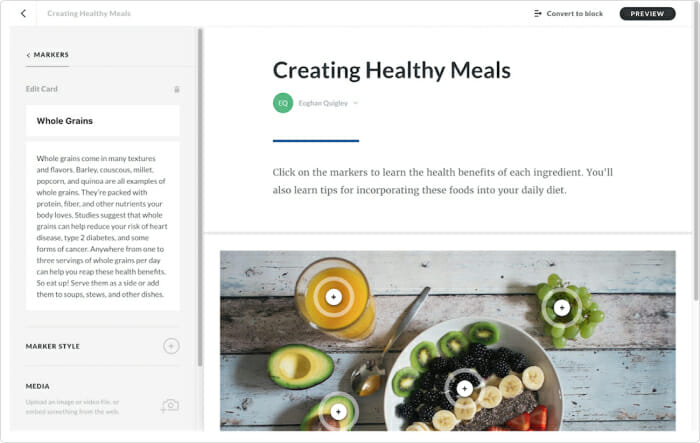 Articulate Rise is a web-based authoring tool that allows instructional designers to create training modules or entire courses in the "longread" form using their browsers. Although originally limited to a fairly small selection of interactions, Rise gets updated regularly, so more and more assets become available for creators over time.
Learning curve
Built as a cloud-based application for eLearning authoring, Articulate Rise is a level of magnitude easier to learn than the desktop Storyline. It offers an intuitive interface that won't be any hassle to master.
Assessments
So far, there are only 4 question types available in Rise: multiple-choice, multiple response, fill-in-the-blank, and matching. Same question types can be inserted into a module, not just as rated quizzes, but also as quick knowledge checks.
Interactions
There are 10 interaction types, including accordion, flashcards, and timeline. Plus, content creators who use Storyline on their PCs can import an interaction of any kind from the desktop authoring tool.
Video and audio editor
Being a web-based content authoring solution, Rise doesn't have a video or audio editor, so one would have to resort to using a desktop program for that. But it at least allows users to upload and manage subtitles via its web interface.
Conversation simulations
There's a built-in dialogue feature that allows you to create "scenarios" – interactive dialogues that serve as educational segments in training courses. These, unlike in iSpring Suite, are not rated and thus can't be used as assessments.
Mobile learning
Content created with Articulate Rise is well-suited for mobile devices with a built-in responsive player that can automatically adapt to any screen, be it tablets or smartphones.
Publishing options
HTML5
PDF
eLearning formats: SCORM, AICC, xAPI, and cmi5
Ability to create responsive training content quickly with a simple web interface
Access to content library with lots of visual assets like backgrounds and characters
OS agnostic: works on Mac, Windows, and Linux
Support for all major eLearning standards allows one to create training content quickly and upload it to any LMS
Allows you to collaborate on courses with your team members
Limited content customization capabilities – an understandable tradeoff of a streamlined web application
Only a single format of a training module (longread) can be created with it
Just 4 question types to use in quizzes
Best for
Articulate Rise will be an equally good fit for new instructional designers and experienced industry cats. When your projects don't have strict requirements on what content should look like and how it should function, Rise will allow you to pump out training courses quickly.
Price
$1,299/year (for teams) or $999 (for individuals)
5. Camtasia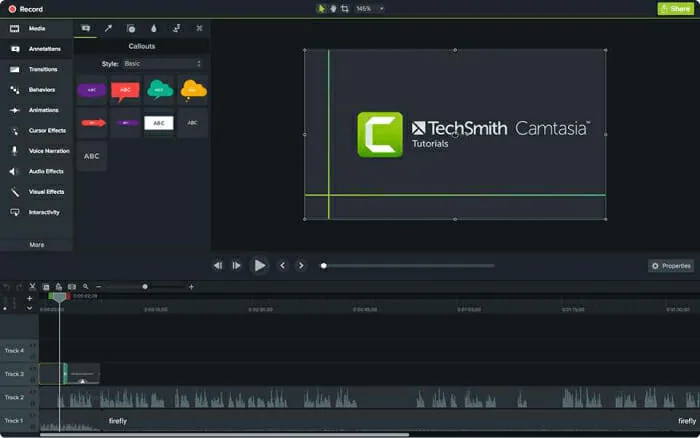 TechSmith's Camtasia is a desktop powerhouse for recording and editing instructional videos. It's available for both Mac and PC, and is considered to be one of the most popular authoring tools for screencasts and other types of training videos. It doesn't just allow you to record your screen and edit the captured video – there's a quiz editing tool, a bunch of stock video/audio, and various visual effects, all at your fingertips.
Learning curve
For someone who has never worked with a video editor before, Camtasia might come across as a bit overwhelming. However, this authoring software is well known by the community and there's a handful of video tutorials and help articles that will help you grasp the basics of working with the app quickly. After you've come to grips with Camtasia, it actually becomes pretty easy to operate and allows you to churn out high-quality training videos in short order.
Assessments
Camtasia can be used to insert quizzes and surveys to videos. There are just 4 question types available: multiple-choice, fill-in-the-blank, true/false, and short answer.
Interactions
This product is not the typical authoring tool that includes all sorts of interaction templates. Focused on video editing, it doesn't provide any interactive elements other than quizzes and surveys.
Video and audio editor
Camtasia has been the top performer in the casual video editing market for a while now. It's safe to say that this application is much more capable than the usual video editors included with other authoring tools.
Conversation simulations
Cannot be created in Camtasia.
Mobile learning
The program doesn't offer any special tools or perks for mobile learners. But since its only output is video, it doesn't need to, because all modern smartphones and tablets can play these formats just fine.
Publishing options
video formats, including MP4 and AVI
eLearning formats: SCORM 1.2 and 2004
Available for both Mac and PC
The most advanced video editor compared to all other authoring tools on the market
Gives access to a library of stock music, intros, transitions, and other assets that will help you get the job done in less time
Built-in quiz maker that allows you to create quizzes inside your training videos
Supports SCORM; can export training modules for use in an LMS
Limited to producing video content
No interactive elements can be used in output content aside from quizzes
Built-in quiz tool only has 4 question types to select from
Not half as capable as true video editors like Adobe Premiere Pro or Davinci Resolve
Best for
This authoring software will come in handy for anyone who makes training content about computer software. Recording the screen and the webcam, editing the output with a bunch of stock effects, exporting the finished lesson to SCORM – Camtasia has everything you need for a good video tutorial that can act as training material. However, if the project you're working on requires something other than a screencast with visual hints and annotations, look for a different solution.
Price
Lifetime license + one year of updates for $299
6. Lectora Online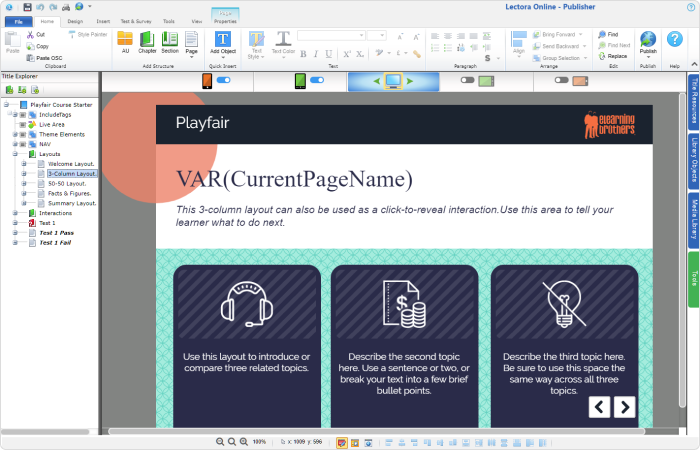 In this comparison, we'll look at Lectora Online, the cloud-based version of Lectora Inspire, which offers content authoring plus similar eLearning development tools that are comparable to the other products in this article.
A big focus of the Lectora product range has always been compliance with web content accessibility guidelines (WCAG). This ensures that any course created with this online eLearning tool will be accessible to those with disabilities, such as hearing or vision impairment. If you work in or develop content for federal government organizations, this is a good choice.
Lectora's popular Getting Started templates are a great shortcut for authoring. Each template includes built-in navigation, interactive samples, page layouts, and instructions for use. Plus, these built-in templates offer different learning styles and course types such as basic linear, non-linear, microlearning, scenario-based, adaptive, time-of-need/just-in-time training, multimedia, and more.
For more experienced developers, Lectora Online supports scripts, custom libraries, fonts, and CSS, so the sky's the limit in terms of customization.
Learning curve
The interface will look familiar to Windows users, since it uses the Windows toolbar format and folder structure icons to represent the different sections, topics, interactions, quizzes, and assets in a course. Compared to other tools, the menu system looks a bit confusing and the layout will take some getting used to.
Getting a standard eLearning course up and running using some of the templates provided should be within most people's reach, but there's definitely more complexity involved in creating and editing courses compared to the other course development tools.
Assessments
Lectora lets you build quizzes or surveys using a selection of 12 question types. They range from simple ones like true/false to more interactive varieties such as drag-and-drop or rank sequence.
Interactions
There are form elements like list box and radio button that you can insert to your course and link to certain variables and actions, thereby setting up a custom interaction. If you'd like to start from a template, eLearning Brothers offer a library of readymade interactions like Puzzle and Drag & Drop that you can easily customize.
Video and audio editor
Lectora has a very capable video tool that lets you record from both your screen and/or webcam and edit the results: you can create transitions from one segment of video to another, add effects, record narration, etc.
Conversation simulations
This eLearning design software doesn't have a dedicated instrument for building dialogue simulations. You can try to find a suitable template in the eLearning Brothers library or create your own from scratch using the advanced programming capabilities of the tool.
Mobile learning
Lectora is perfectly capable of publishing responsive content, and so is suitable for mobile-oriented usage. However, it doesn't have an app for downloading published content and viewing it offline like iSpring and Articulate do.
Publishing options
HTML5
eLearning formats: AICC, SCORM, and xAPI
WCAG compliant
Supports conditional branching and sequenced events
Ability to add your own scripts, custom libraries, fonts, CSS
Built-in versioning for collaboration
Robust quizzing options
Getting-started course templates that include navigation and sample interactions
Global content management and update of assets
Reviewing integration with review link
Stock images and templates from eLearning Brothers
More expensive than its competitors
Clunky, outdated UI
Not the most intuitive authoring tool on the market
Advanced features don't support Section 508
In order to create a responsive course, you need to edit the same content in 5 (!) different views
Best for
Lectora has a legion of fans, but they mostly fall into the 'power user' category, meaning they've spent considerable time learning the tool and are truly experts with it.
It doesn't offer a user experience as clean as iSpring Suite or Articulate Rise, but certainly offers a great degree of power and flexibility for experienced and more technically inclined eLearning developers.
Most suitable for larger and geographically dispersed organizations with a mature L&D model encompassing multiple authors and reviewers.
Pricing
$500/year (Starter), $900/year (Pro), $1390 (Team)
7. Elucidat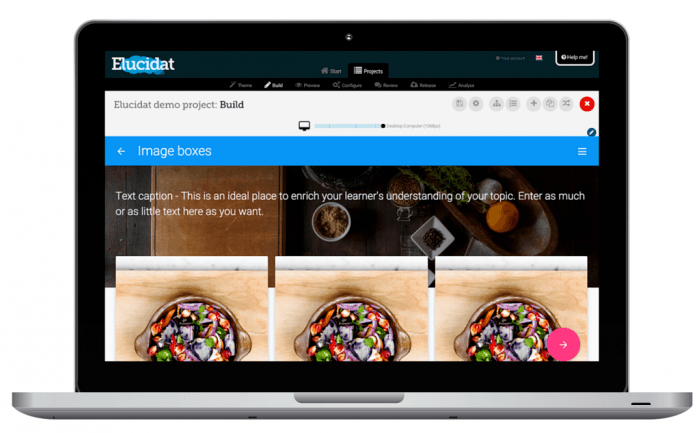 Elucidat's cloud-based eLearning authoring tool lets you produce responsive SCORM-compliant eLearning content that they claim will work with any modern LMS.
Being an online course authoring software, your whole team, from content designers to subject-matter experts, can contribute to, review and take part in the eLearning authoring process at any time.
Elucidat aims to be an all-in-one cloud-based solution for creating high-quality eLearning, managing content at scale, and analyzing performance. It has all the features you'd expect from an authoring platform: templates, resources, video and audio management, a mobile responsive editor, a layout designer, and the usual interactive elements you'd expect such as buttons, flip cards, and input boxes.
There's also a focus on collaboration with multiple authors, and powerful features for role-based development and translation projects across multiple regions. These include separate modular views for team leaders, SMEs, designers, and reviewers, who all get access to feature sets relevant to their roles and position in the development process.
Learning curve
The user interface is clear and uncluttered so you can get started building projects immediately using templates and content blocks, and applying style elements with great looking results.
For more experienced developers, there's a lot that can be done, but this will require an investment of time and training.
Assessments
Elucidat boasts a wide range of question types for your rated quizzes. You can also download one of their templates to come up with some other type of assessment, like an interactive game with a branching scenario.
Interactions
This content development software has just a couple of available interaction types that you can use in your courses: these are Hotspot and Flashcards.
Video and audio editor
Unfortunately, Elucidat lets you neither record nor edit audio or video.
Conversation simulations
The tool also doesn't feature a dedicated conversation simulation feature.
Mobile learning
Elucidat is mobile-ready with all content it publishes being fully responsive, but it doesn't feature a dedicated mobile app that can download and run courses offline.
Publishing options
HTML5
Video
eLearning formats – SCORM (1.2, 2004) and xAPI (TinCan)
Management of eLearning content at scale
Streamlined workflows for teams
Page transition effects
Ability to create single courses that are responsive on any device
Personalized learner clips
Flexible item animation; it's possible to animate almost any course element
Easily access data and insight into how users engage with learning content
XLIFF Translation support for automatic course localization
Cloud-based means you have to store all your contents on the vendor's servers
Lacks flexibility in comparison to other toolkits, so experienced content authors may find themselves limited in their abilities
Doesn't give too much control over custom interactions in your content
Can get more expensive than any of its competitors according to user reviews
Best for
Elucidat is well suited to organizations with dispersed L&D teams and requirements to deliver course variations by locality.
The variations manager allows an author to create a central "master course", which has full control over its "child courses." Once an edit is made to a master course, the child course will then follow — edits can still be made locally in a child course. Elucidat authors can manage several course variations within one location, saving the hassle of creating numerous versions and editing each one individually.
Price
No price listed; must contact the vendor.
8. Coassemble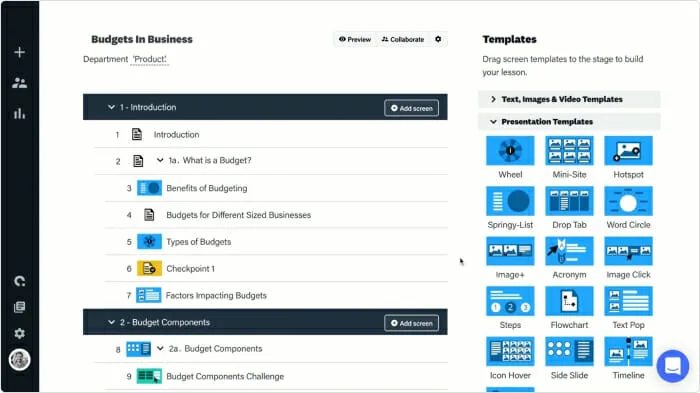 Coassemble is a cloud-based authoring tool + LMS with capabilities of the former, similar to those of Articulate Rise. Pick one of 10 ready-made templates in the longread format and fill it with content bits like images, video, quizzes, and text. There's a surprising variety of interactive elements that can be added onto the screens of your course: from simple slide sequences to timeline and label images. Finished content can then be assigned to students through the Coassemble LMS.
Learning curve
The user interface of Coassemble is not so well thought out as, say, iSpring's or Articulate's. However, it's still pretty quick to get used to if you've ever tested a SaaS application. The usual dashboard and sidebar formula works well, only rarely leaving you to wonder where to click if you need to publish your course, for example.
Assessments
This authoring tool has 8 question types, including drag-and-drop, label image, spot the mistake, and a few others. Also, there are some additional features like the possibility of adding written tips and audio to questions.
Interactions
Coassemble offers 16 different interaction types or 'interactive screens.' as they call them. The selection includes ubiquitous accordion and tabs, as well as some new templates like the side-by-side slide template and word circle template. Overall, it supplies a solid collection of interactive content screens for a web-based authoring software.
Video and audio editor
There are no audio or video editing capabilities like those usually found in SaaS authoring services.
Conversation simulations
The software doesn't have a built-in conversation simulator, but there's a feature that allows you to upload SCORM packages to courses. Hence, you can create a dialogue simulation in a different tool, export it as SCORM, and then upload it to Coassemble.
Mobile learning
The content that can be produced with Coassemble is 100% mobile-ready and can be used on both iOS and Android. The company doesn't offer a mobile app for their LMS yet, so the only option you have to use such content on a smartphone is the web browser.
Publishing options
Online link
API integration
eLearning formats: SCORM, xAPI
User-friendly interface
8 question and 16 interaction types available
Hosted in the cloud – you can author content from any platform or location
Can import SCORM modules to add them to your online courses
The product is also an LMS, so finished modules can be assigned to learners right away
No dedicated mobile app for taking courses on smartphones
Interface looks clunky and poorly designed on certain screens
Just a few templates available when you start a new course – would like to see more in the future
SCORM can only be exported as a link to Coassemble's server
Best for
Coassemble will be an interesting product to try for small teams that need to start training their staff as soon as possible. The combined authoring tool + LMS functionality ensures that, as soon as a new course is ready, it can be put to good use and shared with learners. Of course, there are some limitations that stem from the web nature of the app, but the extended selection of interactions and question types will make up for it, making the training process engaging.
Price
Several plans, starting from $490/year
9. Gomo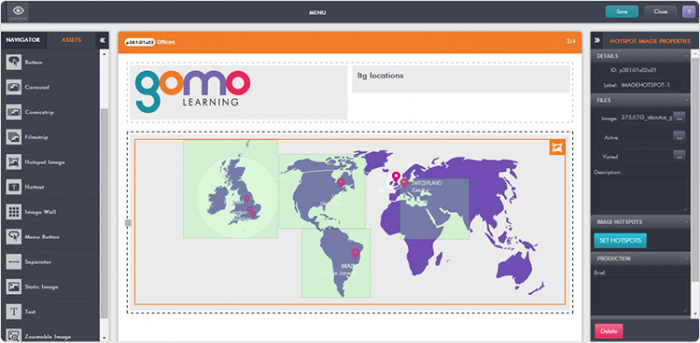 Gomo is another web-based authoring tool that allows you to create online courses that learners can view online from a website or through the Gomo app. It was designed with teams in mind. This tool is perfectly suited for collaboration on content – multiple users can edit the content and leave notes for each other in real time.
The course development process is based on using ready-made templates and themes that can be configured to suit your project or brand. You just need to choose the templates, compliment them with text and images, set up the feel and look of your course, and it's ready to go.
Learning curve
Gomo has an intuitive drag-and-drop interface, so absolutely no programming skills are required. You just need a little time to explore the tool and understand how it works. Pre-built templates and ready-to-go themes help you get up and running quickly.
Assessments
Gomo provides 11 question types, including drag-and-drop, dropdown list, Likert scale, and graphical multiple-choice. You can use them anywhere in your course as knowledge checks, as a learner progresses through the content, or make a more formal assessment by setting up pass/fail scores, giving feedback, and tracking the score with an LMS.
Interactions
The authoring tool comes with a number of content interactions that you can add to a screen. They are quite common, but still can help you present the content in a more engaging manner. For example, you can display a group of images and text in an interactive carousel, insert a countdown timer, create zoomable images, and add a clickable list of content items which, when clicked, expand to reveal additional content.
Video and audio editor
You can add audio and video files to your course. However, Gomo doesn't have a video or audio editor. That's why you'll have to use a separate tool if you need to edit your file.
Conversation simulations
There is no dedicated template for creating dialogue simulations.
Mobile learning
All of Gomo's templates are responsive, so its interactions and functionality are suited for all smartphones, tablets, and desktop devices. There's no need to rebuild the course three times.
Publishing options
eLearning formats – SCORM (1.2, 2004) and xAPI
Hosted in the cloud – you can create courses right in your browser
Ability for team collaboration on the content
Branching scenarios
Simple course structure overview
Pre-built themes with customization options
Easy-to-use image editors
Centralized resource library
XLIFF translation support for creating localized content
Fewer customization options than some competitors offer
You have to store all your materials on the vendor's servers
No mobile app for taking courses on smartphones
No video capture tool
Some users report that the tool is a little slow in some processes
Best for
Gomo is an easy-to-use authoring tool that is ideal for collaborative eLearning projects. It has enough basic functionality to allow the building of simple online courses with quizzes. However, if you need to create versatile and more sophisticated learning content, it may not be the best solution.
Due to its multi-language and localized content options, the authoring tool will also be a smart choice for large enterprises that want to translate courses into multiple foreign languages with minimal time and effort.
Price
No pricing options listed; must contact the vendor.
10. H5P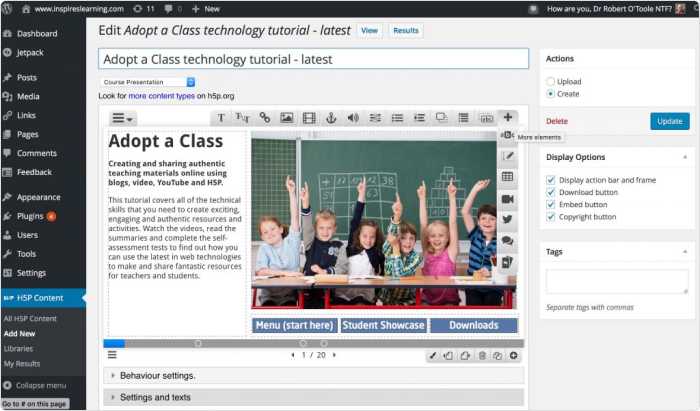 H5P is an open-source authoring tool developed for the creation of interactive educational activities right in a browser. You can make interactive videos, course presentations, crossword puzzles, pairing memory games, and more. More than forty types of interactive activities are available.
There are three ways to use H5P. The first is with plug-ins in WordPress, Drupal, and Moodle. This is free. The other ways are using a direct link and adding the activities to any platforms, blogs, and other sites that support embedded content, or delivering the content to LMSs like Canvas, Brightspace, Blackboard, Moodle, and other systems that support the LTI standard. The latter services are provided via H5P.com and require a paid subscription.
Learning curve
There's no need to have advanced knowledge of coding or any other technical skill to use H5P. Users with average digital literacy can create a variety of activities with ease.
Assessments
H5P offers a wide range of assessments. They include multiple-choice quizzes, True/False tests, drag-and-drop tasks, matching games, and time-based arithmetic quizzes. However, if you want to keep track of what the learners answered, how much time they spent on an assessment, and how many attempts they made, you'll need to buy a subscription.
Interactions
Some content types that H5P allows you to produce might be considered interactions. They are images with info hotspots, flashcards, structure strips, and timelines of events, to name a few.
Video and audio editor
Since H5P is focused on creating quick interactive activities, there's no full-fledged video and audio editor. However, you can create audio- and video-based tasks, such as enhancing videos with interactions and voice recognition content.
Conversation simulations
There's a special content type that allows users to create dilemmas, dialogue sims, and other kinds of adaptive learning. To make it easier for learners to build branching scenarios, the authoring tool uses a tree graph – authors can structure the content as a tree with multiple branches and endings.
Mobile learning
H5P content is responsive and mobile friendly, so users will experience the same rich, interactive content on computers, smartphones, and tablets.
Publishing options
Web-based – you can create the content in your browser
There's a free version
Extremely intuitive
A variety of interactive learning activities
There's an open educational resources hub where authors can collaborate and share open content
Doesn't have the versatility of other paid tools.
Ability to import the content only to LMSs that have LTI
Reporting is only available with a paid subscription
No screen recording or video editing tool
No preview option
Best for
H5P is a great starter option if you're just taking the first small steps in the content authoring sphere, or if you don't have the budget to invest in a more powerful eLearning tool. Despite the tool allowing you to create a variety of activities, its functionality is quite limited in comparison to its competitors.
However, if you're engaged in academic education and use Moodle LMS, H5P can be a solid free eLearning tool for creating engaging interactive content for your students.
Price
Free with plug-ins. The paid subscription starts at $804/year for 3 authors and 250 learners.
FAQ on eLearning Authoring Tools
Get concrete answers to the most common questions about authoring tools.
What issues can authoring tools solve?
"eLearning authoring" is not just some flashy term that's more about buzz than meaning. There are actual reasons why getting authoring software is a must for a business these days. Here are some things that an eLearning authoring tool is struggling against:
Unappealing content – curb good old Word, PowerPoint, and PDF documents to introduce learners to quizzes, interactive video, and gamified training.
Generic training materials – author unique content in-house, without having to involve third-party instructional designers who have no real grasp on the specifics of your business.
Unhelpful data – choose what training data to report to your learning management system (LMS) to have learners' stats in the palm of your hand.
High training costs – move your training meetings from the classroom to a digital space and free up time for your most experienced workers.
Who can use eLearning authoring software effectively?
Continuing from the previous point, it is quite clear who might find a course authoring tool useful in their work:
L&D managers
L&D managers are responsible for employee training and development. They aim to make the most out of people's abilities and help them develop to their full potential. Training each staff member face to face can be a challenging and very pricey task, and that's why many L&D managers prefer to share knowledge online. An eLearning authoring software is a type of learning and development tool that's necessary for repurposing any kind of classroom training (onboarding, compliance training, product training, sales training, customer training, and more) and creating new learning content from scratch.
SMB owners
Small businesses typically don't have a dedicated L&D team, and it's often a business owner who reveals the need for talent development and decides to buy eLearning content creation software. They might hire a professional course creator or assign the content authoring task to some of their existing employees who are SMEs and have a deep knowledge of the topic.
Freelance instructional designers
These are individuals or a small team of people who design learning projects. They usually search for a full-featured but cost-effective authoring tool that helps them build versatile content: interactive courses, quizzes, software simulations, role-plays, etc.
Corporate trainers
Since face-to-face employee training is still alive and, in some cases, indispensable, many instructors go online. Content authoring tools let them pack their knowledge into online training experiences and deliver them to their trainees on the Web. It's a great way to save time and money on job-related travel.
Training centers and individual course sellers
Certification centers and other training companies, as well as individual entrepreneurs, use eLearning content authoring tools to create courses and sell them online. But they typically also need a course selling platform to distribute their products, so that's why they sometimes avoid buying a separate authoring software and opt for a platform that already has a basic authoring tool.
What are the key authoring tool features you might need?
We've already outlined the main factors that can influence the choice of best elearning authoring tools. Now, let's focus on the technical aspects. Here are some features you need to consider to get the most value for your money.
Ease of use
Intuitive UI is what can save you a vast amount of time, especially if this is your first course authoring software and you don't have ID experience. Opt for a user-friendly tool that won't make you spend months or even weeks on training.
Assessment tool
Quizzes and assessments are must-haves in online training. Besides, the more diverse quizzes you use, the more engaging the learning experience will be for your trainees. So, choose software that has pre-built templates for creating a variety of question types.
Branching scenarios
Another way to boost engagement is to let your learners be decision makers. By implementing branching scenarios, you can create content that depends on the actions taken by a learner. A good example of branching scenarios is a dialogue simulation, in which a conversation will develop, depending on the learner's responses.
Content library
A tool that comes with ready-made course templates, characters, locations, and other eLearning assets can help you speed up the authoring process several times over. Just imagine: you don't need to look for relevant pictures and even create slides from scratch. Instead, you can customize already existing templates and insert ready-to-go images that fit your training scenario.
Collaboration
If you work on courses in a team, this might be a priority feature for you. With collaboration options, you can dispense with creating multiple versions of a course and emailing them back and forth once and for all. Quickly share the content with other content creators, stakeholders, and SMEs, receive feedback, and review the content on your own.
Also read: → Best eLearning Platforms to Drive Corporate Training
To Sum Up
We hope you found this information useful and are on your way to selecting an eLearning authoring tool that's perfect for you.
Sign up for a trial of each authoring software you're interested in, use it, and make sure you enjoy it. If your authoring experience is causing you problems and forces you to deal with technical issues instead of making great learning content, consider another tool.
If you want to produce content right out of the gate without spending hours training or reading support forums, start with an iSpring Suite 14-day trial and explore all its features right now.