May 11, 2023
How to Implement Collaborative Learning in the Workplace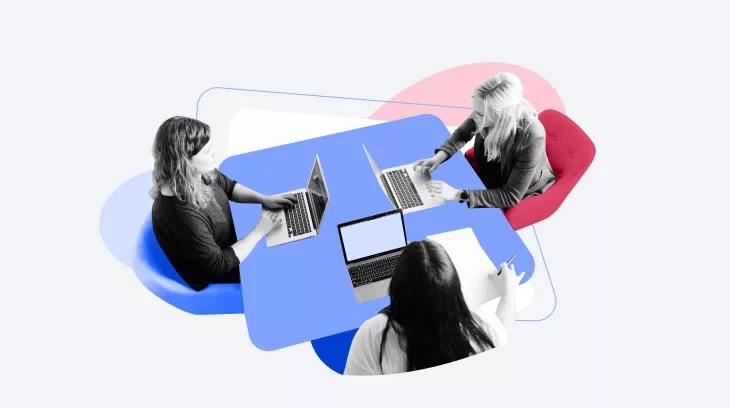 We've all heard the saying, "Teamwork makes the dream work." And this is certainly the case when it comes to organizational learning (or any kind of learning, for that matter). As social beings, humans thrive in group settings, making collaborative learning an ideal approach for acquiring and developing new skills. Dynamic and engaging, it empowers learners to leverage their collective strengths to gain a deeper knowledge of a topic.
Whether you're an educator or an L&D professional, this guide covers everything you need to know on the matter, including:
What Is Collaborative Learning?
Collaborative learning is a method of active learning. It is an instructional approach that requires learners to work together to achieve a shared learning goal.
There is also a similar term — cooperative learning. While collaborative learning can take place any time learners work together, cooperative learning takes place when they work together in the same place on a structured project in a small group.
Both collaborative and cooperative learning encourage learners to engage with each other, share knowledge and skills, and work together to resolve common issues. As a result, this approach promotes a supportive learning environment and fosters a sense of community.
Benefits of Collaborative Learning
Implementing collaborative learning in your organization can reap significant rewards for both the business and employees. We've broken down the main advantages in the table below.
Advantages of collaborative learning

| | |
| --- | --- |
| Organizational | Individual |
| It's a cost-effective training approach that leverages in-company knowledge and expertise. | Learning in a group leads to better results because participants can learn from each other. |
| Encouraging knowledge sharing and collaboration results in increased productivity. | Interacting with people with diverse perspectives and backgrounds enhances interpersonal skills. |
| Improved teamwork and company-wide collaboration can save time and boost morale. | Learners are encouraged to be accountable for their progress, thus generating more intrinsic motivation. |
| Participating in the learning process increases employee engagement and retention rates. | Learners develop key skills that make them better, more agile learners. |
| Working together to solve problems and taking ownership of learning develops leadership skills. | Actively engaging in learning boosts engagement rates and results in higher job satisfaction. |
| Encouraging staff to analyze, share ideas, and develop solutions enhances collective problem-solving and critical thinking skills. | Learners develop transferable skills, such as public speaking, active listening, and giving and receiving feedback. |
Examples of Collaborative Learning
If two heads are better than one, imagine the results if your entire organization gets involved in the learning process. The real issue is to decide which type of collaborative learning activities to include in your strategy.
We've gathered together six collaborative approaches to learning that really work.
1. Group discussions

Setting up structured group discussions during training programs is an effective way to encourage employees to share ideas, thoughts, and knowledge.
However, facilitating group discussions requires more than just putting learners in groups and letting them have at it. Follow these best practices to ensure that the conversation is productive and everyone gets involved.
Create a safe space that encourages learners to share their opinions
Define objectives and expectations clearly
Assign learners roles to promote participation and equal contribution
Ask open-ended questions that require participants to think critically
Practice (and encourage) active listening
Take time to summarize key points throughout the conversation
Utilizing tried-and-true collaborative learning activities to guide group discussions is a good idea. Some examples include:
The round-robin discussion strategy. In this approach, the instructor poses a question or problem related to the training topic. Then, each learner has time to respond or share their solution. This is excellent for leading structured conversations with maximum participation.
The fishbowl discussion method. Here, the instructor divides the group into two circles. The inner circle will actively participate in a discussion while the outer one observes and takes notes. After a specified time, the instructor will swap the learners' positions. This technique means those in the outer circle are developing active listening skills and learning from their peers. At the same time, those in the inner circle can share ideas and participate. It's perfect for enabling diverse perspectives to be shared respectfully.
Delivery method
Group discussions can be delivered in person or via a virtual classroom, making them an excellent activity for face-to-face and blended training programs.
2. Case studies

Collaborating on relevant case studies enables learners to work together to analyze a real-life scenario, pinpoint issues, and come up with solutions. Adult learners respond well to relevant, job-based training, making this an engaging addition to any training program.
Here are two effective ways to include case studies in your collaborative learning strategy:
Debates. Instructors divide learners into groups to debate different perspectives, outcomes, or solutions related to the case study. Doing so develops critical thinking, communication, and public speaking skills. It also encourages participants to listen to different perspectives.
Group analysis. Trainers divide learners into groups to analyze the case and work together to identify the root cause and potential solutions. Then, learners must present their findings and participate in a follow-up discussion.
Delivery method
Case studies can be used as part of an in-person or VILT session. For a blended learning approach, the case study can be shared with learners in advance through a learning management system (LMS) and then discussed in a live virtual classroom.
3. Project-based learning

Collaborating on group projects is an excellent, hands-on way for organizations to develop employees' problem-solving skills and promote innovation. At the same time, learners hone valuable transferable skills like teamwork, research, and public speaking. As a result, project-based collaborative or cooperative learning is particularly valuable as an element of leadership, product development, and technical training programs.
To utilize this approach, follow these guidelines:
Set clear objectives, expectations, and purpose
Ensure projects are aligned with business goals and employees' job roles
Provide necessary resources (technology, training materials, and support from SMEs)
Define clear timelines and deadlines
Encourage collaboration by providing employees with tips and best practices
Here are three effective ways to incorporate project-based learning in your learning and development plan:
Hackathons. Organizations handpick a group of people with diverse skill sets and backgrounds to collaborate on a problem or challenge and come up with innovative solutions. Hackathons can last anywhere from a couple of hours to a few days and are commonly used in software development.
Design thinking projects. Project organizers put together multidisciplinary teams to solve a common problem using design thinking principles. Teams collaborate to build solutions, following the stages of design thinking; empathize, define, ideate, prototype, and test. These types of projects are popular in product design and social impact.
Jigsaw method. Instructors divide a larger problem or task into smaller pieces and assign each group one. In teams, learners are responsible for researching, learning, and presenting critical information about their pieces. Then, the groups collaborate to put the pieces together to find a solution. This works particularly well for problem-solving, sales, and diversity and inclusion training.
Delivery method
Group projects take time, so providing employees with communication and collaboration tools is essential. As well as face-to-face or virtual live sessions, learners can use an LMS discussion board and communication tools like Slack to share ideas. Running virtual classrooms is an excellent option because learners can record the session and upload it to the LMS afterward for review.
4. Peer-to-Peer feedback

One of the biggest perks of collaborative learning is the ability to learn from your peers. As such, peer-to-peer feedback is a great example of how to build a culture of collective learning.
Here are some ways to incorporate this into your training strategy:
Peer reviews. Following a training activity (presentation, case study analysis, etc.), have employees review and offer feedback to their peers. The easiest way is to pair learners up and give them time to review each other's work and share their criticisms, praise, and suggestions.
Group feedback. Set aside time during training sessions for employees to receive feedback from the training group. This works well after a project or presentation and allows staff to receive feedback from different viewpoints.
Peer-to-peer coaching. Pair employees up and allow them to take turns coaching each other on a specific skill or training area. This works especially well as a cross-functional training exercise, allowing employees to learn from peers with different skill sets and expertise.
Collaborative editing. Working together to edit a presentation, policy, or playbook is a great collaborative learning experience. Employees can provide feedback and suggestions and see how others approach certain topics.
Delivery method
While feedback can be given in many different formats, we recommend doing it in person (face-to-face or virtually). That way, there's less room for misinterpretation or misunderstanding. Of course, when it comes to collaborative editing, this is usually accomplished virtually on a shared Google Doc file.
5. Learning circles

Learning circles are small groups working together to learn about a specific topic or solve a specific problem. Typically being self-directed, they create a space for employees to put their heads together and share knowledge, resources, and opinions.
Learning circles are a great way to encourage employees to prepare for a presentation or project during training. This means that employees have a clear goal and topic to work toward. Assigning roles can help make learning circles run more smoothly.
Delivery method
Employees can meet in person to participate in learning circles. However, busy schedules make this tough. An ideal alternative is to use LMS discussion forums and communication tools to stay in touch between live sessions. That way, learners can keep the momentum alive and share resources easily.
6. Roleplaying

Roleplaying simulates real-life workplace situations, requiring learners to take on different roles and act out scenarios. There's a reason why roleplaying is such a staple activity in corporate training. This hands-on approach encourages learners to practice core skills in a controlled, risk-free environment. Moreover, employees can learn from each other's mistakes and develop their confidence. Roleplaying is particularly effective at developing communication skills in customer service, sales, and leadership training.
To ensure that everything runs smoothly, it's critical to set roleplays up correctly (whether online or in person). Here are some best practices to follow.
Set clear objectives and expectations
Provide participants with context, guidelines, and rules to follow
Choose real-life scenarios that are relevant to trainees
Assign roles to encourage equal participation
Provide feedback after the roleplay (from both the instructor and the other learners)
Follow up with additional training to develop learners' skills
Delivery method
For effective collaborative learning, live roleplays work best (in a virtual or physical classroom) because they allow learners to actively engage with each other. During the role-play, participants work together to navigate difficult situations, solve problems, and make group decisions. As such, there are plenty of opportunities to learn collectively and share feedback.
Tools to Implement Collaborative Learning in the Workplace
The right technology will make it much easier to facilitate collaborative learning in your organization. From streamlining learning processes to measuring results, these tools are essential to have in your tech stack.
Learning management system (LMS)
An LMS is a must-have tool because it enables companies to deliver, track, and manage all training activities in the organization (both in person and online). To contextualize, let's look at how iSpring Learn LMS supports collaborative learning in the workplace.
Schedule, host, and track live group discussions
Share learning materials and resources or create knowledge bases
Let employees ask questions directly to instructors
Monitor collaborative learning activities
Create assignments that encourage peer-to-peer feedback
Promote learning and motivate employees with gamification
Allow employees to collaborate from anywhere at any time right on their mobile devices
In a nutshell, a robust LMS creates a space for collaborative learning to take place and provides the tools to measure the impact of training initiatives.
Automate corporate training and improve employee performance.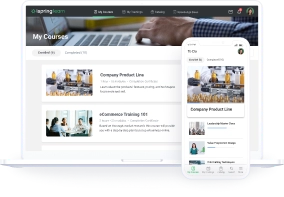 eLearning content authoring tool
More people work remotely now than ever before. As a result, organizations have had to switch to digital or blended training models. If that's the case with your organization, investing in an authoring tool is a great idea.
A content authoring tool allows you to build digital training materials like online courses, quizzes, and role-play simulations. So how does that fit in with collaborative learning? On top of enhancing the overall learning experience for employees, an authoring tool means you can create materials that foster collaborative learning.
For instance, with iSpring Suite, you can easily build professional-grade eLearning content with no previous experience. With next to no learning curve, this supports collaboration between L&D teams, SMEs, and stakeholders, meaning you can enlist content authors throughout the business.
Here are some content types you can build with iSpring:
| | |
| --- | --- |
| Content type | Perfect for |
| Slide-based courses | Presenting core information as part of an online or blended training program |
| Interactions | Microlearning and reviewing key information from group sessions |
| Quizzes | Recapping and reinforcing knowledge; creating healthy competition |
| Role-play simulations | Practicing communication skills in a real-life scenario (excellent prep for face-to-face practice) |
These materials work particularly well as part of a blended program to introduce, support, or review collaborative learning activities.
Fully-stocked eLearning authoring toolkit for PowerPoint. No training required to start!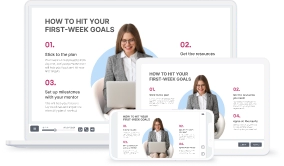 Video conferencing software
If you plan to run online or blended training programs, video conferencing software like Zoom, Google Meet, or Microsoft Teams is essential. Using this software, you can facilitate live group discussions, meetings, and virtual classrooms. Plus, you can record and upload them to an LMS to ensure that absentees don't miss out on anything.
Video conferencing software has built-in features to facilitate real-time collaboration, encourage learner interaction, and boost engagement. For instance, breakout rooms, virtual whiteboards, polls, and chat.
Opting for software that integrates with other corporate tools, such as your LMS, is advisable as it will streamline the process.
One example is iSpring Learn. It has integrations with video conferencing software such as Zoom and Microsoft Teams. This means L&D teams can create, manage, and monitor all VILT sessions from a single centralized platform, thereby reducing workloads. Learners can access all training materials and activities from one place for a smoother workflow.
Collaborative document creation tools
From working together on presentations and projects to team editing, having a collaborative document creation tool like Google Docs is a must. Employees can collaborate in real time from any location, and everyone can see suggestions, feedback, and changes.
When completed, these documents can be uploaded to a shared folder (or to an LMS knowledge base) to give all relevant employees access.
Project management tools
Project management tools, such as Asana, Trello, Jira, or Basecamp, aren't essential, but they can certainly make collaboration easier for employees. Instructors and managers can assign and manage group projects, monitor progress, and track completion using these tools. For employees, they make it easier to manage workloads and meet deadlines.
Communication and collaboration tools
Fostering a culture of collaboration begins with excellent communication. As such, investing in tools to facilitate real-time communication is a must. For instance, tools like Slack or Workplace by Facebook enable employees to share questions, news, resources, and feedback.
Investing in an LMS with a newsfeed feature is a smart idea for businesses with a limited budget. That way, you don't need to pay for a separate communication tool. iSpring Learn is a good example. Admins can create a newsfeed directly within the platform to keep staff up to date on the latest company news, events, and learning opportunities.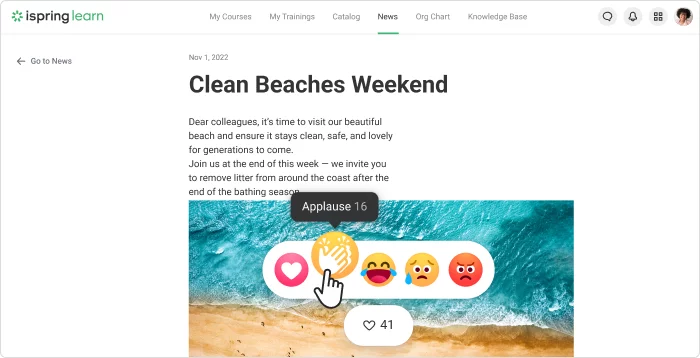 There's also an organizational chart to help employees know who to collaborate with on different projects or tasks.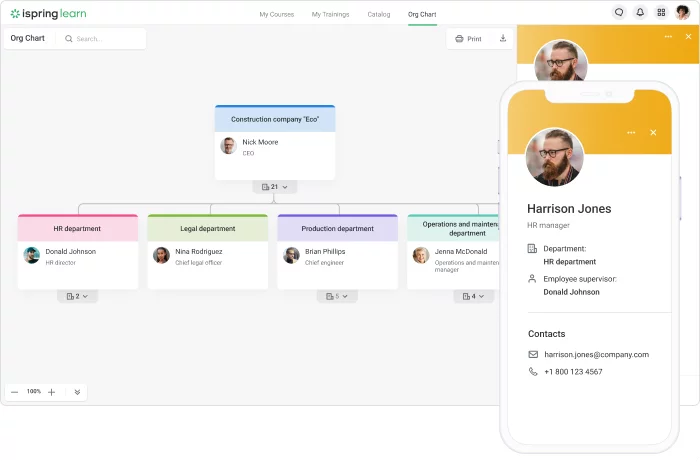 FAQ
Here, we cover the most common questions about collaborative theory.
What are the main principles of collaborative learning theory?
There are several pillars of group learning theory, including:
Active participation: Learners must engage in the learning process, participating in group discussions, projects, and knowledge sharing.
Learner autonomy: Individuals should take responsibility for their own learning.
Common goals: Learners should work together to achieve shared objectives and complete collaborative tasks as a team.
Social interaction: Learners should interact socially with their peers, thus encouraging them to work with diverse perspectives and backgrounds.
Reflection and feedback: Learners must reflect on the learning process, providing feedback to their peers, as well as receiving it from them.
How can organizations encourage collaborative learning in the workplace?
There are several effective strategies that organizations can implement to promote a collaborative environment, such as:
Invest in technology: Using the right tools, such as an LMS and video conferencing software, can facilitate collaborative learning and improve uptake.
Offer training: Providing soft skills training on problem-solving, communication, and collaboration can help equip staff with the competencies necessary for collaborative learning.
Set clear goals and expectations: Having transparent goals will provide employees with a path to follow and boost accountability.
Provide collaborative learning opportunities: Create spaces for employees to work in a collaborative group, such as cross-functional workshops, projects, and team-building events.
What are collaborative learning interventions?
The term "intervention" usually refers to the provision of ad-hoc, focused, and personalized teaching sessions. Collaborative interventions are group sessions that allow learners to understand new or existing subject content through team discussion and group work.
A Final Word on Collaborative Learning
Group learning theory shows that individuals achieve better outcomes when they learn together. By doing so, employees can work closely with those who have diverse perspectives and adopt knowledge and skills from each other. All of this results in a more highly performing workforce and a more inclusive environment.
If you're ready to reap the rewards of collaborative learning, request a demo of iSpring Learn LMS and a 14-day free trial of iSpring Suite today.