December 30, 2019
What is an Authoring Tool?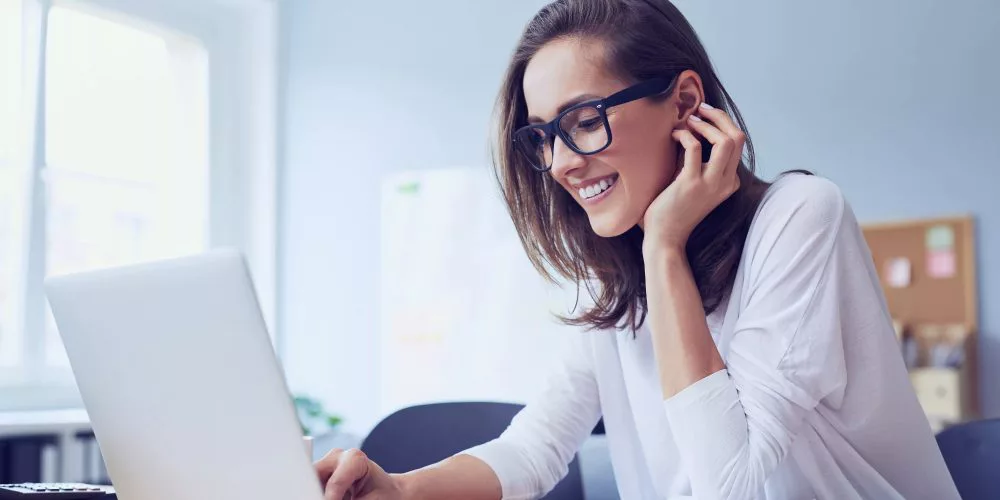 Choosing new software can often feel far more difficult than it should be. In this article, we cover the essential facts about eLearning authoring tools you need to know before buying a license.
An eLearning authoring tool is a type of software that allows you to create digital training content, convert it into an eLearning format, and distribute it among learners via a learning management system, or on the web. 
Digital training content includes, but isn't limited to, e-courses, video lectures, assessments, and simulations. Some tools have a narrow focus, for example, only creating quizzes. However, in most cases, it's more accurate to say that "an authoring tool" is a set of tools under one roof that covers most of the tasks instructional designers could possibly need to deal with. 
Table of contents:
How Does it Work?
Most authoring tools maintain a slide-based course structure. You create as many slides as you need and fill them with text, images, and animations. Depending on the tool, you can also add interactive elements such as quizzes, video, or drag-and-drop tasks. When everything is ready, you click Publish and get a package that is ready to be uploaded to your learning management system or website. 
The key idea behind using such authoring tools is making it possible for ordinary computer users to create professional eLearning content. In the early days of eLearning, the development of e-courses was time-consuming and cumbersome, since even the simplest combination of text, images, and a quiz required the participation of programmers and designers. 
Now, with an eLearning authoring tool at hand, you can create awesome interactions, which previously would have demanded programming skills and hours of work, in just a few clicks. Would you like to visualize steps or a timeline? No problem! Choose the interaction type from the list, add your text and images, and that's that. Of course, even now when authoring tools are far easier than they used to be, some are still easier than others.
This leads us to the categories the tools can be placed in. 
Types of Authoring Tools
Standalone authoring tools
Just as Photoshop was created as a graphics editor, a standalone authoring tool is a solution specially designed for eLearning development. Such tools take time to master, so you may need preliminary training to get started and, sometimes, even programming skills to create custom interactions. 
If you're ready to do this, they can provide you with unlimited flexibility and freedom to create unique training content. For example, the latest release of Adobe Captivate lets users experiment with creating virtual reality learning content such as virtual tours or advanced safety drills.
Best fit for: 
eLearning developers who work with multiple customers and need to create different types of learning content.
Large eLearning departments with complex tasks (different types of courses, various mechanics, etc.).
Experienced eLearning developers who need to create original customized items from scratch.
Representatives: Adobe Captivate, Articulate 360, Lectora Inspire
Also read:  → Adobe Captivate vs Articulate Storyline 3
PowerPoint-based tools
There is a class of eLearning tools that work as add-ins to PowerPoint. With such tools, you can quickly turn existing PowerPoint presentations into e-courses. A big advantage of a PowerPoint-based solution is the familiar interface. As most PC users already know how to use PowerPoint, it will be much easier to start creating courses there. 
Add-ins enhance PowerPoint's basic functionality with special eLearning features: interactive quizzes, video lectures, and dialogue simulations, just to name a few. So, it's powerful enough to meet most authoring tasks and, at the same time, it doesn't have a learning curve, which makes it a good choice for rapid authoring.
Best fit for:
Teams who need to have content done quickly (yesterday!).
Companies that use in-house experts for creating content.
Smaller companies that don't have dedicated specialists for developing and designing e-courses.
Representatives: iSpring Suite, Adobe Presenter, Studio 360 (as a part of the larger Articulate 360 toolkit).
Cloud-based tools
Web services are becoming popular for many reasons. For example, they require no special operating system or hardware configuration. A user simply opens an application in their browser, logs in, and starts working.
As the name of the category suggests, this type of tool allows you to create inherently web-styled content. It also provides better flexibility, as you aren't tied to a certain work-station for course authoring, as with traditional software — you can log-in using any device unless you have forgotten your password.
Cloud-based tools are supposed to have limited functionality in comparison with one of the installed solutions. In fact, the functionality of cloud-based tools differs from tool to tool, but in general, they cover the major authoring tasks. You can easily create professionally designed pages, interactions, and assessments — and all of these can be done by multiple authors who're working on the same project.
Best fit for:
Teams who have many authors and need collaboration and review features;
Teams who need better work flexibility.
Representatives: Articulate Rise (a part of Articulate 360 kit), Elucidat, Gomo Learning, Lectora Online
Highly-specialized tools
While there are tools that cover all the authoring needs you may have, it can be overkill for some tasks. If you only specialize in video courses, all you need is a professional video editor, so paying for the rest of the features simply makes no sense. Otherwise, it'd be like buying a feature-packed food-processor when all you really need is a sharp knife.
Highly-specialized tools can also be useful when you want to complement your major authoring tool with certain features. This usually happens for two reasons: the sought feature is absent or poorly designed or you'd like to do a more advanced task. 
For example, there are specialized tools for creating video lectures, software simulations, or branching scenarios.
Best fit for:
Situations when you need to create a certain training format.
Using as an additional tool to make authoring process easier.
Representatives: Camtasia, Twine
Essential Features of an eLearning Authoring Tool
Further listed are the most commonly used features that you'll likely need for creating training content:
1. Quizzes and surveys
This is an absolute must-have for an authoring tool since it allows you to create knowledge checks and get feedback from the learners.
When choosing a tool, pay attention to how many and what types of tasks it is possible to do with the tool. The more, the better. iSpring Suite allows you to create 14 question types, from simple multiple choice to drag and drops and hotspots. 
2. Video lectures & screencasts
A video tutorial is always more fun than plain text instructions. There are three sub-types of this feature:
Video tutorials, a how-to video with helpful insets (which you will have seen a lot on YouTube).
Talking-head screencasts, a popular format for creating video tours in which you show your screen and video from your web-camera at the same time.
Software tutorials, the kind of screencast where a tool automatically detects when you use hotkeys, click and type, and adds visual cues for these actions to the video.  
Also, it's better to know what editing features the tool provides. At the very least, it should be able to cut out unwanted fragments (imagine that you sneezed after an hour of recording, for example) and merge a video from several clips.
3. Interactions
The best part of e-courses are the cool interactive elements that can't be found in usual workbooks. There are two things you need to make your mind up about that will affect the choice of authoring tool:
You want to be able to create complex custom interactions and you have programming skills or have a team member who could do it. 
You want your course to be interactive, but you don't have the time or resources to develop it from scratch.
If you fall into the first category, then look for the solutions that allow users to push standard capabilities further with the help of coding. An example of such a tool is Lectora Inspire. Having a steep learning curve, it gives its users the freedom to develop highly-customized interactions.
If you're closer to the second category, find out how many interaction types the solution offers and what they are. iSpring Suite, for example, offers 14 ready-made templates which will give your courses a modern feel and save you time and effort.
4. Branching scenarios
Creating branching scenarios means that your learners' choices affect the walkthrough of a course. As opposed to standard linear courses, branching provides learners with individual learning experiences as well as gives you a better way to assess their knowledge. For example, you can direct the learners towards slides with additional information if they have made mistakes on a test, or allow them to choose which section they would like to explore next.
By the way, there's a beginner's guide to scenario-based learning with many relevant examples.
5. Dialogue simulations
This is an interactive game that helps learners practice their communication skills. Every so often, it's used for mastering scripts and negotiations. If you know that you're going to have such training, ask vendors how this feature is realized in their solutions.
There can be two possibilities. The first is that you can manually script such interaction, the second is that there's a special built-in editor for making this exercise within the toolkit. 
We, at iSpring, vote for the second, as it allows you to focus on creating learning, not technical setups. In the iSpring Suite toolkit, there's the TalkMaster tool, which was made just for this purpose.
For example, you need to develop training for car sellers. So, you need to pick a  character that will be your potential customer, choose a proper background, and write questions and the various possible replies. A visualized tree of solutions will help you not get lost among multiple paths and easily create as many endings as you like.
6. SCORM compliance
eLearning content doesn't float in a vacuum, it needs to be published somewhere so learners can access it. Usually, e-courses are published to a learning management system (LMS). SCORM compliant LMS is a digital platform used for the storage and management of eLearning, tracking efficiency, and automating routine tasks like assigning courses, grading or creating reports.  
However, if you want your LMS to be able to do so, the content should be published with certain standards that the LMS recognizes and can process. The major eLearning standards are:
The most prevalent format is SCORM. If you'd like to fully understand what the abbreviation stands for, we highly recommend studying a detailed explainer of the format, levels of conformity, and the differences between the versions of SCORM.
If you already use an LMS, find a list of recommended authoring tools that are perfectly compatible with the LMS on the vendor's website or contact the vendor. This is very important because the wrong choice of a tool may lead to the loss of crucial statistics.
7. Mobile learning support
Smartphones and tablets have become an essential part of our lives. It's only natural to use them for learning as well. At the same time, not every authoring tool can guarantee learners will be able to study from their mobile devices. In order to work on mobile devices, your interactive e-courses and quizzes must be in the HTML5 format.
However, this is just one part of the story. Even if learners manage to open a course on their smartphones, the course needs to be responsive. This means it should adapt to the screen size to provide an adequate learning experience.
There are two possible scenarios for creating responsive courses: you can do it manually or automatically. 
The tools (e.g., Adobe Captivate) with manual setup allow you to create multiple versions of your course for every device. For each version, you'll manually adjust the layout, move and resize controls, change font sizes and images. The process can be tedious, but you'll be sure that playback on all devices is perfect.  
The other option is to use a tool, such as iSpring Suite, which produces adaptive courses that automatically fit smartphones and tablets. There's no manual tweaking required if you need to create a single version of an e-course, as it automatically adapts to all screens and orientations. It may not be the best solution when you know your learners use some rare devices, but otherwise, it saves plenty of time.
How Much Does an eLearning Authoring Tool Cost?
Have you ever been to a car showroom? Although you could drive any car there, the price differs enormously depending on technical capacity, level of comfort, service quality, and brand reputation. The total price of an eLearning authoring tool is similar to the price of a car in this way. It consists of: 
Features 
Go by the content you plan to develop and don't be swayed by the features you won't use in the near future. If you aren't going to create serious games, there's no sense to pay for such capabilities in advance. 
For defining what functionality you really need, it's good to draw a list of requirements or, for more ambitious projects, a request for proposal (which includes requirements and detailed information about your goals and specifics). In the iSpring blog, there's a guide on writing a good RFP for choosing a learning management system; you can easily apply its principles to the choice of authoring tool as well.
Setup training or training resources 
In an ideal world, vendors not only provide software but can also show how to use it most effectively. At the very least, there should be a knowledge base with training resources: tutorials, articles, and guides. 
Also, some of the tools we mentioned earlier have a steep learning curve. So, before you can create anything decent, you'll need preliminary training. Ask vendors what volume of initial training they provide, how long it will take, and how much it will cost you. 
Technical support 
The level of support may differ depending on your plan. Often, it's not even included in the price, making it seem more affordable, so it's better to clarify this before any problems occur.
Also, find out how to reach the vendor. Should you write an email? Can you send a message in a live chat or call if the issue is really urgent? The more options the vendor offers, the better. You definitely won't want to wait for weeks for an email response when something went wrong the day before learning was meant to start.
Additional services 
Some vendors offer access to various supplementary tools and services: content libraries or third-party services integrations. For cloud tools, for instance, hosting is essential, so it's better to know how many gigabytes are included in your plan and if you have to buy extra space.
If the tool of your choice has plenty of useful services included in your plan – great. But, to be on the safe side, find out if there are services without which you won't be able to use the tool effectively and that aren't included in the price.
Updates
This mostly refers to authoring solutions that are actually installed on your computer. The good news is that the sphere of eLearning is continuing to develop, so new technologies, approaches, and features are emerging every day. The bad – some vendors charge for each update.
There are two questions you need answers for: how often a vendor releases updates and if they are included in the price.
We hope this blog post will help you do your homework when choosing the right tool for developing eLearning. We also recommend downloading this free whitepaper on choosing the right authoring tool, which includes additional details and a ready-made list of questions to vendors.