iSpring Declares independence from Bullet Points in Mobile Presentations

by Nadya Spellman
Community Manager
On May 12, 2015
ALEXANDRIA, VA. May 13th, 2015 – iSpring Solutions, Inc. introduces new iSpring Cloud mobile app, which will take your presentations into the iPad age for free – complete with storage, viewing, sharing, and tracking. Don't let your genius creative presentations turn into a series of plain PDFs on mobile devices.
You might be forgiven for thinking that all mobile presentations are static, immobile, even dead. Truth is, 99% of them are. If you think bullet points and screenshots make an adequate mobile presentation, think again. PowerPoint is more powerful than you think, and we've brought its power firmly into the age of the mobile presentation.
You've probably had that sinking feeling yourself when you've seen your great presentations lose all their oomph with some leading mobile apps. Even the best-known iPad PowerPoint viewers betray a distinctly poster-like mindset.
Even the simplest tasks – like viewing Office documents or embedded media files in offline mode – on mobile are either impossible or pay-to-play. All those great animations and transitions you toiled over in PowerPoint translate so poorly to mobile that you might as well not have bothered. Sometimes it seems like the only solution is to create two completely separate presentations – a "big screen" production and the boring old static slideshow for mobile.
Here at iSpring, the pioneers for PowerPoint-to-Flash/HTML5 conversion, we decided to document just how stone-age these mobile viewers are. You'll find a table on our website that compares the capabilities of the free SlideShare, SlideShark and PowerPoint iPad apps with iSpring Cloud app. The results were so depressing, we decided it was time to dust off our old iSpring Present and give it a thorough overhaul.
So we are proud to present the iSpring Cloud Mobile Presentation App for iPad. Now anyone can demonstrate their creative presentations and illustrated documents, media files – even URLs – the way they were meant to be. All it takes is a FREE iSpring Cloud account and you'll be able to:
Confidently deliver your PowerPoint presentations (99 % effects preserved), Office docs and media files to mobile users
Download mobile-ready multimedia content to your iPad and demonstrate it anywhere without fear of embarrassment
Share your content privately via direct link
Share socially by posting the short link, via email or even embed it into the websites in SlideShare style
Track the popularity of every item – and even every slide view duration!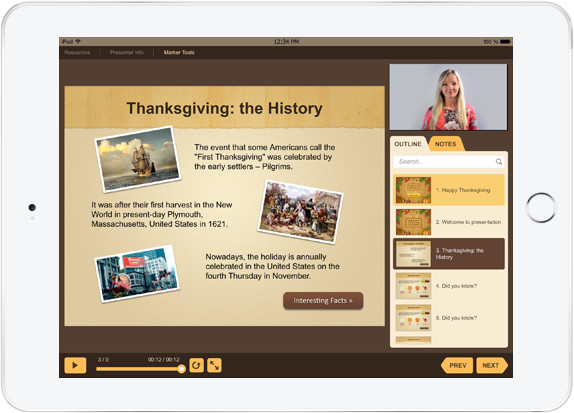 There is a Pro plan given you for free from the start, and no credit card required.
Once you get started, you don't need to wade through a sea of ads before you can use the app. And even if you decide not to continue with a paid plan, all the features are present and all your content is with you – there will be just a short iSpring promo. No 3rd party ads, no playback interruption – and you can use it forever. Free never felt so good!
Who's using iSpring Cloud?
iSpring Cloud lets conference presenters and instructors store and show their presentations online and offline. Content can be shared instantly and, because attention levels can be tracked in real time, material can be adjusted to keep audiences focused.
Content marketers and sales presenters can simply provide their link to leads as they come in. They'll see right away how many people look at each slide and for how long – so they'll know their prospects' hot buttons before they even talk to them.
What else do you need to know? Download "iSpring Cloud" Mobile Presentation App for your iPad and start wowing the world now!
About iSpring Solutions
iSpring Solutions are experts in PowerPoint and pioneered PowerPoint-to-Flash/HTML5 conversion.
Our products are trusted by more than 40,000 users around the world, and our company was recognized by the Brandon Hall Group for Excellence in Technology in 2010 and 2013, receiving the Gold Award in the Rapid Authoring and Content Authoring categories.
The iSpring product line includes:
High-quality desktop tools for e-learning authoring and publishing (iSpring Pro, iSpring QuizMaker, iSpring Suite),
Platforms for converting PowerPoint to Flash/HTML5 and publishing to third-party learning management systems/intranet/website/video services
Web-based Learning Management System (iSpring Learn)
Multimedia content sharing and tracking (iSpring Cloud)
Mobile apps for optimum content viewing
For reviewing purposes, please contact Polina Khizhnyak