Meet iSpring SlideAlloy, Red-Hot PowerPoint to YouTube Converter

by Lucy Larson
Community Manager
On August 26, 2014
With the release of SlideAlloy, iSpring introduces the game-changing technology that provides instant publishing of PowerPoint presentations to YouTube.
ALEXANDRIA, VA. August 26th, 2014 – iSpring Solutions, Inc. presents the brand-new iSpring SlideAlloy, easy-to-use and powerful PowerPoint to video converter.
On February, 6th iSpring SlideAlloy got a new name: iSpring River.

iSpring SlideAlloy is extremely easy to master as it simply adds a tab to the PowerPoint ribbon and provides instant access to advanced publishing features in the familiar environment.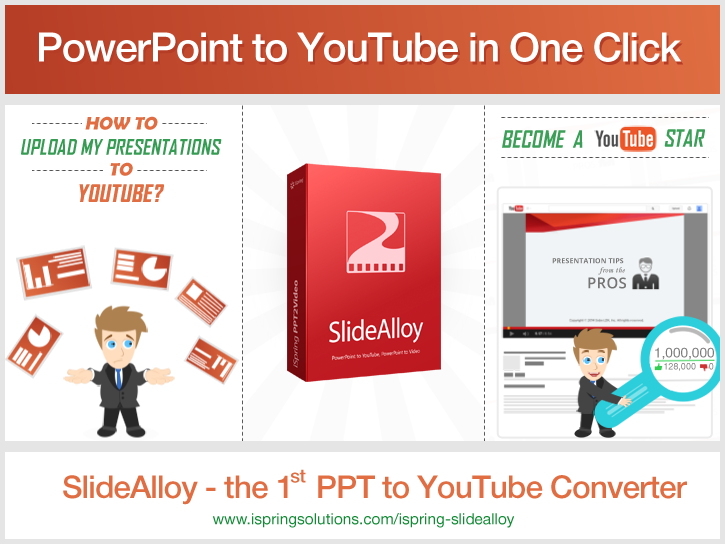 Ease of use and reliability are supplemented by a range of advantages:
100% of PowerPoint effects preserved
Publishing to YouTube in one click
Easy sharing for all devices via YouTube
iSpring is well-known for perfect quality of all PowerPoint effects conversion. With iSpring SlideAlloy, any PowerPoint user can convert presentation to video with no advanced technical skills required. After conversion, all PowerPoint effects, including animations, transitions, and even triggers, keep working as in the original PowerPoint presentation.
Over 40,000 customers have chosen iSpring software for its exceptional quality and reliability. All persons interested are welcome to test drive iSpring SlideAlloy for free.
The full list of iSpring SlideAlloy capabilities is available at iSpring website. Learn more about iSpring SlideAlloy →
About iSpring Solutions, Inc.
iSpring Solutions, Inc., is an international software vendor of versatile, high quality tools for e-Learning development. iSpring has earned an outstanding reputation for well-engineered products that assist in the creation of mobile-friendly presentations and e-Learning courses. With iSpring, presentations are easily enhanced with voice-overs, video narrations, and interactive quizzes right in PowerPoint. iSpring can create SCORM, AICC, or Tin Can compatible content in all classic and new mobile-friendly formats for viewing on virtually all mobile devices including iPads. (www.ispringsolutions.com)
For Additional Information Please Contact:
Polina Khizhnyak,
iSpring Solutions, Inc.
polina.khizhnyak@ispringsolutions.com
tel/fax: (800) 640-0868
www.ispringsolutions.com