World Class PowerPoint to HTML5 Converter from iSpring Now Available for Free

by Nadya Spellman
Community Manager
On August 12, 2014
ALEXANDRIA, VA. August 12th, 2014 – iSpring released iSpring Free 7, the latest version of their free PowerPoint to HTML5 converter. This valuable tool makes possible converting PowerPoint to a mobile-ready format with almost no effort and no expense.
iSpring makes presentations viewable across all platforms: PC, Mac, iOS, Android, and Windows Phone. With iSpring Free 7 users can expect the same high quality and reliability of all the iSpring products, free of charge:
Accurate PowerPoint to HTML5 conversion
Support of all modern browsers
Excellent performance and stability
Ease of use and intuitive interface
iSpring is a world leader of PPT to HTML5 converter tools that accurately preserve the original look of a presentation. After conversion, images remain crystal clear and all PowerPoint effects, including animations, transitions, and even triggers, keep working as in the original PowerPoint presentation.
With iSpring Free 7, any PowerPoint user can convert presentations to a mobile-ready format without needing technical experience.
Since 2007, iSpring Free has become the preferred authoring tool among e-Learning professionals. It supports SCORM standard and is relied upon by subject matter experts to create e-Learning content using PowerPoint. The latest version will make existing PowerPoint-based e-Learning courses viewable on mobile devices.
The full list of iSpring Free 7 capabilities is available at iSpring website. Learn more about iSpring Free 7 →
iSpring products are trusted by more than 40,000 customers worldwide for exceptional quality and robustness. With iSpring Free 7, high quality and versatility of commercial iSpring products are now available for free. Download iSpring Free 7 and take advantage of its extended capabilities.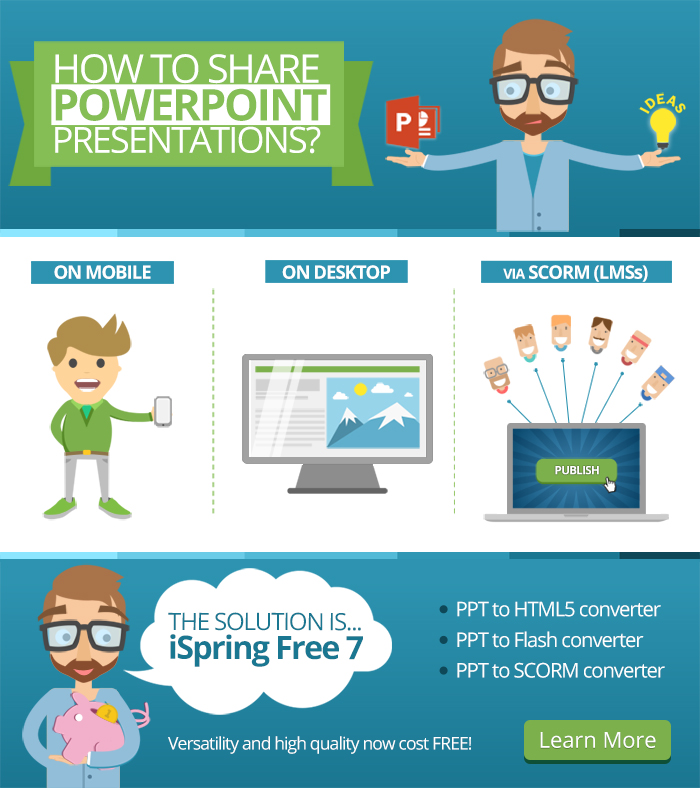 About iSpring Solutions, Inc.
iSpring Solutions, Inc. is an international software vendor of high quality tools for e-Learning development. iSpring is known for its well-engineered products for creation of mobile-friendly presentations and e-Learning courses. With iSpring, presentation can be easily enhanced with voice overs, video narrations and interactive quizzes right in PowerPoint. iSpring can create SCORM, AICC or Tin Can compatible content in all classic and new mobile-friendly formats for viewing on virtually all mobile devices including iPads. Thousands of customers all over the world choose iSpring for its exceptional quality and superb performance. (www.ispringsolutions.com)