We at iSpring are planning a spicy sales event in honor of "Black Friday" with special discounts that will fresh you up after a calm and domestic Thanksgiving party — but more about that later. As for now let's take a closer look at "Black Friday."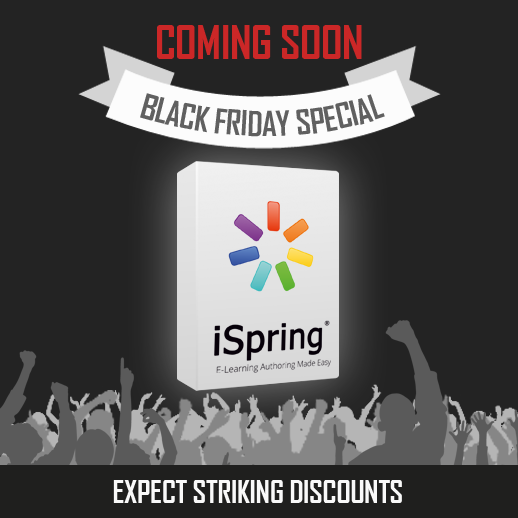 Wikipedia has an impressive list of various historical events (disastrous all) which were dubbed as Black Fridays. This Black Friday, however, is famous for being the first big shopping day of the holiday season, on which people head out in throngs to start the Christmas gift-buying. In response to this routine surge in shoppers, shops, stores, and boutiques increasingly began to offer large discounts on this day to attract even bigger crowds; and eventually Black Friday became known worldwide, not just as a particular historical event, but as a great day for huge savings.
But why such a negative-sounding name? Retailers nowadays have spun it to mean that their ledgers will go "into the black," referring to the proceeds of all those purchases. But here's the very first known use of that term:
"Friday after Thanksgiving – it is a disease second only to the bubonic plague in its effects. At least that's the feeling of those who have to get production out when the Black Friday comes along. The shop may be half empty, but every absentee was sick and can prove it".
That was from the November 1951 issue of Factory Management and Maintenance. A decade later, an article in Public Relations News mentions Black Friday in its economic context; but again, the original source of the appellation was a negative one. Every year on that day, due to the shopping rush, the streets of Philadelphia became "black with traffic"; and hence, the traffic policemen coined the slang term "Black Friday" to express their annoyance for having to work 12-hour shifts in that mess.
A municipal PR exec, in an attempt to rescue the retailers from the negative connotations of that term, proposed a PR campaign in which they would convert it to "Big Friday" — however, as it turned out, the darker term lived on, and eventually was spun to connote the capitalistic sense of the word "black" (i.e., as opposed to "red"). But PR or no PR, the shopping boom continued to grow every year, and to this day, every Black Friday the streets swarm with shoppers looking for hot deals.
Here at iSpring, we also deal with a lot of holiday 'traffic'; but of course our servers are great, so there's plenty of parking for everybody. And in fact, we are extending the sale through the whole weekend, even through Monday also known as Cyber Monday. So, in the grand tradition of the retailers who have come before us, we invite you to swing on by after Thanksgiving and have a taste of this super-sweet sale for dessert!
Mark your calendars! iSpring's Black Friday Sales Event starts
Tuesday, November 18th and ends on Sunday, November 30th.
We will announce the special pricing plan before the event begins, so stay tuned to our site!
Roll in the holiday shopping season with one of these banging gifts (for yourself or somebody else!):