The latest iSpring Cloud update makes it faster to work with the service for both, users who upload content and for their viewers. Why the presentation conversion process is important and how CDN helps deliver your content faster? Learn about it in this article.
Important information: please update iSpring mobile apps on all devices to make it work with the new CDN feature and open iSpring content faster.
Faster conversion
When you use a web browser to upload a PowerPoint presentation file, it is automatically converted into a web format on the iSpring Cloud side.
The first stage is file uploading. The uploading time generally depends on your internet connection speed and cannot be increased on our end. The second stage is the conversion process and it may take from one minute to one hour depending on the number of slides and embedded audio and video size.
The conversion technology is the heart of the iSpring Cloud's engine and it solves a complex technological problem of turning .pptx files into HTML5.
Usually, the conversion takes longer than the uploading process and you spend more time looking at the "processing" progress bar before you can see and share your presentation online.
Here is what happens to your presentation after you select a file and click Upload:

We were able to drastically reduce the time by optimizing the conversion process. It is especially noticeable for presentations that have a lot of slides (50% faster!). The chart below shows our benchmark tests before and after the update: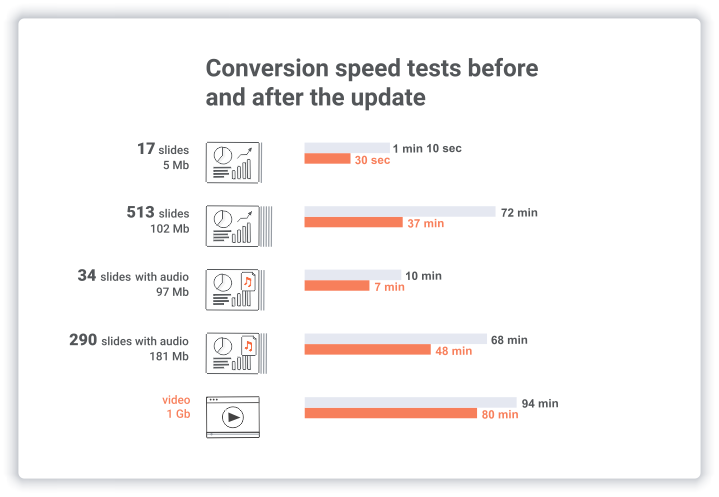 Offline conversion
iSpring desktop authoring tools (e.g., Converter) do the same conversion as Cloud with the only difference that it works on a local computer. Converter users can publish right through the program window and it sends a pre-converted presentation. Also, Converter gives you more capabilities to fine-tune the look of your slides and other conversion options.
Learn more about two uploading options to Cloud
Faster downloading
CDN is a content delivery network. The network includes a lot of servers distributed geographically, which accelerate the of content anywhere in the world or an individual country.
For example, Russian users will download a presentation from a server located in Russia and the US – the same presentation to the American server.
Of course, this entire process is transparent to the user and only increases the speed. At the core of the CDN, in addition to servers across the world using sophisticated software that controls the allocation and copying of data.
Another use of the distributed content delivery system enhances security the and stability of the service. Hacking DDoS attacks are not so afraid of a distributed system and do not take it out of operation completely.
Mobile app update
We have submitted our new mobile apps for both AppStore and Google Play, so please update them on all mobile devices to work with the new CDN feature. Older app versions won't be able to open and download iSpring presentations and courses.
Links to the updated apps are shown below:
AppStore
Google Play