May 11, 2022
"We need to bring learning to people instead of people to learning." – Elliott Masie
How to Sell Training Courses Online – 5 Tips for Training Centers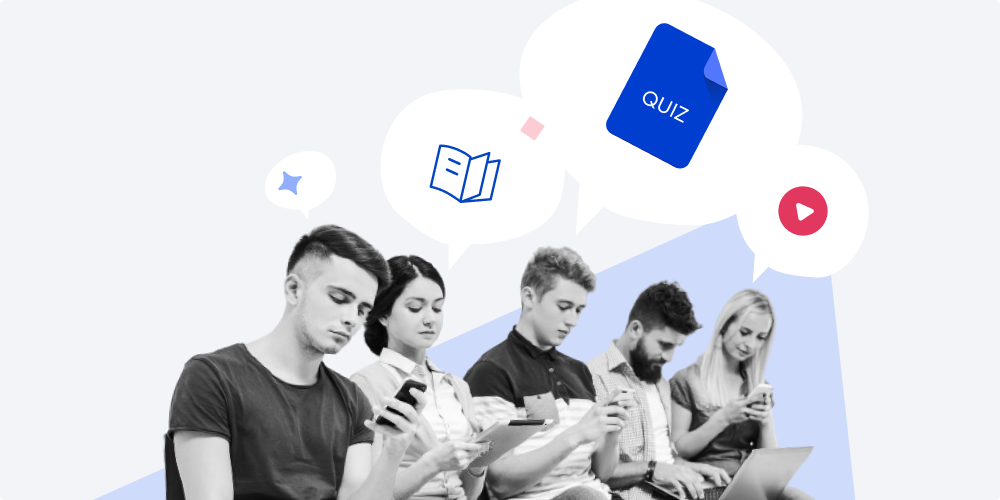 If you're not sure what the above quote means, then a quick analysis of current eLearning trends should provide ample clarification. Traditional, face-to-face modes of training are on the decline and being widely replaced by online learning – known as the best way to "bring learning to people."
Are you new to eLearning and don't know where to start? Perhaps you are a training center that wishes to repurpose your content, expand your reach, and/or scale your business. In this article, we're going to provide you with 5 useful tips on how to sell training courses online.
Tip 1: Have Solid Content
No matter how much of a savvy marketing and sales guru you might be, if you want to sell training courses online, you need to have solid content. High-quality courses are not only useful but well-designed. Therefore, the first thing you need to do is determine what problem you will be solving and assess how much demand there is for your topic. What is your expertise? Think of the topics people ask you for help regarding. Then, create a survey to garner opinions from your email list, social media followers, or companies that you currently train or provide consultations to.
Once you've done your homework and verified that there is adequate demand for your topic, then you can finally go about creating content – or repurposing it for eLearning if you already have pre-existing content. Fortunately, to sell training courses online, you won't require much more than a computer with an in-built microphone and webcam. Or, you can source these items externally.
The next thing you'll need to do is choose your training format. You might want your courses to consist of a series of tutorial videos, or solely comprise long-read text. They might be in the form of a webinar, video-conference, or better yet – interactive slides enabled by technical formats such as SCORM.
Most training businesses opt for interactive slides because it gives you the ultimate freedom to make your courses as engaging as possible! As a matter of fact, you can incorporate all of the above formats into a single course to keep your content fresh and engaging.
Now, if you opt for the latter, then you'll need an authoring tool to actually build your courses. For example, iSpring Suite is a high-functionality authoring solution that can enable you to create any type of course. Let's say you teach programming or how to use a particular piece of software; then you might want to create screencasts.
Moreover, if your course is of a more hands-on nature, such as cooking or providing yoga instruction, then creating a video-based course is the most effective route to follow. Simply record a talking-head video using your camera, or you can embed pre-made videos into your course slides.
The beauty of authoring tools like iSpring Suite is that you can incorporate a high level of interactivity. Ultimately, this makes your course content more engaging and motivates your learners to see your course through to completion. For example, you might organize your course into modules, each with quizzes at the end, using iSpring Quizmaker.
Or, let's say you'd like to convert your sales training into an online course with dialogue simulations and branched scenarios to immerse your users in a virtual environment and enhance their learning experience. iSpring Suite enables this possibility with minimal experience.
Generally, a user-friendly authoring tool that's rich in features will give you the ultimate flexibility to maximize the quality of your content, efficiently embed knowledge, and keep your learners coming back for more.
Tip 2: Market to Companies and Training Teams
Word-of-mouth marketing is a powerful way to build trust and attract more customers. Therefore, building the best course possible is technically the first step to promoting it. However, oftentimes, when we think of selling courses, we think of marketing to individuals. If you'd really like to turn a profit, then you should seriously consider marketing to companies and training teams.
According to the eLearning industry, "In 2017, approximately 77% of US corporations used online learning," and this trend is only increasing. This indicates that there's a huge market of companies and training teams that benefit from entrepreneurs and businesses who sell training courses online. So, if you're a training center that limits yourself to training individuals, you're severely restricting yourself.
Here are some benefits of marketing to companies and training teams versus individuals.
Profitability. This line of reasoning is simple. If you sell a $500 course to an individual, you get $500. If you sell training courses to a team of 3, 5, or 10 people, the math is easy. You can make between $1500 to $5000 in just one sale.
It's easier to make and achieve revenue goals. When you market to companies and teams, you can aim higher with your revenue goals. For example, if your revenue goal for your $500 course is to make $10,000 per month, then you'd have to convert 20 individuals as opposed to converting 4 teams of 5 or 2 teams of 10.
It's easier to define your target audience. There is much more variation between individuals than there is between companies. In other words, companies/teams are unified by their goals. This is a marketer's dream. The more targeted the niche, the easier it is to strategize around their unique needs and pain points.
You become a thought leader. When you target companies and training teams, you position yourself higher in the playing field. This means that you not only hone your brand reputation, but you attract and build trust with "bigger players" and individuals.
That being said, not every training course is conducive to companies or training teams. But with a little tweaking, you can easily package your courses accordingly. The good news is that in most cases, it's not the content that needs tweaking, but the administrative side of things. For example, you might be selling the exact same training courses to both individuals and teams, but there are logistical considerations when marketing to teams, such as:
Sharing the courses with team members;
Allowing management to track team progress; and
Scalability when purchasing new licenses (e.g., for growing teams).
In order to accommodate these needs, you'll need to choose a robust selling platform.
Tip 3: Choose a Robust Selling Platform
While the previous tip involves determining your marketing strategy, the next step involves developing your sales funnel. Though this concept might seem complex, the most efficient way to go about it is choosing a robust selling platform. A good selling platform takes care of all the logistics related to your sales funnel – that is, the path you lead your customers down when they're purchasing products.
For example, iSpring Market is a learning management system that hosts, manages, and sells training courses online. So once you've created all your training materials, simply upload them to the platform. Everything from videos, quizzes, documents, and SCORM-packaged courses can be hosted.
Once you've uploaded your content, you'll be able to sell the materials individually or create Learning Paths to tie all the standalone content together into a coherent course. Then you can make your course available through the storefront or marketplace. iSpring Market has a marketplace that is not only attractive but user-friendly.
One of the greatest hindrances to customer conversion is having a tedious or counterintuitive interface. Your users should be able to go on your site and self-register with ease, or you can add them manually. Once they're on your storefront, all they have to do is click on their desired course(s) and add it to their cart. However, during this stage, it's important for new customers or visitors to know exactly what they're getting into before they commit.
Moreover, a good selling platform balances ease of use—for both administrators and trainees—with flexibility. To widen your audience and sell courses internationally without complications, iSpring Market offers 4 different payment methods:
Authorize.Net
Stripe
Credit card
PayPal
You can also specify which of 30 international currencies you'd like to receive payment in.
If you're a training center, it will be particularly important for you to have powerful admin features that will enable you to build a team of assistants, including other admins, publishers, and instructors who can mark assignments, track student progress, etc.
What else is important about a selling platform?
Of course, a robust selling platform goes far beyond simply uploading courses and adding users. Ideally, they should include a full suite of eCommerce features such as site security, billing structures, and especially branding.
Does your business or training center already have branding in place? Or will you be starting from scratch? With iSpring Market, you can add your logo, color scheme, custom domain, and custom favicon for your website.
iSpring Market is a prime example of a robust selling platform. Though its most powerful feature is its marketplace (storefront)—which can be placed on major search engines like Google and Bing for maximum exposure—it also enables you to host and manage your courses. Therefore, it is a comprehensive, all-encompassing solution that even includes such elements as gamification, and certifications to enhance the learner experience and keep them hooked.
Finally, any sales platform worth its salt provides robust user and sales data analytics. If your sales are staggering, then monitoring user activity and sales stats will help you to diagnose and treat the problem. Moreover, you can leverage the information to create different processes, marketing techniques, and enhance your content. With iSpring Market, you gain detailed analytics on so many facets of your content and marketplace, including:
Quiz, simulation, and assignment reports
People reports
Content reports
eCommerce reports
Learning path reports
Monitor which courses sell the most and focus on creating similar content in the future. Track user activity and find out which areas your learners are most active and least active in to determine inefficiencies or lack of clarity in your content. Analyze how much more you sell when you bundle courses and provide discounts versus when you don't. With this thorough level of detailed reporting, it becomes tremendously easier to scale your business.
Choosing your selling platform is no small feat. You really need to familiarize yourself with your content and have a vision for your training business and future courses. But overall, if you want to get your courses up and on the market as soon as possible, you need to focus on:
Flexibility with the types of content it hosts;
Flexibility with payment options;
Ease of use for yourself and any other users;
Rich branding and customization features;
Engagement features; and
The ability to track and manage your courses.
Tip 4: Leverage Different Marketing Channels
Having a robust sales platform doesn't mean you need to put all your marketing efforts into one basket. Contrarily, they actually work quite effectively when combined with different marketing channels. There are many to choose from. However, here's a list of some of the most popular, successful methods.
Google Ads
Blogging
YouTube
Social media
Email marketing
Google Ads
Leverage the power of Google and create ads that are triggered when potential buyers search for keywords. As you begin making more sales, you'll be able to separate the keywords that lead to sales from those that don't.
Blogging
Similarly, you can leverage Google (or any powerful search engine) to post blogs that are value-driven and indirectly related to your course(s). For example, if you're creating a course on how to do freelance writing, then you can write a blog about how to remain productive and focused. Be sure to do some research on SEO keywords and incorporate them smoothly into your blogs to drive organic traffic.
Moreover, you can also drive traffic back to your website by guest posting on well-established, high-traffic websites to tap into their audience. Throughout your post, you can create relevant backlinks to your own website to redirect some of the traffic.
YouTube
To market your courses, consider starting a YouTube channel. It is the second-largest search engine on the web, sometimes ranking even higher than the websites in the search results.
Social media
Do you have a Facebook, Twitter, and/or Instagram account with a notable following? Then leverage these tools as a means of promoting your product to families, friends, and people who have already taken an interest in you and your business. Again, when marketing on social media, provide value-driven content rather than direct self-promotion.
Email marketing
Do you have an email list of former, current, and prospective customers? Then don't be afraid to send out periodic emails using your favorite email marketing software to turn one-time buyers into loyal customers or convert prospective customers.
Step 5: Incentivize Your Offerings
Email marketing campaigns go hand in hand with incentivizing your offerings. Sometimes, all prospective buyers need is a little nudge when they're teetering between buying your products or moving on. Here are some ways to offer incentives when selling training courses online.
Coupons
Launching a brand-new course or having difficulty making sales? Everyone loves a good bargain. Deduct a percentage of your asking price and let your customers see the difference they're paying. Not only will they be more eager to enroll, but they're apt to perceive more value in your course. And those customers who have bought your course at a discount are more likely to leave positive feedback.
Free courses
Likewise, you can offer free courses on your marketplace to give your prospective (or current) customers a test drive. Sometimes, all that's holding people back is the uncertainty of the unknown. If your course provides value, they'll not only be back for more – they'll be willing to pay.
Bundles
Free courses pair quite well with bundle incentives. This way, you and your customers get the best of both worlds. While you still get to make a sale, it partially depends on the customer's interest in the free course, which enhances their perceived value of the overall transaction.
Limited-time offers
Create a sense of urgency with limited-time offers or discounts. These limited-time offers can include any or a combination of the abovementioned incentivization strategies. Such offers as "Save $50 on a course till November, 29" or "Buy two courses for the price of one till January, 10" work pretty well.
Final Thoughts
Learning how to sell training courses online is highly rewarding. Whether you're just starting out or you're a seasoned veteran in company training, the move from traditional to online modes of training is much easier than you think. However, it takes more than a great topic and creating solid content around it. You have to market it appropriately.
A smart tactic involves marketing your courses to companies and training teams versus individuals. But you'll also need a high-functionality platform to host, manage, track, and sell your courses on the marketplace.
iSpring Market is easy-to-use and requires zero programming skills. Do you have content that you're ready to repurpose and/or upload? Then you have nothing to lose by signing up for our 14-day trial today!