December 17, 2022
How to Make Money Selling Courses Online
Creating and selling courses online to make money is one sector that has seen significant growth recently. The demand for authentic and credible courses is extremely high, and it is going to grow: by 2026, the global eLearning market is expected to reach $375 billion from less than $200 billion in 2019.
Take this Python course that has nearly a million enrolled students, for example: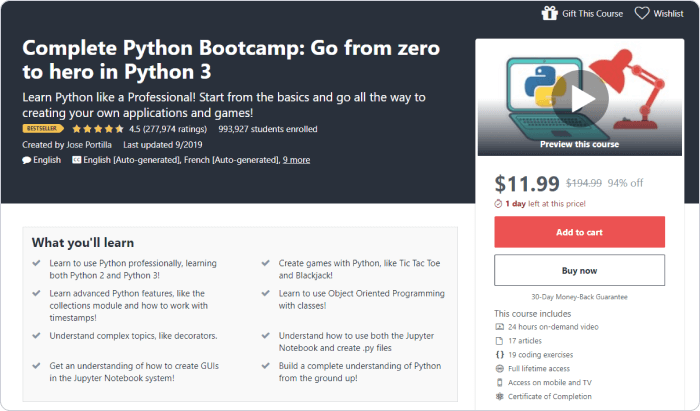 It is priced at $11.99. Though not all the enrolled students are paid (some get free coupons), even if half of them purchased the course at its current price, it means the course has earned more than $5 million and the instructor – roughly $2.5 million. Not bad, if 24 hours of video content and 19 articles can help you generate $2.5 million, isn't it? And its pure passive income – the course was last updated back in September 2019.
This is just one example. In fact, the course selling market is gigantic and there are hungry buyers out there looking for quality courses to upgrade their skills so they can excel in their career and personal development.
This guide will show you how to make money selling courses online from scratch. If you're new to all this and have no idea where to begin, this actionable guide is for you. But first, let's look at the reasons selling courses can be a profitable business.
What Makes Course Selling a Gigantic Business Market
The case study by Tomi Mester is one of the best examples. He shared all the details on how he left his full-time job and created the first online course that helps him earn more than $10K per month.
Nick Stephenson earned $130,208 from his course on marketing in the first week. John Omar made $1 million in a single year from his training on iOS app development.
As you can see, selling courses online to make money is a highly lucrative business model. If you are skeptical as to why people will buy your course, consider this…
The student loan debt in 2020 has crossed $1.56 trillion in the US. There are over 45 million borrowers with an average student loan debt amounting to $32,731. The high cost of education has motivated students and employees to look for alternatives.
Digital education has provided a breakthrough. At least 33% of college students take at least one eLearning course. Why? Because it's cost effective and they learn 5 times more than they do from a formal course in college.
And it's not just students – companies are also focusing extensively on Web-based courses to train their workforce. Research shows that this helps organizations increase revenue and boost employee productivity and effectiveness.
Obviously, creating and selling online courses is a growing industry. And the best part is that making money this way isn't just a one-off gig – it's a full-fledged business model. You get a chance to connect with your students, offer them upgrades, provide them with more advanced courses, and generate a passive income stream.
Also read: Remote Employee Onboarding
A Guide to Getting Income from Course Selling
The step-by-step guide below will show you how to start and what steps to follow to create and launch a course and receive your first payment.
Step #1: Create an online course
The success of your business relies on the content – it is the core product and it has to be valuable and useful.
Course development starts with identifying a specific niche in your field. To do this, define an issue your target audience is facing. Ask yourself, what problem will your course resolve?
Let's assume you are in the customer service field and interested in creating a course in customer success management. You can start by looking at existing courses in this sphere (preferably best-sellers) and see what they're missing. Here is the course outline of a best-seller from Udemy: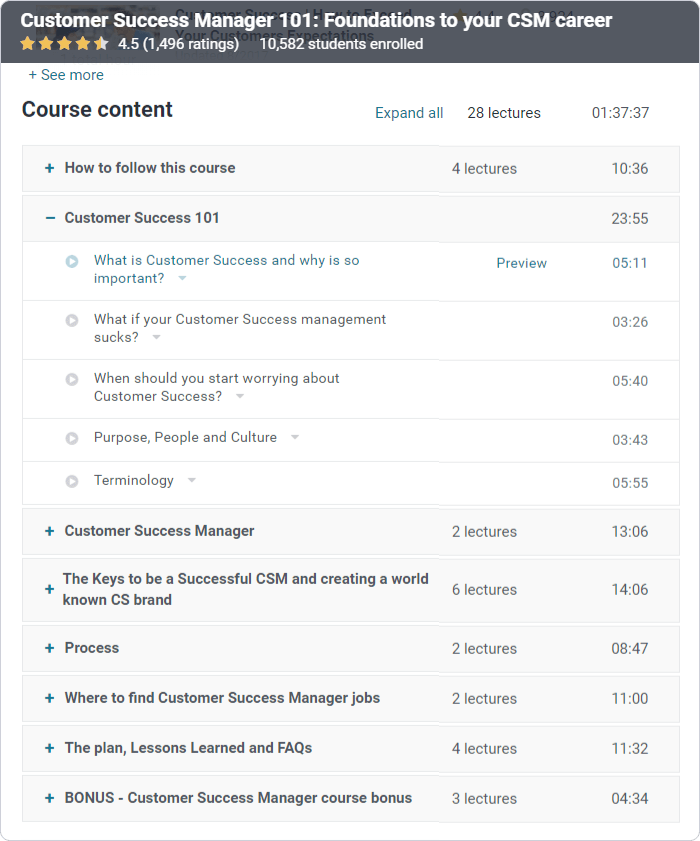 It offers a lot of value, but it misses several key areas such as case studies, customer success framework, how to develop skills to be a better customer success manager, and checklists. Based on your experience, you can create a better course and provide even more value to your learners.
As you can see from the example, to find a problem in your area, you need to perform research. Visit marketplaces to learn what content your competitors are offering, identify gaps, and come up with a better course that delivers more value to the students.
Other ways that research leads to finalizing your course topic and content are to examine:
Trending topics and issues in your field
Learner interviews and surveys
Google trends
Subject experts
After deciding on a topic area, it's time to create your course that involves a tentative outline, script writing, gathering visuals and media, recording, editing, and more. You can create your course right on the selling platform using its native editing tools or you can assemble the content you have with a course authoring toolkit like iSpring Suite.
Course development is an area that requires specific knowledge. There are a lot of guidelines on the Web to help you understand the process in detail. Here are a few major aspects of course creation that you need to focus on at this stage:
Ensure that your course idea is in demand.
Identify your target audience and understand its profile to make your course appealing and useful.
Write clear and engaging learning outcomes of your course by focusing on its benefits.
Create the text and visual content for your course.
The course topic, content, and learning outcomes must align. Make sure there's no deviation of any kind.
Use appropriate tools and resources for course creation.
Also, check out this online course launch checklist for more details.
Step #2: Select a selling platform
A course selling platform helps you host, deliver, and sell your course to end-users seamlessly and manages everything from building the course to marketing, payment processing, and more.
There are several selling platforms out there to choose from. Three popular ones are iSpring Market, Udemy, and Thinkific.
iSpring Market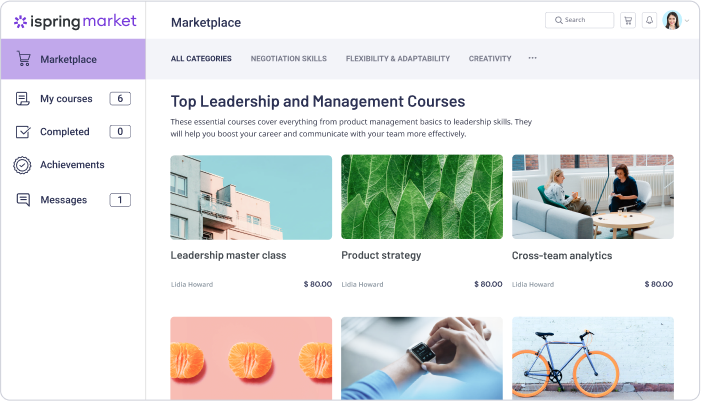 iSpring Market is best suited for those who want to start selling courses online quickly while enjoying full control over design, marketing, and sales. It has a straightforward, user-friendly dashboard that lets you create your marketplace and put your course on sale within minutes. You can upload ready-made courses or create them by putting content together right on the platform. It supports all types of content format (video, audio, text, visuals, etc.) including pure eLearning SCORM format.
iSpring Market has powerful analytics that let you keep track of sales, engagement, and customer satisfaction and provides a high-conversion sales funnel that is integrated with your email marketing tool and other apps via Zapier.
2. Udemy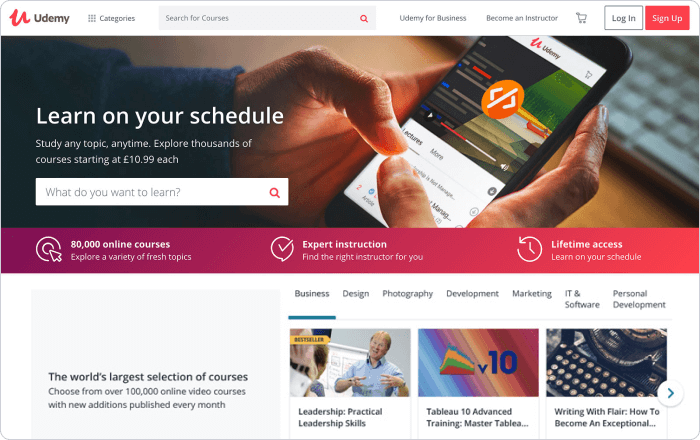 Udemy is a user-friendly platform that offers a great number of features, tools, and themes to get your eLearning courses up and running. Unlike many alternatives, it lets you sell your courses to its gigantic user base (24+ million). However, this base isn't truly yours – all these people sign up for Udemy to get access to courses but you don't have their emails or other data to run marketing campaigns. Besides, there's high competition between authors that reduces the chances of your course being selected. The platform is also quite limited in the type of content you can upload. In fact, you can only create and sell video-based courses.
Still, Udemy is a good solution for individuals who are new to teaching, creating, and selling eLearning because it provides all the necessary course selling options and it's free. But Udemy is probably not the best choice for making money in the long-term, since it charges from 50 to 80% from each sale for marketing your course, and at some point, you'll probably find ways to promote the courses on your own.
3. Thinkific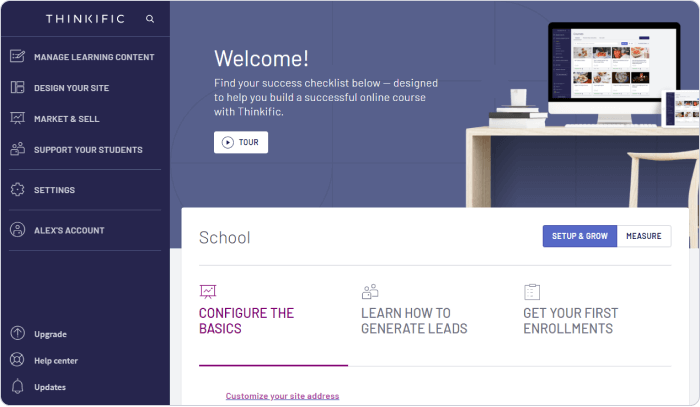 Thinkific is a platform that provides you with all the features to create and deliver courses on your own branded website and offers robust e-commerce and marketing tools. It is highly customizable in terms of building a site – you can create a sales page with all the courses you have, a landing page for each course, and more. You can also integrate your course selling site with any other existing website to create a seamless brand experience for your audience.
All in all, Thinkific is a good solution for those who want to build a brand around online courses. However, many options it provides can be excessive for new course sellers.
How to choose the right course selling platform
If you still aren't sure which selling platform to choose, answer the following questions, which will help you make an informed decision:
Do you want to launch your course ASAP or are you ready to invest more time in how to deal with a complex platform and get a highly customized marketplace site?
Are you going to create engaging interactive courses or assemble simple courses from text and graphics right on the platform?
Do you already have a website and want to integrate it with your marketplace for a seamless brand experience?
Do you need access to sales funnel tools to capture more leads and prospects?
Do you want to get all the details about users' learning activity to see how they like your course and if it should be improved?
Step #3: Promote your course
Simply adding your course on a selling platform might not generate sales. You have to promote it rigorously. Here are some of the best ways to market your course to start making money from it quickly.
Create a blog
If you don't have a blog, create one – using the WordPress platform, for example. It helps you generate heaps of targeted traffic and builds up your reputation.
Once you have your site up and running, start publishing SEO-optimized articles related to your course topic. You'll soon begin to receive organic traffic from Google to your blog. Once you get visits, marketing your course will become a piece of cake – every person who reads your post is a potential student.
The most important part here is that you need to provide really helpful content and create your posts regularly. Check out how Scoro increased its blog traffic from 1.6K to 31K+ per month by publishing quality content.

Build an email list
Email marketing has the highest ROI among all the promotion channels, because it is highly personalized and non-intrusive.
Your email list is the biggest source of sales. You need to collect your users' email addresses so you can connect and build a relationship. There are different ways to do this via your blog, social networking sites, and any other medium.
One of the quickest ways is by offering your course free of cost for a limited period. It will create buzz and word-of-mouth marketing will help you a lot. This is the technique Omar John used. He made his iOS 7 course free and gained 60K subscribers in 2 days. How? His free course was all over the Internet and shared by every major forum and blog. Later, Omar offered an upgraded version of his course to his subscribers and a single email generated $700K. That's how powerful your list is.
Leverage social media
Social media is the biggest source of traffic generation as there are over 3.81 billion social media users worldwide. You can connect with your target audience easily via leading social networking sites such as Facebook, Instagram, Twitter, and LinkedIn. Simply create accounts, post regularly, or share your latest blog posts, and engage with your audience.
It also makes sense to drive targeted traffic to your course through social ads. With as little as $5 a day, you can run ads on Facebook and Instagram to promote your course.
Need more ideas to boost your online course sales? Check out these 25 ideas to promote your course.
Step #4: Automate
Once you start generating sales, you will probably look toward creating more courses to grow your business and make more money. It is, therefore, essential to automate course marketing and selling and focus on what matters: building new courses. Some platforms allow you to run these processes on autopilot.
iSpring Market, for example, has integration with Zapier that lets you connect your marketplace with many other applications, allowing you to automate your entire workflow. For instance, you can automatically add students to your marketing campaign, enroll new buyers in your course, and track your visitors to send them targeted email messages based on their actions.
To Sum Up
Creating and selling online courses can be quite lucrative if you're able to provide great content and reach your target market. Plus, with existing modern platforms, you can launch your course and start making money right away. Try out iSpring Market for free and make your first sales even before the 14-day trial period expires.