December 23, 2022
How to Convert Text to Speech with iSpring Suite Max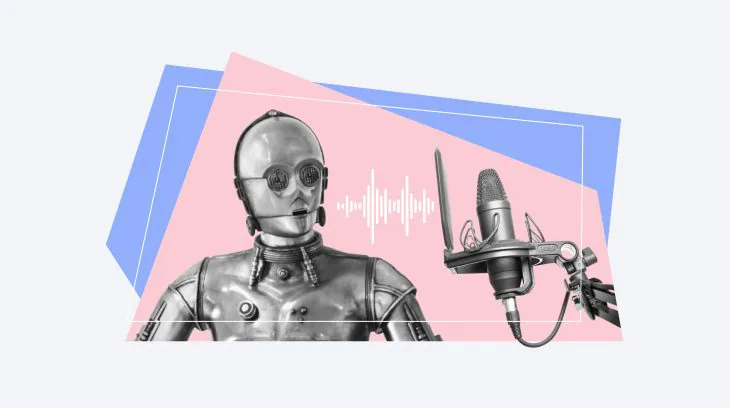 To record a beautiful voice-over for a course or a video tutorial, you no longer need to look for a narrator. Using iSpring Suite Max, you can turn texts into compelling voice-overs with clear pronunciation and dulcet tones. You just need to add a text to iSpring Suite Max, select a language, and a preferred voice, and voilà, your voice-over is ready.
You can change intonation, add pauses, and adjust pronunciation so your voice sounds beautiful and confident.
In this article, we'll tell you about this new tool and explain how to use it.
Professional voice-overs without a narrator
In iSpring Suite Max, you can select a voice, timbre, and tone. For good quality audio in your course, you no longer need a narrator and a fully equipped audio studio.
Lesson on cybersecurity. Ryan's voice.
Voices in 53 foreign languages
If you build courses for learners in various countries, just select the language you need for a voice-over. 53 languages are available, including English, Arabian, Spanish, Dutch, French, and Chinese. This enables your employees to study materials in a language they're fluent in.
French sample
Spanish sample
Easy editing
You can edit, add, or trim audio and texts right in the interface of iSpring Suite Max. Tone and timbre will remain the same. This will be very useful if you decide to revise the info and update your course – to change the number of customers or add a part about new services, for instance.
You can also change intonation and timbre entirely, add pauses, and specify pronunciation if needed.
Basic Text-To-Speech Options
387 voices to choose from. From brutal bass to lyrical contralto. Male and female. Choose what fits the mood and theme of the course.
Bob's voice
Mia's voice
Changing the narration's speed and intonation. From calm and relaxed to energetic and cheerful narration, iSpring Suite will read the entire text or phrase at the preferred speed.
Maggie is speaking.
Adding pauses in words. To make the narration sound more natural, you can adjust the length of the pauses between words or sentences. The tool also takes all punctuation into account to create the correct voice intonation.
An extract from "The Road Not Taken" by Robert Frost
Abbreviations and even expletives. The tool knows ordinal and cardinal numbers, fractions, and abbreviations. It spells every word correctly. And if it comes across a swear word in the text, it will bleep it out – if you want it to, of course.
Taron is swearing.
How To Convert Text to Speech for a Course
To learn how to do this with iSpring Suite Max, keep reading or watch this video: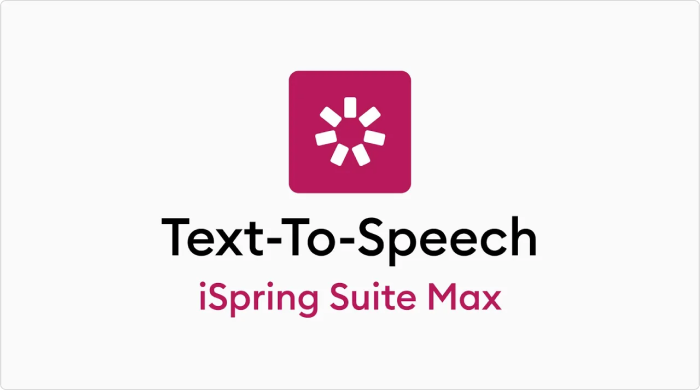 First, open a course and click Manage Narration on the iSpring Suite Max toolbar.
Click the Audio button and choose Text to speech.
In the opened window, select the language, speaker, and type of voice.

Standard voice will be appropriate for an induction course on IT safety, for example.
Natural voice will fit in a lesson on how to conduct a job interview or negotiate with a customer.
To hear what the speaker will sound like, click on Preview voice. Select the voice you would like to use, add the text to convert, and click the Insert button.

You can choose when to start playing audio – right after you open the slide or later. After you finish, click

Insert.

The voice-over will come up on the audio track below. Its name will be

Text-to-speech clip — Audio 1.
How to Transform Texts into Audio for a Video Tutorial
To add a voice-over to a video, head over to Screencasts on the iSpring Suite Max toolbar and open an existing video, or create a new one.
In the new window, click the Audio button and select Text to speech.
A new window will open. Select the language, speaker, and type of voice.

To hear what the speaker will sound like, click on

Preview

voice. Then click the

Insert button.

The voice-over will come up as the new audio track. Its name will be

Text-to-speech clip — Audio.
How to Edit a Voice-over
You can make changes to the text-to-speech clip like choosing another language or speaker. Let's take a video tutorial as an example to see how to do that. You can adjust the sound for an entire course the same way.
To change a voice-over, select the clip on the audio track and click Edit Text to Speech on the toolbar.
In the opened window, you can rewrite the text and change the language or voice. To save changes, just click Update.

Change the speed and the lengths of pauses
To make the narration more energetic, add the desired intonation or pauses, enable SSML Editor.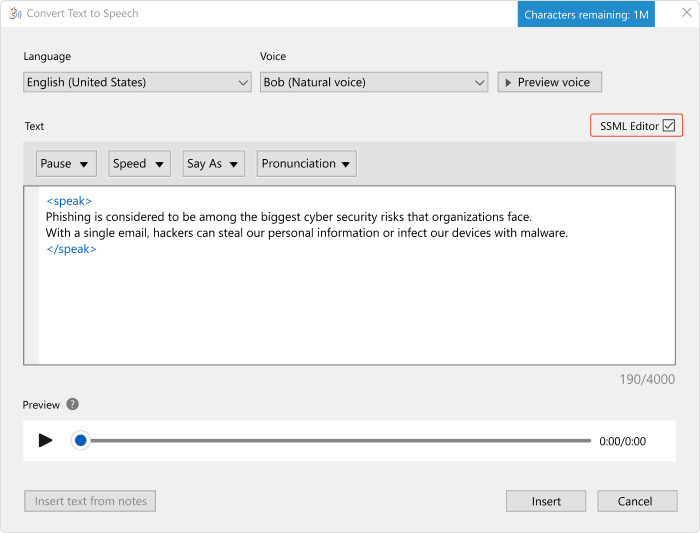 Highlight the desired phrase or sentence. On the toolbar, click Speed and choose how fast the speaker should read the text. In the same way, you can add pauses and specify their length.
The tool also takes into account punctuation marks and automatically places semantic pauses if it encounters commas, dashes, or periods in the text.
Adjust the word pronunciation
iSpring Suite can read abbreviations, numerals, phone numbers, and fractions correctly. If necessary, it can even pronounce the word syllable by syllable or letter by letter. You just need to specify this in the settings.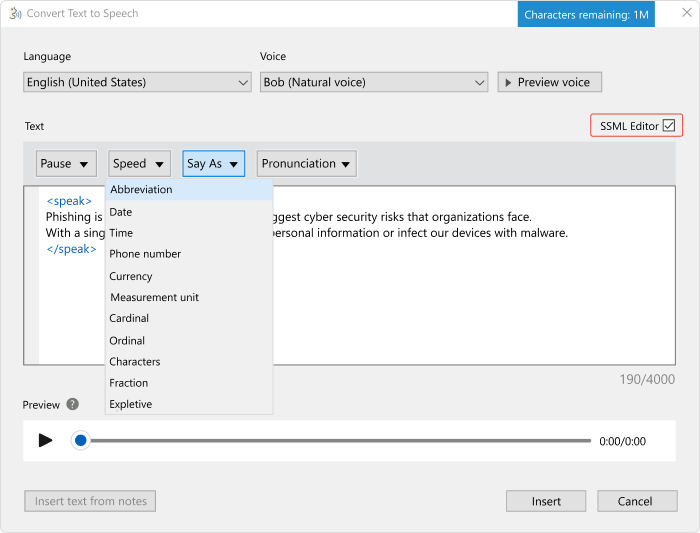 Highlight the desired word in the text, click Say As on the toolbar and choose how the narrator will read the word. For example, the time, a phone number, a fraction, or an expletive.
This Update Is Already Available in Your iSpring Suite Max
To convert text to speech, just update the authoring tool. This update is free for all those with an iSpring Suite Max subscription.
The amount of text that can be converted into speech is limited to 1 million characters per 30 days. We'll increase this amount over time.
Try this new feature of iSpring Suite Max and share your impressions with us in the comment section. If you don't have an active subscription, you can download a 14-day free trial here.