How To Make A Video Lecture With iSpring
Check out this step-by-step guide to learn how to make a good video lecture on your own. If you are just getting started, download and install a fully-functional iSpring Suite trial, and a special iSpring Suite tab will appear in your PowerPoint.

You can also find a full demo video lecture at the end of the article.
So, let's get started.
To create an interactive video lecture, just open your PowerPoint.
1. Record video narration
There are two options we should consider, based on whether you have a pre-recorded video file or not.
a. If you already have a pre-recorded video:
Just insert it using the iSpring Narration Editor. You can insert a video file in one of the following formats: AVI, WMV, MPG, MP4, or MKV.
To insert your video, click the Manage Narration icon on the iSpring Suite toolbar.

Then in the iSpring Narration Editor, click Video to import a file from your computer.
After that, you will see a pop-up window where you can choose the location of the video within your presentation.
b. If you need to record a video narration from scratch:
First of all, make sure that your camera and microphone are turned on and ready to record. If you're recording a video for the first time, you will need go through the Microphone Setup Wizard.
Click the Record Video icon on the iSpring Suite toolbar.

To make it even easier, use the Slide Notes on the right panel to insert your script.
Start Record when you are ready. To finish, click OK.
You don't have to record a perfect narration in a single take, because you can always polish it later with the built-in audio and video editor.
Have a look at how the recording step is performed in our video tutorial.
2. Edit your video narration
When you are done with your video (either imported or recorded), click Manage Narration to synchronize it with your presentation or edit it if necessary.
Launch the iSpring Narration Editor by clicking Manage Narration.
How to edit your video:
Fine-tune your video right in iSpring Suite using the built-in editor. Choose the video on the timeline, and click the Edit Clip icon.
After doing this, you will see the following pop-up window:
You will have the following editing options:
To delete a fragment of the video, select the unnecessary part on the timeline, and press Del on your keyboard or the Delete button on the toolbar.
To make the speech cleaner, for example, to avoid false starts, you can silence any part of the narration. To do that, select the desired segment and click the Silence icon.
The trimming option helps you to get rid of clumsy parts at the beginning and end of the video. Select the part you wish to leave, and click Trim.
The Remove Noise and Adjust Volume options are made to perfect the audio quality. Finally, the Fade In and Fade Out effects enable smooth transition of audio from one part to another. They are often used with music at the beginning and end of the video.
To preserve the applied changes, click Save & Close in the upper left corner.
How to synchronize your video and slides:
If your presentation contains animation and transition effects, you can easily synchronize them with your training video. Select a slide on the timeline and hit the Sync button.
A Sync panel will appear above the timeline. To start the process, click Start Sync.
The Start Sync button will be replaced with the Next Slide/Next Animation/Skip Transition buttons, depending on the upcoming element in your presentation. Click on them at the appropriate moments; for example, when you want the next animation to be inserted.
When you have finished, click Done and then Save & Close in the upper-left corner to close the narration editor.
Have a look at how the editing step is performed in our video tutorial.
3. Add some interactivity to your video lecture
There is no doubt that video lectures can be really captivating on their own. However, you can energize them even more by adding some interactive features and achieve higher engagement with your audience.
With iSpring Suite, you can add the following things:
Animated info slides
Interactions and dialogue simulations
Quizzes with 23 question types: multiple choice, fill in the blank, and more
Flash Movies

All these resources will be available in the interactive video player of your lecture.
4. Switch between slide mode and video narration
With iSpring Suite you can shift students' attention from the slide to the video narration and back.
To do this, click Publish on the iSpring Suite toolbar. In the General tab, select Video Lecture from the drop-down list and click on Customize.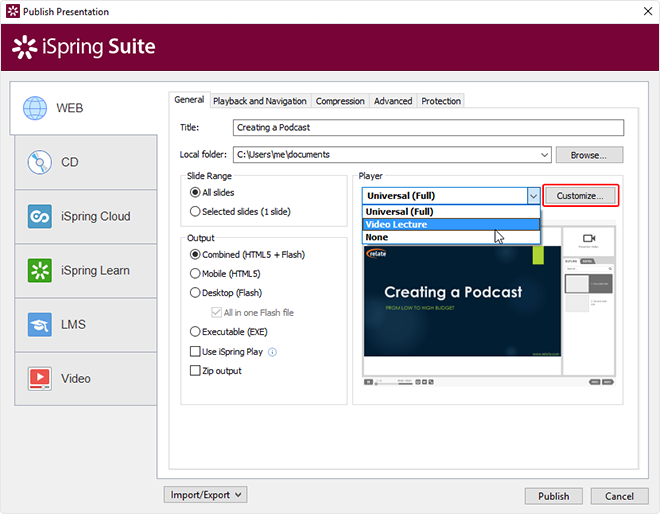 There are three types of player layouts:
Slide only. This layout focuses the attention of your audience on the contents of the slide. Students can study the information on the slide without being distracted by the instructor's comments.

Presenter video. If you want students to watch some part of the video lecture very attentively, turn off the slide and show your video in fullscreen mode.

Slide and video. Use this type of layout if both slide and video are required to explain the information in the most effective way.
Combine different types of layouts to highlight the most important parts of your lectures.
5. Publish your video lecture
After you click the Publish button on the toolbar, you can choose the most appropriate way of publishing. You can publish the presentation for the Web or an LMS, burn to a CD, or send by email.
If you would like your video lecture to be available for playback on all platforms, desktop and mobile, choose HTML5 from the Output options.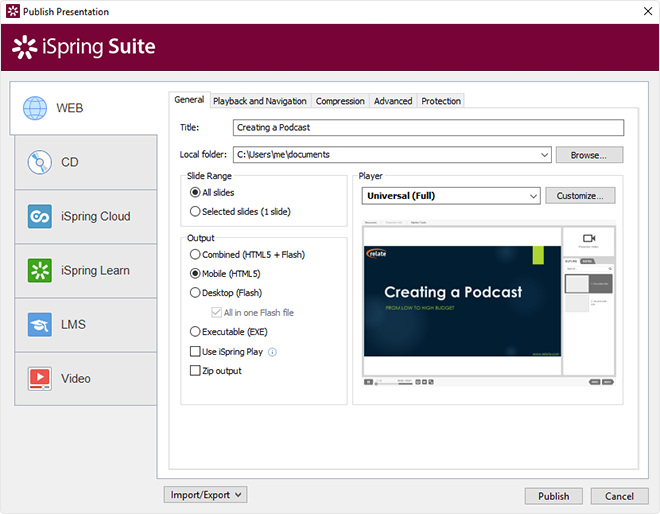 Have a look how the publishing step is performed in our video tutorial.
6. Share your video lecture with iSpring Cloud
iSpring Cloud is a service specially designed for publishing and sharing e-courses. Cloud users all agree it's an awesome way to post all your iSpring presentations and video lectures on the Internet.
Working with iSpring Cloud is a piece of cake:
Sign up for free trial account.

Upload your video lectures to the cloud directly from the iSpring Suite interface. Select the iSpring Cloud tab, sign in to your account, and click Publish.

Share a link to a file with anyone. Shared content will play on any device, even with no iSpring or PowerPoint installed.
Check out the iSpring Cloud page to learn more about its capabilities.
Was this article helpful?
Thanks for your feedback!
Your request to iSpring has been submitted.
Please check your email for support replies. We reply to every message asap. If you don't hear back from us, check your spam folder and add to your list of approved senders.
Oops! Something went wrong...
Please contact them at .
Fully-stocked eLearning authoring toolkit for PowerPoint. No training required to start!