How to record a video lecture with PowerPoint
Video lectures are an engaging way to share your knowledge. And the best thing is that you can create them on your own with just a few pieces of equipment and software tools. Check out this step-by-step guide to learn how to record a good video lecture using PowerPoint and iSpring Suite hassle free. But first, let's see why video lectures are so popular and how they are typically used.

Contents:
Why Video Lessons and Online Education Are So Popular
Video lessons became extremely popular during the COVID-19 pandemic when everyone had to stay indoors and all educational organizations began to practice distance education. While many instructors used Zoom and other web conferencing tools to conduct video lectures online, some created online courses and video content, including their own video lectures. With a large number of students, this approach proved most effective: teachers simply needed to create learning content once and then share it with their learners whenever necessary. It also solved some other issues, like accessibility — in the past, people with disabilities found it difficult to enroll in educational programs, and now they can study fr om home.

Universities usually upload their learning content to their LMS, wh ere students can study at their own pace and pause the lesson when needed. While platforms like Moodle and Blackboard offer pretty limited functionality, advanced LMSs, like iSpring Learn, go far beyond standard learning delivery, providing you with content development and collaboration options. Such learning platforms are a perfect fit for international students who can receive a complete high-quality education without having to travel to a different country.
What is a Video Lecture?
A video lecture, or a video lesson, is an educational video that focuses on a particular topic. This format is usually used in universities to present various science-related topics. At schools, teachers record lectures on art, biology, chemistry, and many other subjects.
Lecture recordings can fall under several categories: it might be a talking-head video with a professor/ lecturer/ instructor speaking to the camera, a "lecture capture" of class lectures, slides with voice-overs on the topic, demonstration videos, or a screencast. It can also take the form of an "interactive lecture" in which video, audio, PowerPoint slides, and other features are combined.

All in all, making video lectures is now prevailing over other methods of teaching, and students all over the world don't mind spending hours listening to interesting lectures in the digital learning environment.

The most common way to create a video lecture is using a camera for capturing a presenter, a screen recorder for capturing the screen, and then polishing lecture videos with a video editing tool to make them look more professional. By the way, if you are in search of the best recorders, read our material on the top six cameras for video lectures. In this article, however, we'll share a simple way to record lectures using PowerPoint.
How to Make a Video Lecture in PowerPoint

We hope you already have PowerPoint installed on your computer. If so, launch it, and let's get started.
Open the PPT presentation you want to turn into a video lecture. Go to the Slide Show tab.

Sel ect Record Slide Show, then Start Recording fr om the beginning.

Click on Start Recording.
Please note: Before you actually start recording your video lecture, you might want to test the entire process. So, build a few slides to make sure you understand how to go from one slide to the next (using arrow buttons) and how to pause and stop the recording (using familiar buttons). Once tested, return to this step and record your video lecture.
Leave the recording menu by clicking Esc.

Go to the File menu and sel ect Export. Then click Create a Video. And then click Create a Video again.

Sel ect the folder you'd like to save your video lecture in.
And that's it! Just wait till the file is saved, and then share it with your learners however you like: upload it to Moodle or any other LMS, YouTube, or Google Drive – whichever platform you prefer.
However, PowerPoint doesn't offer great recording or editing capabilities, so if you want to get a high-quality video lecture, consider using a different tool. You can try iSpring Suite, for example. It works as a PowerPoint add-in, so there's really not a big difference in usage, only greater capabilities. For example, you can remove background noise, edit your footage, enhance it with texts, images, etc., and even add a quiz to check how attentive your students were during the lecture.
How to Record Video Lectures with iSpring Suite
Download the free iSpring Suite trial version and install it. A new iSpring Suite tab will then appear in your PowerPoint.
Note: iSpring was designed to be a Windows app. However, you can access it on Mac, in case you install Microsoft Windows on your computer. Learn how to install Windows on a Mac

So, to create a video lecture, just open PowerPoint.

1. Record video narration
There are two options you should consider, based on whether you have a pre-recorded video file or not.
a. If you already have a pre-recorded video:
Just insert it using the iSpring Narration Editor. You can add a video file in one of the following formats: AVI, WMV, MPG, MP4, or MKV.
To embed your original video, click the Manage Narration icon on the iSpring Suite toolbar.


Then in the iSpring Narration Editor, click Video to import a file from your computer.

After that, you will see a pop-up window where you can choose the location of the video within your presentation.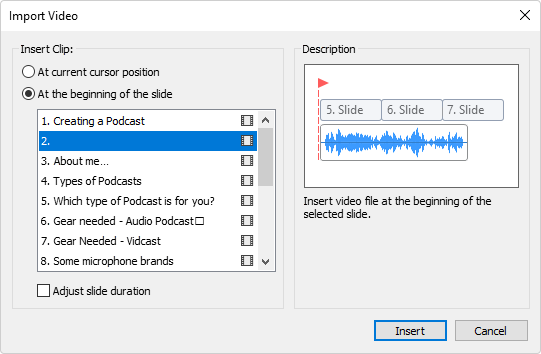 b. If you need to record a video narration from scratch:
First, make sure that your camera and a built-in or external microphone are turned on and ready to record. If you're recording a webcam video for the first time, you will need to go through the Microphone Setup Wizard.
Click the Record Video icon on the iSpring Suite toolbar.

To make it even easier, use the Slide Notes on the right panel to ins ert your script.
Click on Start Record when you are ready to start recording. To finish, click OK.
You don't have to record a perfect narration in a single take because you can always polish it later with the built-in audio and video editor.
Take a look at how to record video narration in our video tutorial.

2. Edit your video narration
When you've finished your video (either imported or recorded), you need to synchronize it with your PowerPoint slides and make some adjustments to achieve a high-quality video.
How to edit your video:
Fine-tune your video right in iSpring Suite using the built-in editor. Choose the video on the timeline and click the Edit Clip icon.

After doing this, you will see the following pop-up window: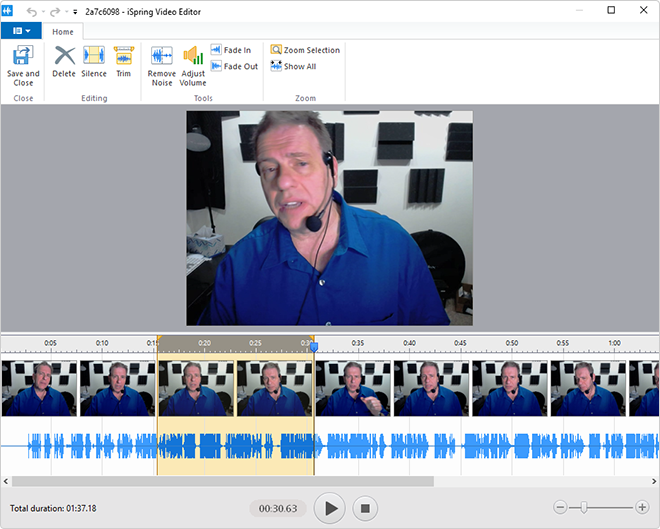 You will have the following editing options:
Delete. To delete a fragment of the video, choose the unnecessary part on the timeline, and press Del on your keyboard or the Delete button on the toolbar.

Clean. To make the sound cleaner, to avoid false starts, for example, you can silence any part of the narration. To do this, sel ect the desired segment and click the Silence icon.

Trim. The trimming option helps you get rid of clumsy segments at the beginning and end of the video. To do this, select the part you wish to leave, and click Trim.

Improve. The Remove Noise and Adjust Volume options allow you to get high-quality audio.

Transition. Finally, the Fade In and Fade Out effects allow a smooth transition of the audio recording fr om one part to another. They are often used to fade music in and out at the beginning and end of a video, respectively.

Now that you reviewed your video lecture material, click Save & Close in the upper left corner to preserve the applied changes.
How to synchronize your video and slides:
Here's what you need to do if you want to combine your webcam video with PowerPoint slides.
Launch the iSpring Narration Editor by clicking Manage Narration. Sele ct a slide on the timeline and hit the Sync button.

A Sync panel will appear above the timeline. To start the process, click Start Sync.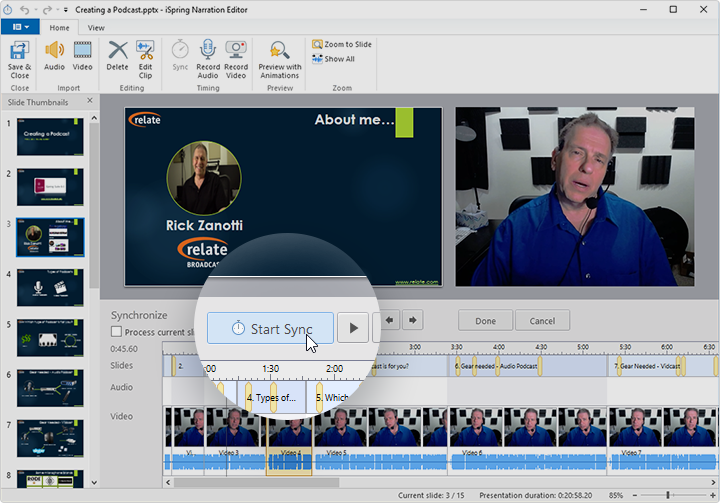 The Start Sync button will be replaced with the Next Slide/Next Animation/Skip Transition buttons, depending on the upcoming element in your presentation. Click on them at the appropriate moments; for example, when you want the next animation to be inserted.
When you have finished, click Done and then Save & Close in the upper-left corner to close the narration editor.
Learn more about how to edit a video from our tutorial.
Advice: You can also edit your video in iSpring's advanced video studio, which is also included with iSpring Suite and lets you add transitions, hotkey hints, freeze frames, captions, and more.
3. Add some interactivity to your video lecture
There is no doubt that video lectures can be really captivating on their own. However, you can increase student engagement even more by adding some interactive features. Plus, it will assist your learners in taking notes during the lecture.
With iSpring Suite, it's easy to record a lecture, and equally easy to populate it with the following interactive elements:

Quizzes with 14 question types: multiple-choice, drag-and-drop, hotspot, and more
Interactive templates (Tabs, Accordion, Pyramid, Media Cards, and more)
Screen recordings
Characters, backgrounds, icons, and slide templates

All these content types will be available in the interactive video player of your lecture.
4. Change the video lecture layout
With iSpring Suite, you can shift learners' attention fr om the slide to the video narration and back. To do this, click Player on the iSpring Suite toolbar. In the open window, you can change the player type. Click Select Player on the ribbon to do this.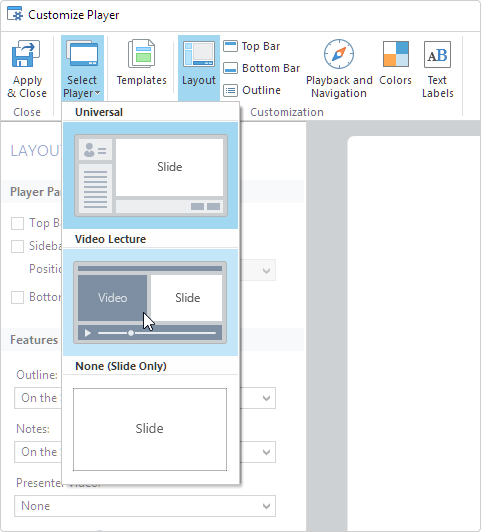 There are three types of players:
Universal. This is a player with flexible options that allows you to combine slide content, a small presenter video, course outline, and various panels and controls.
None. This layout makes your students pay attention to the contents of the slide. Learners can study the information on the slide without being distracted by the speaker's comments.
Video lecture. Use this type of layout if both slide and video to explain the information in the most effective manner.
Combine different types of layouts to highlight the most important parts of your lecture content.
Advice: You can adjust the layout to change the proportion between slide and video by dragging the border between them.
Click Apply and close to save changes and return to the lecture.
iSpring Suite also allows you to fine-tune the player layout for each slide separately. To do this, click Slide Properties on the ribbon.
A new window will open in which you can change the slide layout for each slide to highlight the most important parts of your video presentation: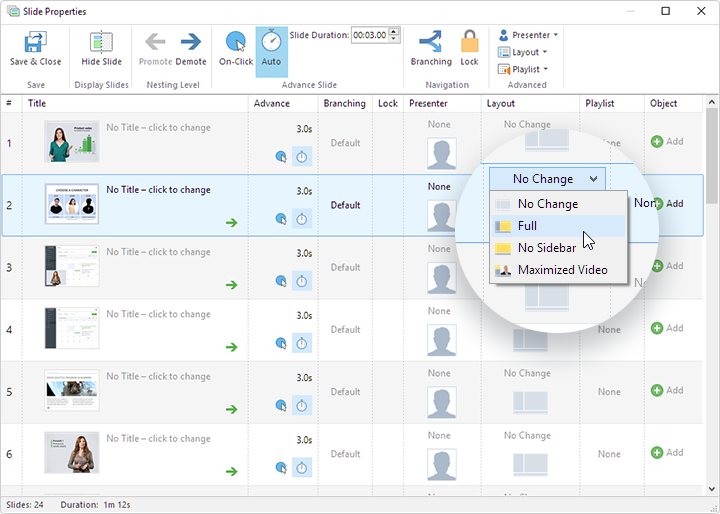 5. Share your video lecture
After you record your lecture and make it attractive, you can share your lecture with your students. To do this, click the Publish button on the toolbar. You can post your recorded lectures for the Web, a cloud sharing service, a learning platform, or send them by email.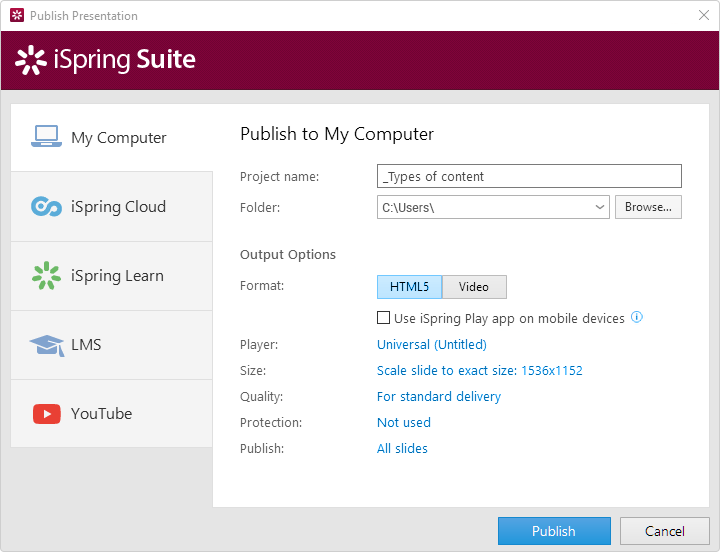 Your video lecture will be published to HTML5 format and will play on any device. Learners will be able to view it on desktops, tablets, and smartphones.

And if you use iSpring Learn LMS, here's a quick and easy step for publishing your videos and other learning content.

5. Publish your video lectures with iSpring Learn LMS
No matter who your learners are: school pupils, college students, or corporate employees, the optimal way to share a video lecture with them is to upload it to a
learning management system (LMS)
. An LMS like
iSpring Learn
is a specific training software that offers you a single shared place to store online courses, lectures, readings, etc., and track learner progress.
Here's how to publish a lecture to iSpring Learn LMS directly fr om iSpring Suite:
In the publishing window, choose the iSpring Learn tab.

Sign in to your iSpring Learn account. If you don't have the LMS yet, please sign up for a free trial first.
Choose the desired file destination and click Publish.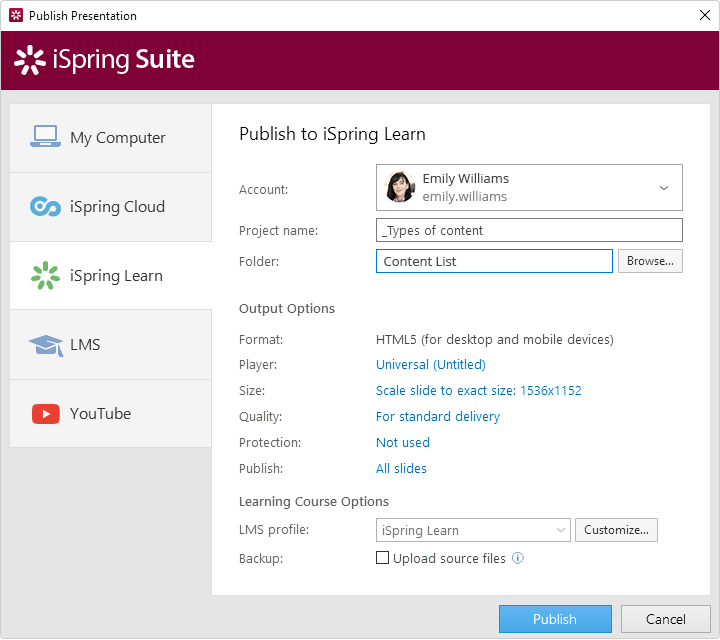 In your iSpring Learn portal, you can assign the video lecture to learners and keep track of how they're watching it. Your learners, in turn, will be able to watch a video lecture whenever and wherever they want to, fr om their PCs, laptops, and mobile phones, using the iSpring Learn mobile app.
Check out the iSpring Learn page to learn more about its capabilities.
You can also have a look at how to publish an online course for an LMS in our video tutorial.

Tips for Recording Engaging Video Lectures in PowerPoint (PPT)

Just recording a video is not enough for a cool learning experience. Here are a few helpful pieces of advice to make your video lectures more effective and engaging for learners.

Keep lectures bite-sized
Learners will find it easier to watch a short, concise video rather than a one-hour classroom lecture with a lot of details. So, you should divide your lecture content into a series of videos of up to 7 minutes each. This will allow you to support learners as they navigate through the parts of the course and help them refresh some particular topics if needed.
Follow a narrative structure
Start every new video with a brief outline of what you've studied in the previous parts and wh ere you are now. Summarize your ideas at the end of the video so your learners can memorize them better, process the information, and take notes. Feel free to learn more about the narrative structure for your talking head videos here.

Communicate with your audience
In online teaching, it's the top priority to make lectures dynamic, not monotonous. Be open and positive for learners even though they're seeing you in recording, and not in person. It's important to maintain contact with your learners and include some humor, emotions, and a human touch in your lectures when they go digital.

Ask questions

If you pose a question to the audience at the end of a video, this really feels like you're talking to your learners, and this makes them anticipate answers. They will be eager to continue watching a lecture. It's even better if you prepare quizzes to test how well they understand the new material.
FAQ
Here are a couple of questions about the technology of making video lectures. Let's go over them briefly.
What is the best way to record a video lecture for students?
We believe that one of the great ways to make a lecture recording is by using PowerPoint itself. You can easily record, edit, and annotate any type of instructional video with iSpring Suite which works as a PowerPoint add-in.
How can you record lectures during a class?
Take a simple camera, put it on a tripod, and place it in front of the blackboard wh ere you'll be delivering a lecture. Utilize a voice recorder to capture your voice better. Or, if you don't need to show the audience and classroom environment in your video, record yourself with a laptop webcam while presenting in PowerPoint.
Which app is best for recording video lectures?
The best solution depends on your needs, experience, and the time you have to master a new tool. And if you want a user-friendly one-stop-shop tool, opt for iSpring Suite Max. If you search for an app for recording video lectures on Android or iOS devices, consider using a screen recording software like Screencast-O-Matic.

To create your first video lecture today, get started with a 14-day free trial of iSpring Suite.
Here are some other articles you might find useful:
Related Articles